When planning our trip to the UK, I mentioned that we organized very little to do. Of course, we had our list of places we wanted to see, but in terms of filling up our agenda, we were not on board. One of the very few things that we did coordinate before heading over was a walking tour of London.
My family has long been big on taking one tour of a city to get acquainted with the layout and to see a few highlights. After our bike tour in Nice last year, however, we've been seeking out unique ways to see cities.
For London, it was a walking tour. We went with Authentic London Walks where Jason, a local Londonite, walked us through Soho and Camden, pointing out highlights, lowlights, and tons of random facts we would have never known about…

London Walking Tour
This is one of my favorite pictures from our trip and I don't totally know why. It does remind me of the bicycle photo in Provence, but I think I also like the colors.
I also love the easy to miss nose sculpture on the very right hand edge of the photo. This was an art installation in SoHo protesting government-placed cameras around the city. The sculptures represented the government's nosiness into the affairs of civilians!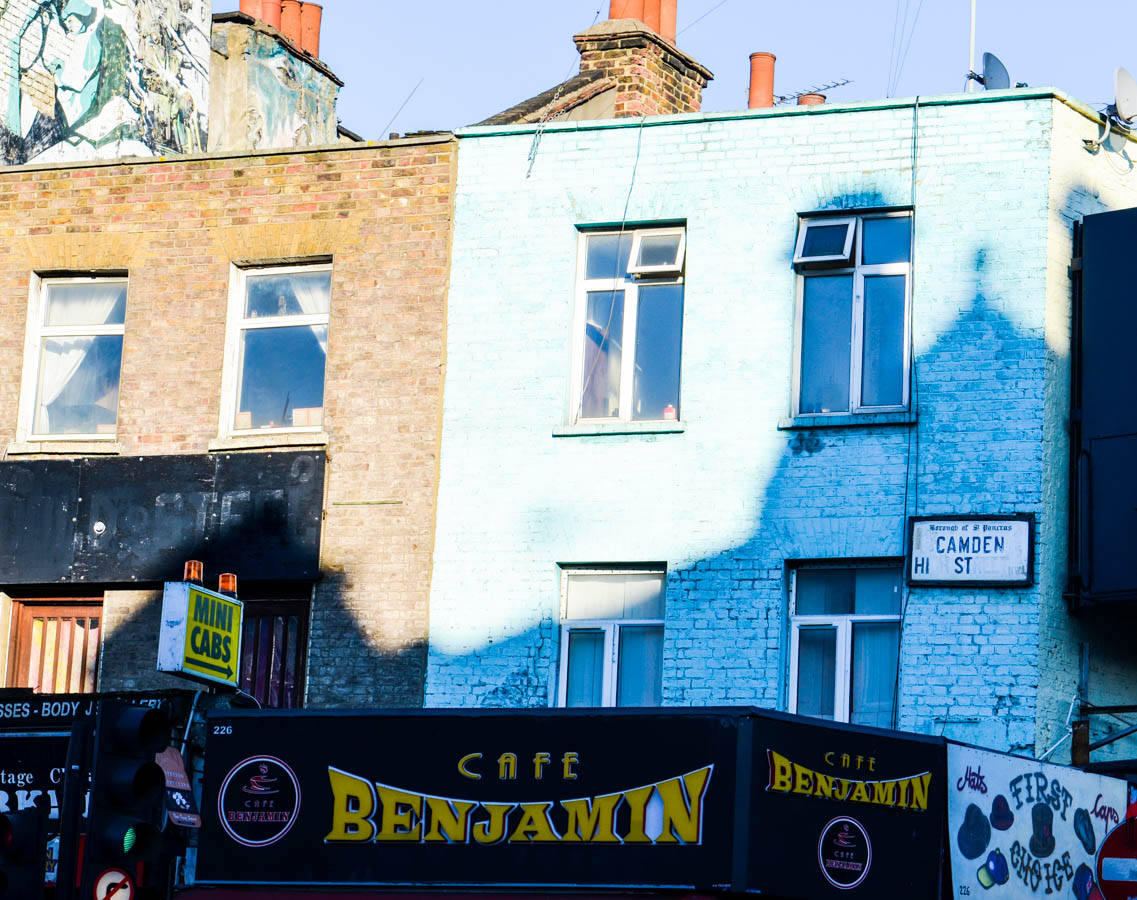 Just as we would have missed the plaster-of-paris noses above, we probably would have missed the many plaques around the city commemorating various individuals and moments in history.
Plaques honoring Mary Shelley, Karl Marx, and Isaac Newton as well as an apartment building where television was allegedly invented can be found all over the city – you just need to look up!
Donuts in London
Another highlight of the walk? A stop at Crosstown Donuts! I like donuts, but they aren't usually my favorite. These donuts were a very delectable treat with all the walking, however!
We tried the chocolate ganache and the lemon thyme along with two cappuccinos! My lemon thyme donut turned out to be pink, which was rather odd. Looking at their website now, I see that it was beetroot! My donut was basically a salad then!
In my dreams, but alas! We never got to go back, sadly, to try the pistachio + chai custard, the matcha tea, or the cinnamon sugar. They do offer free delivery, but LA may be slightly out of their radius…
Camden
Though we were somewhat used to crowds on our trip, the number of people in Camden near the market was too overwhelming. After taking some photos and looking for a fish and chips restaurant (sadly closed that day), we grabbed a tube back home for a late lunch of fish and chips, steak + ale pie, and a huge salad.
On your next visit to London, definitely check out an Authentic London Walks. We opted for the Soho + Camden areas, but there are many tour options including Covent Garden, Highgate, Baker Street, Hampstead, and a central tour hitting all the major London musts! It's £10 per person and well worth every pence!
see more posts on London + UK Travel. . .
A video tour of Borough Market (a true London must), 2 days in the Cotswolds as well as a visit to Daylesford Farms (outside of the city).
Need some Scotland sights in your life? Check out these Edinburgh Guides (Stockbridge, New Town + Old Town), our video diary of Shetland + Orkney, a visitor's guide to Fort William, and the 5 Castles and Palaces to see in Scotland! And once your tickets are booked, you'll want to check out the 3 things I wore in Scotland!