It feels a little early to be sharing sustainable gift ideas for food lovers, but I have a few good reasons for it.
One. I might forget. No, seriously, let's be real – keeping all your ducks going in the right direction the last few months of the year is a fete. And while I might remember to pick up everything at the market for my favorite mulled wine recipe, many other things stand little chance.
More seriously, the next two months require gifts beyond just holiday gifts. Gifts this season are a necessity for saying thanks to someone hosting you for a lovely meal (looking at you, Friendsgiving and Thanksgiving), hosting your stay for you and family, or just a lovely way to do some gifting for those special people on and off your typical holiday shopping list.
Sustainable Gifts for Food Lovers
When it comes to sustainable gifts for food lovers, I think it's important to differentiate between food lovers who love to cook and food lovers who don't really cook.
That seems funny, but I'm a food lover who loves to cook. I know many food lovers, however, who don't enjoy being in the kitchen with any regularity.
This distinction is important because of the type of gifts you want to get them. People who love cooking food will love things for their kitchen, whereas the others won't have as much use for that.
I'm biased on this one, but for good reason, seasonal cookbooks are a great gift for all food lovers. The seasonal cookbooks are organized by season and by ingredient. There are recipes for all levels of cooking and for every type of gathering.
The seasonal cookbooks are available in Spring & Summer and Fall & Winter. They also come as a set. Depending on your budget, one or the set are a lovely, welcome gift. And you can guarantee, they won't have it on their shelves already!
Gifts Ideas for People Who Like to Cook
In addition to the cookbooks, the below gifts are great ideas for those who love being in the kitchen (more options for those who don't are below).
Again depending on your budget, these sustainable gift ideas will be unique, fun, and a major hit with your food loving friends and family.
Stasher Bags are in constant use in our kitchen. Read all my favorite ways to use silicone bags (especially as snack bags for big and little hands). You can give one bag or a colorful set!
Collapsible Storage Containers
These silicone storage containers are collapsible, dishwasher safe, and super chic. Available in a variety of colors. They also have collapsible coffee cups and water bottles!
People who cook NEED good knives. These Nakano knives are fabulous and at a great price point! Paring knives for smaller gifts to classic knives and sets for larger gifts.
Beeswax wrap is the best replacement for plastic wrap! We have it in all sizes as well as a roll we cut to size. Use the warmth of your hands to "seal." Wash gently by hand and reuse again and again. Vegan-friendly options too.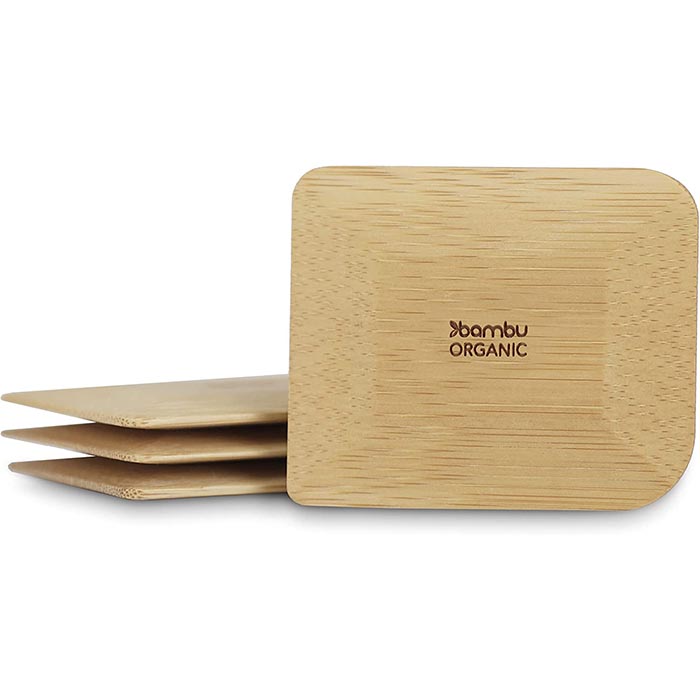 Skip the water waste and arm workout of scrubbing dishes with a pot scraper. Sides and various shaped corners safely scrape away stuck on food from all kinds of pots, pans, and plates. Bamboo is also naturally antimicrobial, so it's a winner in the kitchen!!
For appetizers and cocktails, these reusable skewers are for the entertainer. Skip the disposable toothpicks for these elegant skewers! One set of six is great for drink lovers. Two sets are perfect for food serving utensils.
More Gift Ideas for Food Lovers
So while the sustainable gifts above might be good for all food lovers, the ones below are definitely good for them – cooks or not!
Each of these is a lovely gift idea for anyone, really – food lover or not. I've linked to and mentioned a few favorite brands, but remember that anything local is the best option!
Artisanal Jam
Whether you're into homemade jam or buy locally, everybody loves jam! Something seasonal or a sampler pack always goes down well and doesn't need to be enjoyed right away!
Local/Sustainable Wine
Wine is often a go to gift for our friends. We love gifting from Belden Barns where we're wine club members or from another sustainable winery we can buy more easily in a local market.
Local Flowers
Give the classic gift of a beautiful bouquet of flowers, but try to get them locally. Local flower growers are your local farmers. These flowers also require little transportation emissions and tend to use far fewer (if any) pesticides. Locally we love Bloom!
Local Coffee Beans or Gift Cards
Whether $5 or a bit more, we love gifting beans or gift cards to local favorite coffee shops. Check out my favorite Sacramento Coffee Shops and these sustainable coffee tips. Tea shops and local breweries are also a lovely option!
SEASONAL RECIPE COOKBOOKS
DELICIOUS RECIPES TO ENJOY PRODUCE TO ITS FULLEST ALL YEAR ROUND. SIMPLE AND DELICIOUS RECIPES MADE FROM SCRATCH FOR YOUR FAMILY AND YOUR GUESTS ALL YEAR LONG!
Get More Sustainable Gift Giving Ideas
More Sustainable Holiday Tips
Sustainable Holiday Season Tips
Stocking Stuffer Ideas for Men
Stocking Stuffer Ideas for Women
Sustainable Kids' Holiday Gift Ideas
Sustainable Gift Ideas for Everyone on You List
Sustainable Gifts Ideas from Uncommon Goods