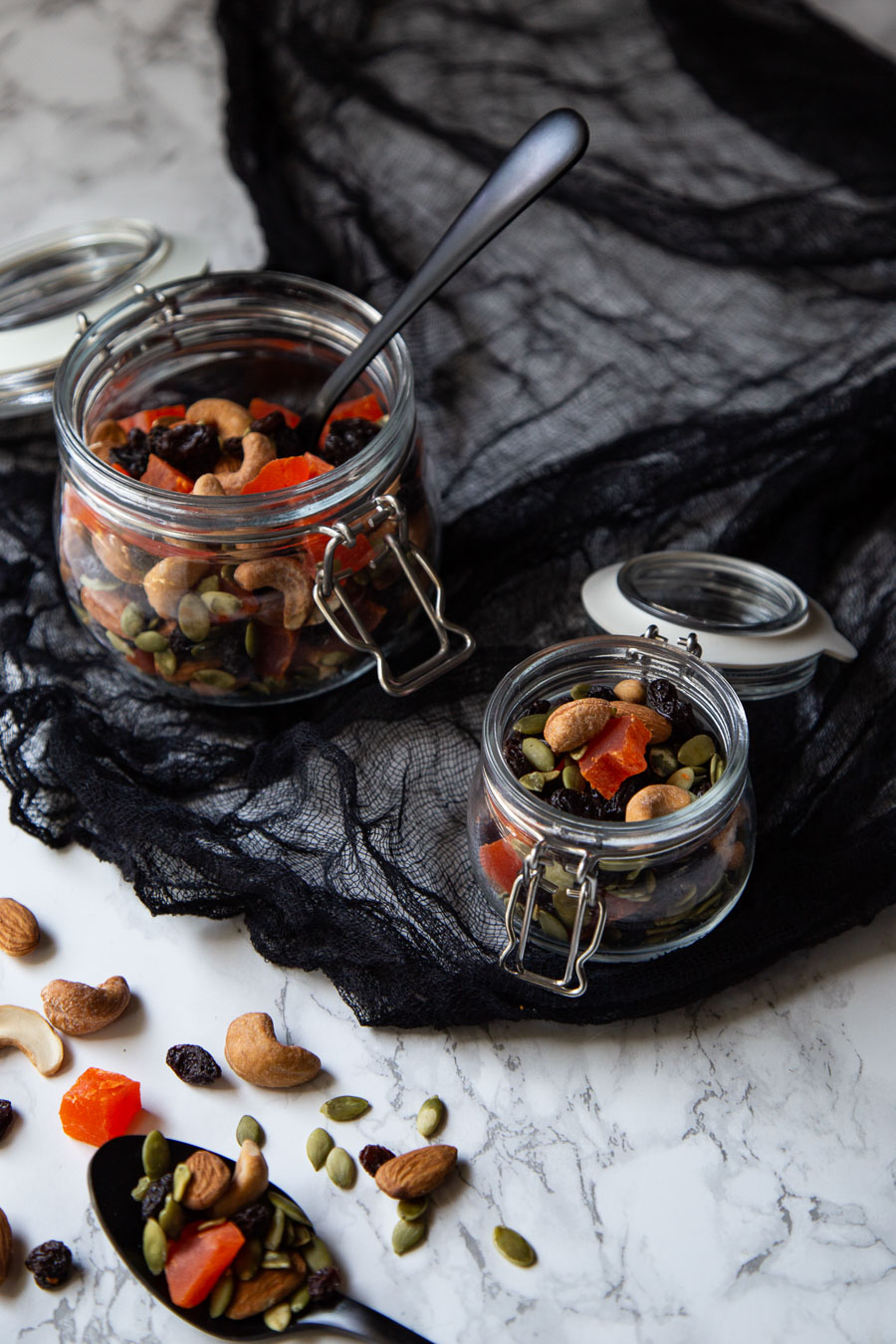 I really like holidays and decorations, but since I limit us to one large drawer for ALL the holiday decor in our house, we do things a little differently. Food and produce is how I get into holidays and party themes. With Halloween, the options for food are endless, but I want a healthy black and orange recipe that doesn't require food dye or anything disgusting – enter Halloween snack mix…
HALLOWEEN Snack MIX
This Halloween snack mix is something I could easily eat year-round, but I know not everyone has a) an obsession with trail mix and b) an obsession with dried papaya.
The dried papaya is the festive orange in this recipe. I really dislike fresh papaya, but its dried counterpart is DELICIOUS. Funny, right?I may or may not buy it in bulk – ok, I do!
The raisins are the black, but you could also do dried blueberries (they're incredibly dark). Mix those with some pepitas (gotta have pumpkin something in there somewhere, don't we?) and some delicious salted and unsalted nuts.
You could also easily add some chocolate chunks to make this snack mix more of a sweet recipe, but I think it's pretty perfect as-is!
And why not make a separate homemade chocolate candy like these homemade chocolate bars (a great homemade candy recipe)? You can make them ahead of time and switch up the flavors for kids and adults alike!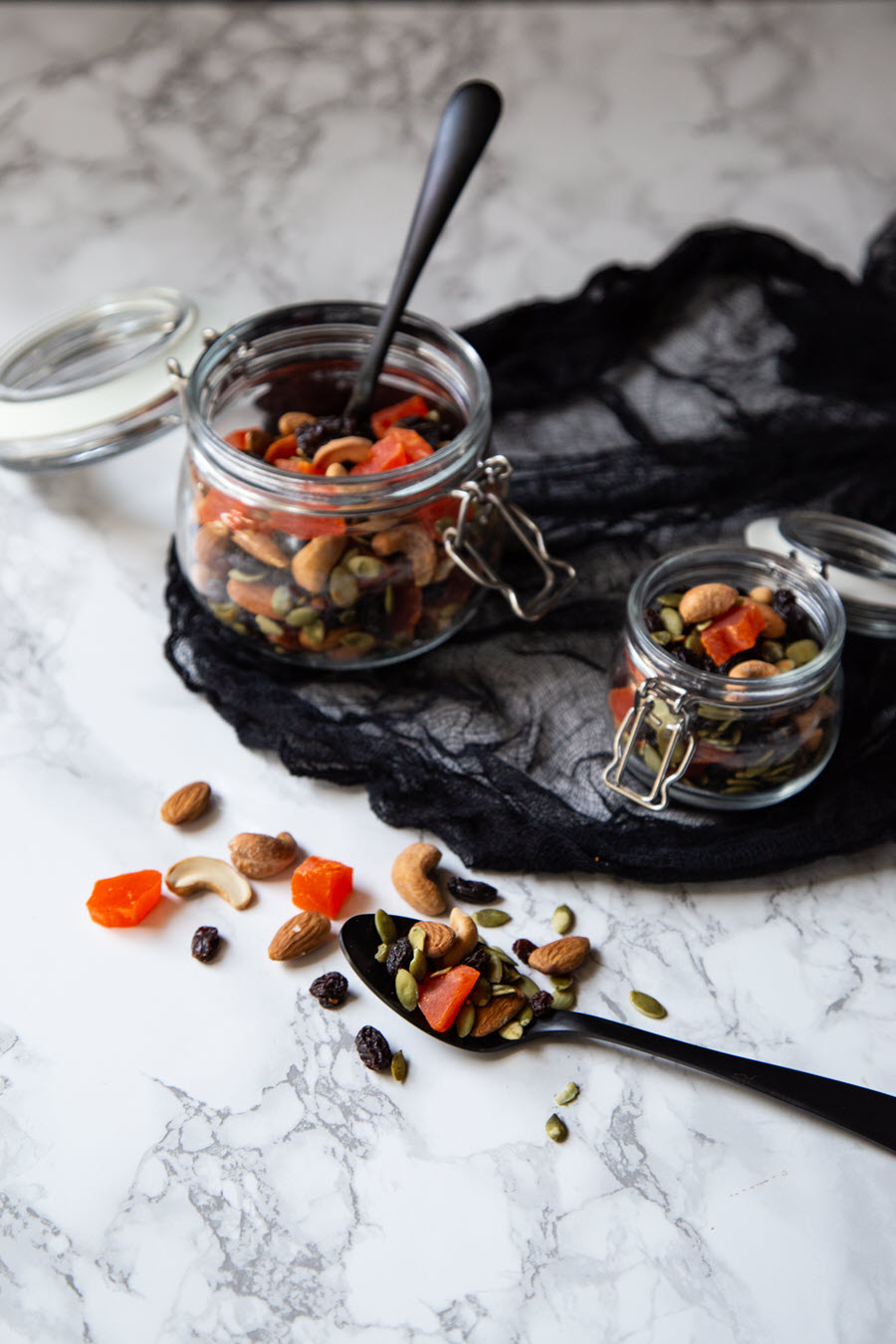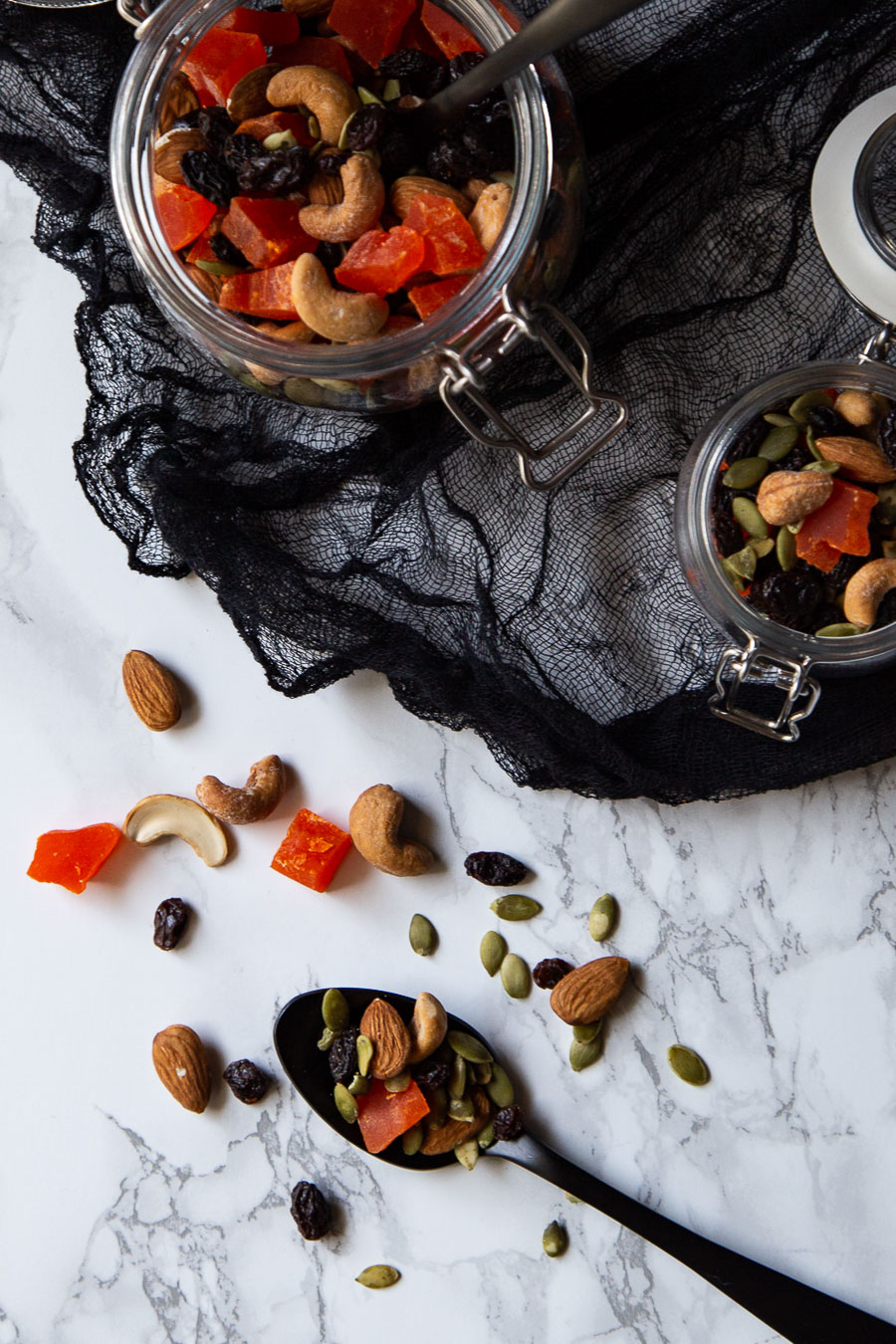 HEALTHY HALLOWEEN RECIPES
The trick to coming up with healthy Halloween recipes is to open your mind to all the things in the world that are naturally black and orange. It isn't just olives (gross!) and pumpkins…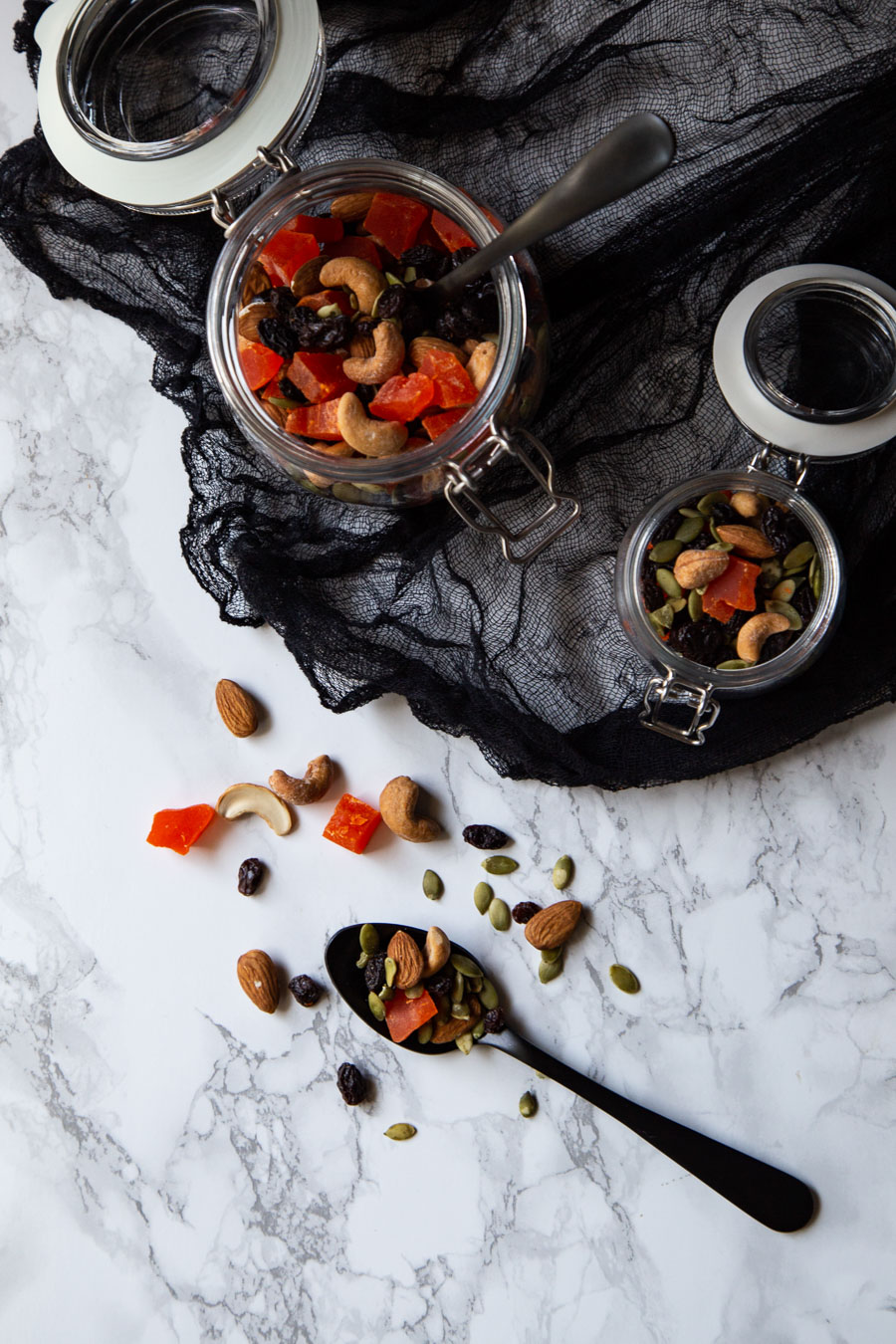 Naturally Black Foods
forbidden rice
black bean pasta
black sesame seeds
poppy seeds
dark chocolate
raisins
blackened chicken or fish.
Naturally Orange Foods
winter squash
oranges
turmeric
dried mango (found in orange and yellow)
cheddar cheese
orange heirloom tomatoes
sweet potatoes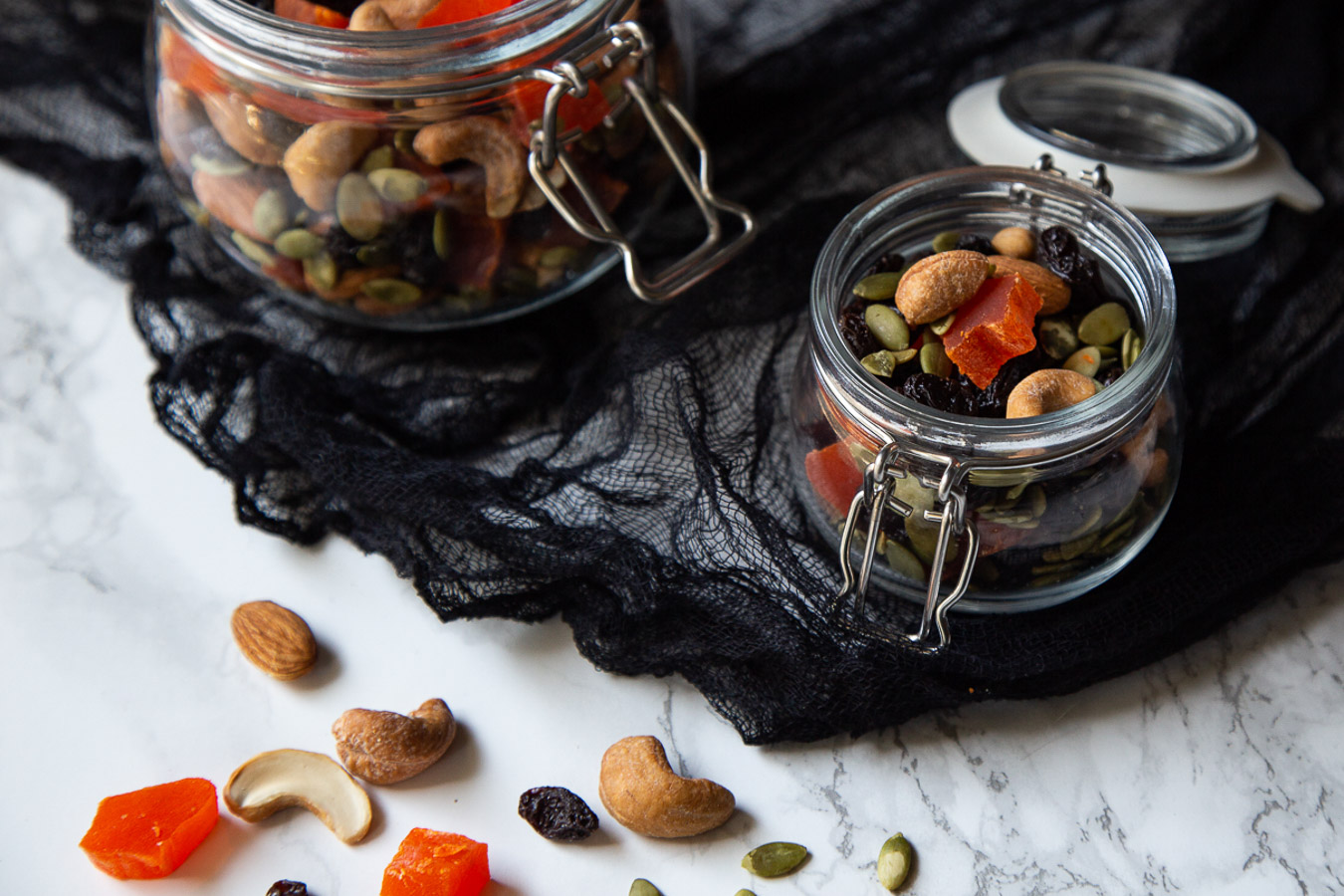 Snack Mix Recipes
I need snack mixes on hand year round (and not just for festive decor). This Trader Joe's Omega Mix is my all time favorite. Followed closely by this tropical trail mix.
SEASONAL RECIPE COOKBOOKS
DELICIOUS RECIPES TO ENJOY PRODUCE TO ITS FULLEST ALL YEAR ROUND. SIMPLE AND DELICIOUS RECIPES MADE FROM SCRATCH FOR YOUR FAMILY AND YOUR GUESTS ALL YEAR LONG!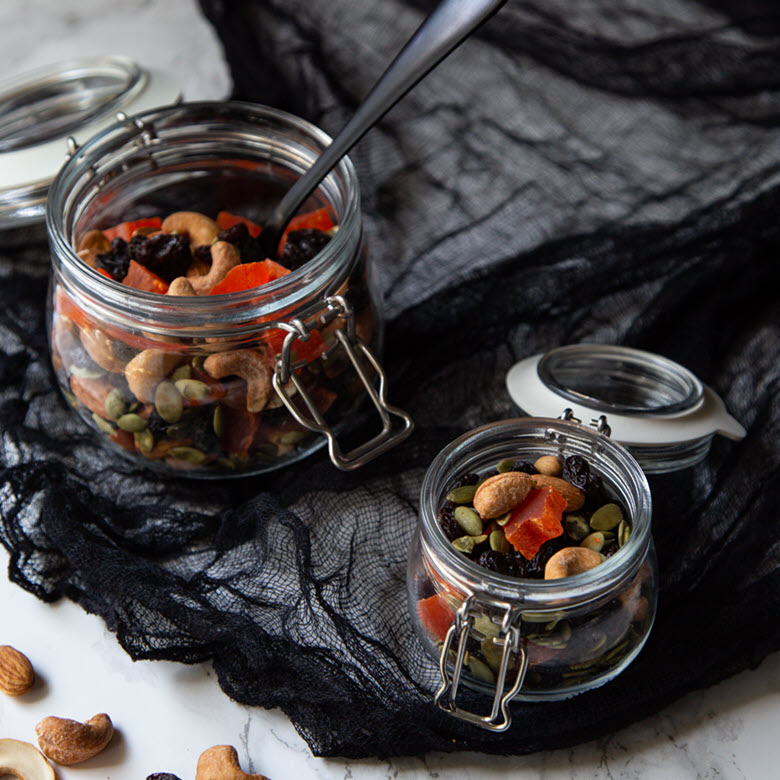 Print Recipe
HALLOWEEN SNACK MIX
A fun and delicious treat, this Halloween Trail Mix is a healthy black and orange recipe that everyone will love. You can make it ahead of time to serve at a party, dole out as gifts, or munch on your own!
Ingredients
1

cup

chopped dried papaya

½

cup

whole almonds

½

cup

whole salted cashews

½

cup

raw or salted pumpkin seeds

½

cup

raisins
Instructions
Stir together all ingredients in a medium bowl and enjoy.

You can make this ahead and store it in an airtight container for up to a week. I love these hermetic jars.
Nutrition
Calories:
179
kcal
|
Carbohydrates:
15
g
|
Protein:
6
g
|
Fat:
12
g
|
Saturated Fat:
2
g
|
Polyunsaturated Fat:
3
g
|
Monounsaturated Fat:
6
g
|
Trans Fat:
0.004
g
|
Sodium:
57
mg
|
Potassium:
210
mg
|
Fiber:
3
g
|
Sugar:
9
g
|
Vitamin A:
1
IU
|
Vitamin C:
0.2
mg
|
Calcium:
41
mg
|
Iron:
2
mg