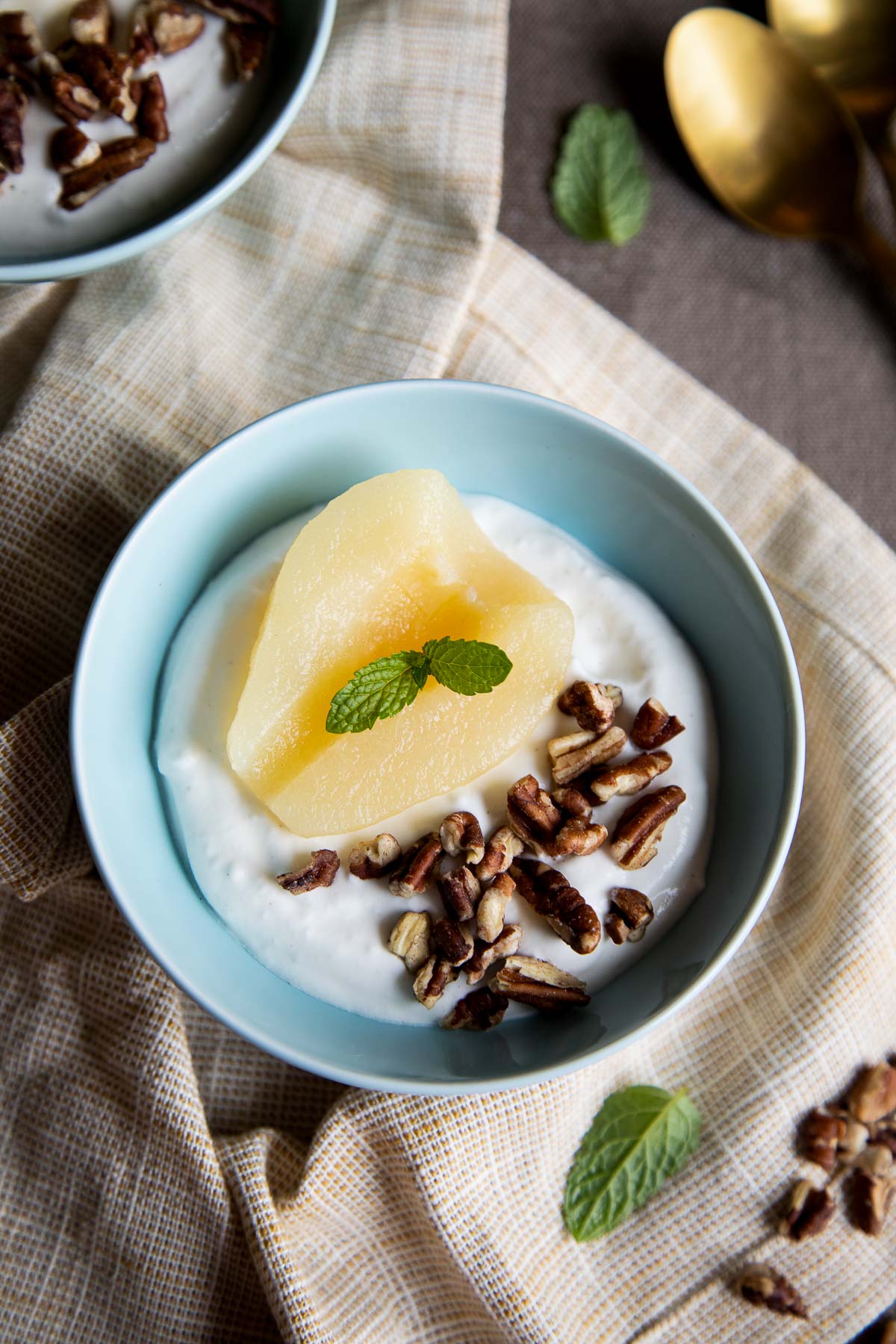 This canned pear dessert comes together so quickly and just hits the spot every time I put it all together!
I don't talk alot about canned fruits and veggies, but that's not for any particular reason. I grew up with my mom canning fruits, jams, and chutney (a great way to preserve seasonal food and avoid food waste). And we always have at least one or two of her homemade items on our shelves or in our refrigerator.
I recently brought home a jar of her pears and ended up making this yogurt and canned pear dessert one night when I needed an after dinner treat!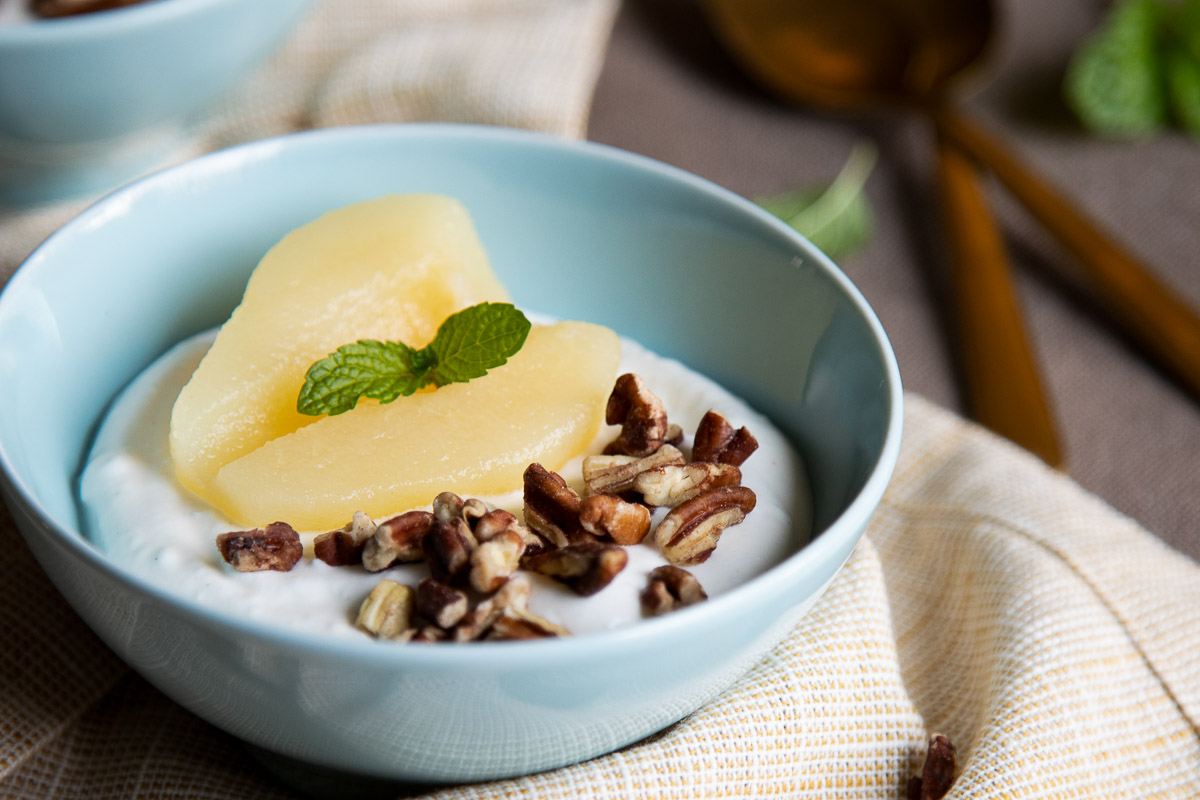 Canned Pear Dessert
If you're buying canned fruit, you'll want to look at the ingredients. Canned fruit tends to come in three options – in juice, in light syrup, and in heavy syrup.
Fruit in juice usually is a combination of water and a concentrate of the canned fruit. Light syrup means sugar is added. And heavy syrup can often means corn syrup is used. Always read your ingredient labels, so you know what you're eating!!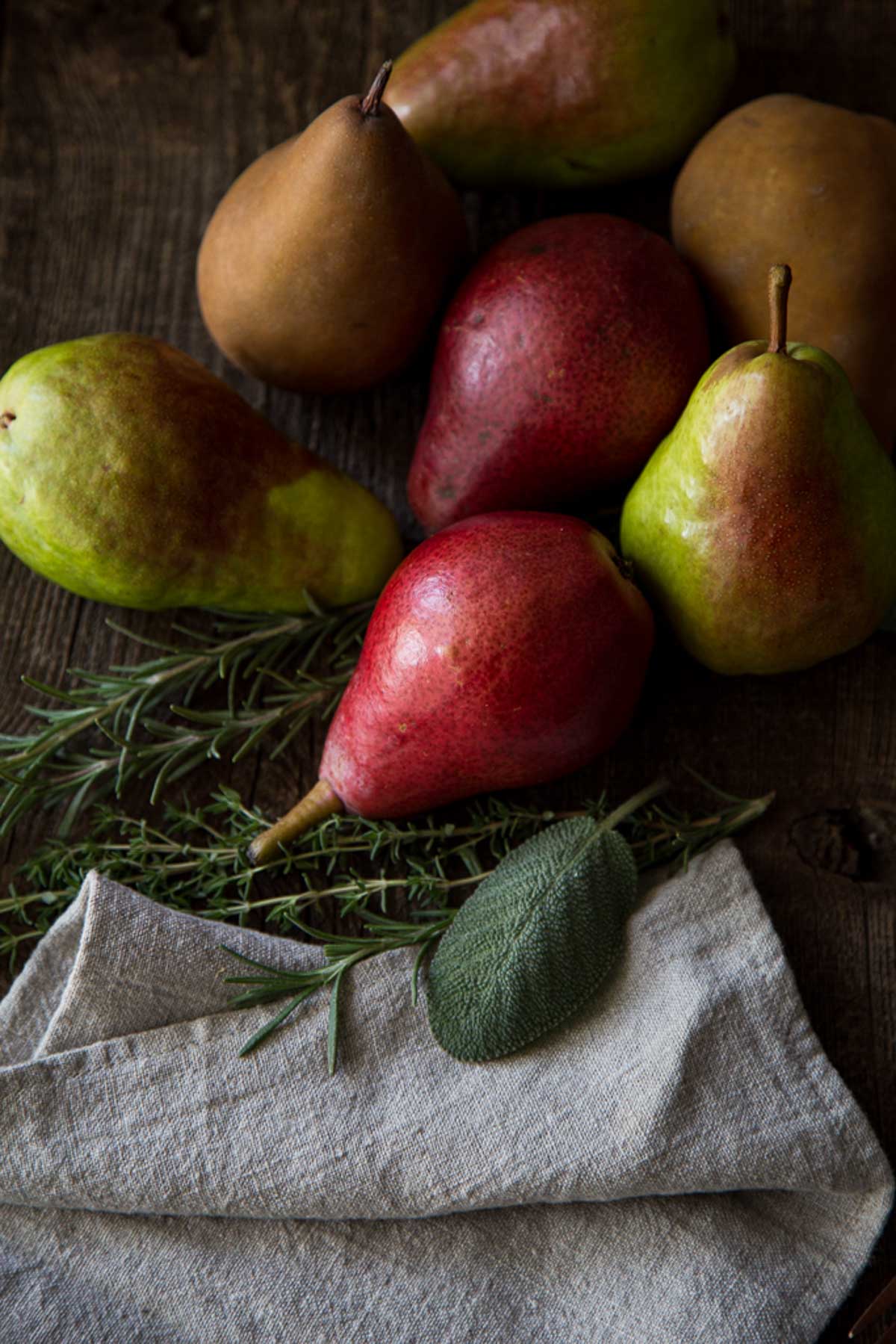 Fruit in its juice is actually decently sweet – not heavy for sure – and it's what I would opt for. You can always add sweeteners if you need it, but I've never found that I do!
Canned fruit (or at least canned pears) also come cut differently. You can find halves (pictured here), slices, and diced. My mom always makes halves, so that's what I'm used to, but I don't think it much matters what cut you go for! (It sounds like I'm talking about jeans, doesn't it?)
Or if you're feeling fancy (like my mom!), you can always try canning pears yourself! It's a delectable treat year round – served at any meal!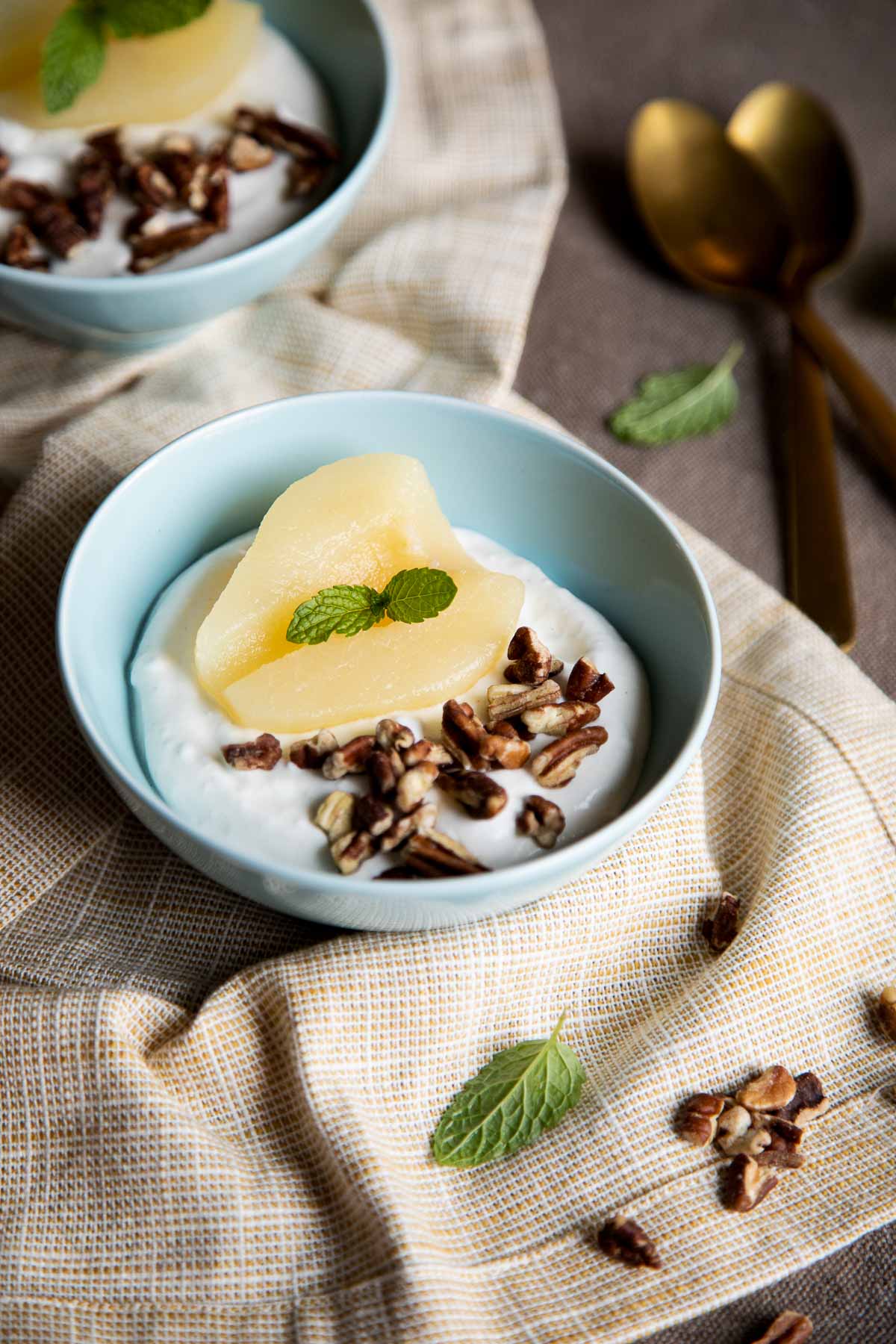 Yogurt for Dessert
I've had many a yogurt for dessert in my day. It's a guilt-free, healthy option in my book! Add some granola and fruit (or jam if you're feeling frisky), and you have a very satisfying dessert recipe!
That particular evening I made this canned pear dessert, I actually had some coconut yogurt in the refrigerator. Coconut yogurt is the only kind of yogurt my husband can eat on the Low FODMAP diet, so I bought it…but then never got around to baking much with it!
Which, in the end, was a total win for me, because under my mom's canned pears, with some toasted nuts, I enjoyed a very tasty dessert (something I bet will hit all the right spots when those hot summer days come along)!
Pear Recipes
MORE PEAR RECIPES
Looking for more used for pears? Try this fall bulgur salad, apple and pear crisp, pear muffins (so tasty!), and a pear martini that's PERFECT!
SEASONAL RECIPE COOKBOOKS
DELICIOUS RECIPES TO ENJOY PRODUCE TO ITS FULLEST ALL YEAR ROUND. SIMPLE AND DELICIOUS RECIPES MADE FROM SCRATCH FOR YOUR FAMILY AND YOUR GUESTS ALL YEAR LONG!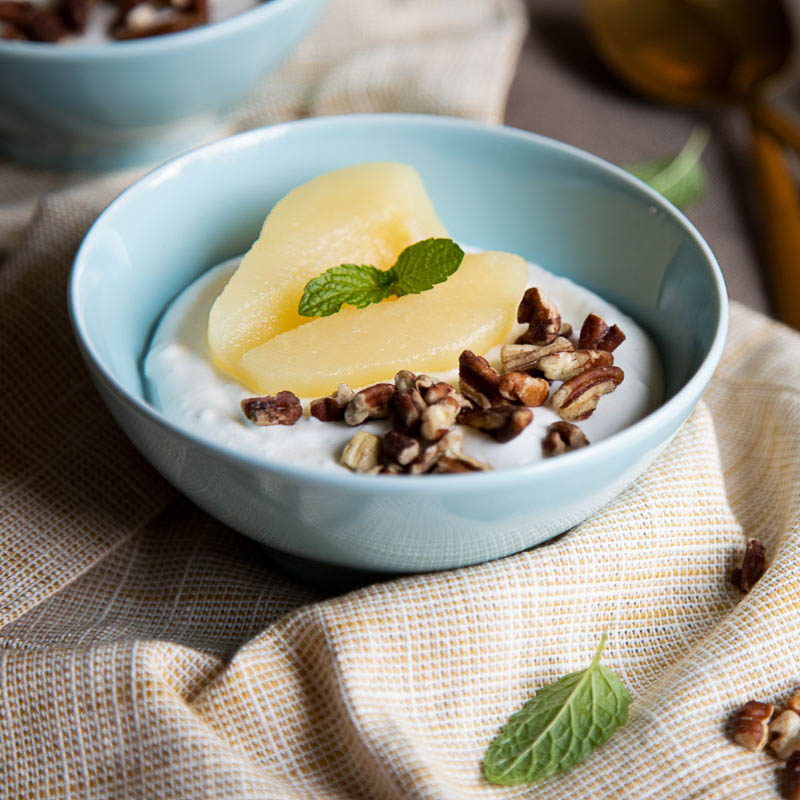 Print Recipe
DESSERT WITH CANNED PEARS
I grew up eating my mom's homemade canned pears. The natural sweetness of the winter fruit just can't be beat. Looking for a sweet after dinner treat, I came up with this yogurt and canned pear dessert – a simple way to enjoy great flavors!
Ingredients
1

cup

vanilla or coconut yogurt

1

15-ounce can pear halves in 100% juice

Pinch

ground vanilla bean

optional

2

tablespoons

toasted chopped pecans

Mint leaves for garnish
Instructions
Divide the yogurt among serving dishes. Top with 1 to 2 pear halves. Sprinkle the pecans on top and garnish with mint leaves. Serve immediately or chill until ready to serve.
Nutrition
Calories:
155
kcal
|
Carbohydrates:
6
g
|
Protein:
12
g
|
Fat:
9
g
|
Saturated Fat:
2
g
|
Polyunsaturated Fat:
2
g
|
Monounsaturated Fat:
4
g
|
Cholesterol:
7
mg
|
Sodium:
46
mg
|
Potassium:
41
mg
|
Fiber:
1
g
|
Sugar:
5
g
|
Vitamin A:
71
IU
|
Vitamin C:
0.1
mg
|
Calcium:
139
mg
|
Iron:
0.3
mg