Get ready for some serious nostalgia with this apple pear crisp recipe. Luckily it will all include the most helpful tips you need for making scrumptious apples pies and crisps every single time!!!
In second grade, my teacher created a book with every student's favorite recipes. Mine? Apple crisp.
I'm now well trenched into my 30s and the one dessert I crave and daydream about more than anything? Apple crisp. What can I say? Some things never change.
Thankfully my husband was easily sold on crisp as well. Besides my chocolate chip cookies, it's probably the dessert I bake the most in our home.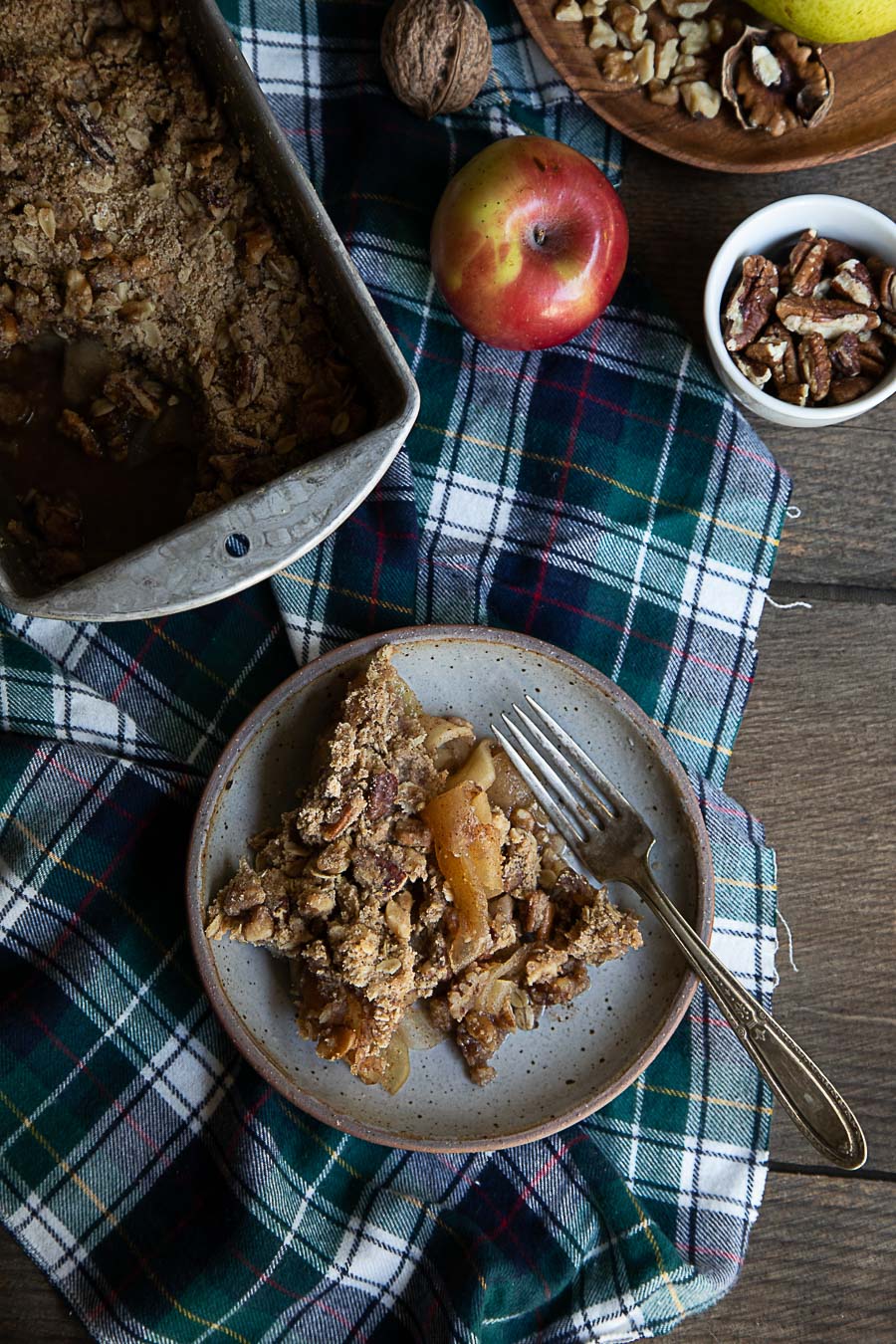 Apple Pear Crisp
It's not surprising then that I have a weakness for apple and pear desserts. If we're out to dinner, my mom and husband always know I'll opt for the crisp, cobbler, or tart!
Besides the simple, rustic flavors being so satisfying, I love that it's also really pretty easy to throw together. It doesn't require any decorating skills; you can easily fudge the ingredient amounts and nobody will notice; and we've learned the secret to making it SCRUMPTIOUS!!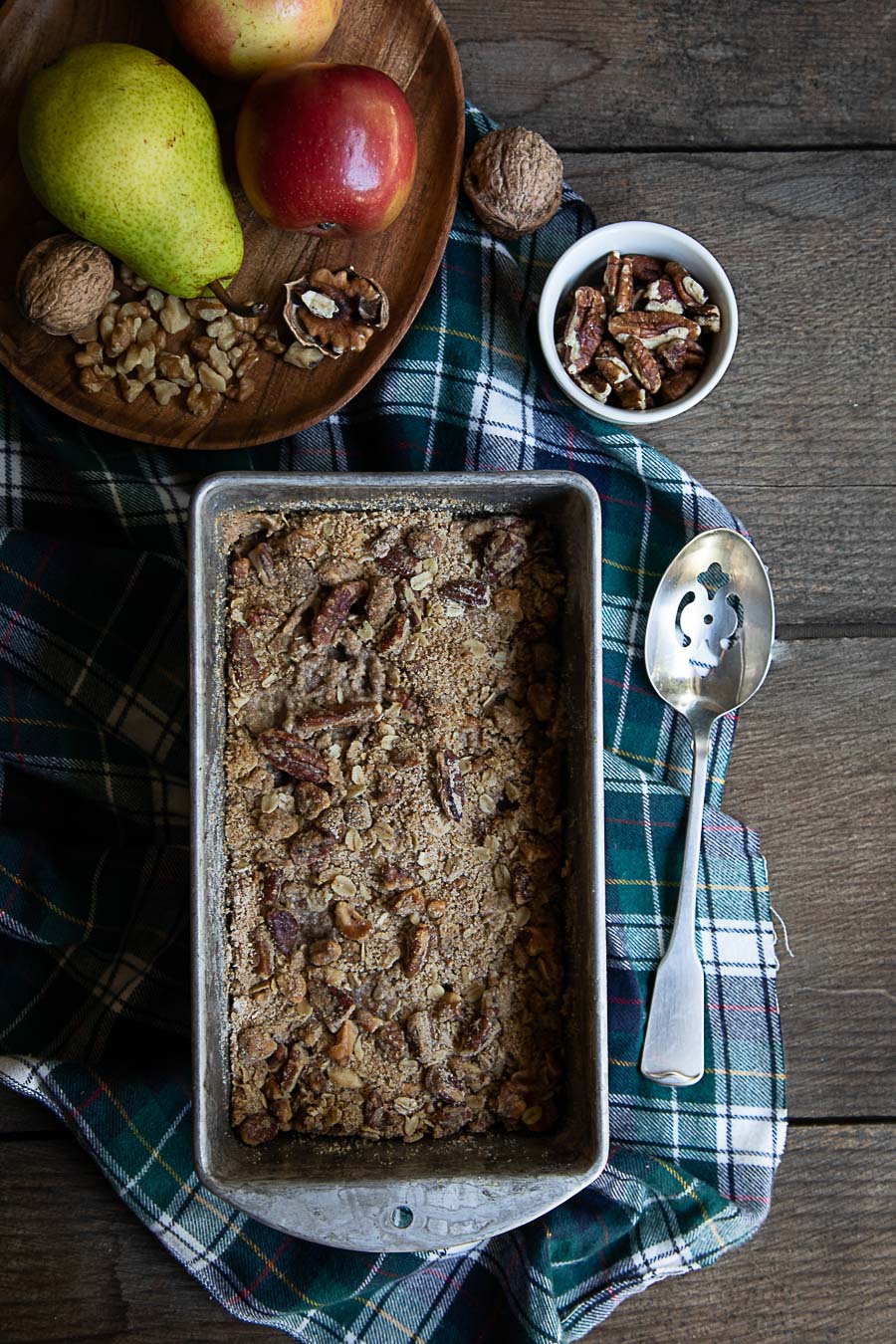 How Thin to Slice Apples for Baking
So if you have any experience with baking apple pies or crisps, you know sometimes they're better than other times. The secret, we've learned, is to slice the fruit thinly.
With thin slices, you can pack more fruit into the dish before cooking. Since the fruit softens and settles while cooking, you can get more fruit packed into the limited space!
How thin? About a ¼″. It's not microplane thin, but thin enough without losing your mind! I usually cut the four sides around the core. Then lay the flat side down and slice. Then it goes pretty quickly.
And besides slicing them thin, you totally need to try this double nut setup atop your apple and pear crisps! The mixture of pecans and walnuts is everything you can imagine. It adds the perfect crunchiness and delicious flavor profile!
Crispy Apple Crisp Topping?
I've followed a few crisp recipes for apple and pear desserts online. I've learned that even beyond the difference of crumbles, crisps, and cobblers is the kind of topping on a crisp.
I've had crumbly topping (pictured here)- great, but not where my heart is. I like crunchy toppings on my crisps. I think the crunchiness just balances the soft fruit so wonderfully.
The difference in a crumbly versus a crunchy crisp topping? The butter. For a crumbly topping, you'll want to use cold, cubed butter. For a crunchy topping, melt the butter to mix in with the ingredients.
If you want a spring or summer version of this dessert, try a strawberry cobbler!!
More Pear Recipes
Looking for more used for pears? Try this fall bulgur salad, pear muffins (so tasty!), this spiced pear martini, and this easy and delicious canned pear and yogurt dessert!
Get more fall recipes here!
FALL & WINTER RECIPE COOKBOOK
Delicious recipes to enjoy FALL & WINTER produce to its fullest. Simple and delicious recipes made from scratch for your family and your guests THROUGHOUT THE COOLER MONTHS!
Print Recipe
APPLE PEAR CRISP
If you love apple crisp, this double nut apple pear crisp will knock your socks off. Slicing the fruit very thin lets you pack more in the dish for a delectable moist, delicious dessert that will be your new favorite!!
Ingredients
2

medium apples

peeled, cored and thinly sliced

2

medium pears

peeled, cored and thinly sliced

1

teaspoon

lemon juice

¼

cup

sugar

½

teaspoon

ground cinnamon

¼

teaspoon

ground nutmeg

¼

teaspoon

fine sea salt
topping
½

cup

all-purpose flour

⅓

cup

old fashioned rolled oats

½

cup

light brown sugar

½

teaspoon

ground cinnamon

¼

teaspoon

ground ginger

¼

teaspoon

ground nutmeg

¼

teaspoon

fine sea salt

½

cup

butter

see note

½

cup

chopped raw pecans

½

cup

chopped raw walnuts
Instructions
Preheat the oven to 375°F and spray a 9-by-5-inch loaf pan with non-stick cooking spray.

Add the apples and pears to a medium bowl. Stir in the lemon juice, sugar, cinnamon, nutmeg, and salt to coat each piece of fruit. Transfer fruit to the prepared loaf pan and spread the slices evenly in the pan.

To make the topping, stir together the flour, oats, and brown sugar in a medium bowl. Add the cinnamon, ginger, nutmeg, and salt. Add the butter and work the topping with a fork until well mixed. Stir in the nuts.

Pour the topping over the fruit and spread evenly in the pan. Bake for 30 minutes, until the apples and pears are tender and the topping is browned. Let cool for at least 5 minutes before serving.
Notes
For a crumbly topping, use cold, cubed butter and use a fork or finger tips to work the butter into little pieces, dispersed throughout the topping.
For a crunchy topping, use melted butter. Use fork to mix thoroughly into dry ingredients.
Save this recipe on Pinterest!
Make this recipe? I'd love to see how it turned out…
PINTEREST: Upload a photo and your review to this Pin!
INSTAGRAM:  Tag me @lucismorsels and use #LMrecipes
Nutrition
Calories:
481
kcal
|
Carbohydrates:
58
g
|
Protein:
4
g
|
Fat:
28
g
|
Saturated Fat:
11
g
|
Polyunsaturated Fat:
7
g
|
Monounsaturated Fat:
8
g
|
Trans Fat:
1
g
|
Cholesterol:
41
mg
|
Sodium:
323
mg
|
Potassium:
271
mg
|
Fiber:
6
g
|
Sugar:
39
g
|
Vitamin A:
528
IU
|
Vitamin C:
6
mg
|
Calcium:
52
mg
|
Iron:
2
mg