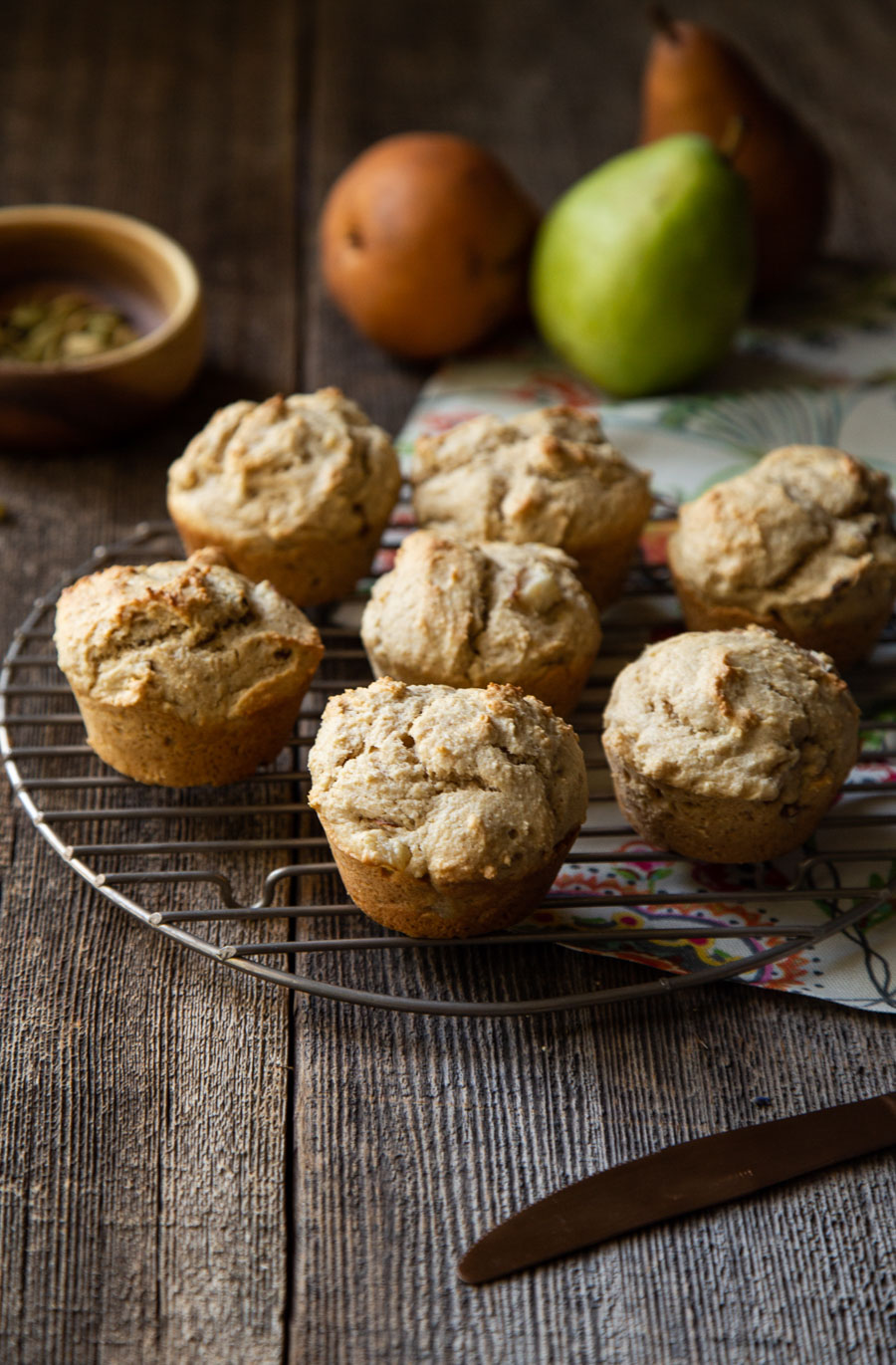 Spiced pear muffins are the perfect way to enjoy fall flavors! And these have quickly become one of my favorite fall recipes!
Growing up in rural northern California, my parents and I took many a road trip. Whether it was for the day, overnight, or a long weekend, we always seemed to be heading out somewhere.
One of our favorite destinations? Medford, Oregon (yep, to Harry & David). In the fall, they sell pears by the lug-full (roughly 40 pounds) and we stocked up. My mom always canned pints of pears (impossibly delicious by the way) and made pear chutney.
With the slow but definite arrival of fall, I've been craving the comfortable flavor, so these spiced pear muffins came to be.
Wondering what else is in season in fall? Check out the complete list with recipes organized by ingredient.
SPICED PEAR MUFFINS
There are a wide variety of pears – some soft and sweet, other crunchy and more neutral in flavor. Each has their own purpose in life – you just can't expect an Anjou and a Bosc pear to give you the same tasty results!
The best part about all pears, however, is that with a few tasty seasonings (usually reminiscent of fall), you can have delicious bliss. This spiced pear muffins recipe does everything you need to get that perfection…
Common Pear Varieties
ANJOU: Juicy with a firm texture. Not too sweet. Good for cooking.
BARTLETT: Juicy and great for eating raw. Taste and shape lost when cooked.
BOSC: Crunchy and ideal for baking as they hold their shape.
COMICE: Juicy and sweet. Best for eating raw.
What do Pears Taste Like in Baking?
It took me a long time to understand (or rather accept) that pears have a delicate flavor – raw and, more so, when baked. Pear recipes, more than apple recipes, really require the right balance of flavors if you want to get any pear flavor.
They're lovely to bake with, but I usually just have to scale back my hopes of having a strong pear flavor.
BAKING WITH CARDAMOM
These spiced pear muffins have two of my favorite seasonings – ginger (a perfect counter to anything sweet) and cardamom. I realized cardamom was so magical about five years ago and now I seek out anything featuring it as an ingredient.
The spice isn't sweet in and of itself, but goodness is it delicious in baked goodies. I love opening up my container of cardamom, closing my eyes, and taking a sniff.
Immediately I start thinking of all sorts of flavors that it reminds me of, savory and sweet. I've been known to add extra to recipes, so do as you will.
FALL & WINTER RECIPE COOKBOOK
Delicious recipes to enjoy FALL & WINTER produce to its fullest. Simple and delicious recipes made from scratch for your family and your guests THROUGHOUT THE COOLER MONTHS!
BAKING WITH NUTS
I understand that the idea of chopped nuts in cookies and breads is polarizing, but I'm wholeheartedly in the camp that nuts make everything better.
They're the perfect addition of crunch to break up an otherwise uniform consistency and they provide a great flavor balance.
Best Nuts for Baking?
This is a question with only a subjective answer, but as long as nobody is ready to get up in arms about it…then I'll wholeheartedly tell you that pecans are my go to nuts for baking (and cooking too – my pesto often has pecans)!
I keep whole pecans in the freezer for months at a time (depending on how quickly I'm using them up really). They'll keep for a long time in a good, sealed container!
If you aren't huge into nuts in your cooking, I recommend you just chop them finer rather than omitting them all together.
You may find you get to the point, like me, where you like big chunks of nuts in your cookies and breads and the more the merrier.

Other Pear Recipes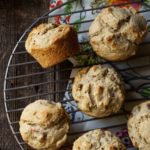 Print Recipe
SPICED PEAR MUFFINS
Deliciously fall, this recipe for spiced pear muffins is easy and flavorful. Made with wonderful spices – cardamom is my absolute favorite – you'll want more than one.
Ingredients
2

cups

whole wheat pastry flour

such as Bob's Red Mill

½

cup

sugar

2

teaspoons

baking powder

1

teaspoon

ground cardamom

1

teaspoon

ground ginger

½

teaspoon

fine sea salt

1

Bosc or Anjou pear

cored and chopped (about 1 cup)*

⅓

cup

chopped raw walnuts

optional

½

cup

unsalted butter

melted and cooled slightly

1

large egg

¾

cup

reduced fat buttermilk
Instructions
Preheat the oven to 400 degrees F. Spray a 12-muffin tin with non-stick cooking spray.

Stir together the flour, sugar, baking powder, cardamom, ginger, and salt in a large bowl. Fold in the pear and walnuts.

Whisk the egg into the melted butter. Pour into the dry ingredients and stir gently. Pour in the buttermilk and continue to stir until a thick batter forms.

Divide the batter between the 12 slots in the muffin tin. Bake for 20 minutes, or until a toothpick inserted into the middle comes out clean. Serve warm or at room temperature.

*You can peel the pear if desired, but it's really not necessary as the skin softens when the muffins are baked.
Nutrition
Calories:
211
kcal
|
Carbohydrates:
27
g
|
Protein:
4
g
|
Fat:
11
g
|
Saturated Fat:
5
g
|
Polyunsaturated Fat:
2
g
|
Monounsaturated Fat:
3
g
|
Trans Fat:
0.3
g
|
Cholesterol:
36
mg
|
Sodium:
197
mg
|
Potassium:
139
mg
|
Fiber:
3
g
|
Sugar:
11
g
|
Vitamin A:
272
IU
|
Vitamin C:
1
mg
|
Calcium:
73
mg
|
Iron:
1
mg