This One Pot Sausage Pasta Recipe post is sponsored by al fresco.
I shared in last week's post on how to help new parents that getting enough to eat in those first few weeks after having our little boy was a lot of work. While things aren't nearly so difficult these days, it's still far from easy eating enough food each day.
My husband and I recently started baking egg cups with protein and veggies on the weekend to grab during the week. They're ideal for him to take to work and for me to reheat in the toaster oven at home. Around lunchtime, however, the options aren't usually so easy. And then somewhere along the line, dinner has to be planned.
In the last few weeks, in fact, I've noticed that I haven't always been getting enough food to eat during the day and I need to plan ahead a bit more! Since big dinners lead to leftovers for lunch, I'm all about recipes like this one pot sausage pasta!
One Pot Sausage Pasta
You might remember this one pot pea pasta recipe from a few years ago. This was a favorite during and after my grad school years, and I'm not ashamed to tell you that my husband and I might be alive because of that simple recipe.
Now that we need heartier meals, however, – with protein I might add – adding chicken sausage has been a great addition that requires practically no work!
al fresco recently launched these new individually wrapped links with flavors fitting for a certain cuisine. I shared the Salad Night Faster sausage in this recipe for a healthy, delicious fall salad. And today's one pot sausage pasta features their mild Italian flavor! And, oh my, is it tasty!!!
There is also a Taco Night Faster flavor that sounds tasty for tacos (or breakfast tacos for dinner!)!
Ideal Dinner/Lunch Recipe
The hardest part of this recipe is waiting for the water to boil. The peas cook very quickly and the sausage is already cooked – you're just heating it up with the pasta at the end!
Besides how easy and filling this recipe is, I love that I can eat it easily for lunch (reheated or not)! It's also the perfect balance of protein, carbs, and some great veggies!!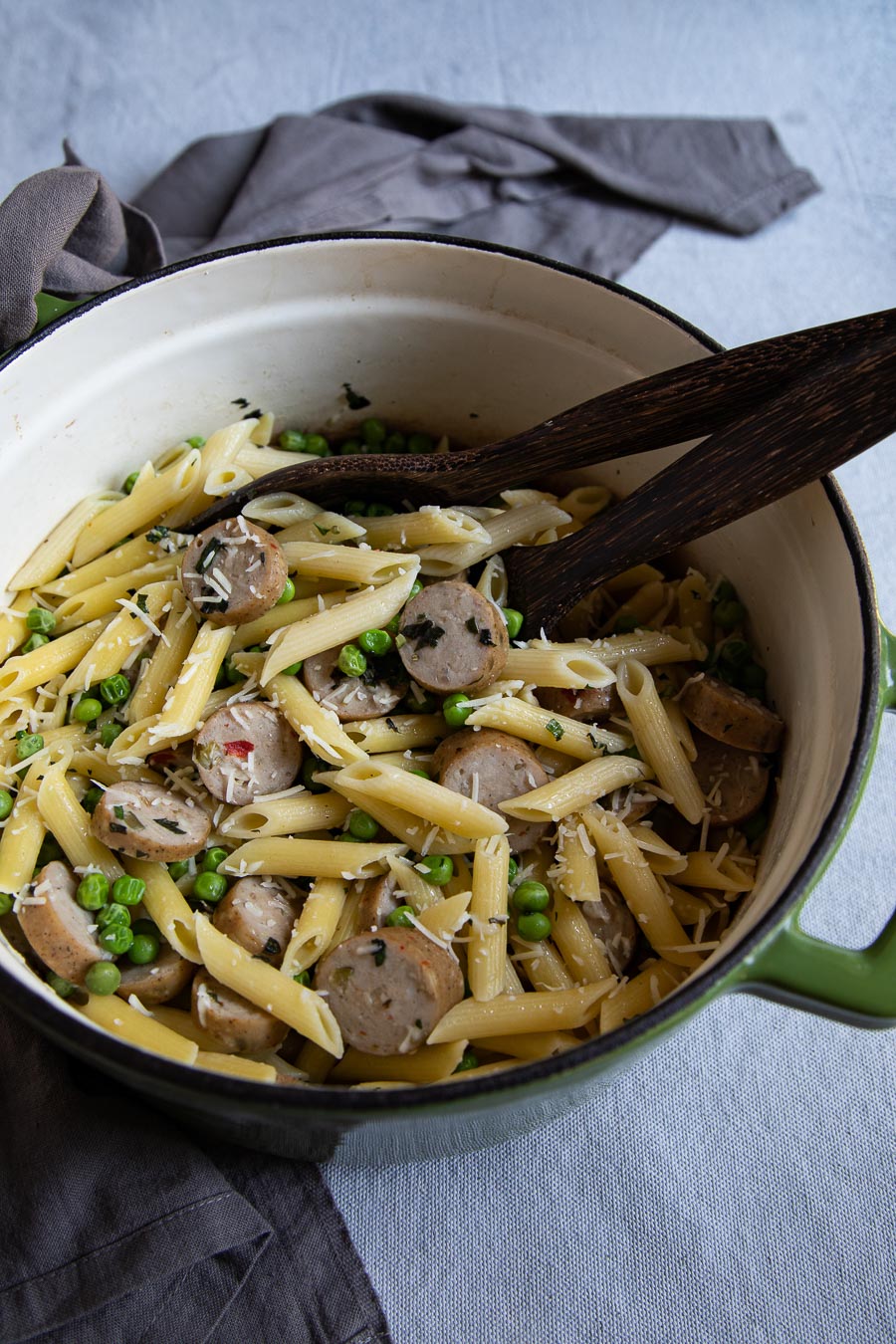 Looking for other recipes with chicken sausage? Try this delicious fall salad topped with sliced chicken sausage, the most beautiful smoked sausage skillet with veggies, and this meal-prep sausage and polenta. And don't skip this easy chicken sausage breakfast bowl that's SUCH a good, easy dinner idea!
Want some other good one pot recipes? This lemon tuna pasta is easy, inexpensive and delicious! Simpler versions (great as a side dish too) are peas and pasta and this one pot summer veggie pasta is a mandatory one in our house.
If you need something heartier, check out this one pot Mexican casserole, plant-based lentil soup, and shrimp + pancettas wild rice medley!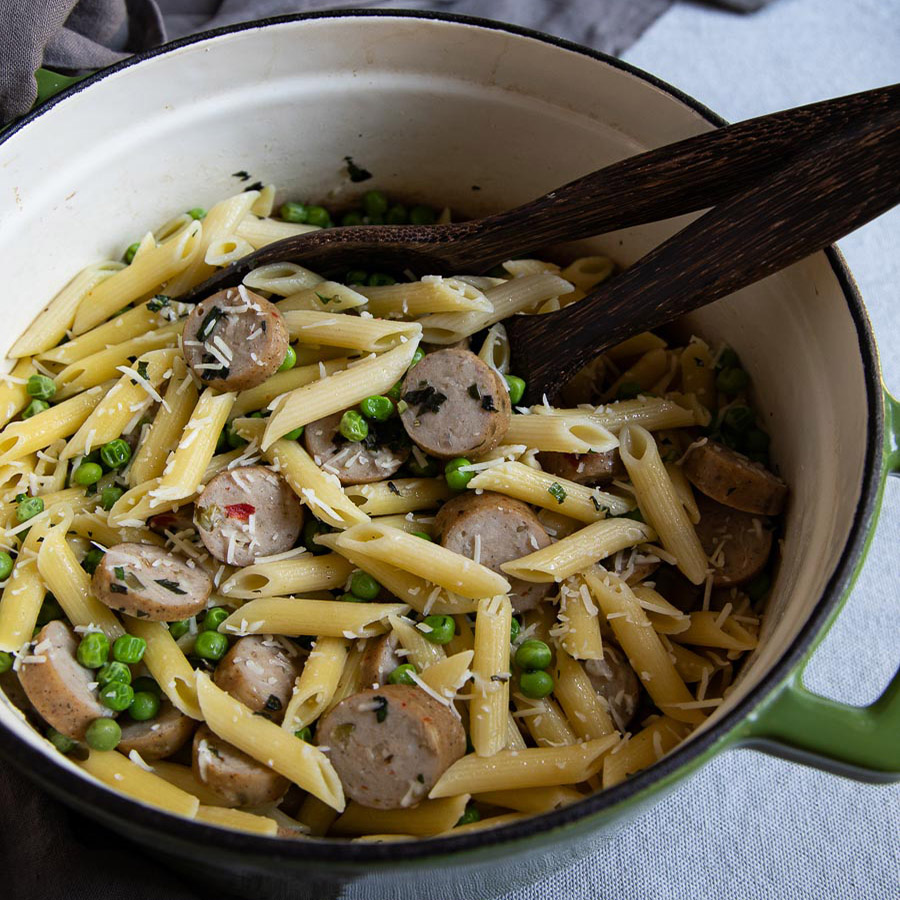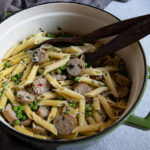 Print Recipe
ONE POT SAUSAGE PASTA
Pasta is always a good dinner idea in our house! And equally wonderful is any one pot dish. This one pot sausage pasta is a step up from my go to pea pasta recipe with chicken sausage slices!
Ingredients
1

tablespoon

fine sea salt

plus ½ teaspoon

1

pound

dry penne pasta

13

ounce

bag frozen peas

¼

cup

chopped fresh basil

2

tablespoons

extra virgin olive oil

2

tablespoons

grated parmesan cheese

plus more for garnish
Instructions
Bring 10 cups of water to a boil over medium-high heat in a large soup or pasta pot. Once it boils, sprinkle in one tablespoon of salt.

Add the pasta and cook for 8 minutes. Add the peas. Allow the water to return to a boil and cook 1 to 2 more minutes, until the pasta is al dente and the peas are heated.

Turn off the heat. Drain the water from the pot, but reserve ½ cup of the pasta water.

Turn the heat to low. Stir in the sausage, basil, and olive oil. Once the oil is mixed in well, add the ½ cup of warm pasta water and stir. Add the 2 tablespoons of parmesan and remaining ½ teaspoon of salt. Cook for 1 to 2 more minutes, until the sausage is warmed.

Garnish with more parmesan and serve.
Nutrition
Calories:
379
kcal
|
Carbohydrates:
66
g
|
Protein:
14
g
|
Fat:
7
g
|
Saturated Fat:
1
g
|
Polyunsaturated Fat:
1
g
|
Monounsaturated Fat:
4
g
|
Cholesterol:
2
mg
|
Sodium:
1201
mg
|
Potassium:
325
mg
|
Fiber:
6
g
|
Sugar:
6
g
|
Vitamin A:
538
IU
|
Vitamin C:
25
mg
|
Calcium:
49
mg
|
Iron:
2
mg
This One Pot Sausage Pasta Recipe post is sponsored by al fresco. All opinions are my own. Thank you for supporting Luci's Morsels collaborations.