This cherry sorbet recipe post is sponsored by Raley's.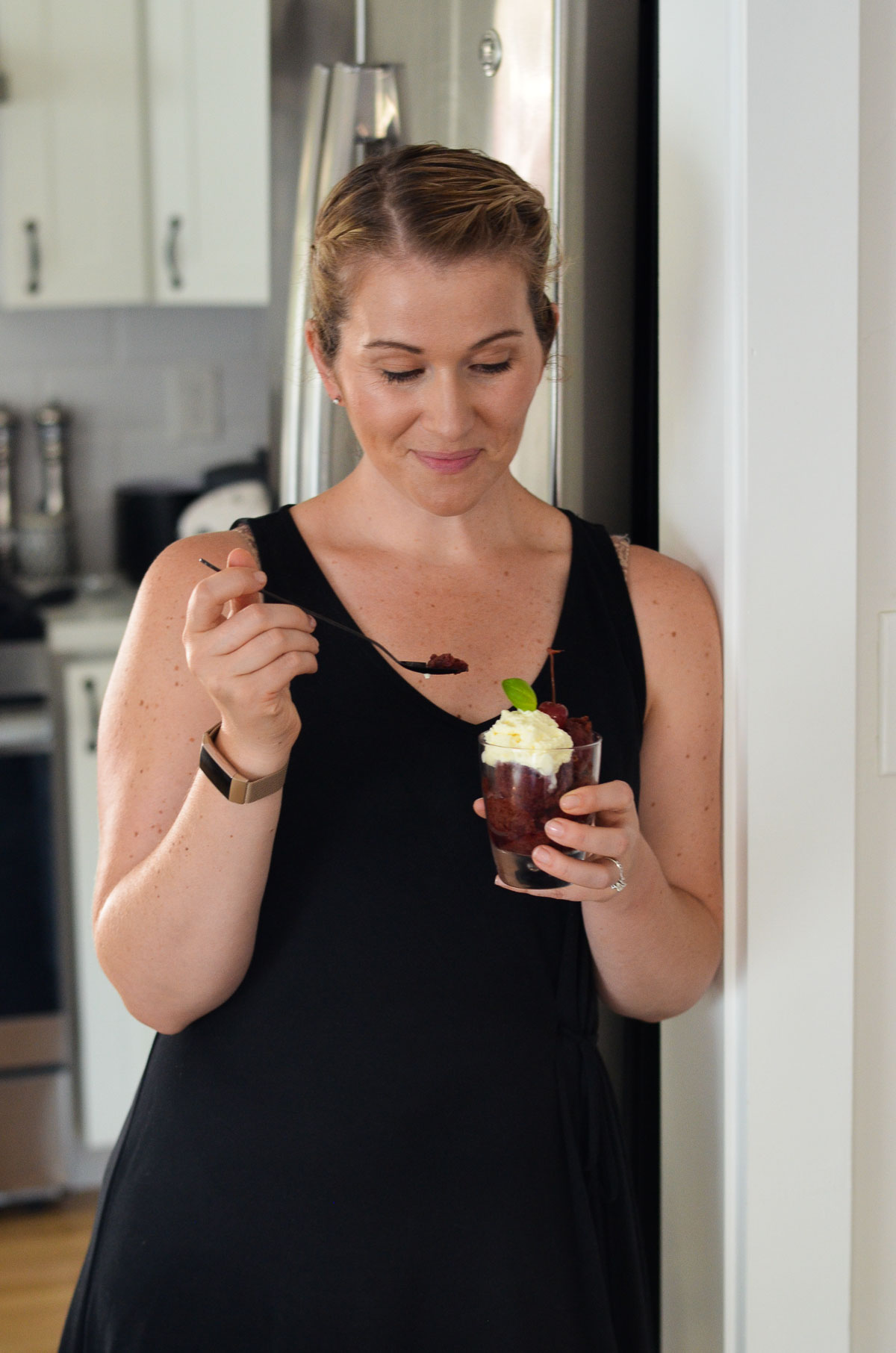 You'll never guess, but I've been desperately in need of dessert with practically no time to make it, nor do I want to turn on the oven when the bit of time does arise!
Alas. A quick sorbet was in order – made a bit more decadent with a little twist on my homemade whipped cream recipe!
This frozen cherry sorbet has 1 ingredient. ONE!!! It's really refreshing and tasty on its own, but I did make it a little fancy with a basil infused whipped cream!
And I made this whole dessert "process" even easier by using Raley's online order and pickup service. I just ordered on my app, put C in the car with me, and we went to pick all our groceries up (including the ingredients I needed for the sorbet).
I love that we don't have to go into the store or worry about what to do with our little guy – a huge concern with grocery shopping for us these days.
Cherry Sorbet
I'm not sure if C likes cherries more than I do, but it's comparable. This little guy is certainly putting my love of fruit (and veggies thankfully) to the test.
For this dessert, I wanted to use frozen cherries so it wouldn't take so long to make (I'm impatient when it comes to dessert sometimes apparently)!
Once I figured out that I could easily make the sorbet with just cherries, I was super excited! I wanted to get a little fancy (there's room for that with one ingredient recipes), however, so I made some homemade whipped cream!
With so much fresh basil these days, I decided to add the herb as an earthly balance to the natural sugars in the sorbet.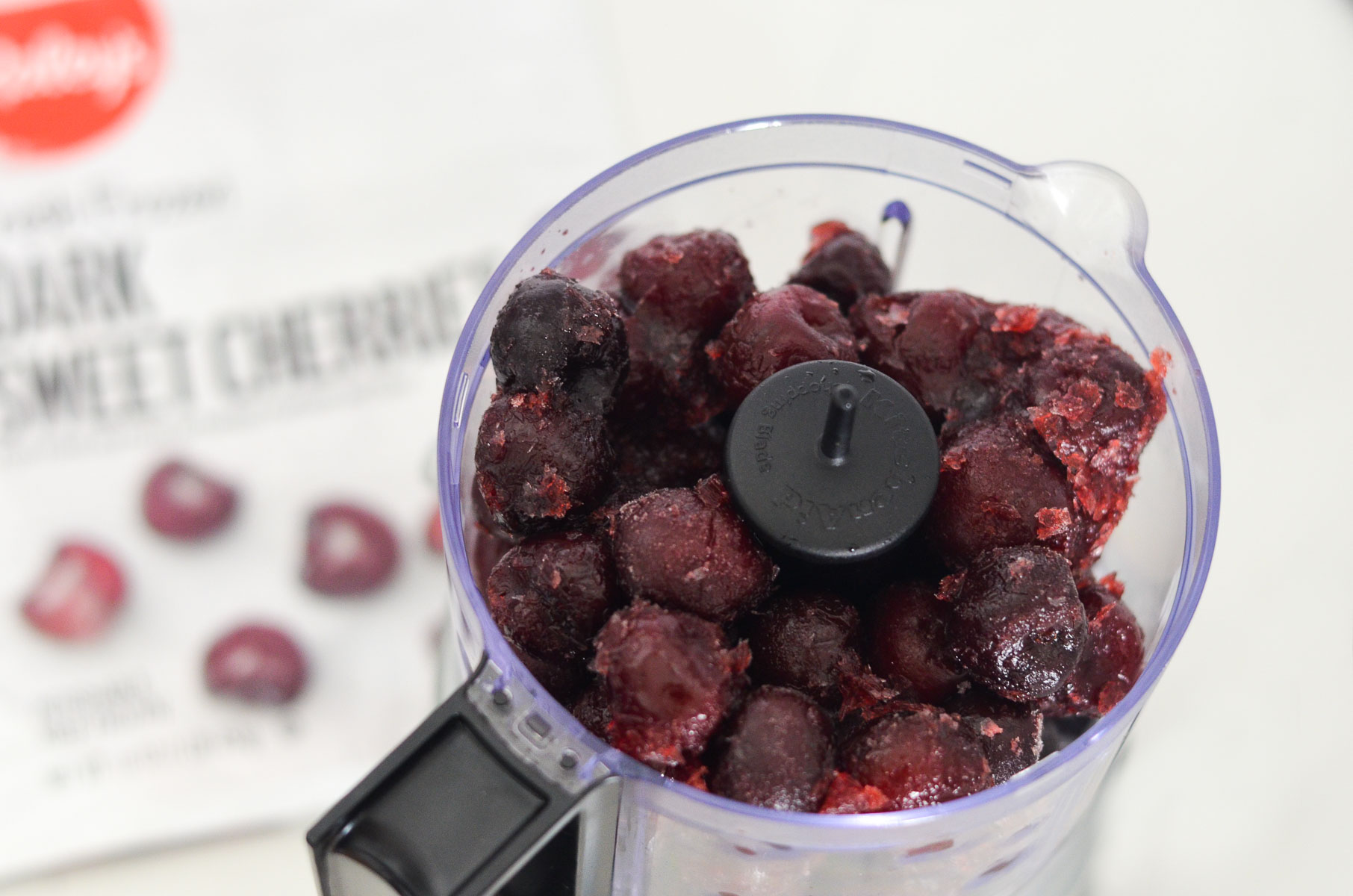 Frozen Cherries?
Raley's has their own in-store brand that we're really enjoying. Besides the jar of unsweetened applesauce I buy in bulk for C (yay for no plastic!), we've been trying their snacks, organic canned tomatoes and beans, eggs, and some of their frozen produce!
Their store brand includes organic and non-organic items in every department at lower costs than a number of name brands!
I'm a bit of a fanatic when it comes to buying frozen foods. I ALWAYS look at the ingredients. In general, I love frozen produce. It's usually packed when it's in season (and available in plentiful amounts). It can have the same nutrition and gives access to that goodness year round.
The thing I get fanatical about, however, is what other ingredients are used. You'd be surprised what you'll find in frozen produce (usually salt, sugar, and/or a color preservative) – no thank you! These dark sweet frozen cherries are just cherries and they are TASTY!
One Ingredient Dessert
So. yeah. Back to this quick and easy dessert. With the frozen cherries, I just take the bag out of the freezer. I like to let it sit for 5-10 minutes to defrost just slightly. This makes blending easier.
Then I pop the fruit into the food processor (a good blender would work fine) and puree until it looks like sorbet. Then back into the freezer until dessert time!
The basil whipped cream is a bit more involved, but it's still quite easy. I initially thought about doing basil infused simple syrup and adding that to whipping cream. My recipe searches online showed infused the cream with basil on the stove.
I tried both methods and ultimately decided that a mix of the two was actually the best option. Otherwise the flavor is much more subtle than I wanted. Both can be made ahead of time, then you just have to whip the cream for dessert and scoop it all into your dish!
Ordering Groceries Online for Pickup
I felt as though I was the last person to try the grocery pickup thing. I've since found out I'm not, BUT I am happy to share my excitement for it!
My mom tried the Raley's online ordering first actually and then told me about it! The first time I did it, my order was a little erratic and totally not enough to help us get through even the weekend! Embarrassing.
Now I have it down pretty well. I have the Raley's app on my phone and as we think of stuff to get, I add it to my 'grocery cart.' Then when it's time for groceries, I go through and add in the usual stuff. You can even click to add from previous orders, so it's getting easier.
Adding items as I think of them has really helped avoid having to make multiple trips.
The other important thing is to check whether you're ok with substitutions. I checked no substitutions, thinking that was better to avoid getting items I didn't want. Then one time they were out of the eggs I'd picked so instead of getting similar eggs from another brand or something, I just didn't get eggs all together.
So now I check no substitutions for all items and then go back through and unselect it for the items we for sure need and don't mind another brand.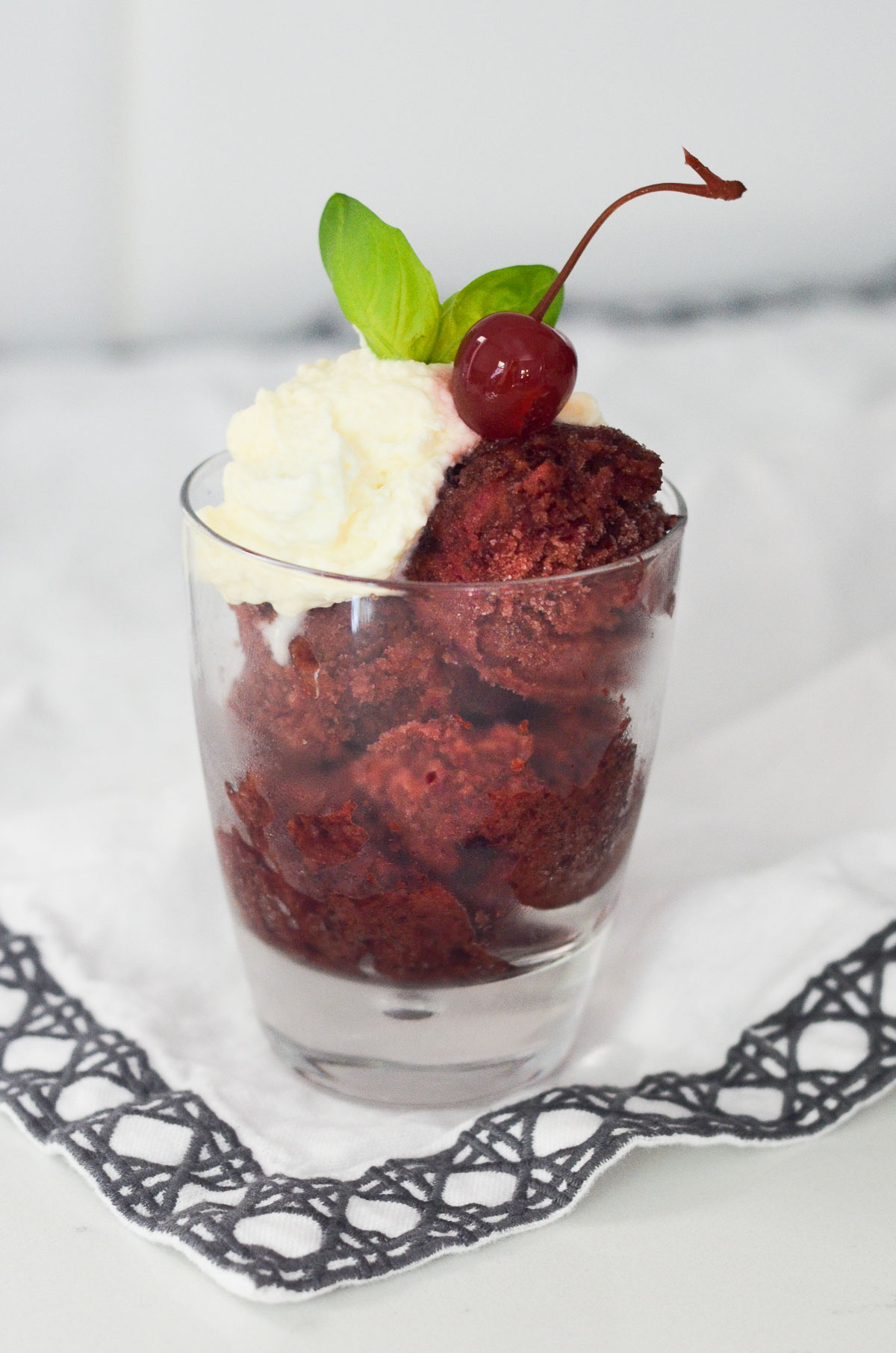 Can you Use Other Frozen Fruit?
The short answer is yes! The long answer is YES, YOU TOTALLY SHOULD! Whether you're buying frozen fruit and/or using frozen fruit you did with spare produce, this method for sorbet is the same for all the fruit.
And if you're overwhelmed with rosemary instead of basil, you can follow the same recipe for a slightly different herb infused whipped cream!
Summer Fruit Desserts
Looking for more dessert recipes to enjoy this summer? You'll love this apricot tart, BBQ cake with cherries, strawberry compote for sundaes, raspberry shortcake trifles, and plum compote over ice cream or yogurt!
Print Recipe
Cherry Sorbet
Enjoy the refreshing flavor of cherry sorbet made with just frozen cherries. Top it with delicious basil whipped cream for a perfect summer dessert. The basil whipped cream combines basil infused whipping cream and basil simple syrup (both can be made ahead of time) for a deliciously sweet and slightly earthy morsel. Perfect for 1, 2, or a party of more!
Ingredients
Frozen Cherry Sorbet
16

oz

fresh, frozen dark sweet cherries

from Raley's
Basil Whipped Cream
1

cup

heavy whipping cream

8

large basil leaves

divided

¼

cup

water

¼

cup

sugar
Instructions
Frozen Cherry Sorbet
Remove frozen cherries from freezer. Let sit 10 minutes. Meanwhile make basil whipping cream and simple syrup.

Add frozen cherries to food processor or strong blender. Puree until smooth, scraping sides as needed.

Pour puree into a freezer safe bread pan. Freeze in a covered container at least one hour to harden into sorbet. Can be made up to 1 day ahead of time.
Basil Whipped Cream
To make basil whipping cream, bring heavy whipping cream to simmer over low heat (1-2 minutes). Remove from heat. Stir in 5 large basil leaves. Let cool. Remove basil leaves and chill in refrigerator.

Meanwhile, combine water and sugar in small pot. Bring to simmer over low heat, stirring frequently until sugar dissolves into water. Remove from heat and add remaining basil leaves. Let cool. Remove basil leaves and chill in refrigerator.

To make basil whipped cream, beat infused whipping cream until thickens into soft cream. Add 1½ teaspoons basil simple syrup (more to taste). Continue beating until soft peaks form.

Scoop sorbet into dishes. Top with basil whipped cream.
Notes
Save this recipe on Pinterest here!
Make this recipe? I'd love to see how it turned out…
PINTEREST: Upload a photo and your review to this Pin!
INSTAGRAM:  Tag me
@lucismorsels
and use #LMrecipes
Nutrition
Calories:
322
kcal
|
Carbohydrates:
32
g
|
Protein:
3
g
|
Fat:
22
g
|
Saturated Fat:
14
g
|
Polyunsaturated Fat:
1
g
|
Monounsaturated Fat:
5
g
|
Cholesterol:
67
mg
|
Sodium:
17
mg
|
Potassium:
311
mg
|
Fiber:
2
g
|
Sugar:
29
g
|
Vitamin A:
989
IU
|
Vitamin C:
8
mg
|
Calcium:
56
mg
|
Iron:
1
mg
This cherry sorbet recipe post is sponsored by Raley's. All opinions are, of course, my own.
Thank you for supporting all Luci's Morsels collaborations!