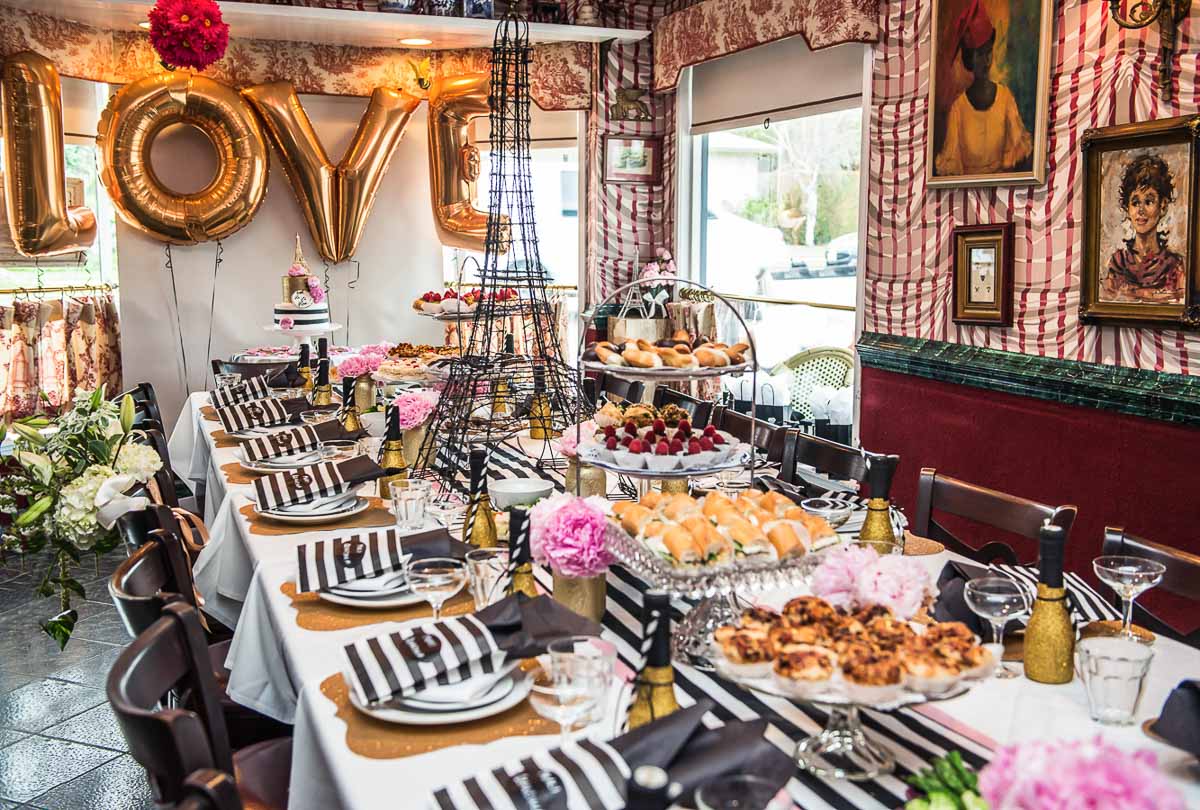 My sister designed the most glorious French-themed bridal shower and I couldn't wait to see the photos and share it all with you!!
Our afternoon at La Conversation in West Hollywood, passed by way too fast and my cheeks were shaky from smiling so much! And it got me excited for our wedding (less than 50 days according to our The Container Store Registry)!
I could write on and on about all the delicious food and the decor, but I'll let the pictures do most of the talking for this French-themed Bridal Shower.
Some highlights not to miss in all the photos below? The personalized wine glass, the table setting details, the cake, and the mimosa bar. Oh and those chocolate dipped heart cookies – divine!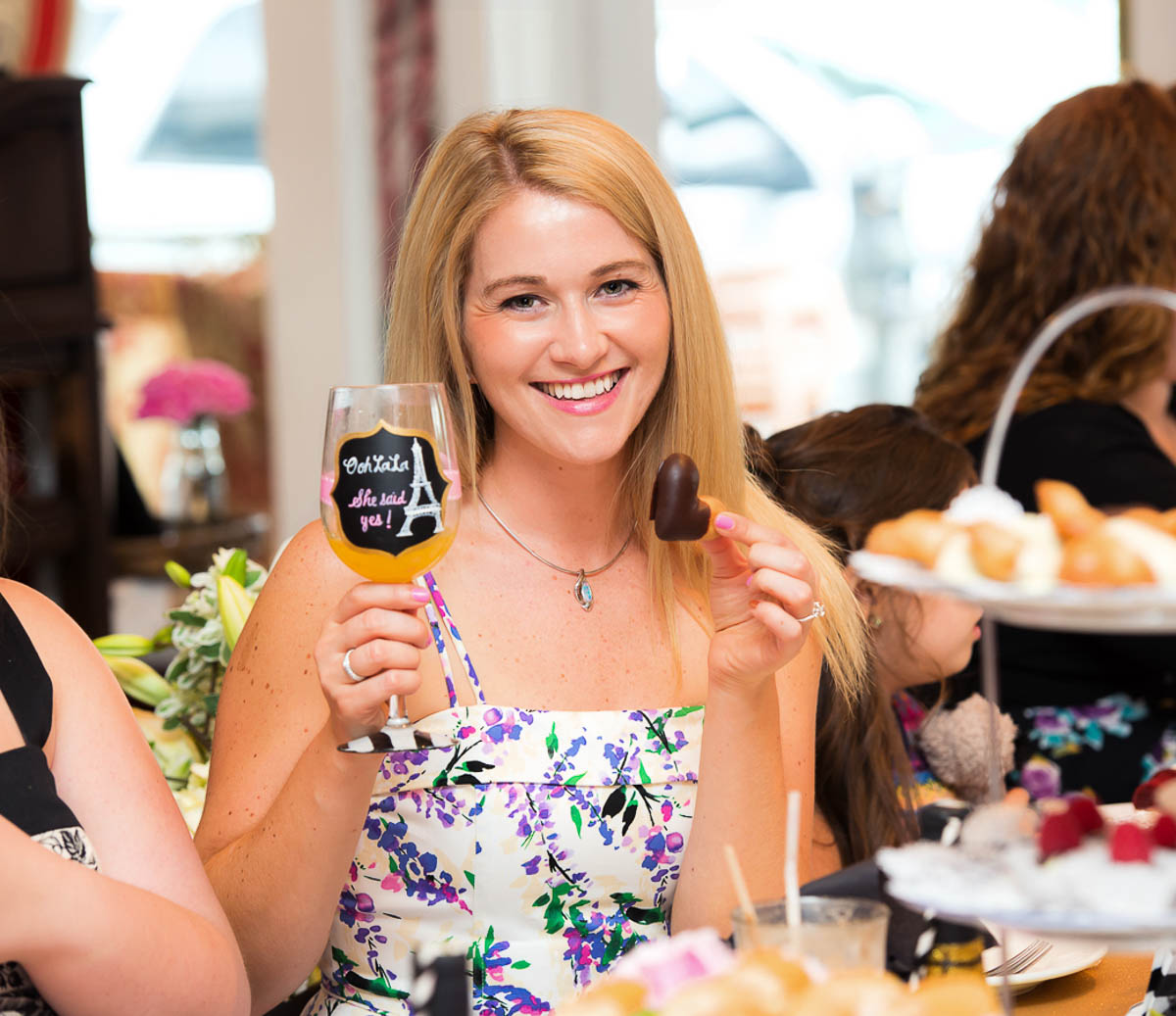 They kept my adorable glass filled with orange mimosa for the duration of the party. We were a party of 18 and I had a great time sitting between two of my nieces, comparing notes on favorite morsels!
My sister sent out recipe cards in the invitations so everyone could provide me with their favorite recipes – get ready for me to share those on here after the wedding! These chalkboard place card holders were the perfect way to direct guests on where to put everything!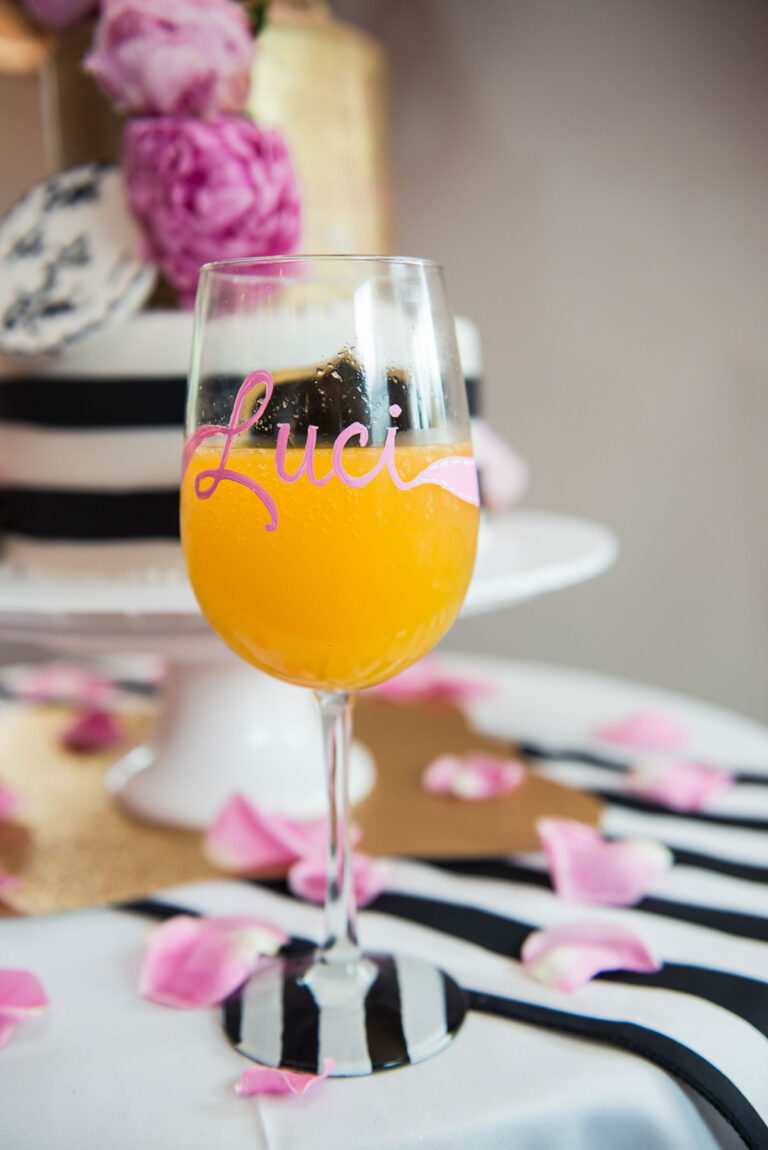 This glass though. Speechless.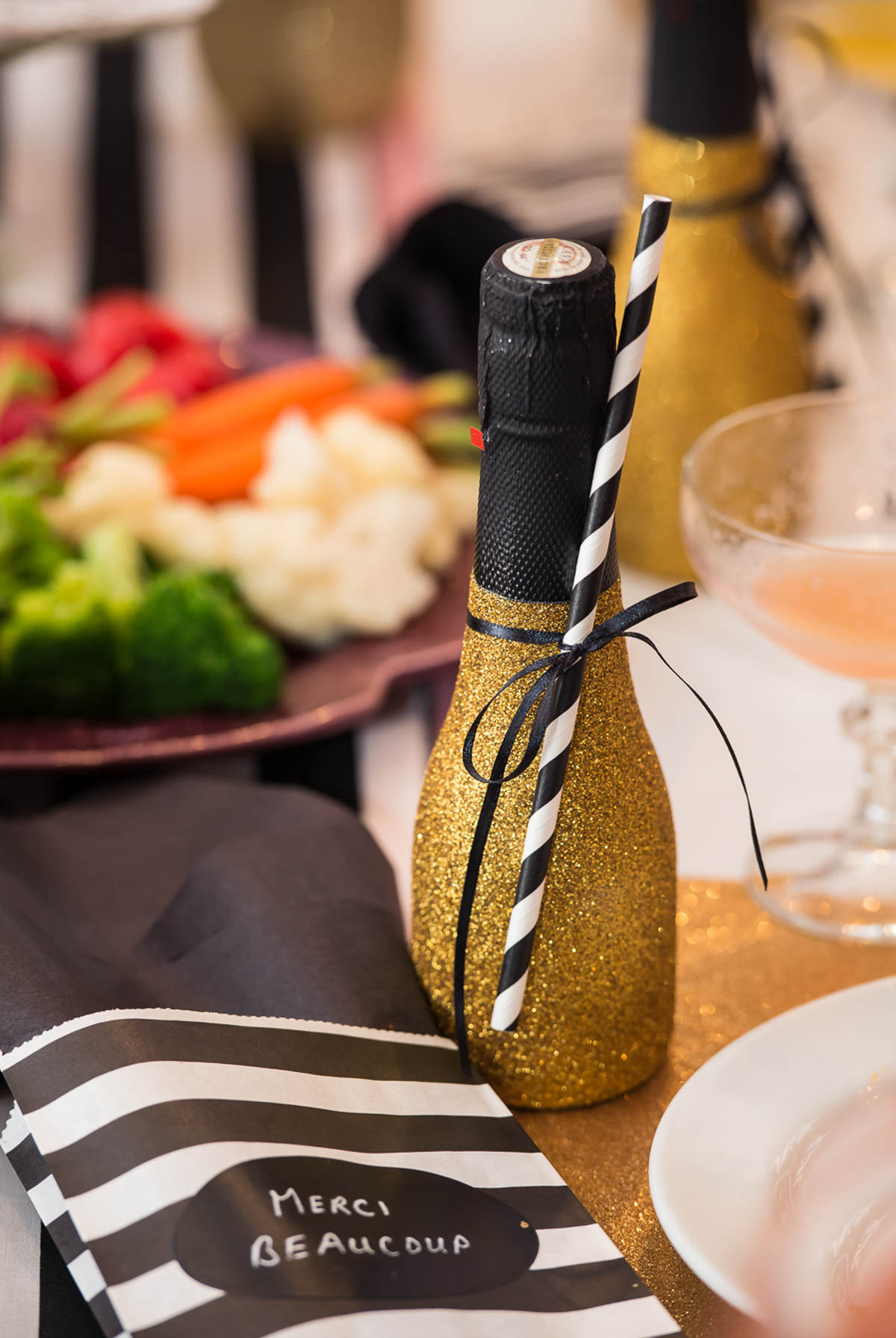 French-Themed Bridal Shower
Everyone sat down to this situation at their setting :: gold + glittered mini champagne bottles with striped straws and matching bags with black tissue and chalkboard stickers.
Inside the bags were Eiffel Tower wine bottle stoppers! My nieces had matching mini bottles of sparkling apple cider. All so cute!
Check out My Succulent Baby Shower
The cake. Red velvet. The bottom layer had mini chocolate chips in the cream cheese frosting between the layers. So so good. We certainly didn't need any more food after the veggie trays, mini desserts, high-tea sandwiches, and salads, but who can say no to such a wonderful cake?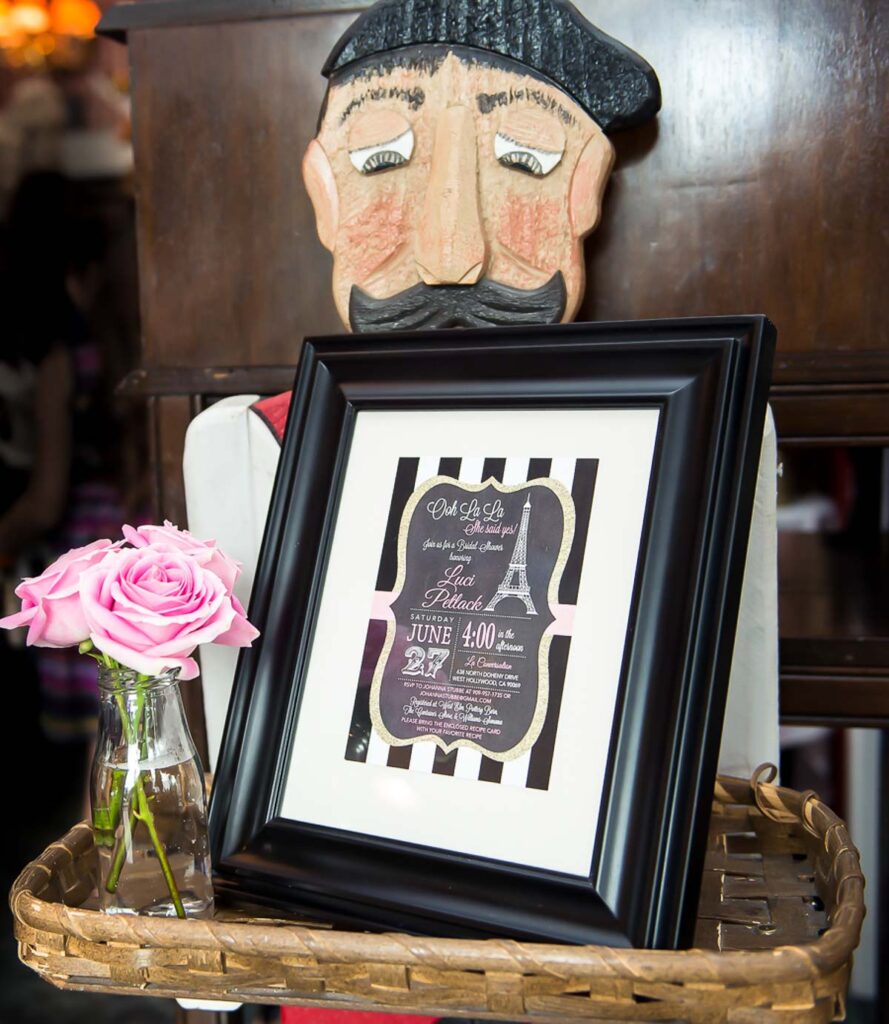 Simple ideas added more decoration too. On the left is the invitation that went out to everyone in an oversized frame. Next to it were some short light pink roses – all matching the decor of the French themed bridal shower. It brought the whole thing together!
These were the gift bags for winners of games. Everyone go to take home their mini champagne bottles with straws as well as adorable Eiffel Tower wine bottle stoppers. The gifts were all French themed or black and white!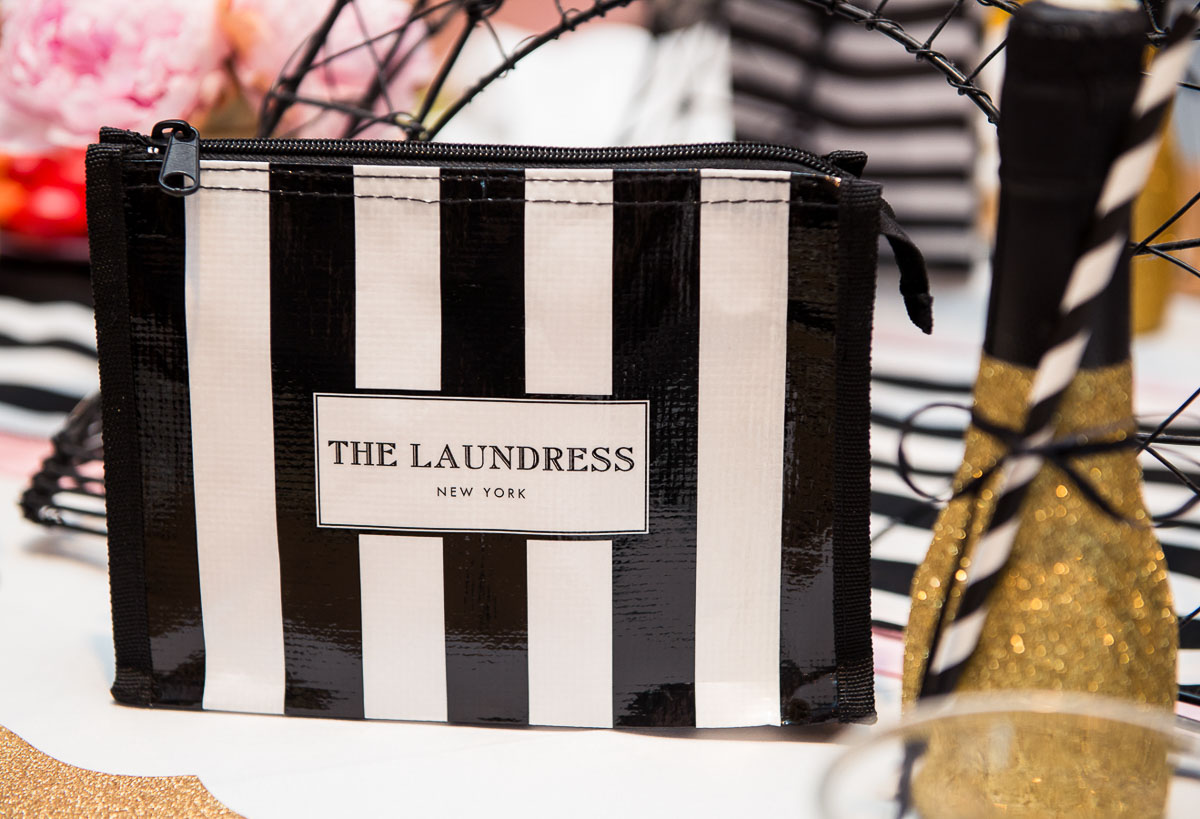 Perfectly on-theme gifts for game winners, right?!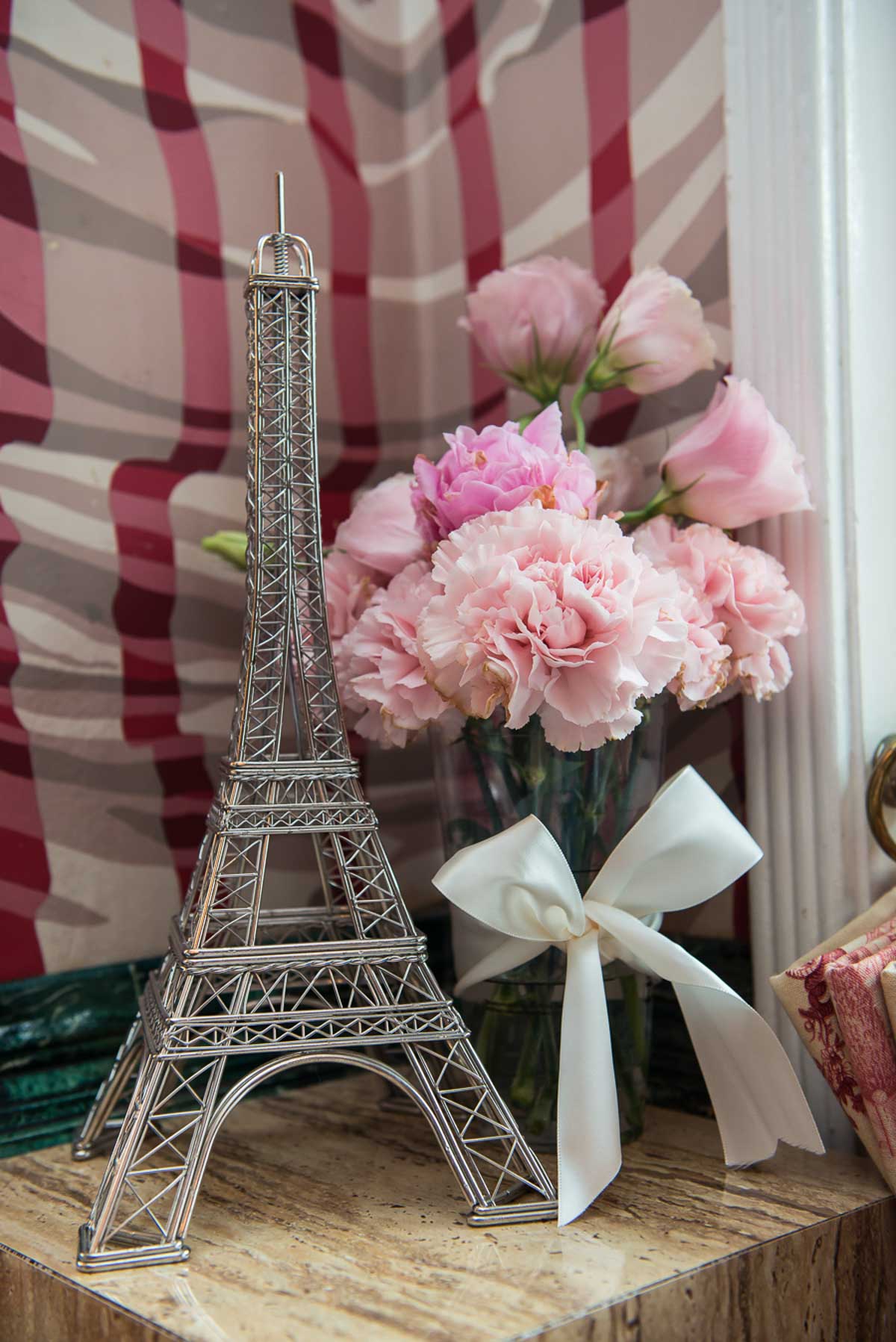 UPDATE: I've been asked a few times where this Eiffel Tower statue came from. This was actually at the restaurant, but I've found very similar Eiffel Towers on Etsy. (learn how to shop locally on Etsy)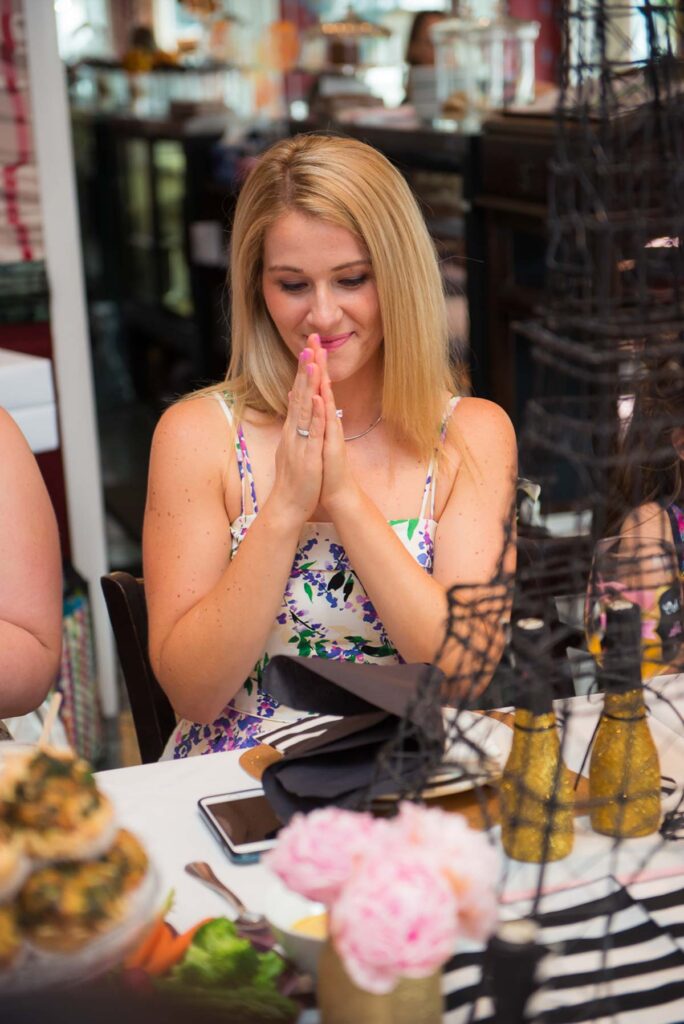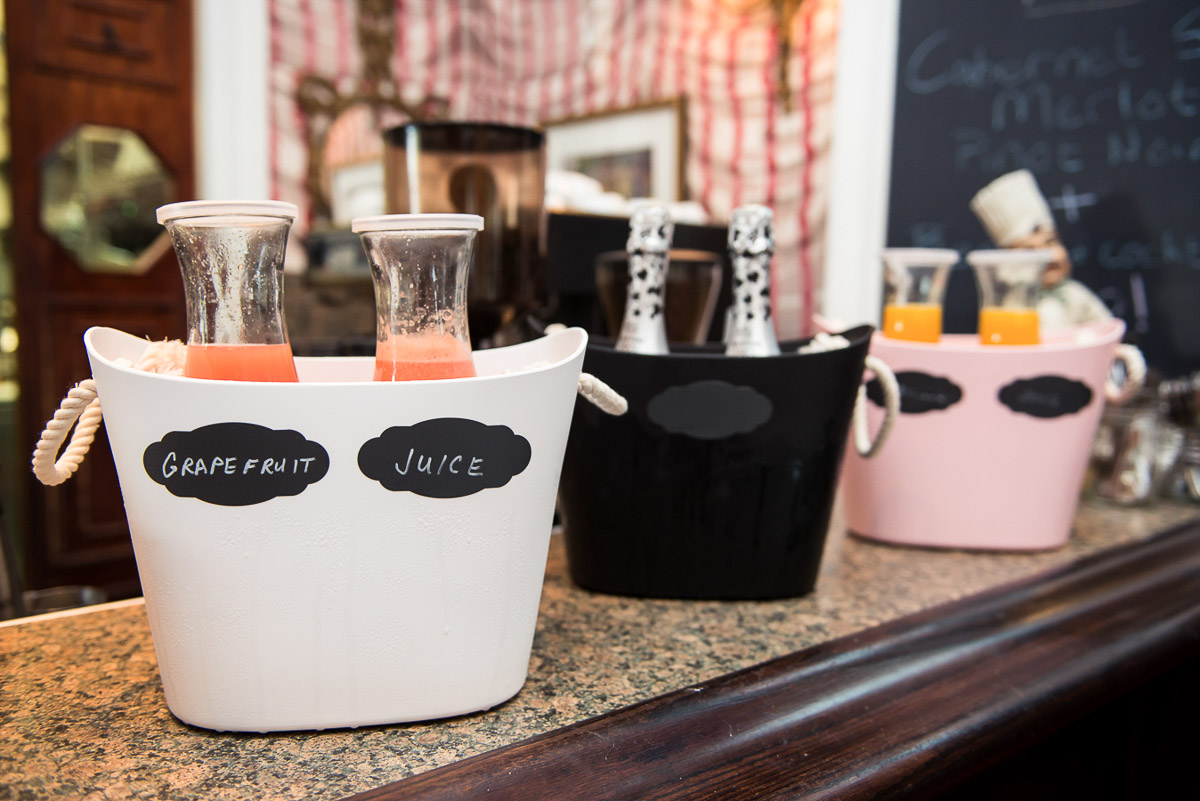 French-Themed Bridal Shower Drinks
The Mimosa Bar. This setup was functional and cute. The handled buckets were fabulous for carrying into the shower to set up, and they were perfect for holding the carafes of juice and champagne.
And to make sure we remembered why we were having the party – an adorable clipline frame of some favorite photos from our engagement shoot. I think we'll be using this at the wedding as well. And then it'll be going on our wall – it's just too perfect!
Though my bridal shower was a dream and our wedding was just what we wanted, I hated wedding planning and it's ok if you do too!