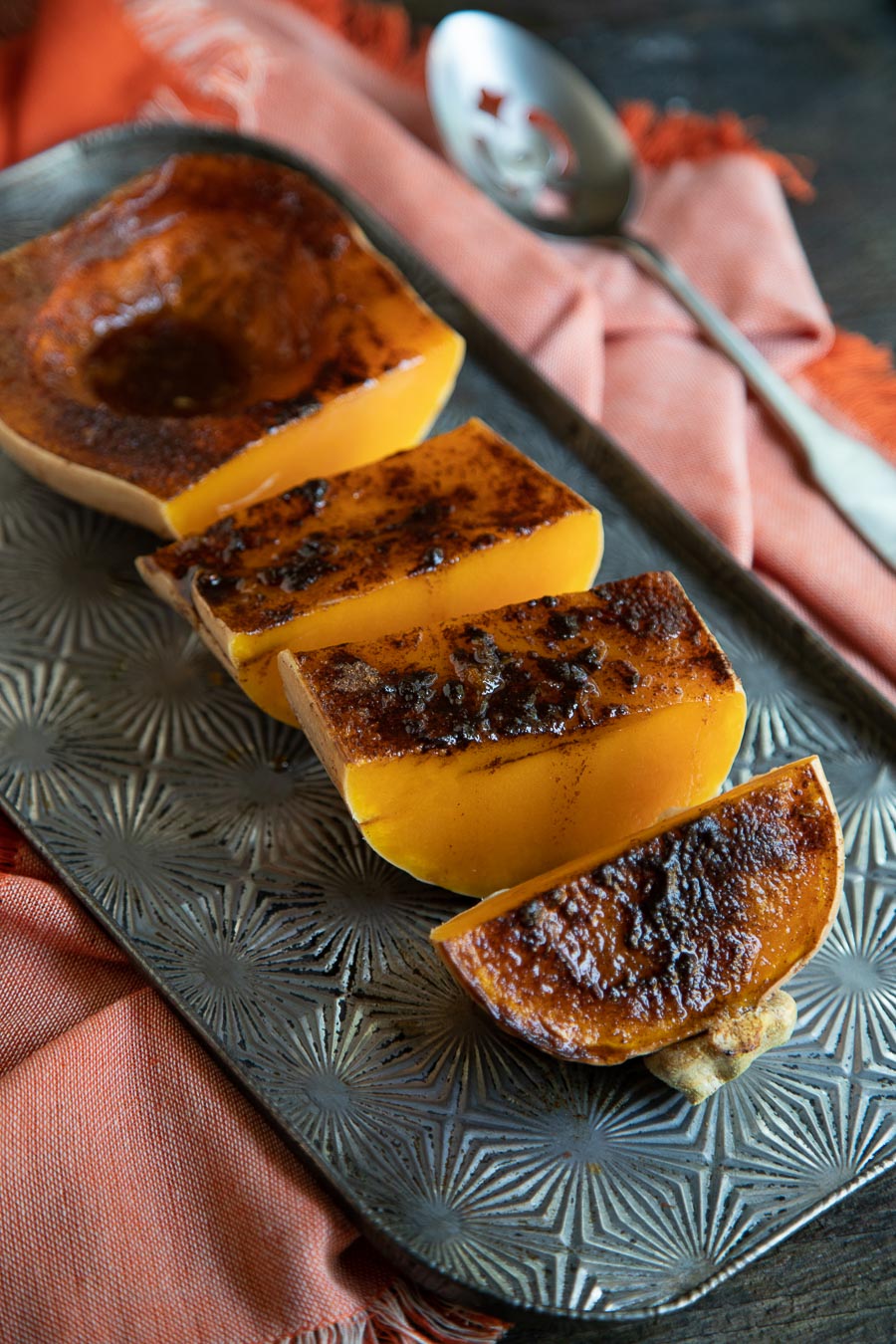 If you're wondering how to sneak veggies (well squash is a fruit isn't it?!) into your kiddos or spouses, this roasted cinnamon sugar squash is it!
Creating recipes is a funny business – at least for me. My first year or so of blogging (how has it been 7.5 years already) was primarily recipes I'd been making for years. Then I started trying to create the most unique (sometimes random) mixes.
After a few years, I realized that the recipes that were the most popular were primarily those from the first year. Since then, I've been trying to do a combination of fun new flavors as well as rehash all those old favorites!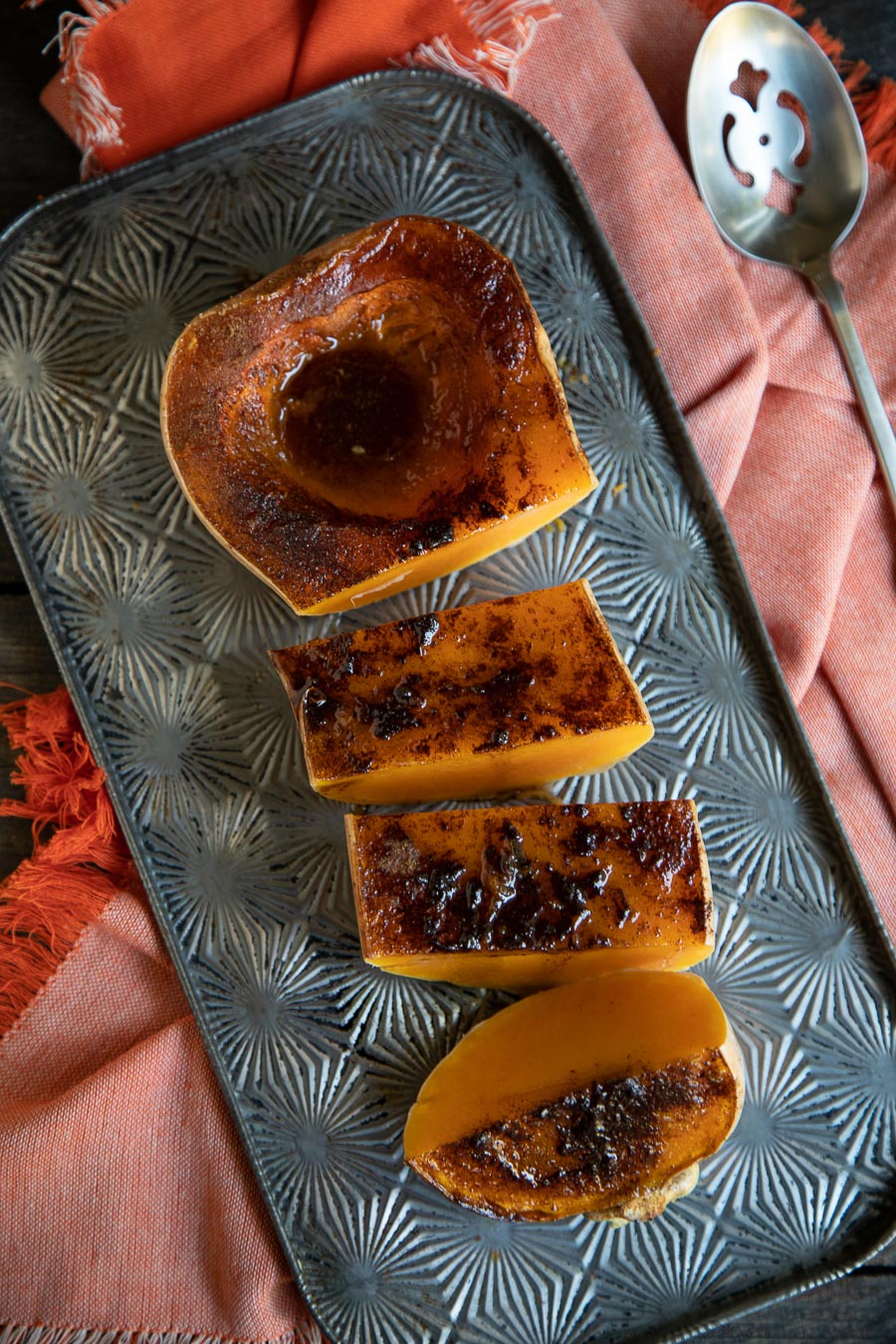 My mom ranks among the best at sneaking veggies into her kids. There weren't all these fancy products back in my day (hah!), but she just had a knack for it.
I remember when we ate Chinese food, I always ordered beef and broccoli. I had to eat two stems of broccoli each time and it was never my favorite thing in the world. Flash forward and now I'd likely pick out all the broccoli to eat first!
Whole Roasted Butternut Squash
Roasting butternut squash is absolutely the best way to eat it. It's fine steamed, tasty in soups, but it's pretty heavenly roasted.
Most times, I chop it into small pieces and roast it with dried thyme or herbs de Provence (like in this butternut squash pasta recipe).
While my mom microwaved this dish growing up, I've merged the idea with my preferred method of cooking (as well as because of the fact we don't have a microwave)!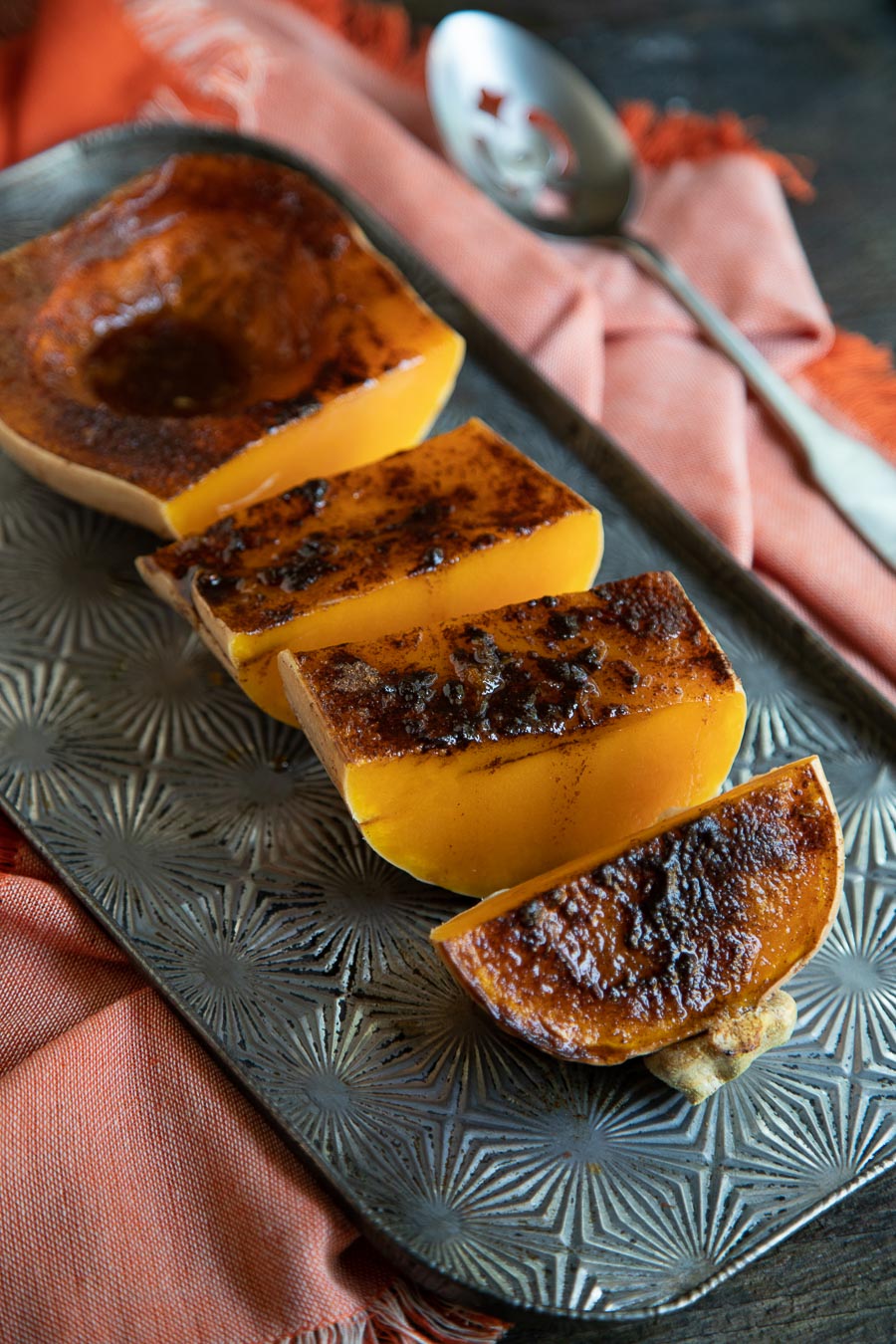 Cinnamon Sugar Squash
And so was a similar story with cinnamon sugar squash. My aunt and uncle always used to bring over these huge squash they grew in their garden. My mom would cut it into big servings, slather butter, cinnamon, and brown sugar on top and microwave it.
We all devoured our veggies that night and rarely were there leftovers. It was a great way to introduce the flavors of the produce in a tasty way. Then you can slowly add less and less toppings, so it isn't so indulgent.
My mom and dad loved to do the same with sweet potatoes too, so if you're looking for other ways to get vitamins into your diet it, try it that way!
This recipe is for butternut squash, but you can use any squash you want. I recently learned that my husband can eat spaghetti and kabocha squash on the LOW FODMAP diet, so I think I'll try this set up on those soon!
Raw Butternut Squash Skin Allergy
I learned a few years ago that I, along with a number of people, actually have a skin allergy to raw butternut squash, so if I'm cutting or peeling it, I need to wash my hands immediately to prevent this weird feeling.
It almost looks like dried glue on my hands. Thankfully, it isn't painful and doesn't last long, but I'm aware of it nonetheless.
Keeping the skin on to roast it like I share in this recipe saves me all that trouble and it just looks so good, doesn't it?
You could remove the skin before cooking it if you desired, but I think it looks pretty lovely like this.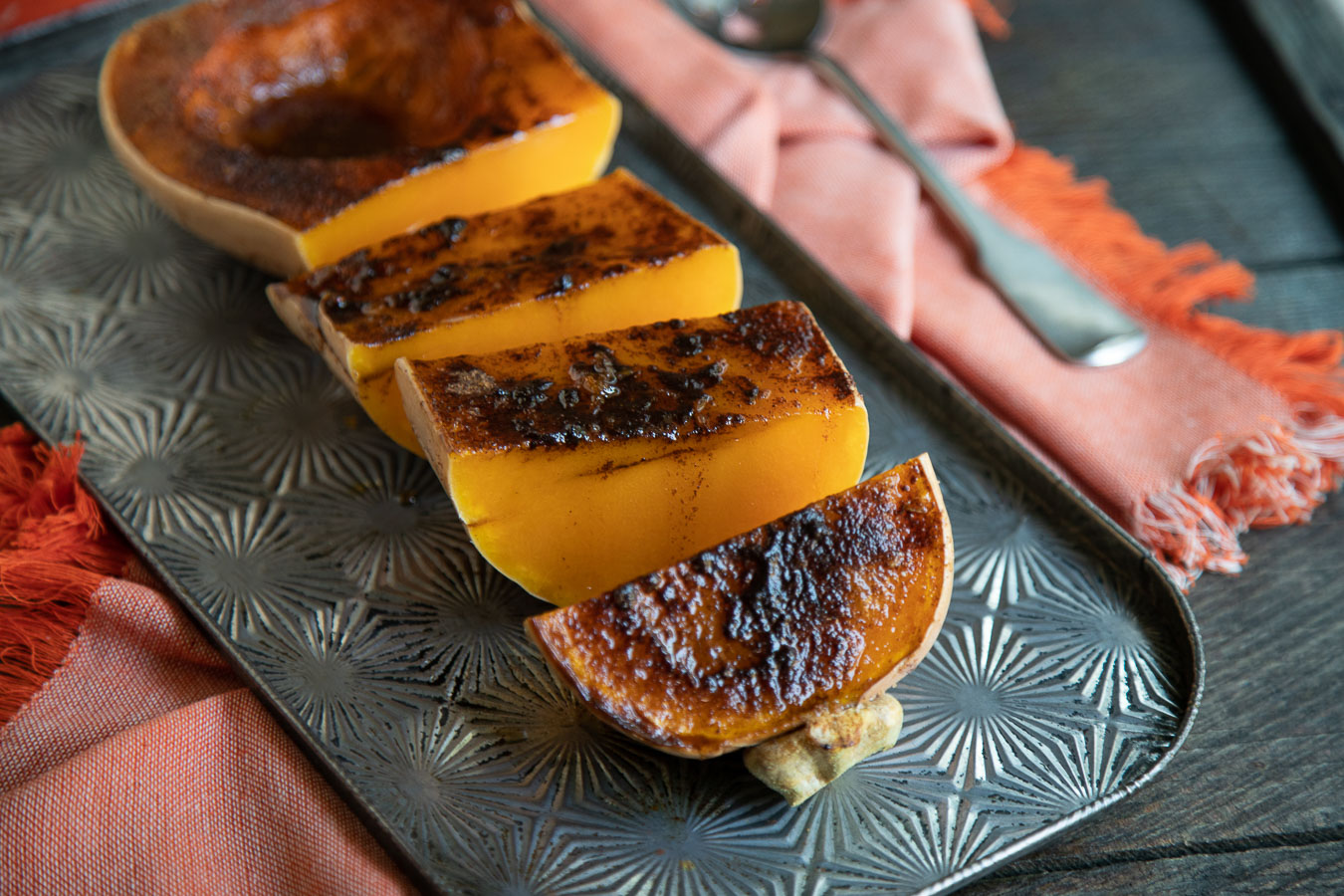 Print Recipe
ROASTED CINNAMON SUGAR BUTTERNUT SQUASH
This roasted cinnamon sugar squash recipe is based on my mom's favorite side dish to make growing up. She snuck veggies into her kids by topping them with deliciousness. You can swap out the squash varietal too, just don't skip any of the tasty toppings!
Ingredients
1

large butternut squash

6

tablespoons

butter

cubed

1

cup

light brown sugar

3

teaspoons

ground cinnamon
Instructions
Preheat the oven to 425 degrees F. Spray a baking sheet or baking dish with nonstick cooking spray.

Cut the squash in half and discard the seeds. Place each half cut-side down in the baking dish. Bake for 35 minutes, or until the squash is tender when pierced with a fork. The exact baking time will depend on the size of the squash.

Remove the dish from the oven. Use a spatula to carefully flip the squash over. Divide the small cubes of butter over the surface of the cut-side of each half. Move it around and allow it to melt over the squash.

Stir together the brown sugar and cinnamon in a small bowl. Sprinkle half of it over each squash half, covering it generously. Allow the sugar to melt into the butter over the hot squash. Spoon any butter that pools in the squash over the surface.

Serve warm. Slice to serve or use a spoon to scoop out the squash for serving.
Notes
Make this recipe? I'd love to see how it turned out…
PINTEREST: Upload a photo and your review to this Pin!
INSTAGRAM:  Tag me @lucismorsels and use #LMrecipes
Nutrition
Calories:
298
kcal
|
Carbohydrates:
51
g
|
Protein:
1
g
|
Fat:
11
g
|
Saturated Fat:
7
g
|
Polyunsaturated Fat:
0.5
g
|
Monounsaturated Fat:
3
g
|
Trans Fat:
0.5
g
|
Cholesterol:
30
mg
|
Sodium:
105
mg
|
Potassium:
496
mg
|
Fiber:
3
g
|
Sugar:
38
g
|
Vitamin A:
13640
IU
|
Vitamin C:
26
mg
|
Calcium:
104
mg
|
Iron:
1
mg