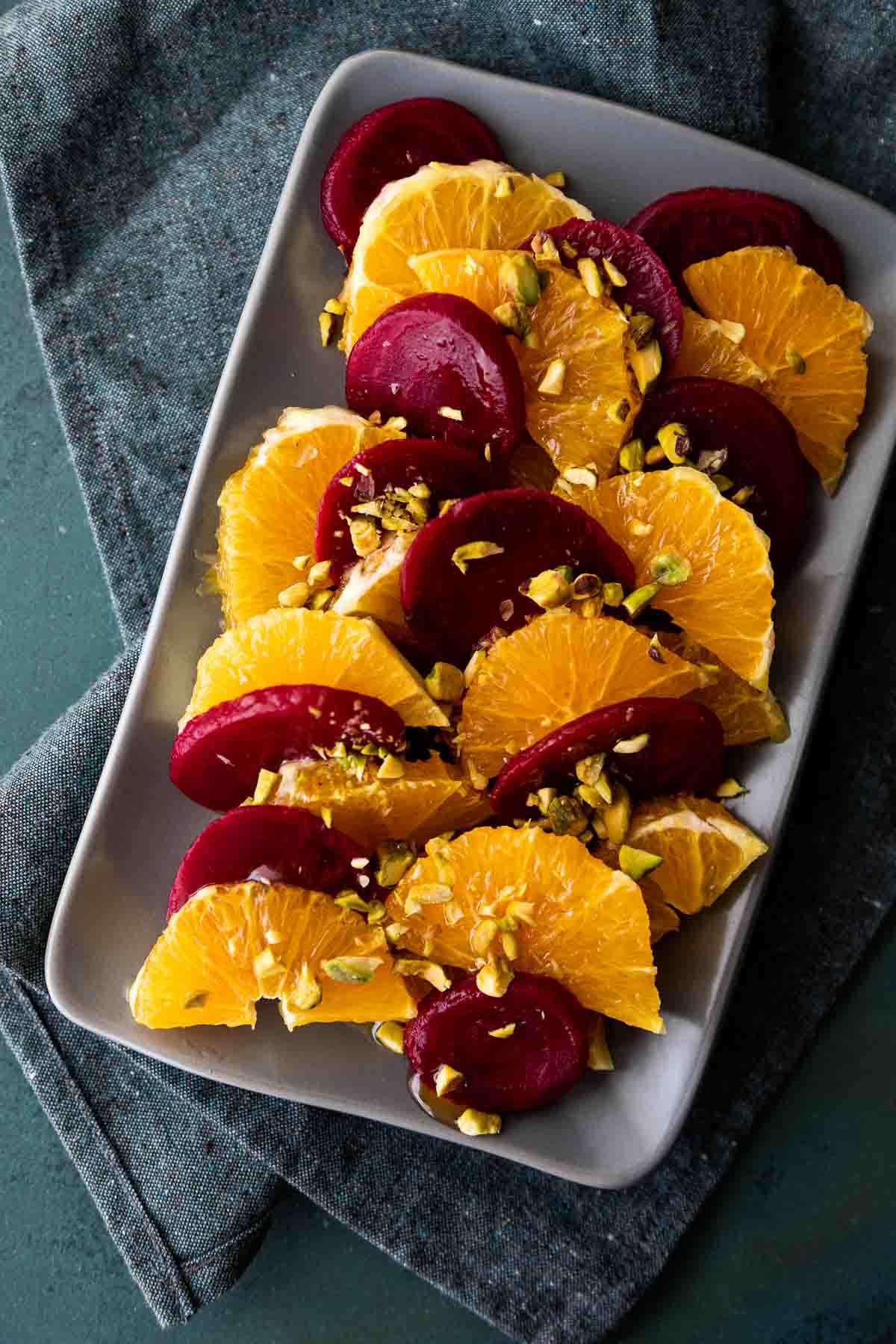 Recently on the weekends, my husband and I have enjoyed at least one dinner at home. Without the craziness of a workday, I have time to prep and experiment on our weekend meals. I've done a turmeric rice dish that's quite amazing and this beets with orange slices salad, which was too delicious and easy not to share right away…
I know what you're thinking – another beet salad, Luci? Really? And the answer is yes. I mentioned how much we love beet salads, so you shouldn't be too surprised. With beets constantly in my kitchen of late, it leaves lots of room for experimentation.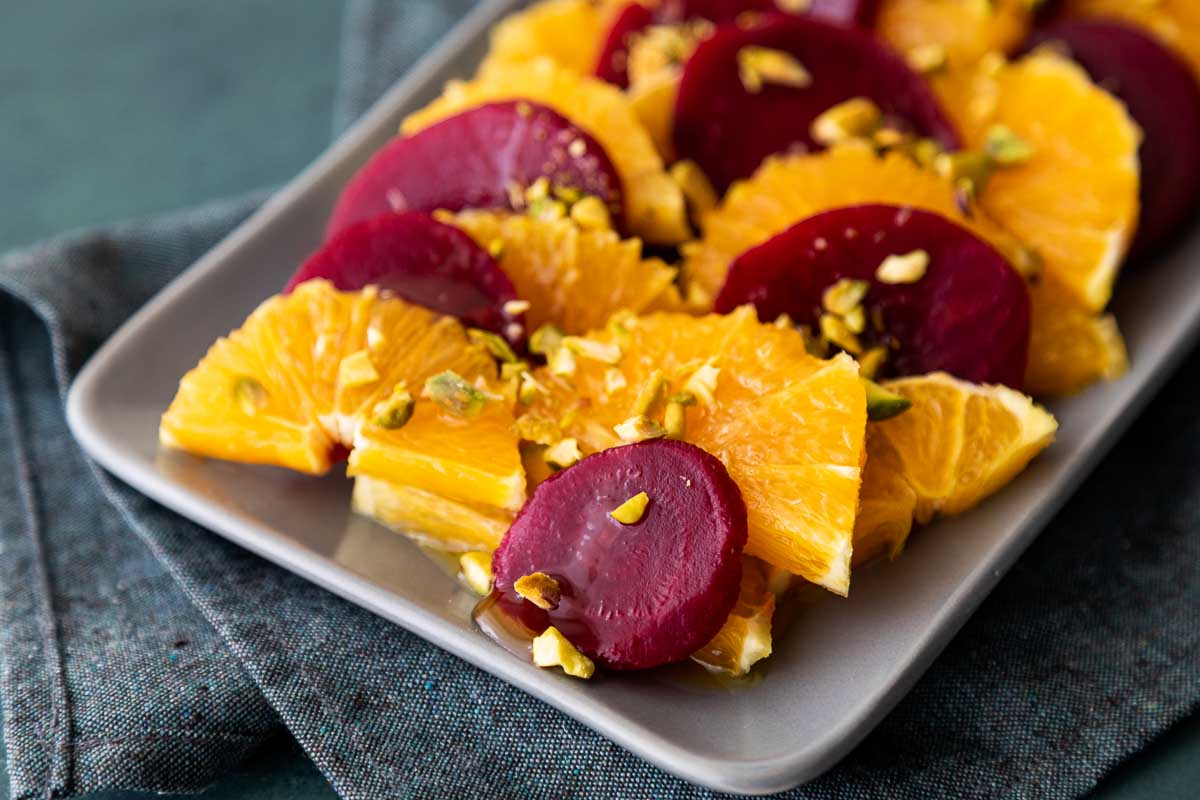 Beets with Orange
These beets were actually sitting in my cupboard. They're steamed baby beets and shelf-stable though Trader Joe's sells theirs in the refrigerated section.
Besides taking out the work of steaming and peeling, they also last a long time until opened, so they're pretty awesome.
When I went to make beets with orange for one of our stay-at-home dinner nights a few weekends ago, I wanted to jazz it up just a bit.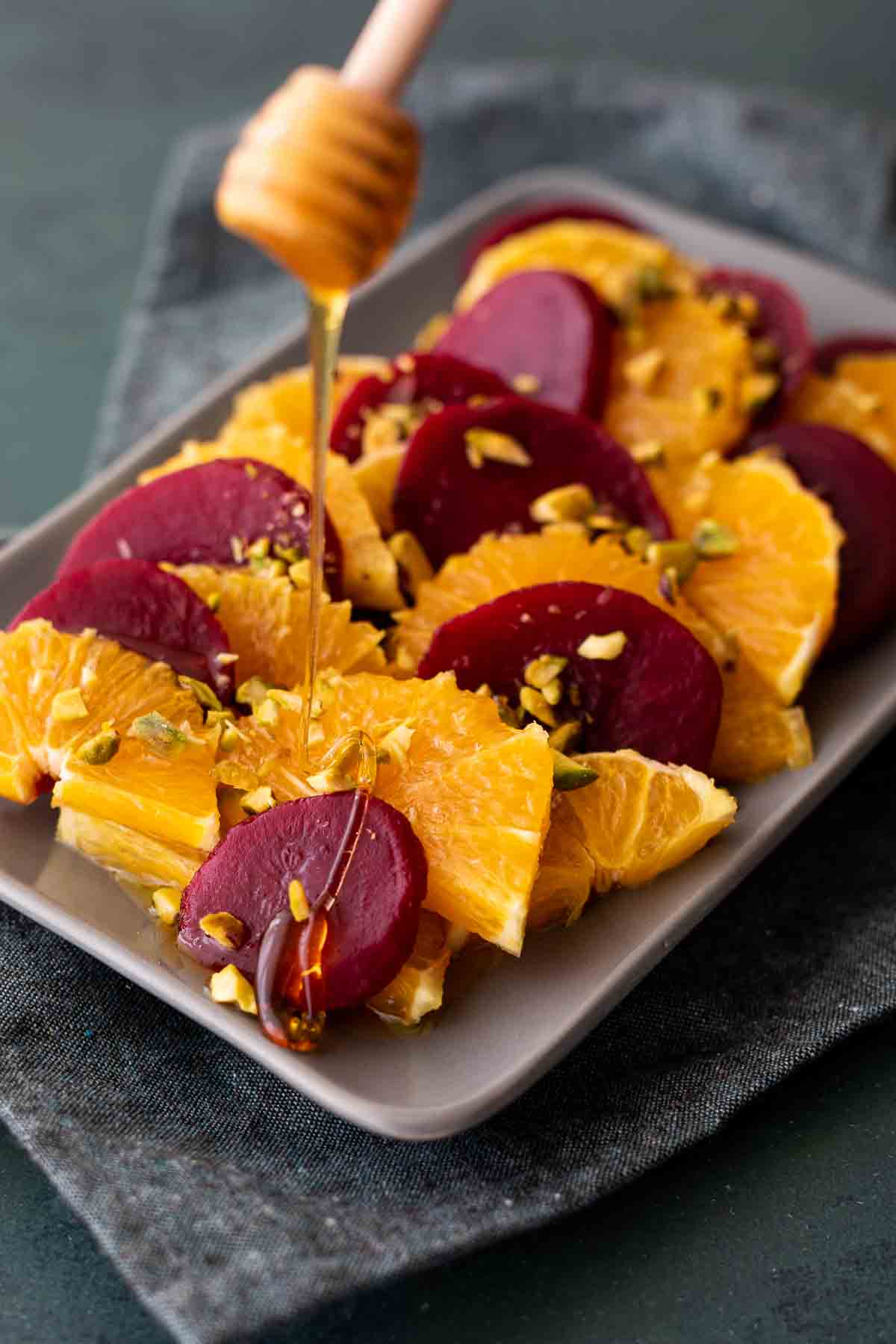 This time around I added honey (like I did in this cold beet salad), olive oil, and chopped pistachios.
Of course I loved the dish, but what I particularly loved was the combination of the sweet oranges with the olive oil. The acidity of the oranges balanced with the earthy oil for a fruity olive oil and vinegar-esque situation that was magic.
I was actually trying to get extra olive oil on my bite, which sounds so crazy, I know. Before citrus season ends, you should definitely try this salad combination. It's really rather life changing (and healthy!). And a friendly reminder to use high-quality olive oil. You won't regret it!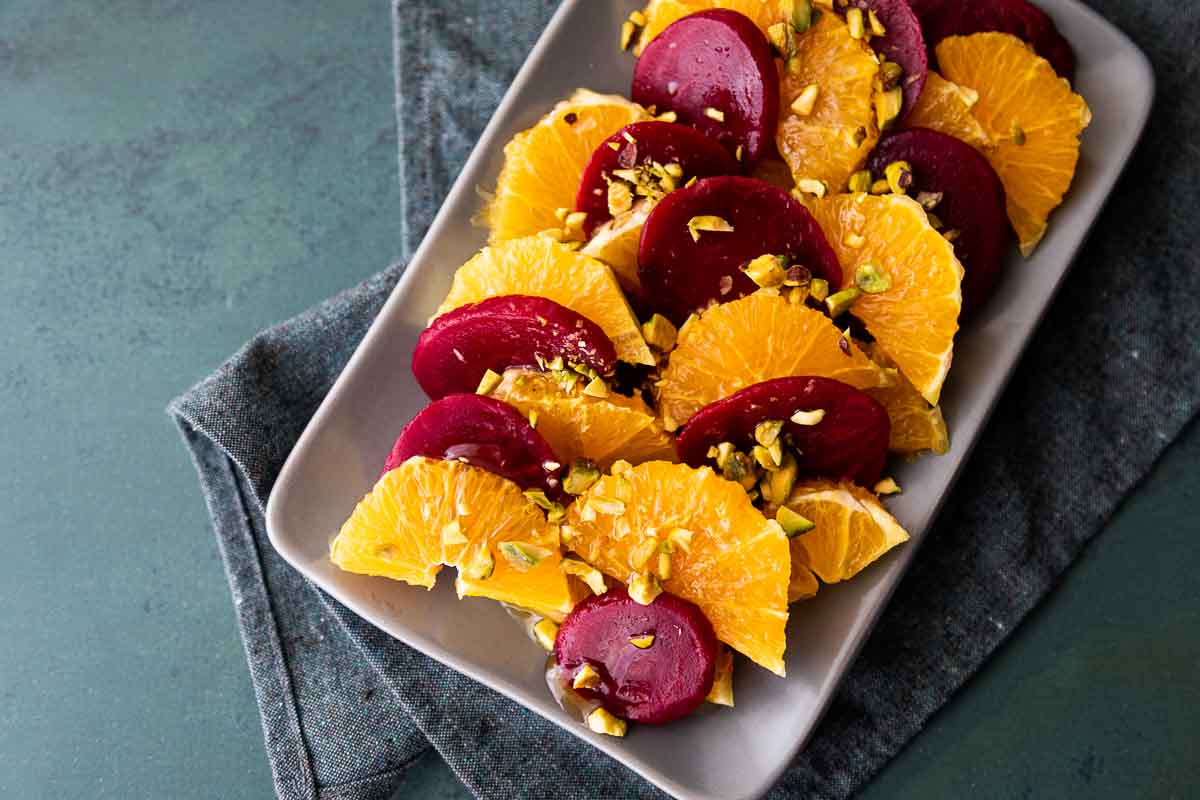 What mixes well with beets?
We're at a point where we enjoy beets steamed and plain, but it didn't all start out so simple. It was delicious combinations of things that made us start to enjoy beets.
Beets are the epitome of a vegetable tasting like earth. Baby beets and beets earlier in the season aren't quite so earthy but nevertheless.
The first approach is to mix fruits with beets, including avocados! Adding olive oil or a creamy cheese like goat cheese are also favorites of ours. These two add a creaminess to the crunchy texture that's spot on.
Another favorite in our house is honey. Honey replaces the fruit in most cases. The natural sweetness counters the earthy flavors perfectly!
And I'd finally recommend adding roasted and salted nuts on top of one of these above combinations. The consistency variety really is key to any salad topping combination!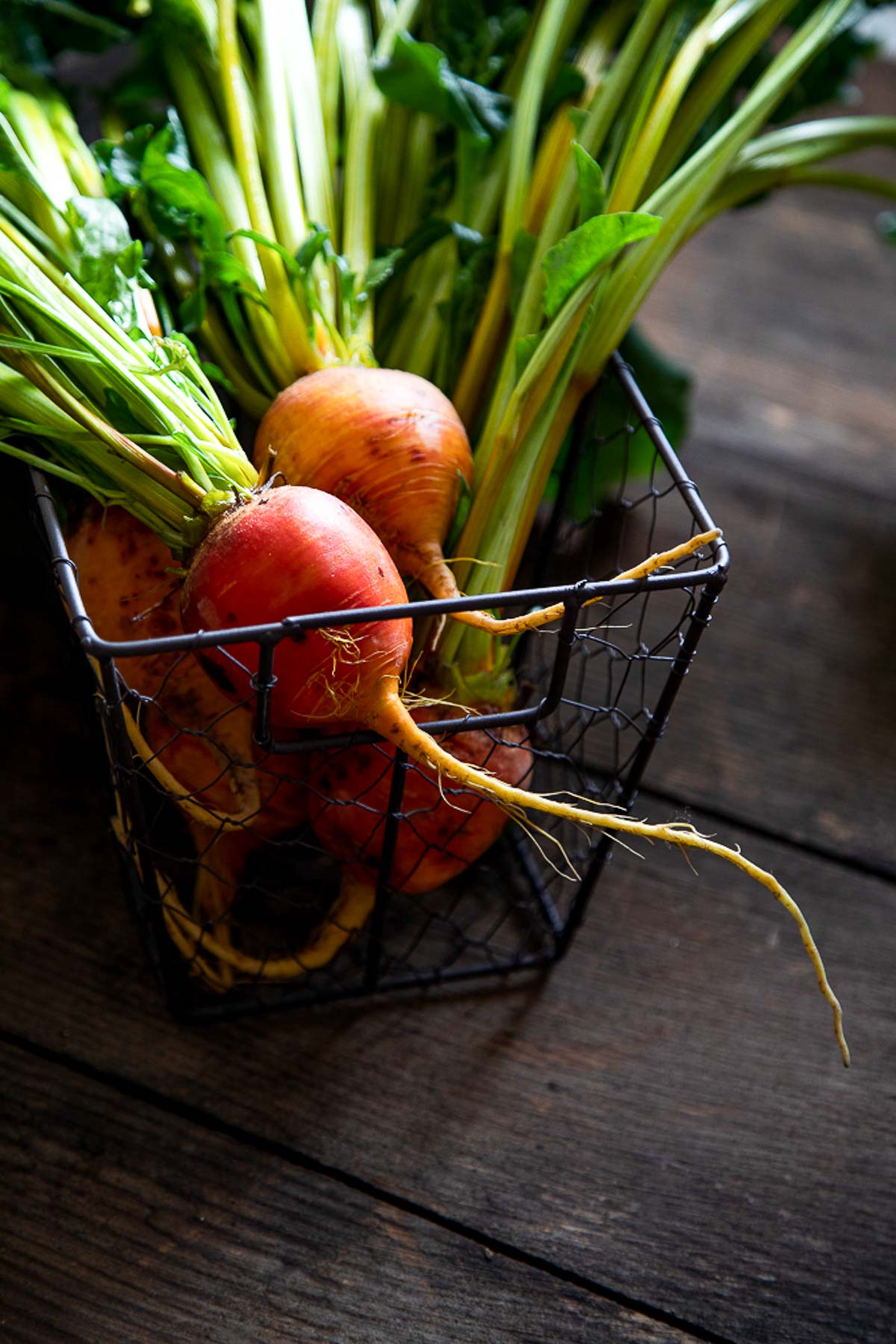 What fruits taste good with beets besides oranges?
Pairing beets and fruit was actually how I first started liking beets (IN MY 30s!!). The first combination I had was of beets and sliced pears – seriously delicious! Next up was my first attempt of beets with oranges. It seems like a no-brainer to pair fall and winter produce together, but I so often forget!
Any citrus (like any on this winter fruit platter) would be great with beets. Whichever you like most or have on hand – do that.
And, of course, avocados. The creamy yumminess of avocados is a great texture balance with beets.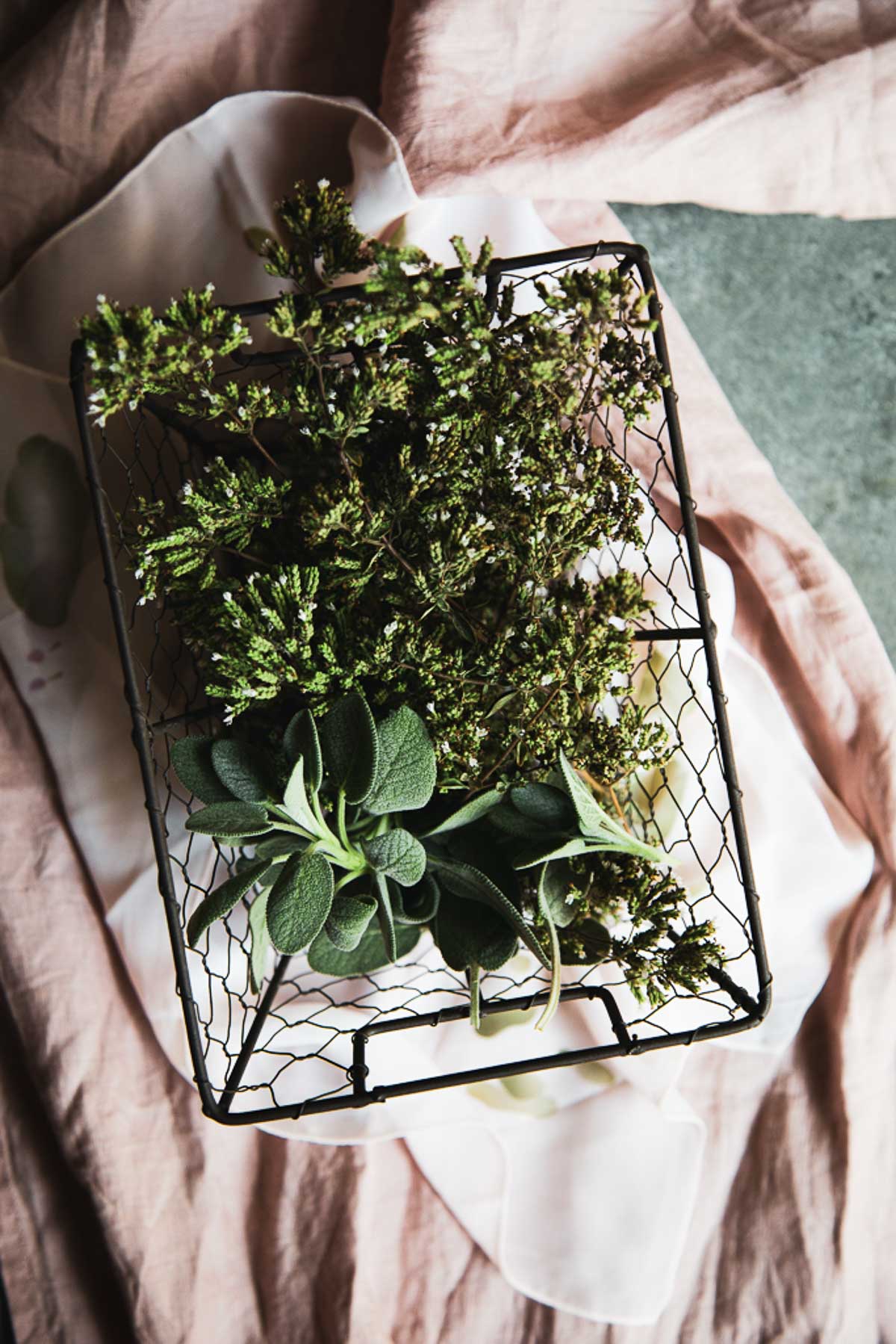 What Herb pairs well with beets?
And of course herbs. Winter herbs include chives, mint, cilantro, parsley, and rosemary. For beets, chives are my favorite, but also understand that I just love chives. Fresh mint, lemon balm, and basil would be delicious as well as their more delicate nature, once again, balances the earthiness.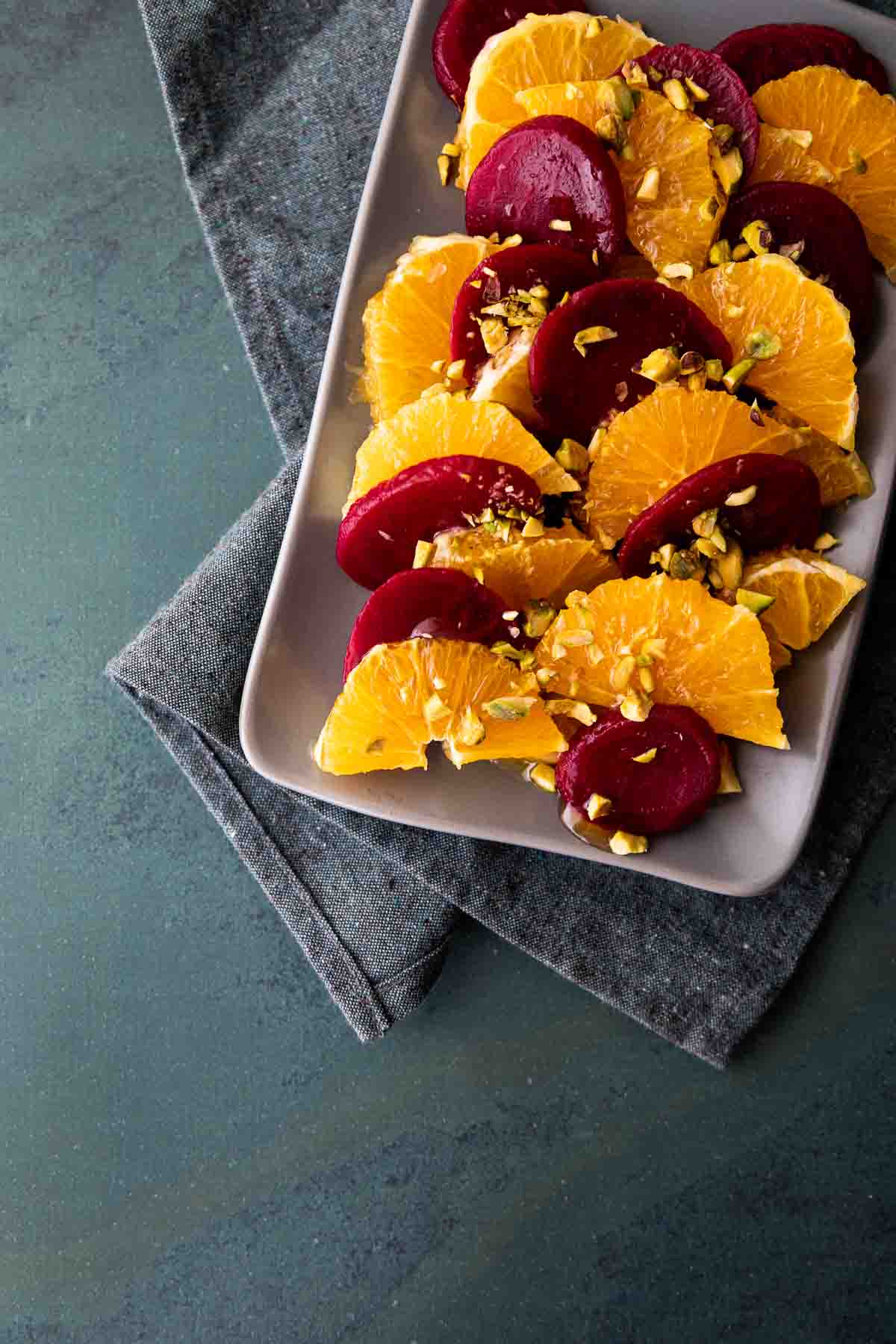 MORE SALAD RECIPES
Love simple but scrumptious salads? Try this kale farro salad, swiss chard with ginger (a great side dish), a seasonal persimmon salad, and Avocado + Bean salad.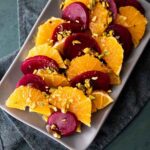 Print Recipe
BEETS WITH ORANGE SLICES
If you haven't fallen in love with beets yet, here's your chance. Mixed with the sweet tartness of fresh oranges and the sweetness of honey, you'll wonder why you didn't love them all along. Finish beets with orange slices with a great quality olive oil and you won't want to share with your dinner guests!
Ingredients
Instructions
Cut baby beets in half. Cut larger baby beets in quarters if desired. Place half on plate.

Slice oranges (across) into 4 thick slices each. Cut slices along segment lines. Place half on top of beets.

Add remaining beets and then oranges to plate.

Drizzle beets and oranges with olive oil, honey, and pistachios. Serve immediately or chill until ready to serve.
Nutrition
Calories:
121
kcal
|
Carbohydrates:
21
g
|
Protein:
2
g
|
Fat:
4
g
|
Saturated Fat:
1
g
|
Polyunsaturated Fat:
0.5
g
|
Monounsaturated Fat:
3
g
|
Sodium:
89
mg
|
Potassium:
489
mg
|
Fiber:
5
g
|
Sugar:
17
g
|
Vitamin A:
185
IU
|
Vitamin C:
40
mg
|
Calcium:
45
mg
|
Iron:
1
mg