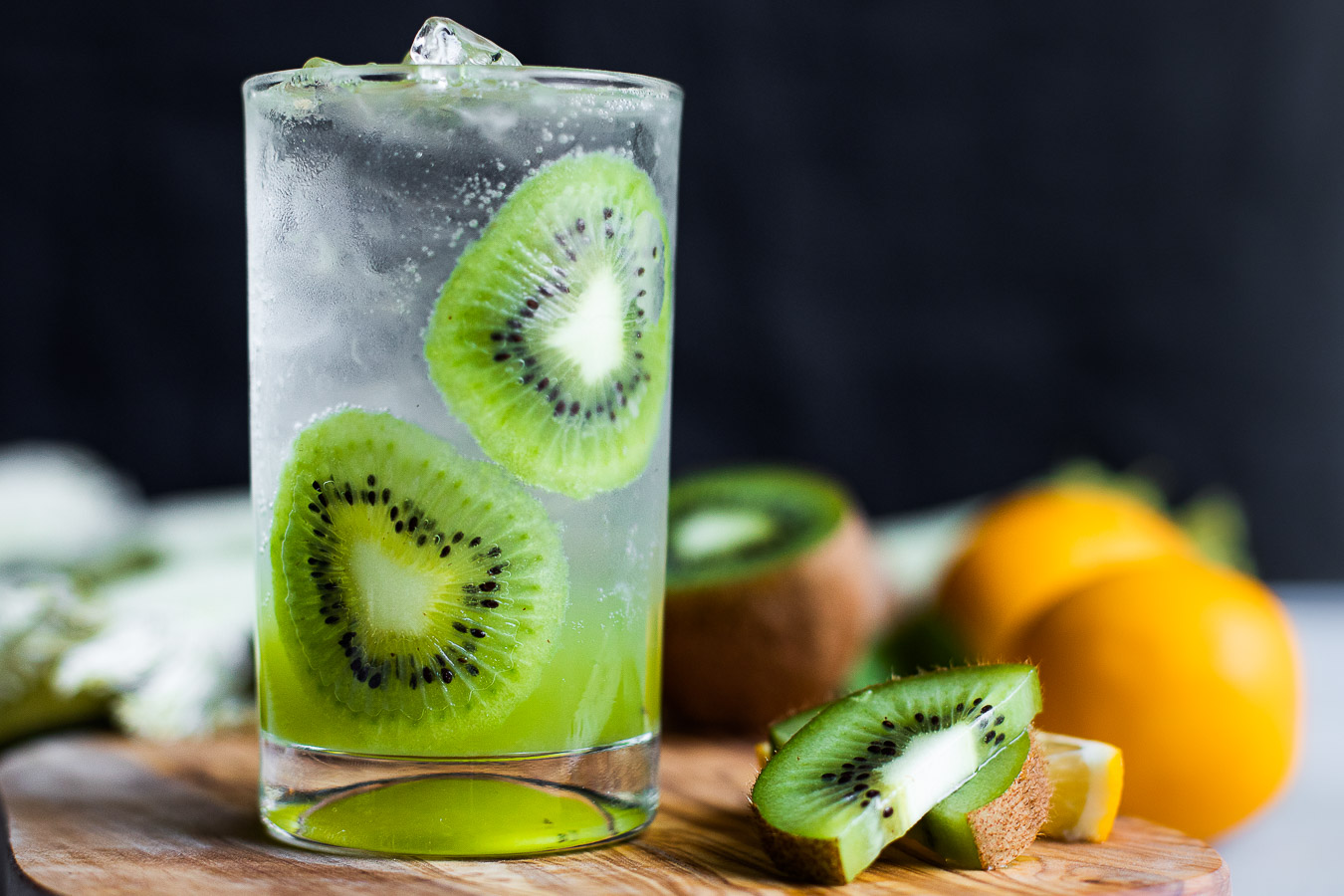 If you haven't tried kiwi in a drink, you absolutely must. This kiwi spritzer is a lovely way to start out – and it's oh easy!
When I was pregnant, my drink options were SO limited. I could have one coffee per day….and water. Soda had too many bubbles and I've never been a big juice person. So what did I do? I started drinking flavored lemonades anywhere I went. I loved when fun fruits were mixed into the familiar flavor.
Now I can drink whatever I wish, but fruit-inspired drinks are still a weakness for me…including this kiwi spritzer!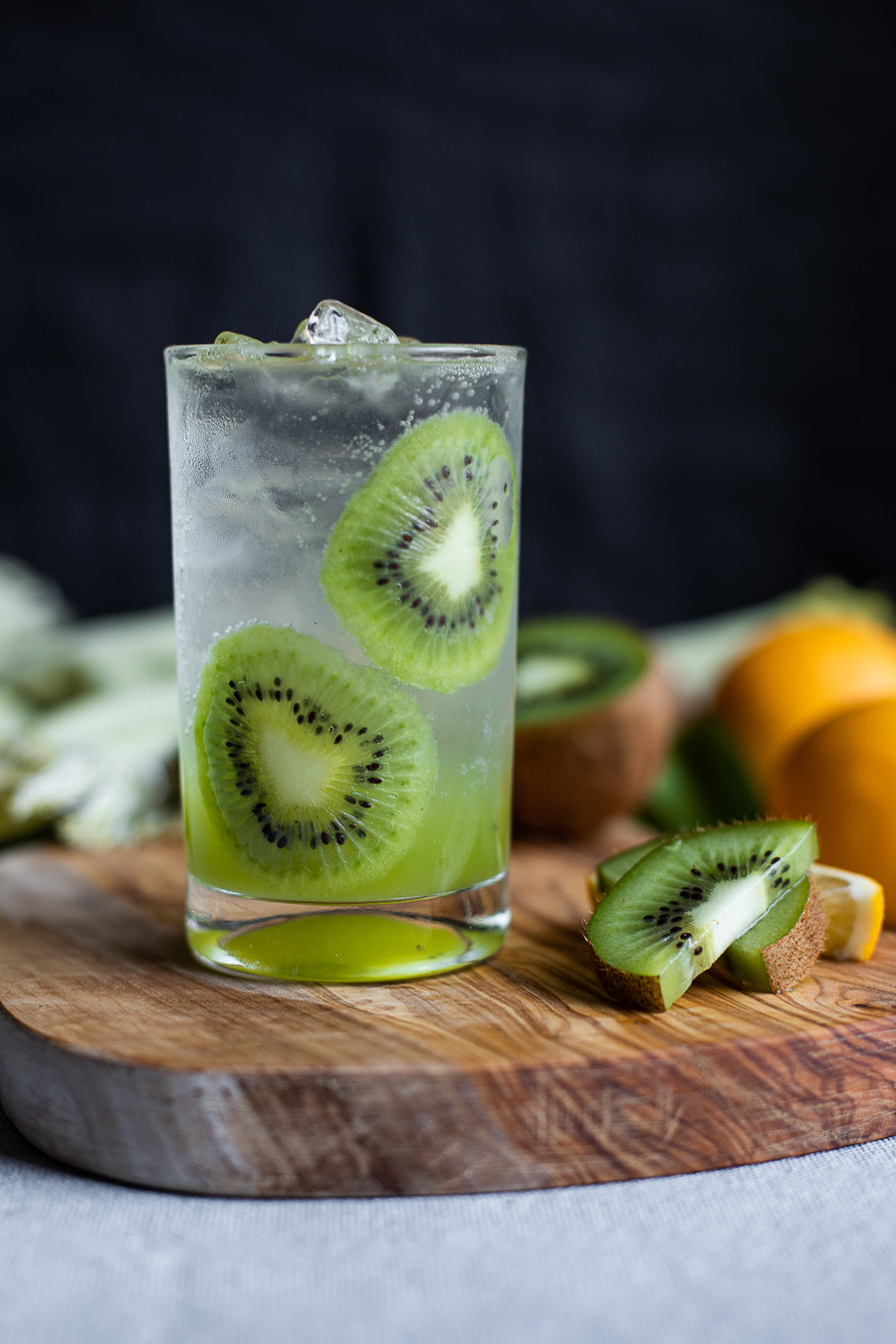 Have I told you the story about my aunt and her plate of kiwis every holiday? My aunt lovingly brought peeled, sliced kiwis every Thanksgiving and Christmas. I'm a fruit addict, so it was great, except she never brought enough!
I could never figure out why there weren't enough. Then as an adult, I started peeling and slicing kiwis on my own. Geez is that some work. After about five, I'd want to quit. And then I understood why my lovely aunt could never sanely satisfy my insane cravings!
On a similar note, did you know that we Americans are one of the very few cultures that doesn't eat the skin of kiwis! Just imagine how many slices kiwis I could handle cutting if I left the skins on!

Kiwi Spritzer
About this spritzer though… kiwis have a delightfully sweet tanginess that's a perfect paring for a sparkly refreshing drink! A hint of simple syrup and you're good to go! And how pretty is the color and those kiwi slices in this setup?!
Truthfully this is the only fruit spritzer recipe you need. If kiwis aren't readily available or in season, you can just swap that out for whatever flavorful fruit you have. Sustainably living and seasonal eating never looked so good!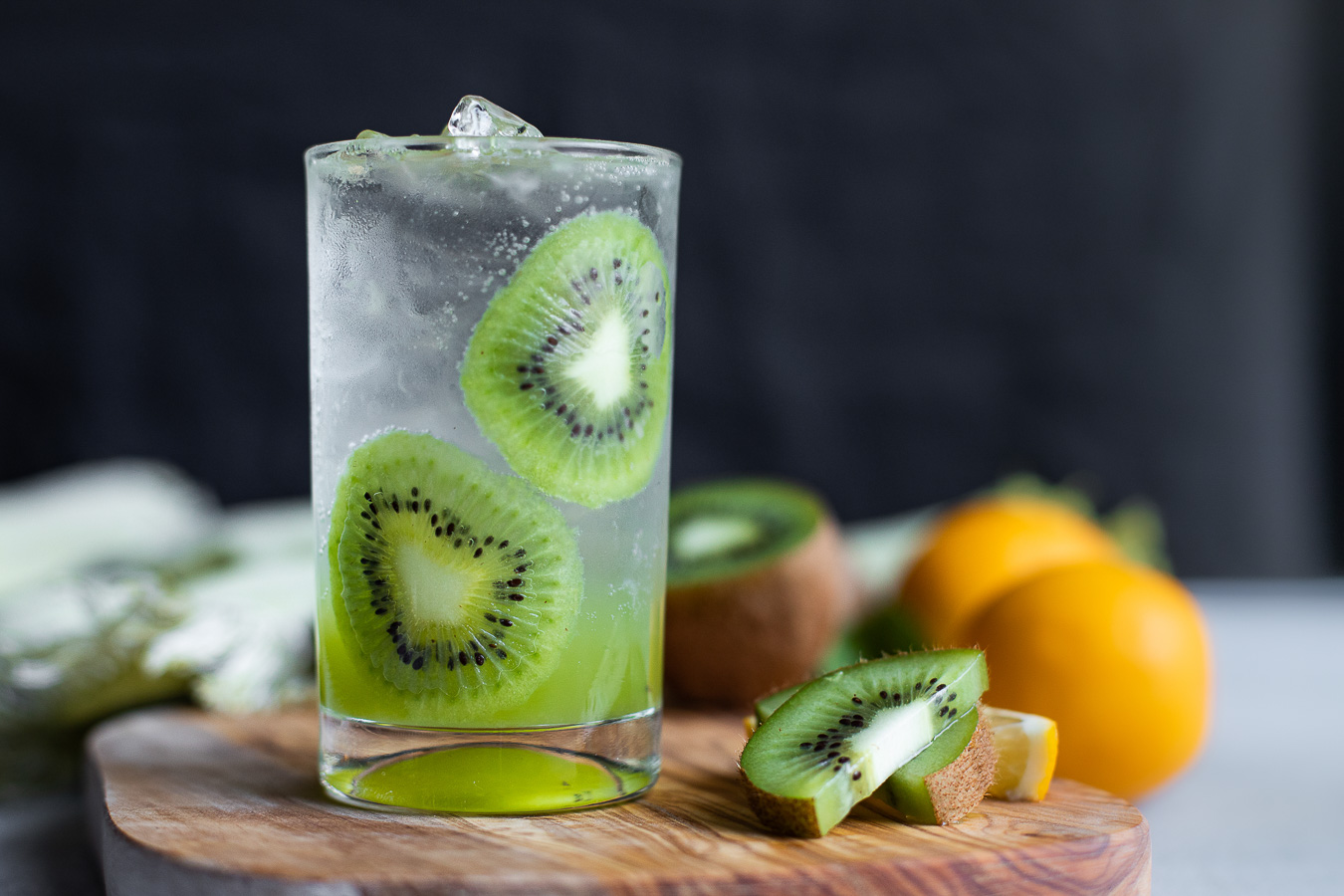 Spring Spritzer
I actually love that this kiwi-infused spring spritzer doesn't have alcohol. You can easily add in vodka, gin, or rum, however. I used to try to offer a cocktail and a mocktail when we had bigger shindigs, but I quickly got tired of more and more recipes to make.
Having one basic drink without alcohol (that can easily be made into a cocktail), however, is absolutely the way to go! And you can always try to offer a sustainable alcohol brand!
And because kiwis can often be found late summer into spring, you have a go to recipe for most of the year!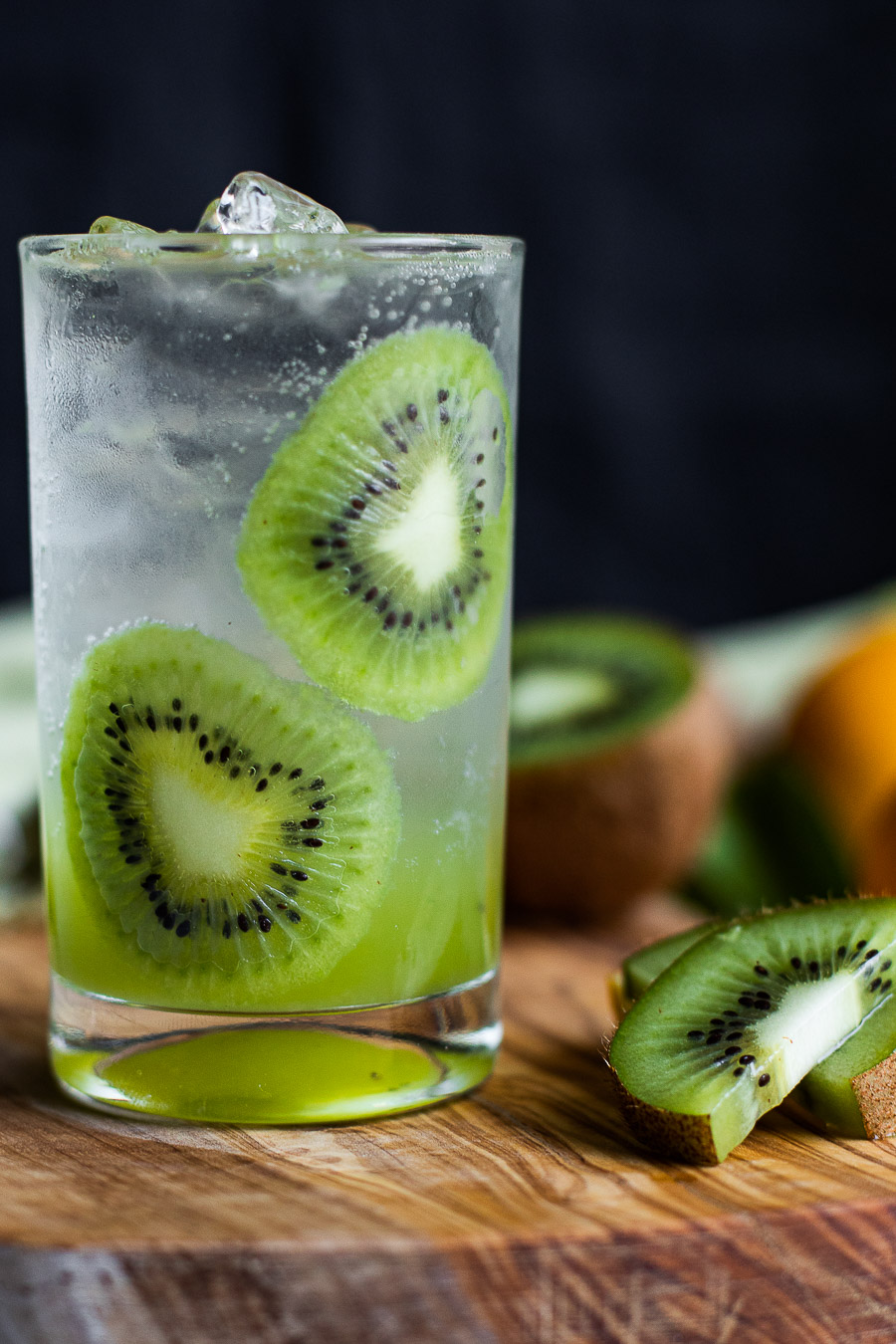 More Seasonal Drink Recipes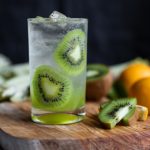 Print Recipe
KIWI SPRITZER
Enjoy the sweet tang of kiwis in this delicious spritzer perfect for any occasion. This kiwi spritzer is made with club soda and is delicious on its own or you can easily make this into an adult sip with your preferred spirit!
Ingredients
1

kiwifruit

peeled and chopped

½

ounce

lemon juice

¼

ounce

simple syrup

Kiwifruit slices for garnish

Crushed ice

Club soda
Instructions
Set a small strainer over a bowl and mash the kiwi fruit to extract the juice. Let sit 5 minutes for the juice to drain. Discard the pulp and stir the lemon juice and simple syrup into the juice.

Line the sides of an 8 ounce glass with 2 to 3 slices of kiwifruit. Fill the glass with crushed ice. Pour in the juice then add club soda to fill the glass. Serve right away. 
Nutrition
Calories:
75
kcal
|
Carbohydrates:
19
g
|
Protein:
1
g
|
Fat:
0.4
g
|
Saturated Fat:
0.04
g
|
Polyunsaturated Fat:
0.3
g
|
Monounsaturated Fat:
0.04
g
|
Sodium:
9
mg
|
Potassium:
199
mg
|
Fiber:
3
g
|
Sugar:
14
g
|
Vitamin A:
80
IU
|
Vitamin C:
73
mg
|
Calcium:
34
mg
|
Iron:
0.5
mg