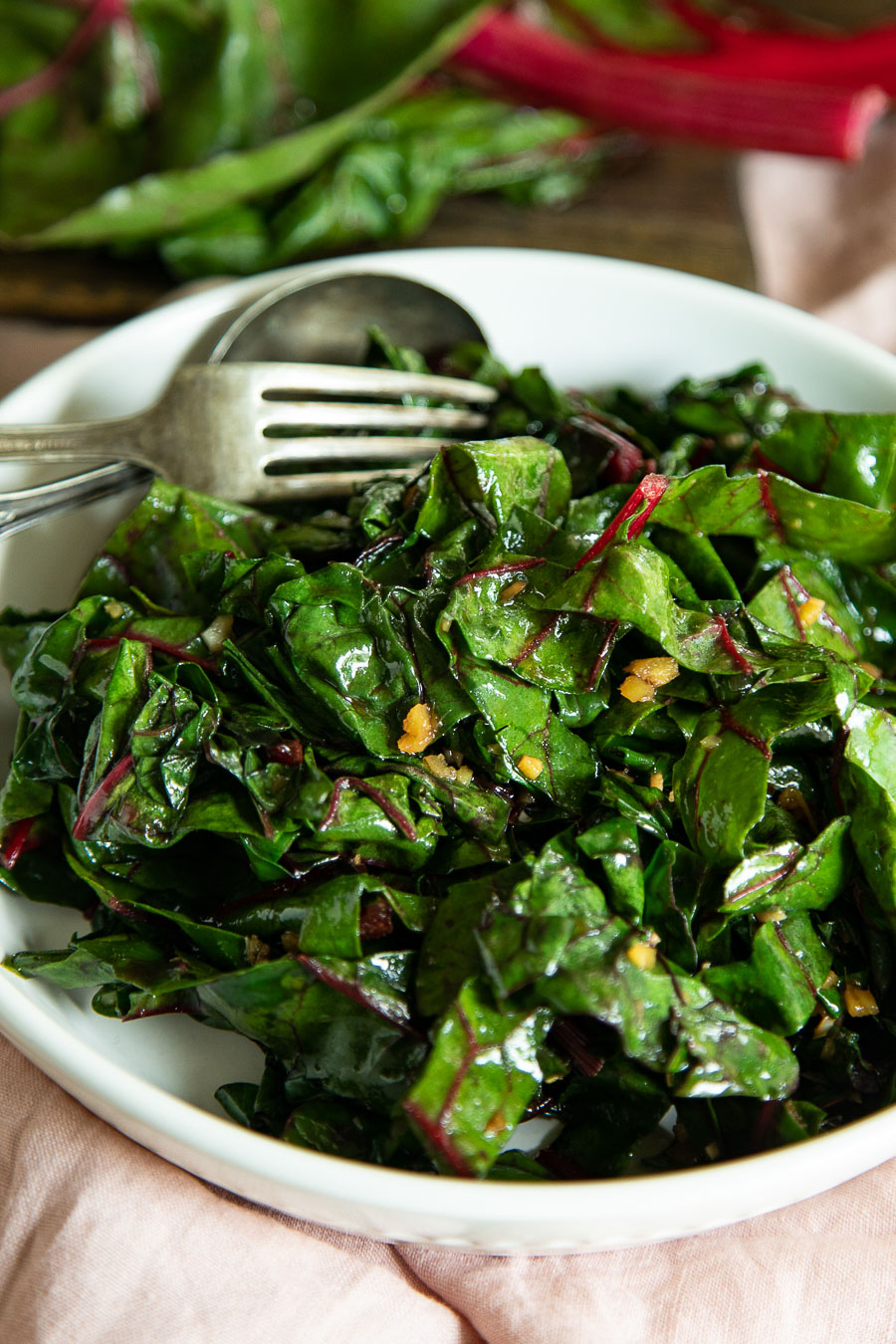 Add swiss chard to the list of veggies I never would've considering enjoying growing up! What can I say? As a professed veggie lover now, I haven't always been great about all of them. And while I wouldn't have cared about this as a kid…one of the great things about this sauteed swiss chard recipe is its versatility – side dish, salad, add on, and so much more…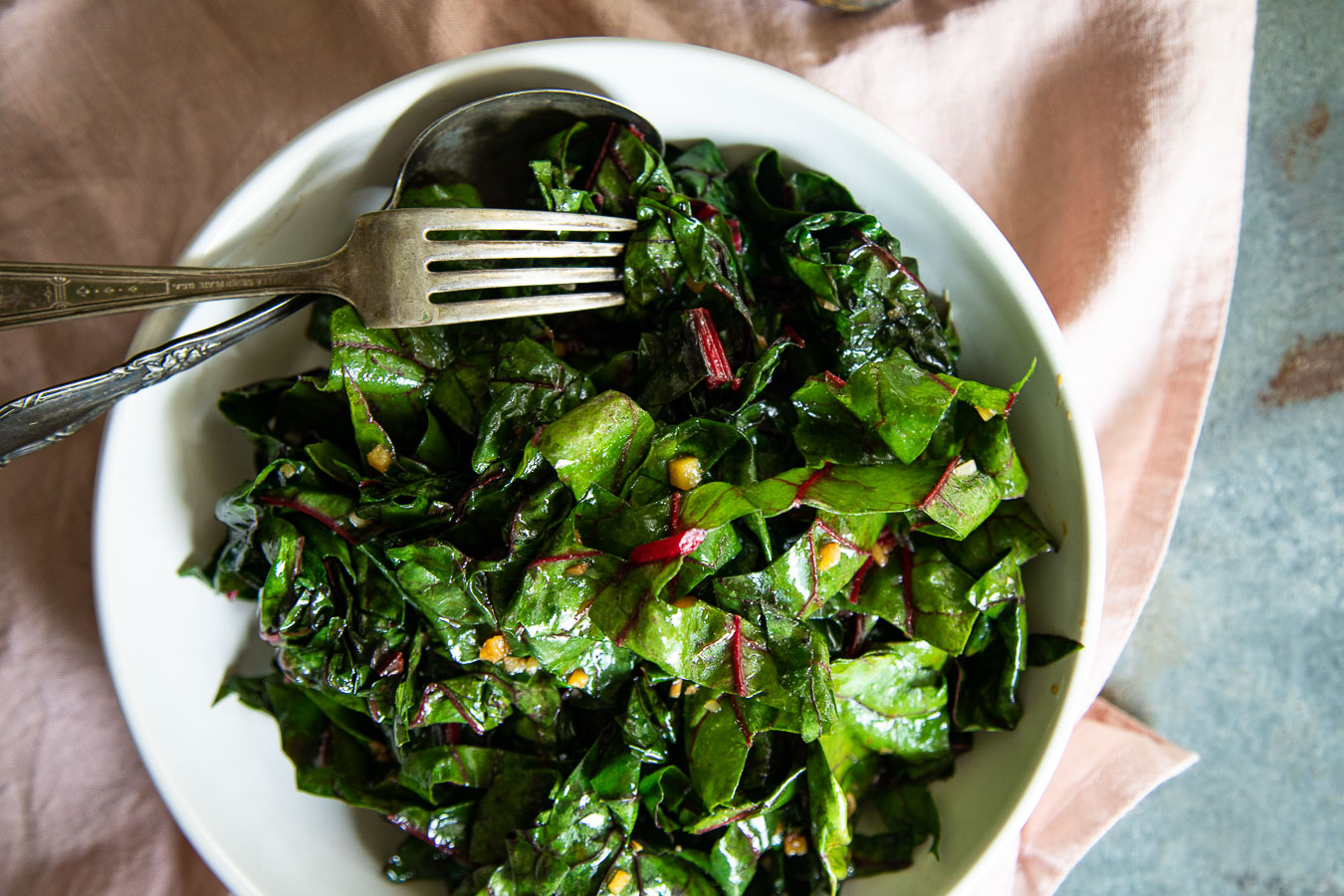 Swiss Chard Recipe
Sauteing greens is one of those crazy things that can do nothing to veggies or it can make them mouth watering and memorable. I think this recipe is the latter for sure.
On their own these greens are a delicious side dish or even a salad course (salads don't all have to be cold)! I think the versatility of this dish, however, is second only to the flavor. For some reason, I want to add it into a bowl of grains, roasted veggies, and a poached egg or grilled chicken.
If you're grilling meat or veggies these days, however, this would be a delicious bed of greens upon which to serve them.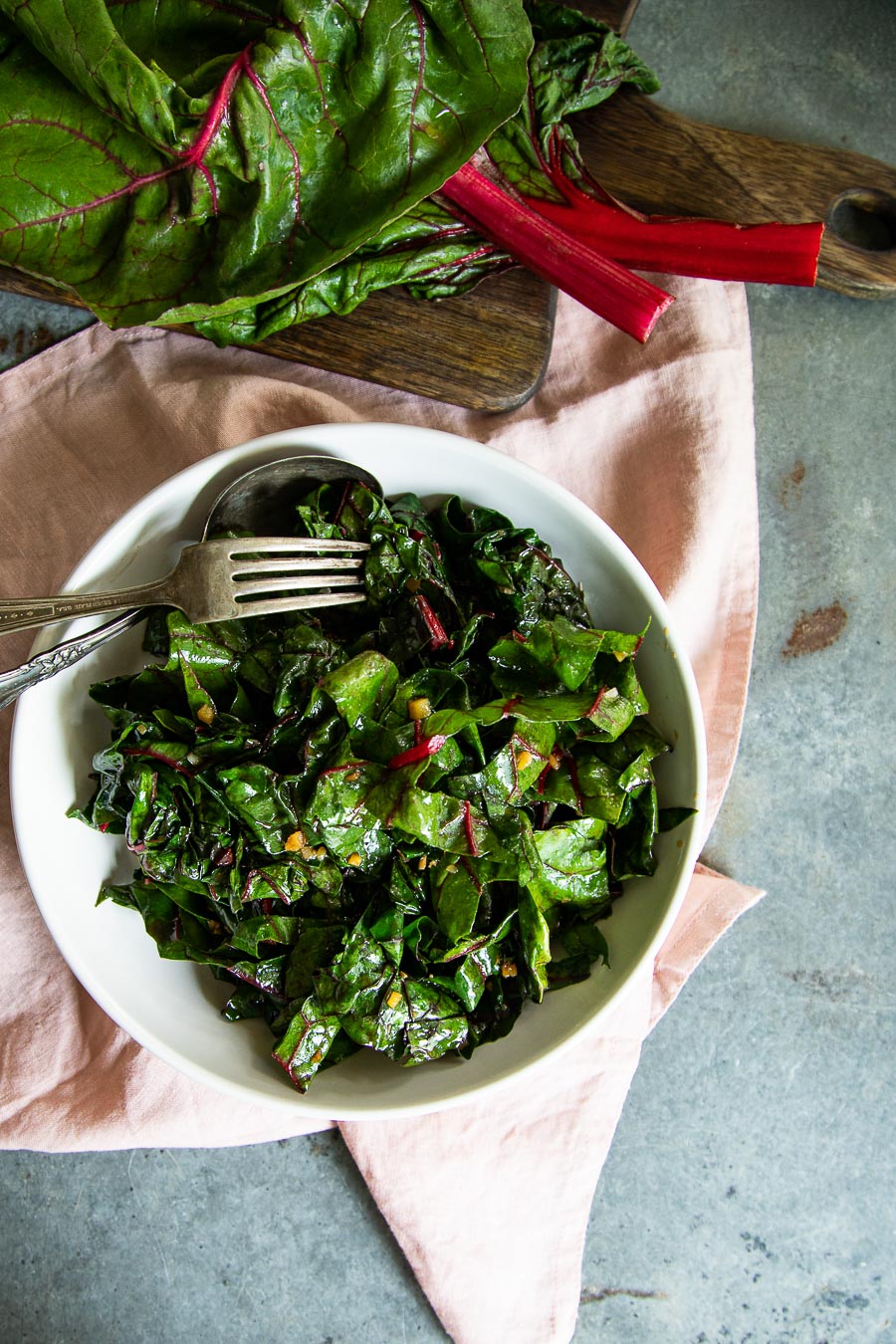 How to Prep Swiss Chard for Cooking
Prepping swiss chard to eat isn't a ton of work. The leaves need to be cleaned and you need to get rid of the stem. Give your chard a quick rinse and try to get rid of any dirt.
Next, fold your leaves in half (across the stem) and cut or pull the stem away from the leaves – the real thick part should come apart pretty easily!
Sidenote – the stem is edible, it's just tough. If you want to add some of it in, you absolutely can. I'd recommend chopping it thinner so it cooks faster and isn't so much work to eat. (This is a great way to avoid food waste – or at least cut back on it in your home)!
I like to cut swiss chard like basil, so I stack the leaves and then roll them together and slice them all at once. You can then do a rough chop the other way to get them into smaller pieces!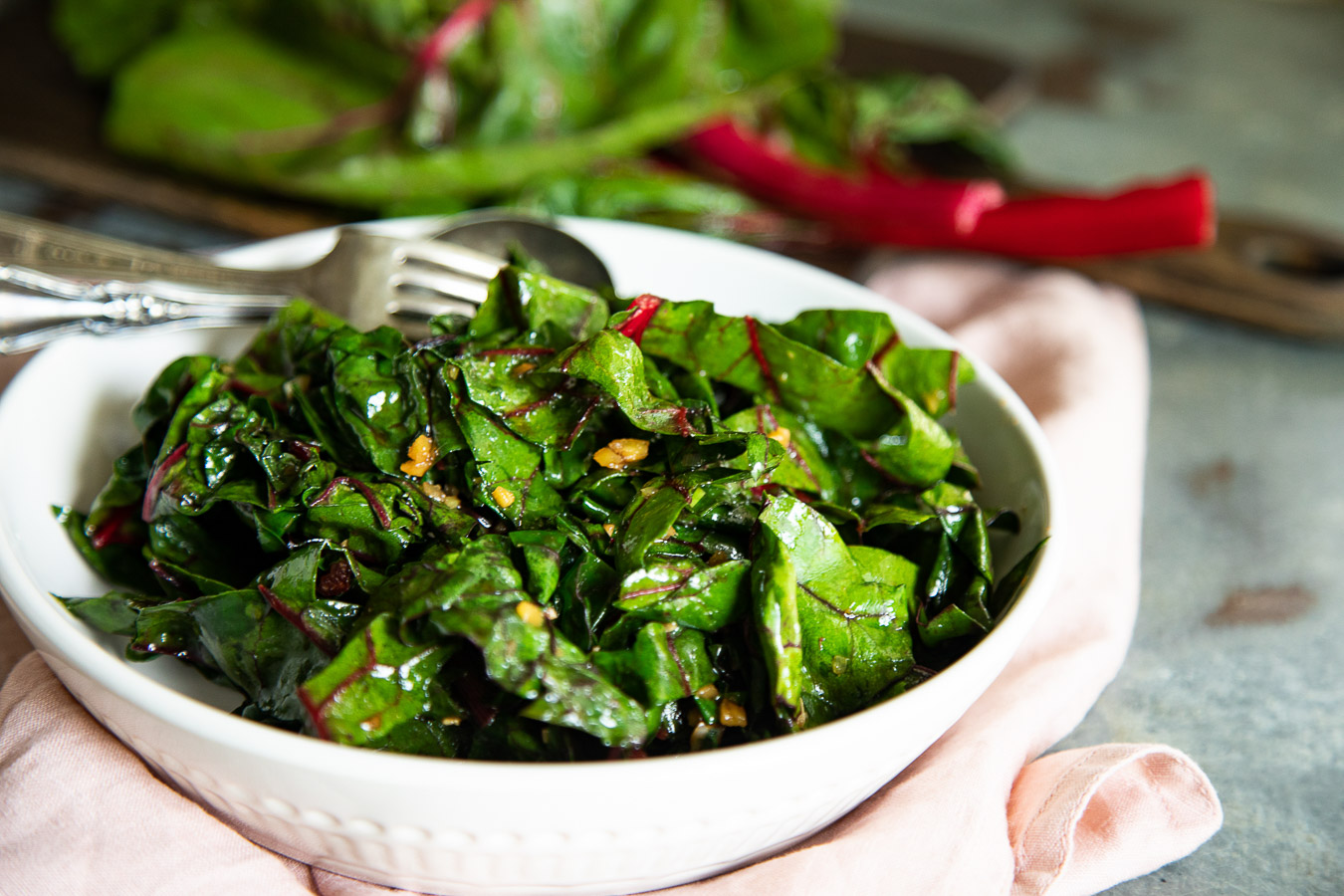 How to Store Swiss Chard
Chard, like many hearty leafy greens needs to breathe. Store unwashed/dry swiss chard in your refrigerator's vegetable crisper drawer. Avoid sealed bags or containers as this won't let the leaves "breathe" and will more quickly lead to wilting and spoiling.
If you buy misted greens at the market or have already washed them, ensure you dry them completely before placing them in your crisper drawer.
Alternatively, if your chard doesn't fit in your drawer, take the dry leaves and places them in a damp cloth and an open bag (I love using these large silicone bags to avoid single-use plastic. They need some moisture but don't like being wet or in arid climates (i.e. your refrigerator shelves).
FALL & WINTER RECIPE COOKBOOK
Delicious recipes to enjoy FALL & WINTER produce to its fullest. Simple and delicious recipes made from scratch for your family and your guests THROUGHOUT THE COOLER MONTHS!
How to Cook Chard, Garlic, + Ginger
So all of the major players in this dish cook very quickly, which is great, but it does also mean you should watch out for any one of them burning. When you're cooking this, give it your full attention and get it over with quickly!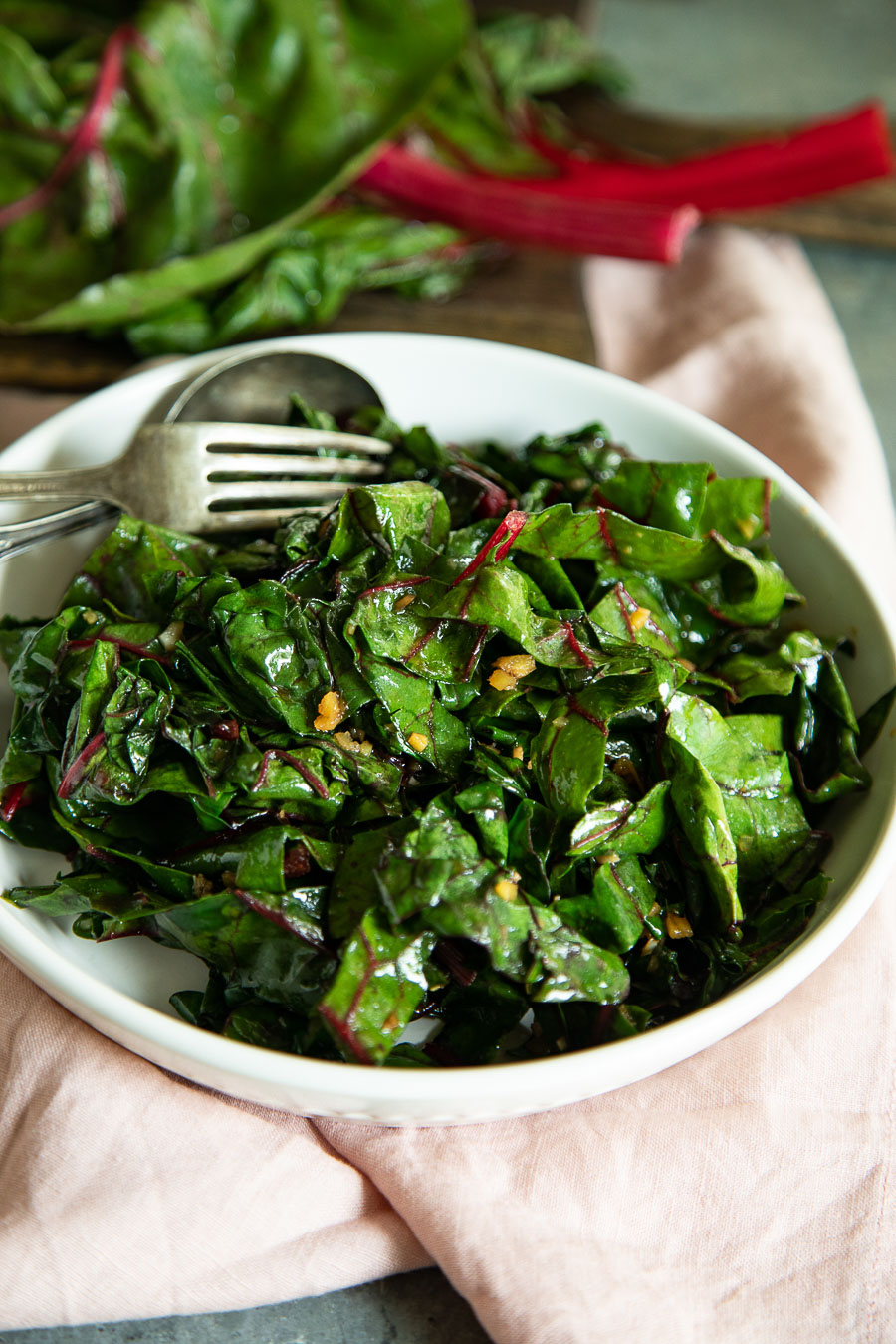 More Salad Recipes
Love simple but scrumptious and healthy side dishes? Try this kale farro salad, an orange beet salad in winter,  or this delicious and simple Avocado + Bean salad. If it isn't super hot where you are these days, try roasted grape salad with burrata!
For some easy side dishes, try roasted squash side dish (full of color and flavor), roasted broccoli with grape salad, sweet potato and cherry tomatoes, and roasted carrots with peanut curry sauce!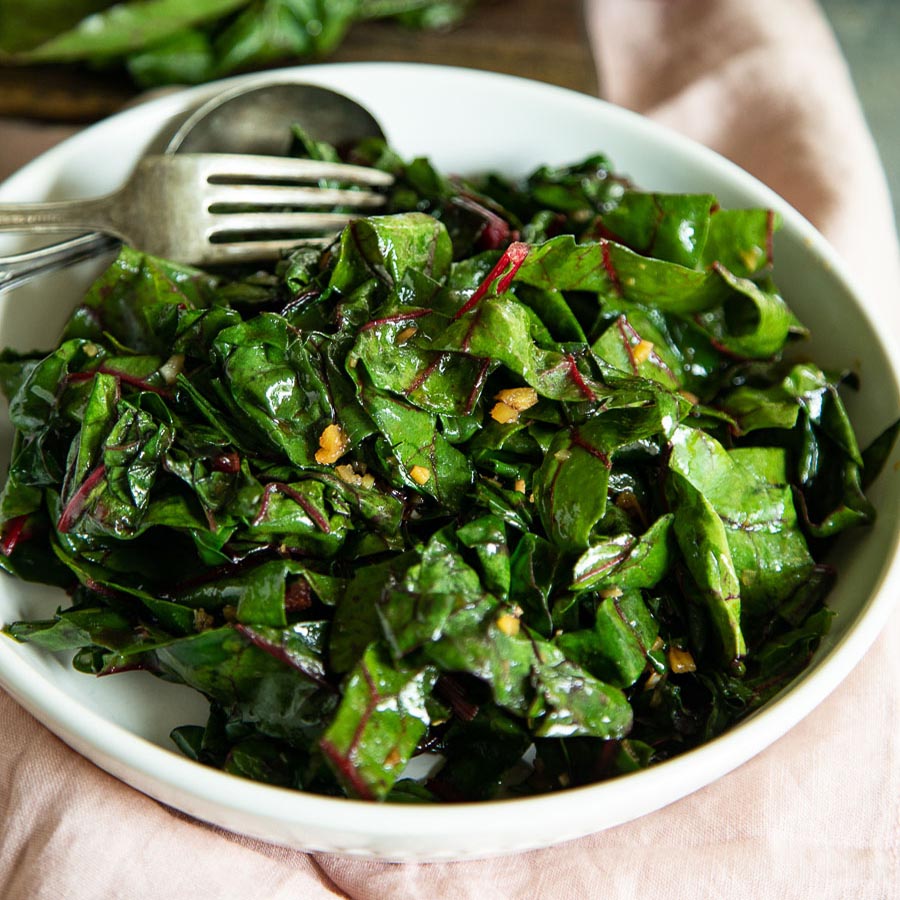 Print Recipe
SWISS CHARD RECIPE WITH GINGER
This basic swiss chard recipe for sauteed swiss chard with ginger is one to keep in your arsenal. It's an easy, delicious side dish, but it's also a great add-on to any bowl, the perfect bed for serving roasted or grilled meat and veggies, or a great chilled dish to pull out of the refrigerator just before eating!
Ingredients
2

tablespoons

olive oil

2

garlic cloves

minced

1

tablespoon

minced fresh ginger root

1

bunch Swiss chard

stemmed and sliced

1

tablespoon

low-sodium soy sauce

or to taste

Pinch

of fine sea salt
Instructions
Heat the oil in a large skillet over medium-high. Add the garlic and ginger. Cook, stirring often for about 1 minute, until it begins to sizzle and become aromatic. Be careful that the garlic does not brown.

Add the chard and toss well in the oil as it cooks, about 2 minutes, or until it reaches your desired tenderness. Turn off the heat. Add the soy sauce and salt. Toss well and serve warm.
Notes
Save this recipe on Pinterest here!
Make this recipe? I'd love to see how it turned out…
PINTEREST: Upload a photo and your review to this Pin!
INSTAGRAM:  Tag me
@lucismorsels
and use #LMrecipes
Nutrition
Calories:
70
kcal
|
Carbohydrates:
1
g
|
Protein:
1
g
|
Fat:
7
g
|
Saturated Fat:
1
g
|
Polyunsaturated Fat:
1
g
|
Monounsaturated Fat:
5
g
|
Sodium:
170
mg
|
Potassium:
73
mg
|
Fiber:
0.3
g
|
Sugar:
0.2
g
|
Vitamin A:
734
IU
|
Vitamin C:
4
mg
|
Calcium:
10
mg
|
Iron:
0.3
mg