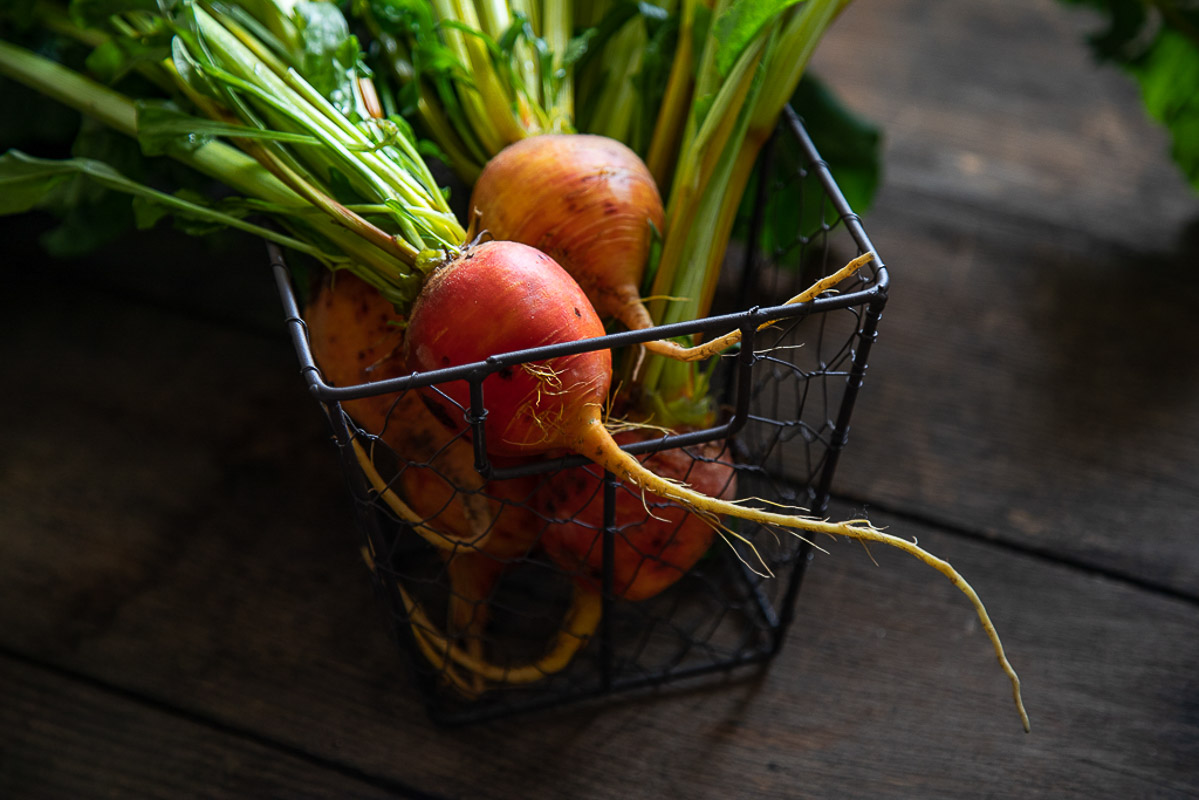 If you haven't embraced seasonal eating yet, let me share all the reasons why it's so great. In addition to sharing what's in season in winter, I'm also sharing an organized list of winter recipes based on ingredient here – it's a sustainably simple roundup of tastiness!
I'm often asked what's the first step to living sustainably. The thing is – many people are interested in sustainability but have no idea where to start.
I know sustainable living looks different for all of us, but there are 2 big things we can all do. The first is to buy less new stuff! The most sustainable product is the one you already own after all!
The second is to avoid food waste! Yep. There it is. Plain and simple.
It's estimated that 30-40% of the food supply in the US is going to waste. That's ⅓ of all food not going to people who are hungry. It's also the single largest category of material in municipal landfills. Food waste in landfills is the 3rd largest producer of methane emission in the US.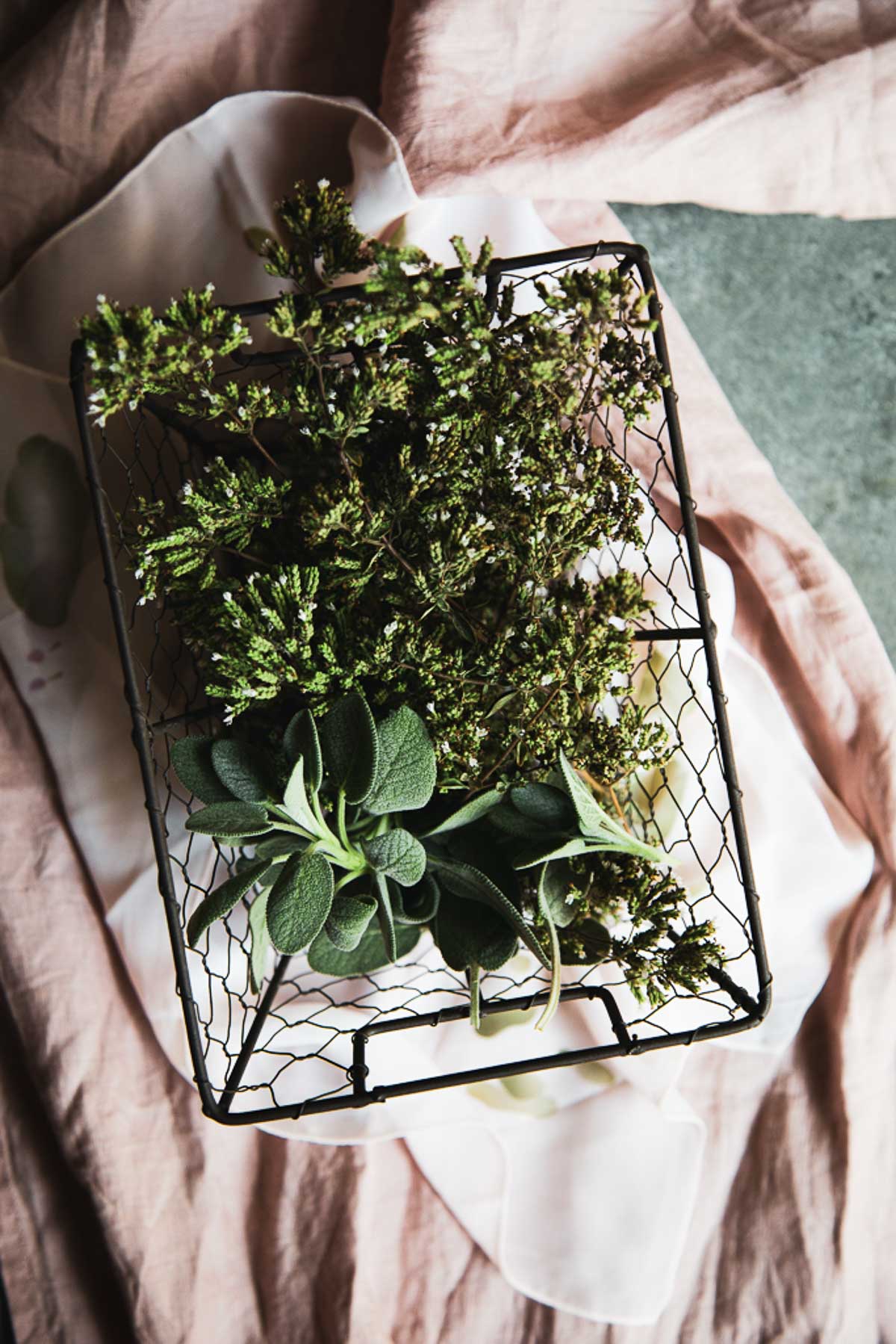 So, the first actionable step to sustainable living is to stop throwing away food. Now, not all food wasted comes from home kitchen – there's lost and waste all along the chain from farms to our kitchens, but we have control over the latter!
So what does seasonal eating have to do with food waste? Seasonal food is grown more locally since it's "in season." Without that transportation time, food is picked when it's riper and tastier.
It's also handled less in getting from the farm to your kitchen, so there's less likely to be a) damage or b) lost time of edibility!
Buying seasonal produce allows us to have produce in our kitchens that can last longer before it starts wilting, molding, or turning icky!
Winter Recipes
I long had trouble getting into the groove of things (and getting excited about) winter produce. No idea why. Summer produce and recipes easily come to mind – all that tasty fruit and veggies you can happily eat raw.
Winter, however, offers a bevy (I had to look the spelling of that one up!) of produce that's hearty, tasty, and PACKED with nutrients.
What's in Season in Winter?
Though I love the idea of seasonal eating and I like to think I'm generally aware of a fruit or veggie's season, I'm always searching for what's in season now.
So besides just waiting to see what's at the Farmers' Market every weekend, here's an easy chart to share what's in season in winter!
Check out this list of easy winter appetizers as well!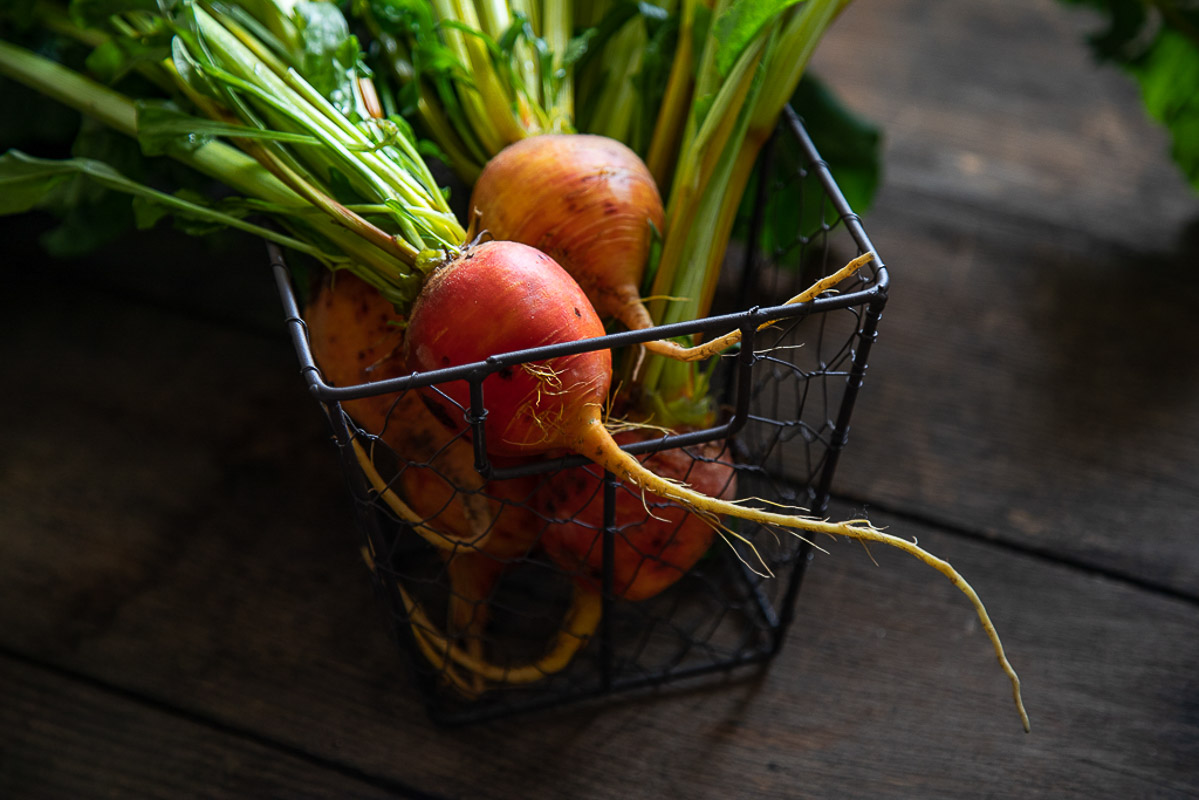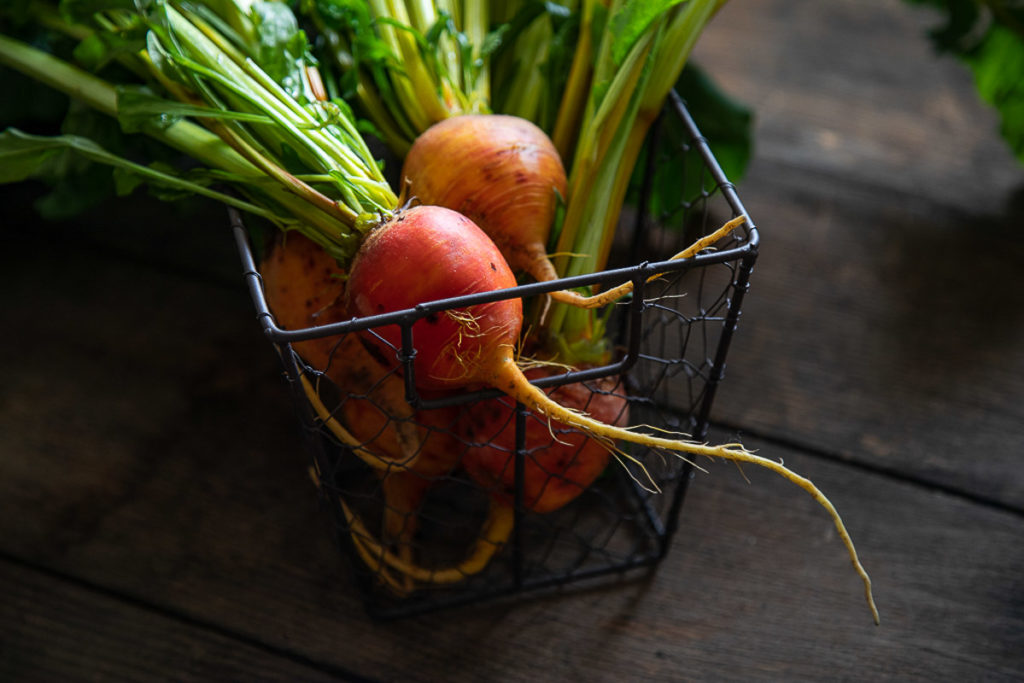 Apples
Beets
Brussel Sprouts
Cabbage
Carrots
Collard Greens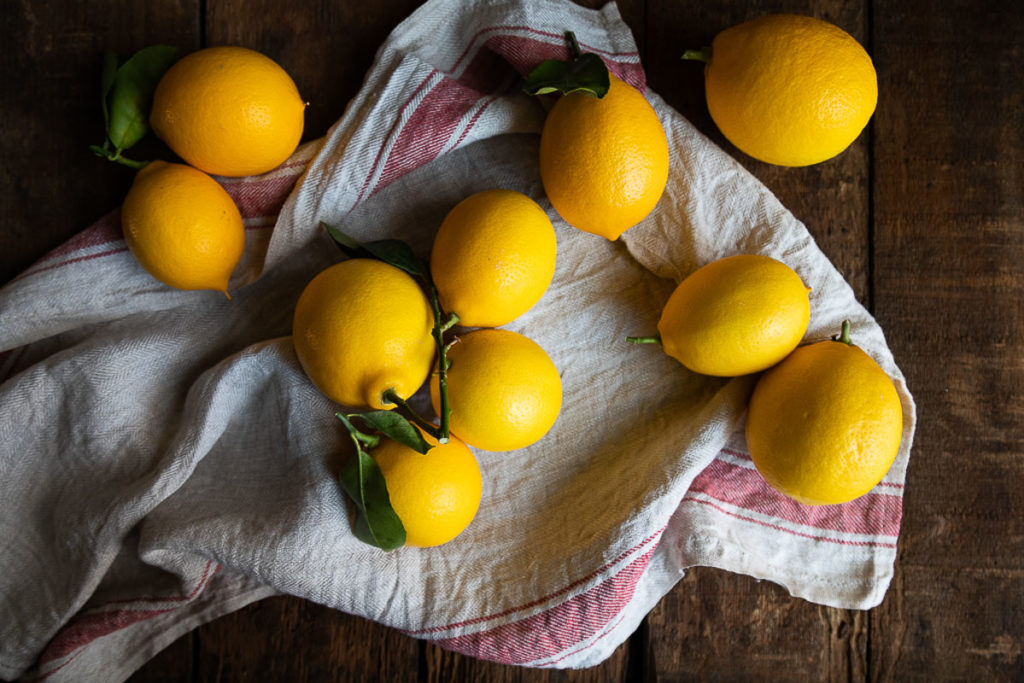 Grapefruit
Herbs
Kale
Kiwi
Leeks
Lemons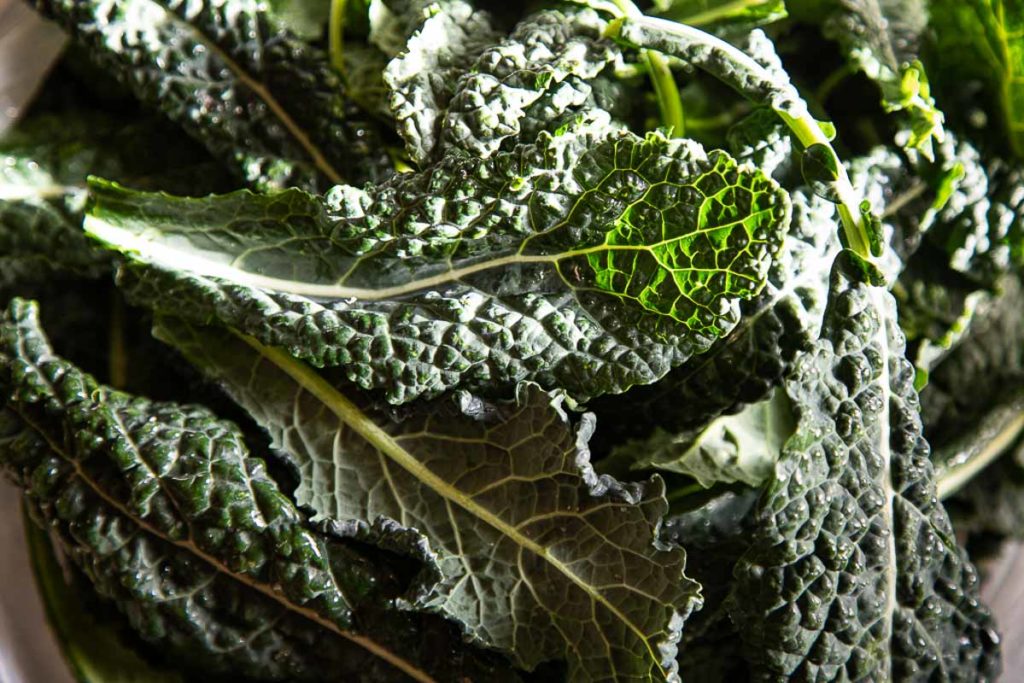 Mushrooms
Oranges & Citrus
Parsnips
Pears
Sweet Potatoes
Winter Squash
Can you Have No Food Waste?
I mean. I guess if you tried really hard and you composted and you weren't eating a lot of things that my family certainly eats – yes. But honestly, I'm not sure how sustainable that is (in the sense of creating long-lasting habits).
Instead, what if we each just tried to avoid 10-20% of the food waste in our kitchens. THAT is doable and that is a sustainable practice.
Now, I do cheat a little. While we try our best not to have waste, we still have stems and skins. Much of this can go into my homemade broth (yes, I will try to make a blog post for this!) and then much of the rest goes into our electric composter.
With those practices in place, then we have almost no food waste, but it takes time and it takes practice, so start where you can and don't worry about being perfect!
Cabbage & Radicchio Recipes
Check out these tips for how to keep herbs fresh for longer! And don't miss this easy tutorial on how to dry fresh herbs!
Print Recipe
Seasonal Winter Recipes
Enjoy this collection of seasonal winter recipes from a slew of winter produce. Live sustainably and eat deliciously winter vegetables and fruit that are packed full of flavor and nutrients.
Ingredients
1

head

broccoli

cut

1

head

cauliflower

cut

1

bunch

carrots

thickly sliced

olive oil

salt & pepper to taste
Instructions
Arrange cut vegetables (just one or a combination of similarly sized veggie) on sheet pan.

Drizzle with olive oil to scantly coat all veggies. sprinkle ½ teaspoon each salt and freshly cracked pepper over veggies. Stir to combine and spread flat.

Bake for 20-40 minutes until tender to taste.
Notes
Save this recipe on Pinterest here!
Make this recipe? I'd love to see how it turned out…
PINTEREST: Upload a photo and your review to this Pin!
INSTAGRAM:  Tag me
@lucismorsels
and use #LMrecipes
Nutrition
Calories:
179
kcal
|
Carbohydrates:
18
g
|
Protein:
5
g
|
Fat:
11
g
|
Saturated Fat:
2
g
|
Polyunsaturated Fat:
1
g
|
Monounsaturated Fat:
8
g
|
Sodium:
1272
mg
|
Potassium:
753
mg
|
Fiber:
6
g
|
Sugar:
7
g
|
Vitamin A:
15147
IU
|
Vitamin C:
141
mg
|
Calcium:
100
mg
|
Iron:
1
mg