I don't know that I'm ever not on a sweet potato kick, but I'm really on a sweet potato kick right now. We usually enjoy them roasted in tacos and on rice/quinoa for my favorite roasted veggies and grains dinner (usually topped by an egg over easy and sriracha – so good!). I've shared other snack recipes like this before, so these sweet potato toasts are right in line with all those other hearty/healthy snacks.
I love sweet potato flesh for a number of reasons. It's so colorful, SO healthy, and its flavor marries well with so many different ingredients.
Sweet Potato Toasts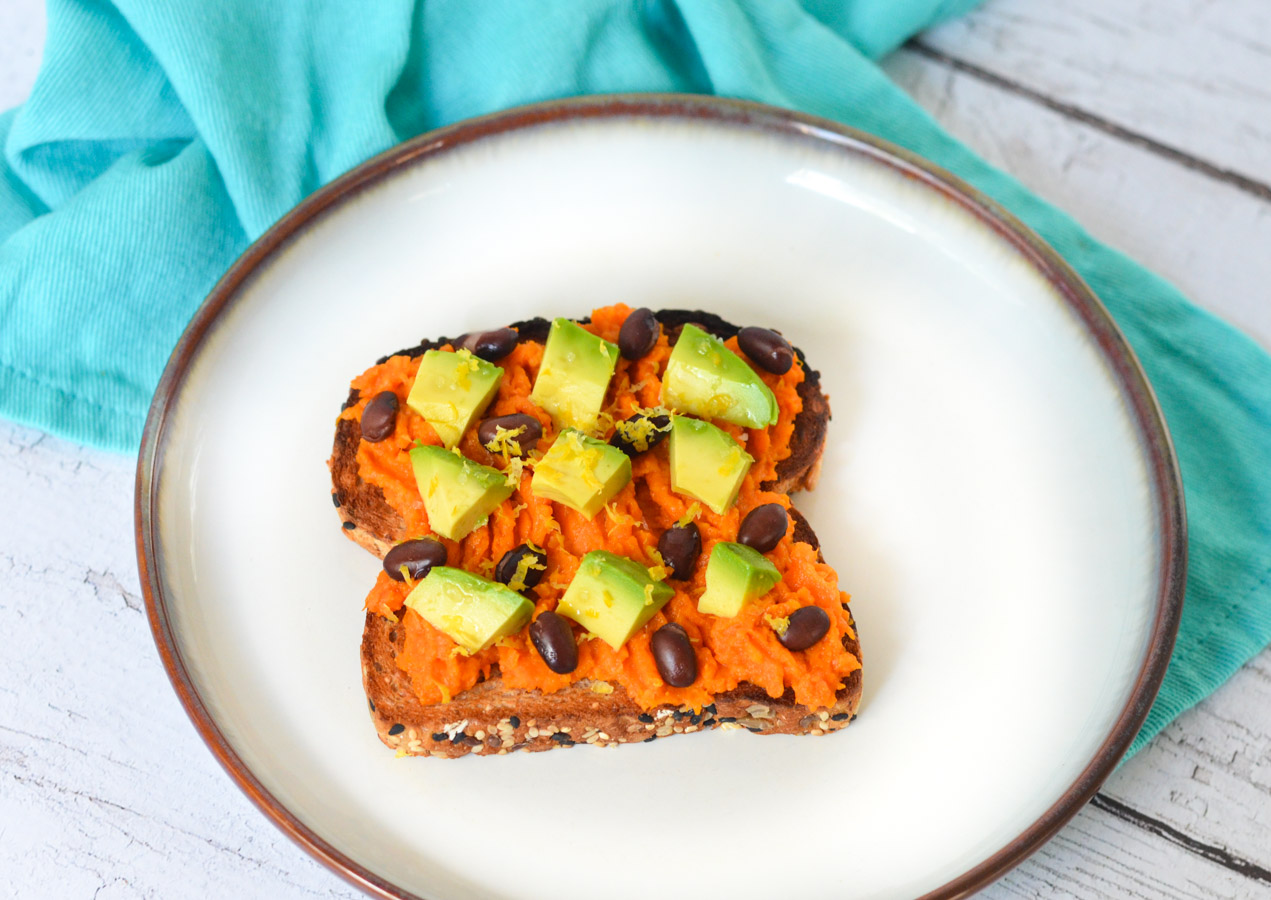 avocado + black beans + lemon zest
I googled sweet potato toasts to see if anyone had their own flavor combos to add to the mix. I discovered the sweet potato toasts taking over the internet recipe world are not like these at all.
In an effort to skip gluten and/or carbs, people are toasting thick slices of sweet potato and then topping that with whatever their heart desires. I'm sure I'd love those sweet potato toasts too. But then there's something so much more comforting in this version.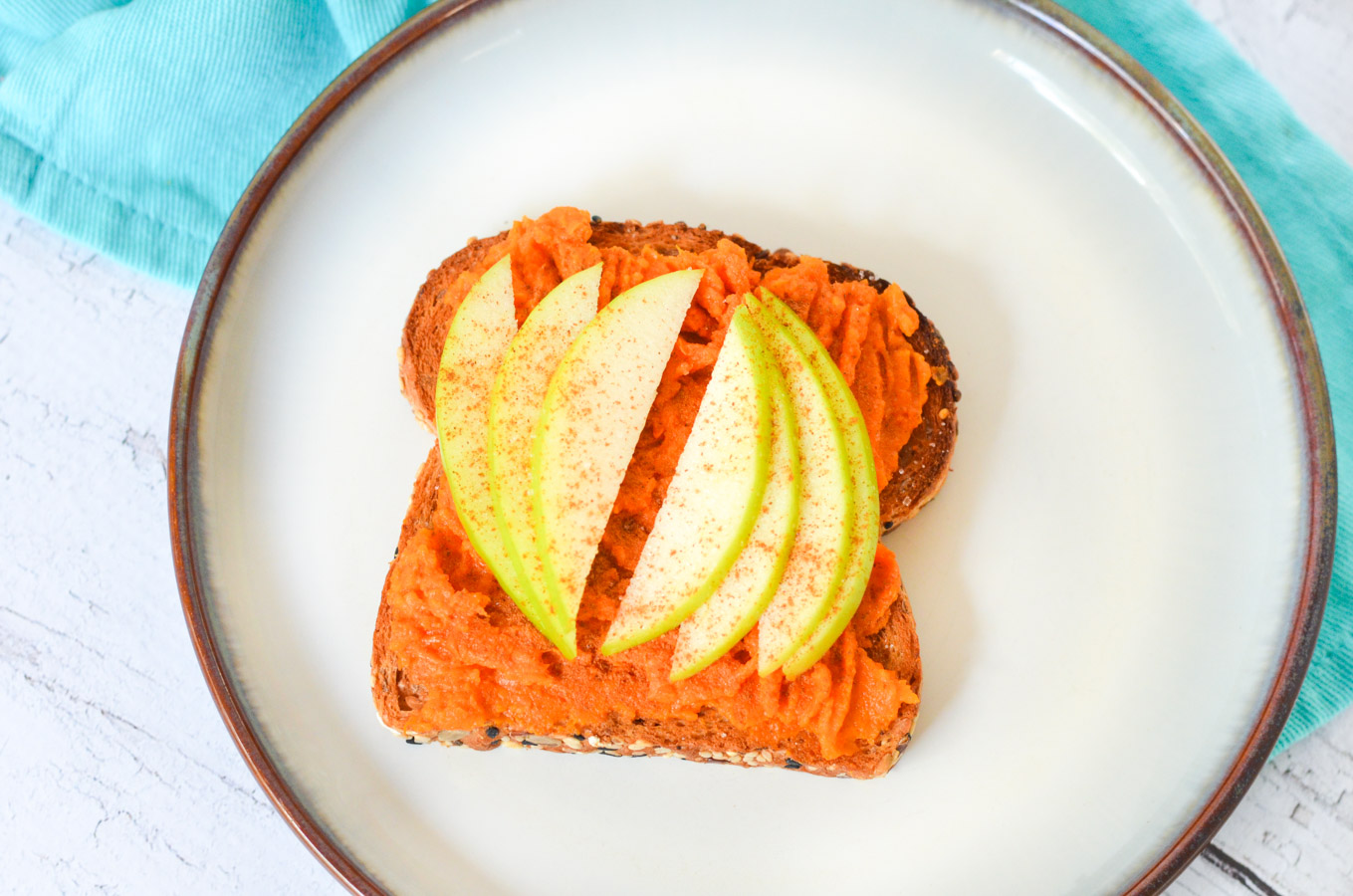 Apple Slices + Cinnamon + Sugar
I use seedy, whole grain bread, which helps fill me up. I also know they'll hold up to the toasting and topping, which is a bit of a concern with the other method.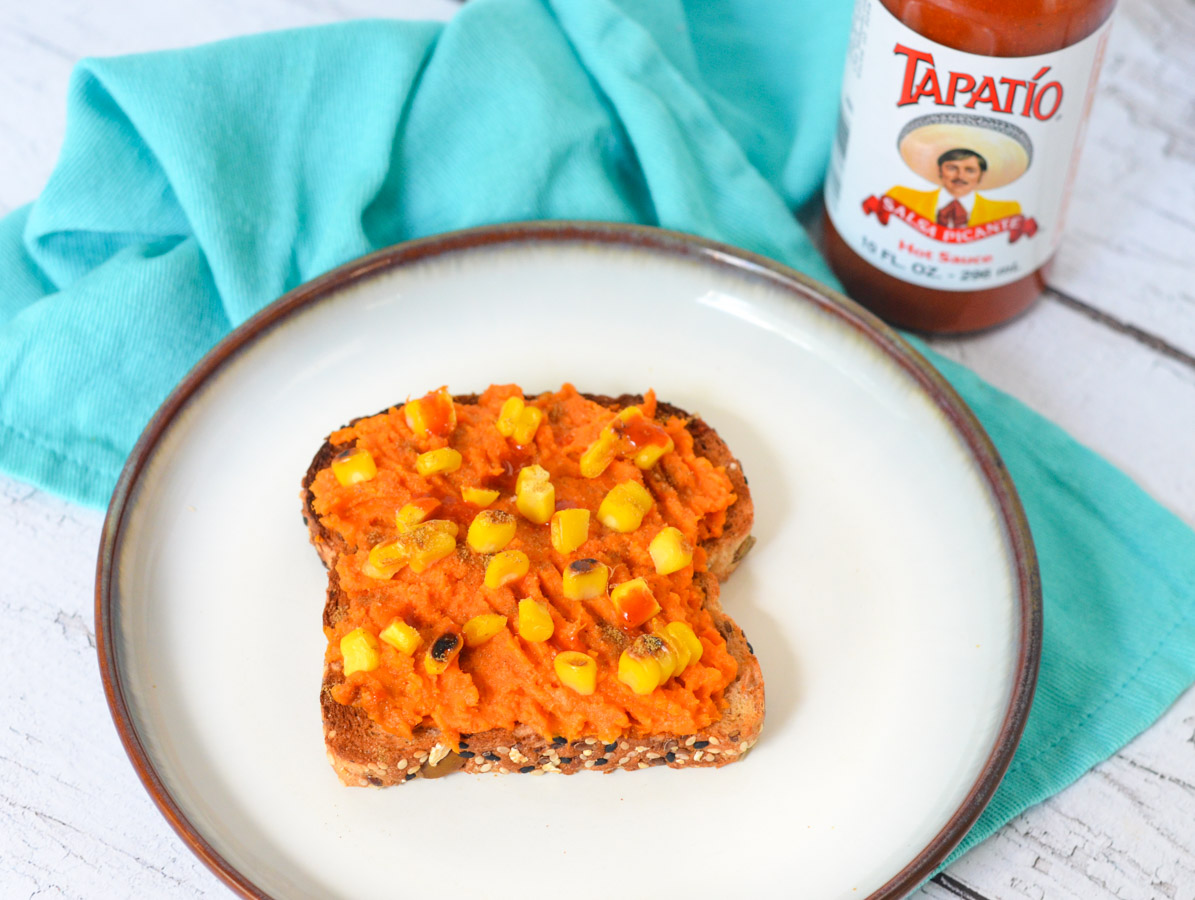 Roasted Corn + Cumin + Tapatio Hot Sauce
How to Make Sweet Potato Puree
Baking sweet potatoes for the flesh is so easy too. Preheat your oven to 400 degrees, cut off the tips of the potatoes, and bake on foil-lined sheet pan until tender (25-35 minutes).
Let them cool and remove the skin for all that tasty sweet potato flesh. After you toast your bread and add the sweet potato, salt it lightly before adding other toppings.
Salted Pumpkin Seeds + Slivered Almonds + Dried Cranberries + Honey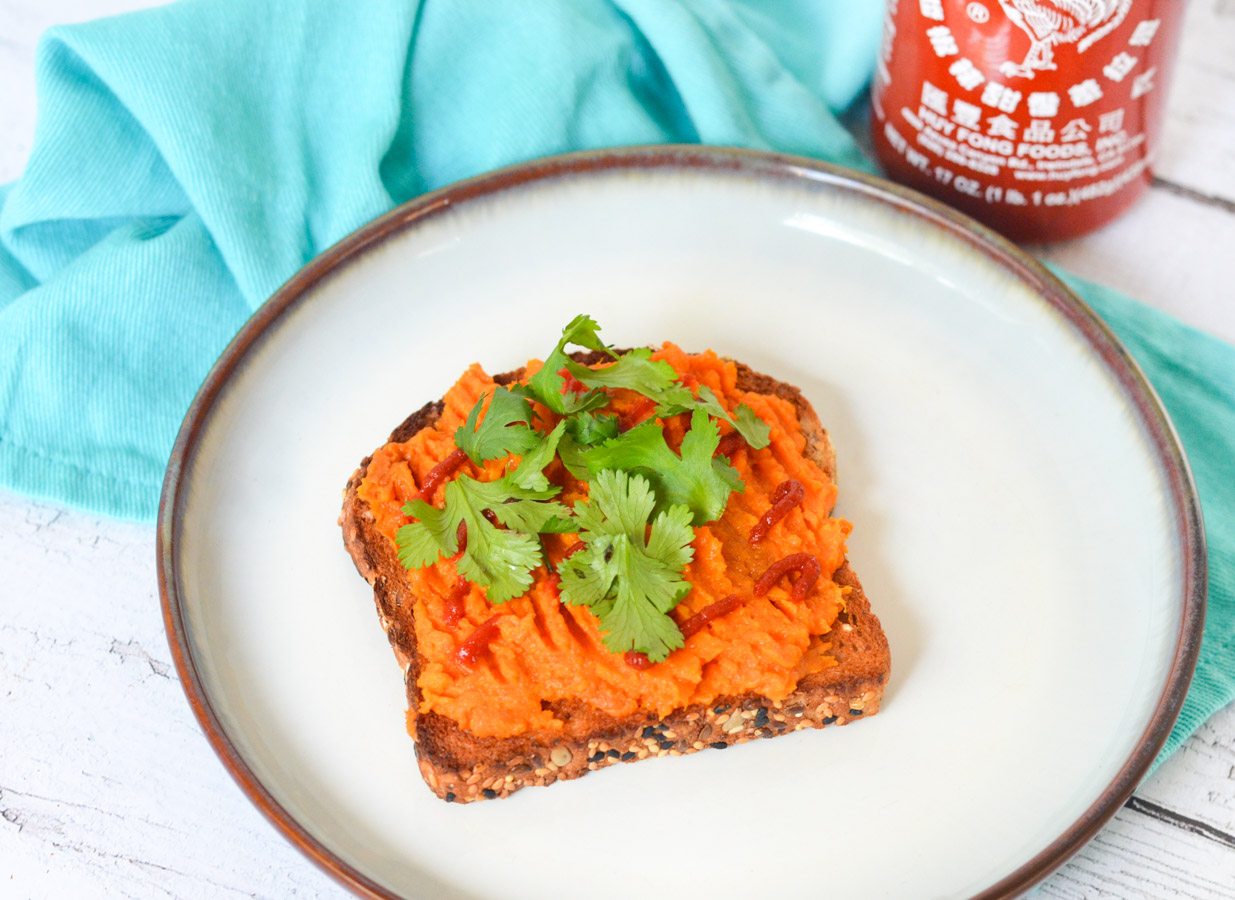 Sriracha + Cilantro

Sweet Potato Recipes
Looking for more sweet potato recipes? I always am! This sweet potato bread is one of my favorite recipes of all time! If you have puree to use, try this sweet potato hummus, these mashed sweet potato toasts, and this scrumptious bean dip!
This roasted potato salad (yes, with sweet potatoes) is a fun alternative to your normal rigamarole and these quinoa-stuffed sweet potatoes are a great, healthy dinner!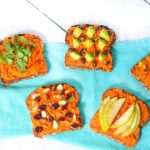 Print Recipe
SWEET POTATO TOASTS
A delicious and healthy way to use up sweet potato puree? Put it on top of hearty bread and add any of these delectable topping ideas! Mashed sweet potato toasts are a surprisingly delicious way to get all the goodness and flavor!
Ingredients
SWEET POTATO TOASTS
1

slice

bread

¼

cup

sweet potato puree

more to taste

salt

to taste
Avocado, Black Beans, + Lemon Zest
¼

avocado

cubed

2

tablespoons

black beans

drained

1

teaspoon

lemon zest
Apple Slices + Cinnamon + Sugar
¼

apple

thinly sliced

½

teaspoon

cinnamon

½

teaspoon

sugar
Roasted Corn + Cumin + Tapatio
2

tablespoons

roasted corn

¼

teaspoon

cumin

hot sauce

to taste
Nut + Fruit
1

tablespoon

salted pumpkin seeds

1

tablespoon

dried cranberries

1

teaspoon

honey

to taste

slivered almonds

topping
Sriracha + Hot Sauce
1

teaspoon

Sriracha hot sauce

to taste

1

tablespoon

fresh cilantro leaves

more to taste
Instructions
Toast bread to desired doneness. Can be made ahead of time - let toast cool on wire reach to avoid sogginess.

Top toast with sweet potato puree and dash of salt.

Layer on ingredients desired - add salt and fresh pepper to taste!
Notes
Save this recipe on Pinterest here!
Make this recipe? I'd love to see how it turned out…
PINTEREST: Upload a photo and your review to this Pin!
INSTAGRAM:  Tag me
@lucismorsels
and use #LMrecipes
Nutrition
Calories:
247
kcal
|
Carbohydrates:
37
g
|
Protein:
7
g
|
Fat:
9
g
|
Saturated Fat:
1
g
|
Polyunsaturated Fat:
1
g
|
Monounsaturated Fat:
5
g
|
Trans Fat:
0.01
g
|
Sodium:
275
mg
|
Potassium:
707
mg
|
Fiber:
9
g
|
Sugar:
6
g
|
Vitamin A:
13528
IU
|
Vitamin C:
20
mg
|
Calcium:
78
mg
|
Iron:
2
mg