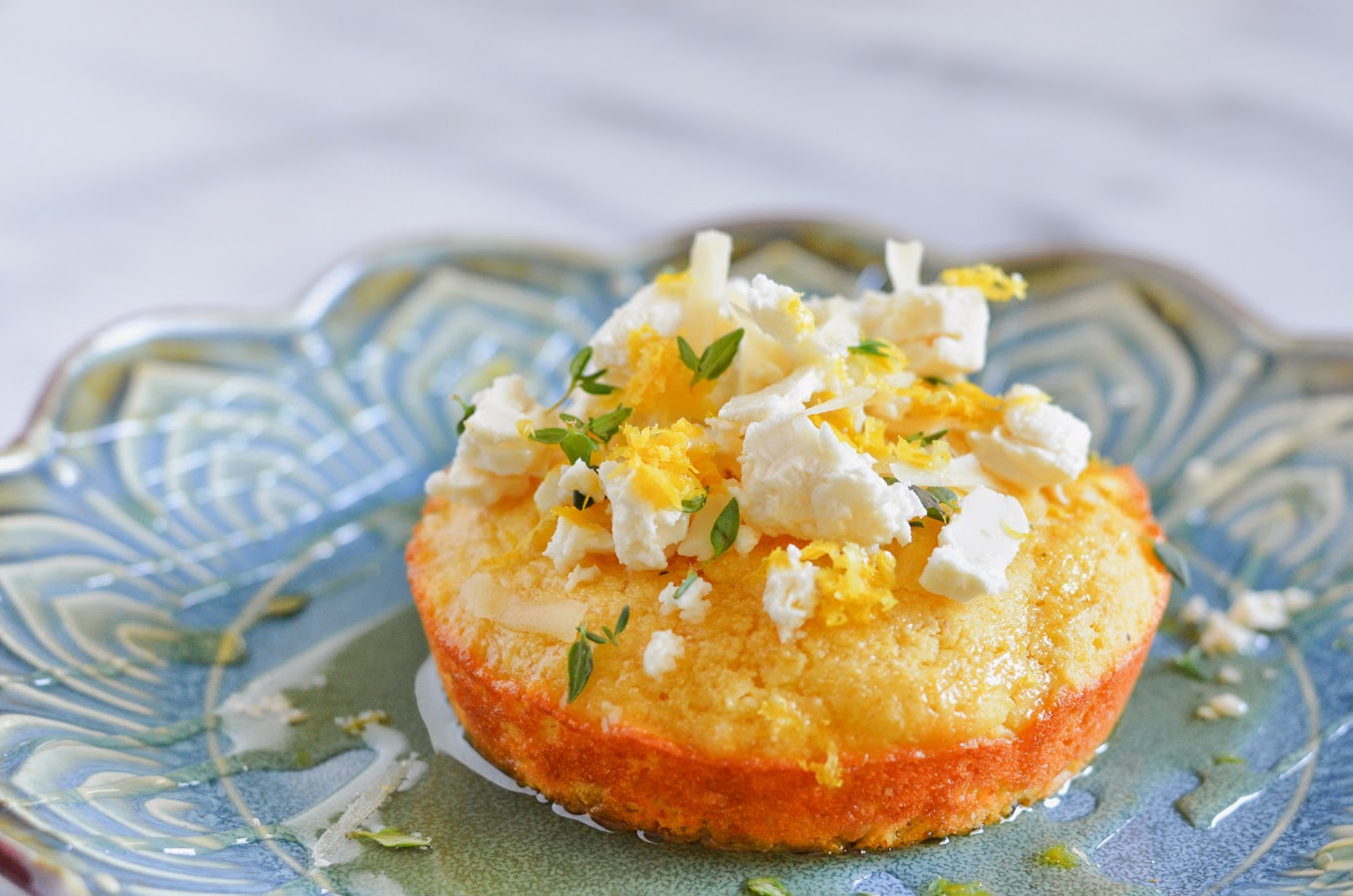 This Greek cornbread is a copycat recipe for the most delicious starter we had in Chicago recently. It's a basic set up, but somehow so sublimely delicious!
Definitely check out my Chicago travel guide for loads delicious food and fun, but I couldn't wait any longer to share this copycat recipe from our first night's meal. I'm sure I've mentioned it before, but cornbread is one of two foods with which I have no self-control (french fries is the other). So when Greek Cornbread popped up on the menu at The Purple Pig, I couldn't resist.
The honey-soaked plate arrived and I gobbled it up. Ok, I actually shared it with my mom, but I wouldn't let her have any more than her half!
The flavors in this dish (honey, lemon, fresh thyme, and feta) are such simple flavors, but the dry, saltiness of the feta blends so nicely with the sweet honey cornbread.
The lemon zest is my addition, but I think it really adds that brightness that only lemon zest can. Unfortunately, you'll want to eat more that just one serving, but at least your soul will be happy!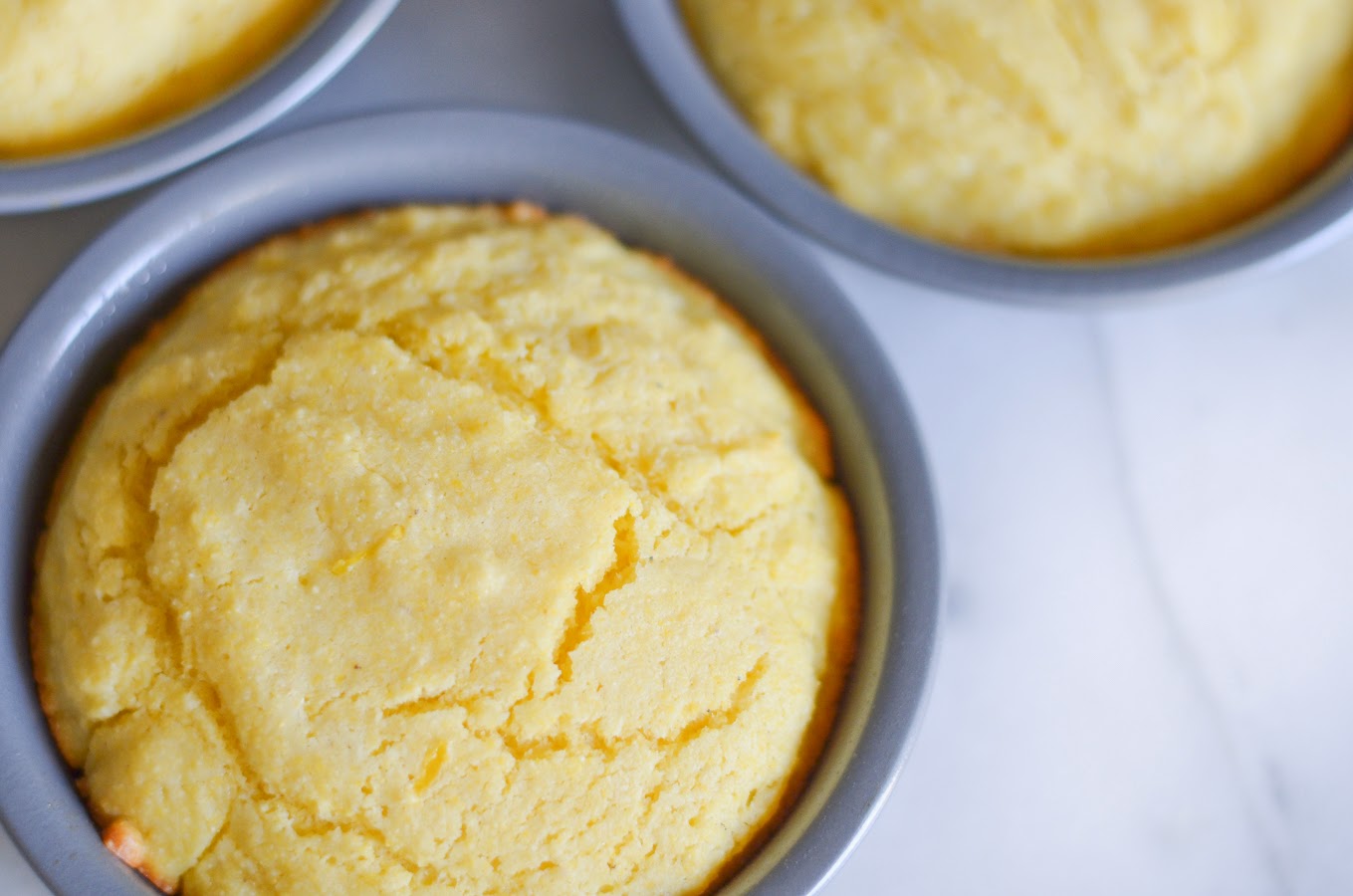 Greek Cornbread
The feta, honey, and thyme are what gives this dish (great as a side dish or appetizer) the Greek flavor vibe. It's a sublimely great combination.
Nonfat Milk in Cornbread
I used nonfat milk in the recipe and a low fat feta cheese on the top (pretty par for the course if you hang out with me too much). If you eat the cornbread right away, the nonfat milk (or yogurt if you want) is totally fine.
If you plan to make it ahead, however, you'll want to use some sort of fat in your milk (I often combine nonfat with the half and half my husband has in the fridge). The fat keeps the bread moist – speaking from loads of experience here.
I should also note that the light feta (I get it at Trader Joe's), isn't as pungent of a flavor as the regular feta, so if you love that feta flavor, don't skimp there either.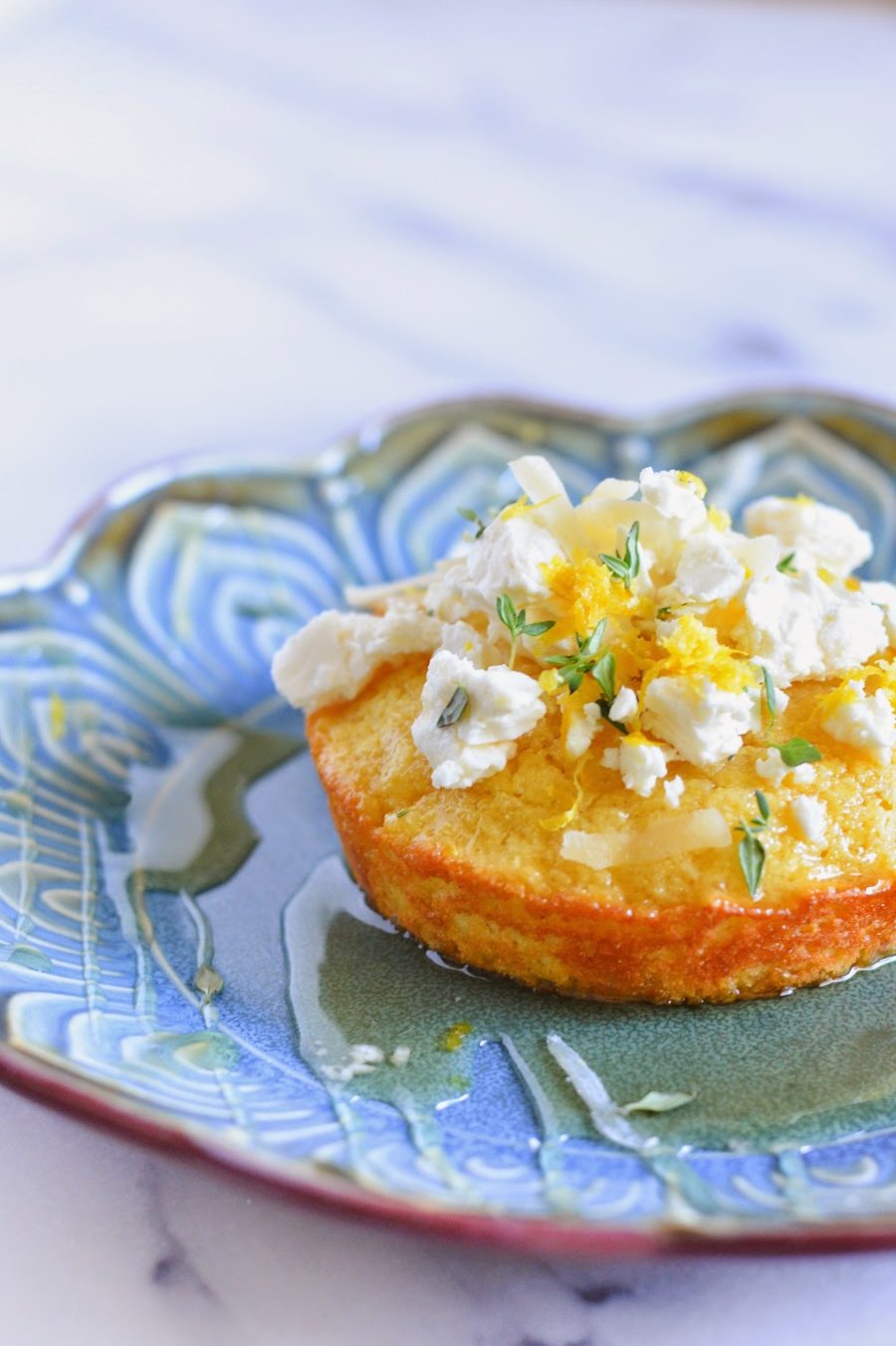 Greek Cornbread Appetizer
When it comes to appetizers when entertaining, I always like to find ways to make it easier or to make it ahead.
A few ideas here. First, if you have a cornbread mix you like, then you can certainly use that instead of my recipe from scratch. There are some tasty mixes out there, so take advantage.
Whether you make the cornbread muffins from scratch or with a mix (and they can be made in muffin tins, just adjust the time as needed), you can make them ahead of time. Let them cool completely and either place them in a sealed container until assembly and serving.
Alternatively, you can make these more than a day ahead of time and freeze them in an airtight container. Just remember to take them out to let them defrost on the counter in enough time to come to room temp on its own. Frozen and slowly thawed breads/cakes are still sublimely fresh tasting!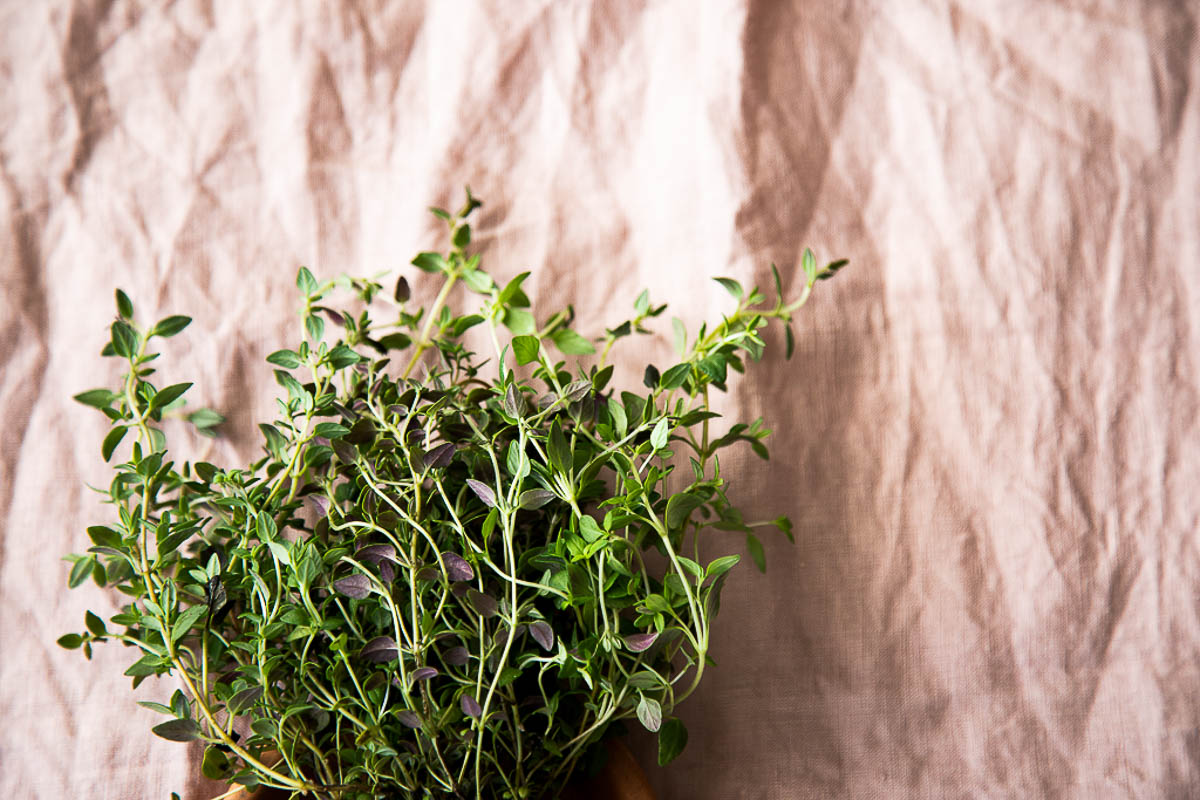 How to keep Herbs Fresh
I've heard a lot of gimmicks about keeping herbs fresh, but I've only found one method that keeps them fresh for more than a few days. Wrap them in a damp towel (cloth towel or paper towel and place them in a bag with the top open.
Check the towel every day or two to make sure it's still damp. When it's drying out, just redampen and rewrap.
Get more tips on how to avoid food waste as well as tips for how to keep tomatoes, celery, greens, and other hard foods fresh.
Find out how to dry fresh herbs (a great way to avoid throwing away herbs you can't use immediately).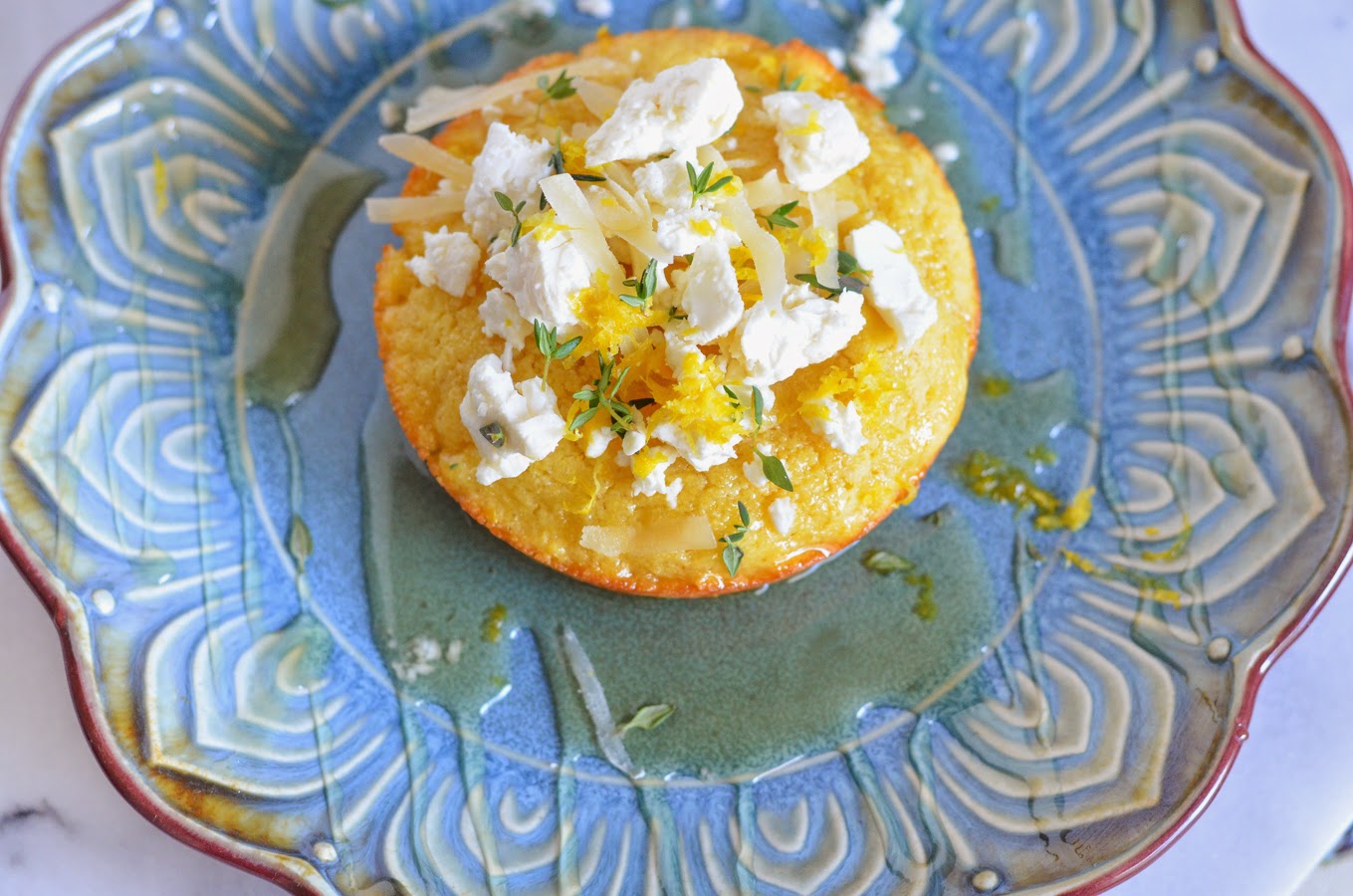 More recipes with feta
Delicious Bread Recipes
Print Recipe
GREEK CORNBREAD
I've always loved cornbread, but we had a Greek Cornbread at The Purple Pig in downtown Chicago and I fell even more in love. So many fresh flavors on one plate, you just couldn't go wrong! I quickly came home and remade it for my husband, so he could have the same tasty experience!
Ingredients
Cornbread
1

cup

cornmeal

1

cup

flour

¼

cup

sugar

1

tablespoon

baking powder

1

teaspoon

salt

1

cup

milk

⅓

cup

olive oil

1

egg

¼

teaspoon

lemon zest
for the topping
honey

feta cheese

parmesan cheese

lemon zest

fresh oregano
Instructions
Preheat oven to 400 degrees.

In a large mixing bowl, combine dry ingredients. Add in milk, olive oil, egg, and lemon zest. Mix well. Let sit five minutes. Pour into pans.

Bake 14-16 minutes, until toothpick comes out clean.

Remove warm muffins to plate(s). Drizzle honey heavily over muffins. Top with crumbled feta cheese, shredded parmesan, lemon zest, and fresh oregano.

*Can use muffin tins, bread pan, or square baking pan as well. Note changed cooking times – muffins (14-16 minutes), bread pan (25-30 minutes), square pan (20-25).
Nutrition
Calories:
236
kcal
|
Carbohydrates:
30
g
|
Protein:
7
g
|
Fat:
10
g
|
Saturated Fat:
3
g
|
Polyunsaturated Fat:
1
g
|
Monounsaturated Fat:
5
g
|
Trans Fat:
0.002
g
|
Cholesterol:
25
mg
|
Sodium:
470
mg
|
Potassium:
103
mg
|
Fiber:
2
g
|
Sugar:
12
g
|
Vitamin A:
75
IU
|
Vitamin C:
1
mg
|
Calcium:
111
mg
|
Iron:
1
mg