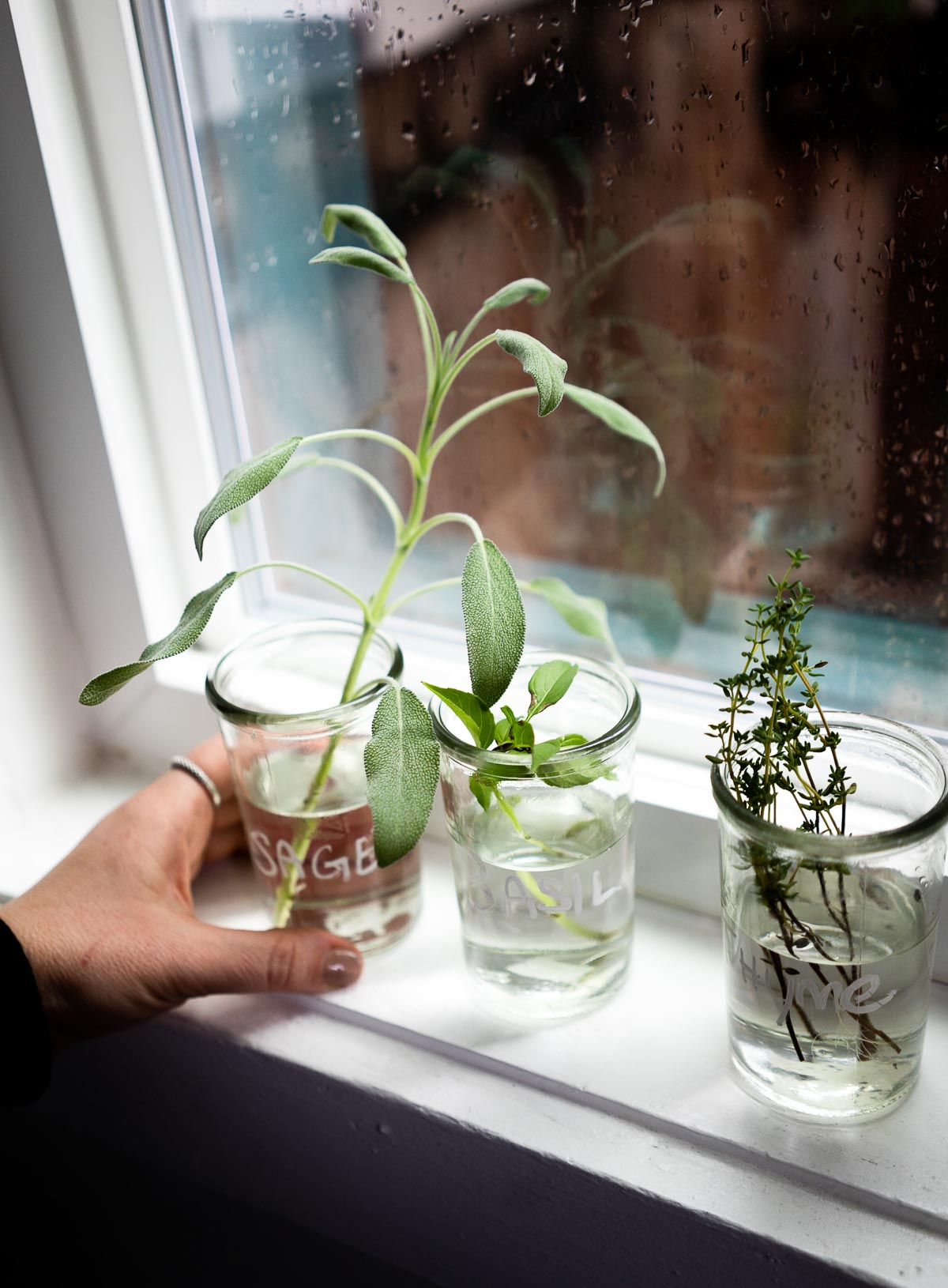 Have you ever wondered how to dry fresh herbs at home? I actually hadn't either until a neighbor last summer asked if I wanted any of her overabundant oregano harvest.
I'd actually never used fresh oregano at that point, but we do use quite a bit of dried oregano, so I asked if I could easily dry it for that purpose. They said yes and offered to tie me up a bunch to let hang and dry in my house.
We ended up receiving a large bushel (maybe that's not the right measurement – but a lot regardless) and I fascinatingly watched it wilt and then dry.
Not long after, I had a few leftover basil stems from a package I bought at the market and tried the same idea. And it worked perfectly – though I then learned just how much fresh herbs turn into when dried (there is a lot of downsizing)!
How to Dry Fresh Herbs
There really isn't a recipe – it's just so straightforward.
Whether you have one stem or 100 stems, the process is basically the same. First you want to rinse your herbs to remove any dirt, bugs, and other sorts of life.
Then you want to dry them completely. I like to lay out my fresh stems on kitchen towels for usually a few hours, but they can certainly sit overnight – whatever it easy.
Then you want to secure the stems in a bunch. If I have a lot to dry, I usually I divide them into groups where the stems are about 1″ across. You can certainly do larger bunches, but they just might take a little longer.
Then just hang the bunches in a dry, well-ventilated area. I keep mine in our laundry room, which has a door and a window – neither of which are actually open too often.
If you only have one hook you want to use, I'd recommend making the length of string/twine various lengths for each bunch, so instead of a big hunk of herbs drying with little ventilation, the bunches actually look like one long line of bunches from your hook to the floor (without touching it).
If you're growing roses, try making your own rose powder for use in DIY skincare and aromatherapy!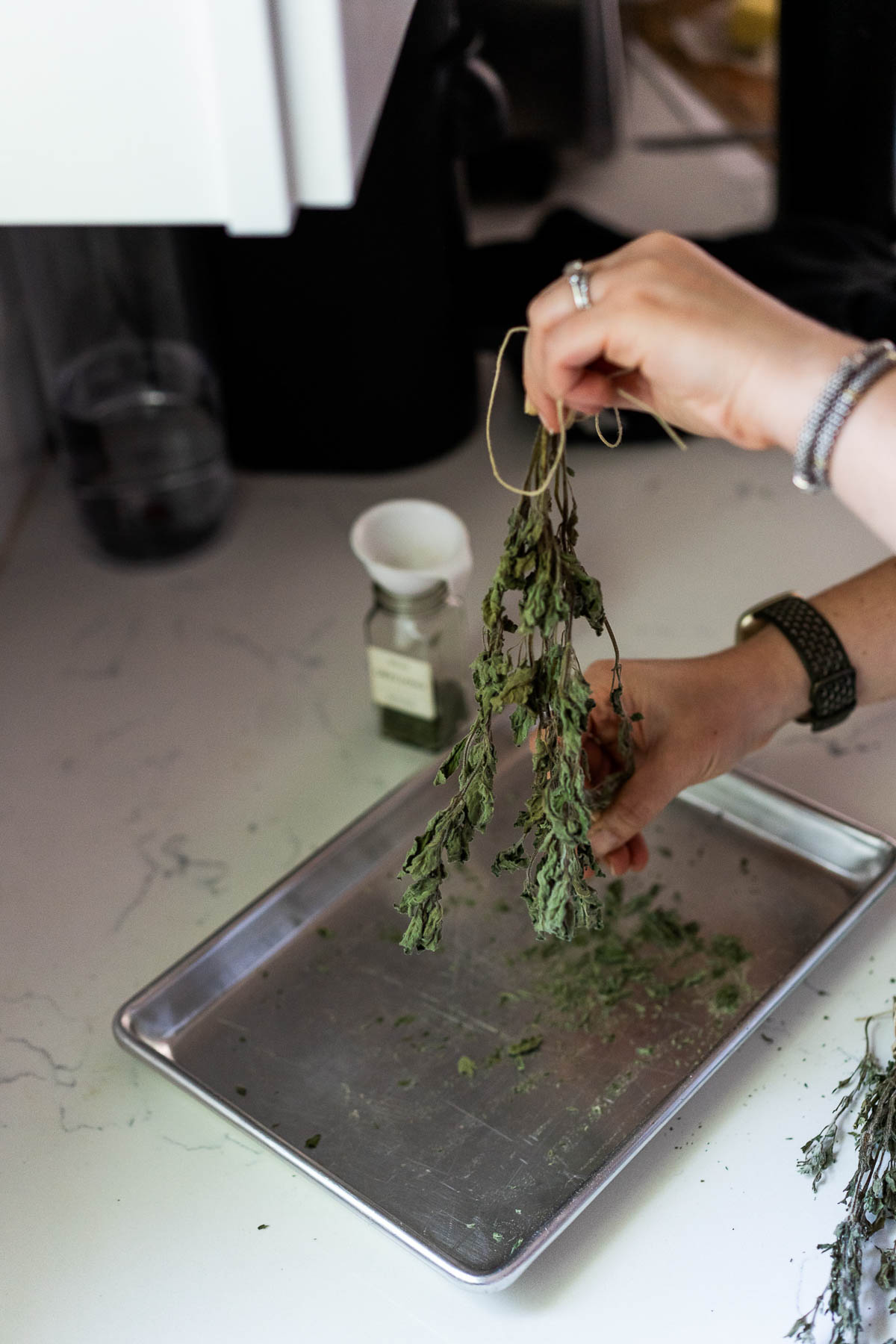 How Long Does it Take to Dry Fresh Herbs?
I usually let my herbs hang in my laundry room 4-6 weeks. Some of this is purely finding the time to crumble the dried leaves more than the time necessary.
You can test if a bunch is ready to crumble by gently rubbing leaves between you fingers. If they crumble like dried herbs without much work, they're ready.
I will note that I think I left one small bunch of basil leaves drying in my laundry room for at least 3 months. I just never got to it and it didn't care!
When it's time to crumble them, I like to do it over a sheet pan. You can also use a big bowl, but you want a clean something to catch the crumbles.
I like using a sheet pan because it makes it easier to look at the crumbles and either crumble some further or remove stem pieces. The stem pieces are safe to eat, but some stems are quite noticeable even cooked into a dish, so I like to pull it out.
In terms of size, I don't super finely crumble my herbs when putting them into jars for storage.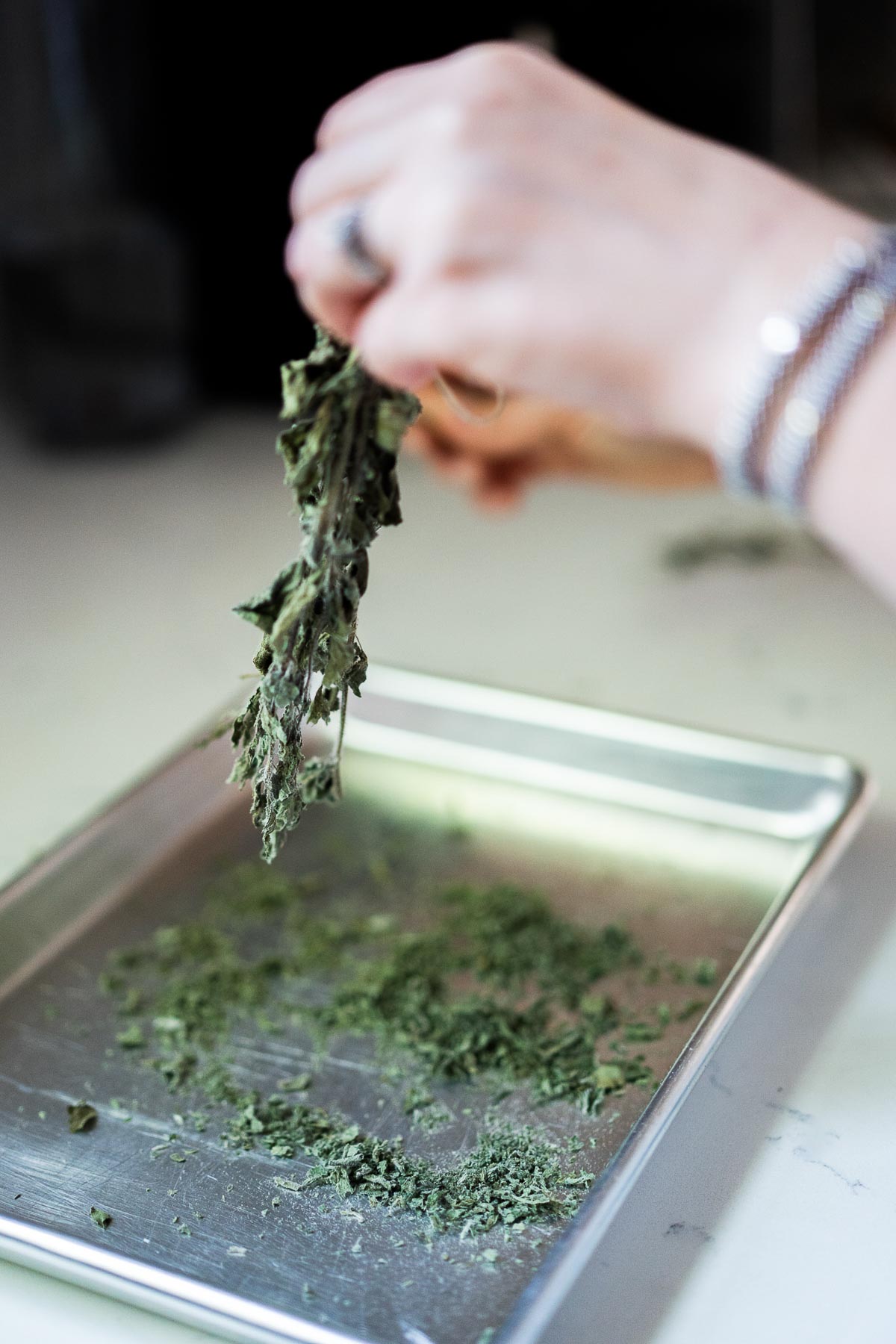 How to Use Dried Herbs
Did you know that when you cook with dried herbs (e.g. oregano, basil, marjoram, thyme, lavender, etc.) you should rub the herbs between your fingers or palms in order to release the natural oils where the flavor is located?
It's for this reason, I don't worry about crumbling the leaves too small.
And when you see how much of a dried herb you'll get from a sizeable bunch, you'll understand why the "crossover" of fresh herbs to dried herbs in a recipe is so different. Usually they say 3 parts of a fresh herb is equivalent to 1 part dried herb (e.g. 1 tablespoon fresh to 1 teaspoon dried).
SPRING & SUMMER COOKBOOK
DELICIOUS RECIPES TO ENJOY SPRING & SUMMER PRODUCE TO ITS FULLEST. SIMPLE AND DELICIOUS RECIPES MADE FROM SCRATCH FOR YOUR FAMILY AND YOUR GUESTS ALL SUMMER LONG!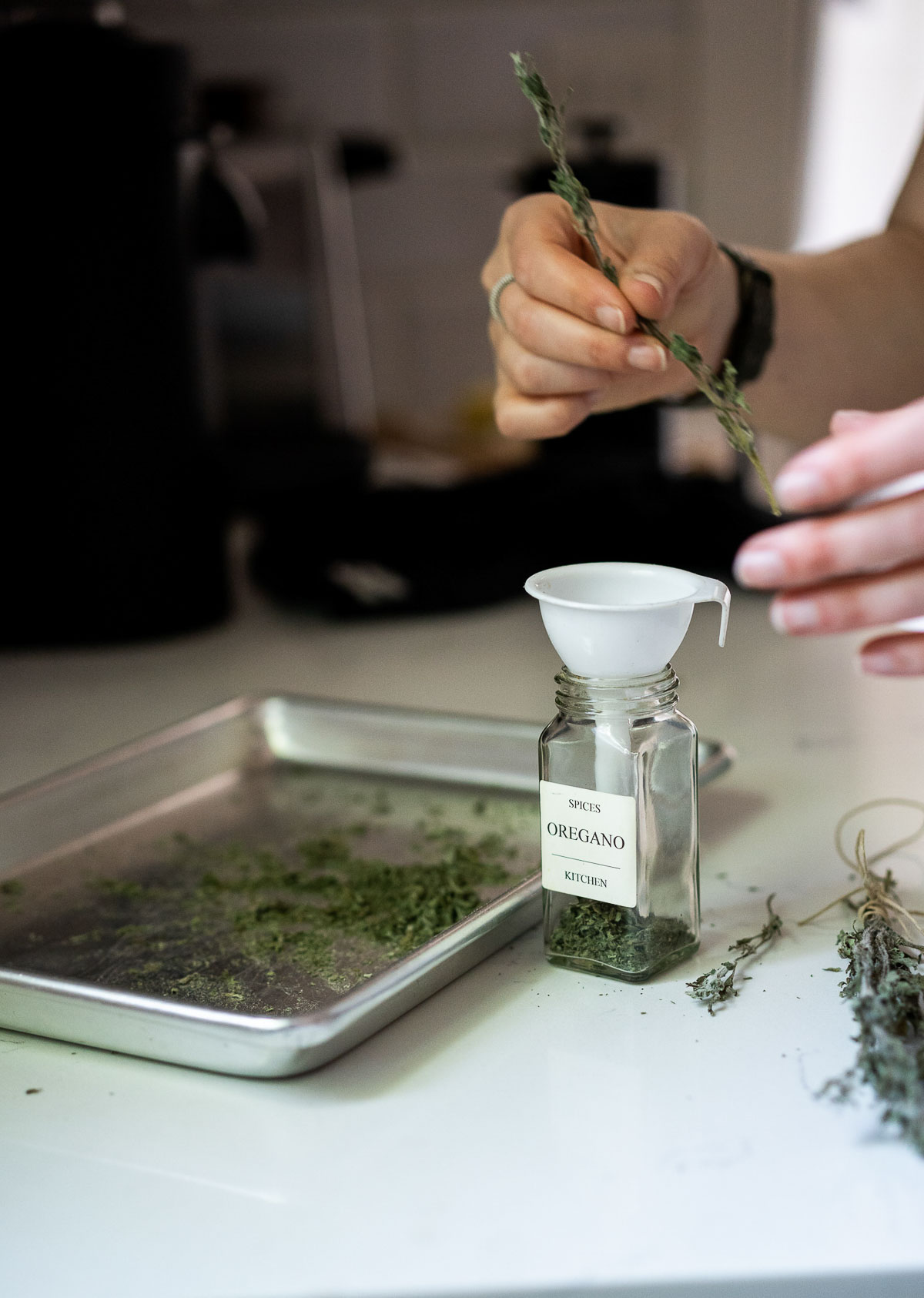 How to Store Dried Herbs
Once you crumble the herbs, keep them in a sealed container. You want to prevent moisture from getting. Since I buy seasonings in bulk (learn how to shop bulk), I have my own setup in my spice drawer.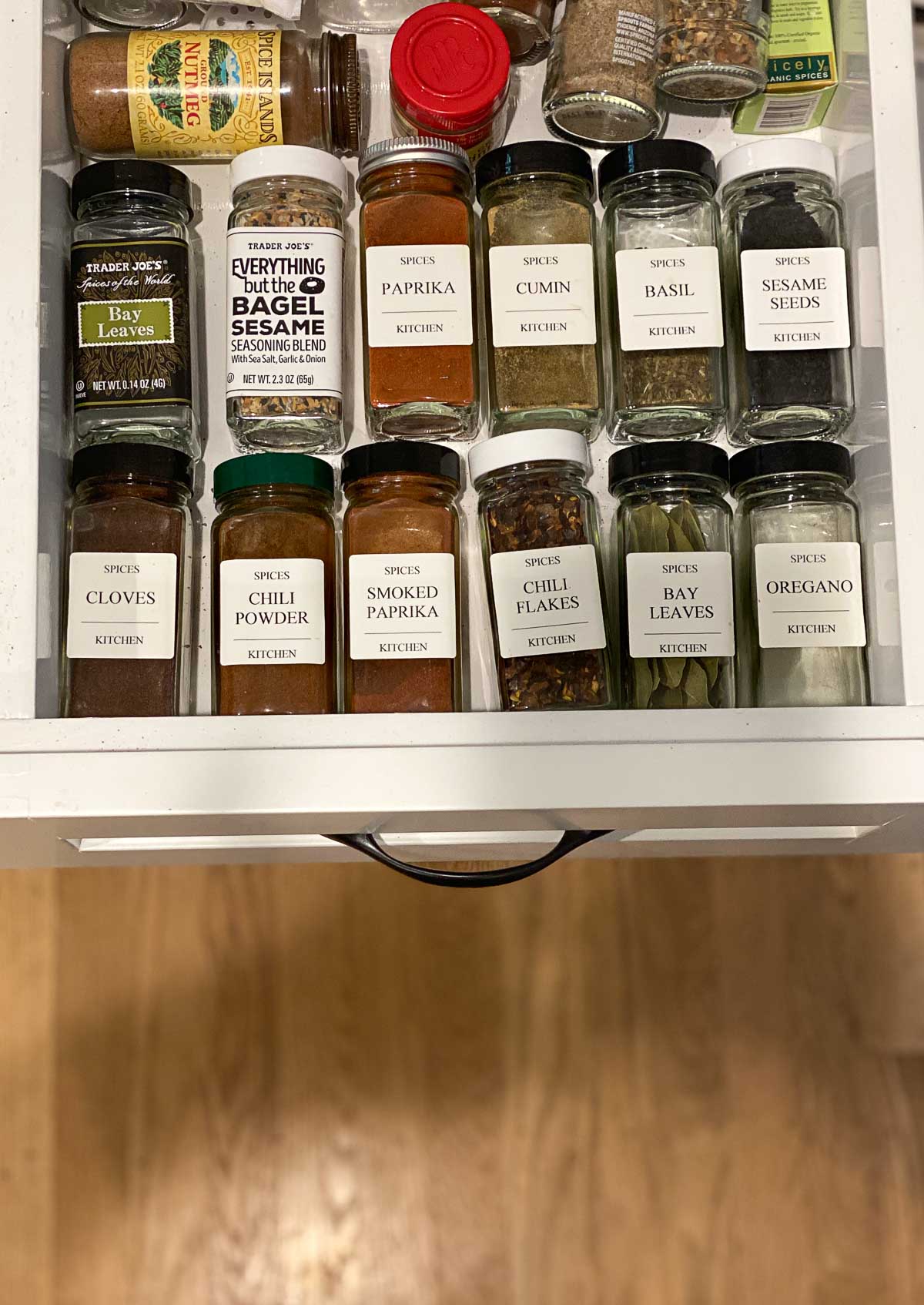 I saved my previously purchased spice jars, cleaned the containers for reuse, and added these seasoning drawer labels. Any extras, I keep in a reused jar in a cabinet next to my stove.
Once you learn how to dry fresh herbs, you'll likely be doing it more. I've now started to dry more than we need, so I'm stockpiling to give away as gifts to friends and neighbors this holiday season.
recipes with dried herbs
I have a drawer full of herbs and seasonings, but can I just tell you that I could easily with just the following: cumin, chili powder, dried oregano, dried thyme, and dried basil. I do also love my Herbs de Provence, but the trio of other three herbs can satisfy in a pinch (hah – dried herb pun).
Here are a few of my favorite recipes with dried herbs and below are a few of my favorite seasoning blends to make!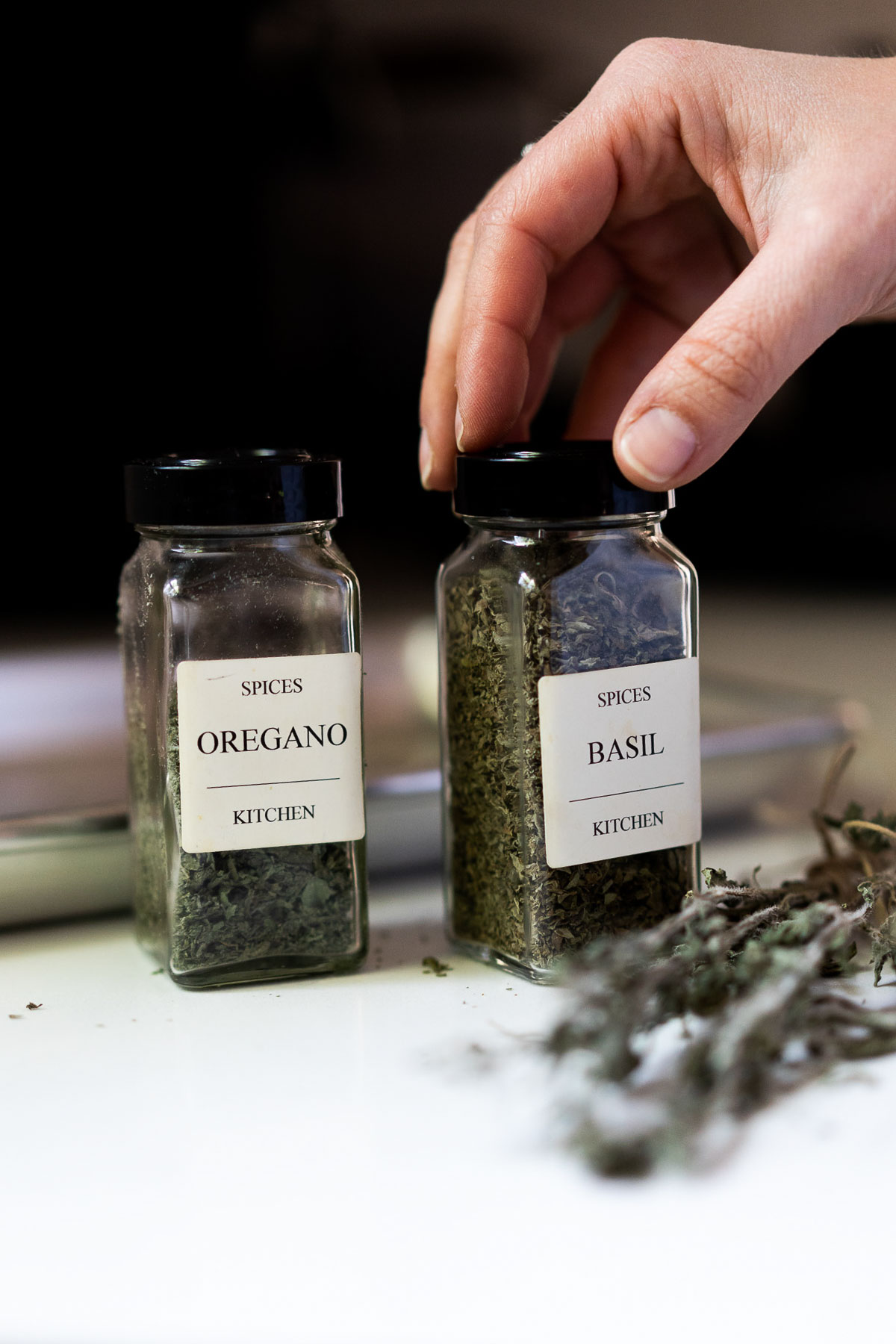 Homemade Seasoning Blends
If you wondered how to dry fresh herbs, I bet you're also interested in making your own seasoning blends!
My favorite one to have on hand is everything seasoning. I have to make sure mine has rye seeds and sea salt, but you can amend as desired.
We also always have fajita seasoning perfect for fajitas veggies & meat.
Other favorites I've made over the years are a Caribbean Jerk seasoning mix and a Cajun seasoning for those times when you need a lot of kick.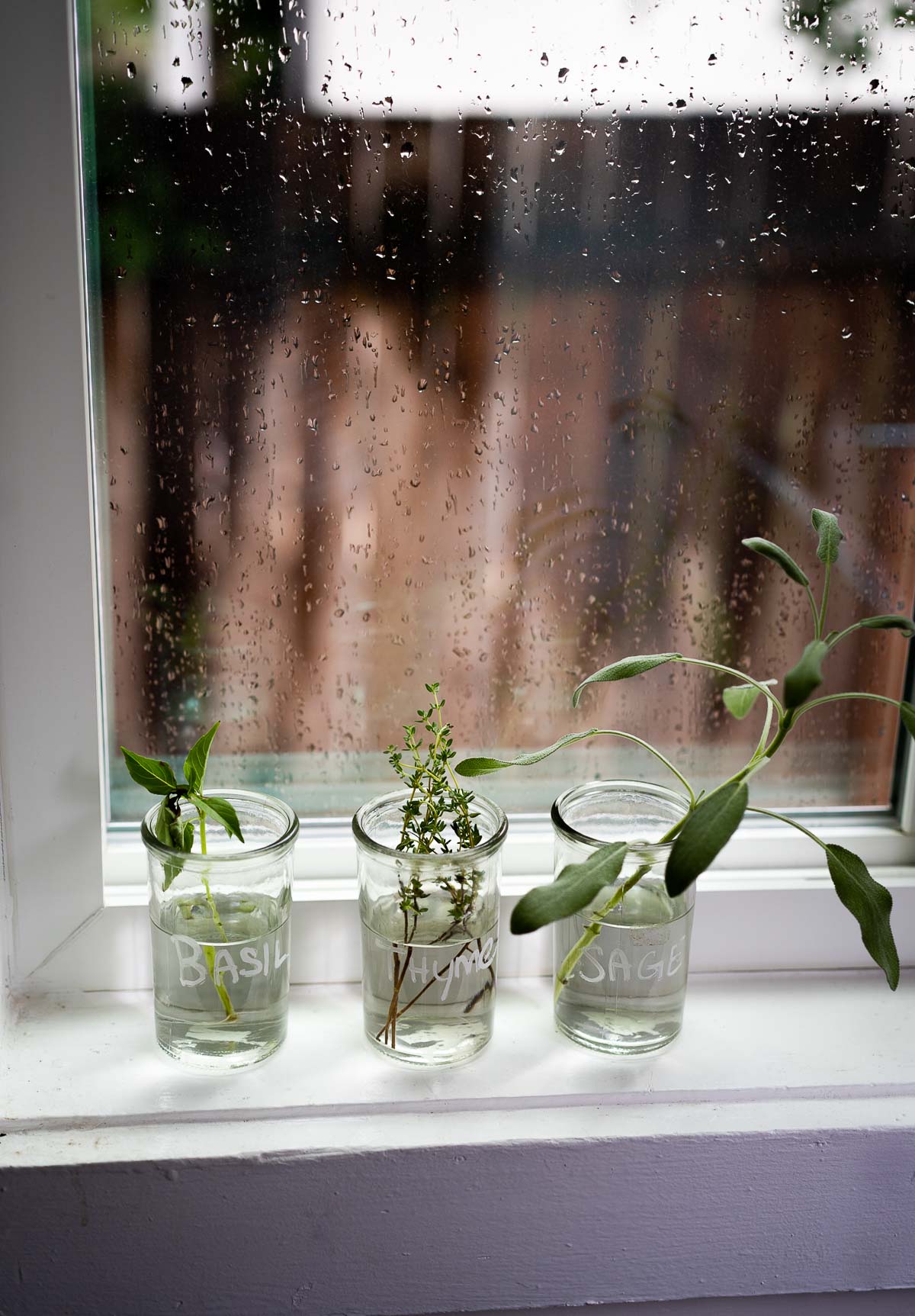 Dried herbs are also a great homemade gift idea. Whether you gift single herbs or make your own mixes, they'll be very appreciated!
Print Recipe
How to Dry Herbs
Fill your spice drawer, use extra fresh herbs (in any quantity), and dry your own herbs. These simple steps on how to dry herbs will have your kitchen filled with home-dried herbs aplenty to use in dishes and give as gifts.
Servings:
1
jar of spices
Ingredients
fresh herbs

any quantity, any type, washed & dried
Instructions
Wash fresh herbs. Lay out on towel to dry completely.

bunch herb stems with fresh leaves hanging down. Secure bunch at end with rubber band or string. Attach to a length of string (at least 6").

Hang from hook in dry, well-ventilated area.Let dry 3-6 weeks (longer is fine).

Crumble dried leaves over clean surface. Place crumbles in sealed container.
Notes
Save this recipe on Pinterest!
Make this recipe? I'd love to see how it turned out…
PINTEREST: Upload a photo and your review to this Pin!
INSTAGRAM:  Tag me
@lucismorsels
and use #LMrecipes
Nutrition
Calories:
11
kcal
|
Carbohydrates:
2
g
|
Protein:
1
g
|
Fat:
0.2
g
|
Saturated Fat:
0.04
g
|
Polyunsaturated Fat:
0.04
g
|
Monounsaturated Fat:
0.1
g
|
Sodium:
17
mg
|
Potassium:
166
mg
|
Fiber:
1
g
|
Sugar:
0.3
g
|
Vitamin A:
2527
IU
|
Vitamin C:
40
mg
|
Calcium:
41
mg
|
Iron:
2
mg
Photography by Sacramento Photographer Val Leddy