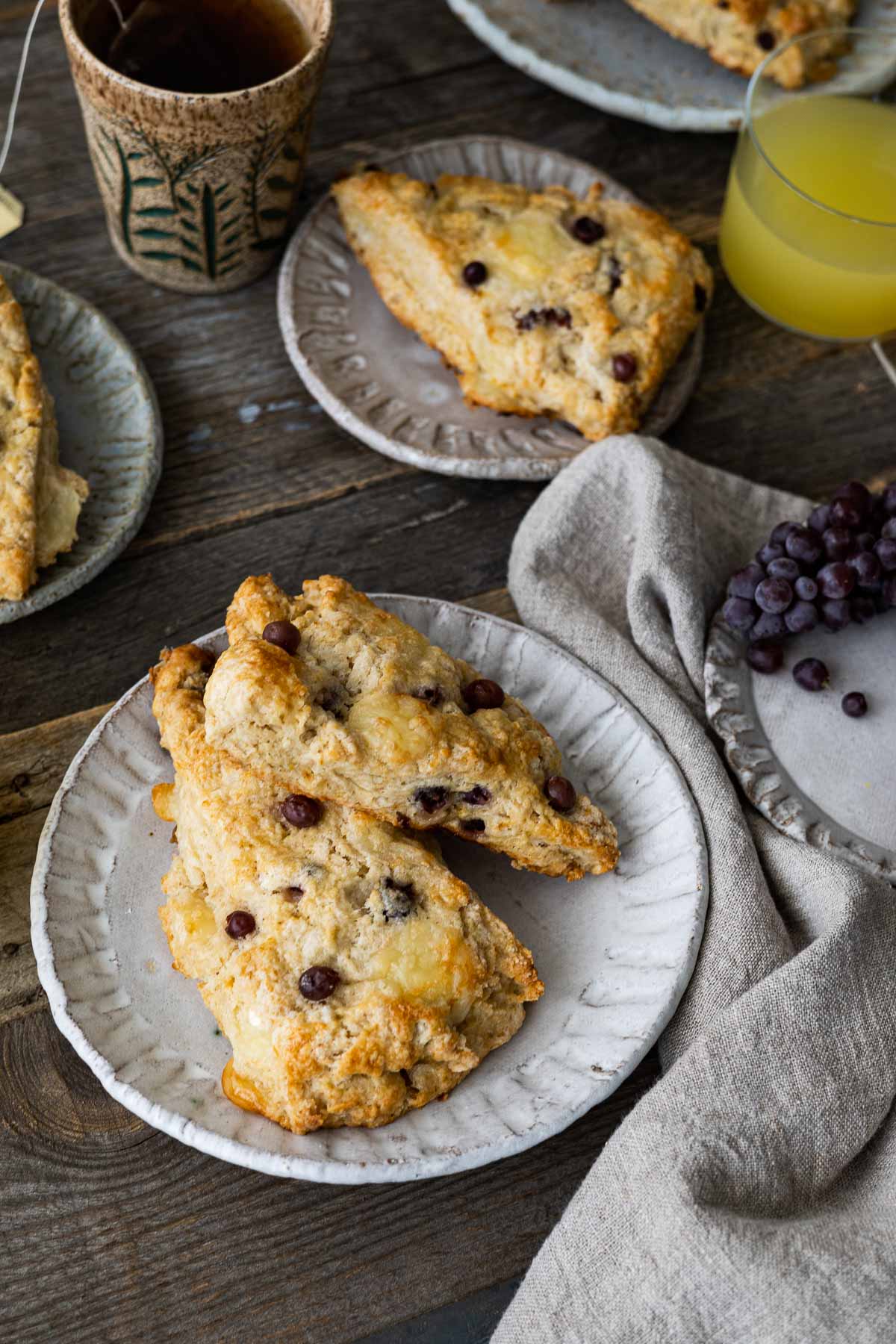 It's official. With these champagne grape scones, we should just add scones to the list of things I long said that I hated and have now come to love. And I'm pretty sure we need another champagne grape recipe in this world, so here you go!
I really love baking scones and don't do it nearly enough. I mean they don't take much time to make and don't require any butter softening or anything that required forethought. They're basically perfect in my book!
And once I realized that the dryness and crumbliness that I disliked in scones was a matter of eating them far too long after they were baked, my little world got infinitely better.
If eaten in a reasonable time frame (a few hours if unsealed and up to day if properly sealed), they can be mouthwateringly moist just like these brie scones. And then you run the risk of eating way too many scones because they taste so good!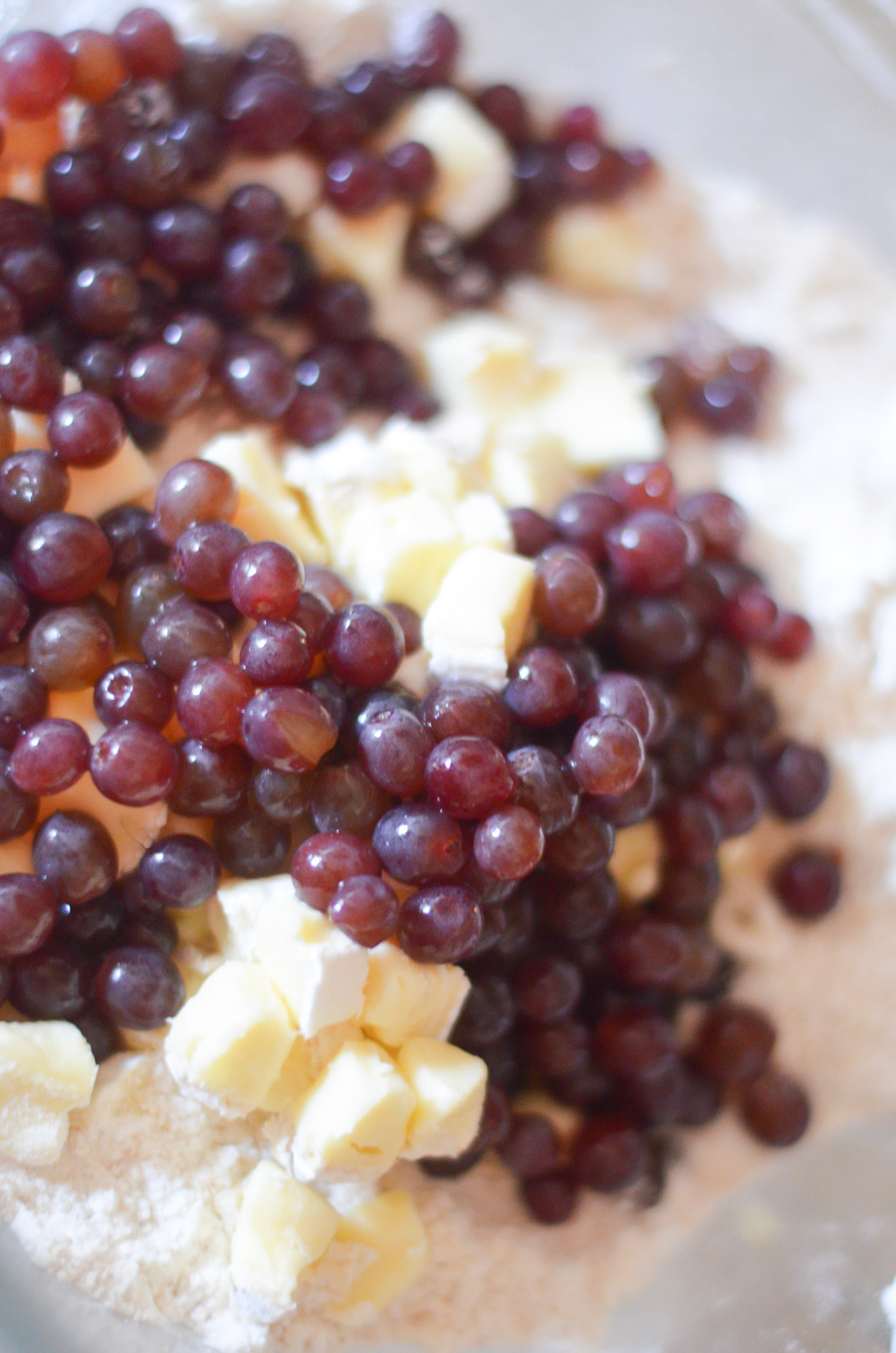 Champagne Grape Recipe
This scone recipe was originally going to be a fig and brie scone recipe, but in my haste to find fresh figs, which I assumed would be everywhere, I couldn't find a single one.
Looking for alternatives, I couldn't pass up these cute little champagne grapes – easily found at Trader Joe's for a short season. Since I'm there regularly shopping for my TJs charcuterie board ingredients, I can usually find these beauties when they're in season!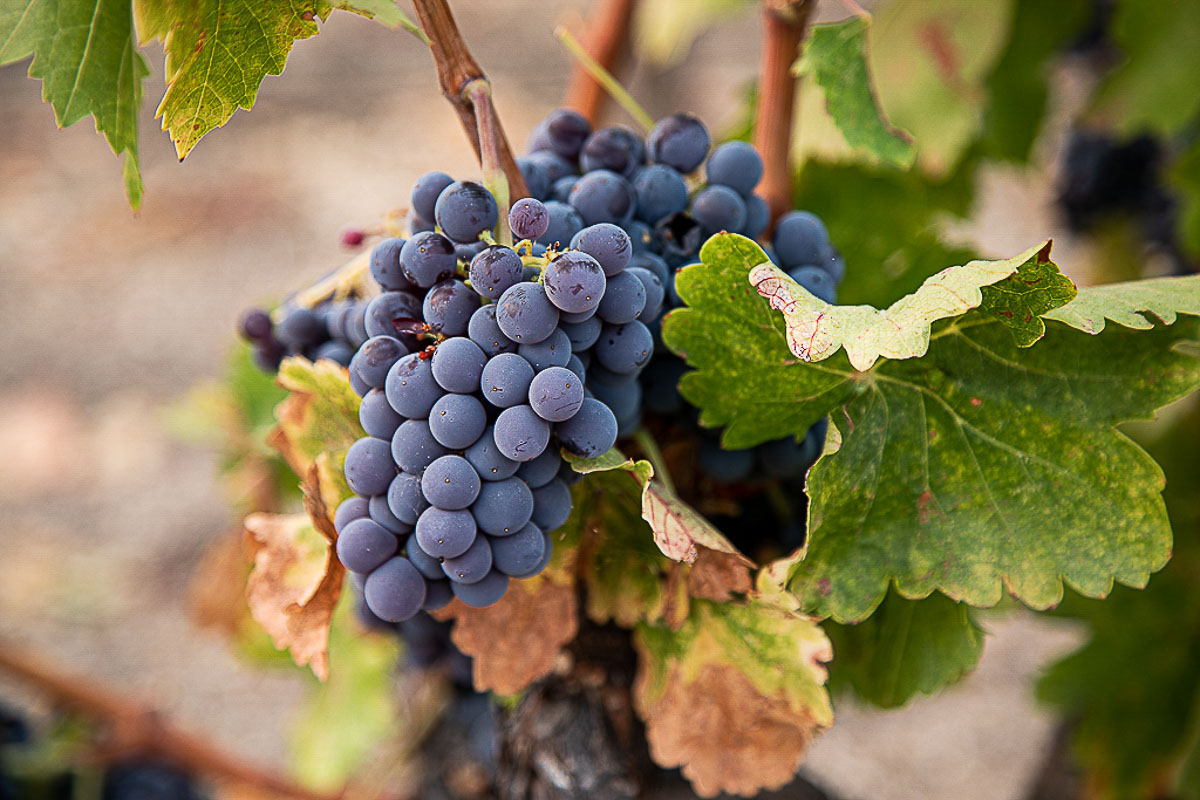 Baking with Grapes
I've pinned recipes for bread recipes with grapes, but I'd never tasted it myself.
Let me tell you, it's amazing! I want to bake with grapes again, and soon! I found these champagne grapes at Trader Joe's, but I think any grape would do – the smaller the better!
Baking with Brie
The brie I used was very creamy and didn't have a very strong flavor. It was actually hard to taste in the scone once it was all baked up.
Brie is one of my favorite cheeses to pair with fruits. If you're ready to try some new brie recipes try this Brie Cranberry Appetizer or this Brie Crostinis w/ Honey + Plum Jam.
Next time, I'm going to select a more flavorful piece of cheese and I would highly recommend you do the same.
Locally, I'm obsessed with Marin French Cheese for brie. It's available in quite a few stores locally (supermarkets and local alike).
What are Champagne grapes?
Champagne grapes are small and seedless grapes that grow in clusters. They're typically used to make champagne, but that's not all they can do!
Champagne grapes are very sweet with a slight tartness at the end. Because of that tartness, they're not overly sweet and are great in salads, cheese boards, or baked goods. These ones also don't have seeds!
ARE SCONES AND BISCUITS THE SAME?
While biscuits and scones have almost the same ingredients, they are two different things.
Typically, biscuits are light and airy. They have well-defined flaky layers. Biscuits should also be firm enough to be dipped into egg yolk, gravy, or have jam spread on it.
On the other hand, scones should be more crumbly and less flakey. Scones are dryer than a biscuit (but not too dry!)
While both scones and biscuits have similar ingredients and layers, the texture is very different, and they are not the same.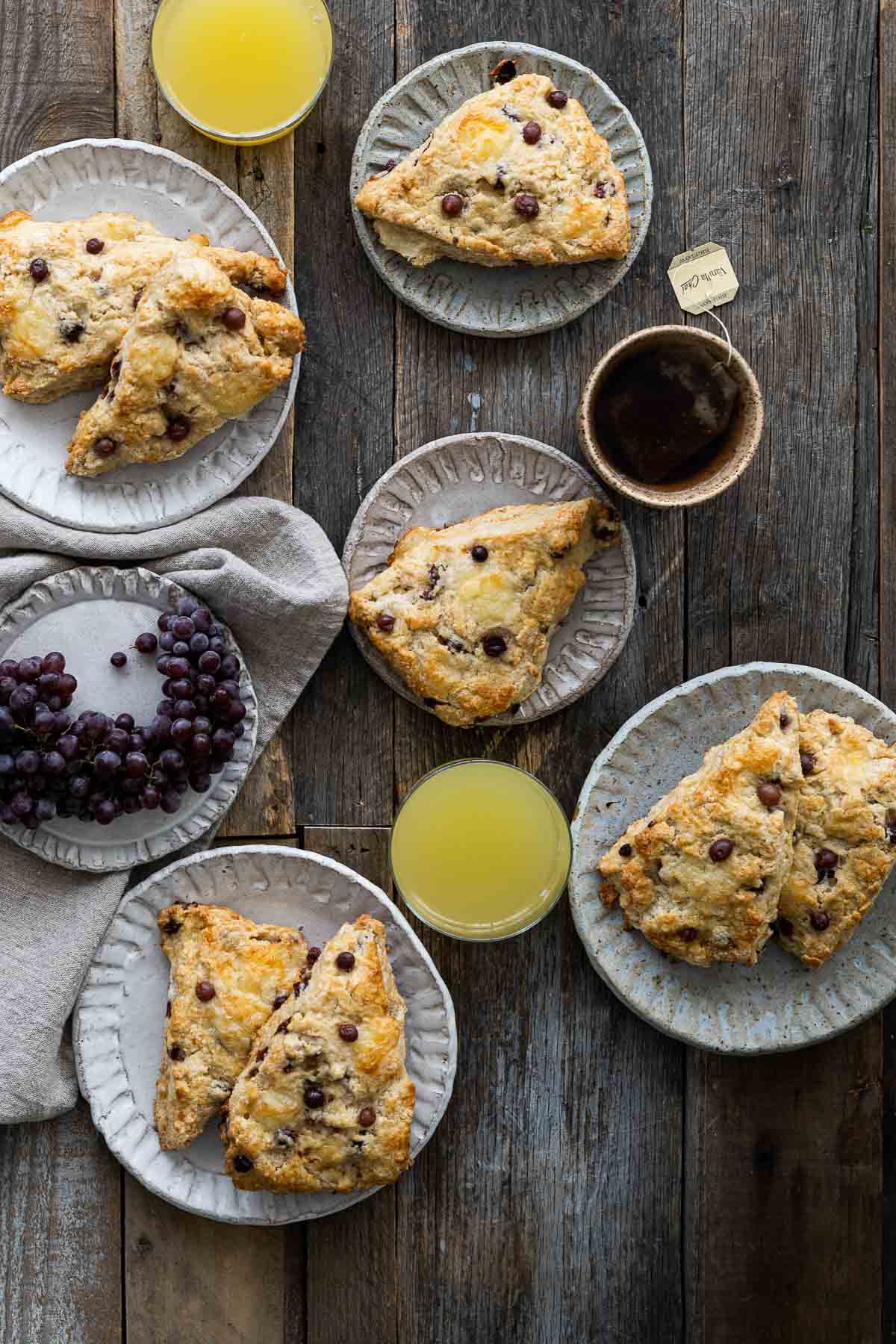 How to Make Scones Brown on Top
I finally figured out how to get that golden brown color on the top of my scones. I've played around with beaten eggs and eggs beaten with water, but they never came out just like I wanted.
And then there were always some eggy parts that bothered me. After a little bit of research, I discovered the secret. You mix the beaten egg with milk (or buttermilk in this case) and golden perfection takes place in the oven.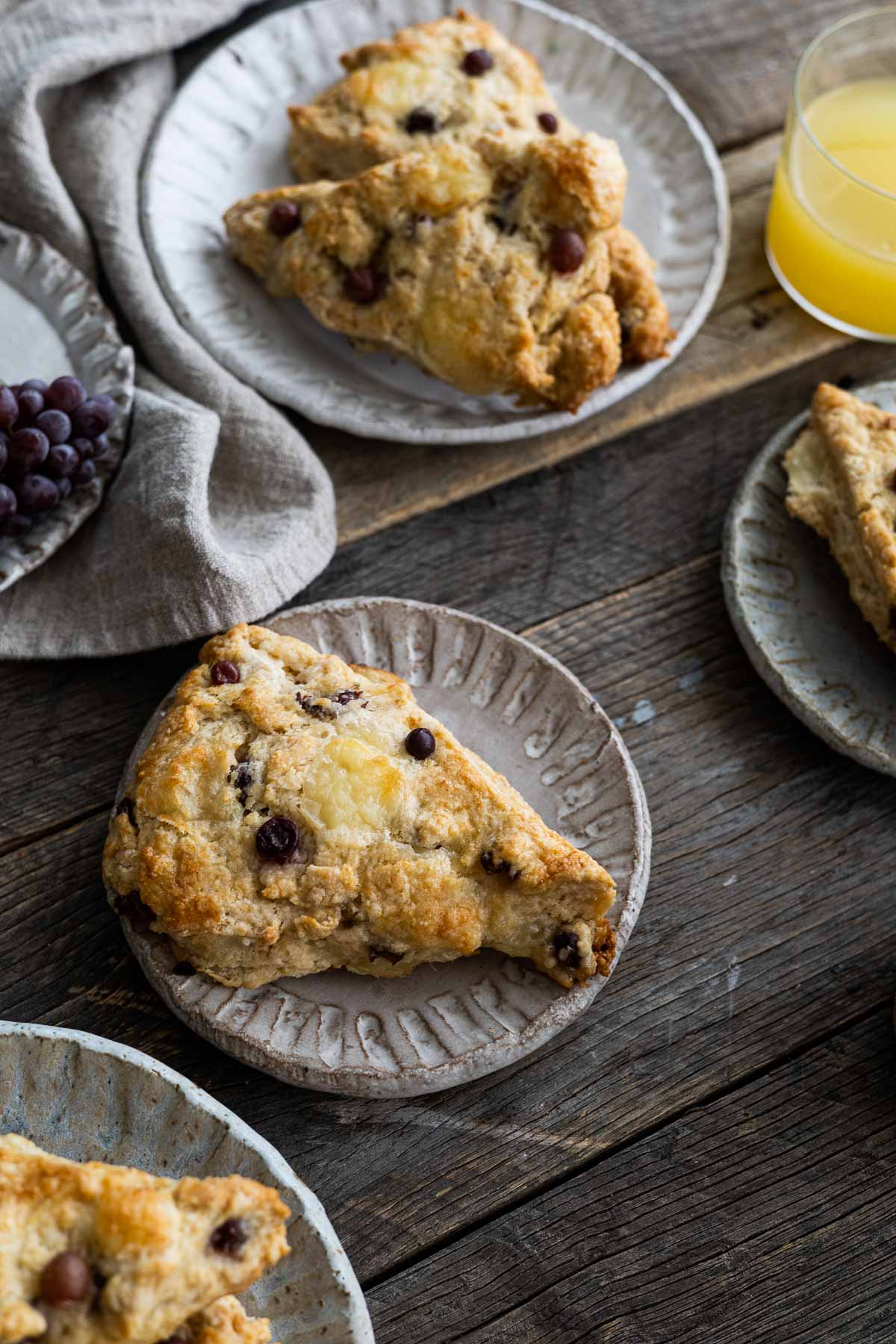 HOW TO STORE SCONES?
If you're like me and you're not a fan of how dry and crumbly scones can get after being left out (and who would be?!), here's how to store them for maximum freshness!
The tricky part about scones is that they'll only last a few hours if unsealed and maybe a day or two max if appropriately sealed.
To store your scones properly, you want to keep them in a dry area and wrapped – here's a list of Plastic Wrap Replacements!
If you store your scones in the fridge, they can last up to one week.
When storing food, look for spoilage like a strange smell or mold before throwing anything away. See when to throw away leftovers for more information.
These are so good that you'll probably finish them in a day, but if you're really in a bind, you can wrap them tightly in a ziploc or reusable bag and freeze them for about 2 to 3 months!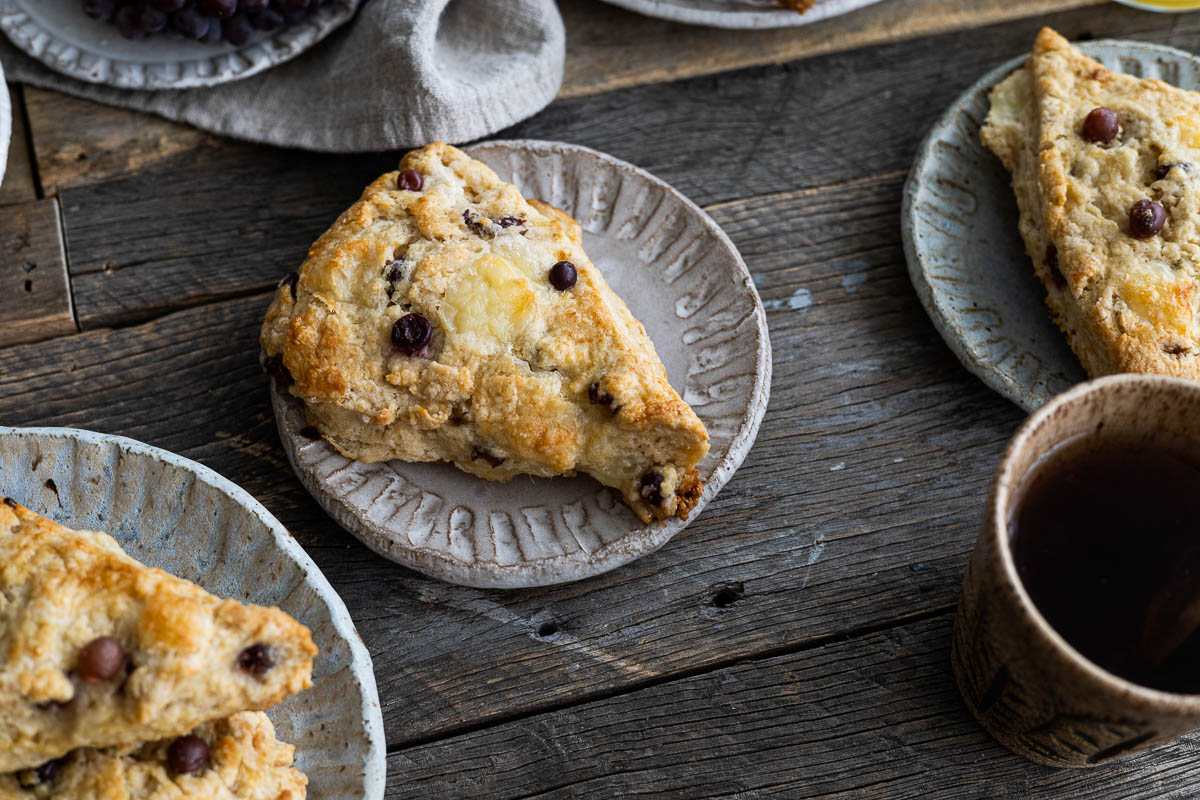 More Scone Recipes
Clearly I love some good scones. Try these amaretto cherry scones and these cheese & herb scones for a savory treat.
Looking for a jam or flavored butter? Try strawberry thyme jam or plum jam (both made in summer) or pumpkin butter and apple butter (made in fall)!
MORE CHAMPAGNE GRAPE RECIPE IDEAS
If you're looking for other ways to use champagne grapes in your recipes, try adding them to your next charcuterie board. These grapes have a delightful but not overly sweet flavor that pairs well with (obviously) brie cheese.
Try these cheese board ideas if you're looking for a good charcuterie board. Just switch out the grapes for champagne grapes! They'd be great on any appetizer board.
This winter fruit platter is stunning. Don't miss this Trader Joe's charcuterie board, the kids appetizer board that everyone will love, or on this last minute fruit appetizer.
SEASONAL RECIPE COOKBOOKS
DELICIOUS RECIPES TO ENJOY PRODUCE TO ITS FULLEST ALL YEAR ROUND. SIMPLE AND DELICIOUS RECIPES MADE FROM SCRATCH FOR YOUR FAMILY AND YOUR GUESTS ALL YEAR LONG!
Print Recipe
BRIE SCONES w. CHAMPAGNE GRAPES
If you've ever seen those tiny champagne grapes in the store and wondered what to do with them, this is it. The sweetness of grapes pairs wonderfully with the forward flavor of Brie cheese in these homemade scones. It's a perfect breakfast morsel!
Ingredients
2 ¼

cups

All Purpose flour

⅓

cup

brown sugar

1

teaspoon

baking powder

¼

teaspoon

baking soda

¾

teaspoon

salt

½

cup

cold butter

¾

cup

champagne grapes

4

oz.

brie

chopped

1

cup

buttermilk

1

egg

1

tablespoon

buttermilk
Instructions
Combine flour, brown sugar, baking powder, baking soda, and salt in large bowl or stand mixer.

Remove butter from fridge. Cut in small cubes. Mix butter into flour mixture. Finish combining the flour and butter with your hands. Squeeze flour and butter cubes together between your fingers until mixture resembles a coarse meal.

Add brie and grapes. Gently combine with rubber spatula. Slowly stir buttermilk into mixture with rubber spatula. When combined, turn dough out onto a floured surface. Knead a few times, adding flour until stickiness disappears.

Pat into 9-inch circle with hands. Cut in eighths with large knife. Place scones on parchment-lined baking sheet with at least 1 inch between each scone.

Beat egg and buttermilk in shallow bowl. Brush egg mixture over scones.

Bake 20-25 minutes until golden brown. Let cool completely.
Nutrition
Calories:
350
kcal
|
Carbohydrates:
40
g
|
Protein:
9
g
|
Fat:
17
g
|
Saturated Fat:
11
g
|
Polyunsaturated Fat:
1
g
|
Monounsaturated Fat:
5
g
|
Trans Fat:
0.5
g
|
Cholesterol:
69
mg
|
Sodium:
530
mg
|
Potassium:
153
mg
|
Fiber:
1
g
|
Sugar:
13
g
|
Vitamin A:
531
IU
|
Vitamin C:
0.5
mg
|
Calcium:
113
mg
|
Iron:
2
mg