A few weeks ago, when I thought things couldn't get much more blah and I needed a pick me up, I made a grilled cheese to share with C for lunch and enjoyed a glass of wine (unshared of course)! Since then, I've been daydreaming about grilled cheese options and this rather seasonally appropriate pumpkin butter grilled cheese answered all my needs.
I shared my original grilled cheese on Instagram and asked what everyone's favorite cheese(s) were to melt between bread. I was astounded with the excited response and how different the answers were. No two people had the same combo!
Some suggested brie, others cheddar – some by itself, others mixed with provolone or parmesan.
None of them sounded bad to me (save the smoked cheese suggestions which just aren't my cup of tea – or glass of wine)! But I understand to each her or his own!
Pumpkin Butter Grilled Cheese
I think we all fell in love with pumpkin butter because of Trader Joe's! What's a terrible reality, in my humble opinion, is that the pumpkin butter disappears from their shelves the day after Halloween!
I'm usually just getting into the groove of pumpkin cooking and baking at the end of October, so when I first discovered this, I set out to make homemade pumpkin butter. It's actually quite easy (and available past October 31)!
Obviously you can also stock up on the store-bought jars. I have a number of friends who buy their favorite goodies to have throughout the year, so you wouldn't be alone!
And if you're really feeling overzealous, try your hand at homemade sourdough!
Pumpkin Butter Appetizer or Lunch?
Yes. yes. and YES! For this recipe, the grilled cheese is cut into sticks to share more easily. You can obviously enjoy this tastiness by yourself for a meal, however.
Or make a snack to share with your significant other or nosy one year – if you happen to have one of those running around like we do!
If you have leftover pumpkin butter, which you likely will, try it on pumpkin butter toast and on this Thanksgiving-inspired Appetizer board with cornbread crackers!
And if you have leftover pumpkin puree (not the sweetened butter), try pumpkin quesadillas and pumpkin toast for a breakfast or lunch! And you can make your own homemade pumpkin puree from leftover pumpkins!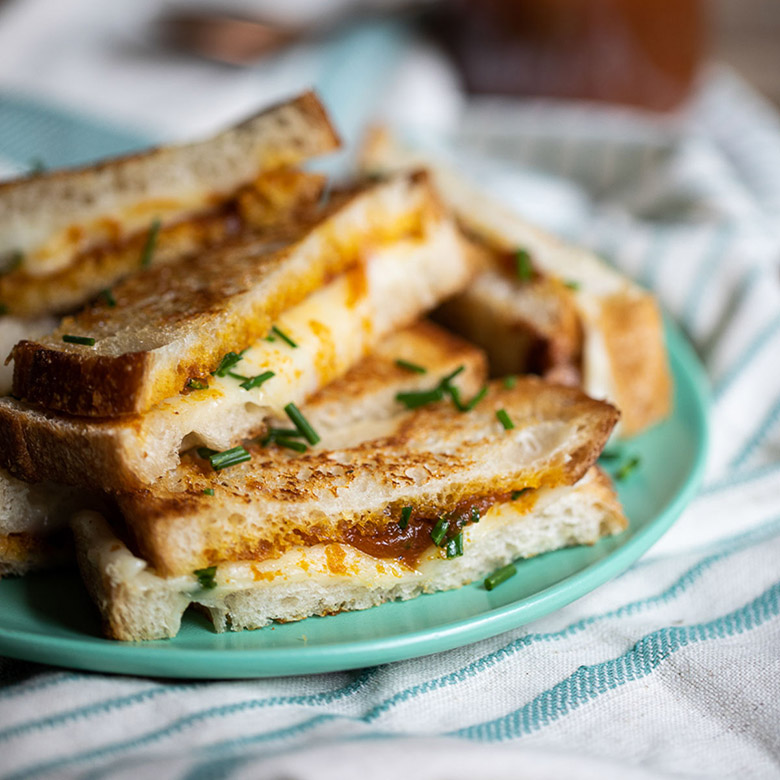 Print Recipe
PUMPKIN BUTTER GRILLED CHEESE
Enjoy the tastes of fall (any time of year really) with this pumpkin butter grilled cheese sticks. The flavors of the provolone melt beautifully with the pumpkin butter. You can enjoy it as a lunch, but I love cutting them into sticks and serving them as an appetizer!
Ingredients
4

large slices of sourdough bread

6 to 8

slices

provolone cheese

1

tablespoon

chopped fresh chives

4

tablespoons

homemade pumpkin butter

or store bought

2

tablespoons

butter
Instructions
Lay two slices of bread on a flat surface and top with 3 to 4 slices of provolone. Layer the cheese so that the slices cover the surface of the bread. Sprinkle 1 teaspoon of chives over the cheese of each sandwich.

Spread 2 tablespoons of pumpkin butter on each of the two remaining slices of bread. Place them, pumpkin-butter-side down, over the cheese to create two sandwiches.

Melt the butter in a large skillet over medium-high heat. Grill the sandwiches, about 2 minutes on each side, until the bread is golden brown and the cheese is melted.

Cut each into 4 to 6 finger sandwiches. Arrange on a serving platter and garnish with the remaining chives.
Nutrition
Calories:
1412
kcal
|
Carbohydrates:
243
g
|
Protein:
56
g
|
Fat:
24
g
|
Saturated Fat:
11
g
|
Polyunsaturated Fat:
4
g
|
Monounsaturated Fat:
5
g
|
Trans Fat:
0.2
g
|
Cholesterol:
35
mg
|
Sodium:
2982
mg
|
Potassium:
589
mg
|
Fiber:
10
g
|
Sugar:
27
g
|
Vitamin A:
462
IU
|
Vitamin C:
1
mg
|
Calcium:
456
mg
|
Iron:
18
mg