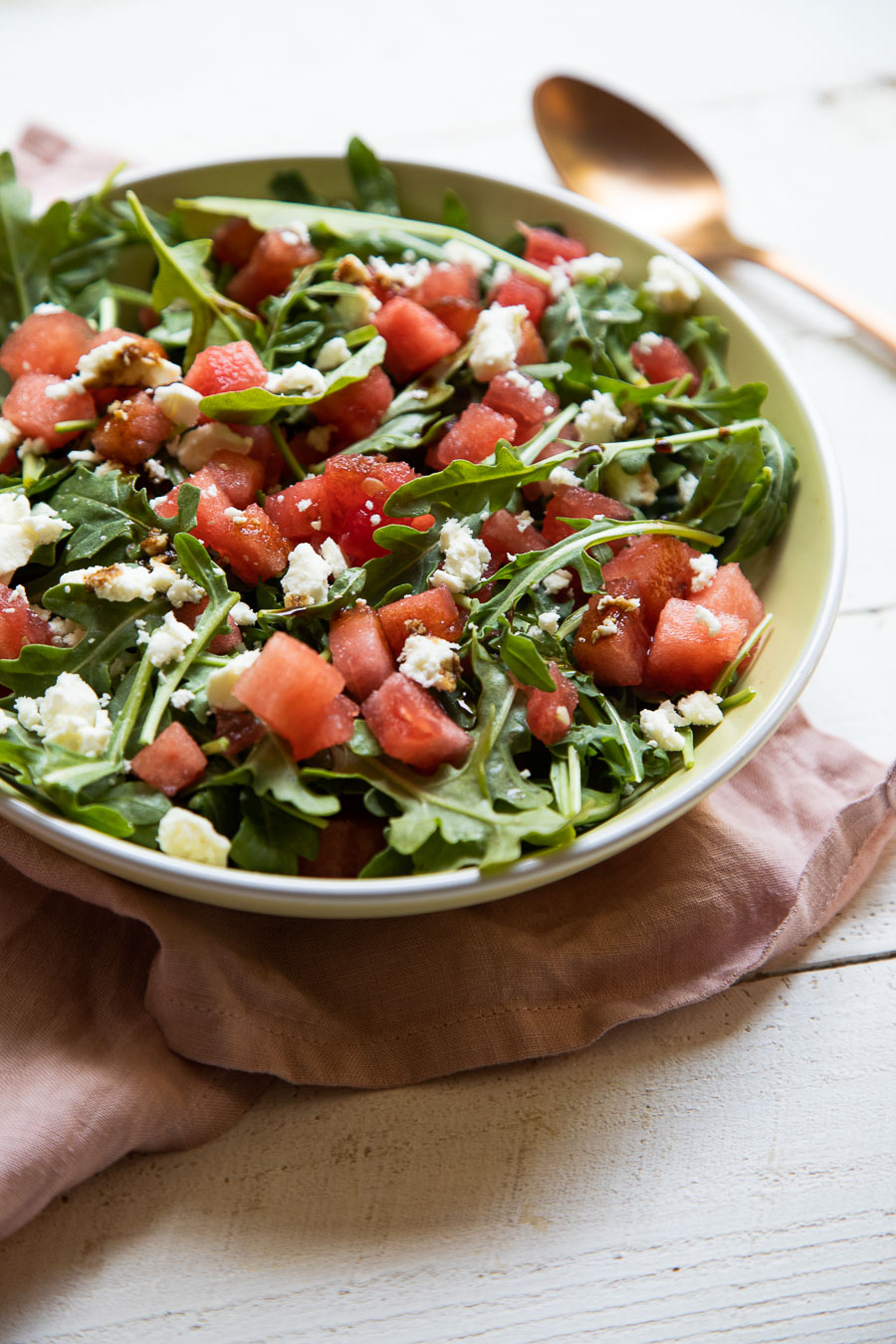 It's that time of the year again (no not the holidays yet thankfully)! It's that time of the year when all the summer produce is at its prime, but the end of the season is near, so we pack in all that we can and make the most of it. Let's start (or are we finishing now?) with this watermelon arugula salad!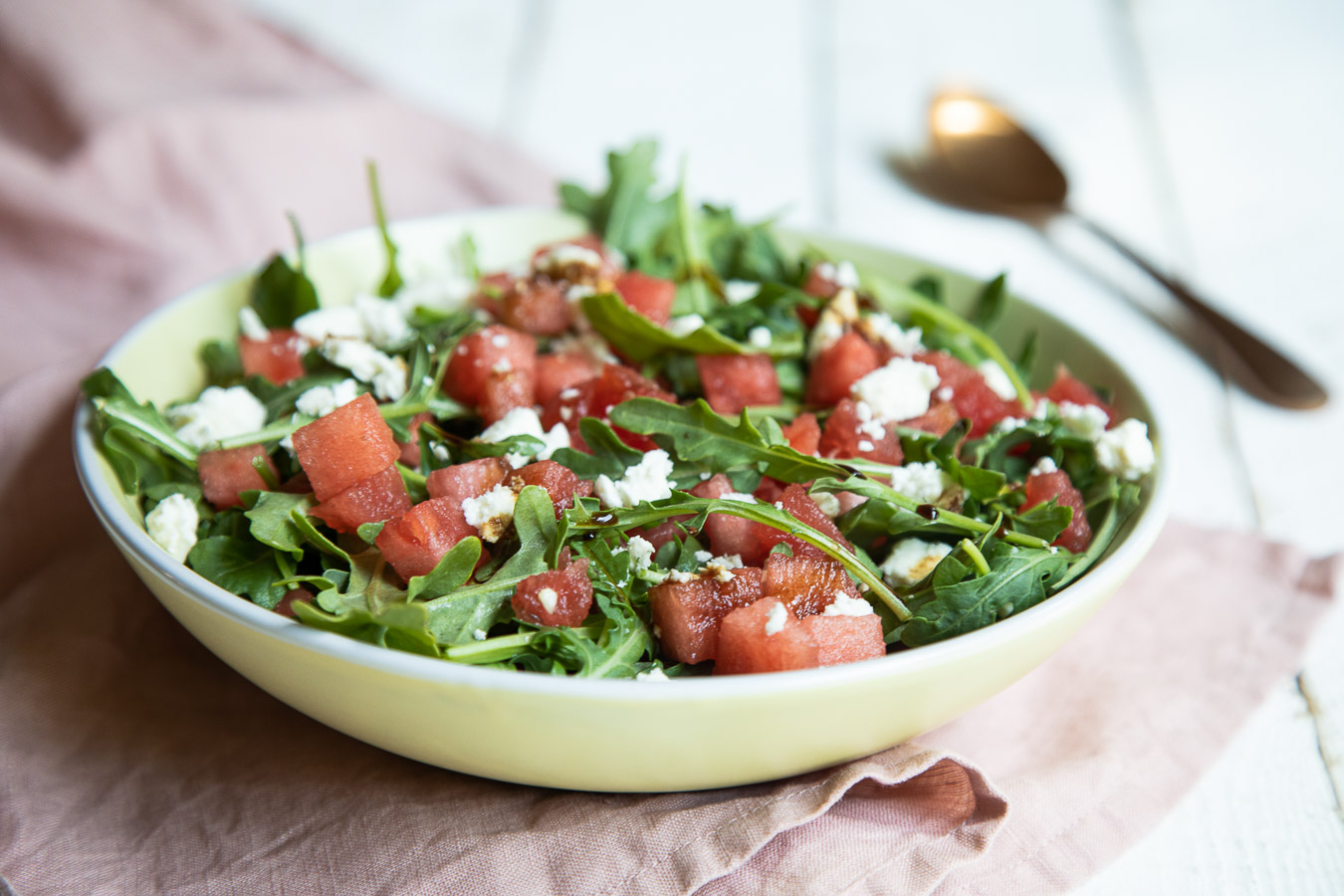 Watermelon Arugula Salad
So I'm convinced that everyone has a semi-random (and likely useless) superpower in their arsenal. Mine? Picking out ripe watermelons. I'm the crazy lady in the market tapping on EVERY melon to get the one that sounds the most hollow and is therefore the juiciest.
The last two or so years, however, I felt as though the watermelons I found just weren't as good as I wanted. I know I wasn't alone. Thankfully this summer, the watermelons have been much tastier. Maybe it's the wetter weather in California. Or maybe the produce gods new this pregnant lady/new mother needed some good watermelon!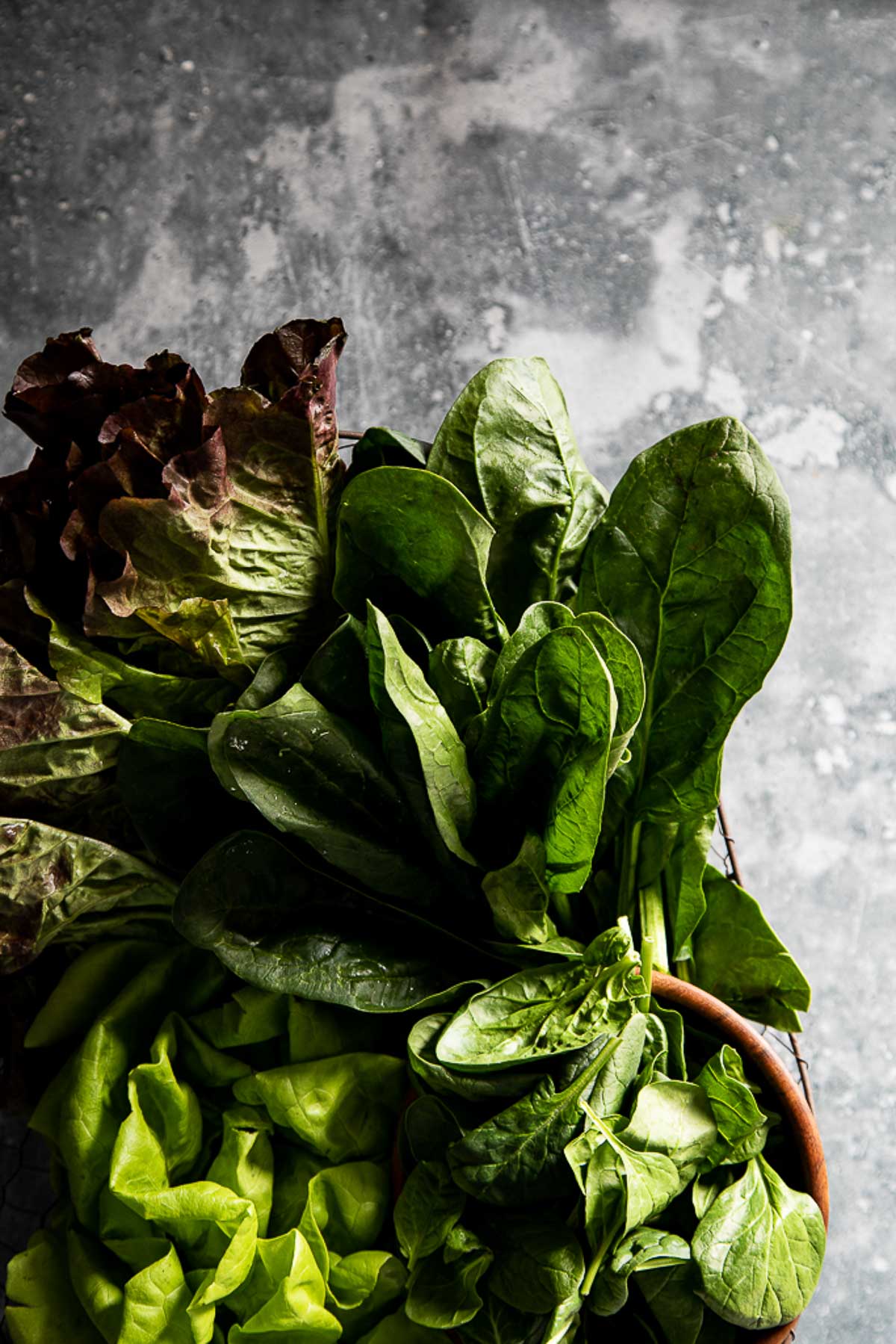 My other related superpower (in some people's eyes – at least my husband's mother) is that I'm perfectly fine cutting up a watermelon! For whatever reason, many people don't like it, but I don't mind it. I'm willing to put in the work to reap the rewards; just don't get in a hissy when I devour any remaining melon on the table!
Ok. Back to this watermelon arugula salad. All the flavors in this recipe marry together wonderfully. The sweet watermelon counters the peppery arugula. The balsamic magically adds an extra layer of flavor.
And then there's the feta! It's so magical. You could also use goat cheese if you prefer in this salad to mute the flavors a bit (and because goat cheese is also satisfyingly delectable)!
Watermelon Salad Substitutions
I understand, substitutions are necessary – whether it's a flavor preference or just what you have on hand.
As far as the arugula. You could certainly use another mix or leaf. I'd recommend using a sturdier leaf, since the watermelon is weighty and the flavor of the leaf serves as a balance to the sweet fruit. I'd recommend baby spinach leaves or something similar.
Also, the balsamic vinegar is a light dressing and certainly a stronger flavor. A homemade balsamic vinegar would be a perfectly delicious substitute!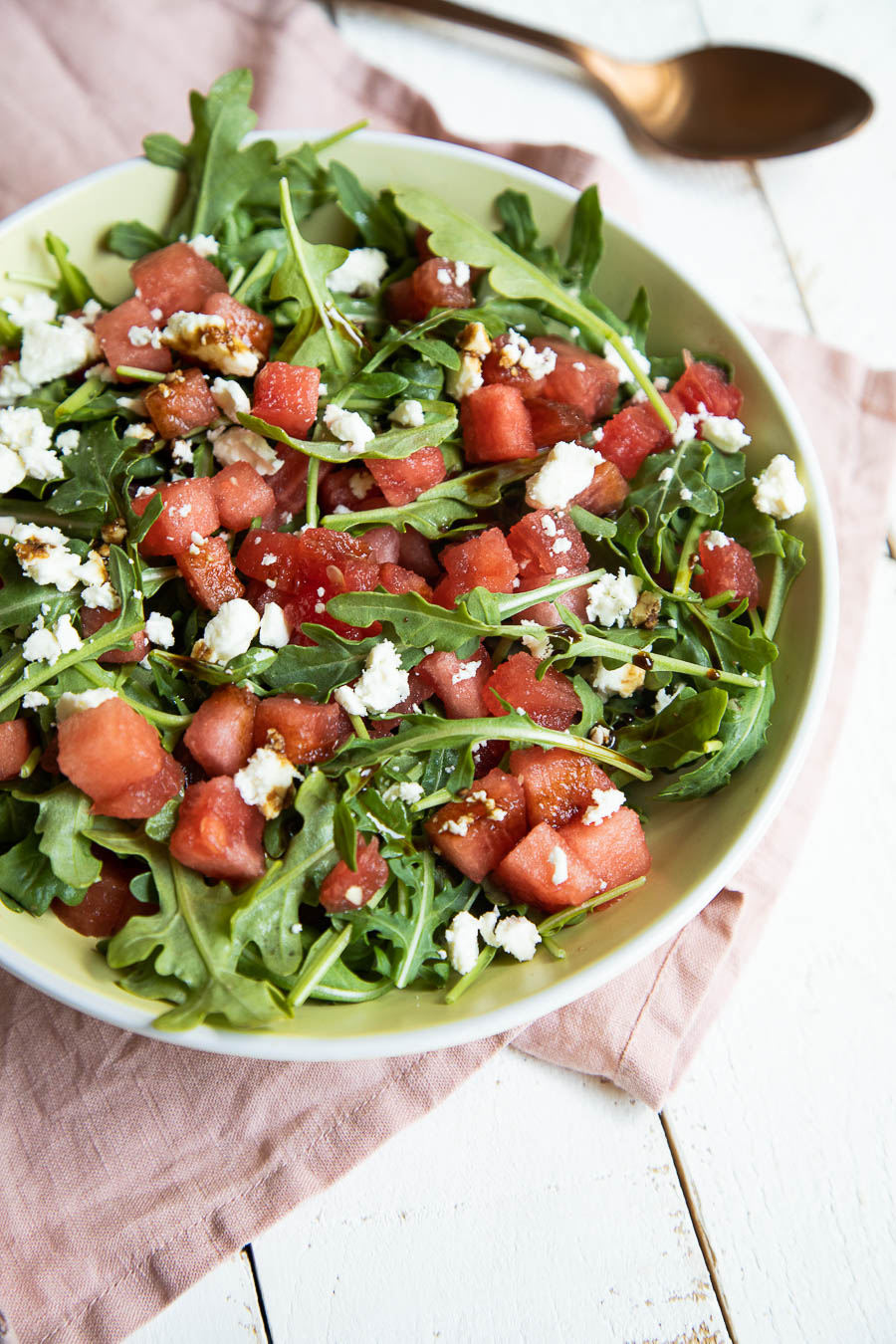 If you're looking for other delicious watermelon recipes, try one of these:
Heirloom Tomato & Watermelon Salad
Watermelon Sangria
Watermelon Raspberry Fizz
If you have extra arugula, these honeydew skewers are a great way to use it up. And if you need more summer produce inspiration, here is a list of what's in season in summer as well as must-make summer produce recipes, so you can take advantage of seasonal deliciousness!
And, yes, I just found out that satisfyingly is indeed a word – I didn't even have to make up an adverb for this salad!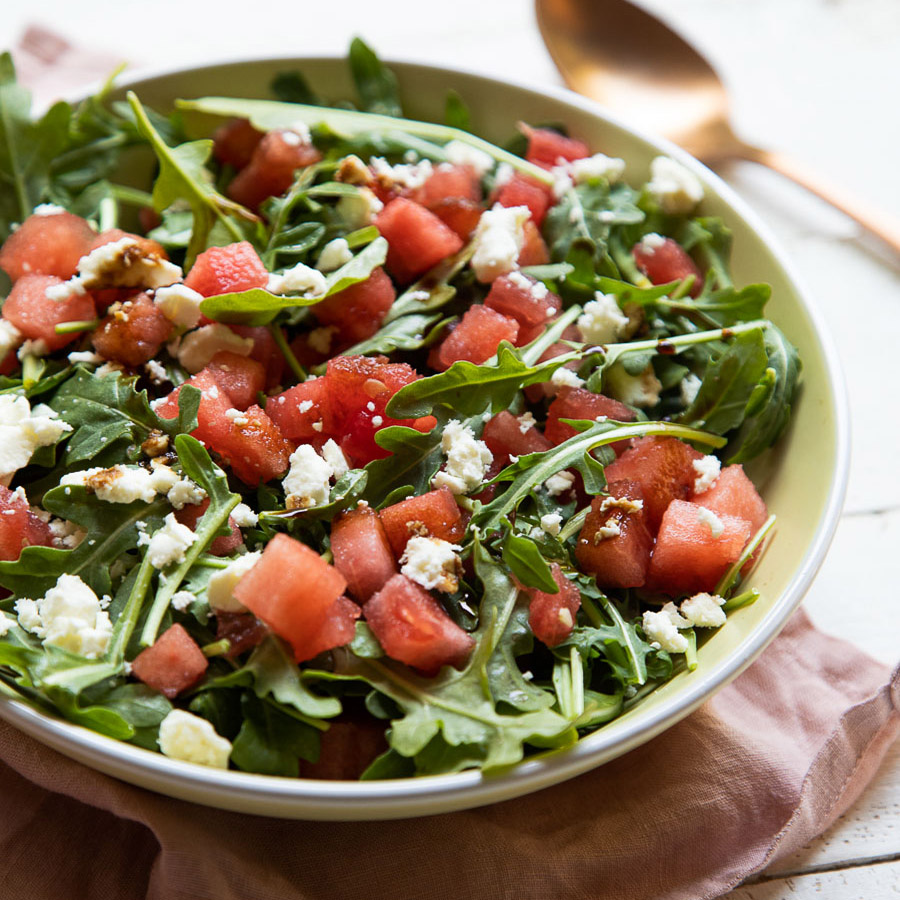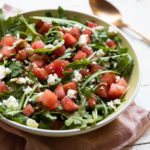 Print Recipe
WATERMELON ARUGULA SALAD
A newly classic flavor combination of watermelon and arugula, this salad is a new favorite. Add in balsamic for a punch of flavor and marry it all together with some delectable crumbled feta cheese for the ultimate summer salad!
Ingredients
2

cups

packed arugula leaves

2

cups

diced watermelon

2

tablespoons

crumbled feta cheese

1

tablespoon

aged balsamic vinegar

salt and pepper

if desired
Instructions
Add the arugula to a medium bowl. Top with the watermelon and feta and toss gently to combine. Drizzle with the balsamic vinegar. Sprinkle with salt and pepper, to taste, if desired, before serving.
Nutrition
Calories:
51
kcal
|
Carbohydrates:
7
g
|
Protein:
2
g
|
Fat:
2
g
|
Saturated Fat:
1
g
|
Polyunsaturated Fat:
0.1
g
|
Monounsaturated Fat:
0.4
g
|
Cholesterol:
8
mg
|
Sodium:
101
mg
|
Potassium:
132
mg
|
Fiber:
0.5
g
|
Sugar:
6
g
|
Vitamin A:
706
IU
|
Vitamin C:
8
mg
|
Calcium:
64
mg
|
Iron:
0.4
mg