This Leavenworth Travel Guide is in partnership with Visit Leavenworth. All opinions are my own!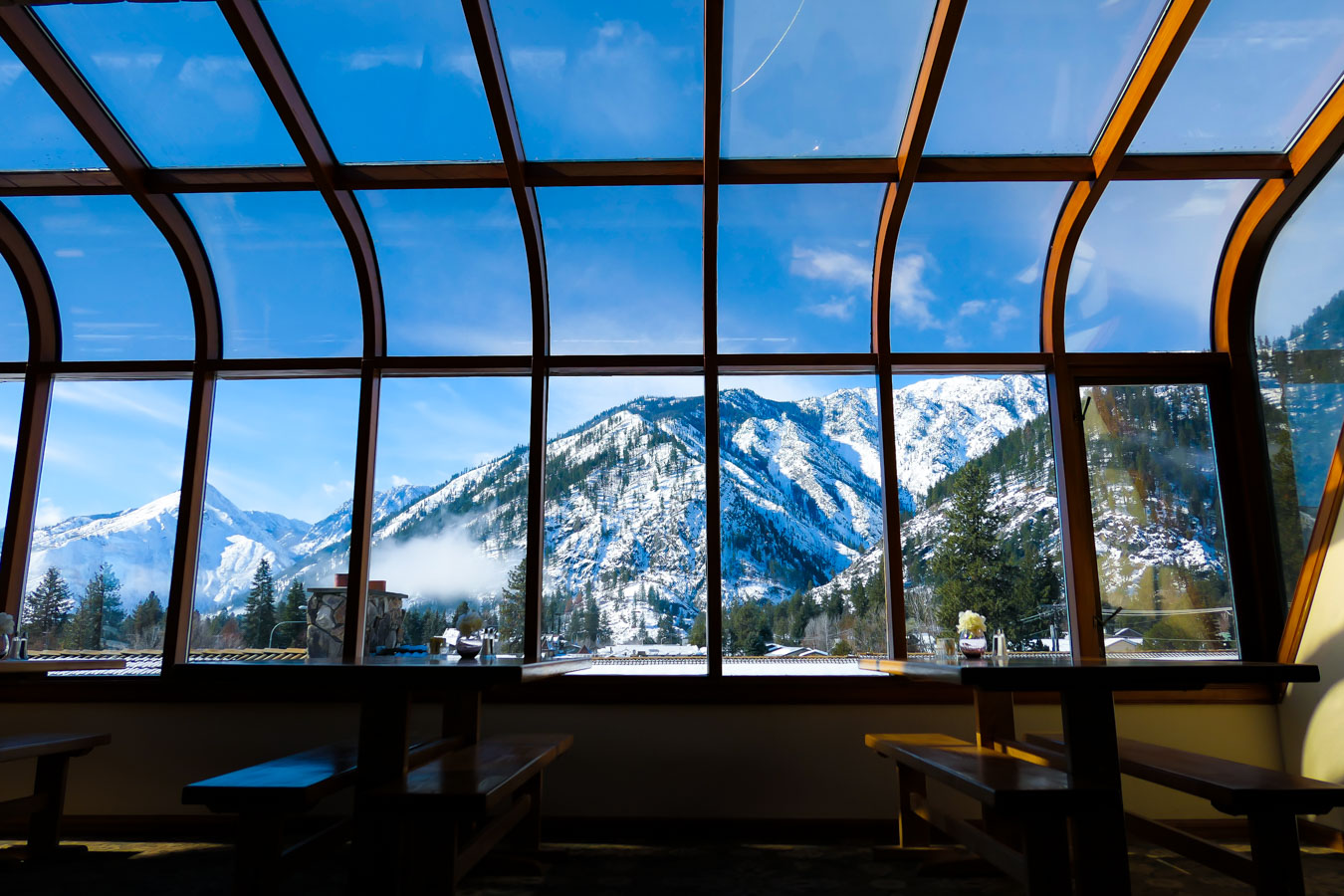 A few weeks ago, I traipsed off to Eastern Washington State with my mom and sister. My cousin was getting married in the area and my mom talked about this cute Bavarian Village not too far away called Leavenworth. She suggested we head up early to see it!
Leavenworth is a getaway destination of the Pacific Northwest and I completely understand why. We flew into Yakima via Alaska Airlines and drove a beautiful two hours to arrive just in time for their last snowfall of the season.
The next day we drove away with snow-dusted Cascades and bright blue skies in the rearview mirror. We really couldn't have asked for a more picturesque weather scenario.
And we had such a great time, I couldn't wait to share my Leavenworth travel guide. . .

If you're wondering when's the best time to go to Leavenworth, I'm not sure you can go wrong. There are festivals and wine walks in the spring and summer, Oktoberfest in the Fall, and apparently the town goes ALL OUT with lights around the holidays.
With the adorable Bavarian decor and the Cascades in the background, it's a must-visit all times of year, I think, and I hope to go back when I don't need to bring so many layers!
Leavenworth Travel Guide
Downtown Leavenworth is where most of the action is. There are fun shops through which to wander. You'll find kitschy, touristy stuff in some as well as fun clothing and decor in the three-part Leavenworth Boutique.
I ended up finding beef jerky for my husband at the cured deli as well as huckleberry syrup in that corner store.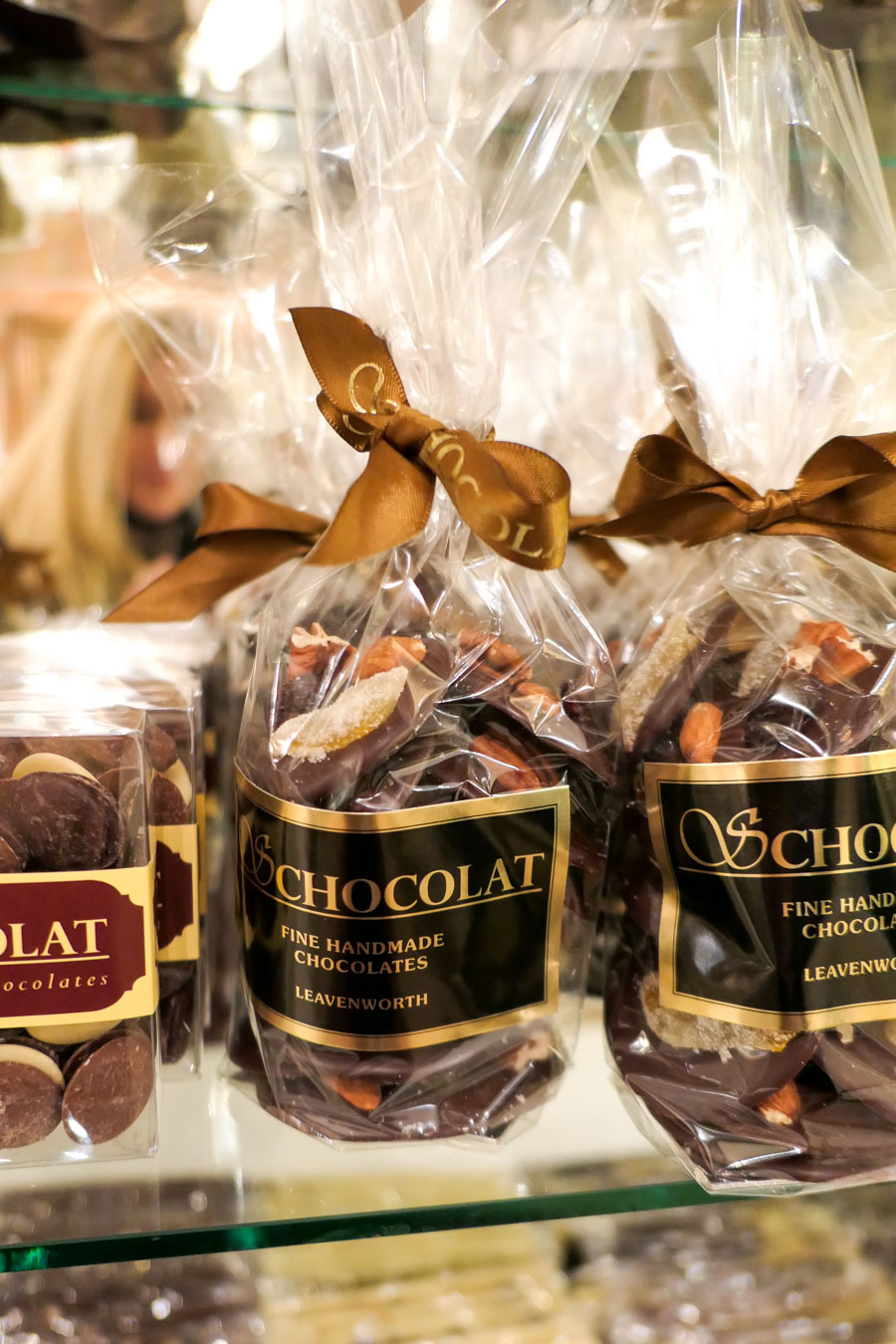 One of the absolute must-visits in downtown Leavenworth is Schocolat. Tucked away in the back of a Bavarian store, this chocolate shop is heaven.
Their pear cinnamon caramel sauce is to die for and their chocolates are simply delectable – my husband may or may not be addicted to the Earl Grey Truffles now!
Enjoy some tasting when you step into the shop, take some to munch on during your getaway, and pack some to take home!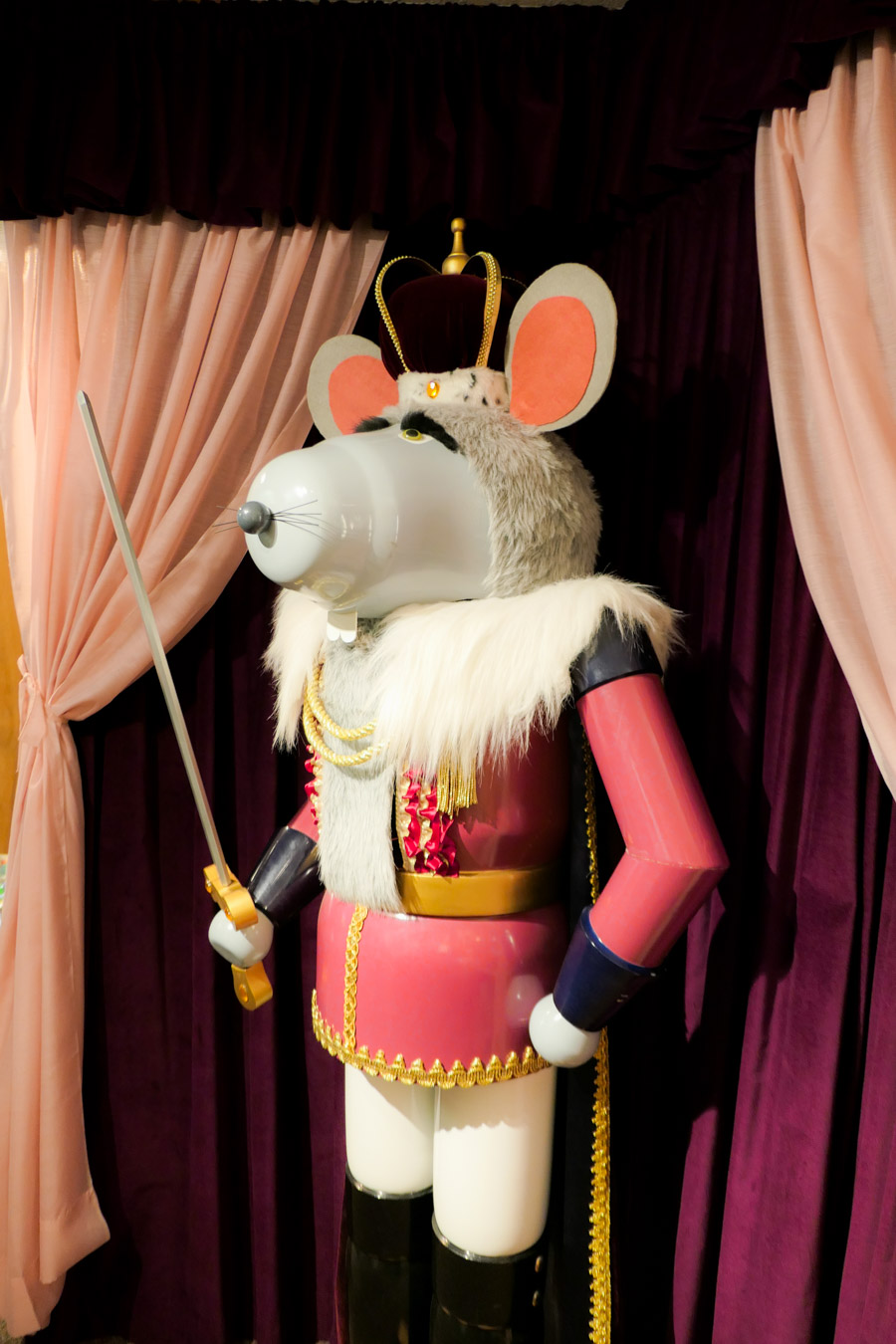 Another interesting stop on our downtown tour was The Nutcracker Museum. Located on the second story, this small museum packs in everything you can imagine related to nutcrackers and so much more.
Of all shapes, sizes, and histories, the nutcrackers in this museum are the product of a large, private collection of nutcrackers that now is one of the largest in the world. There's a whole lot to see and learn about nutcrackers!
Coffee in Leavenworth
For your morning and afternoon pick me ups, there are two cafes I highly recommend.
The first was Argonaut Espresso Bar, a walk up along Front Street that offers everything from delicious cappuccinos and lavender lattes to "hipster toast." You'll never guess… It's avocado toast. I'm still dying at how hilarious this is. I've been telling everyone I know.
The second coffee destination is J5 coffee, featuring locally roasted beans. The ambiance is fun, but there isn't any indoor seating. And if you're up for it, get the affogato (below). It's high quality ice cream and espresso. So, so tasty!
Where to eat in Leavenworth
For lunch, we walked down to Sulla Vita. They're a Mediterranean-inspired wine and beer bar. They're known for the wood oven pizzas and I can vouch that it's worth it.
We tried a few dishes, but really loved the bruschetta salad and the fig and prosciutto pizza that had the best garlic-heavy pesto. Yum. yum. YUM! Plan to share salads and pizzas with friends and you'll leave a happy camper!
Too perfectly beautiful not to stop and take photos!
See that Kris Kringl sign in the background? Yep, that's the store where it's Christmas year round. My sister popped her head in and reported back that they had Christmas toilet paper, so if you take Christmas decor seriously, then head straight here!
Don't forget to look up – the architecture is so much fun, you don't want to miss any of the details. The town still had their holiday lights up, so I can imagine just how stunning it looks when the city is lit up in December!
For dinner we ventured out of town a bit to Kingfisher at Sleeping Lady Resort. Chefs feature fresh, local ingredients – many of which come from their own farm!
The large dining room is picturesque with high-vaulted ceilings. They have a nice wine selection and food options for everyone, including an amazing salad bar.
Each night they offer a meat, fish, and vegetarian option. I, of course, tried them all. The salmon was my favorite by far, which shouldn't be a surprise considering we were in the Pacific Northwest.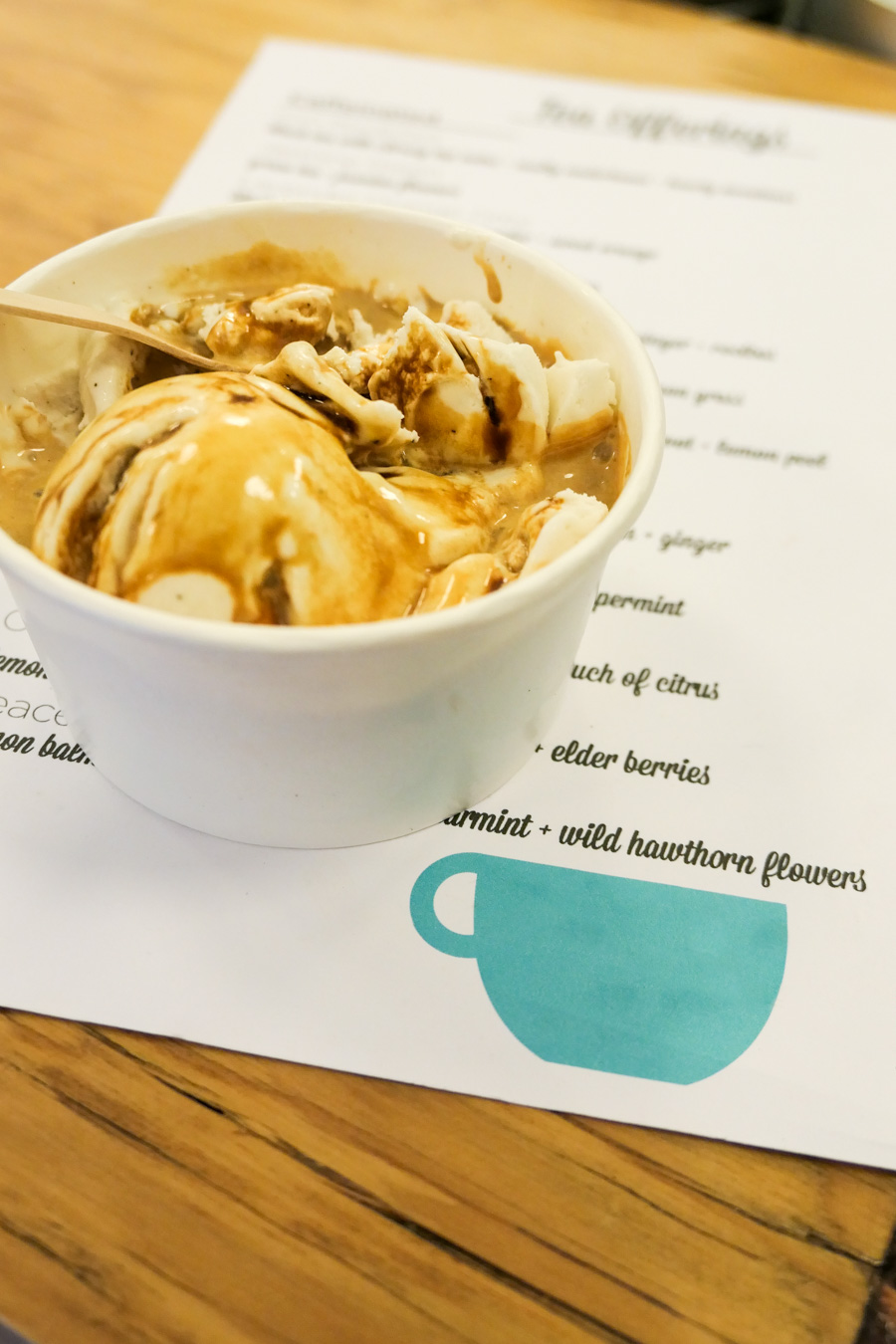 That affogato at J5…
Where to Stay in Leavenworth
When it's time to turn in, stay at the Enzian Inn. There were a few things to love about this spot, but I'll keep calm and talk about them in logical order.
The first amazing thing is the location. It's less than a quarter mile from downtown Leavenworth, so you can come and go as you like without having to move the car. You can also see the downtown area from the second floor balcony and above.
Enjoy a lovely night's rest and then keep your socks on because they have a live alphorn ("alpine horn") outside the breakfast room, looking out on the town and the Cascades. How fabulous is this?
I think it's the same gentleman year round. And after he made himself and egg and cheese omelette, he was heading out to hit the slopes with all the fresh snow – a talented man with no plans of slowing down.
Though I was bummed when the alphorn ended, I was easily placated looking out the window at the mountain and the town. No matter where you sit in the huge dining room, you'll have an outstanding view. And if that wasn't good enough, the buffet breakfast was AMAZING! T
o top it off, I mentioned how much I loved the coconut sesame seed granola and they told me I could get the recipe at the front desk. I did, along with a few others! Needless to say, I loved the Enzian Inn and highly recommend it!
Sleigh Rides in Leavenworth
One of the things that first caught my eye about Leavenworth were the sleigh-rides. I know that seems silly, but I've never been on a sleigh ride and it looked like so much fun.
Though we arrived a bit late in the season for snow (usually), we were treated to a picturesque (I'm using that word a lot in this guide, I know!) ride at Mountain Springs Lodge about 30 minutes outside of Leavenworth.
We were running a bit late, so I pulled out my curvy, mountain road driving skills from back home. I may have shaved a few valuable minutes off that drive time! But don't tell anybody…
The sleigh ride lasted almost an hour and was so fun. It's a family-run resort that operates year round and has great history. They offer winter and summer sports and entertainment. I can't tell you how much I'm dying to go back for a visit in the summer.
Our trip to Leavenworth was a short but memorable one and I can't wait to return – any time of year!
Thank you to Visit Leavenworth for collaborating on this Leavenworth Travel Guide.