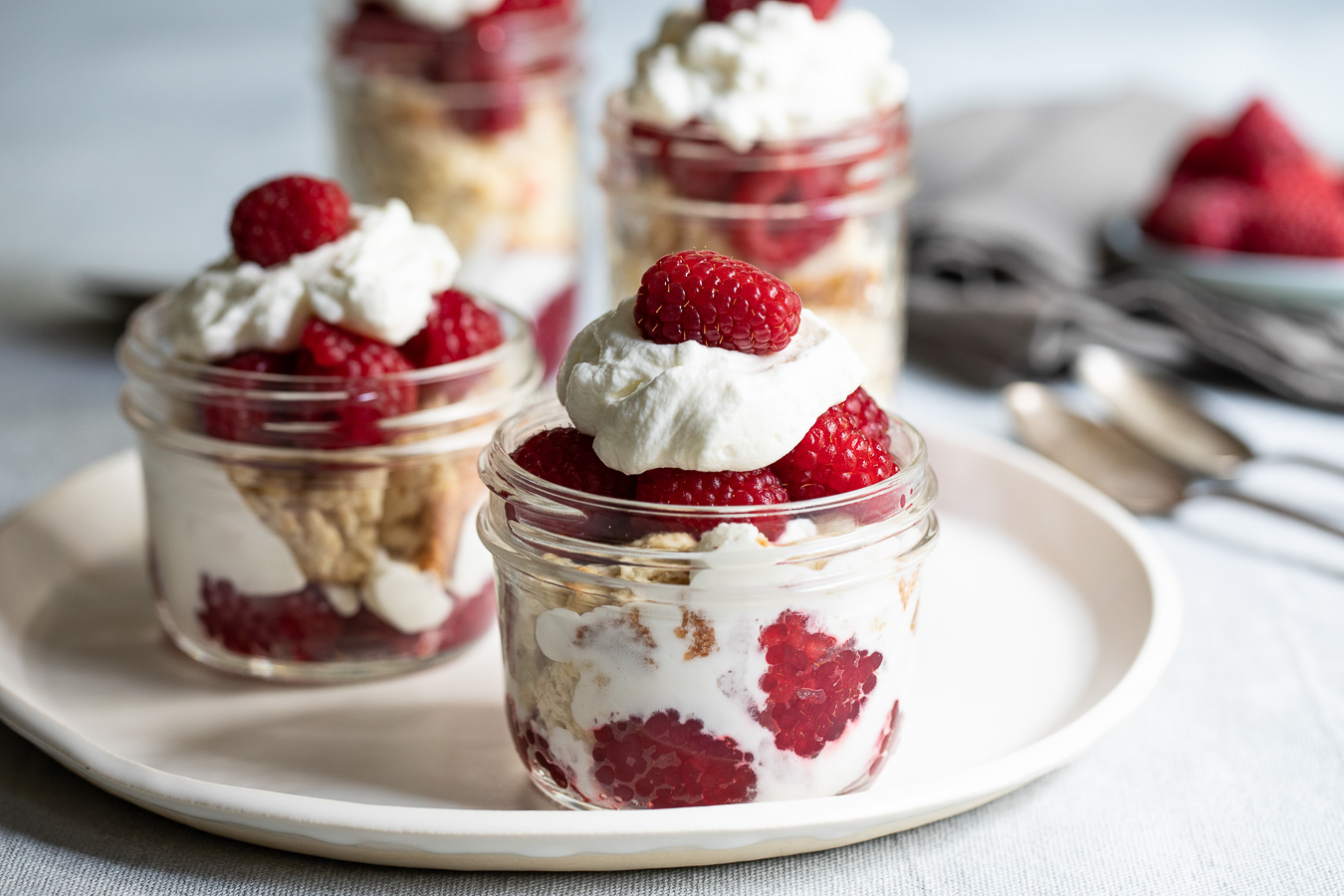 I love a good strawberry shortcake, but a raspberry shortcake might be even better!
Summer fruit season is (finally) upon us in California. Things are still a little delayed (our favorite stops on the Fresno Fruit Trail are just opening up), but it's starting!
Strawberries and raspberries are usually the first to come in around here, however, and I don't want to miss those fruits before others arrive!
Raspberries tend to be a little bit more tart than strawberries, so it counters the sweetness of a dessert dish perfectly in my dessert-expert opinion!!
Raspberry Shortcake
As basic as a shortcake recipe sounds, there are actually a few ways to make it. There are two "traditional" methods.
One of which is to make the dessert with a shortcake – a sweet, sort of biscuit-like cake. The second is to make it with angel food cake. Both are delicious. It just depends what you're used to.
I will share that I've tried making homemade angel food cake. I thought it was far too much work for something that didn't taste any better than the store bought ones I've had.
Somebody probably has the magical recipe, but it isn't I! The recipe here for shortcake, however, is well worth the homemade effort!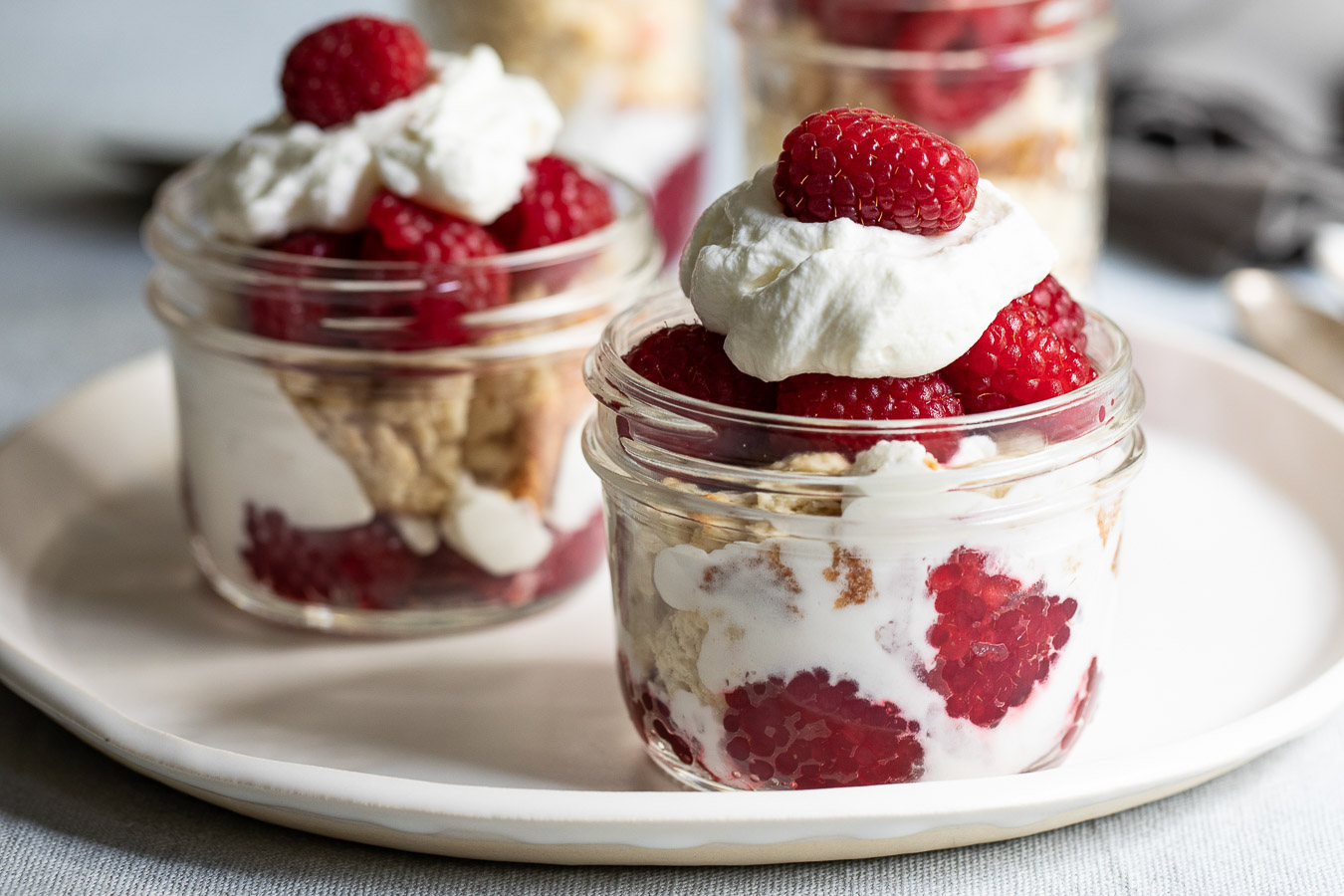 There are also a bunch of ways to serve raspberry shortcake. For entertaining, these individual "trifle" desserts are super fun and easy. The recipe calls for 8 oz. jars. You can either do the taller jars with a regular mouth opening or the shorter jars with a wide mouth opening!
You can also layer it in a trifle bowl. I have this older recipe for an easy trifle with yellow cake so you can see the idea. Or if you don't care about presentation, just throw all the parts in a bowl and ENJOY!!!
Oh. And the homemade whipped cream is non-negotiable in my book. Nothing store-bought can compare!

What is a Trifle?
If you aren't sure what a trifle is, don't worry you're not alone. When I first made this trifle dessert with yellow cake and chocolate pudding for friends, I text the group to ask if anyone had a trifle dish. They all came back at me with question marks.
So I made them the dish the biggest bowl I had, ordered a trifle dish, and invited them all back over to see it in action. While the flavor isn't different, the presentation of the yummy layers is really fabulous in a trifle dish.
Basically, trifles are layered desserts. traditionally the layers include pieces of cake, a cream or custard of some kind (often more than one), and sometimes a fruit.
These raspberry shortcake trifles have the shortcake, the whipped cream, and the berries – made all the more beautiful in these canning jars (in essence, mini trifle dishes).
Depending on the ingredients, trifles are very easy to make (easier if you buy the layers premade obviously). Besides baking the shortcake, not too hard, and whipping the cream, this is certainly an easy dessert option.
These mini trifle desserts are also perfect for potlucks and BBQs. You can have everyone assemble their own or make them ahead of time and keep chilled. These lids are perfect for your canning jars (available in regular and wide mouth)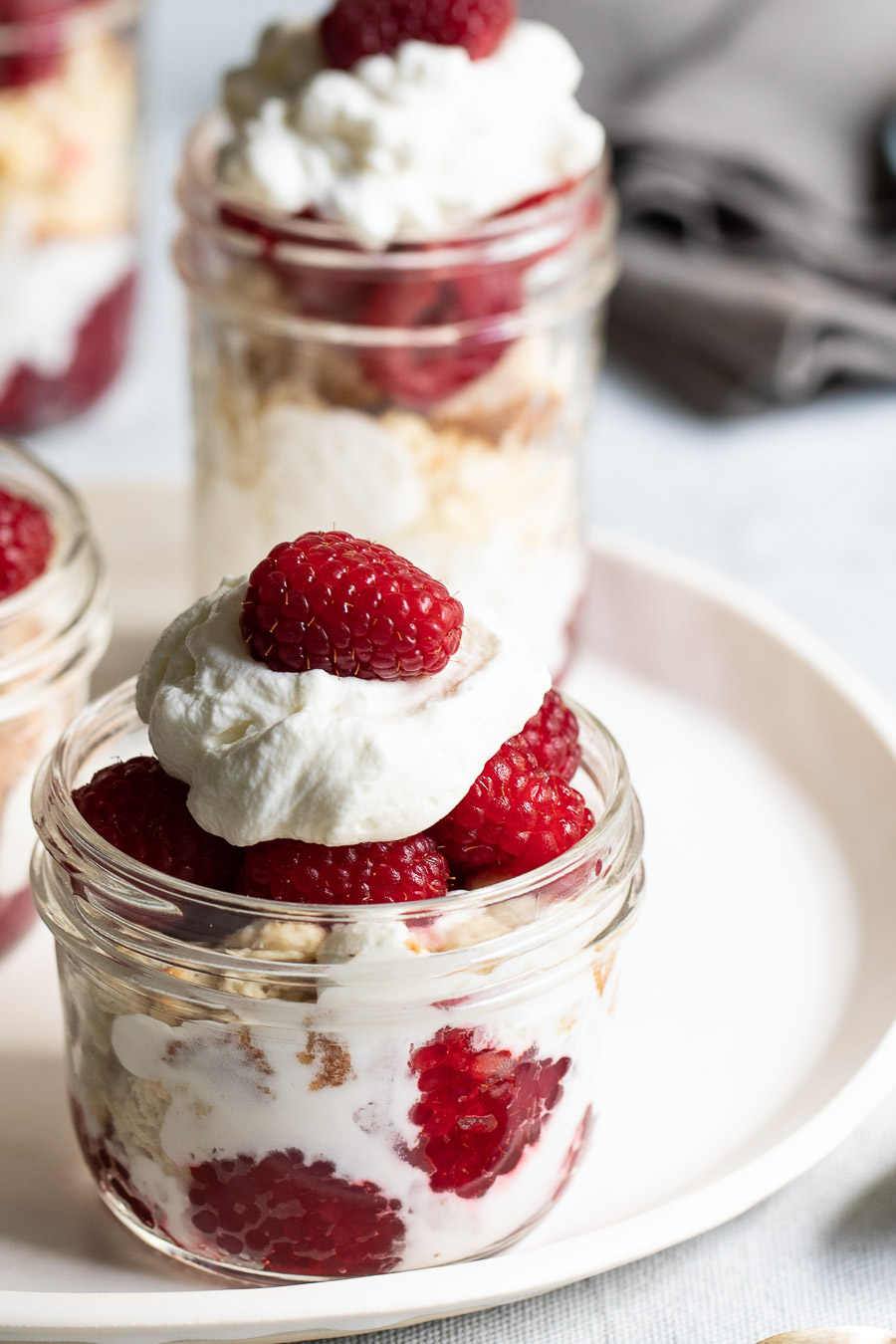 Summer Fruit Desserts
Looking for more dessert recipes to enjoy this summer? You'll love this apricot tart, BBQ cake with cherries, strawberry ice cream sundaes, easy cherry sorbet (with just one ingredient), and plum compote over ice cream or yogurt!
Be sure to check out these seasonal summer recipes, full of great idea for summer fruits and veggies.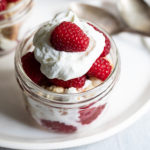 Print Recipe
RASPBERRY SHORTCAKE TRIFLES
A delectable summer dessert, this raspberry shortcake is made with homemade biscuits and whipped cream. It's everything comfort and nothing but beautiful to serve for any occasion!
Ingredients
Shortcake
1

cup

self-rising flour

2

tablespoons

sugar

1

teaspoon

lemon zest

¼

teaspoon

ground nutmeg

3

tablespoons

cold unsalted butter

cubed

¼

cup

low-fat buttermilk
Raspberries and topping
12

ounces

raspberries

reserve 4 for garnish

1

tablespoon

sugar

1

tablespoon

lemon juice

¾

cup

heavy whipping cream

2

tablespoons

powdered sugar
Instructions
Shortcakes
Preheat the oven to 400 degrees F.

To make the shortcakes, stir together the flour, sugar, lemon zest, and nutmeg in a large bowl. Add the butter and use a pastry blender or two knives to cut the butter into the dough, working it until the butter is in pea-size pieces and evenly distributed. Stir in the buttermilk to form a soft, biscuit-like dough.

Divide the dough into four portions. Form each portion into a disk. These do not need to be perfect as the shortcakes will be chopped for serving. Place the four disks on a non-greased baking sheet. Bake for 15 minutes, until the edges are browned and the shortcakes are baked through. Let cool while you prepare the raspberries.
Raspberry Shortcake
Add the berries to a medium bowl. Add the sugar and lemon juice and stir well. Let sit while you make the whipped topping.

Pour the cream into the bowl of a mixer. Mix on low and then, high for about 5 minutes, until stiff peaks form. Fold in the powdered sugar until smooth.

Chop each shortcake into about 8 pieces. Divide the raspberries in half.

Use one half of the raspberries to fill the bottom of four ½ pint jars. Add a dollop of whipped cream to each jar and then add a chopped shortcake to each jar. Use spoon to press everything down into the jar. You want it to be packed tightly so everything fits.

Divide the remaining berries between the jars. Drizzle any juices left in the bottom of the bowl into each jar. Press again, gently smashing the berries. Add the remaining whipped cream to the top of each shortcake. Garnish with a fresh raspberry.

(If you plan to transport the shortcakes. You can either add a little less whipped cream so all ingredients fit in the jar with the lid secured, or take the final amount of whipped cream separately and garnish each shortcake just before serving.)
Nutrition
Calories:
426
kcal
|
Carbohydrates:
47
g
|
Protein:
7
g
|
Fat:
26
g
|
Saturated Fat:
16
g
|
Polyunsaturated Fat:
2
g
|
Monounsaturated Fat:
6
g
|
Trans Fat:
0.3
g
|
Cholesterol:
74
mg
|
Sodium:
37
mg
|
Potassium:
233
mg
|
Fiber:
6
g
|
Sugar:
15
g
|
Vitamin A:
955
IU
|
Vitamin C:
25
mg
|
Calcium:
77
mg
|
Iron:
1
mg