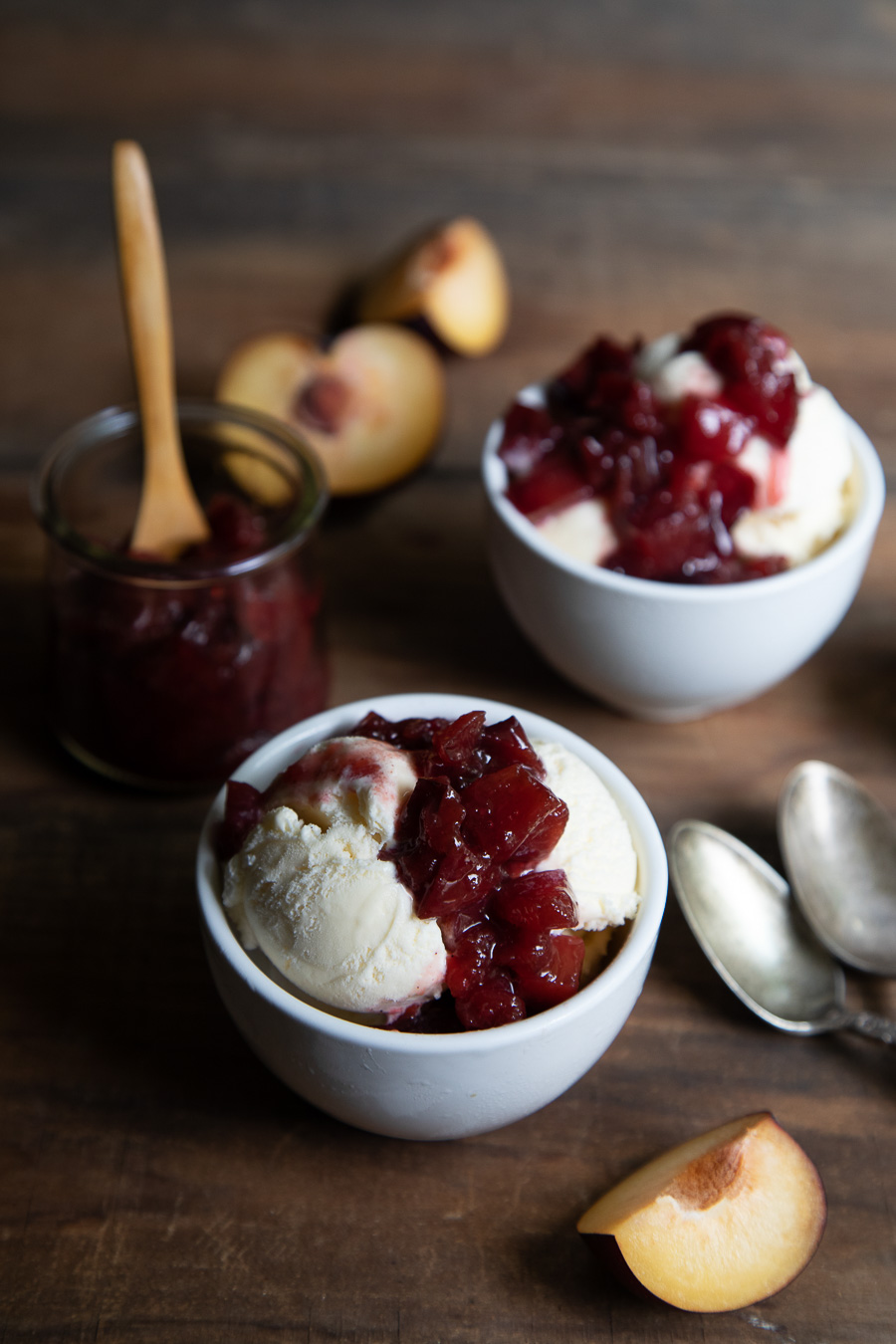 This plum compote is positively divine atop vanilla ice cream (or any ice cream for that matter). It'd also be a tasty topping over goat cheese as an appetizer like this recipe for a savory blueberry chutney.
If your jury is still out on plums, I'm here to say that I understand. If you get them when they're perfectly ripe and sweet, it's wonderful. But so often – especially if you're impatient like me – you get them a little tart and a little crunchy.
But if you've had that perfect plum, you know how great they can be. Well now just imagine that with a bit of brown sugar and cinnamon. You have a plum compote that's the perfect ice cream topping!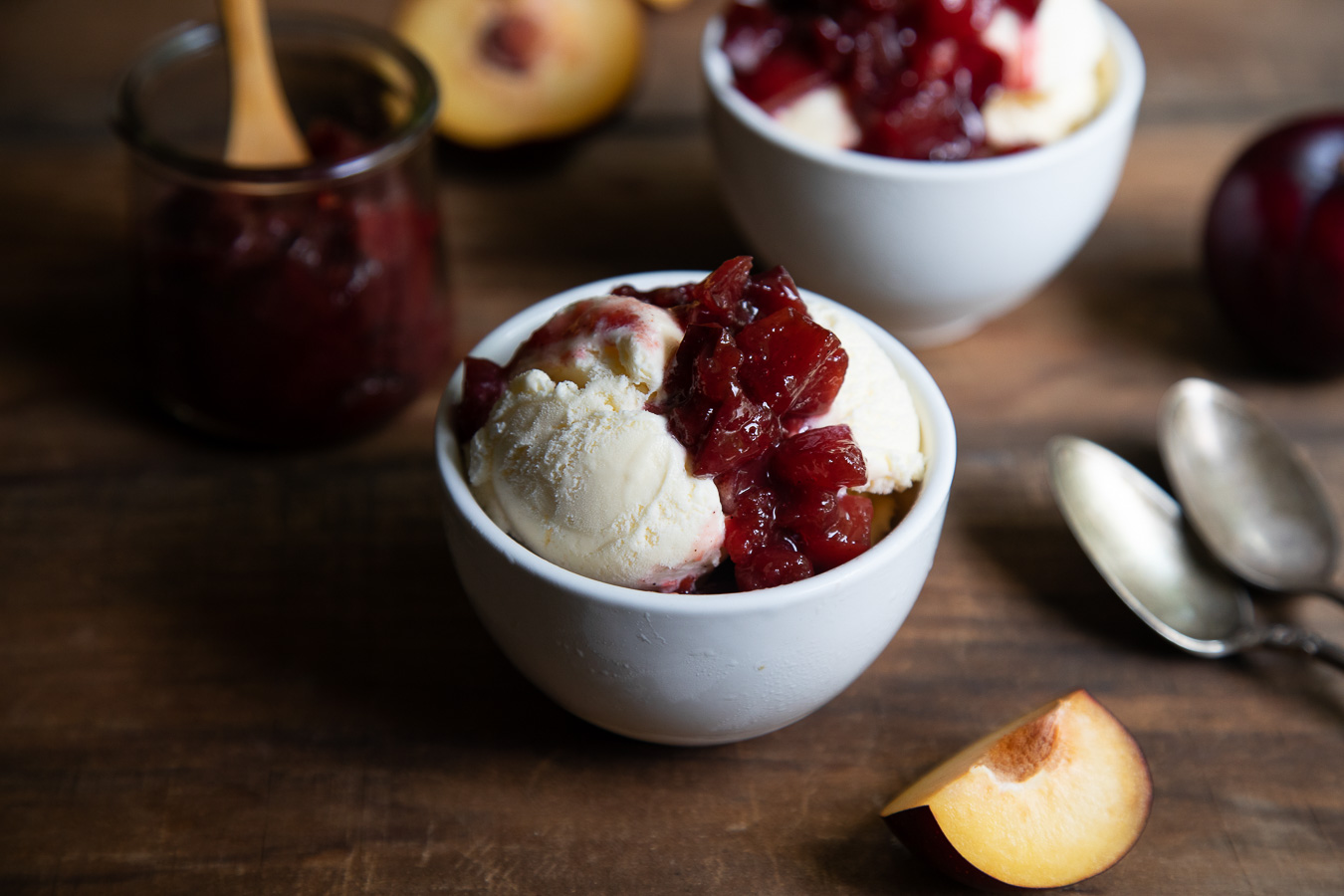 Plum Compote
I'm a big fan of canned fruit and compotes over ice cream, but they aren't as common as they used to be. Compotes are incredibly easy to make. Mix fresh fruit with some sugar, a spice or two, and cook until it's done. Compotes can be made ahead of time and then enjoyed whenever.
Compotes are cooked down fruit. They differ from jams in that the pieces of fruit are still whole; the fruit is just softened by cooking and sweetened. The sweetness comes form the naturals sugars in the fruit releasing and the sugar added to the recipe (which can be amended as desired).
I love compotes on vanilla ice cream (or, yes, any kind of ice cream), but that's not the only place to enjoy it. It's tasty on toast, on yogurt, over a basic cake, and even on a charcuterie board!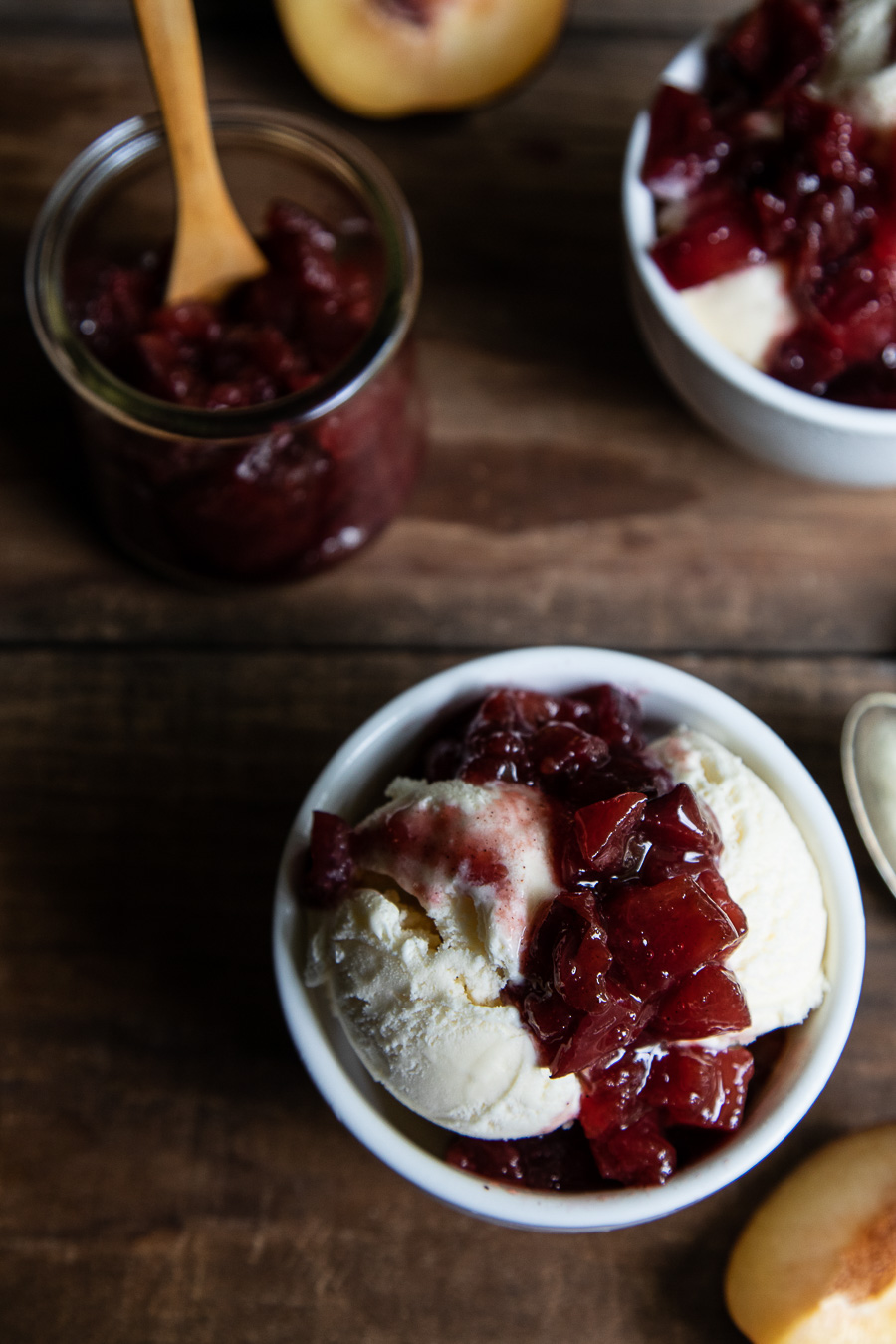 All fruit compotes are on the sweeter side. What I love about plum compote, however, is that it has that tanginess that prevents it from being overly sweet and overwhelming. It's perfectly flavorful, tangy, and colorful while being full of flavor and the perfect accompaniment to whatever you want!
If you do happen to have wonderfully sweet plums on hand when making this compote, you can scale back to sugar and add to taste. You know as well as I do the difference in sweetness of a tart plum and a sweet, juicy one. A simple taste test as you get going is the best way to get started.
The recipe below calls for just ¼ cup brown sugar per pound of plums. If they're sweet, you can start with a tablespoon and work up from there. There are 4 tablespoons in ¼ cup, so that's cutting it down quite a bit!
When are plums in season?
The internet says that plums are in season from May to October. We usually get plums on the Fresno Fruit Trail – from the same stand as peaches and apricots earlier in the summer. We usually don't get plums until late June/beginning of July.
I think the May date is a bit early, at least for Central California, so just keep an eye out, though they are definitely a summer produce! And this year has certainly taught us all that "in season" is weather-dependent because all the produce seems to be a few weeks behind!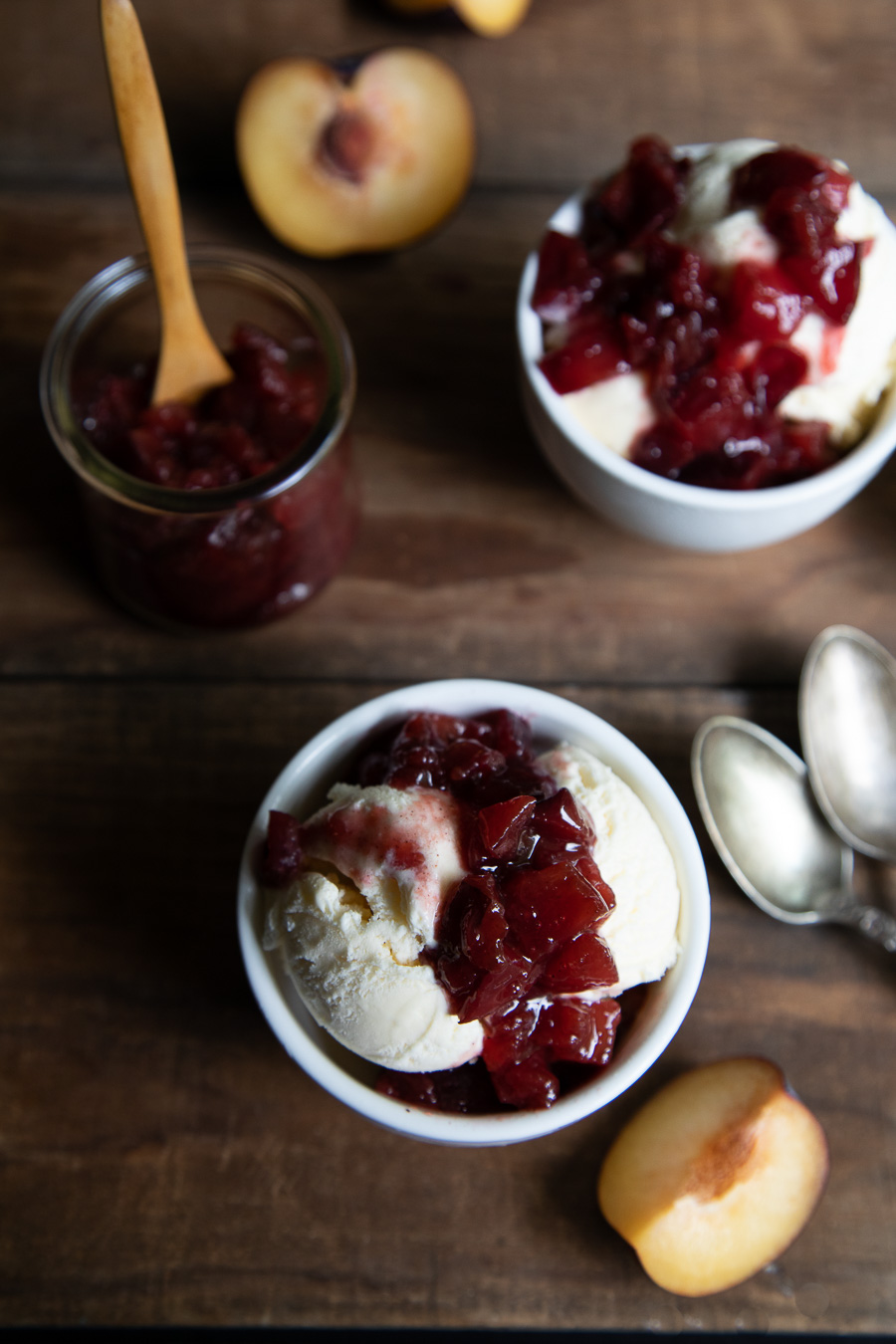 Since plums are a little difficult to get just right, I absolutely love cooking with them. Mixing them with other flavors and/or heating them to release their great flavor and sweetness are the perfect balance to any unpredictability.
This honey and plum jam (served atop brie crostinis) uses honey rather than granulated sugar to cook the fruit. It's positively delicious.
Or if you're looking for a summer drink, try this plum pinot grigio sangria!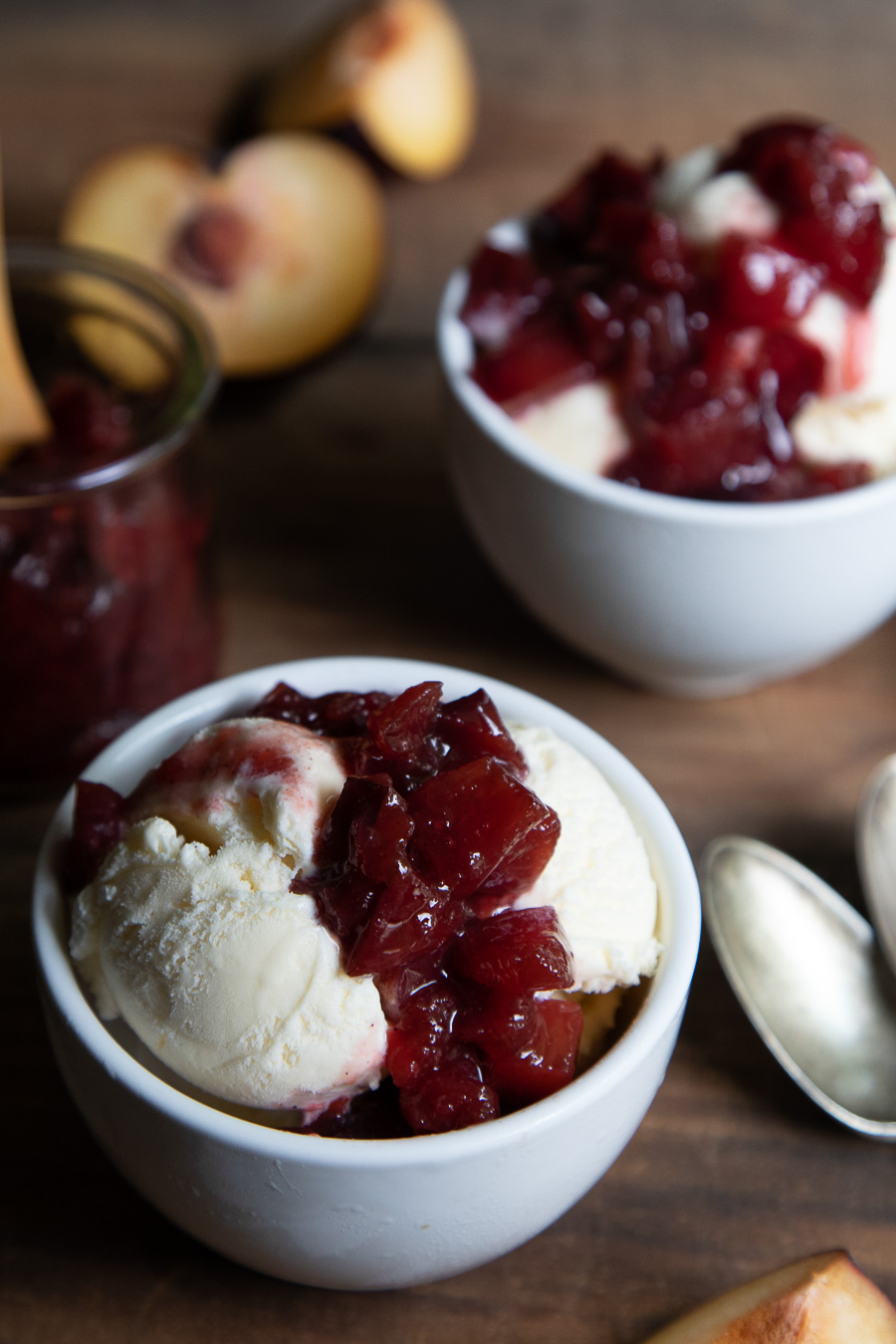 Summer Fruit Desserts
Looking for more dessert recipes to enjoy this summer? You'll love this apricot tart, BBQ cake with cherries, strawberry compote sundaes, easy cherry sorbet (with just one ingredient), and mini raspberry shortcakes!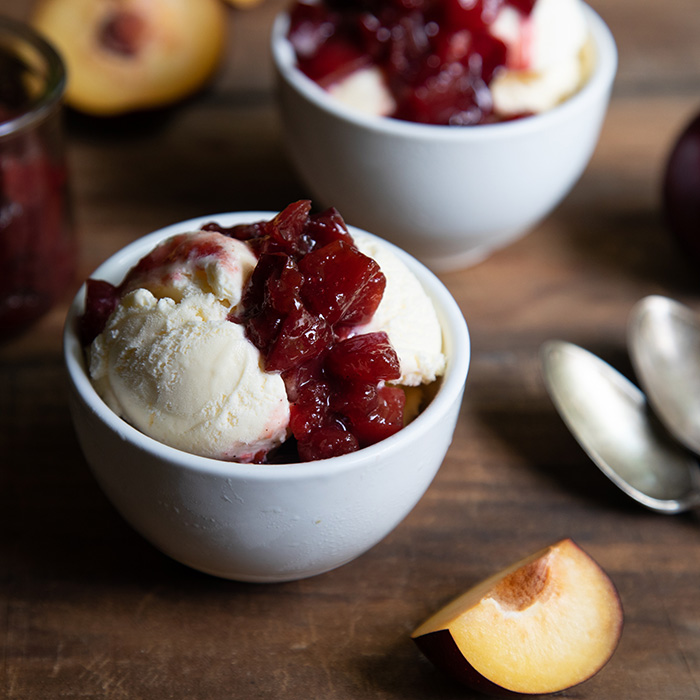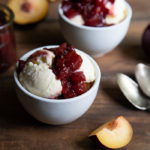 Print Recipe
PLUM COMPOTE
Fresh plums take front and center in this delectable summer treat. Plum compote is the perfect combination of sweet and tart. Top ice cream (or even pancakes in the morning) with the perfectly seasoned fruit mix!
Ingredients
1

pound

black or red plums

pitted and chopped

¼

cup

light brown sugar

¼

teaspoon

ground cinnamon

Pinch

fine sea salt

vanilla ice cream for serving
Instructions
Stir together the plums and sugar in a large saucepan. Bring to a boil over medium heat.

Reduce the heat slightly to maintain a low boil. Stir often and continue to cook the compote until the fruit is very soft and begins to break down. Gently smash it as you stir. This can take 5 to 20 minutes, depending on firmness of the plums.

Once the fruit has softened and a thick syrup forms around it, remove it from the heat. Stir in the cinnamon and salt. Transfer to a jar, cover and refrigerate until chilled, at least one hour. Serve over ice cream.
Nutrition
Calories:
105
kcal
|
Carbohydrates:
27
g
|
Protein:
1
g
|
Fat:
0.3
g
|
Saturated Fat:
0.02
g
|
Polyunsaturated Fat:
0.1
g
|
Monounsaturated Fat:
0.2
g
|
Sodium:
4
mg
|
Potassium:
197
mg
|
Fiber:
2
g
|
Sugar:
25
g
|
Vitamin A:
392
IU
|
Vitamin C:
11
mg
|
Calcium:
19
mg
|
Iron:
0.3
mg