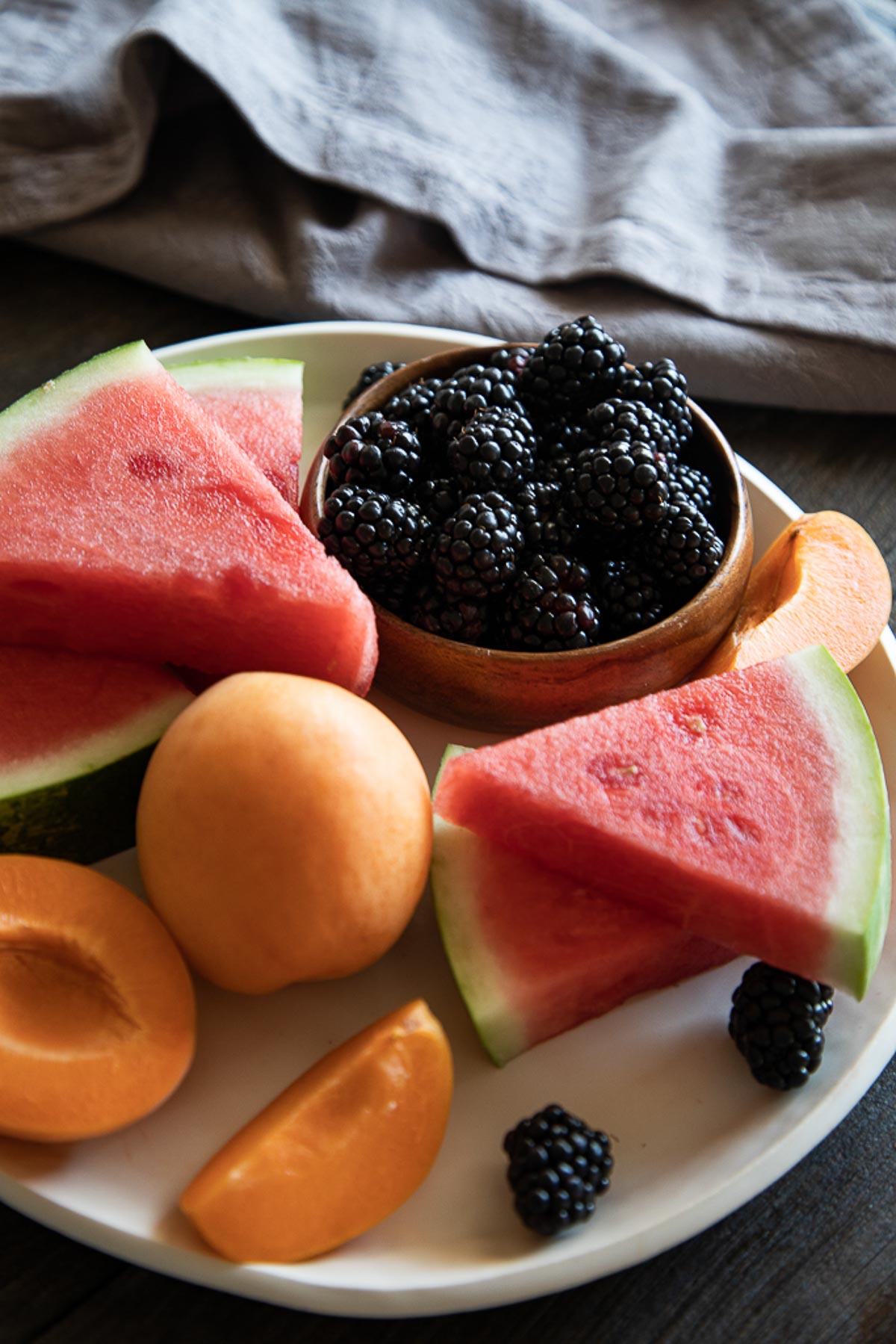 Summer produce is the best. I'm sorry. I love all the other seasons and their delectable seasonal produce, but summer is where my heart is at – it always has been. In fact, I think seasonal summer recipes and summer produce are what inspired me to write my Summer Recipe Collection magazine.
And while we all know and love summer corn and watermelon, that is just the tip of the iceberg (and no, we're not talking about the minimalistic lettuce).
In writing out my complete seasonal produce cheat sheet (also in the magazine), I realized that summer has the most unique items. There is often a lot of crossover between fall, winter, and spring, but summer produce – much of it only exists in summer!
The other fabulous thing is that summer produce, especially if grown at home, seems to always be in rabid abundance – overwhelmingly so for many.
A few of my siblings and I are still a bit traumatized from the Zucchini Summer of '02. It might not have been 2002, but I've completely blocked it out, so it doesn't matter. Sorry, mom!
Summer Recipes
So while your first thought at hearing summer recipes is what to make when it's too hot to function (there are a few of those below too), I'm also referring to eating great seasonal summer produce!
Sadly a few of my favorite summer produce recipes require the oven to be on, hot, and on for a long time. I usually aim to cook these as early in the day as possible!
The best part about in-season produce is that the great produce do all the hard work. It'll all taste so delicious, you'll want to serve them at every summer dinner party!
Seasonal eating is also one of the tastiest and easiest ways to avoid food waste. It's healthier, often easier, and did I mention tastier??
What's in Season in Summer?
Bell Pepper Recipes
Berry Recipes
Cherry Recipes
Corn Recipes
Cucumber Recipes
Eggplant Recipes
Fig Recipes
Fresh Herb Recipes
Read these tips for how to keep herbs fresh for longer! And don't miss this easy tutorial on how to dry fresh herbs!
Green Bean Recipes
Melon Recipes
Strawberry Recipes
Stone Fruit Recipes
Tomato Recipes
See these tips for storing tomatoes properly!
Watermelon Recipes
Zucchini Recipes
Hot Weather Recipes
Ok. And just a few more things to help you handle the hot weather. This lavender iced tea is so tasty and fancy as is this frozen lavender lemonade. And don't skip out of these simple ways to enjoy a healthy iced tea.
And one of these summer mocktails or one of these fresh strawberry cocktails should do the trick as well!