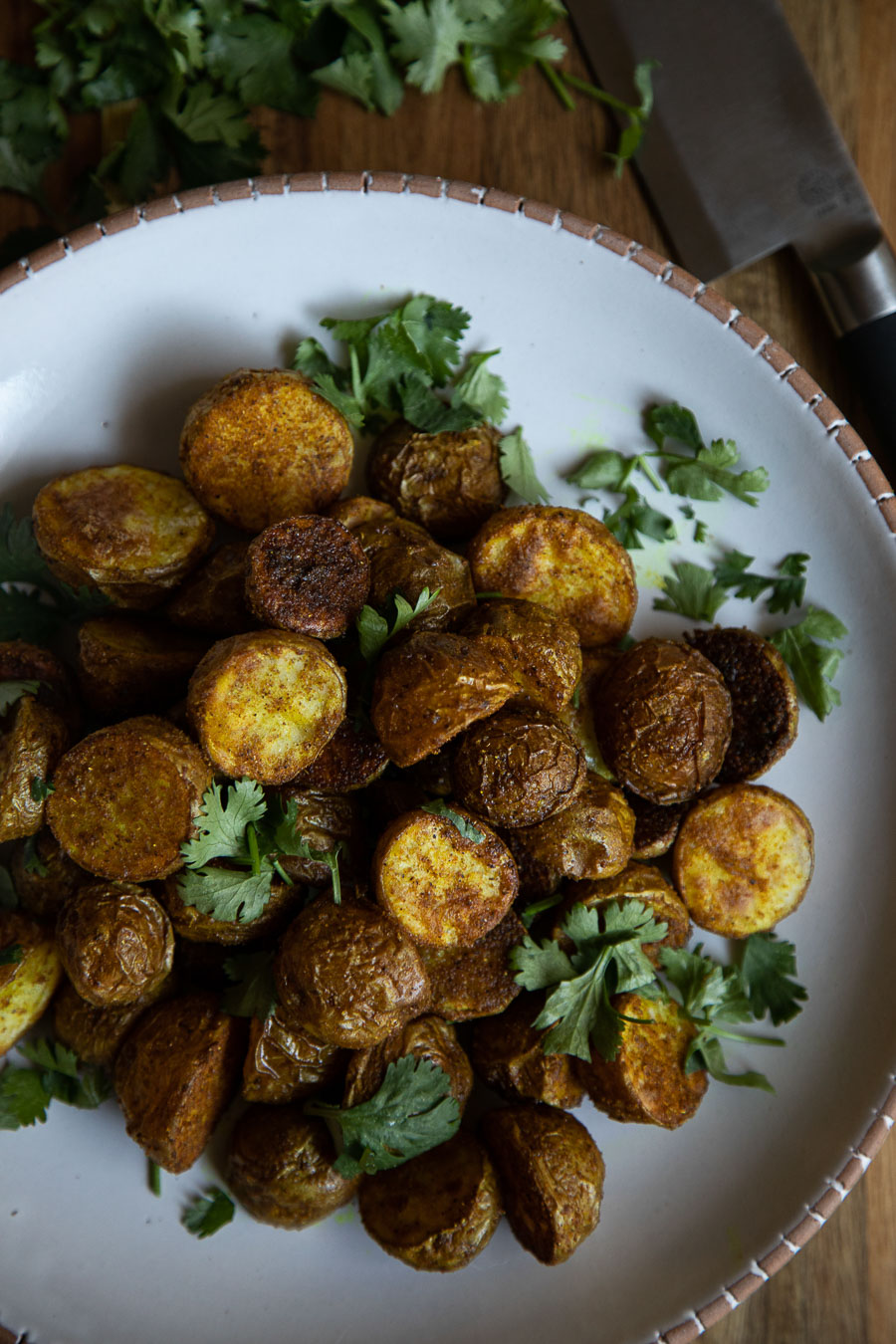 So I have this weird love of curry but this silly ability to completely ignore curry powder in my spice setup! I think I don't trust myself to underdo or overdo the curry powder. Instead of experimenting, I usually forget about it's deliciousness. But not now. I have a curry potatoes recipe that's so simple, it would be silly not to make all the time!
In our previous apartment, my spices lived on the bottom shelf of a cabinet. If something wasn't in front (i.e. the spices I use everyday) then I likely was going to forget about it!
In our new house, our spices are in a drawer – all facing up at me. I've actually been rediscovering some favorite flavors and let me tell you just how excited I am to use all those "holiday spices!"
And now that I have these great bulk spice jar labels, I'm in fat city with the organization!
Curry Spiced Potatoes
You can probably guess that the curry powder wasn't in the front of that spice cabinet situation, but now it's front and center!
If you ever visit London, you should absolutely enjoy a meal (or two) at Dishoom. A few years ago, you had to wait a few hours in line outside to get a table (totally not my scene). Now, however, they have locations throughout London (and one in Edinburgh).
When we were there this past spring, we quickly got in for lunch on two separate occasions. Each time we enjoyed these spicy potatoes that were HOT and ADDICTIVE. What made them totally manageable, however, was the dill yogurt sauce that came with it. I PUT THAT SAUCE ON EVERYTHING!!!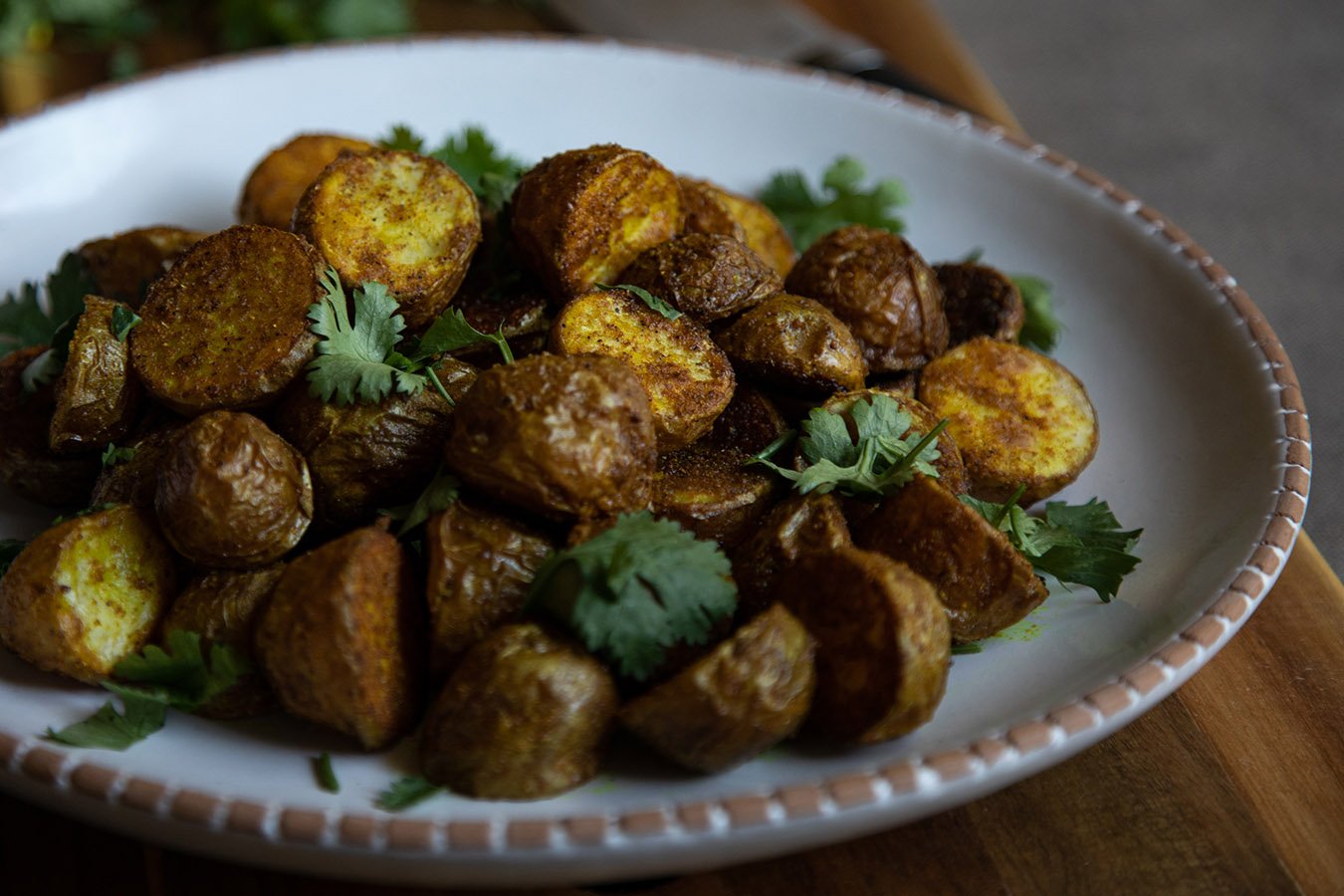 Loving those flavors, but scared to make an attempt at true Indian food at home, I tried to find a way to get the flavors in a recipe that was familiar and easy to me.
FALL & WINTER RECIPE COOKBOOK
Delicious recipes to enjoy FALL & WINTER produce to its fullest. Simple and delicious recipes made from scratch for your family and your guests THROUGHOUT THE COOLER MONTHS!
Is Curry Powder Spicy?
When I think of curry dishes, I often think of some heat. The truth is, there is a difference in "spice." Considering everything from cinnamon and coriander to chili flakes are considered a spice, "spicy" is a tricky term.
While the typical combination of spices in Indian food is certainly stronger, it isn't necessarily a hot spice. If pepper flakes are added, however, it gets kicky…
These curry spiced potatoes aren't spicy in the hot, hot heat sense. And the great part is you can decrease or increase the spice as desired.
To decrease any "spice," merely decrease the amount of curry powder. And if it's still more than you want, try adding a yogurt sauce (combine plain yogurt, water, salt & pepper, and fresh herbs).
To increase the spice, increase the curry powder, and/or add chili flakes! If you over do it, the yogurt sauce will work well here too.
Print Recipe
CURRY POTATOES
Enjoy these curry potatoes with just about any meal. Roast potatoes with curry powder for an easy, delicious twist for dinner. Serve it with an herbed yogurt or sour cream for the perfect side dish everyone will remember.
Ingredients
1.5

pounds

small red potatoes

halved or quartered

2

tablespoons

extra virgin olive oil

1

tablespoon

curry powder

1

teaspoon

fine sea salt

¼

teaspoon

ground black pepper

Chopped fresh cilantro for garnish
Instructions
Preheat the oven to 425 degrees F.

Place the potatoes on a large rimmed baking sheet. Drizzle with olive oil. Sprinkle with the curry powder, salt, and pepper. Stir the potatoes on the baking sheet until they are all evenly coated with oil and seasonings. Spread into a single layer.

Bake 20 minutes. Stir the potatoes. Bake another 15 to 20 minutes, until the potatoes are tender and the edges are brown and begin to get crispy.

Transfer to a serving platter and sprinkle with chopped cilantro before serving.
Nutrition
Calories:
149
kcal
|
Carbohydrates:
22
g
|
Protein:
3
g
|
Fat:
6
g
|
Saturated Fat:
1
g
|
Polyunsaturated Fat:
1
g
|
Monounsaturated Fat:
4
g
|
Sodium:
490
mg
|
Potassium:
639
mg
|
Fiber:
3
g
|
Sugar:
2
g
|
Vitamin A:
22
IU
|
Vitamin C:
12
mg
|
Calcium:
20
mg
|
Iron:
1
mg