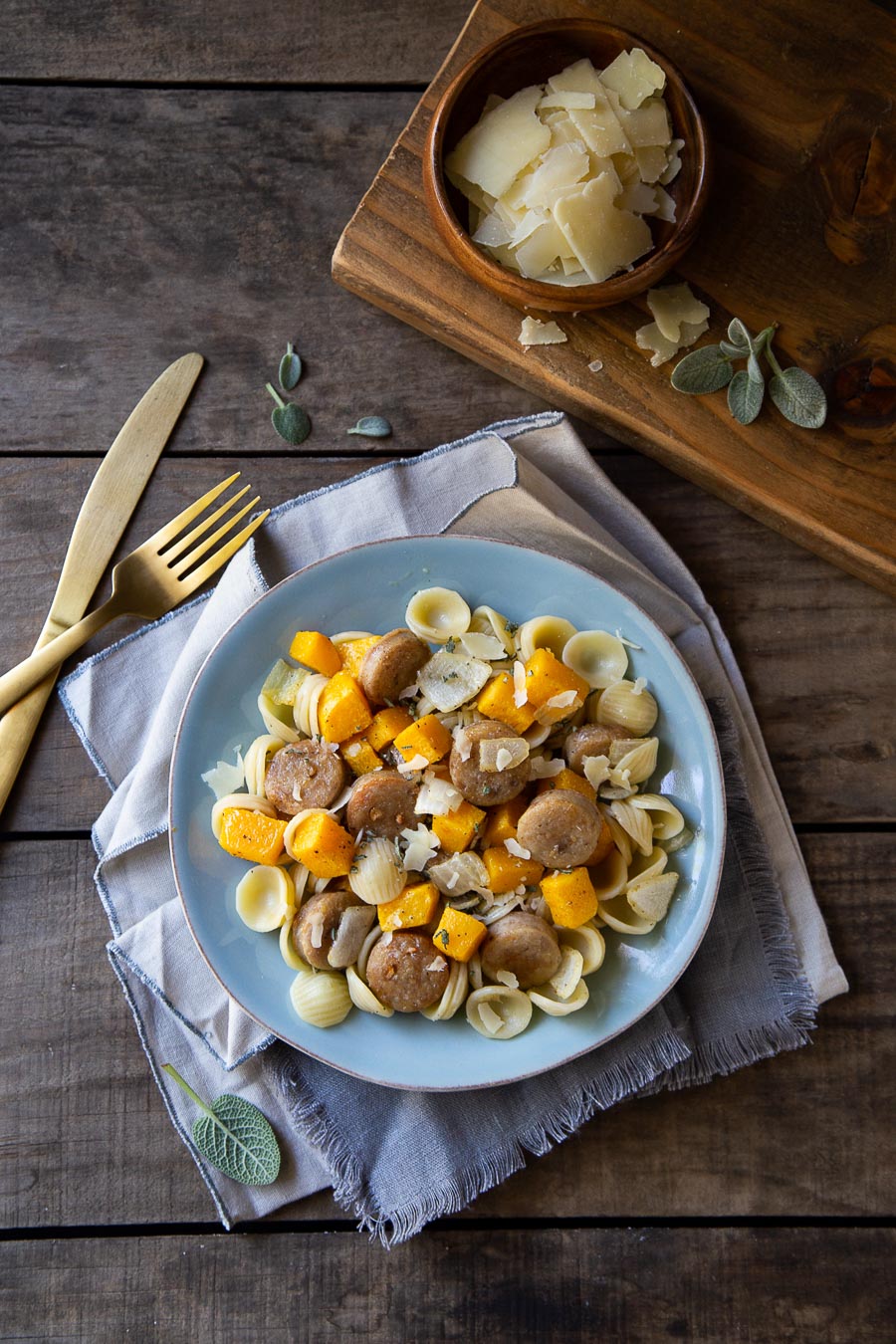 Are you already salivating? Yeah, me too! Is it bad to admit that? Hopefully not. Roasted squash of any kind has always be a favorite of mine, but I just love this roasted butternut squash pasta recipe – it's full of familiar fall flavors and it's so easy to make!
After the long, hot days of summer, I secretly look forward to days when turning on the oven and warming the house sounds so good.
This recipe roasts everything on a single sheet pan in the oven while you cook pasta on the stovetop. Then just mix together and enjoy!!
Roasted Butternut Squash Pasta
I've been a fan of roasted vegetables with pasta for a long time. I love how the depth of flavor that comes from roasting always pairs so well with pasta – especially orecchiette (why can I never spell that one right?).
The flavors of the veggies and sausage marry in the oven with just a little work on your side (a quick mixing halfway through).
Another hidden flavor in all this? The sweetness found in chicken apple sausages is a lovely addition to this mix. The herbs in the sausage as well as those added in, really make this dish delicious but not overpowering in flavor – perfect for a family dinner (especially with a 3 year old at our table)
But while this meal is easy enough for a weeknight (you could even pre-chop everything if you wanted), it's delicious enough for guests and a weekend get-together!
In the recipe below, sage and parmesan are listed as optional toppings, but I don't think they should be optional; they're just so good!! If you can't find fresh sage, fresh thyme would be good here.
And if you want to add a little kick to your roasted butternut squash pasta, feel free to add a few chili flakes like I did! So, so yummy!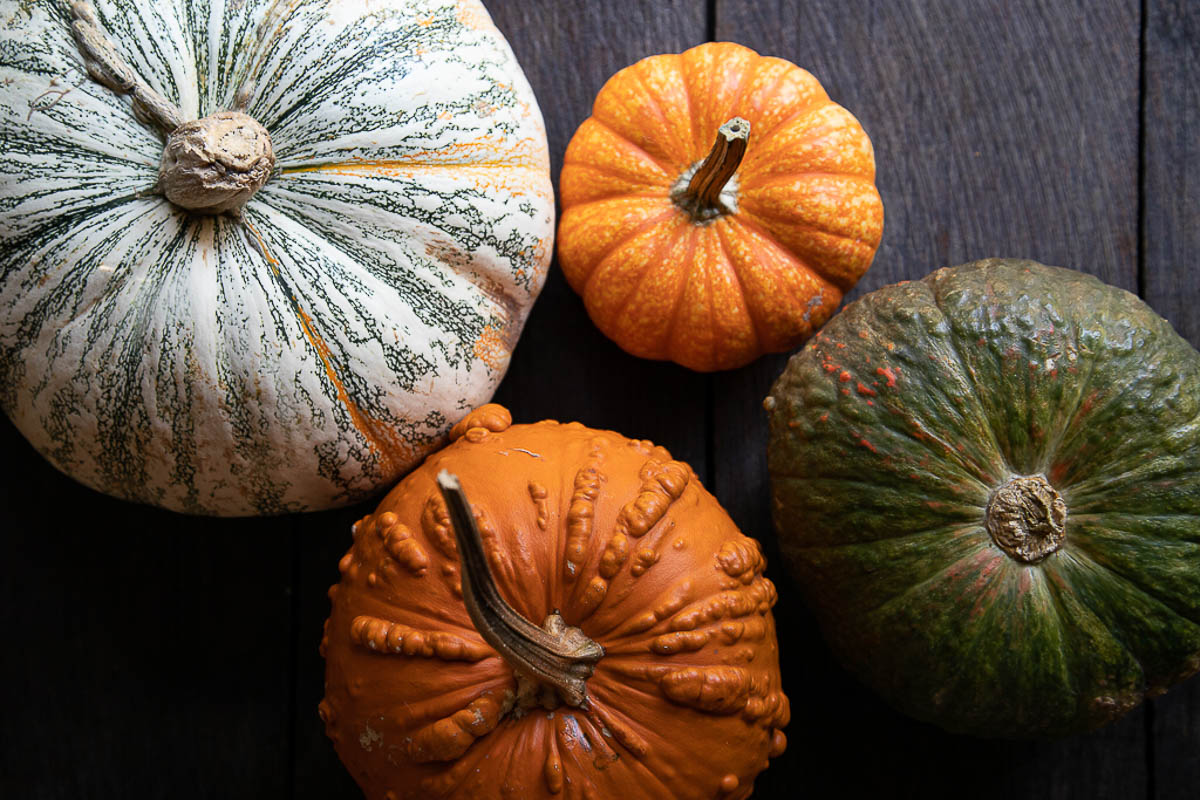 How do you Roast Butternut Squash?
Roasting squash is my favorite way to enjoy it. You can roast squash cut into piece like the recipe here or even sliced long wise and roasted whole (see a recipe here).
Roasting small pieces like this recipe requires some more olive oil at the beginning. Roasting it whole uses more steaming because the skin is left on to seal in the heat during cooking.
Can you use other winter squash?
In my neck of the woods, butternut squash tends to be the most commonly available. My mom is also growing it with gusto these days, which is amazing!!
But butternut squash isn't the only good winter squash to enjoy with pasta. In terms of consistency, acorn squash and kabocha squash (red or green) would be easy substitutes. I find butternut squash to be the easiest the cut and cook, but if you have the right knife you can do as you like!
What Goes with Butternut Squash
Herbs: Winter squash is a great place to experiment with other herbs. Fresh sage, rosemary, and thyme are some of my favorites with squash, but you could also try herbs de Provence.
Spices: Because winter squash is a fairly basic flavor, you can really use this as an opportunity to add some heat. I love adding chili flakes to this dish. In other dishes, you can try smoked paprika, chili powder, and the like. Kicky squash in tacos would be YUMMY!
Produce: Again, produce with more flavor are a good match. Onions and garlic are a yummy choice. If you like the jalapeños are a fun mix. You can also add in dried fruits (cranberries are my favorite for this) as well as chopped nuts.
Meats: I prefer saltier items such as bacon, prosciutto, and sausage. Chicken, turkey, and fish are certainly tasty with butternut squash, but you'll want to amp up the flavor of either the squash or the protein, so everything isn't so bland.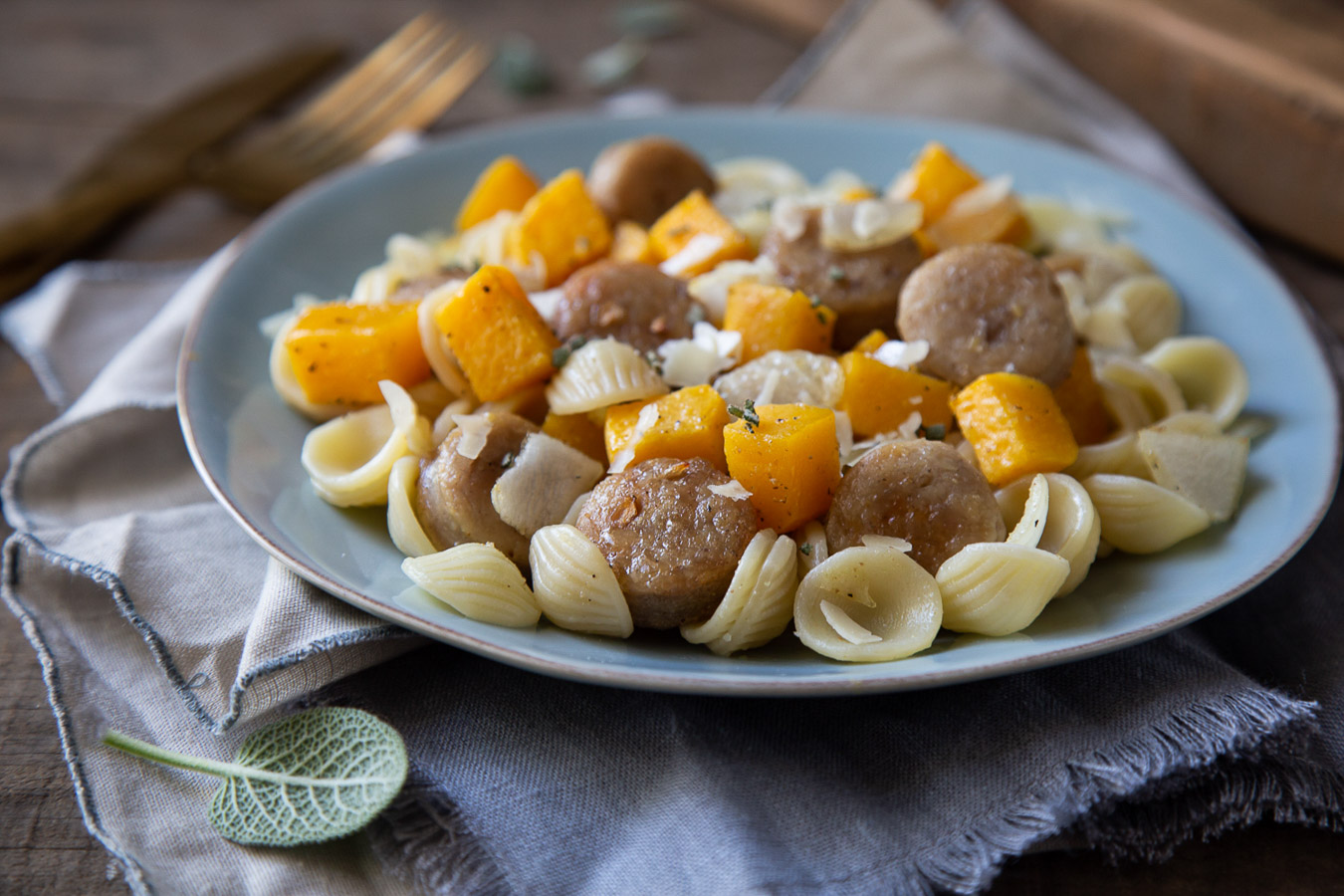 Sweet Butternut Squash Recipe
If you are blessed with an overabundance of butternut squash or just love it so much, you can't get enough (I feel you), try this cinnamon and brown sugar roasted butternut squash! It's my take on my mom's go to recipe growing up. It's sweet and absolutely divine – actually a wonderful side dish!
This butternut squash gratin looks pretty heavenly too!
If you're looking for other fully one pan meals, try this chicken potato bake!!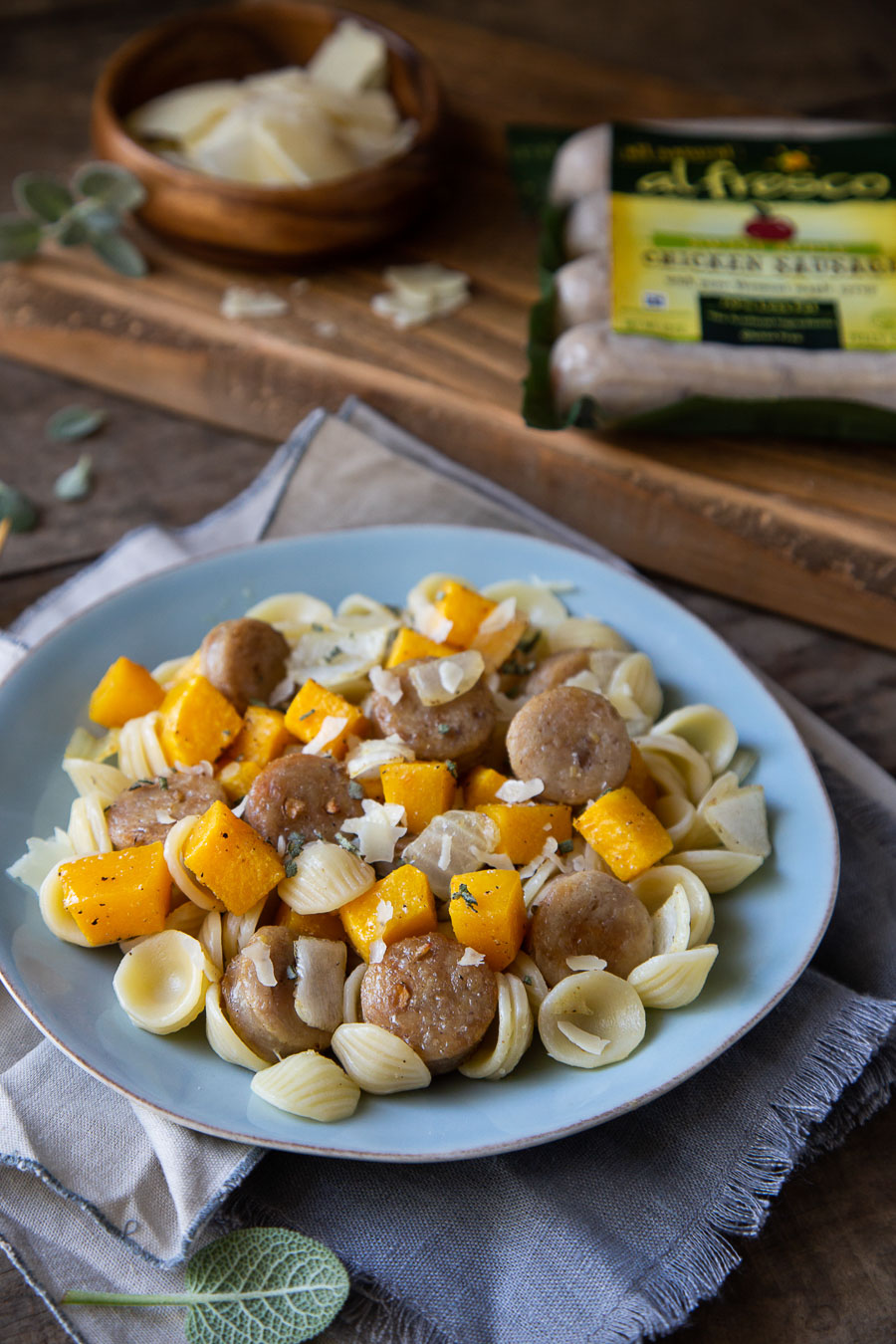 Other
Chicken Sausage Recipes
Try this one pot sausage pasta for dinner, a delicious fall salad topped with sliced chicken sausage, the most beautiful smoked sausage skillet with veggies, and this meal-prep sausage and polenta.
And don't skip this easy chicken sausage breakfast bowl that's SUCH a good, easy dinner idea!
Do You Have to Cook Chicken sausage?
A lot of friends ask me this question quite a bit. Every package of sausage will tell you whether it's cooked or not, so that' really the best way to get the answer for what you have on hand.
In general, I've found that most packaged sausage is fully cooked, so you don't need to handle chicken sausage as though it's raw.
Sausages purchased at a butcher counter, however, are almost always raw, so treat those differently. Those sausages also don't tend to slice as neatly before they're cooked, so there's that to keep in mind.
For ease, this butternut squash pasta recipe calls for pre-cooked chicken apple sausages, but you could easily use those from the butcher counter. Try cooking them whole on the pan and slicing later or serving them whole, atop the pasta.
SEASONAL RECIPE COOKBOOKS
DELICIOUS RECIPES TO ENJOY PRODUCE TO ITS FULLEST ALL YEAR ROUND. SIMPLE AND DELICIOUS RECIPES MADE FROM SCRATCH FOR YOUR FAMILY AND YOUR GUESTS ALL YEAR LONG!
SHOP NOW
Pasta Recipes
Want some other good pasta recipes? This lemon tuna pasta is easy, inexpensive and delicious! Simpler versions (great as a side dish too) are peas and pasta and this one pot summer veggie pasta is a mandatory one in our house. And leftover ham pasta (with asparagus) is a family favorite!
On the lighter side, this fresh cherry tomato pasta with ricotta is divine and this broccoli pasta is heartier than you'd ever expect from a plant-based meal!
Print Recipe
Roasted Butternut Squash Pasta
Fall dinners are always so delicious and filling, but they don't have to be difficult. Combine some of the best fall flavors in this easy dinner recipe for roasted butternut squash pasta. The veggies and sausage all roast together in the oven, making for a simple two-dish meal everyone will love! 
Ingredients
2

cups

cubed winter squash

such as butternut*

½

cup

chopped yellow onion

2

tablespoons

extra virgin olive oil

½

teaspoon

fine sea salt

¼

teaspoon

ground coriander

¼

teaspoon

garlic powder

¼

teaspoon

ground black pepper

4

pack cooked chicken apple sausage

sliced into ½-inch pieces

1

pound

orecchiette pasta

cooked according to package directions

Optional garnishes:  shaved parmesan

finely chopped fresh sage leaves
Instructions
Preheat the oven to 425°F.

Place the squash and onion in a medium bowl. Pour in the olive oil. Add the salt, coriander, garlic powder, and pepper. Stir to coat the vegetables with oil and seasonings. Transfer to a large, rimmed baking sheet.

Add the sausage to the sheet pan and spread everything into a single layer.

Bake for 10 minutes. Carefully remove from the oven and stir. Bake an additional 12 to 15 minutes, until the squash is tender and the sausage pieces begin to brown.

Divide the pasta evenly among four serving plates. Top with an equal amount of squash and sausage. Garnish with shaved parmesan and sage, if desired, before serving.
Notes
*Note:  Cut squash cubes to ½-inch to 1-inch in size. Smaller, similarly-sized cubes will roast more evenly and quickly.
Save this recipe on Pinterest!
Make this recipe? I'd love to see how it turned out…
PINTEREST: Upload a photo and your review to this Pin!
INSTAGRAM:  Tag me @lucismorsels and use #LMrecipes
Nutrition
Calories:
474
kcal
|
Carbohydrates:
55
g
|
Protein:
21
g
|
Fat:
20
g
|
Saturated Fat:
4
g
|
Polyunsaturated Fat:
1
g
|
Monounsaturated Fat:
5
g
|
Cholesterol:
60
mg
|
Sodium:
1167
mg
|
Potassium:
501
mg
|
Fiber:
5
g
|
Sugar:
5
g
|
Vitamin A:
12876
IU
|
Vitamin C:
28
mg
|
Calcium:
71
mg
|
Iron:
3
mg
Or if you want some other easy pasta dinner ideas, try this lemon tuna pasta and pea pasta sauce!