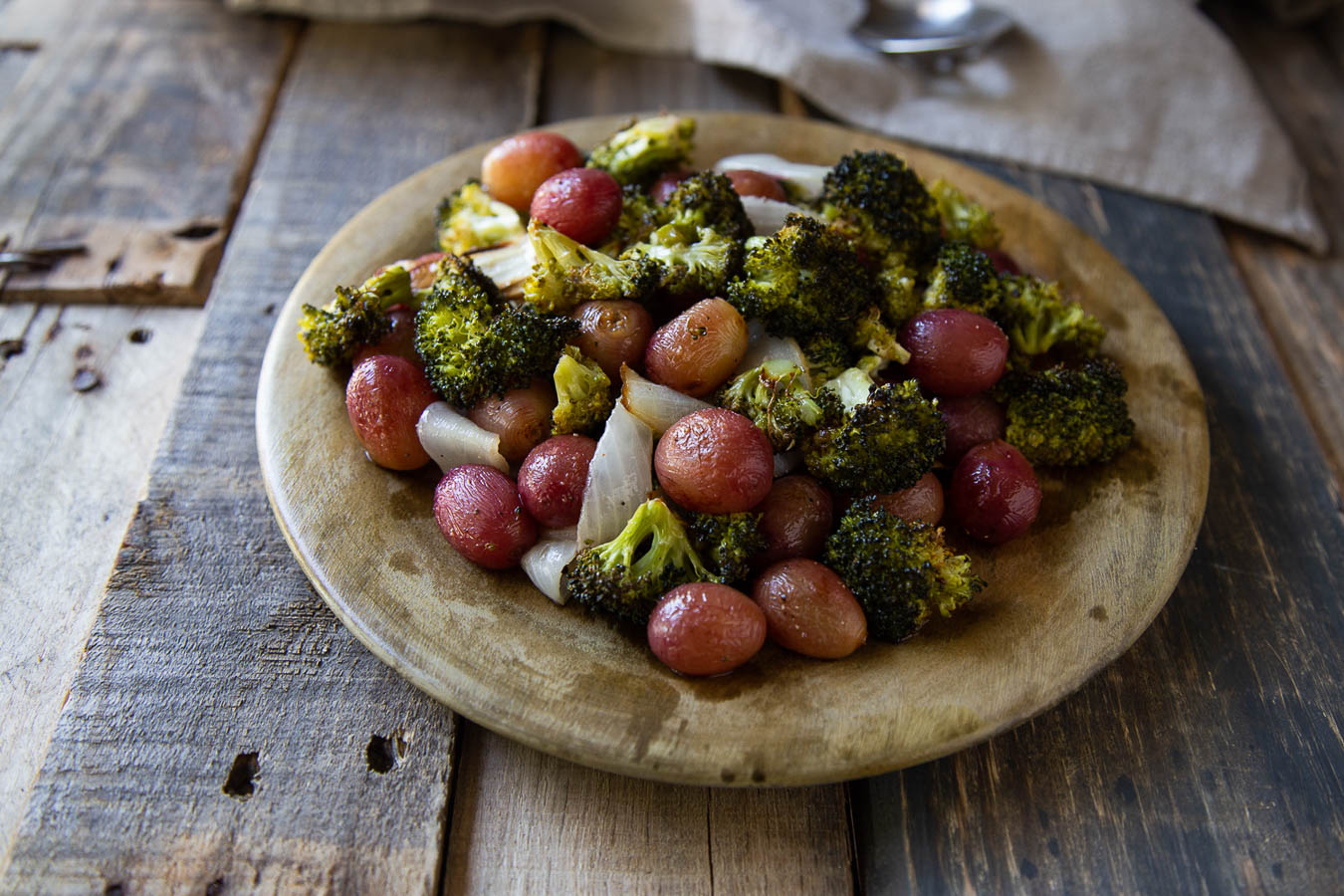 If you haven't roasted broccoli or grapes, you are definitely missing out! Each has its own flavors that transform when roasted, making this roasted broccoli salad a treat for all!
For a long time, I lived under the rock that thought grapes were only for eating off the stems. It was a harmless but very silly rock under which to live.
I remember in grad school bumping into a recipe for focaccia with roasted grapes from Williams Sonoma. I never made it, but I daydreamed about it – a recurring problem of mine.
And then finally a few years ago, I tried roasting grapes as I'd seen in a few recipes and on a few plates. And out from that silly rock I came…and in this roasted grape salad with broccoli, they're pure perfection!

Roasted Broccoli Salad
I'm a big fan of roasting broccoli. I ate it (and enjoyed it) steamed growing up, but once we started roasting it, I feel even more in love.
Roasted vegetables is actually how I get non-veggie lovers to enjoy veggies. In fact, last year for Thanksgiving, I made roasted broccoli for my husband's family. Before the meal was over, I had three people requesting a recipe.
Even his mother, who (notoriously in my book) doesn't like vegetables always requests that I make it whenever we're at her house for dinner!
So roasted broccoli on its own is a winner, but in this salad with roasted grapes and onions, it's even tastier.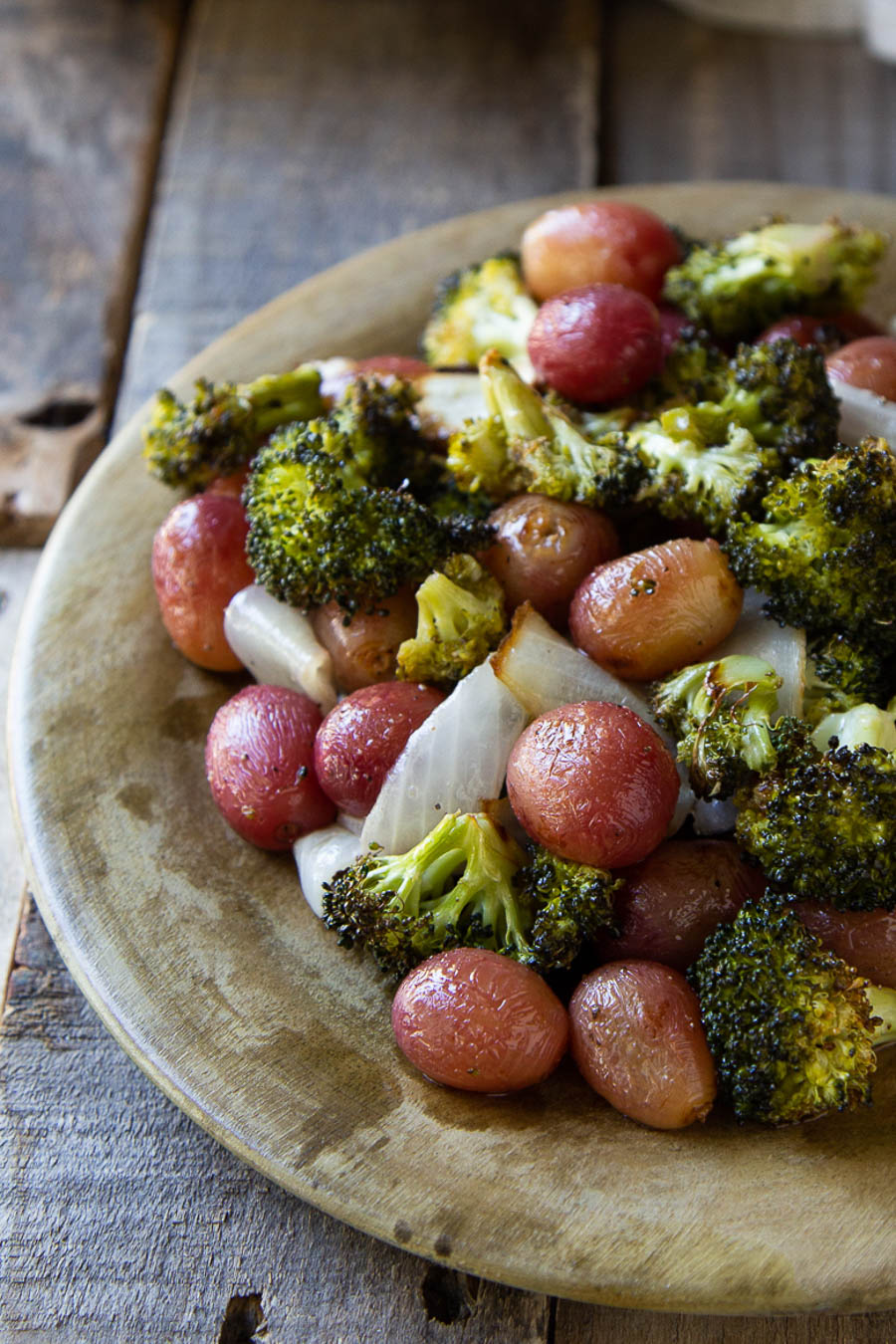 What's in Broccoli Salad?
I've seen a variety of broccoli salad combinations – namely the deli case version that has mayonnaise, raisins, and carrots mixed in with raw, finely chopped broccoli – certainly a good potluck option as well.
This recipe is a warmer, healthier version of a broccoli salad. It has roasted broccoli (my favorite way to eat it) along with roasted grapes and onions. The dressing is a lemon juice and olive mmix that's delicate and pairs nicely with the fresh roasted veggies.
Since it's all about easy deliciousness this time of year, this is another recipe where everything cooks together on one pan! I really think that roasting foods together marries the flavors better than anything else you can do. The juices start to mix together and yumminess transpires.

How do You Roast Broccoli
If you're a fan of broccoli, then you know roasting it makes it even more delicious. And if you aren't a fan of broccoli, roasting it is a good way to enjoy the vegetable that is very good for you (and very delicious)!
Roasted broccoli takes away a lot of "tree-like" crunch and adds a beautiful flavor and coloring to the florets. Since looks are a good portion of taste, this is important!
Similar to most roasted vegetable, broccoli is mixed with olive oil, salt, and pepper before being roasted on a sheet pan at 400°F for 25-40 minutes until tender.
The only thing I like to note is that you should fill your pan too full (a recurring problem of mine) as that crispiness (that's the selling point honestly) can't happen. It steams more than roasts – still edible and good, but not drop dead delicious
Also, broccoli shrinks down quite a bit when cooked, so what looks like A LOT of raw broccoli won't be as much as you think it will be when cooked.
I love this roasted broccoli salad with grapes on its own, but next time I make it, I think I'll add in some quinoa or farro so I can have it as my main dish! It's that good!
Roasting Grapes
Have you ever roasted grapes? They're impossibly good. They get a little crystalized and they're rather sweet, so they're great paired with other neutral or savory foods.
I've topped salad recipes with them, finished off a burrata toast with them, and now, it's this roasted broccoli salad.
Can you cook fresh grapes?
Yes! If you've ever had grilled fruit in the summer, you know that cooking fruit really adds to the natural sweetness of fruit, often adding a caramelization that's so yummy.
A similar thing happens with grapes in the oven! They soften more and get that lovely roasted flavor. It really is a fun treat!
Salad Recipes
Love simple but scrumptious salads? Try this kale farro salad, swiss chard with ginger (a great side dish), this orange beet salad in winter, and Avocado + Bean salad. Of course these salad toppings will have you covered any time of year!
Print Recipe
ROASTED BROCCOLI SALAD w. ROASTED GRAPES
A delicious recipe for a roasted grape salad with roasted broccoli florets captures all the fresh flavors of fall in an easy sheet pan recipe! Serve as salad or side dish. This is a recipe you'll fall in love with again and again.
Ingredients
2 ½

cups

small broccoli florets

1

medium yellow onion

cut into wedges or slices

2

cups

seedless red grapes

2

tablespoons

extra virgin olive oil
Lemon Vinaigrette
4

tablespoons

extra virgin olive oil

1

tablespoon

fresh lemon juice

¾

teaspoon

fine sea salt

¼

teaspoon

ground black pepper
Instructions
Preheat the oven to 425 degrees F.

Spread the broccoli, onion, and grapes onto a large rimmed baking sheet. Drizzle with the olive oil and stir to coat all ingredients. Spread into a single layer.

Bake for 10 minutes. Carefully remove from the oven. Stir and spread back into a single layer. Bake for 13 to 15 more minutes, until the broccoli is tender and the warmed grapes have darkened and shriveled a little.

To make the vinaigrette, whisk together the oil, lemon juice, salt, and pepper in a small dish. Pour the dressing over the salad. Toss to coat well. Transfer to a platter or bowl and serve warm.
Nutrition
Calories:
269
kcal
|
Carbohydrates:
20
g
|
Protein:
2
g
|
Fat:
21
g
|
Saturated Fat:
3
g
|
Polyunsaturated Fat:
2
g
|
Monounsaturated Fat:
15
g
|
Sodium:
458
mg
|
Potassium:
370
mg
|
Fiber:
3
g
|
Sugar:
14
g
|
Vitamin A:
406
IU
|
Vitamin C:
57
mg
|
Calcium:
42
mg
|
Iron:
1
mg