These date and orange biscotti were the delicious result of having friends with an overabundant citrus tree.
About a year ago, I shared a recipe for healthy orange breakfast muffins following our friends' purchase of a house with huge orange and lemons trees in the backyard. Having dinner together recently, these same friends invited us back over to pick some of our own citrus.
If you have a garden or even just a single tree that loves to inundate you with fruits, be sure to share it (for free, ideally) with friends and neighbors to be able to avoid food waste!
Their trees were full of fresh fruit – many the size of softballs and ready to be enjoyed. We brought home a big bag of oranges and lemons. As I cleaned them off, I started pondering recipes to make.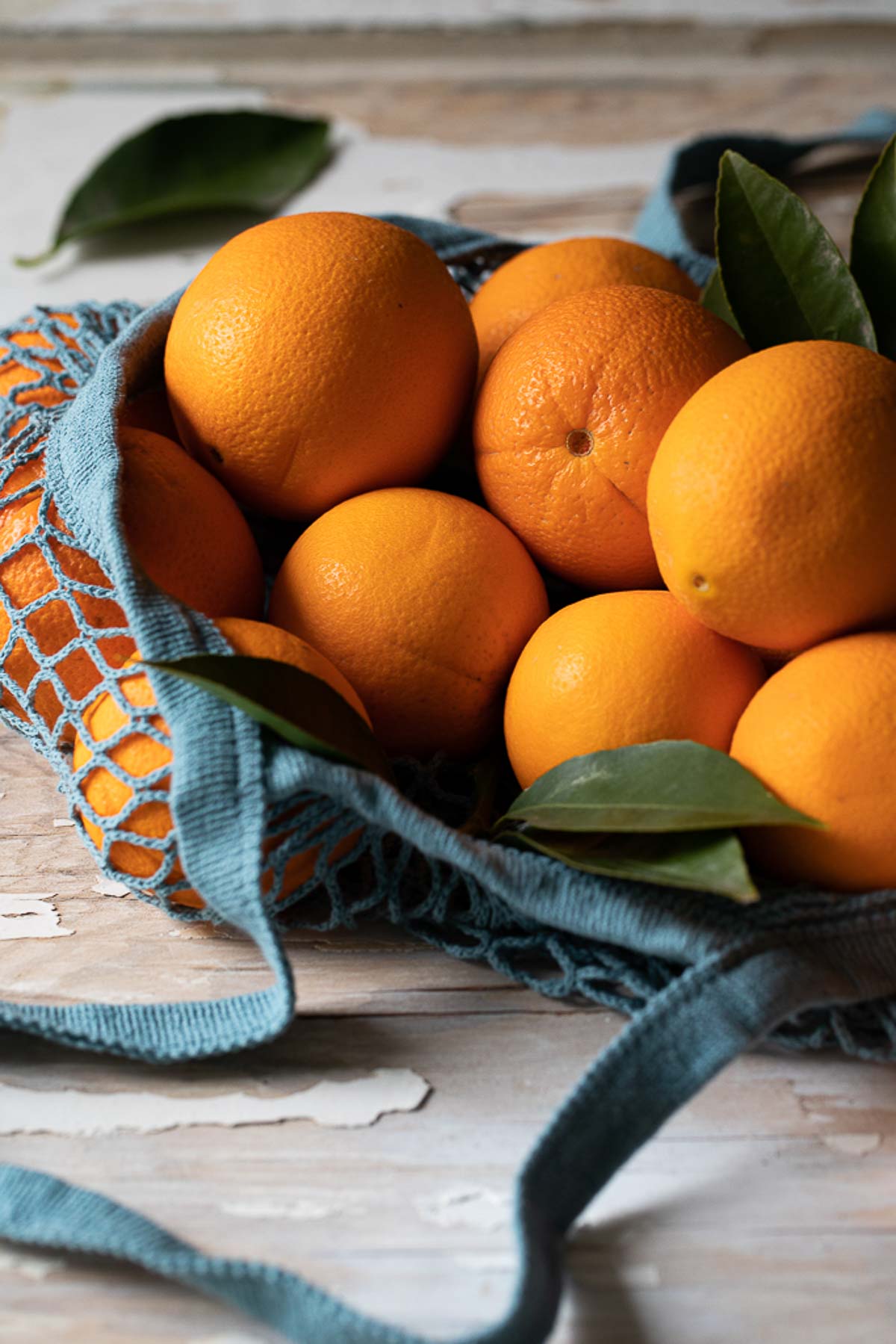 I remember (and thinking constantly about) the delicious combination of orange and dates from a delicious appetizer I had once and thought how delicious a dried date and orange biscotti would be.
I ran a test batch just to make sure. I'm a big fan of my lemon almond biscotti and it's usually pretty tough to replicate their deliciousness, but these orange biscotti are certainly giving them a run for their money.
The bits of date add a nice chew, occasionally. The extra vanilla sweetens the tang of the orange zest without making the biscotti too sweet. It's a rather perfect combination!
Orange Biscotti
At this point, I'm firmly of the opinion that perfect biscotti needs a citrus zest of some kind. With little in the way of fat in this recipe, it can easily become a sweet, carby recipe which isn't bad, but it's not great!
The zest of the citrus adds just that bit of tang to balance it all out. And I just love the addition of the chopped dates.
Dried dates give off a flavor of chocolate, so it seems like a chocolate chip, orange biscotti. In reality it's much lighter and healthier than that!
Are these biscotti crunchy?
Yep! Biscotti are crunchy cookies. They're designed to be enjoyed with a hot drink (though they work in cold drinks too – I can vouch for that). So instead of a soft cookie getting squishy, a dunked biscotti will become an enjoyable and edible with a bite to it still?
Can you make them less crunchy? Yep. Two options here.
First, the baking on biscotti recipes is two fold. First you baked the batter into a flat loaf. Then you slice them into the biscotti size and bake again.
You can always just stop after the first bake. Everything will be cooked and you'll have a dense bread-liek cookie on your hands.
Alternatively, you can cut the second baking time down. My recipe calls for 25 minutes of additional baking. Try 10 or 20 minutes and find your ideal biscotti crunchiness!
how do you store biscotti?
This recipe makes quite a few biscotti and they aren't a cookie you're apt to eat in an overwhelming quantity at a given time (though I have considered it upon occasion).
I often keep a few on the counter in a sealed container to grab over the next few days.
Otherwise, I put them in a sealed container (often a stasher bag) in the freezer where they'll stay fresh up to two months.
Biscotti Recipes
Want more biscotti in your life? I always do. Try these lemon almond biscotti, cranberry biscotti, and these cardamom hazelnut biscotti!
Get more seasonal winter recipes as well as a list (and recipes) of what's in season for winter!
SEASONAL RECIPE COOKBOOKS
DELICIOUS RECIPES TO ENJOY PRODUCE TO ITS FULLEST ALL YEAR ROUND. SIMPLE AND DELICIOUS RECIPES MADE FROM SCRATCH FOR YOUR FAMILY AND YOUR GUESTS ALL YEAR LONG!
Print Recipe
ORANGE BISCOTTI
I LOVE homemade biscotti. I usually just switch up my traditional lemon almond biscotti recipe a bit and it never fails. These orange and date biscotti are one such switch that was too good not to share. They seem far more indulgent than they really are, which makes them pure perfection in my book!
Ingredients
2

cups

flour

¾

cup

cornmeal

1½

teaspoons

baking powder

1

teaspoon

salt

1

cup

sugar

3

eggs

2

tablespoons

orange zest

about 2 large oranges

1¼

teaspoons

vanilla extract

⅓

cup

dried dates

finely chopped
Instructions
Line baking sheet with parchment paper. In a large measuring cup or bowl, mix together flour, cornmeal, baking powder, and salt.

In stand mixer, or large bowl, beat sugar and eggs until pale yellow. Mix in orange zest and vanilla extract. Add in flour. Mix until just blended (dough will be sticky). Stir in dates. Let dough rest for five minutes.

Divide the dough in half. With wet palms (just run under faucet), shape dough into two flat "logs" – about 1″ high.

Bake for 35 minutes until lightly browned. Cool for 5 minutes.

Using a serrated knife, carefully cut the cookies diagonally, crosswise into ¾-inch-thick slices. Arrange the biscotti cut side down on the sheet.

Bake about 25 minutes. Let cool completely.
Nutrition
Calories:
103
kcal
|
Carbohydrates:
22
g
|
Protein:
2
g
|
Fat:
1
g
|
Saturated Fat:
0.2
g
|
Polyunsaturated Fat:
0.2
g
|
Monounsaturated Fat:
0.3
g
|
Trans Fat:
0.002
g
|
Cholesterol:
20
mg
|
Sodium:
202
mg
|
Potassium:
46
mg
|
Fiber:
1
g
|
Sugar:
10
g
|
Vitamin A:
50
IU
|
Vitamin C:
1
mg
|
Calcium:
37
mg
|
Iron:
1
mg