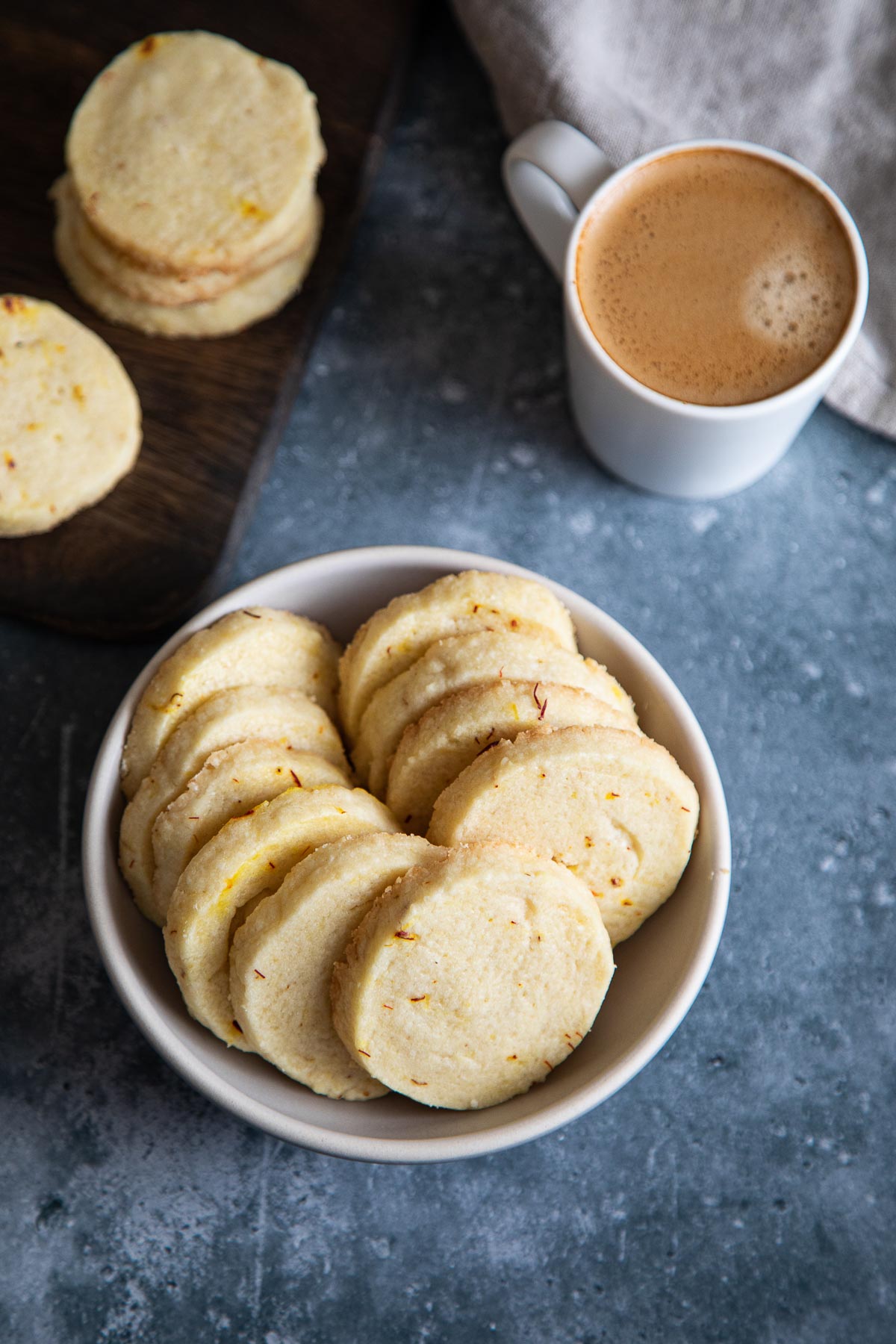 Saffron cookies are an unexpected morsel. The earthy, unique flavor of saffron is surrounded in a familiar butter cookie for a deliciously balanced recipe.
As much as we love cookies in our household, my husband is very faithful to the classic chocolate chip cookie. And as I say time and time again, we think our homemade version is the best, so I can understand why he reverts to his favorite.
But sometimes his loyalty stifles my creativity because I know he won't help me eat as many cookies as I'd like! But in the name of variety and experimentation, I do try new recipes here and there.
Hence a return to these saffron cookies that are deliciously unique and unexpected while comforting all at the same time!
Saffron Cookies
Another exciting thing about this saffron recipe is that now we have a second recipe that calls for saffron. I love a good paella, but it's a bit of an undertaking, so it's not on my normal rotation in any way shape or form.
Instead of going full force with paella, however, you can add some saffron, dried thyme, salt, and pepper into your rice dish one night for a fun twist on a household favorite!
And then use more of the saffron in a tasty afternoon morsel or after dinner treat!
Where to buy saffron
Saffron can be very expensive, but Trader Joe's sells a small vial of it (the amount called for in this recipe in fact) for $6. Since you probably already have the flour, butter, and sugar, and possibly the orange juice, it's worth the splurge!
If you've never smelled or tasted saffron before, these cookies might taste a little funny at first. The saffron flavor is mild. So mild, in fact, that you might not even be able to tell that it's what you're tasting (besides the delicious butter cookie of course).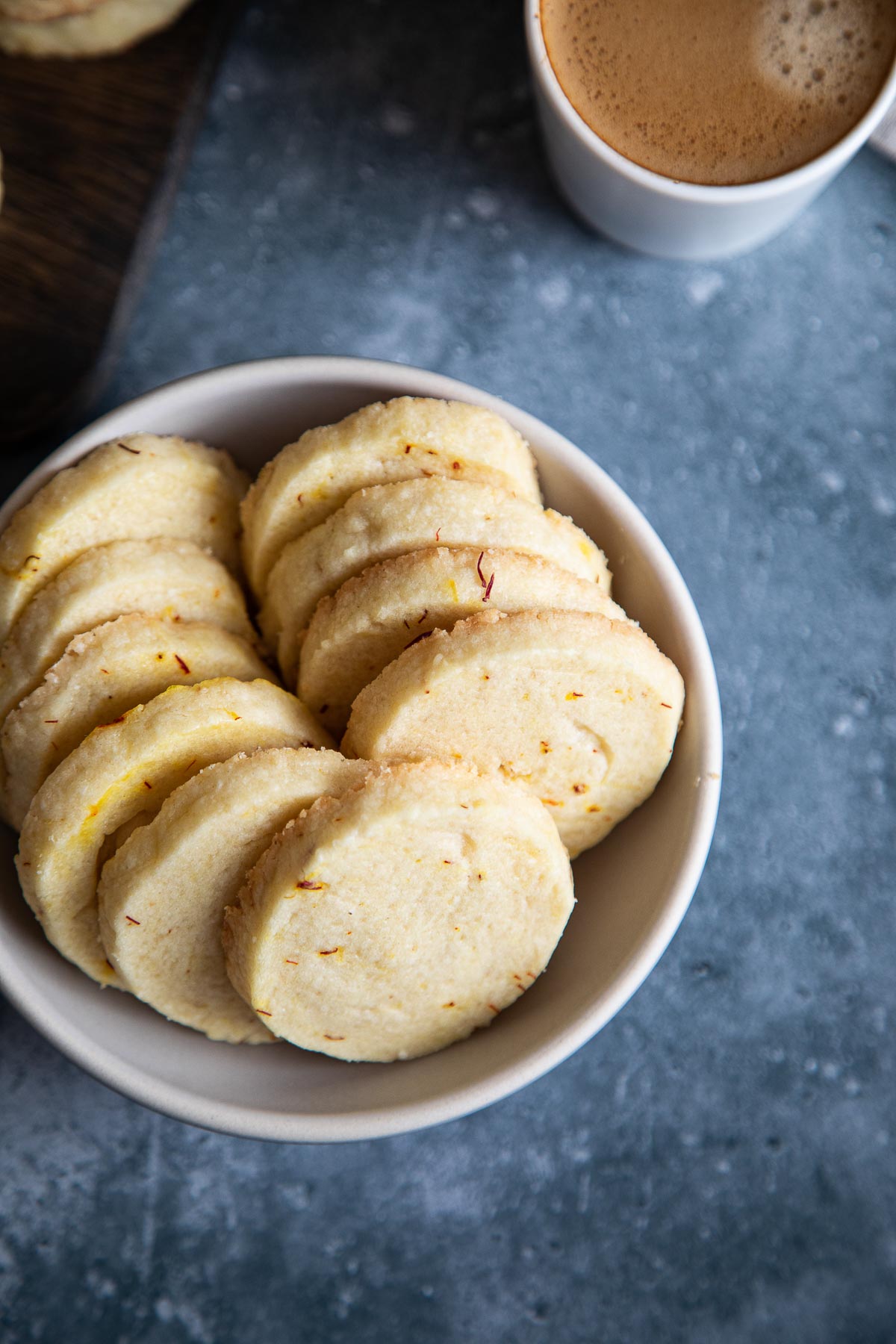 But as you make your way through the first cookie, and then, inevitably, the second, you'll learn to have a better knowledge of saffron's true flavor and you'll have fewer and fewer cookies you have to share with friends. It's the price to pay for unique deliciousness!
Why is Saffron good for you?
If you haven't heard, saffron is actually a great thing to have in your diet. The flower stigma are high in antioxidants and studies are showing its positive effects on mood, memory, and even pms symptoms.
I'm slowly learning more about what herbs and spices are just so good for your health and trying to incorporate them more into our foods. While I might recommend a high-quality saffron supplement rather than eating your fair share of saffron cookies to regularly reap the benefits, I'm not saying there isn't some goodness to enjoy both ways!
If you love cookies as much as we do, you love these peanut butter granola cookies, muesli cookies, key lime cookies, and pistachio shortbread!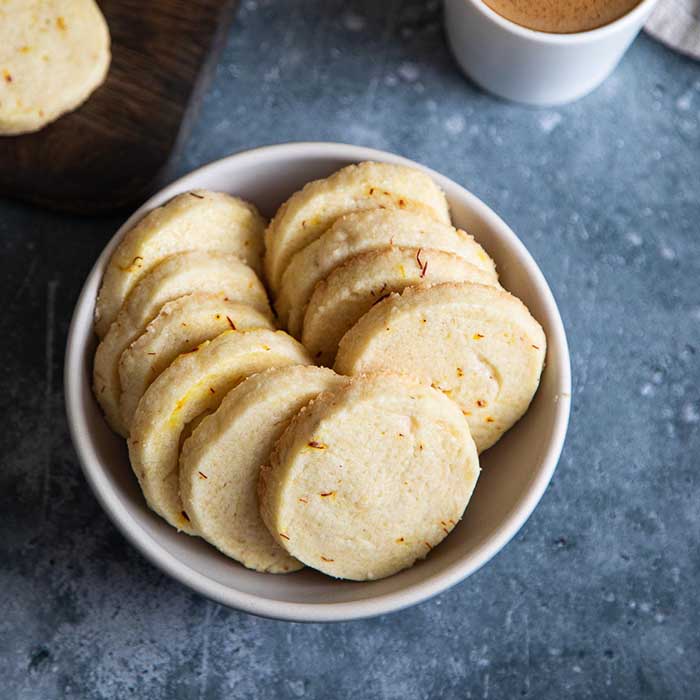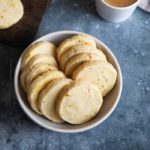 Print Recipe
SAFFRON COOKIES
I'm fairly convinced all shortbread cookies are delicious. This fun twist on a traditional cookie with flavorful saffron is just an easy way to take your traditional butter cookie and turn it into an experience! You'll love the flavors in these saffron cookies.
Ingredients
¾

Cup

butter

softened

¼

Cup

sugar

2

Cups

flour

.70 grams/.02oz saffron threads

approx. 2-3 teaspoons

1-2

Tablespoons

orange juice

small bowl of water
Instructions
Mix butter and sugar in a large bowl. Pinch saffron thread between fingers to break them up and release flavors. Add saffron and flour to butter mixture. Add in one tablespoon orange juice. Continue adding juice, one teaspoon at a time until dough comes together.

Divide dough in half. Roll each half into a log (roughly 1-½ inch tall). Wrap in plastic wrap. Refrigerate at least one hour

Preheat oven to 350 degrees.

Remove one dough roll from refrigerator and remove plastic wrap. Slice into ½ inch pieces and place on ungreased cookie sheet. Dab fingertips in small bowl of water and gently rub tops of cookies to even out the surface.

Bake twenty minutes or until set. Remove to wire rack immediately.
Nutrition
Calories:
65
kcal
|
Carbohydrates:
7
g
|
Protein:
1
g
|
Fat:
4
g
|
Saturated Fat:
2
g
|
Polyunsaturated Fat:
0.2
g
|
Monounsaturated Fat:
1
g
|
Trans Fat:
0.2
g
|
Cholesterol:
10
mg
|
Sodium:
31
mg
|
Potassium:
10
mg
|
Fiber:
0.2
g
|
Sugar:
1
g
|
Vitamin A:
119
IU
|
Vitamin C:
0.3
mg
|
Calcium:
2
mg
|
Iron:
0.3
mg