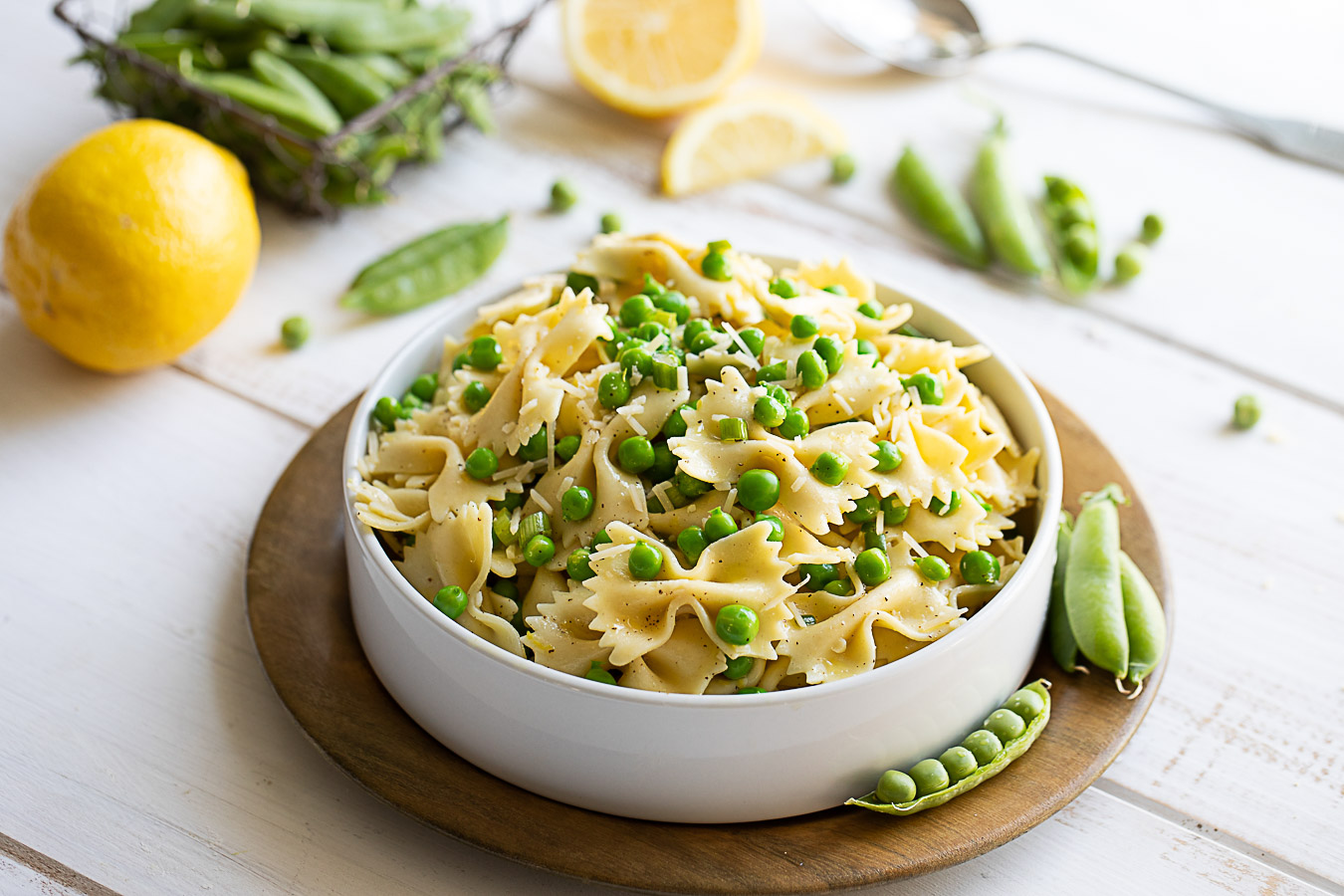 Let's just get to it with this healthy pasta salad situation – a lemon and pea pasta salad that's everything you want and nothing you don't!
Oh, spring produce! I'm a year round produce lover – no surprise there – but spring and summer are kind of my favorites. I'm a sucker for watermelon, strawberries, and tomatoes. I can't help it, I'm sorry.
Spring and summer produce tend to be so full of flavor and they usually require little work to enjoy. Of course, I'll put in the bit of time for the winter root veggies, but there's just something about now through September-ish that makes my fruit and veggie-loving self so very happy.
Pea Pasta Salad

Healthy Pasta Salad
Pasta salad in the traditional sense is so heavy and so unhealthy. In addition to the carby pasta (it is what it is, party people!), they're usually coated in a heavy, creamy dressing and if you're lucky have some finely chopped scallions or something thrown in.
Besides being comfort food for some (it's never been my cup of tea), there's really no food value in that setup.
So how do you make a healthy pasta salad? Load it up with veggies and make an olive-oil based dressing!
For this pea pasta salad, the bright flavors come from the fresh peas, lemon zest and juice, and great olive oil. There's even some parmesan cheese in there for an extra level of tastiness!
If you're looking for other healthy pasta salads, try this supergreens pasta salad. Any of these salads can be made into a small meal or served as a side dish. My favorite thing in the hot, summer months!

Fresh vs. Frozen Peas?
Ok. But this pea pasta salad. First of all, the recipe calls for fresh peas – because it's pea season and they're so dang good.
You can always use frozen peas. Just let them defrost. A note on the frozen peas, however. Be sure to look at the ingredients. Even if you can skip the usual nonsense, there's usually salt added. And frankly, I like adding my own salt. A lot of my own salt, never fret, but my own nevertheless.
And remember for lemon zest, you want to use organic lemons. I like to steal them from friends with trees if I can, but I'm not always so lucky!

Leftover Pasta Salad
One of the things I do totally love about pasta salad, however, is that it is great for more than one meal. I love nibbling it cold from the fridge. It's great reheated really, but on those hot, summer days, just straight out of the fridge it is for me!!
Because there's no dairy in the sauce for this dish, it's also an easy one to pack up for a picnic or lunch at work. There is parmesan, but you can either omit that until serving or keep it all refrigerated until lunch!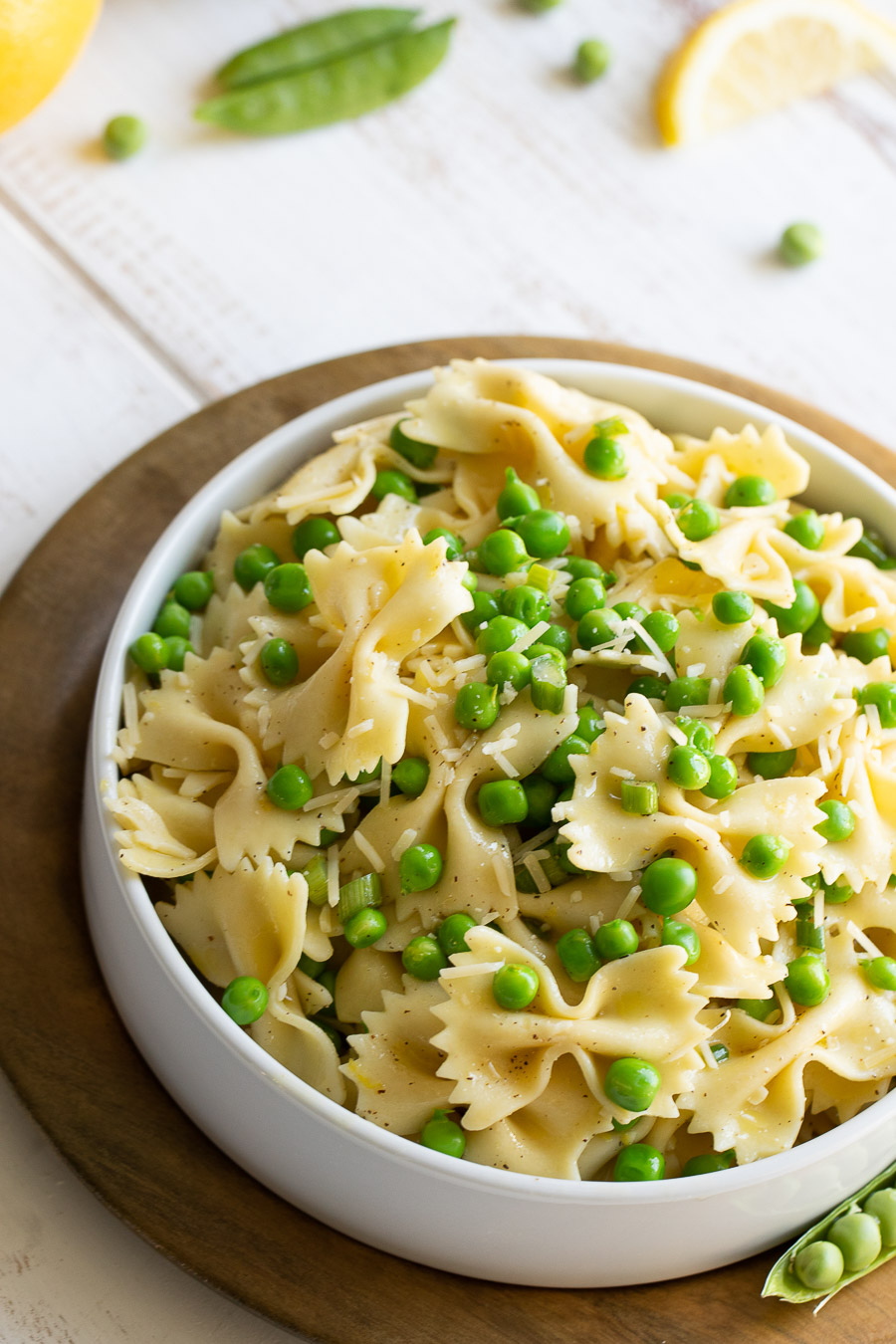 Want some other good pasta recipes? This lemon tuna pasta is easy, inexpensive and delicious! Simpler versions (great as a side dish too) are peas and pasta, this one pot summer veggie pasta that my family adores, and this cabbage pasta recipe that's great for sneaking in veggies!
On the lighter side, this fresh cherry tomato pasta with ricotta is divine and this broccoli pasta is heartier than you'd ever expect from a plant-based meal!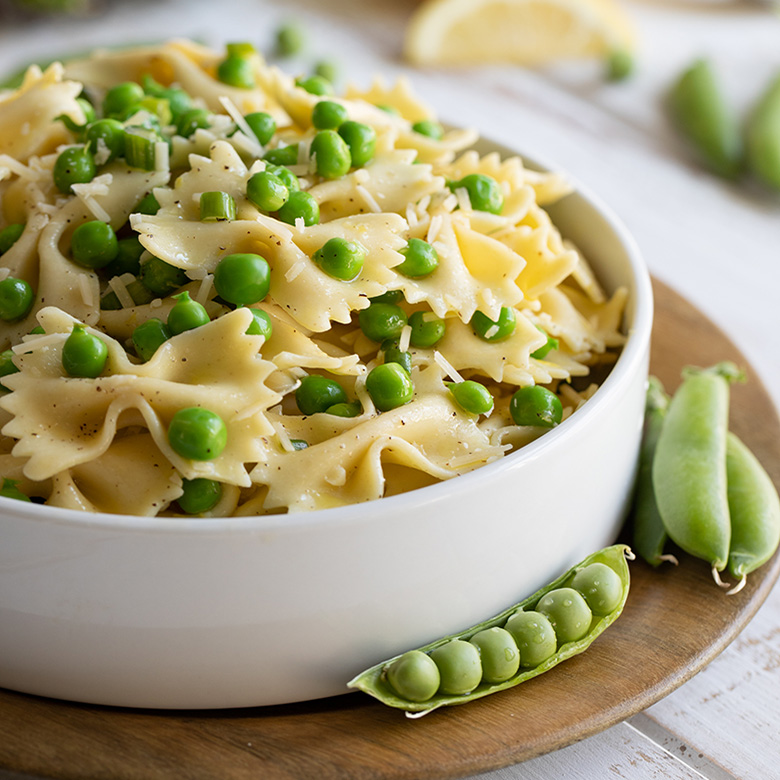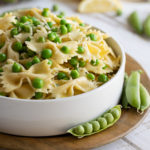 Print Recipe
Healthy Pea Pasta Salad
If you think of a heavy side when you think pasta salad, think again! This healthy pasta salad is light and full of flavor from fresh peas, lemon zest, and green onions! This pea pasta salad will be your new side dish and potluck recipe go to!
Ingredients
1

cup

freshly shelled spring peas*

3

green onions

sliced

12

ounces

bowtie pasta

cooked and cooled

3

tablespoons

extra virgin olive oil

1

teaspoon

lemon zest

1

tablespoon

fresh lemon juice

¾

teaspoon

fine sea salt

or to taste

¼

teaspoon

ground black pepper

2

tablespoons

shredded Parmesan
Instructions
Bring 2 cups of water to a boil in a medium saucepan. Add the peas and cook for 60 seconds. Use a slotted spoon to transfer to a large bowl filled with 1 cup of ice water for 1 minute. Drain the water from the peas. Add the green onions and pasta to the bowl and stir well.

In a small bowl whisk together the olive oil, lemon zest, lemon juice, salt, and pepper. Pour over the pasta salad and toss to coat.

Stir in the Parmesan and chill until ready to serve.
Notes
*You can use frozen peas. Just let them defrost and then follow the directions as written.
Make this recipe? I'd love to see how it turned out…
PINTEREST: Upload a photo and your review to this Pin!
INSTAGRAM:  Tag me @lucismorsels and use #LMrecipes
Nutrition
Calories:
180
kcal
|
Carbohydrates:
22
g
|
Protein:
5
g
|
Fat:
8
g
|
Saturated Fat:
1
g
|
Polyunsaturated Fat:
1
g
|
Monounsaturated Fat:
5
g
|
Cholesterol:
1
mg
|
Sodium:
320
mg
|
Potassium:
106
mg
|
Fiber:
3
g
|
Sugar:
2
g
|
Vitamin A:
258
IU
|
Vitamin C:
12
mg
|
Calcium:
35
mg
|
Iron:
1
mg
SPRING & SUMMER COOKBOOK
DELICIOUS RECIPES TO ENJOY SPRING & SUMMER PRODUCE TO ITS FULLEST. SIMPLE AND DELICIOUS RECIPES MADE FROM SCRATCH FOR YOUR FAMILY AND YOUR GUESTS ALL SUMMER LONG!