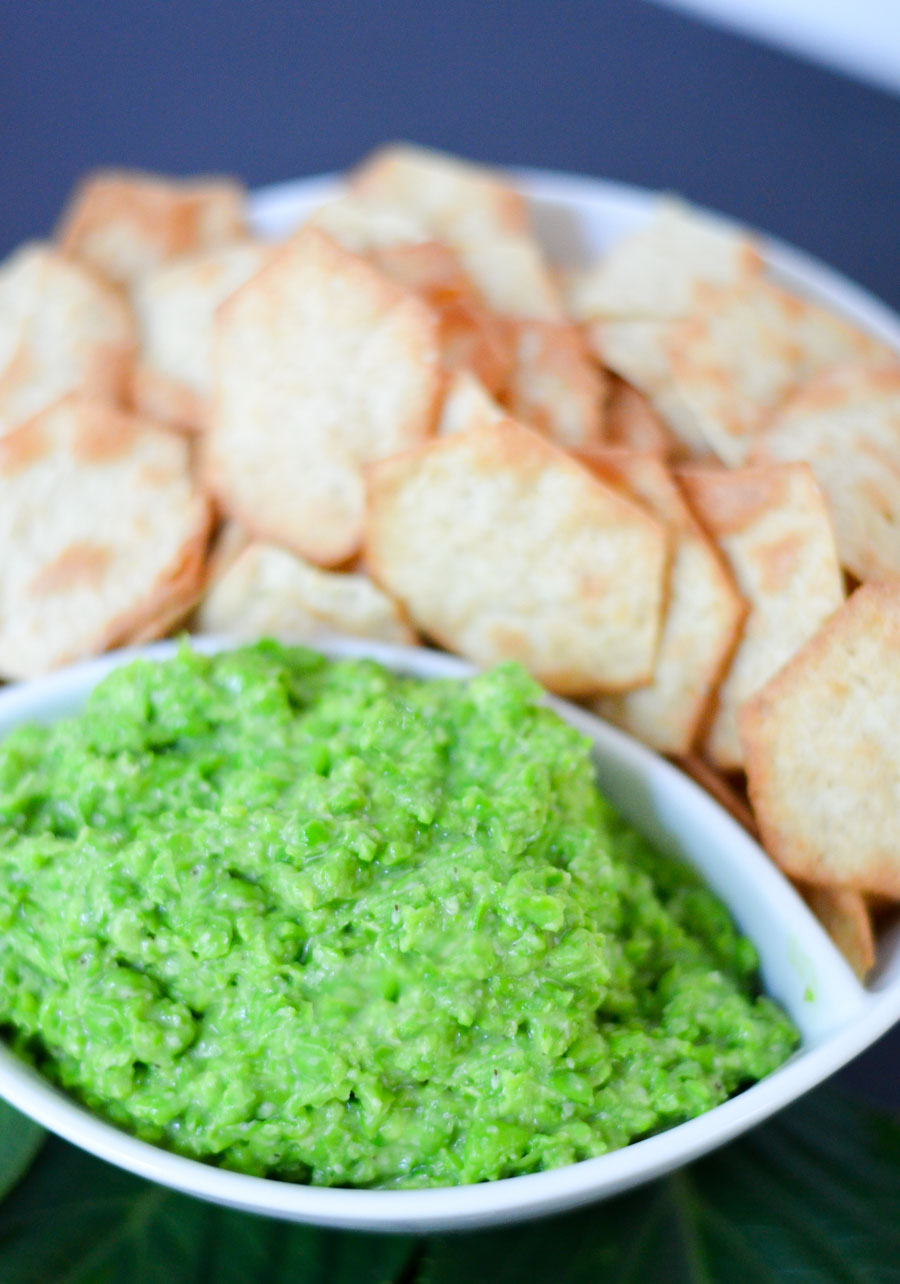 Have you ever had pea pesto? If so, then you know how fresh and delicious it is. If not, get ready.
Pea pesto is such a simple recipe with such a great flavor depth. it's great as a dip, as a past sauce, and as an accompaniment to seafood (scallops and shrimp in particular).
This dip has such a vibrant color and great taste. Filled with peas and olive oil, it's a healthier dish that we love to take to potlucks and serve at parties. Also, because it uses frozen peas (fresh is fine), it isn't very expensive. What's not to love about that?

Easy Pea Pesto
We never ate peas growing up – fresh, frozen, or canned, so my love and appreciation for them didn't happen until my mid-20s.
I bought a bag of frozen peas and quickly realized how versatile (and inexpensive) they are.
Then I started noticing just how often peas were in dishes at our favorite restaurants – mixed in with my Tikka Masala or my favorite mexican rice.
My favorite way to enjoy them is in this fast and easy vegetarian pasta dinner and this almost identical canned tuna dinner recipe. These two dinners are my ultimate in fallback easy dinners!
So, anyway, pea pesto has just six ingredients if you break up the salt & pepper – peas, garlic, Parmesan cheese, olive oil, and the salt & pepper. it comes together quickly and even freezes!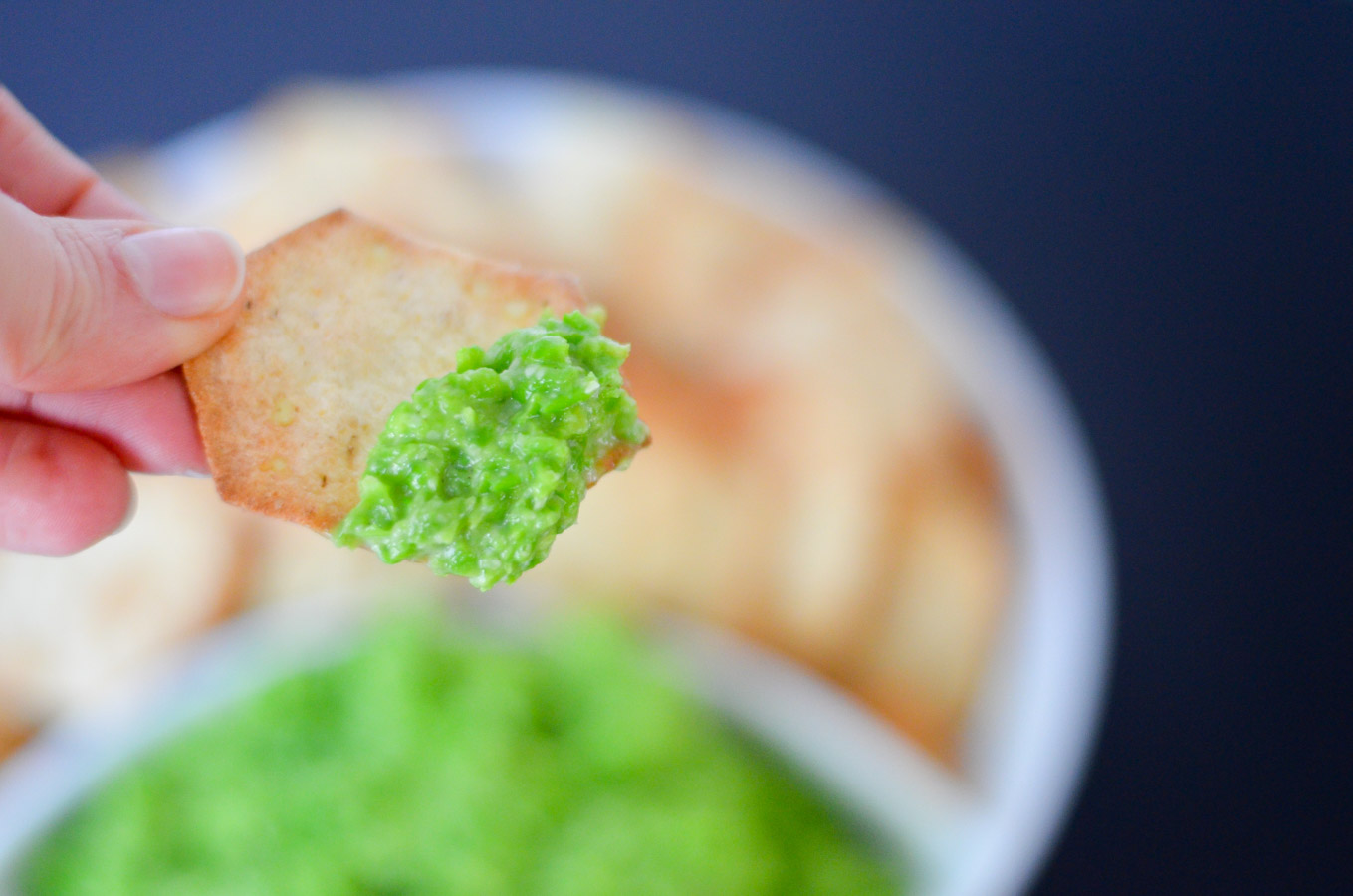 Can you freeze pea pesto?
Totally. Just like with all pestos, it freezes easily. Depending on how you enjoy it, you can freeze it in any size (single servings or enough for a potluck dish). Freeze in a sealed container. To defrost, merely pull it out and let it defrost at room temp or in the fridge.
Fresh Peas in Place of Frozen Peas?
If it's time for spring produce, then you might be more apt to have fresh peas on hand. You can absolutely use fresh peas, you'll just want to cook them a bit first.
Wash shelled peas. Blanch in boiling water for 2 minutes before removing to a bowl of ice water. Drain well. Then they're ready to freeze in a sealed container or to use in place of frozen peas in any recipe.
Can you use Canned peas?
Technically, yes, you can. I don't particularly enjoy canned peas as much as fresh or frozen, so it isn't something I'd recommend, but if it's what you have and you enjoy the flavor, then please do so.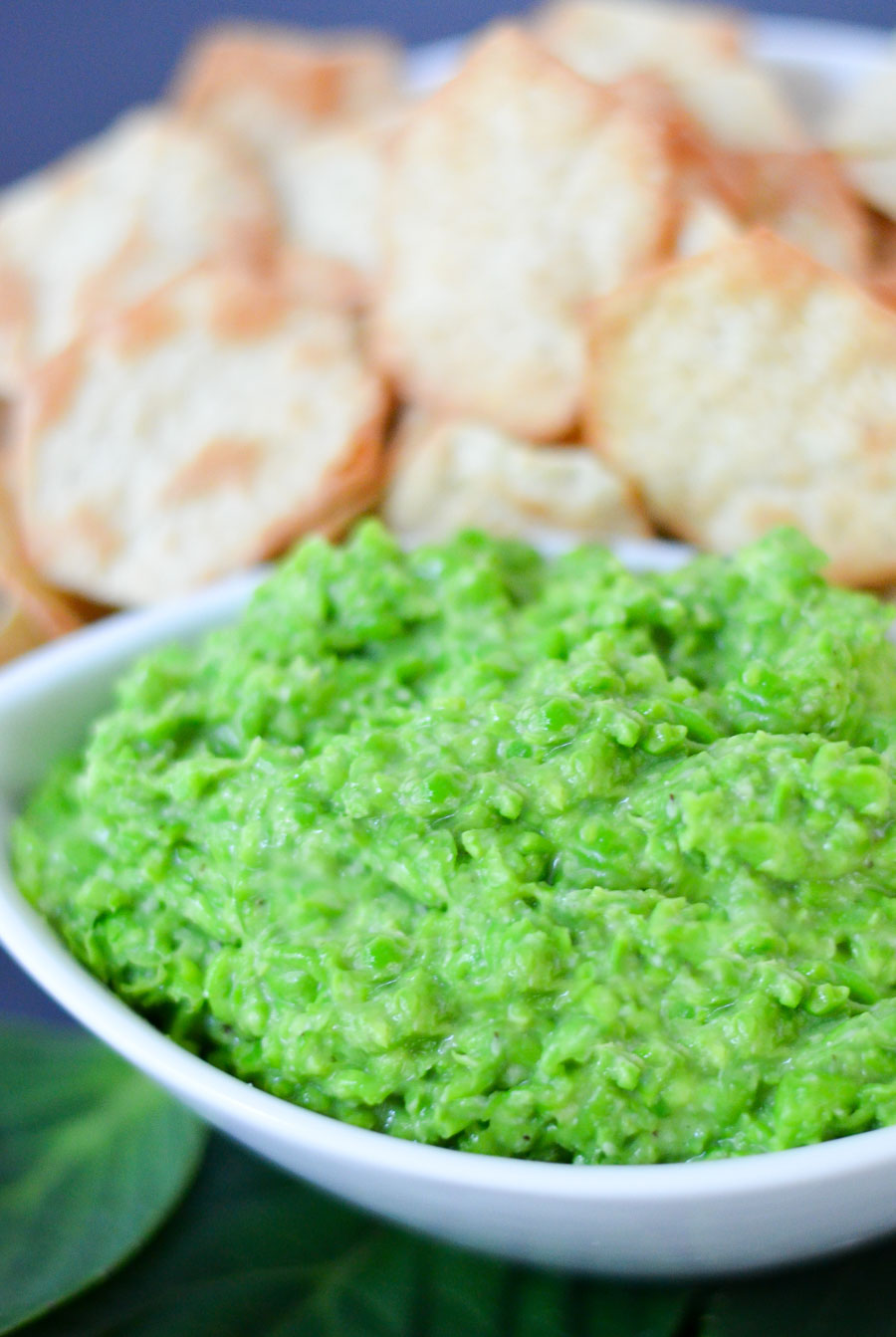 Are Frozen Peas Healthy?
Frozen peas are fabulous for a few reasons. First, they provide an easy source of some protein. You can also keep them in your freezer for a while.
Finally, they add so much brightness of flavor and color to every dish. Whether it's another vegetable, a meat, or even added to a whole grain, frozen peas make a delicious addition!
You can use this pea pesto recipe in a healthy pea pasta salad and in a pea pasta sauce that's surprisingly delectable! If you love peas as much as I do, then don't miss this one pot pea pasta dish that's a great last minute dinner main dish or side.
How do You Eat Pea Pesto?
I first served this as a dip, so just with a favorite cracker. I've since spread it on crostinis,which was delicious, and then served it under seared scallops for dinner. Youc an also use it in place of a traditional basil pesto, so atop pasta! It's really lovely as a sauce or dip!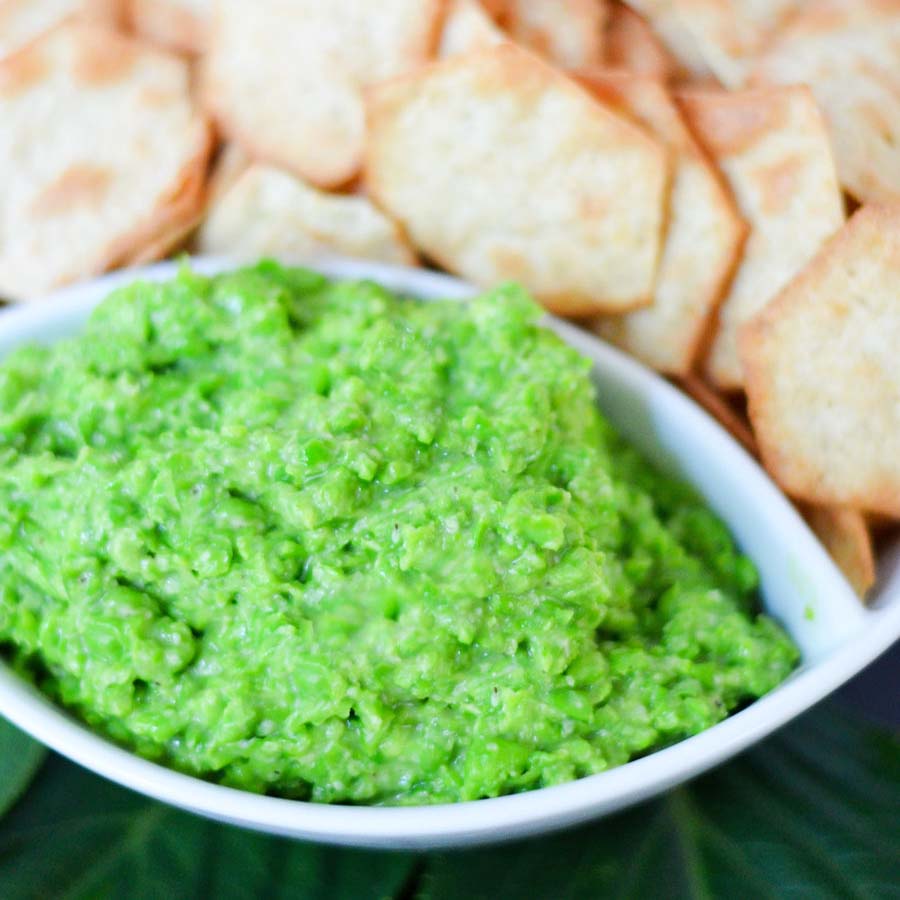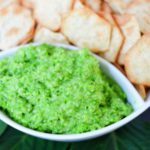 Print Recipe
PEA PESTO
This pea pesto is the one recipe you get from me that will blow your mind. The flavors are so delicious, but the vibrancy of the dish is what I fall in love with every time! That bright green hue and delicious olive oil flavor make it a treat for every occasion!
Ingredients
1

garlic clove

2

Cups

frozen peas

defrosted

½

Cup

shredded parmesan

1

teaspoon

salt

1

teaspoon

cracked pepper

¼

Cup

olive oil
Instructions
In a food processor, mince garlic clove. Mix in remaining ingredients except olive oil. With machine running, slowly add olive until it is well combined, about 1 to 2 minutes. Add salt and pepper to taste.

Store dish in refrigerator until ready to serve. Can be made the day before.
Nutrition
Calories:
114
kcal
|
Carbohydrates:
6
g
|
Protein:
4
g
|
Fat:
9
g
|
Saturated Fat:
2
g
|
Polyunsaturated Fat:
1
g
|
Monounsaturated Fat:
5
g
|
Cholesterol:
4
mg
|
Sodium:
684
mg
|
Potassium:
96
mg
|
Fiber:
2
g
|
Sugar:
2
g
|
Vitamin A:
326
IU
|
Vitamin C:
15
mg
|
Calcium:
84
mg
|
Iron:
1
mg