Have you ever tried grilled cantaloupe? I mean, fruits are grilled all the time – but cantaloupe? Yes!! It's so good and the sweet and spicy combo is shockingly addictive!
Grilled Cantaloupe
We miss having an easy grill at our house, but until we get our backyard figured out, we have a small portable charcoal grill.
Because of our current reality, there isn't much room for experimenting, so we stick to the recipes we know and love! This homemade Caribbean Jerk seasoning is always a favorite on meat and veggies!
The fun thing about this recipe for grilled cantaloupe is that it combines the very natural sweetness of the melon (don't you just love summer produce?) with smoked paprika for some kick and honey for a bit of sweetness.
It all transforms into something memorable!
We like to pair the grilled cantaloupe with grilled chicken and lightly seasoned vegetables. It never disappoints. This is such a fun and unique flavor combination and it's so easy to throw on the grill and serve – for 2 or 20…
How to Pick a Good Cantaloupe
It's easy to pick a ripe cantaloupe. Press gently near where the stem was pulled off (the indent in the top). If it is soft but not squishy you are good.
Another good technique is to smell that same spot, depending on how "cantaloupe-y" it smells, tells you how ripe it is. The stronger the fragrance, the riper it is!
How to Grill Fruit
Each kind of fruit is a little different when it comes to grilling, but some important things to keep in mind…
First, fruit softens as it cooks, so bigger pieces and keeping the rind/skin (if applicable) on is really a must.
Second, fruit is primarily sugar, so prepare for some fizzy, fragrant drops. It also means, you should be sure to spray or oil the grill to help keep it from sticking.
Three, fruit can char pretty quickly because of the sugars, but that doesn't mean it's soft, so you want to cook it away from hot, direct heat.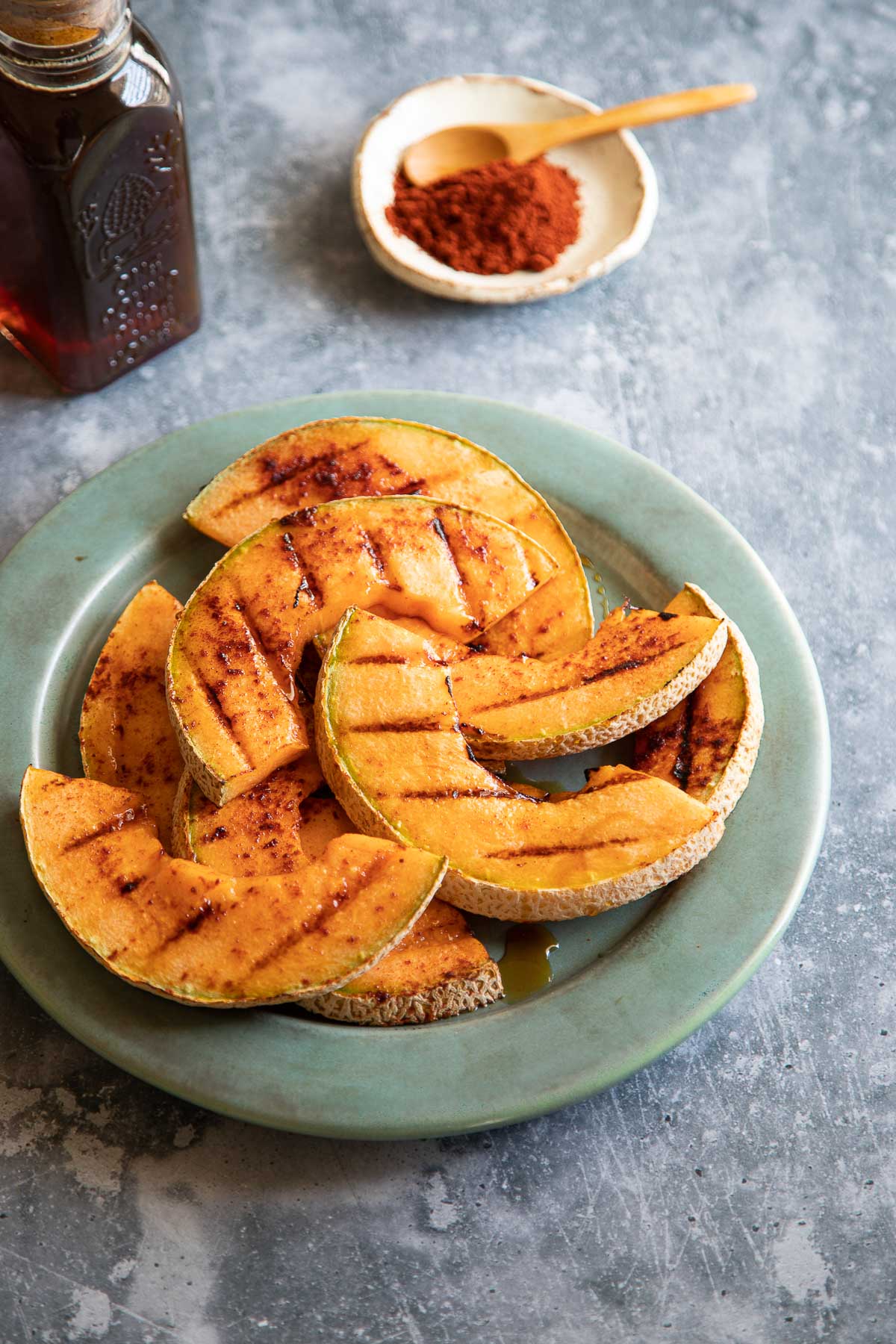 More Grilled Recipes
If you want to cook everything on this grill – and why wouldn't you – try these:
BBQ Cake with Cherries (bake the cake on the grill while you enjoy dinner)
More Cantaloupe Recipes
I don't know if there are enough cantaloupe recipes in this world, so here are my few small contributions. This coconut melon smoothie has just a few ingredients and it is SO delicious! And this cantaloupe sangria was served at our wedding, we like it so much! And while these melon skewers with mozzarella are shown with honeydew, they'd be great with cantaloupe (or a combination of the two).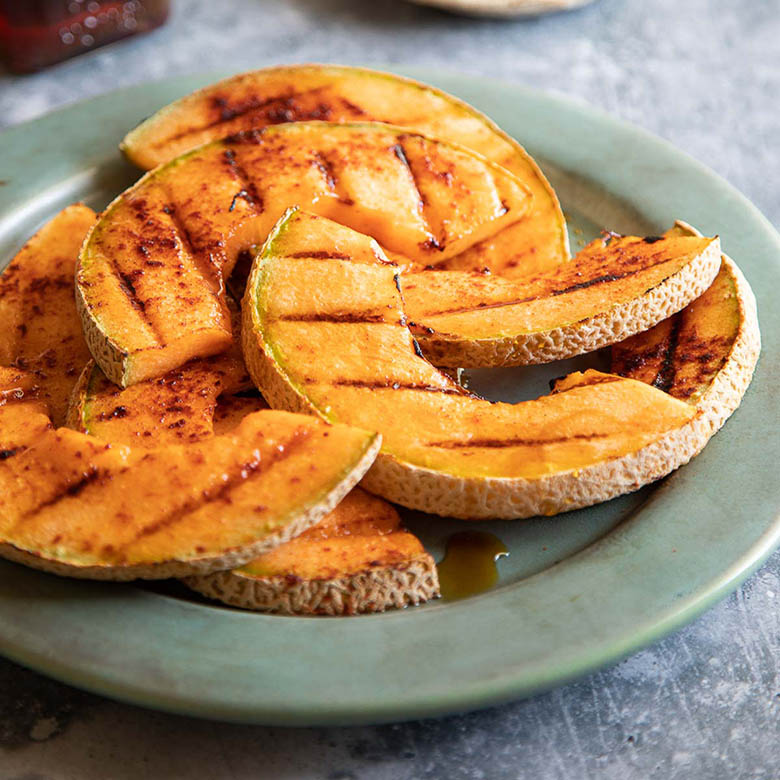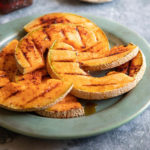 Print Recipe
SWEET + SPICY GRILLED CANTALOUPE
Grilled fruit is one of the most underappreciated summer joys, in my opinion! You might be familiar with grilled peaches, but the list of delicious fruit doesn't have to end there. Grilled cantaloupe is really next level and the combination of the smoked paprika and the honey really makes it a taste treat sensation!
Ingredients
1

ripe cantaloupe

1

tablespoon

smoked paprika

to taste

¼

cup

honey

to taste
Instructions
Slice cantaloupe in ½" pieces. Sprinkle each side liberally with smoked paprika (not regular paprika).

Preheat grill to medium-high. Grill cantaloupe slices 5-7 minutes per side. Remove from grill. Drizzle with honey to taste.

If grilling other foods, cook cantaloupe last.
Nutrition
Calories:
58
kcal
|
Carbohydrates:
15
g
|
Protein:
1
g
|
Fat:
0.2
g
|
Saturated Fat:
0.1
g
|
Polyunsaturated Fat:
0.1
g
|
Monounsaturated Fat:
0.02
g
|
Sodium:
22
mg
|
Potassium:
134
mg
|
Fiber:
1
g
|
Sugar:
14
g
|
Vitamin A:
2765
IU
|
Vitamin C:
8
mg
|
Calcium:
9
mg
|
Iron:
0.5
mg