One of my favorite things is taking a day trip. When my husband and I lived in Oakland, I was in grad school with about seven cents to my name. We were trying to save our pennies as much as we could.
Obviously big trips on our own were out of the question, but we loved day trips. Our favorite destination was Healdsburg – a quaint town in the Russian River Valley known for wine tasting. It's full of great restaurants, boutiques, and the most delicious cupcake shop.
Unsurprisingly, it was a prime destination for two young, twenty-somethings trying to get a quick escape. Since moving to Southern California, not much has changed. We still love planning Los Angeles Day trips, including our recent rendezvous in Julian.
Los Angeles Day Trips
Our first treks were up the coast to Santa Barbara, which is still a favorite. I always have their weather on my phone because I dream of running up just about every weekend.
We started venturing east on a few overnight getaways to Temecula. Then south for a weekend trip to La Jolla here and there.
A few weeks ago, we met a dear friend of mine in Julian, which is a two-and-a-half hour drive from West LA and known for everything apple. We planned out our day trip for apple picking and a fun escape…
Things to Do in Julian, CA
Julian is located in San Diego County, east of Escondido and Oceanside. The hotspot destination is all of a couple blocks. The 'downtown' area is full of restaurants, bakeries, a few stores, and apple everything!
In the area surrounding the town itself, however, are roads winding in every direction of apple orchards, cider tasting, and wineries – anything for everyone in your family!
The weather can get warm out there in the late summer. Now it'll be cooling down for the next six months. It also can get crowded downtown, so I recommend getting out there early. We arrived around 10:30 and luckily got in line for pie before it was out the door (which it was by the time we left). If you're heading to Julian for pie…
Famous Julian Apple Pie
As I mentioned in the title… the best apple pie. When we told friends we were heading to Julian, they told us we had to go to Mom's Pies. Apparently they told others, however, because everyone else was also in the know and standing in line for pie (some for pie and ice cream) before brunch time!
My husband is more of a pie person than I am, so he picked a flaky apple pie to take home. They offer a wide variety of other pies, but how can you go to Julian and not get the apple pie, right?
We brought it home and devoured it over the next few days. My husband may be the pie person in our household, but I was secretly pawning ice cream on him so I could get more of the pie!! Talk about delicious!
So, yes, if you only do one thing in Julian, it should be a visit to Mom's. I've thought extensively about making the 5 hour round trip trek just to buy another pie (or two)!
Julian Apple Picking
The most exciting thing to do in Julian, I venture, is to go apple picking. There are orchards seemingly everywhere and in southern California, Julian is where you go for apple picking.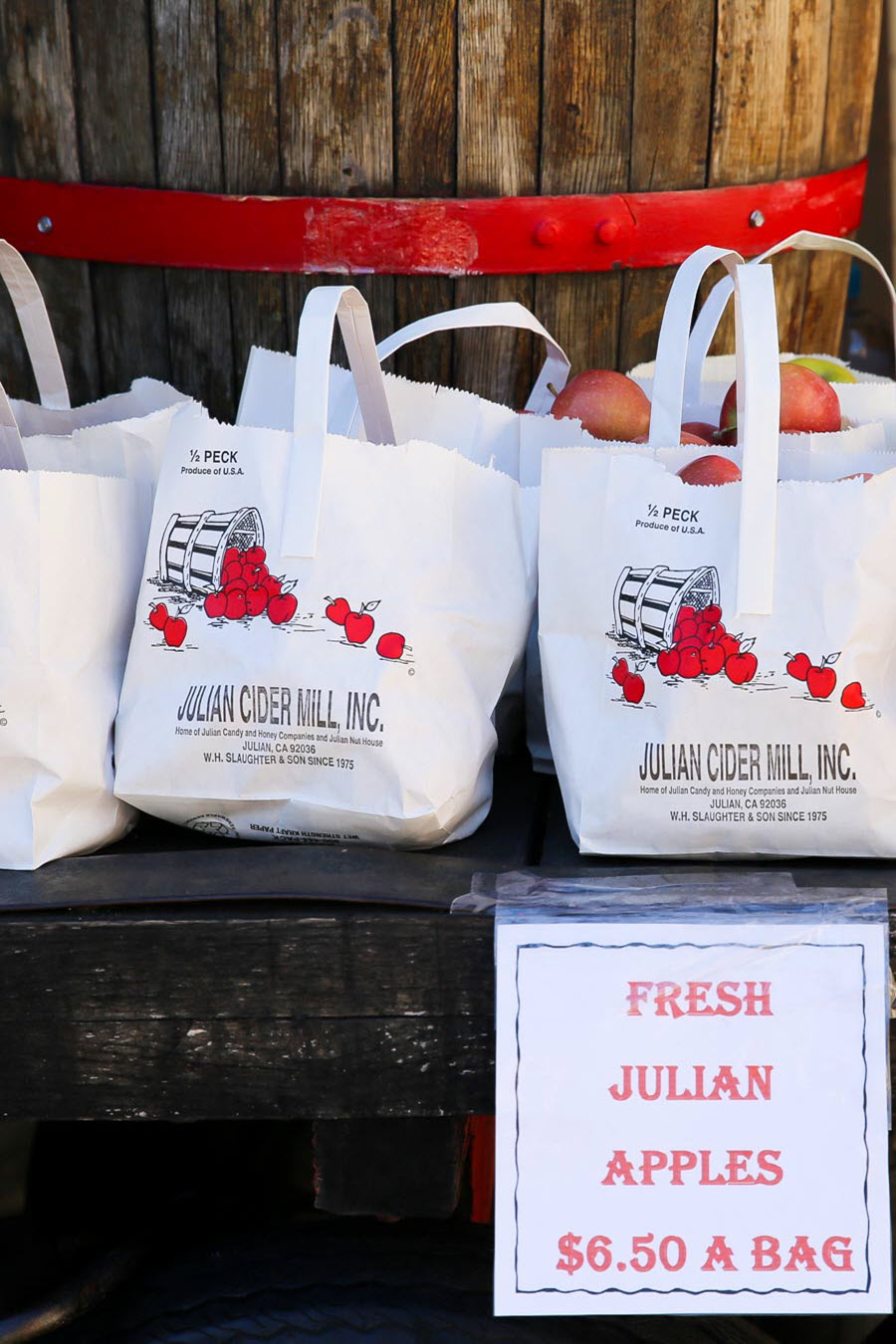 The season for having such fun, however, apparently ends in September, so when we showed up that first weekend in October, we were sorely disappointed – but even more grateful we'd gotten such a great pie!
I know they're still picking apples in Northern California, so beware that their season is earlier than others. The cute town, time together on the road, and the best apple pie, however, make this an LA day trip I'd be happy to take any time of year!