Between Christmas and the New Year, we traipsed off to the California Coast with my mom to spend some time, safely, away. Wondering about things to do in Mendocino or Fort Bragg, here is our list of fun, safe, and kid-friendly excursions, restaurants, and moments!
Since having C, moving to Sacramento, and then that little pandemicy thing, travel has been obviously MIA and we've been missing it so much!
In the first few months after moving to northern California with a newborn, we were able to get in a few trips. He and I drove to So Cal with my mom to visit family and we did a quick overnight trip to downtown Portland – more just to test out the waters of traveling with a baby.
In the month or so leading up to everything shutting down for a bit, we even went to Austin, Texas for a few day! Then….no more travel.
Ok, but instead of us wallowing in the sadness of travels we miss, let's get back to travel. For the foreseeable future, we'll likely be doing lots of California Travel with some trips up and down the coast. But we're still dreaming of the day when we can safely travel internationally when C is vaccinated!
Let's get to it…
Things to Do in Mendocino County
Given the status of the world these days, we opted for activities that offered lots of open space. Because of the time of year, it wasn't crowded during our visit! We felt safe everywhere we went!
Glass Beach
Even if you're just driving down Highway 1 and need to stretch your legs, Glass Beach in Fort Bragg is an absolute must. I'd forgotten how beautiful and fun it was as a kid, but our visit reminded me in an instant.
There's a nicely paved parking lot with a restroom building and then a wide, clearly marked path. Then you can follow trails to find your own little place along the coast there. Collect small pieces of colored, smooth glass, play in the sand, look for shells, or make footprints!
As you can see, the coastline is gorgeous and very easily accessible – a combination difficult to find along the coast here.
Mendocino Botanical Gardens
I never thought Botanical Gardens sounded interesting. And then I was kindly and beautifully corrected in my errant ways!
I think it started with the Butchart Gardens in Victoria, B.C. Then probably a visit to St. Louis' Forest Park and my belated visit to the Huntington Library Gardens in Southern California. Even the Dallas Botanical Gardens in the middle of winter was a fun experience!
So, obviously, a visit to the Mendocino Botanical Gardens was a must when we planned the trip! The Gardens are a lovely size. Wander through areas of local trees and bushes out through the curated pathway to a gorgeous ocean view with benches (even indoors) to look out on the sea and spot whales!
There are restrooms out here as well, so it's perfect for the whole family to make the trek.
On the way back to the entrance, wander through the vegetable garden and don't miss the small cemetery with a bit of history!
Point Cabrillo Lighthouse
Also not far off the highway is the parking lot to walk to the Point Cabrillo Lighthouse! Park your car and wander down the slight descent to the lighthouse (about 0.5 miles).
You'll come to the lighthouse, the keepers' homes and a set of small homes YOU CAN SPEND THE NIGHT IN! After visiting lighthouses in Cape Town, South Africa, I've been itching to stay at lighthouses around the world!
There are plenty of wide of spaces, great picnic tables, and gorgeous views. If you're handicapped and unable to do the walk, you can drive down the path to a parking lot. This is only allowed for guests and handicapped visitors.
Check out these sustainable travel tips.
Mendocino Headlands
The Mendocino headlands are also close to Highway 1. Enjoy a walk out onto the elevated land over the coast, and wander to have lunch or grab coffee before getting back on the road.
Here you can watch waves crash from above, wonder at the ocean currents swirling through caves and tunnels in the rocks; and get windblown away!
What to do in Mendocino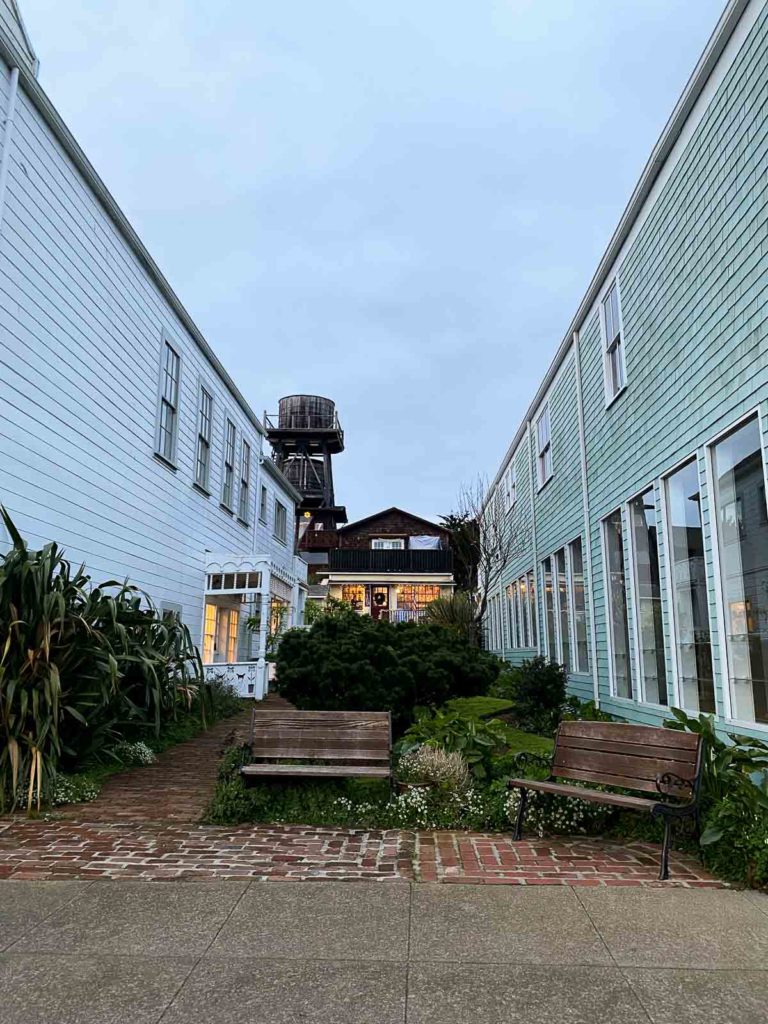 Speaking of Mendocino. I didn't realize how small the town of Mendocino is. Fort Bragg is certainly the more major city, but there are quite a few fun spots in Mendocino, so don't let its small size deter you from planning to spend some time here. And there are SO many tasty food spots as well (more below).
Main Street and Lansing Street are dotted with small shops to happily pass the time. Everything from a beautiful local artisan jewelry shop to a chocolate shop and a cute bookstore (with a resident kitty that we had to check out).
And if you need a bit of fresh air, just turn around and look out of the headlands!
If quaint town travel is your thing, and I get it, check out these small california beach towns!
Where to Stay
We stayed at The Stanford Inn just across the inlet from Mendocino. It was a sublimely beautiful property covered in gardens and dotted with some farm animals. The gardens provide food for the property's restaurant. In addition to lovely rooms was their concern for sustainability tourism (yay for eco-travel)!
If you wanted to just enjoy your room and wander the property daily (or throughout the day), you could easily just enjoy your stay at the hotel without going much of anywhere.
They also offered electric car charging, including two Tesla chargers, which made our visit that much better!
Where to Eat in Mendocino – Fort Bragg
So not that I was surprised, but I was certainly pleased with the tasty food options – and how many of them featured seasonal, local produce and ingredients.
Our stay at The Stanford Inn included a full breakfast, which was convenient and lovely. Because the hotel is plant-based, however, we had some difficulty eating there too many days in a row (my husband's low fodmap diet and my sensitivity to soy).
They do require masks and proof of vaccination in the dining room, which helped us feel safe with our little guy.
Breakfast & Lunch
A few options here. First, the best coffee we had in Mendocino and Fort Bragg was at Good Life Cafe. They serve Black Oak Coffee (roasted in Mendocino county). Black Oak features organic, fair trade beans that are shade grown on woman-owned farms! So many of my favorite things and I quite enjoyed their espresso drinks!
They also offer a big selection for breakfast and lunch – a wide array of baked goods, breakfast burritos, breakfast plates, and so much more! We enjoyed one morning on their porch and returned to get breakfast for the road (the scones were drool-worthy)!
In Fort Bragg, check out Mendocino Cookie Company and Zappa's Coffee. It's inside of a larger building, but you can see it from the street. Order your beverage of choice and make sure to try some of their cookies – they're gone when they're gone each day. And they were quite tasty!
Finally, you can hit up Headlands Coffeehouse in Fort Bragg. We snuck in moments before they were closing so didn't get to try any morsels and I didn't want to take their time to take photos!
For lunch, I can't recommend Mendocino Cafe enough. We went twice for lunch and enjoyed it both times. The menu offers an array of cuisines and typical American fare as well. And apparently their veggie and bean burrito is amazing because C ate his way through almost the entire thing and it was a hefty serving!!
Our visit was just after a parenting debacle that I'll spare you from. Crying after C and I spilled water all over the table to top off the moment, they poured me a large glass of wine and I demolished the clams & mussels.
While nothing will beat the best mussels of my life in Fort William, these were pretty tasty (helped out because it is indeed the season to harvest both from the California coast these days)!
I also got a number of recommendations for Princess Seafood Market on Instagram from my followers, but they were sadly closed for the whole of our visit.
Thankfully just next door was Noyo Fish Company, which was delicious and easily made for takeout! You can see we certainly tried to try it all with fish tacos, shrimp po boy, fish & chips, and clam chowder! We were sublimely stuffed after this lunch!
Dinner in Mendocino
As I mentioned, the food was good on our trip! After eating so happily at lunch, we were always ready for a large dinner, but we always managed to have one and enjoy every bit of it!
Trillium Cafe
Because of the time of year (between Christmas and NYE), we were there and because of the current worldwide health situation, we actually did run into some trouble finding restaurants that were open and had room.
We were lucky enough to get reservations to Trillium Cafe about 40 minutes before the 5 o'clock seating. Because of this we sat outdoors by the opening in the tent and were quite cold. Even with this, however, Trillium was still the most delicious meal we had on our trip!
C found out he loves scallops and he enjoyed his mushroom risotto as I knew he would. Cold from the weather, my mom and I each ordered the braised short ribs. Y'all they were AMAZING!!!! I sopped up the juices with bread and have been dreaming about the hearty meal since having it!
Cucina Verona
Cucina Verona was a delicious Italian restaurant in Fort Bragg. They have two dining rooms and a market/outdoor space for daytime eating. They offer large Italian plates. We enjoyed pasta, fish, and bread! Sadly we were stuck with a long waiting time here as well, but I think that's a seasonal, pandemic thing, not the norm.
Again, I'd recommend making reservations, but we made them mere hours before dinner time!
Little River Inn
Just down the road from our hotel was another property with a lovely restaurant – Little River Inn.
We headed down here our last night in Mendocino and ended our time there with a tasty meals. Masks and proof of vaccination were also required in the dining room.
I enjoyed this beautiful squash salad and a bowl of mushroom soup. My husband had pan-fried chicken and potatoes dish, while my mom enjoyed crab cakes and a different kind of squash salad!
The ambiance was a touch lacking where we ate indoors, but we were happy to have space and everyone working there was incredibly kind (not batting an eye when C colored on the white tablecloth with a green crayon- parenting joy! hah.).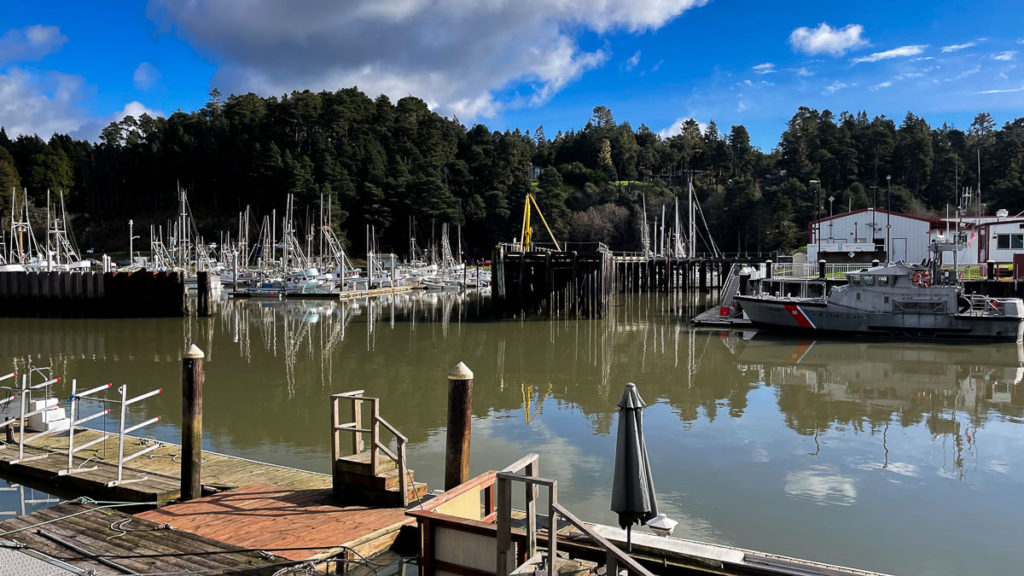 Mendocino is a great temperate destination year round. Check out other cooler summer destinations in the USA.
No matter if you're home or traveling check out these local summer activities that don't require much planning!