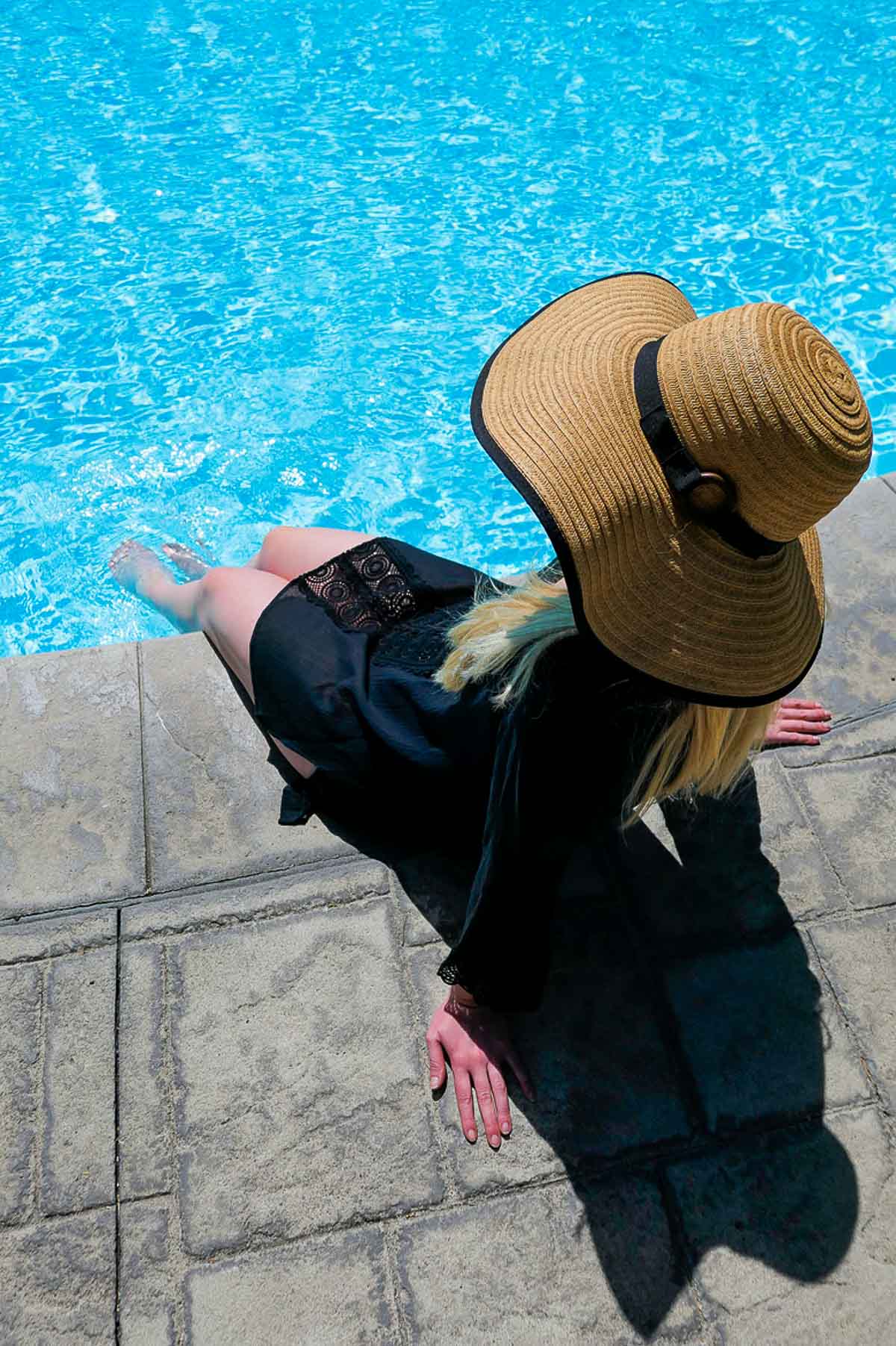 In the world of making sustainable fashion choices, swimwear is one of the most challenging (more below). Below are a selection of beautifully sustainable swimsuits as best as can be at the moment. Please know that the most sustainable option with swimwear, however, is to wear a suit as long as possible, limiting the resources used to make a new one.
Sustainable Swimsuits
That was kind of a depressing start to a conversation about which you probably expected to super enjoy. Well, not to fret, there are a slew of gorgeous sustainable swimsuits for every style below, including some swim trunks.
But it's important to talk about the unsustainability of swimsuits too…
Why Swimsuits aren't Sustainable
Swimwear is complicated. First of all, you know how suits can hide flaws, absorb water, and somehow maintain a great shape…well that's all because of plastic-based materials. Nylon, polyester, and spandex are fabulous for all their swimsuit properties but terrible in just about every other way.
These plastic-based materials are made from fossil fuels. Not only that, when they're washed (all clothes with these materials, not just swimwear), little bits of the them break off and enter the water stream (which is then consumed by plants and animals and re-consumed by us humans…).
And then when you're done with a swimsuit, it often ends up in the landfill, breaking down into microplastics and blah, blah, blah.
So how can I even write about sustainable swimsuits? Well, because while the options out there aren't perfect, there are some companies doing good things.
AND because a big part of the problem is how we wash suits and how we dispose of them, so here's everything you need to know for sustainable swimsuit ownership (no matter if your suit is eco-friendly or not)!
All the swimsuits below include some to a majority of recycled materials in them!
Recycled materials & recycled packaging, B Corp
Fair Trade, B Corp
Sustainable Materials
I love reading historical mystery series, but when I read about what women used to wear swimming, I cringe. The cotton dress-esque situation may have been risque, but it was also difficult for swimming and not really flattering by our modern standards.
And while I'd probably actually wear some of those old styles over some of the all too skimpy ones available today (smh!), I rather like the flattering aspects of swimsuits – unfortunately at the expense of plastic.
BUT. While swimsuits really do require something to help keep us all together, many companies are finding ways to use recycled plastic materials rather than creating a demand for more "virgin" materials.
Not only does this limit the resources in creation, it also repurposes the plastic already in existence. One company, Summersalt, uses nylon made from fishing nets, thereby removing plastic pollution from the ocean. Cool, right?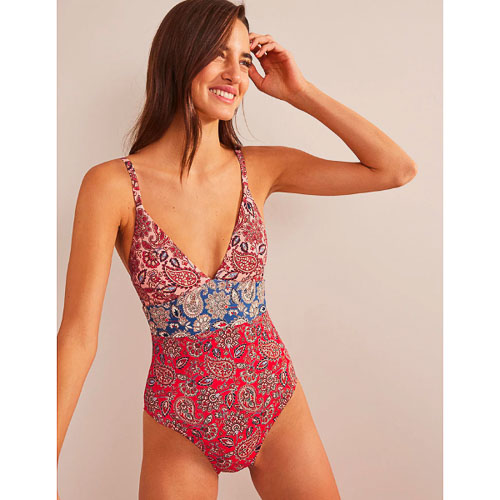 Recycled Materials, Fair Labor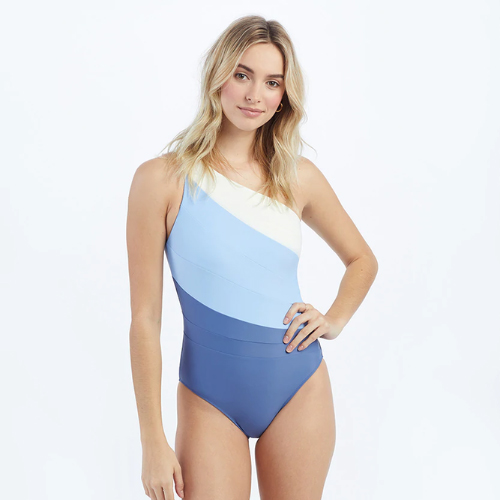 One Shoulder Colorblock Swimsuit
Recycled Materials, Fair Labor
The prints on the two above are so beautiful. I'm usually a fan of solids, but these prints have me rethinking my go-to decisions!
Other Sustainable Fashion Aspects
So besides the materials, it's important to take into account a few other factors. Many suits here are made in factories with fair labor standards – very important because sustainability isn't just about plastic and fossil fuels.
There's a B Corp included here (see what a B Corp is) as well as one company who makes their items exclusively in Southern California, avoiding transportation across the world.
Many also include packaging that's plastic-free and/or biodegradable. So there really are a lot of ways we can try to focus more on sustainable fashion.
Recycled Materials, Fair Labor
Racer Crew Neck Bikini Top & Tanga Bikini Bottoms
Recycled Materials, Fair Labor
Triangle Palmera & Palmera Bottom
Recycled materials & recycled packaging, B Corp
82% ECONYL® Regenerated Nylon, 18% Elastane, Renewed Material, Cleaner Chemistry
How to Sustainably Wash Swimsuits
So as I mentioned above, plastic materials begat microplastics into the water stream when washed.
First, hand washing suits in the sink has shown to give off far fewer plastics than the heavy agitation of a washing machine, so that's the best option. And using a gentle, plant-based detergent as well (again – it goes down into the water stream).
If you absolutely must use the washing machine, try the gentle cycle and use a plastic-grabbing item like a guppyfriend or a cora ball.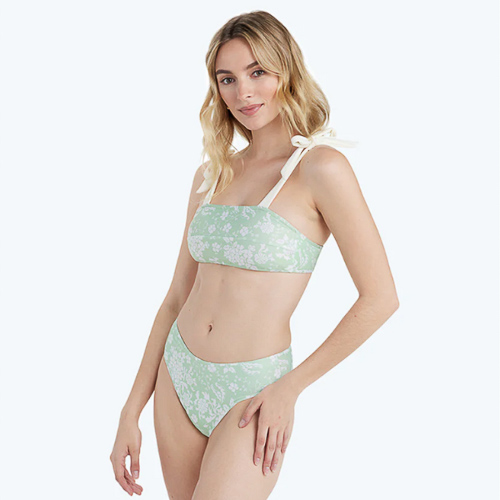 The Tie Oasis Bikini Top & Bottom
Recycled Materials, Fair Trade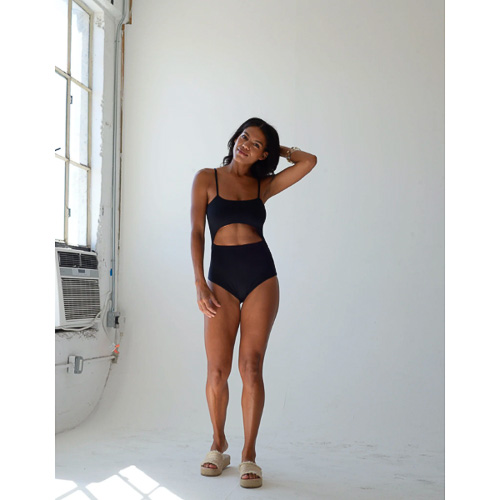 1% for the Planet
When To Throw Away a Swimsuit
Regardless of the materials in your swimsuit or where you bought them from, holding onto it and wearing it more and more (and more) is the single most sustainable thing you can do.
The practice of buying multiple suits per season, each season (regardless of who or what), HAS TO STOP.
Instead, try to invest in one that will last longer. Take care of your suit – hang it to dry instead of letting it sit. Do the gentle sink wash with plant-based laundry soap.
Made in Vancouver, BC from recycled plastic bottles.
The Tide Scoop Neck Bikini Top & Bottom
Recycled Materials, Fair Labor
Can You Recycle Swimsuits?
You know I'm big on finding out about recycling options. Whether you have old clothes to recycle or donate or are looking for how to donate/recycle undergarments, I've got your back (or your bottom)!
There aren't many options for swimsuits. Because of the combination of materials used, it's difficult to break them down and separate them.
The only option I've found is these clothing recycling bags, which are for any and all clothing!
Other than that, however, the landfill is about the only option at this point, so you can see what it's so important to wear them as much as possible and to buy more sustainably from the get-go!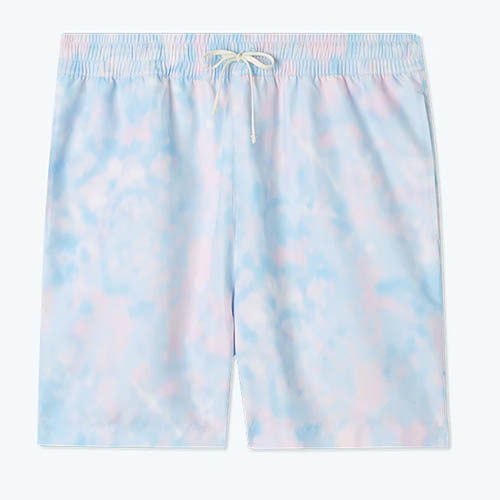 Recycled Materials, Fair Labor
Recycled Materials, Frade Trade Certified
Men's Sustainable Swimsuits
While the sustainable swimsuit options for men are certainly more limited, they do still exist. Brands like Summersalt and prAna here in the US are both giving options!
Smooth Legs for Summer
I've never been a huge fan of my legs in shorts or swimsuits, but I have a few tricks that make the inevitable hot season bearable. First is the frequent use of my body plane as well as these other sensitive skin exfoliating tips.
Finding the best safety razor certainly was a game changer as well!