I traveled a lot with my family growing up. Keeping track of all the kids, my dad, and the luggage, my mom had her hands full. There are a number of stories of me getting lost, in fact – all of my own doing! Once I was old enough to handle my own luggage, my mom made a hard and fast rule – to only pack what I could carry because at the end of the day, I was going to be carrying my own bags. So I learned suitcase and carry on travel packing tips at an early age.
Carry On Travel Packing Tips
Figuring out how not to over pack has taken a bit of time and a lot of heavy-lifting experience. Now that I'm older, not only can I pack only what I can carry, I want it all to be as seamless as possible.
Needless to say, getting everything into my carry on suitcase and handbag (big or small) is a must.
Running through airports or getting onto trains at my destination, I don't want to be bothered with my stuff. And most of all, I want to get through security as quickly as possible.
I'm often asked for travel packing tips in addition to all my travel guides, but lately I've been getting more interest in carry on travel packing tips. So I thought I'd share as much as I can here…
How to pack efficiently | How to Avoid Over Packing
When you travel frequently, you learn how to pack efficiently – you really have to avoid over packing. Some things, namely toiletries, can't be avoided. While you should certainly opt for travel-sized containers, your toiletry and make up case sizes are finite, so take that into consideration first.
Next up are clothes and shoes – where I easily go overboard. The first trick is to plan out your outfits for the whole trip. I used to grab all the jeans and tops and whatever else I wanted to wear. Then I'd start putting them in my suitcase only to run out of room…
If you do it that way, you'll certainly end up over packing.
By planning out your outfits (and laying them out), you'll be sure to only bring what you need. And while a different pair of pants or multiple jackets may be the most stylish, try to multipurpose when possible. Black denim is absolutely a must – perfect for dressing up or down.
Once you pair down your outfits, then attack your shoes. I used to complain about how much room my shoes took up. Then I met my husband and realized that his shoes take up far more valuable space, so I keep my complaints to a minimum.
If you're packing a carry on suitcase, chances are your trip is 2-3 days. My general rule of thumb is a great pair of walking shoes, a versatile pair of flats, and heels if needed. And while the flats are ideal for wearing during air travel, wear your walking shoes if you're short on room as they take up less valuable space.
What not to pack in a carry on bag?
As important as what to pack in a suitcase is, it's just as crucial to know what not to pack in a carry on bag. First, your jacket should go on the plane or in the car with you – don't lose that valuable space.
I'm also big on traveling with a scarf, so that's a must for my personal bag. And as a friendly reminder if you're traveling by air, your carry on will go through security and must still follow the regulations for liquids and sharp objects.
And, hopefully, a helpful carry on packing tip for some of you… You can take a shaving razor in your carry on luggage without any problems from TSA! That was a hassle, stress, and time-saving fact I wish I knew about earlier!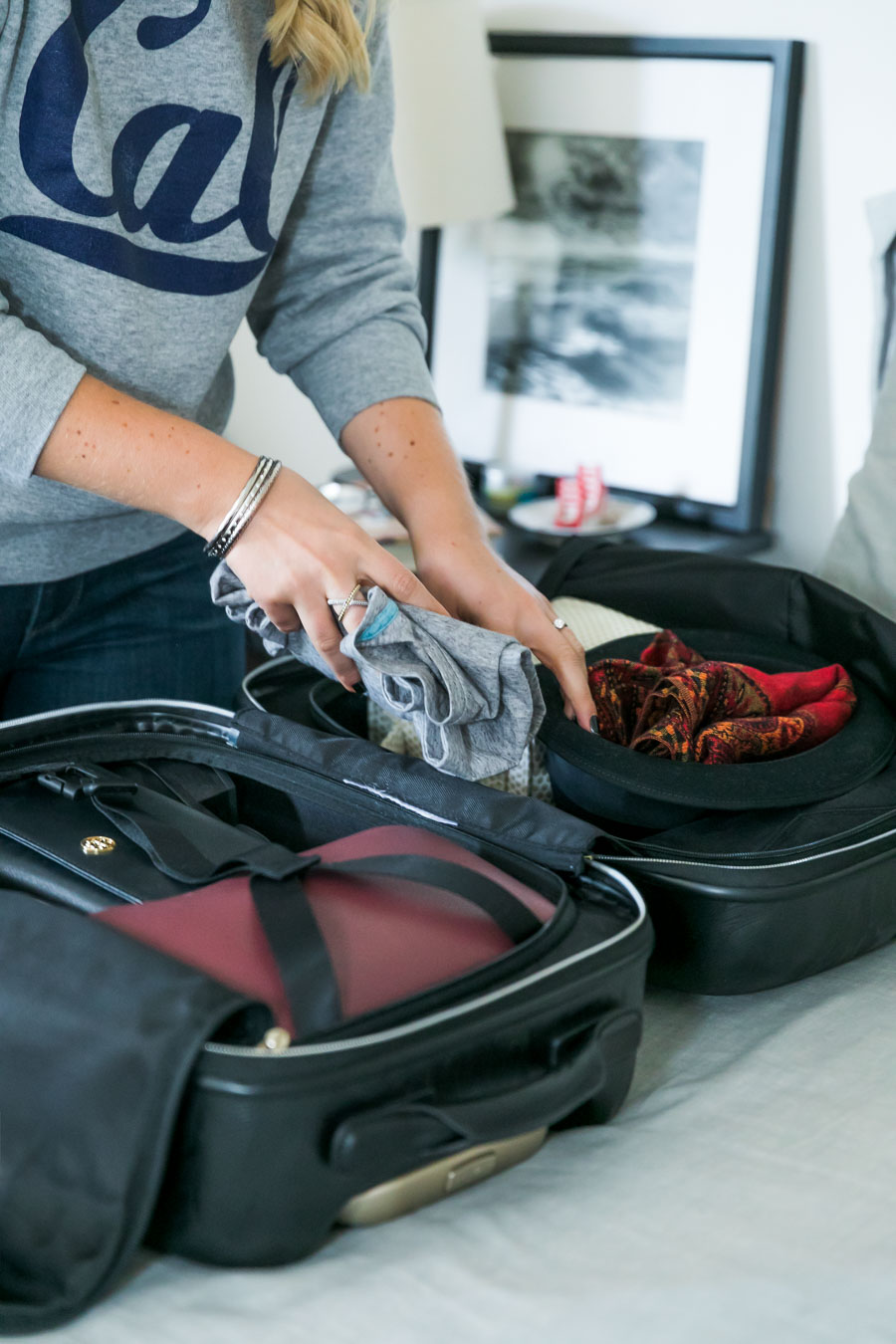 Women's carry on luggage | Chic Lightweight, Rolling Carry On
Once you figure out how to pack a carry on, you need the best carry on luggage! Duffle bags or anything of the sort are tricky, difficult, and bad for your back.
Chic travelers have roller bags and the best bags are "spinners" that have four wheels and easily switch directions without missing a step!
These bags are ideal for pushing down tight airplane aisles and keeping your bag right in front of you while walking in crowds instead of dragging it behind you. And once you get your first piece of spinner luggage, you'll wonder how you ever lived without it.
This suitcase, part of Samsonite's Black Label collection, comes with a shoe bag, a small zippered pouch, and a perfectly sized cover – because we deserve fancy and our suitcase deserves a raincoat!
This sleek little piece is part of a set of three sizes. I have this 20″ for short trips and the 28″ for longer treks (like our trip to Southern Africa). You can bet that 24″ is on my wishlist this holiday season because I'm a traveler who appreciates high-quality luggage (that's more stylish than I am)!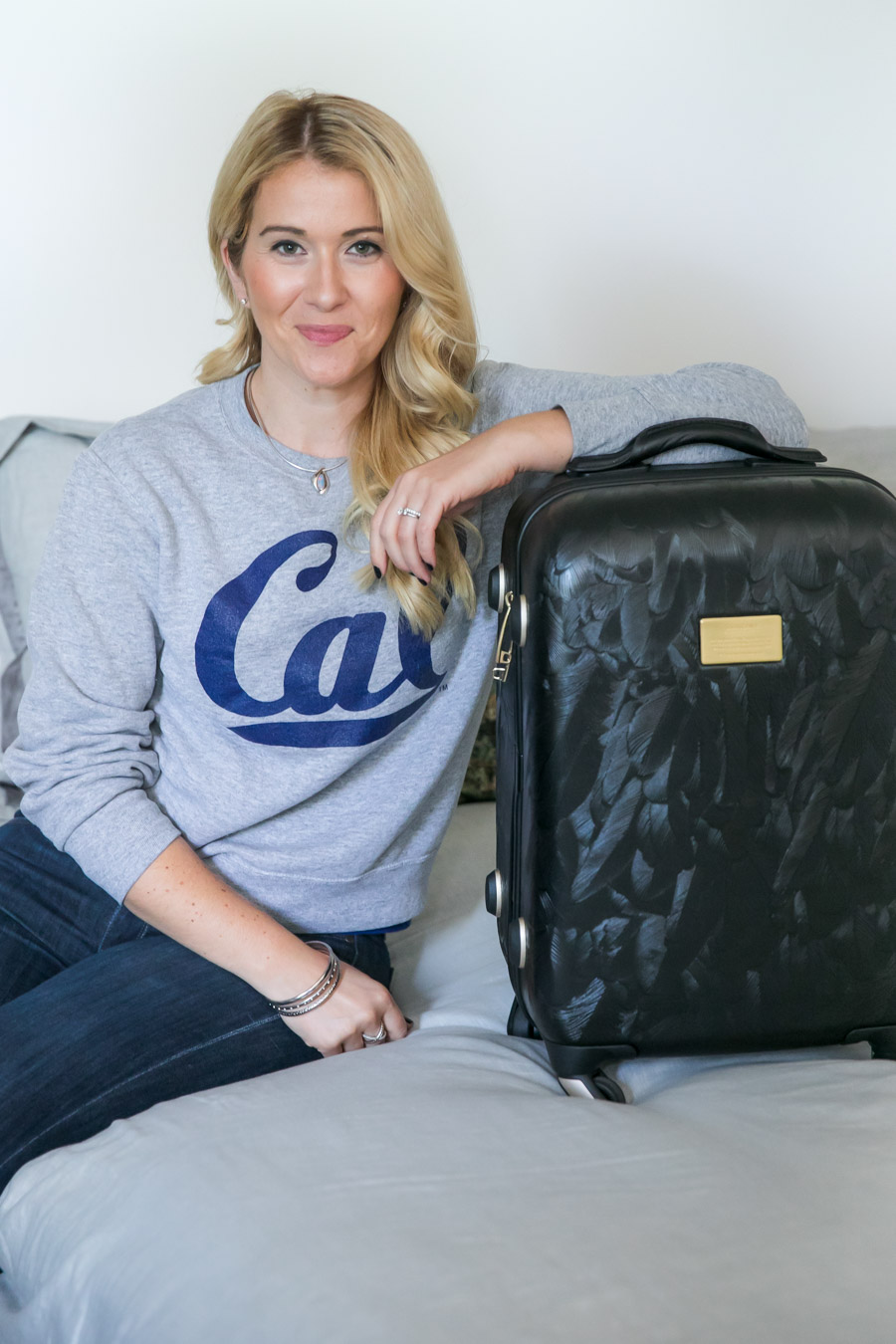 This "Carry On Travel Packing Tips" post is sponsored by Samsonite. All opinions are my own. Thank you for supporting all Luci's Morsels collaborations.
{photography by Karen Ard}