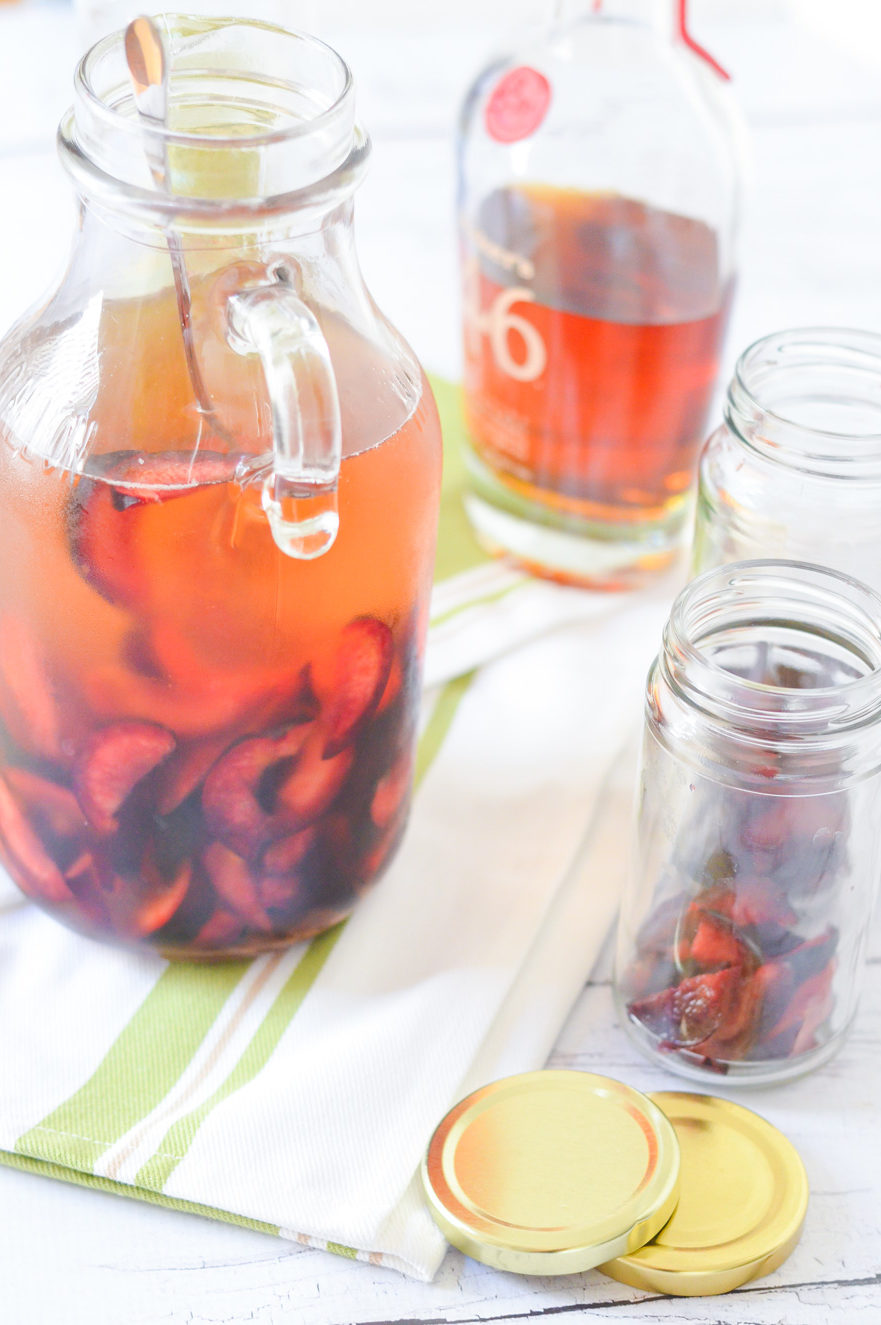 Another delicious way to enjoy fresh summer fruit, this plum sangria is easy, delicious, and perfectly balanced.
It's been way too long since my last sangria recipe! I just searched for my last post and it was the Kiwi + Raspberry Prosecco Sangria all the way back in February! Six months!! Can you believe it?
This has to be my longest stretch since the beginning of my sangria obsession for the wedding last year! Luckily, this pinot grigio sangria is particularly tasty, so I hope it makes up for all that time…

Plum Sangria
Don't these plums look divine? The color of them is just so wonderful!
Summer fruits are so delicious that it's hard to pick a favorite. It can be tricky to get the fruit perfectly ripe, but if you do, then it's heavenly. And plums are the worst (best?) at this!
Plums can be really tart, but when they're ripe and juicy, they are so delicious. And, yes, waiting for them to be ready really is the hardest part for me.
I love the plums in this pinot grigio sangria recipe, however, exactly for that tartness they add. The white grape juice really makes this a much sweeter drink, however, so don't worry that it's too tart.
I also added whiskey for that richer flavor, but you could omit it or replace it with a dark rum depending of your preferences.

Pinot Grigio vs. Pinot Gris
Also, if you're debating about a pinot grigio or a pinot gris OR if you're wondering what the heck the difference is between a pinot grigio and a pinot gris, not to fret. The two are the same thing, so you pick whichever one you want!!
When it comes to sangrias, you don't need to break the bank on a nice bottle of wine, but you MUST choose a wine you would drink on your own. Adding fruit and juice isn't going to make a bad wine taste good, so don't waste your effort!

What to serve sangria in?
As you can see from the photos, I used jars for glasses. I like the rustic feel of using mason jars or even emptied and clean jars that you bought at the store.
They're also great for transport in case you want to mix these up beforehand or even take them on a picnic – much better than bringing an open pitcher.
More plum recipes
If you're lucky enough to have spare plums on your hands (send some my way, please)! You can also make honey plum jam and plum compote (delectable on ice cream). You can make each to enjoy now or can them to enjoy later!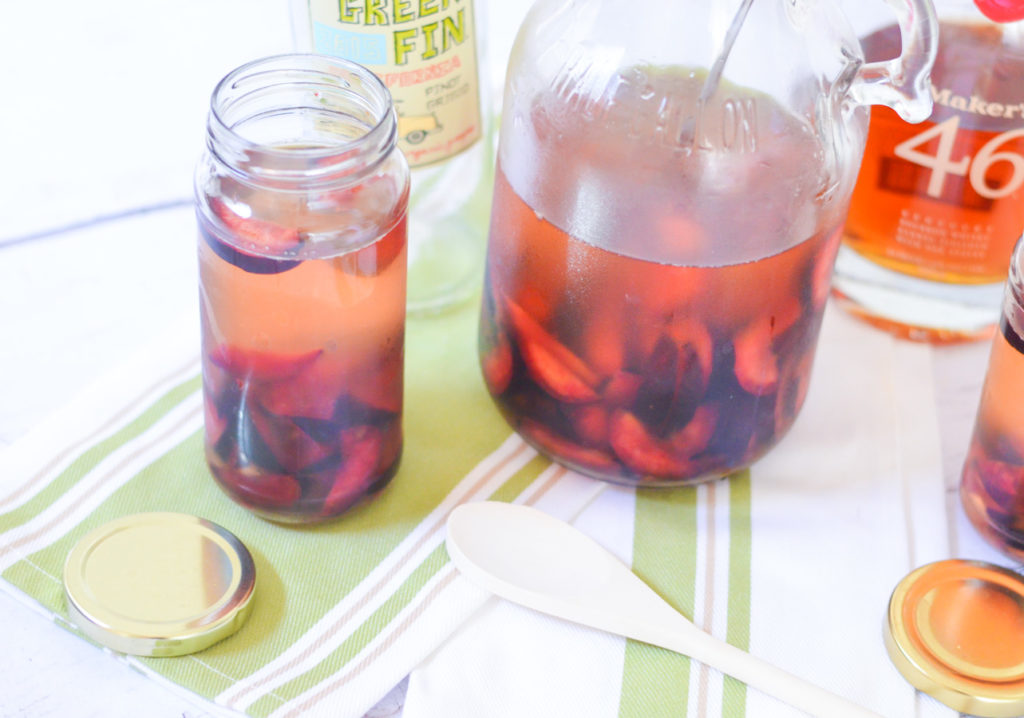 Want more sangria recipes? Other summer favorites include plum sangria, cantaloupe sangria, strawberry sangria, nectarine sparkling rose sangria, cherry sangria, and watermelon sangria!
For the cooler months, try raspberry sangria with thyme (made with frozen berries), kiwi & prosecco sangria, winter sangria made with white wine, and pomegranate Lambrusco sangria!
And don't miss my brunch sangria – great any day of the year!
Frequently Asked Questions
Is Pinot Grigio dry?
Pinot Grigio is a dry wine, with varying flavor depending on the region it's from.
Pinot Grigio pronunciation?
Pee-No Gree-Jee-Oh. Grigio middle syllable is a front-of-mouth sound with no spelling in English. Pronounce it like "juzzing" – to mix something or the like
Print Recipe
PINOT GRIGIO PLUM SANGRIA
I created sangria recipes for our wedding because we could only have beer and wine. I learned to embrace the fresh flavors of the season to make new recipes. Using the tasting notes on favorite bottles of wine, it became easier and easier to pair fruits and wine for delicious sangrias. This pinot grigio sangria with plums is a fun way to enjoy those summer plums that are so often forgotten.
Ingredients
2

Cups

thinly sliced plums

1 - 750

mL

bottle Pinot Grigio wine

2

Cups

white grape juice

⅓

Cup

Bourbon or Whiskey

could also use dark rum
Instructions
Combine all ingredients in large pitcher. Mix thoroughly.

chill 2-3 hours
Nutrition
Calories:
210
kcal
|
Carbohydrates:
21
g
|
Protein:
1
g
|
Fat:
0.3
g
|
Saturated Fat:
0.03
g
|
Polyunsaturated Fat:
0.04
g
|
Monounsaturated Fat:
0.1
g
|
Sodium:
4
mg
|
Potassium:
174
mg
|
Fiber:
1
g
|
Sugar:
17
g
|
Vitamin A:
196
IU
|
Vitamin C:
5
mg
|
Calcium:
13
mg
|
Iron:
0.3
mg