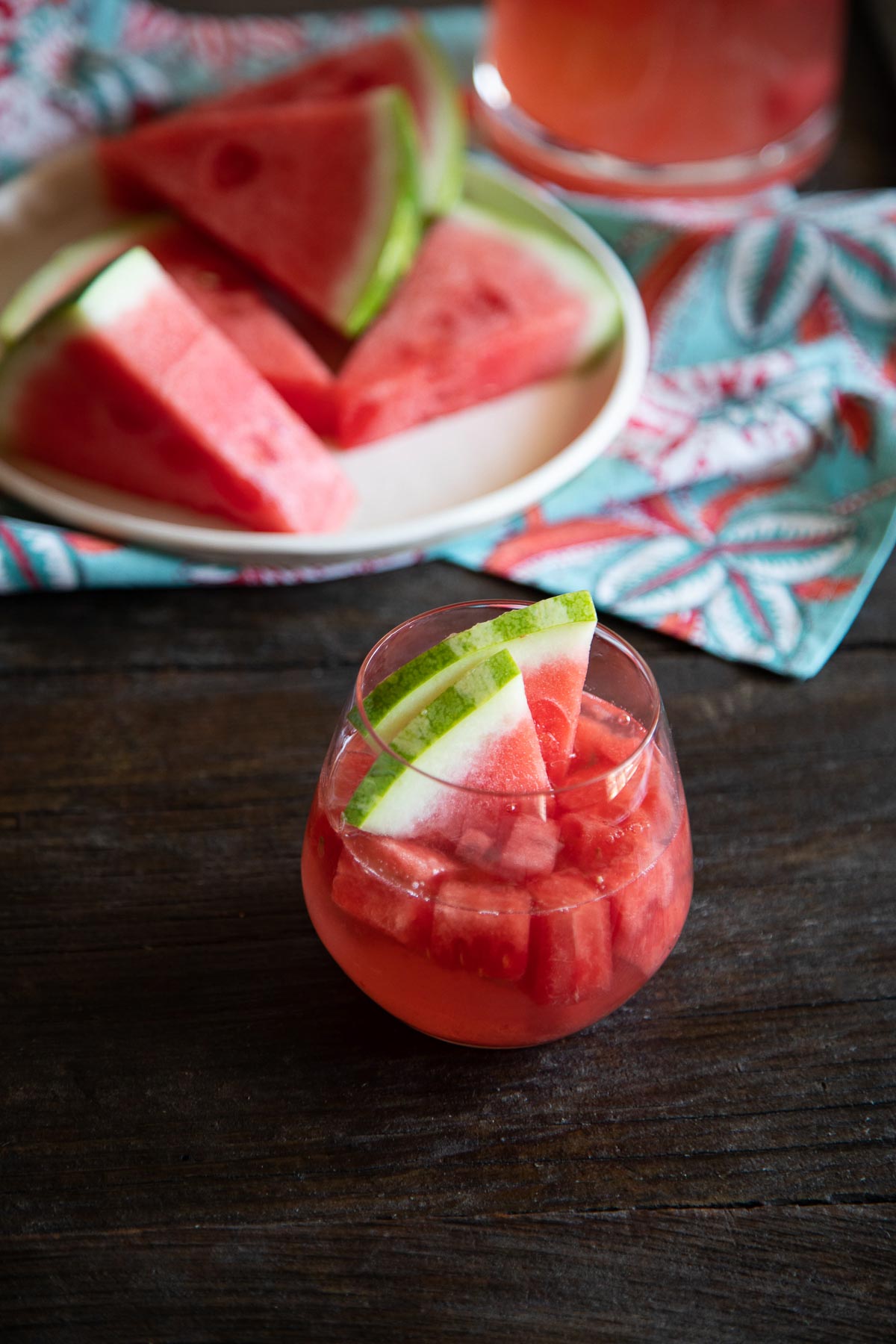 Ahh Summer. The season of unending fruits in my kitchen and recipes (though watermelon sangria might be a favorite!). I always have some sort of fruit in our house, but the variety and abundance of summer fruit is a different ballgame.
I find it easy to get overwhelmed with summer fruit. It's so delicious and beautiful, it's hard to resist. Trying not to waste our food, however, it can be tricky to use it all up – no matter how many seasonal summer recipes I have!
Besides pureeing or cutting/freezing fruit to preserve for later use, I try to get creative with using it in drinks (alcoholic or otherwise). Each of these techniques is great with perfectly ripe fruit but also for fruit that's a little too ripe!
Watermelon Sangria
I love watermelon. I mean, I love all fruit, but watermelon is by far and away my favorite. And Con is obviously my son because he's ALLLLL about it too. Just like he's all about all summer fruit.
I first made this watermelon sangria with a sauvignon blanc wine for 4th of July years ago – 2014! I shared it with my sister and we both LOVED it. It's so light and tasty – perfect for those hot summer days by the pool or in the comfort of air-conditioning!!
Summer Sangria
I might be completely biased, but I think a summer sangria calls for a white or rosé wine.
Part of it is the lightness in flavor which is better for the heat. Part of it is that it won't overpower the fresh summer fruit that has so much natural sweetness.
But, honestly, I think it's mostly because a summer sangria needs to be cold and white wine is usually served chilled. I love Sauvignon Blanc and Pinot Grigio most for summer sangrias – ideal for those hot days.
My other favorite summer sangria is this strawberry sangria with pinot grigio. And while watermelon is my favorite fruit, please don't make me pick a favorite between these two thirst-quenching drinks!
Watermelon Juice
Watermelon juice can go for a pretty penny at restaurants and stores but don't think it's difficult to make (or actually that expensive).
Watermelon juice is basically just pureed watermelon. I like to cut watermelon into small chunks and then pulse it in the food chopper/processor until it's liquified.
You can certainly strain the juice (most store-bought juices are strained), but I don't mind keeping it all together. If you don't strain it, then you'll need to shake in the juice if it sits before drinking as the watermelon pulp and the juice will separate. It still tastes great though.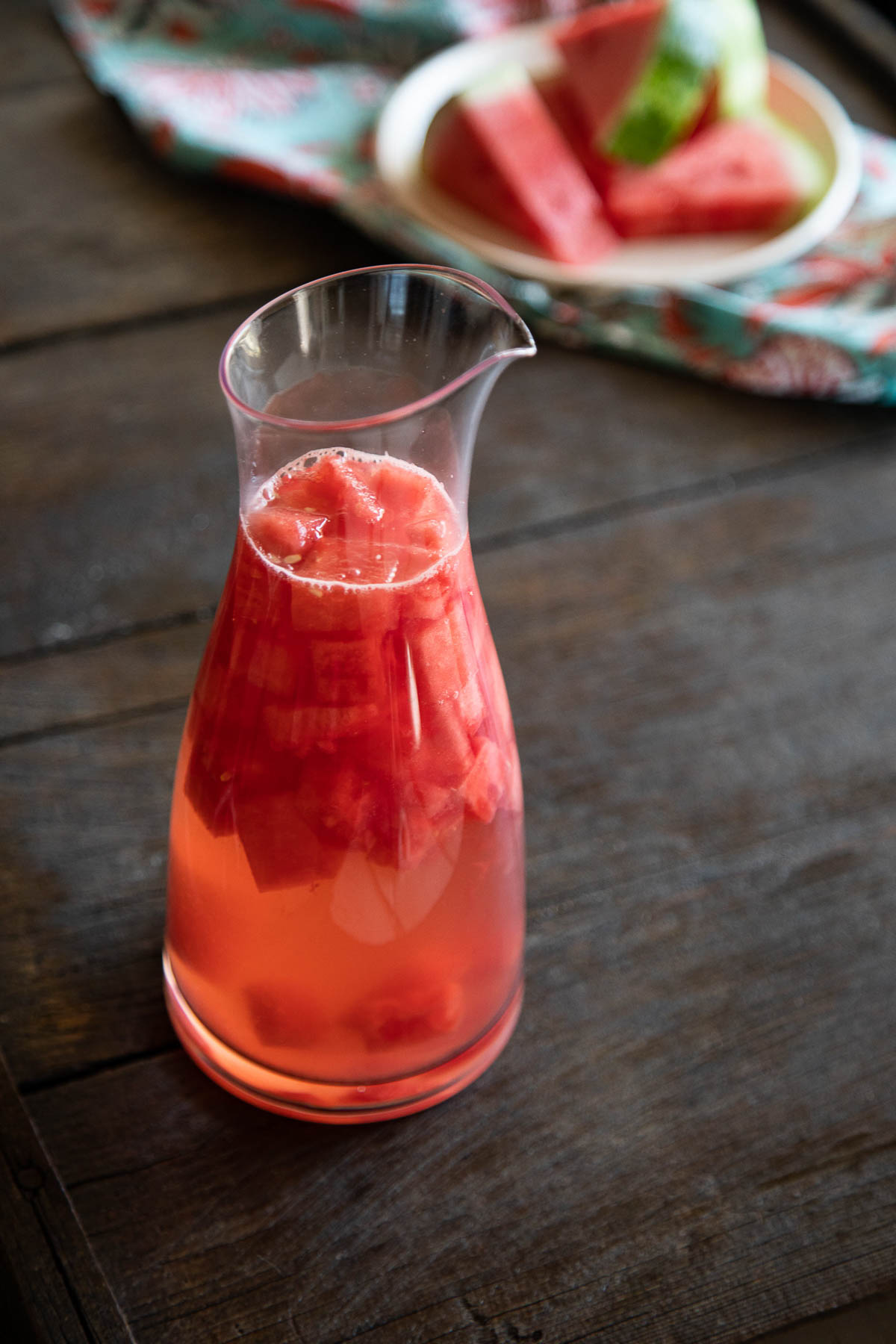 what to do with watermelon
I grew up only eating cut up watermelon, but now I have a few watermelon recipes in my arsenal. For just a hint of the fruit, try this watermelon arugula salad topped with feta as well.
My favorite summer salad is probably this watermelon basil salad. It has just a few ingredients and thought it's an unexpected combination, I always win people over!
I'm embarrassed to admit how many times I've thrown out or composted at home soft watermelon pieces and even poured the juice at the bottom of the bowl down the drain!
Now that I know it can easily be turned into delicious watermelon juice, it's sad to think how much I've missed out on! It's great on its own, with a twist of lime, or in this watermelon fizz drink (a mocktail)!
Besides making the juice or puree, which you can easily freeze into ice cubes big and small, watermelon chunks can be easily frozen.
Cut up watermelon flesh into cubes. Place on a silpat or nonstick surface with space between each piece. When completely frozen, store in sealed container until ready to use.
Want more sangria recipes? Other summer favorites include plum sangria, cantaloupe sangria, strawberry sangria, nectarine sparkling rose sangria, and cherry sangria!
For the cooler months, try raspberry sangria with thyme (made with frozen berries), kiwi & prosecco sangria, winter sangria made with white wine, and pomegranate sangria!
And don't miss my brunch sangria – great any day of the year!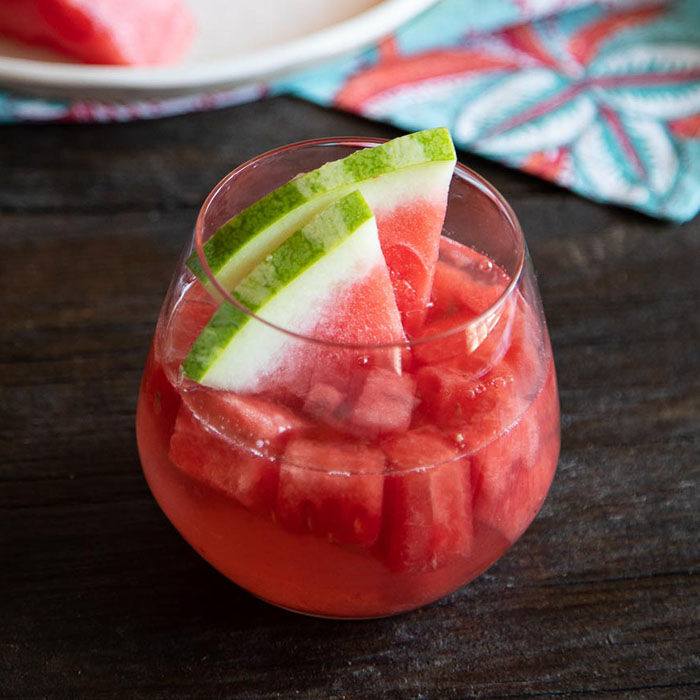 Print Recipe
WATERMELON SANGRIA
This watermelon sangria is the perfect summer sip. The sweet, comforting summer flavor of watermelon pairs perfectly with a delicious chilled wine. Enjoy this before dinner under the stars or while you're staying cool in the pool.
Ingredients
2

cups

watermelon juice

about ¼ medium watermelon – watch video

750

mL

Sauvignon Blanc

1

cup

sparkling water

6

tablespoons

Triple Sec

2-3

cups

chopped watermelon

flesh and rind
Instructions
WATERMELON JUICE
Cut ¼ of medium watermelon into small cubes (smaller than 1-inch). Strain and juice fruit while pushing through a fine mesh sieve. Discard juiced watermelon.
WATERMELON SANGRIA
Combine watermelon juice, wine, sparkling water, triple sec, and chopped fruit in large pitcher. Mix thoroughly. Refrigerate at least 2 hours before serving.

Can be made up to two days in advance.
Nutrition
Calories:
178
kcal
|
Carbohydrates:
15
g
|
Protein:
1
g
|
Fat:
0.2
g
|
Saturated Fat:
0.03
g
|
Polyunsaturated Fat:
0.1
g
|
Monounsaturated Fat:
0.04
g
|
Sodium:
10
mg
|
Potassium:
119
mg
|
Fiber:
0.4
g
|
Sugar:
11
g
|
Vitamin A:
577
IU
|
Vitamin C:
8
mg
|
Calcium:
9
mg
|
Iron:
0.3
mg