If you have any one of the three (yes, 3!!) ingredients for the strawberry sangria, then you absolutely should make it right now. It's my favorite to date and (obviously) so, so easy!
In the spring and summer and 2015, I was on a major sangria kick! It wasn't just because I love the flavors and ease of sangria…we were getting married in a county that only allowed beer and wine. And we'd had our hearts set on his and hers cocktails!
So. Even though it was long before my major seasonal eating kick, I was trying to use the produce of the season to come up with recipe ideas.
As the day came closer, we'd narrowed it down to three options – this strawberry sangria, my cantaloupe chardonnay sangria, and the delectable watermelon sangria! Ultimately we picked the first two as the watermelon seemed like more work for our caterer.
Nearly six years later, and this berry sangria and the watermelons are still two of my favorite drinks to make. You can see all of my sangria recipes here!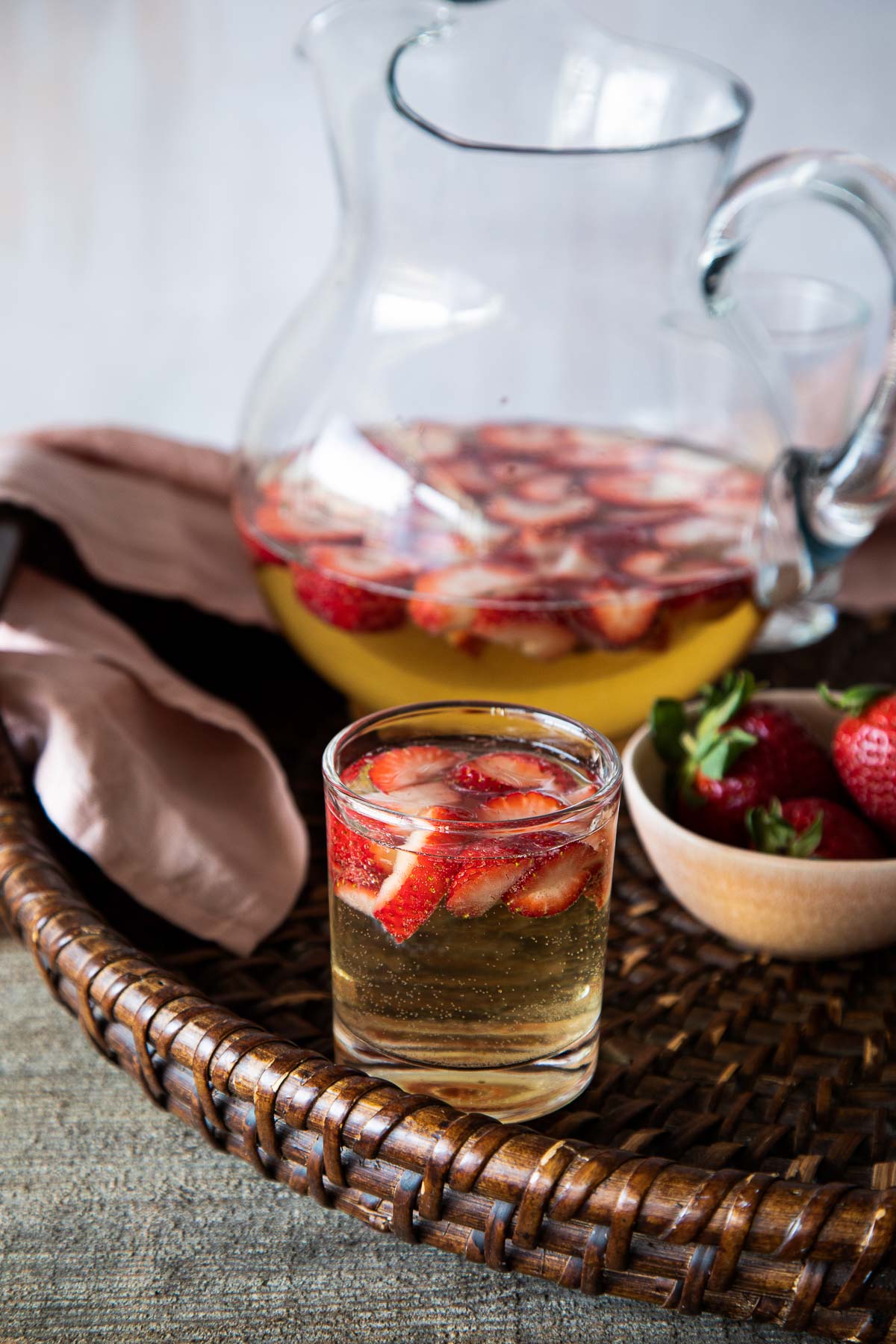 Strawberry Sangria
In making all those sangrias, I learned two things.
First, wine bottles often have tasting notes written on the labels, making it super easy to start dreaming up sangria combinations. Call if cheating it you will, but I call it using my resources. I remember realizing it majorly with this raspberry sangria!
The second was the wonder that is ginger beer. I really hadn't enjoyed it much before this point. It has a stronger flavor than traditional ginger ale, but it's perfect with all the fresh fruits, juices, and sweet liqueurs out there. Seriously. It's also delicious with whiskey if we're being honest, but that's another conversation.
So. At the end of the day, this strawberry sangria depends heavily on the seasonal sweetness of strawberries and the sweet, tart, bubbly nature of the ginger beer!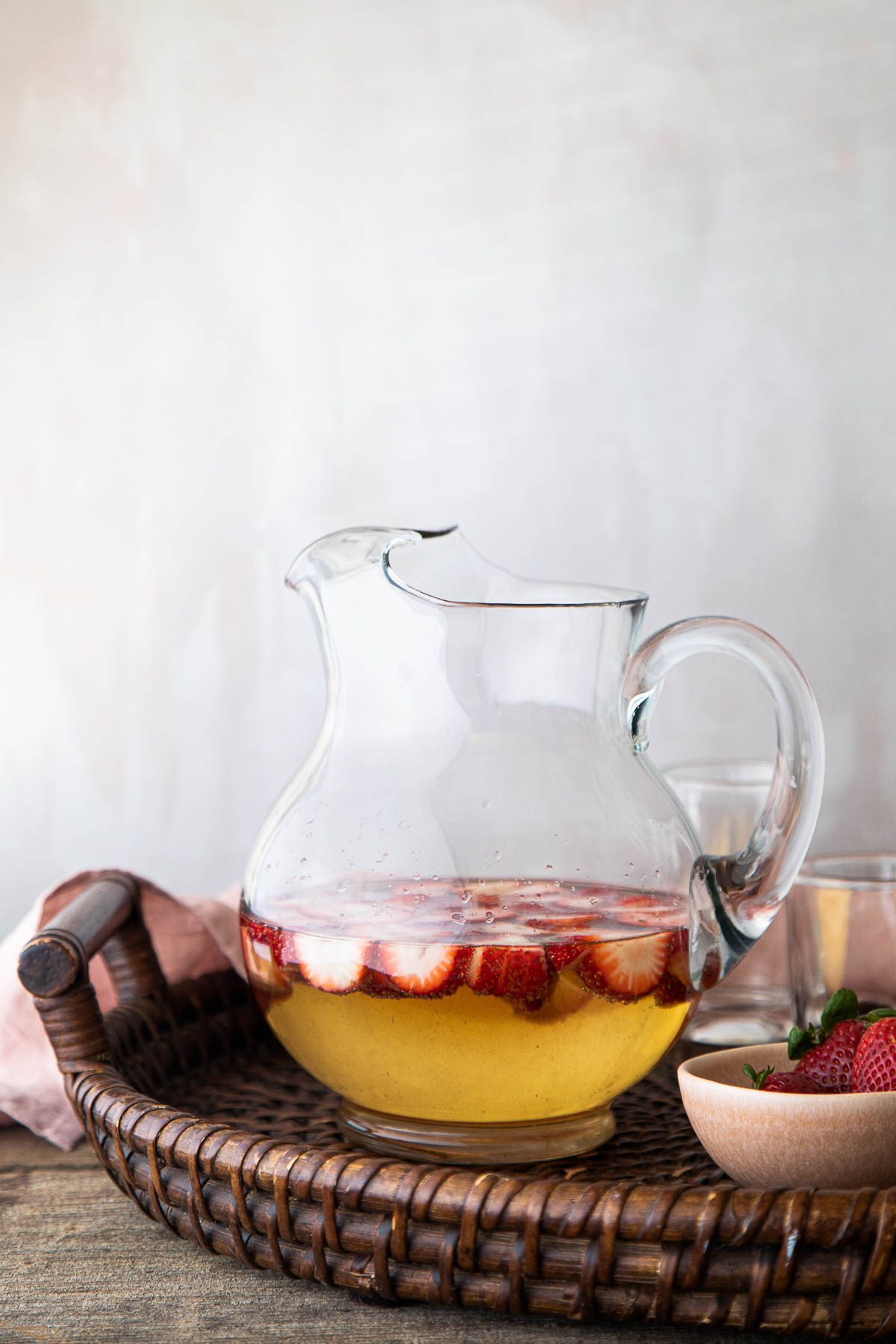 How do I make sangria?
Sangrias are historically a combination of wine infused with fruit. So at the very least, you need to leave fruit (fresh or frozen!) in the wine for an extended period of time to let the fruit naturally sweeten the wine.
Along the way, people have added juices, liqueurs, and sparkling waters to make the drink last a bit longer and to make it a little easier to imbibe.
No matter what sangria recipe you make or create, however, it must have wine, and fruit must sit in the wine for a period of time!
What Pinot Grigio Should You Use?
A friend recently asked me this and I had no idea what to say…for a second. The thing is, wines are all different, some better and some worse! For most of my sangria recipes, I would tell you to buy a $10-$15 dollar of wine.
Why does price matter? Well. Honestly, we rarely buy wines more than $30 on a bottle of wine unless it's a special occasion. When it comes to mixing wines into a cocktail, I don't think you need a nice bottle of wine.
I'm also humbly of the opinion, rightly! :), that you should cook with a wine you wouldn't drink, so why would you drink a wine you wouldn't drink. That's confusing, right?
Well, all that is to say, that don't think a bad wine will be good in a sangria just because it's mixed with something. it's still the main part of the drink.
So pick a wine you like on its own, but no need to break the bank!
Can you use other fruit in strawberry sangria?
It's hard to write too much about a three ingredient recipe, so I won't say too much more, but I've thought seriously about using other fruit in this practically perfect drink.
And, yes, I would TOTALLY use other fruits. Stone fruits like peaches, nectarines, apricots, and plums would all be delectable. I think other berries would be great in terms of flavor (basically a simplified version of the spring berry sangria), but I think you need to mash or cut them in some way to make sure to get their great flavor and color!

Ginger Beer vs. Ginger Ale
Before I started making sangrias, I was completely unaware of ginger beer. Ginger ale is that glorious lightly flavored soda that I associate entirely with being on an airplane! Ginger ale is actually a ginger flavored, sweetened, carbonated drink.
While ginger was at one time an alcoholic drink, it's now usually sold as a non-alcoholic drink. It's made from fermented ginger and has a much stronger (almost spicy flavor).
Because of this difference, it's important to use ginger beer in this strawberry sangria (and most cocktails) because the flavor is lost if you use ginger ale (it's more like watering it down).
Sangria Recipes
Want more sangria recipes? Other summer favorites include plum sangria, cantaloupe sangria, nectarine sparkling rose sangria, and watermelon sangria!
For the cooler months, try raspberry sangria with thyme (made with frozen berries), kiwi & prosecco sangria, winter sangria made with white wine, and pomegranate Lambrusco sangria!
And don't miss my brunch sangria – great any day of the year!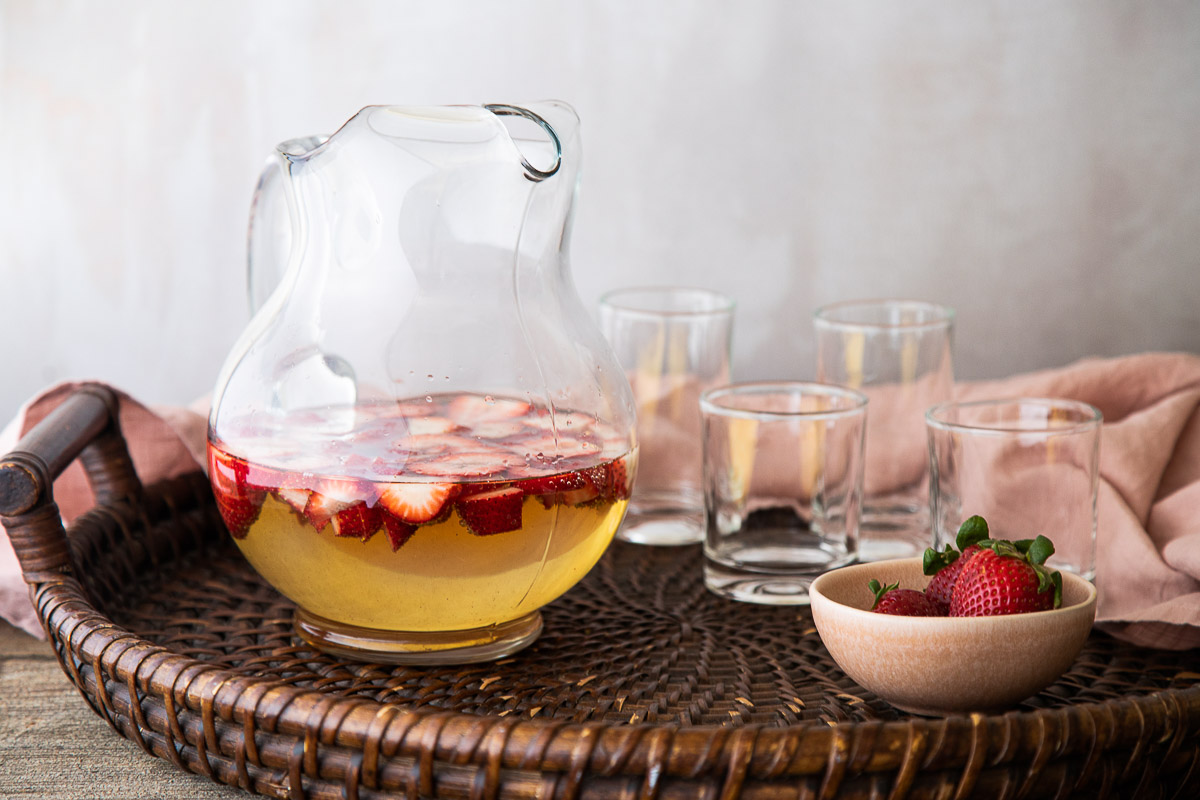 Strawberry Recipes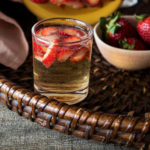 Print Recipe
PINOT GRIGIO SANGRIA
This simple 3-ingredient sangria was one of the first recipes I created for the cocktail hour of our wedding and it ended up being one of the two we served. It's so satisfying and delicious yet still so easy to make – exactly what we all need in the summer!
Ingredients
750

mL

Pinot Grigio wine

12

oz.

ginger beer or ginger ale

2

cups

cut strawberries
Instructions
Combine ingredients in large pitcher.

Refrigerate 3-4 hours.
Nutrition
Calories:
138
kcal
|
Carbohydrates:
11
g
|
Protein:
0.4
g
|
Fat:
0.1
g
|
Saturated Fat:
0.01
g
|
Polyunsaturated Fat:
0.1
g
|
Monounsaturated Fat:
0.02
g
|
Sodium:
4
mg
|
Potassium:
74
mg
|
Fiber:
1
g
|
Sugar:
7
g
|
Vitamin A:
6
IU
|
Vitamin C:
28
mg
|
Calcium:
9
mg
|
Iron:
0.3
mg