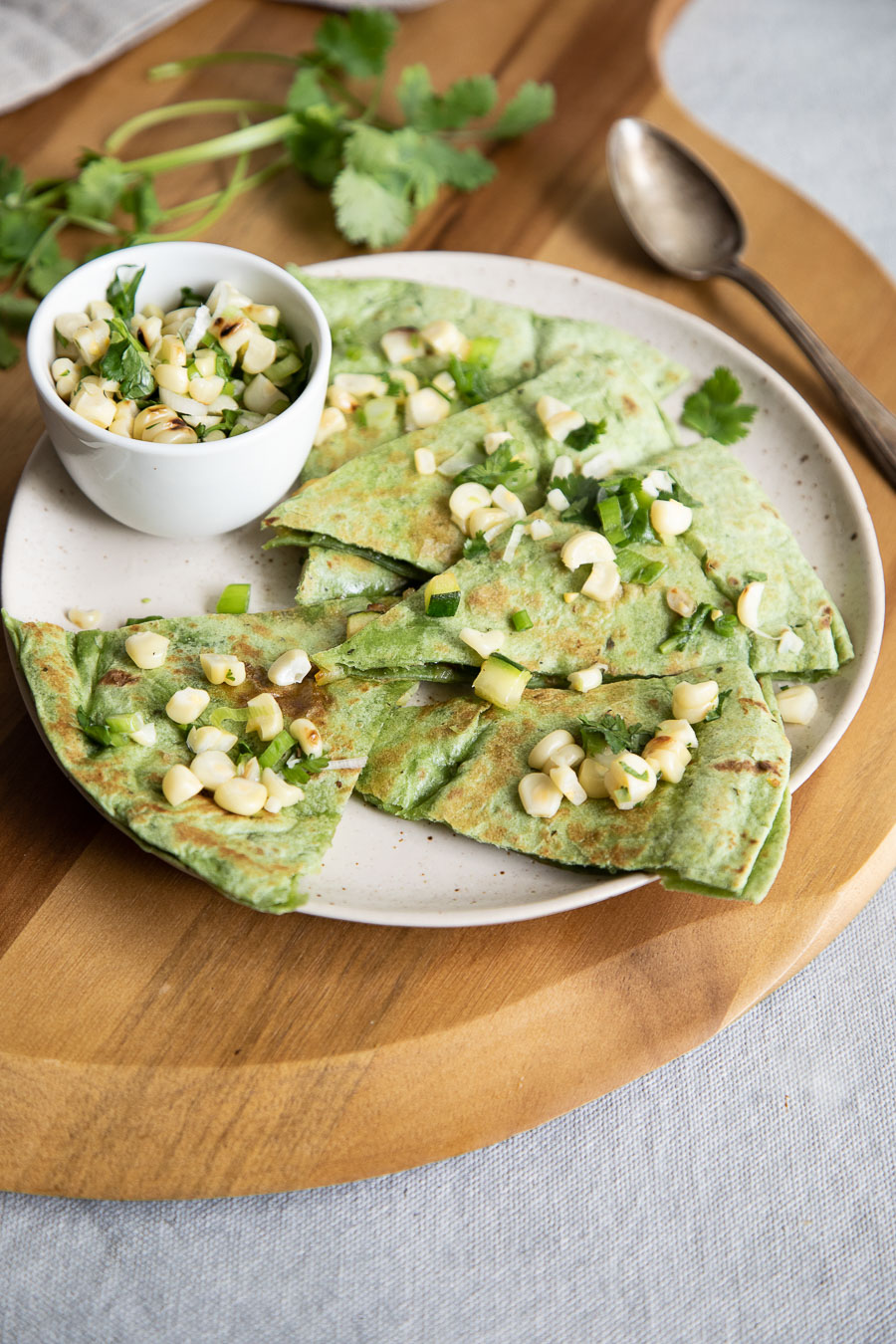 Have I ever told you the traumatizing story of our family's fateful zucchini summer? For those of you who've grown zucchini at home, you'll totally relate! So let's quickly whip up these zucchini quesadillas with a delicious roasted corn salsa and I'll tell you the whole thing…
I grew up on 13 acres. Most of the land is covered in olive trees, but my mom and dad turned quite a bit of space into gardens at one point. We grew tomatoes (when the deer didn't eat them), pumpkins (I won 2nd place in the pumpkin growing contest one year), some berries, and all sorts of flowers. The most robust crop of them all, however, was the zucchini.
Not only do zucchini plants produce a great number of vegetables (technically a fruit, but let's ignore that), but they grow to be HUGE. Like bicep and tricep size.
And I don't mean my arm size. Like, my brothers' arm sizes and they are big guys. Needless to say, it takes a few meals to get through one or two zucchini.
So my mom got creative. We had zucchini patties (actually quite tasty), zucchini cake, zucchini bread, vegetable marinara sauce, and tons more.
We were all actually pretty tolerant (and even enjoyed) most of the experimenting until one fateful night…
My mom put this weird business on the table. We had to ask before spooning some onto our plates. Y'all. Zapplesauce. Yeah. So imagine apple sauce, but made with shredded zucchini. I'm not sure I even tasted it. I just couldn't wrap my mind around it…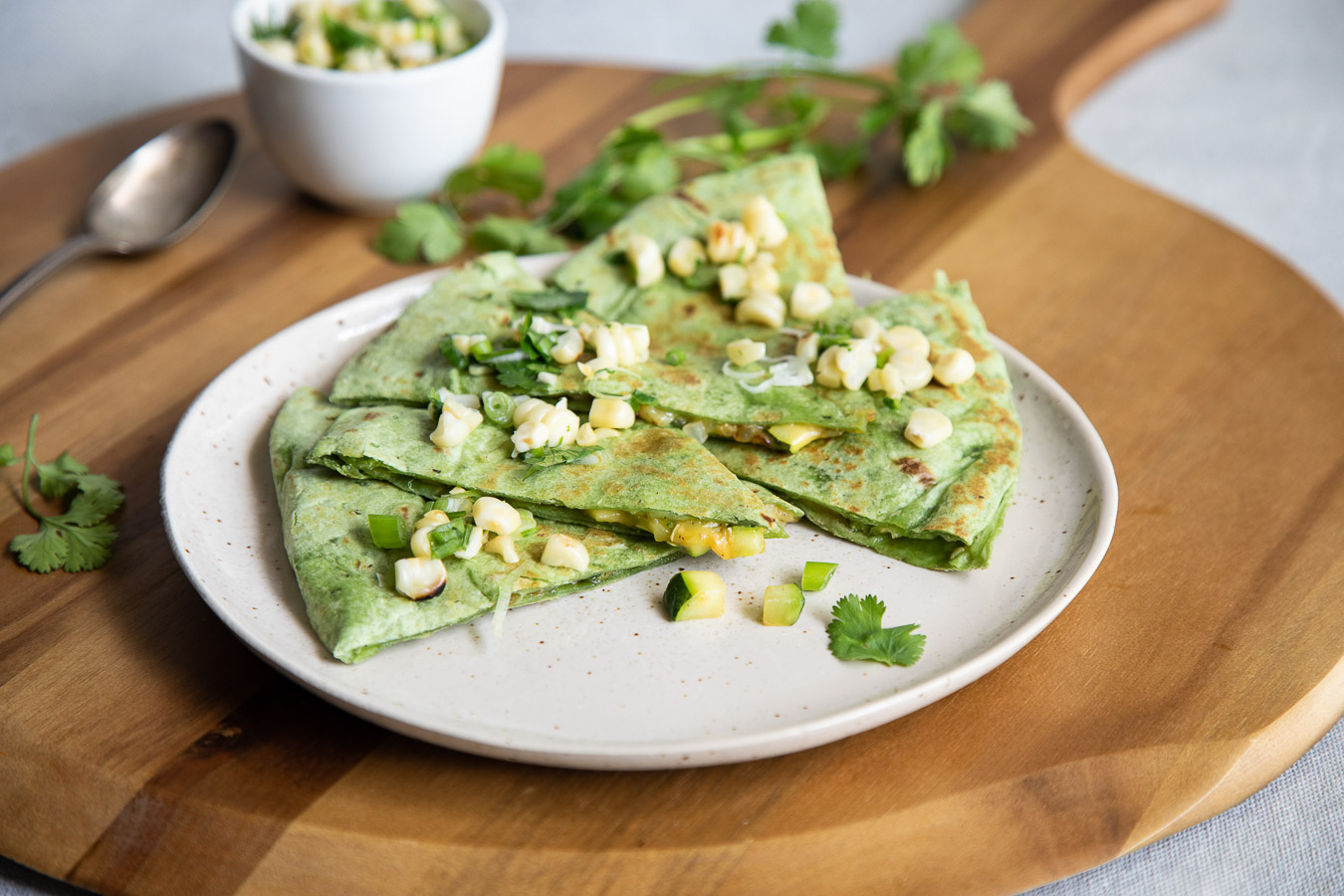 Roasted Corn Salsa
After that fateful summer, I was suspicious of new things on the table, but I'm now game for pretty much anything and understand the reality of growing zucchini – they are PROLIFIC!
And now as an adult, zucchini is on frequent rotation in our house in dinner recipes because it's friendly to my husband's Low FODMAP diet.
And these zucchini quesadillas are my perfect happy place. Quesadillas come together so quickly and they're so tasty. The onions add a bit of crunch with the sauteed zucchini. Read below for how to get water out of the zucchini too!
And the roasted corn salsa (a great way to use up extra cooked corn by the way) is the perfect tasty topping. You can use whatever kind of flour tortilla you like, but the spinach ones makes it all a bit more fun!!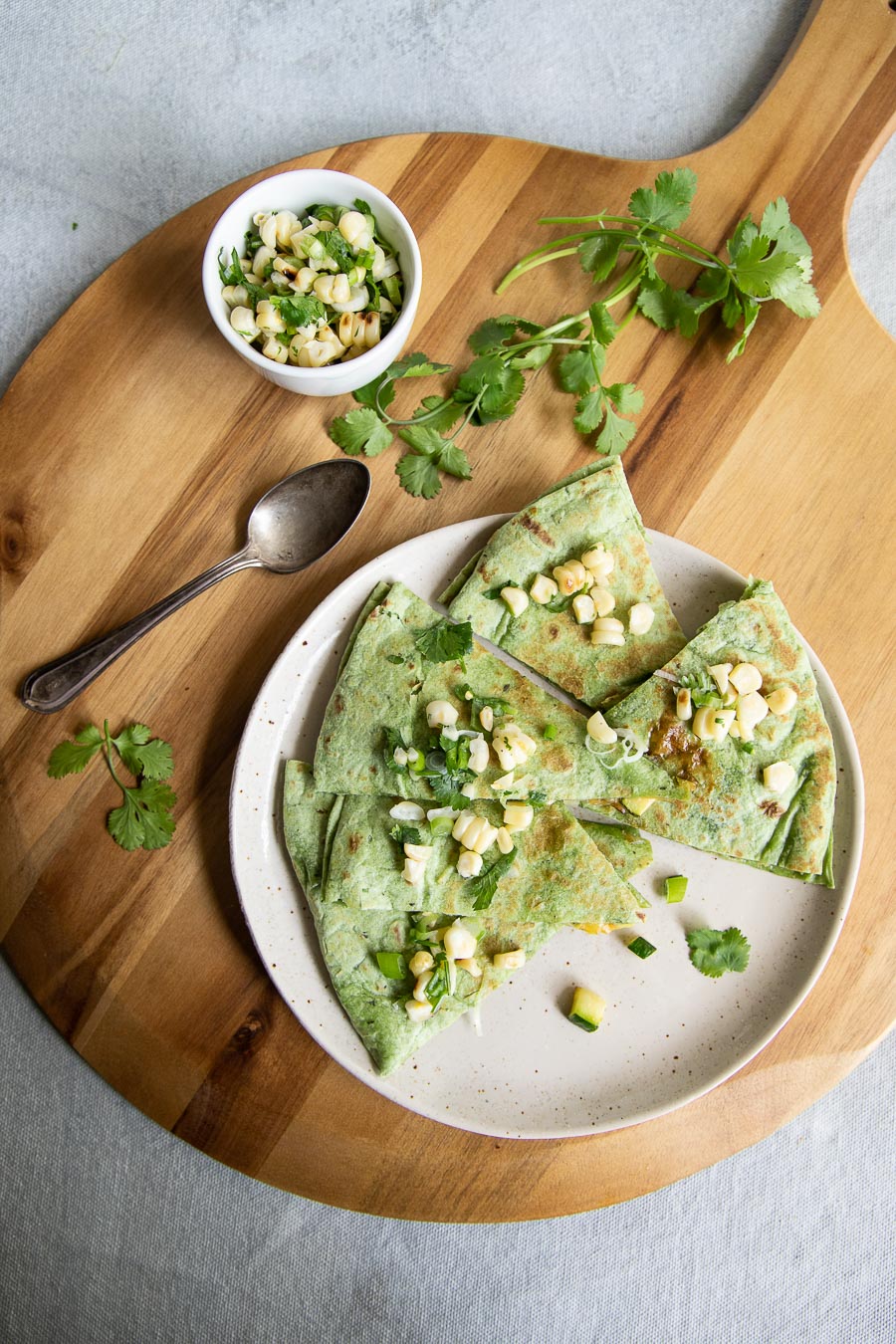 When Should You Pick Zucchini?
Now that I have my own small garden, I understand how a zucchini can get out of hand in size, but I also understand why you shouldn't let it.
The size of summer squash you see in the market – roughly 6-8″ is the right size. Smaller can be ok, but that is really the happy spot.
If you let the zucchini get too big, you'll end up with big seeds in the middle that aren't enjoyable and the delicate flavor will disappear.
I think zucchini just end up getting bigger and watered down. So if you're straining zucchini shreds for a recipe, you'll be overwhelmed with all the liquid that separates.
How to Drain Zucchini
If you've cooked or baked with zucchini, you've likely seen in recipes calling for shredded zucchini that they want you to drain it. Zucchini is full of water, which contributes to its mild (bland?) taste.
In order to pull out some of that water and get to the heart of the produce (and not have a watery dish), salt shredded zucchini lightly, and let sit over a fine mesh strainer or in a cheesecloth for 15 minutes. Then squeeze out as much liquid as possible.
Roasted Corn
This roasted corn salsa is the perfect addition to any quesadilla, tacos, or even a delicious fish. The truth is, you can cook the corn however you like in this recipe – even just boiled, but it won't be quite as tasty.
Grilled on the BBQ or grill is ideal. You can also do an oven roast on it, or the easiest way is to cut corn off the cob and then pan sear it. However you do it, however, you'll love the flavor!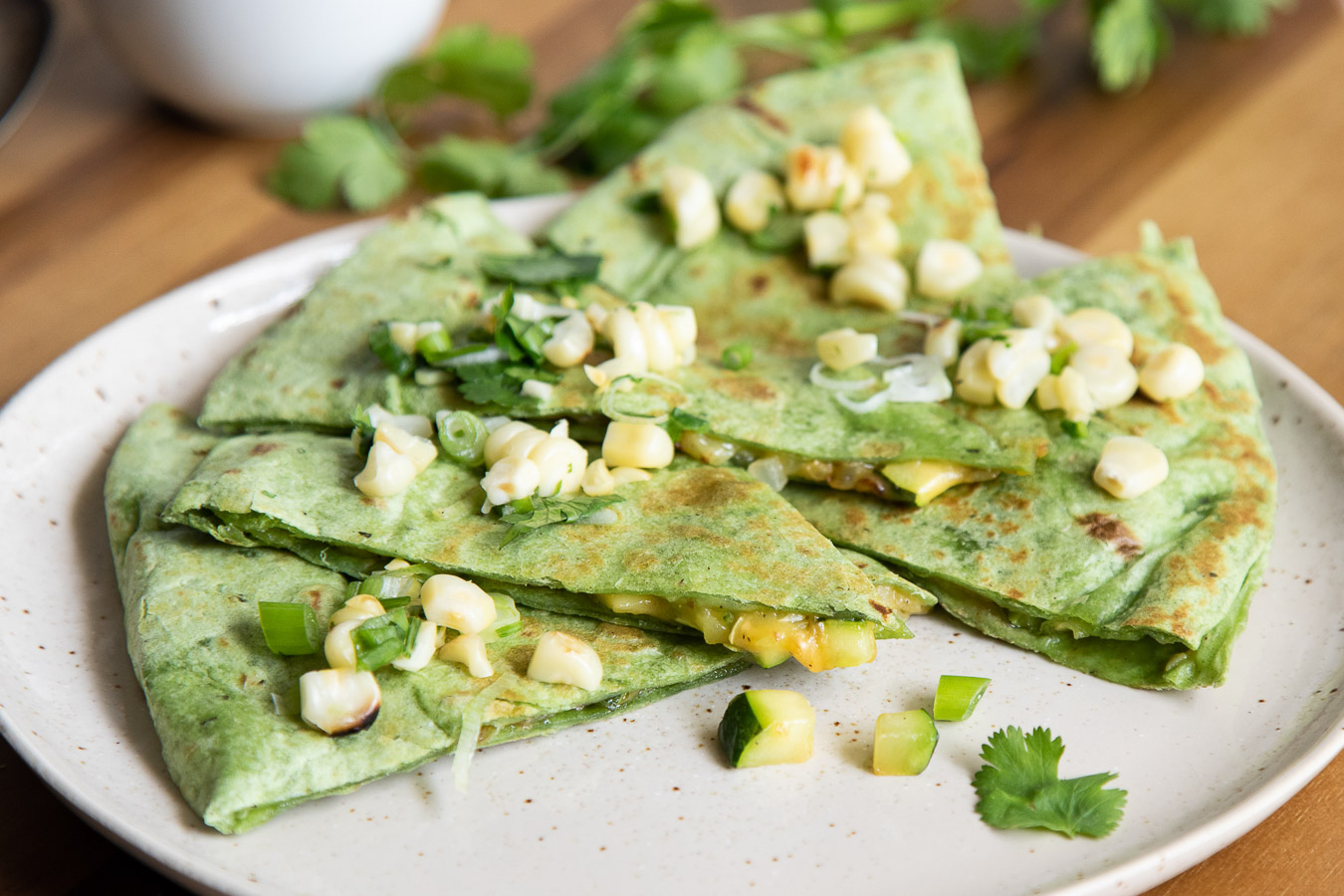 More Summer Produce Recipes
If you want more summer produce recipes, you've come to the right place! Here are all my summer recipes, including those that just take good in the summer.
These seasonal summer recipes feature the fruits and vegetables you'll readily find in summer months.
And be sure to check out these hot weather dinner ideas because I know how hard that struggle can be!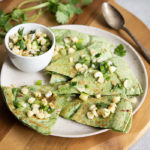 Print Recipe
ROASTED CORN SALSA + ZUCCHINI QUESADILLAS
Looking for a delicious no cook summer dinner recipe? Yeah, I usually am as well. These zucchini quesadillas are the perfect combination of fresh produce for great nutrients and just plain deliciousness. Topped with roasted corn salsa, it's summer perfection!
Ingredients
Roasted Corn Salsa
1

ear sweet corn

grilled or pan seared*

1

tablespoon

olive oil

¼

teaspoon

salt

2

green onions

sliced

2

tablespoons

chopped fresh cilantro

1

tablespoon

fresh lime juice

⅛

teaspoon

fine sea salt
Zucchini Quesadillas
1

tablespoon

extra virgin olive oil

1

cup

diced zucchini

¼

cup

diced yellow onion

¼

teaspoon

fine sea salt

Pinch

ground black pepper

2

large (10-in spinach or herb tortillas)

¾

cup

shredded sharp cheddar cheese
Instructions
Roasted Corn Salsa
To pan sear,  simply cut raw kernels off corn cob. Heat 1 tablespoon olive oil in pan over medium-high heat. Add corn, cook 10-12 minutes, stirring occasionally, until corn starts to brown! Let cool if desired.

Combine roasted kernels with green onions, cilantro, lime juice, and salt. Set aside. Can be made up to 1 day ahead of time.
Quesadillas
Heat the oil in a large skillet over medium-high heat. Add the zucchini and onion and cook until the vegetables being to soften and brown, about 5 minutes. Stir in the salt and pepper. Turn off the heat.

Place one tortilla on a large plate. Spread the cheese evenly over it. Top with the warm vegetables and spread evenly. Place the second tortilla on top.

Return the same skillet used to cook the vegetables to medium-high heat. Slide the quesadilla into the skillet and cook for 1 to 2 minutes on each side, until browned.

Slide it onto a cutting board and cut into wedges. Serve warm topped with the corn salsa.
Notes
Any kind of grilled or roasted corn is fine here. Pan sear recipe is included here, but grilled, bbqed, or roasted are all fine.
Save this recipe on Pinterest!
Make this recipe? I'd love to see how it turned out…
PINTEREST: Upload a photo and your review to this Pin!
INSTAGRAM:  Tag me @lucismorsels and use #LMrecipes
Nutrition
Calories:
451
kcal
|
Carbohydrates:
30
g
|
Protein:
15
g
|
Fat:
32
g
|
Saturated Fat:
11
g
|
Polyunsaturated Fat:
3
g
|
Monounsaturated Fat:
14
g
|
Trans Fat:
0.01
g
|
Cholesterol:
42
mg
|
Sodium:
1240
mg
|
Potassium:
427
mg
|
Fiber:
3
g
|
Sugar:
7
g
|
Vitamin A:
784
IU
|
Vitamin C:
20
mg
|
Calcium:
369
mg
|
Iron:
2
mg