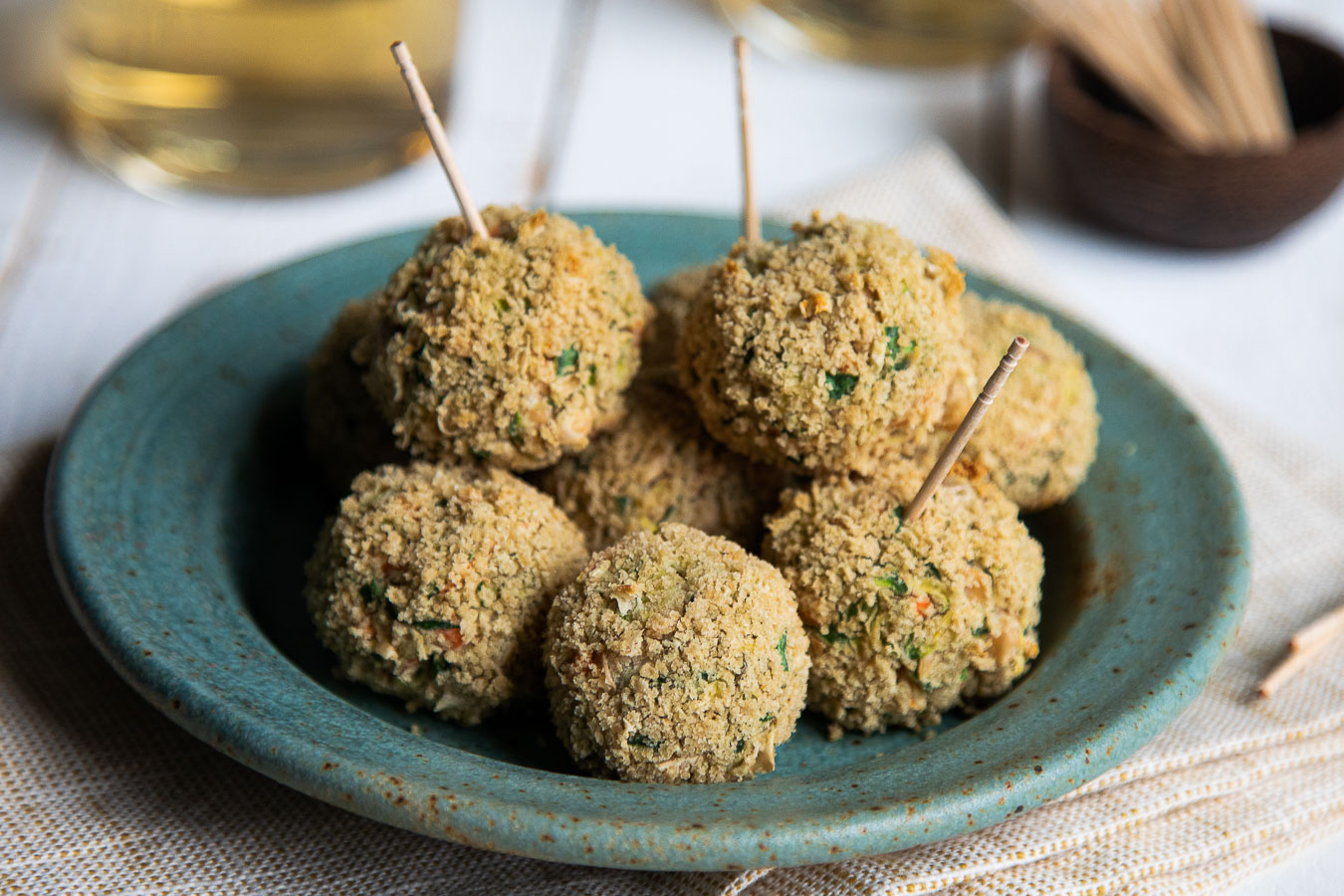 So for the first time in the last few years, we don't have Super Bowl party plans. My husband's previous coworker used to host an annual bash, but now it's starting to look like we may host something with our fellow new parent friends! No matter if we're at home or we decide to go somewhere, this veggie-filled vegan appetizer will likely be on the table!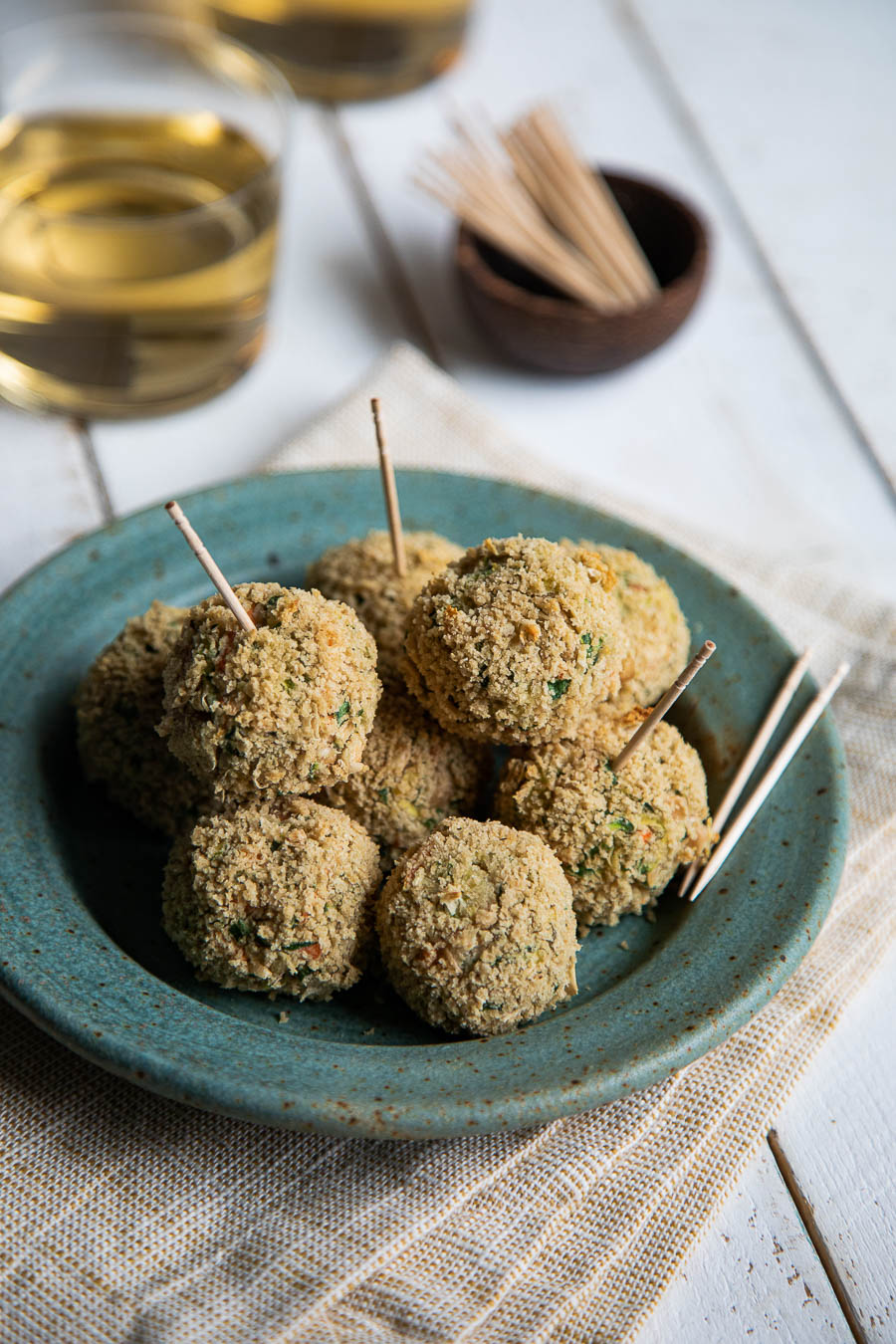 Veggie Balls
When you think of game day spreads, what's the first thing to come to mind? Is it cheesy by any chance? I always think of these homemade soft pretzels with IPA beer cheese dip!
As much as I love all these dishes (look out world if there's spinach dip!!), I do always like having something with veggies and that's a bit lighter.
I've found that I'm not alone with this either. Without fail whatever dish I bring (even if it's carrot sticks and hummus), everybody gobbles it up!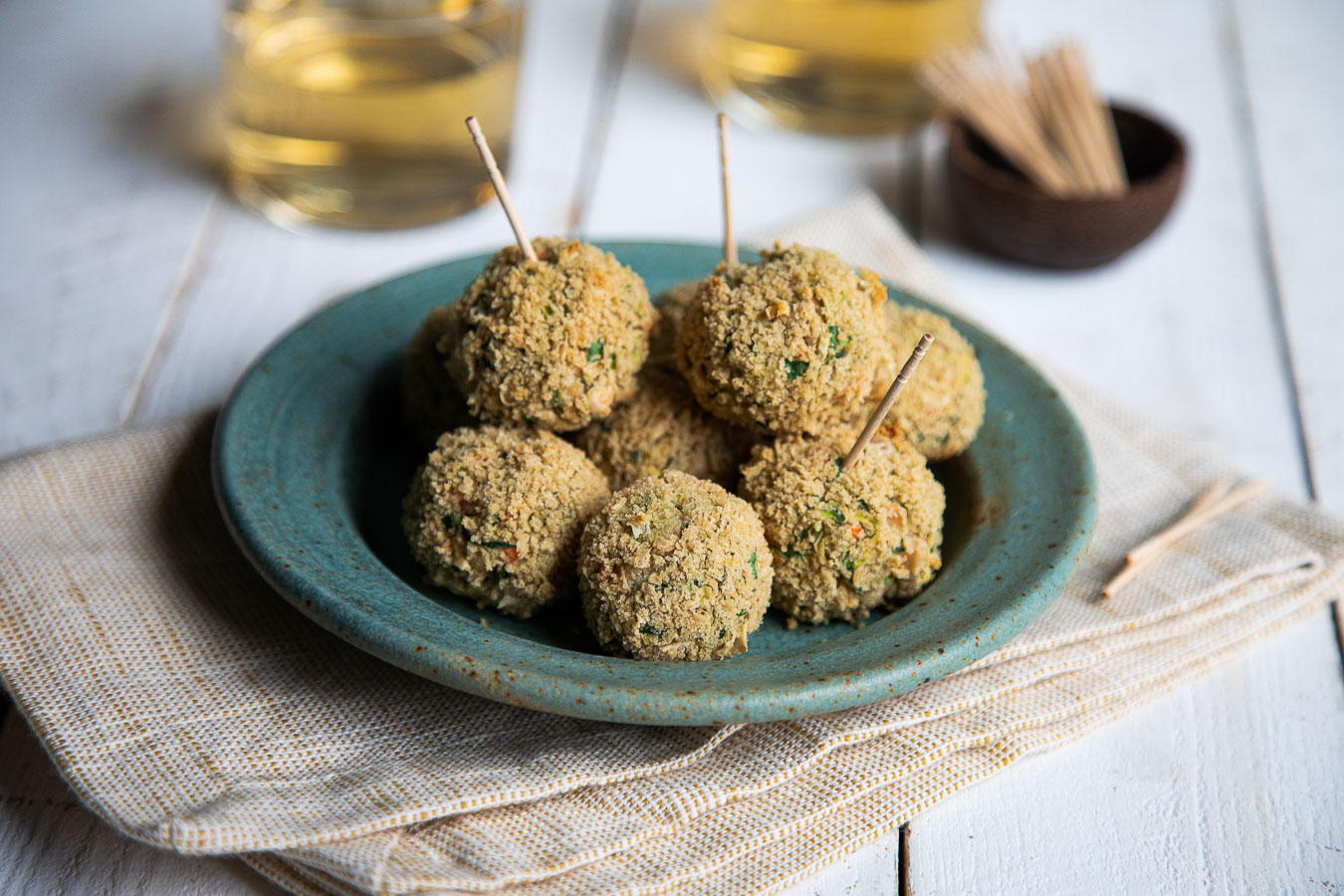 Veggie Appetizers for Game Day
Ok, so I didn't set out for these veggie party appetizers to be vegan. I figured at least one egg would be required for binding it all together so that it didn't fall apart into a mess, but it didn't!
And I jokingly smiled to myself that it would add a little (LITTLE) protein to the dish which is usually lacking in an appetizer spread.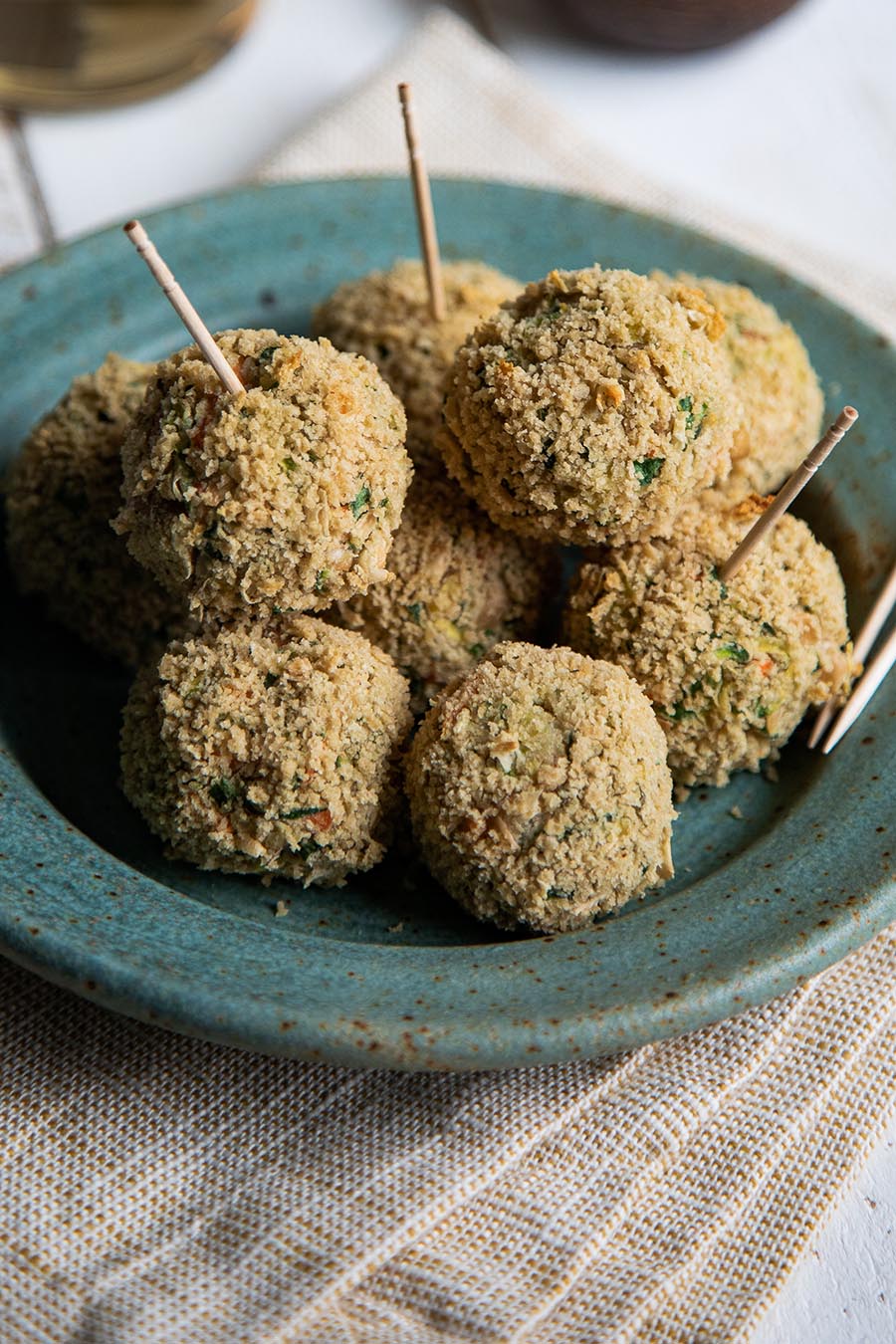 As it turns out, the mashed cannellini beans were enough of a binder. I think it's probably important to note that it mainly worked because the veggie pieces are on the small side. If they were too big, they would easily fall apart.
You can serve these vegan appetizer balls with toothpicks for people to easily pick them up! I love these reusable stainless steel picks that work as cocktail garnishes and appetizer accoutrement!
A dipping sauce?
I don't have a dipping sauce featured as part of this vegan appetizer recipe because they're delish just on their own.
If you wanted to make this a little bit bigger of a dish, however, a garlic or plain marinara sauce would be perfect! You could also do this vegan romesco sauce that would be so delicious!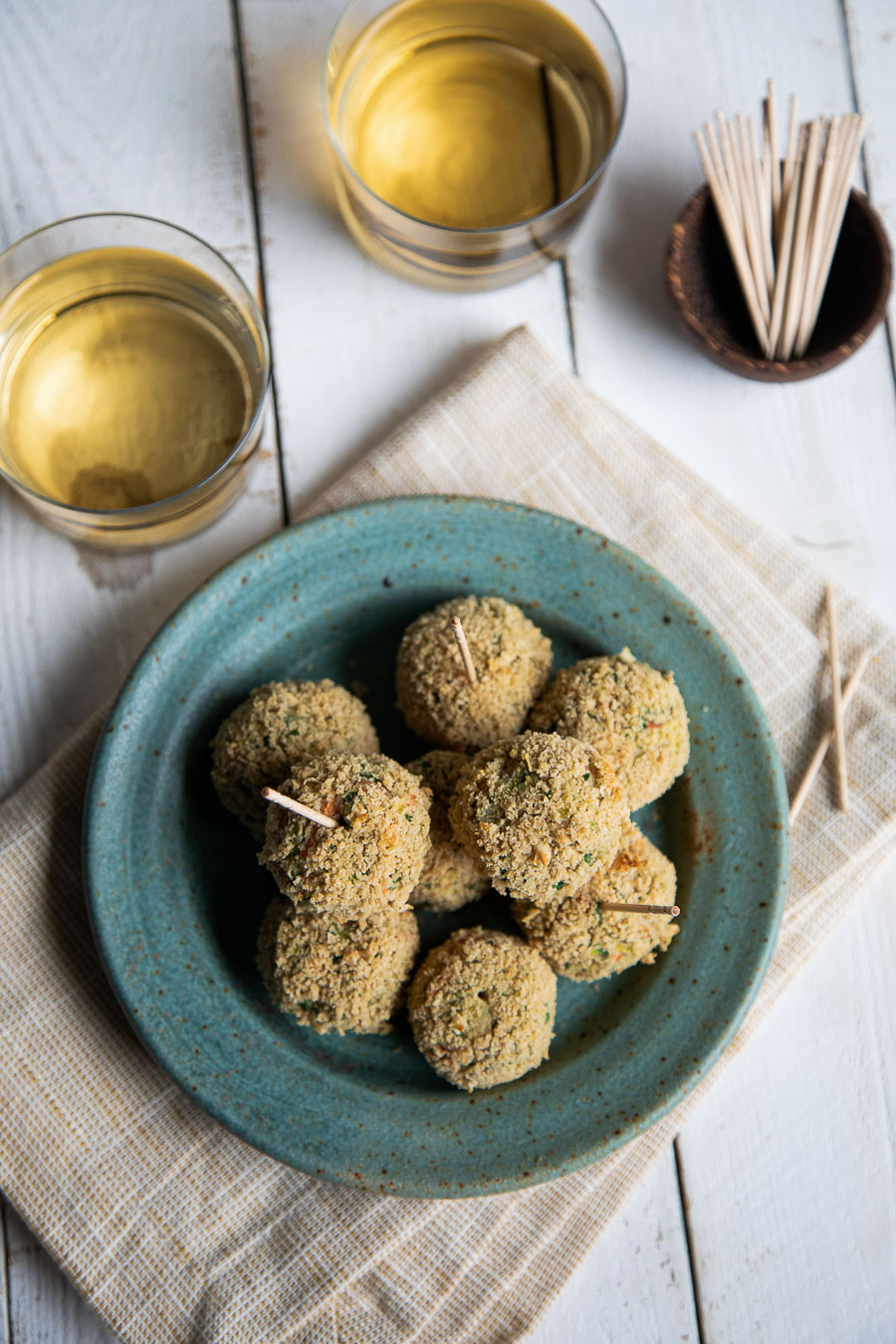 More Vegan Recipes
You can see all my tasty vegan recipes here. A few favorites are quinoa-stuffed sweet potatoes, broccoli pasta, pea soup shooters, and avocado + 3 bean salad!
Print Recipe
VEGAN APPETIZER BALLS
Party appetizers are usually decadent and delicious but heavy. I always like to bring a dish with veggies and/or something that's a bit lighter. I say that I bring these for myself if no one else, but I find that everybody is usually happy with the balance. These veggie-filled fritters are a sure hit at any party and no one will know they're vegan appetizers!
Ingredients
1

cup

shredded zucchini

½

teaspoon

fine sea salt

½

cup

shredded carrot

2

tablespoons

chopped chives

1

15 ounce can Cannellini beans, rinsed and drained

½

cup

whole wheat panko bread crumbs

¼

teaspoon

dried basil

¼

teaspoon

ground black pepper

¼

teaspoon

garlic powder
Instructions
Add the zucchini to a large bowl and sprinkle it with ¼ teaspoon of the salt. Let sit for 5 to 10 minutes

Preheat the oven to 400 degrees F and spray a baking sheet with non-stick cooking spray.

Squeeze as much water as possible out of the zucchini and discard. Place the zucchini back in the bowl and add the carrots, chives, and beans. Mash all ingredients together. Add ¼ cup of the panko, the remaining salt, basil, pepper, and garlic powder. Continue to mash to combine the ingredients.

Divide into 12 equal portions and roll each into a ball. Pour the remaining panko onto a plate in a thin layer. Roll each ball in the panko to coat and place them on the baking sheet.

Bake for 20 minutes until they begin to brown. Serve warm.
Nutrition
Calories:
14
kcal
|
Carbohydrates:
3
g
|
Protein:
1
g
|
Fat:
0.2
g
|
Saturated Fat:
0.04
g
|
Polyunsaturated Fat:
0.1
g
|
Monounsaturated Fat:
0.03
g
|
Sodium:
120
mg
|
Potassium:
53
mg
|
Fiber:
0.4
g
|
Sugar:
1
g
|
Vitamin A:
934
IU
|
Vitamin C:
2
mg
|
Calcium:
9
mg
|
Iron:
0.2
mg