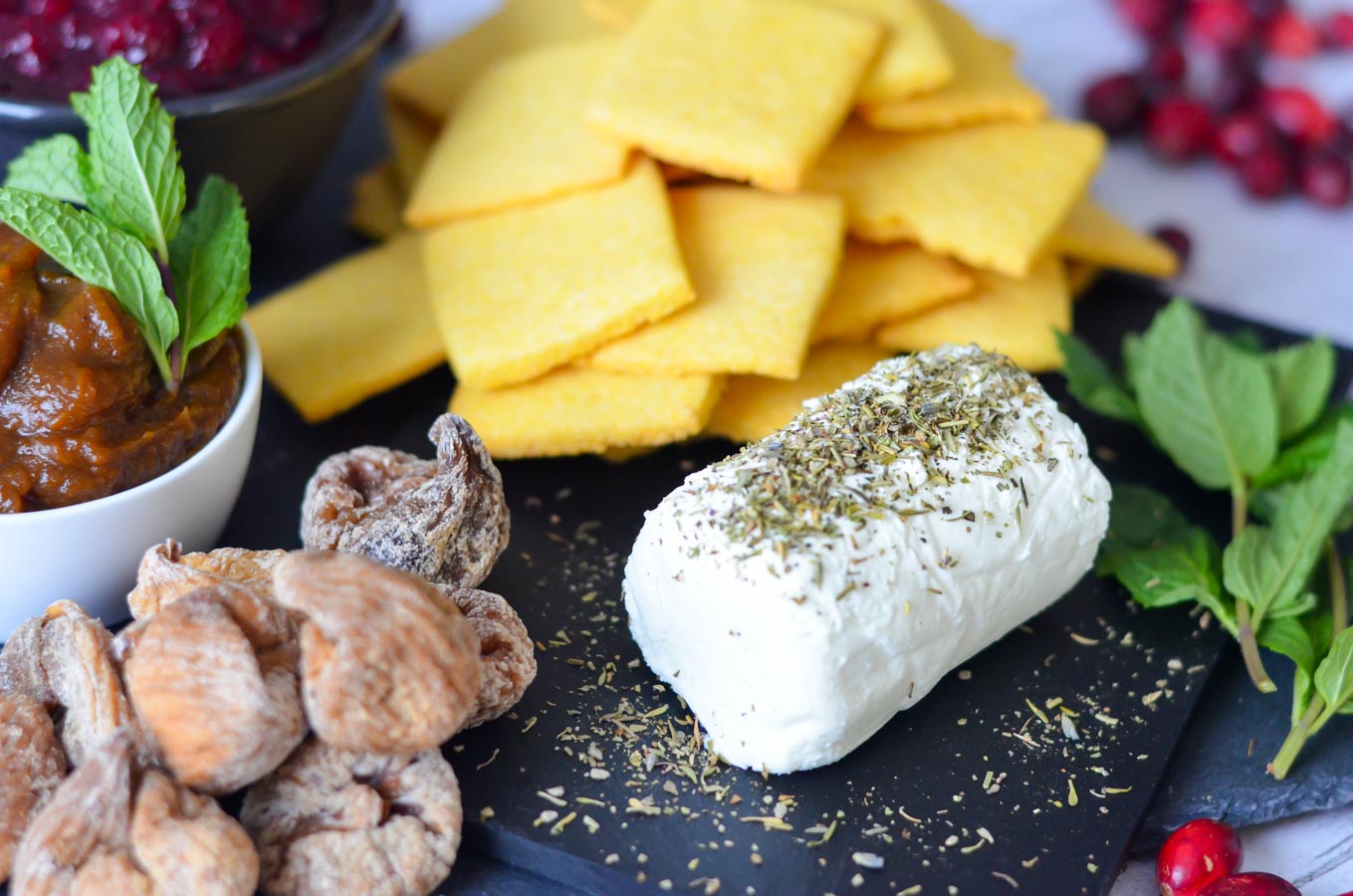 Thanksgiving is next week and I couldn't be more excited. We'll be spending it with my family. I'm excited to cook a bit with my mom, relax around the house with family, and enjoy that cold weather. Before we get there, however, we have to talk about your Thanksgiving appetizer board.
Thanksgiving Appetizer Board
The great thing about Thanksgiving Appetizer Boards (great for a Friendsgiving too!)is that you can buy all the ingredients. Then just put them out for your friends and family to enjoy.
I thought it'd be nice to have some homemade components to my board, however. Check out these other tasty appetizer recipe ideas as well!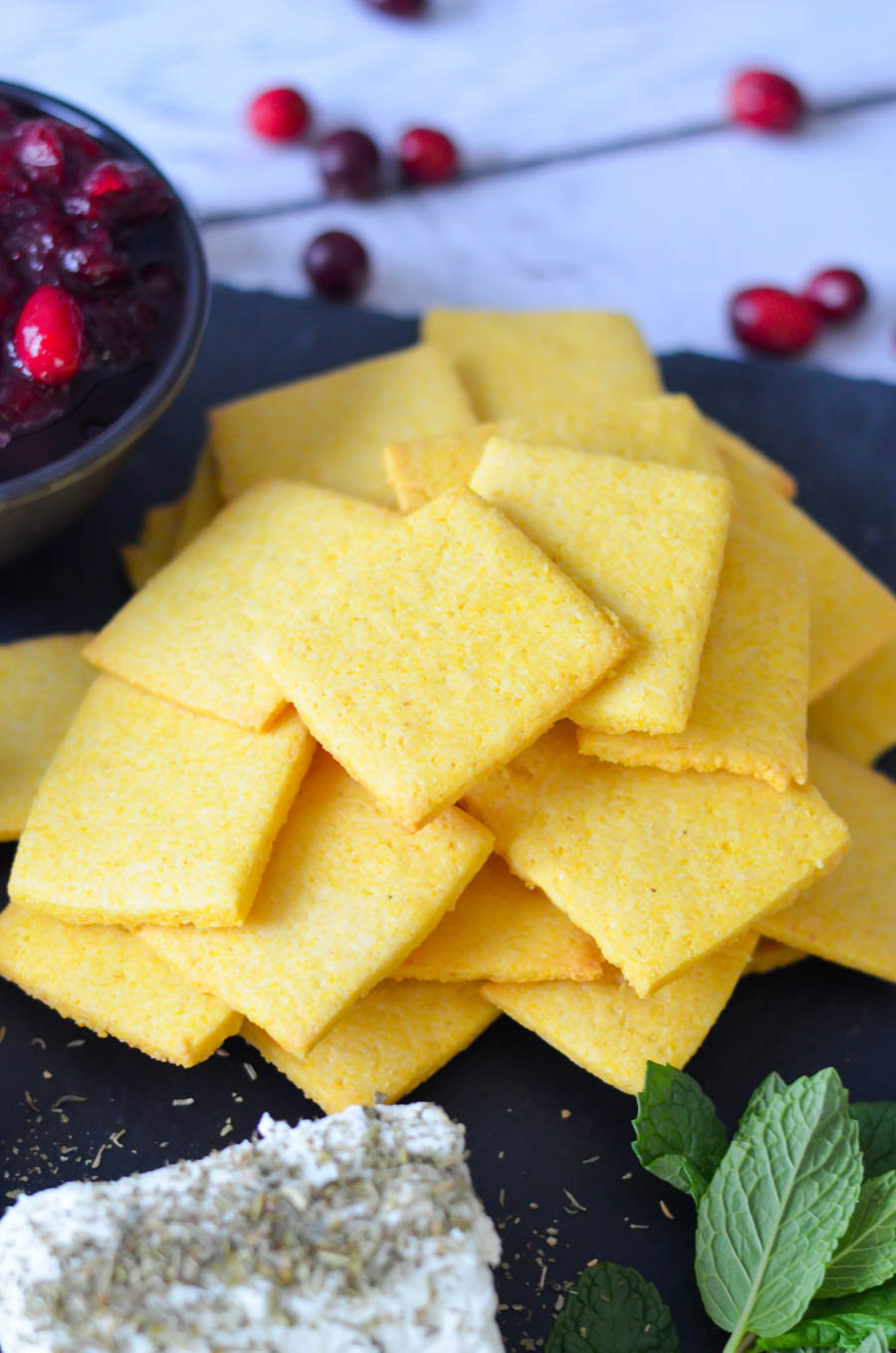 Cornbread crackers was an idea I had a few months ago for the perfect Thanksgiving spread that didn't require a turkey in the oven.
The pumpkin butter recipe, however, was a last minute addition. I shared my pumpkin butter recipe on Prosciutto Toast w. Pumpkin Butter + Gouda Cheese recipe last month, so now I'm kind of in love with all the ways to use it.
I originally found it at Trader Joe's, so I didn't think a homemade version would be necessary through this holiday season. But when I went to my TJs last week, there was no pumpkin butter to be found.
Apparently, eating pumpkin things is only something we do in October! Well nobody told me, and I'm not one to stick to those kinds of rules, so into the kitchen I went armed with my can of pumpkin puree…
Cornbread Crackers | Cornbread Crisps
These cornbread crackers taste exactly like cornbread in cracker form. YES!!! Because of the butter in the recipe, they even have that scrumptious buttery taste. All you really need is some honey and you'd be set!
The recipe below for these cornbread crackers is for thicker crackers (perfect for toppings) and a little more reminiscent of cornbread.
If you're looking for cornbread crisps (like those from Trader Joe's), you'll just have to tweak the recipe a little. Roll your dough a little thinner; cut your squares a little smaller; and start keeping an eye on your cracker to turn golden brown around 10 minutes in the oven.
I tried these cornbread crackers with goat cheese, fresh cranberry sauce, and with the pumpkin butter. You'll never guess – they were delicious with all three toppings (separately of course, though now I'm wondering how they'd taste with all three)!!
Pumpkin Butter Recipe
For some reason I expected pumpkin butter to be fairly simple to make. I underestimated just how easy it really was. Most recipes call for apple juice or apple cider, but as you can see in my pumpkin butter recipe, it doesn't contain apple juice.
Instead, I opted for ginger ale. You can absolutely substitute the apple juice or cider for the ginger ale, but then you'll want to add in about 1 teaspoon of ground ginger.
And if you have any pumpkin puree leftovers during this spiced season of baking, try these pumpkin quesadillas and pumpkin toast which call for just a few tablespoons of pumpkin!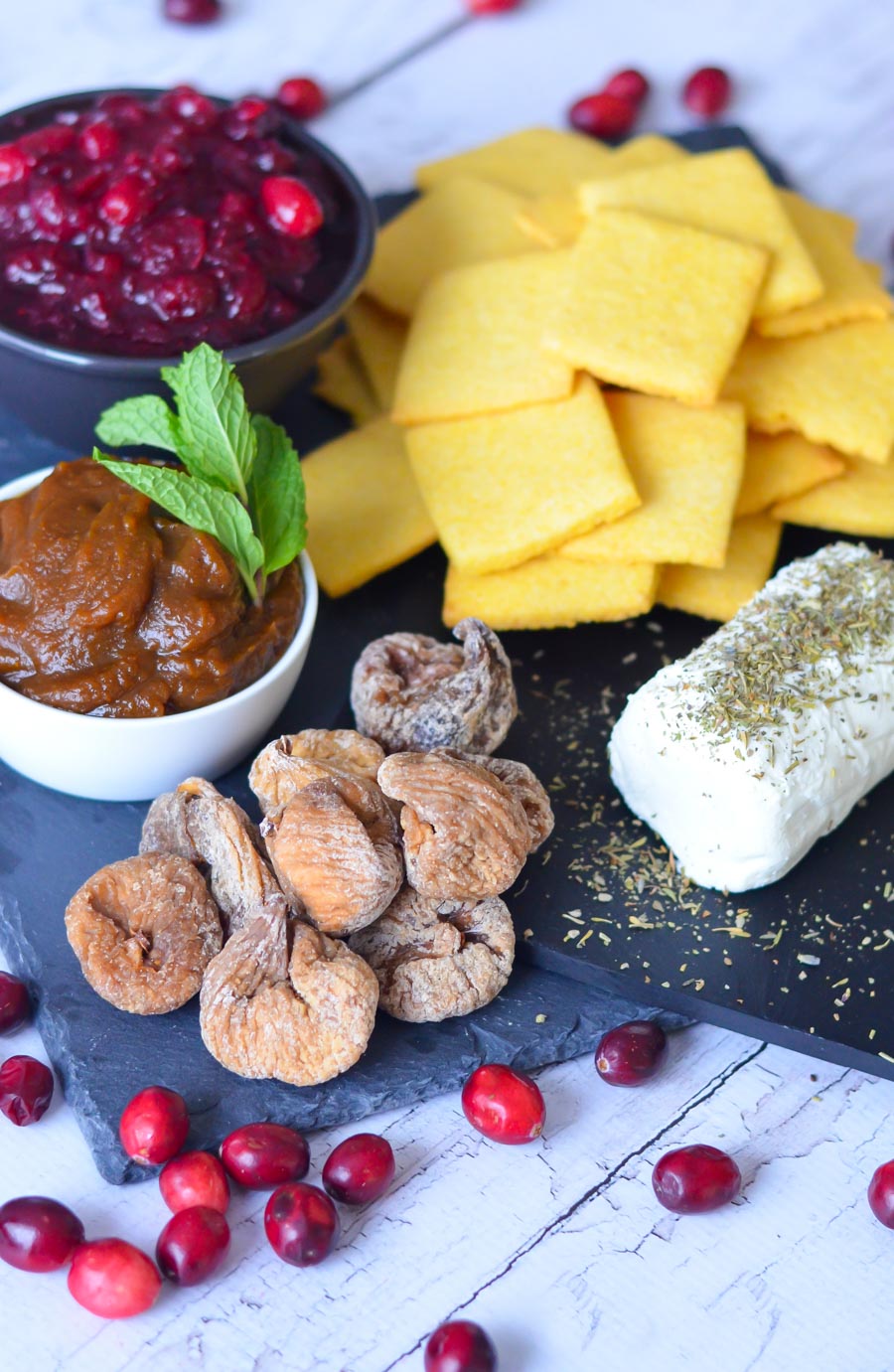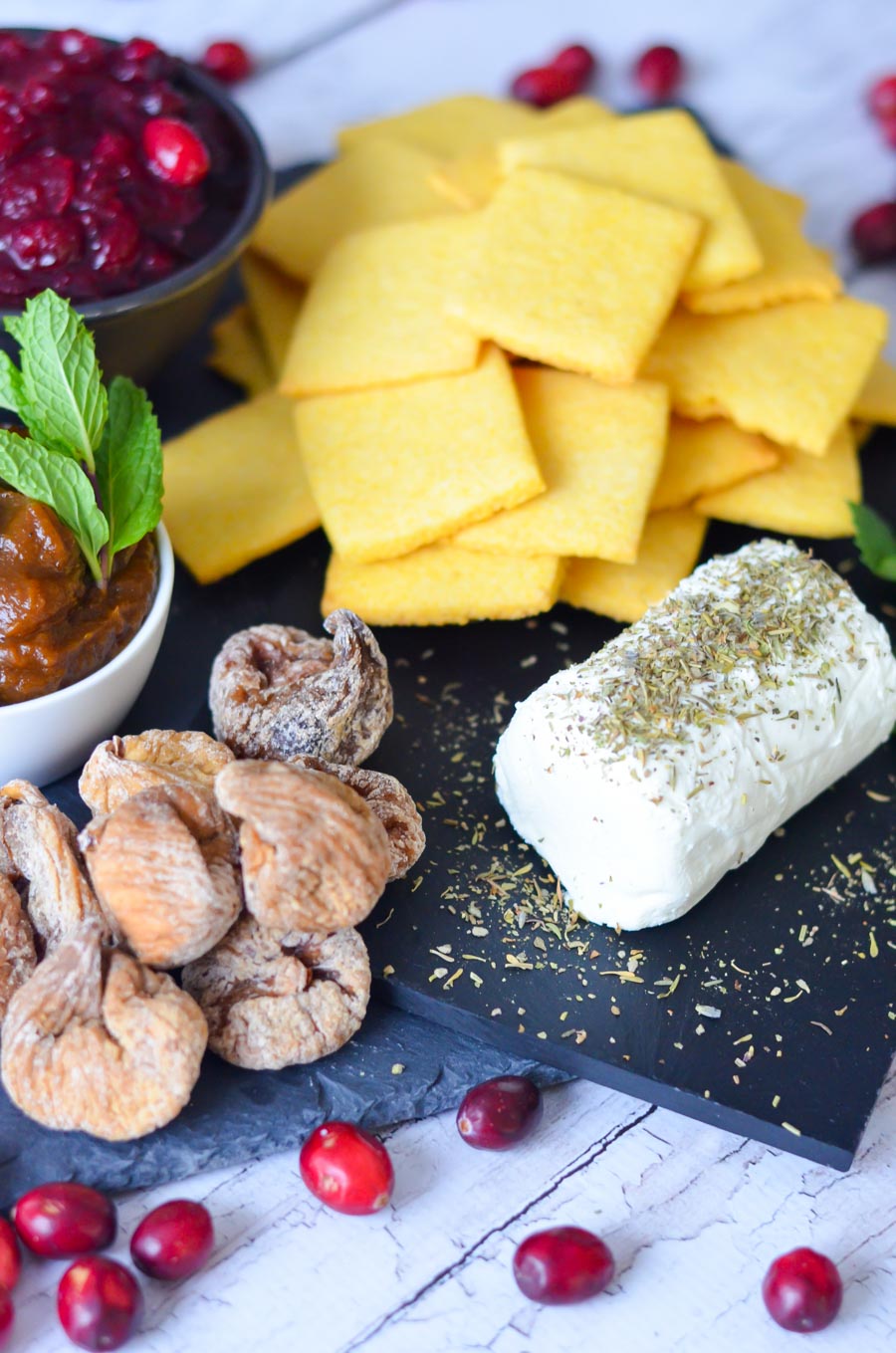 And I'm just putting it out there that my Winter Fruit Platter would be a lovely offering for the holiday season!
And you can check out these simple cheese board ideas as well this festive apple ginger cocktail (or this turmeric spritzer)!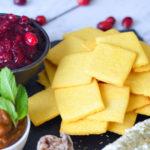 Print Recipe
HOMEMADE CORNBREAD CRACKERS
My husband knows that I have a few weakness in life – french fries, cornbread, and crackers! These cornbread crackers combine two of my weaknesses, so that means I don't like to share. Just kidding! These cornbread crackers are delicious and perfect for an appetizer board. They're perfectly buttery and I'm willing to bet you can't keep your hands off of them either
Ingredients
1

cup

yellow cornmeal

¾

cup

white flour

1

teaspoon

baking powder

5

teaspoons

sugar

1

teaspoon

salt

6

tablespoons

butter

cold, cut into cubes

¼

cup

buttermilk
Instructions
Combine cornmeal, flour, baking powder, sugar, and salt in a food processor. Pulse a handful of times to combine.

Lay cubed butter on top of the dry mixture. Pulse again until mixture resembles a coarse (thick) meal.

With the food processor running, add buttermilk and process until a ball of dough forms.

Cut 4-12″ wide pieces of wax paper.

Remove one-half of dough to a sheet of wax paper. Top with second sheet. Roll until about ¼″ thick (a more rectangular shape is helpful). Repeat with second half of dough. Place rolled dough in freezer for 15 minutes.

Meanwhile preheat oven to 375° and line two baking sheets with parchment paper or silicone mats.

Remove one of the two rolled-out pieces of dough. Roll out again to ensure even thickness.

Remove top piece of wax paper and cut into roughly 1 ½″ squares, saving 'scraps' to roll out again. Carefully place squares on baking sheet. Bake 15-17 minutes until edges are just starting to brown. Repeat with remaining dough.

Cool crackers completely. Store in airtight container.
Nutrition
Calories:
46
kcal
|
Carbohydrates:
6
g
|
Protein:
1
g
|
Fat:
2
g
|
Saturated Fat:
1
g
|
Polyunsaturated Fat:
0.2
g
|
Monounsaturated Fat:
1
g
|
Trans Fat:
0.1
g
|
Cholesterol:
5
mg
|
Sodium:
93
mg
|
Potassium:
20
mg
|
Fiber:
1
g
|
Sugar:
1
g
|
Vitamin A:
61
IU
|
Calcium:
11
mg
|
Iron:
0.2
mg