Sharing such a simple recipe for how to make perfect rice using a rice cooker (GASP!) feels wrong somehow, but I just can't keep discoveries like this to myself. For a long time, I didn't like rice very much. It was always so dry and bland. While this might help with cutting back on carbs, it really limited side dishes and even main dishes.
Then my husband started following the LowFODMAP diet and rice became a necessity in our house to keep him fed! So I had to learn to embrace it.
How to cook rice in a rice cooker
After learning to add a lot (really a lot) of salt and olive oil to my pasta water, I tried a similar technique with grains. It was a delicious success! Add to that a quick rinse of the rice in warm water and I'm making perfect rice every single time. I'm evening enjoying it on its own.
I could have easily titled this post "how to make the best quinoa (or brown rice) in a rice cooker" because the technique is just as foolproof.
And a quick side note, I usually combine rice and quinoa for our dinners. I love the combo in a protein-filled side and love the way it tastes.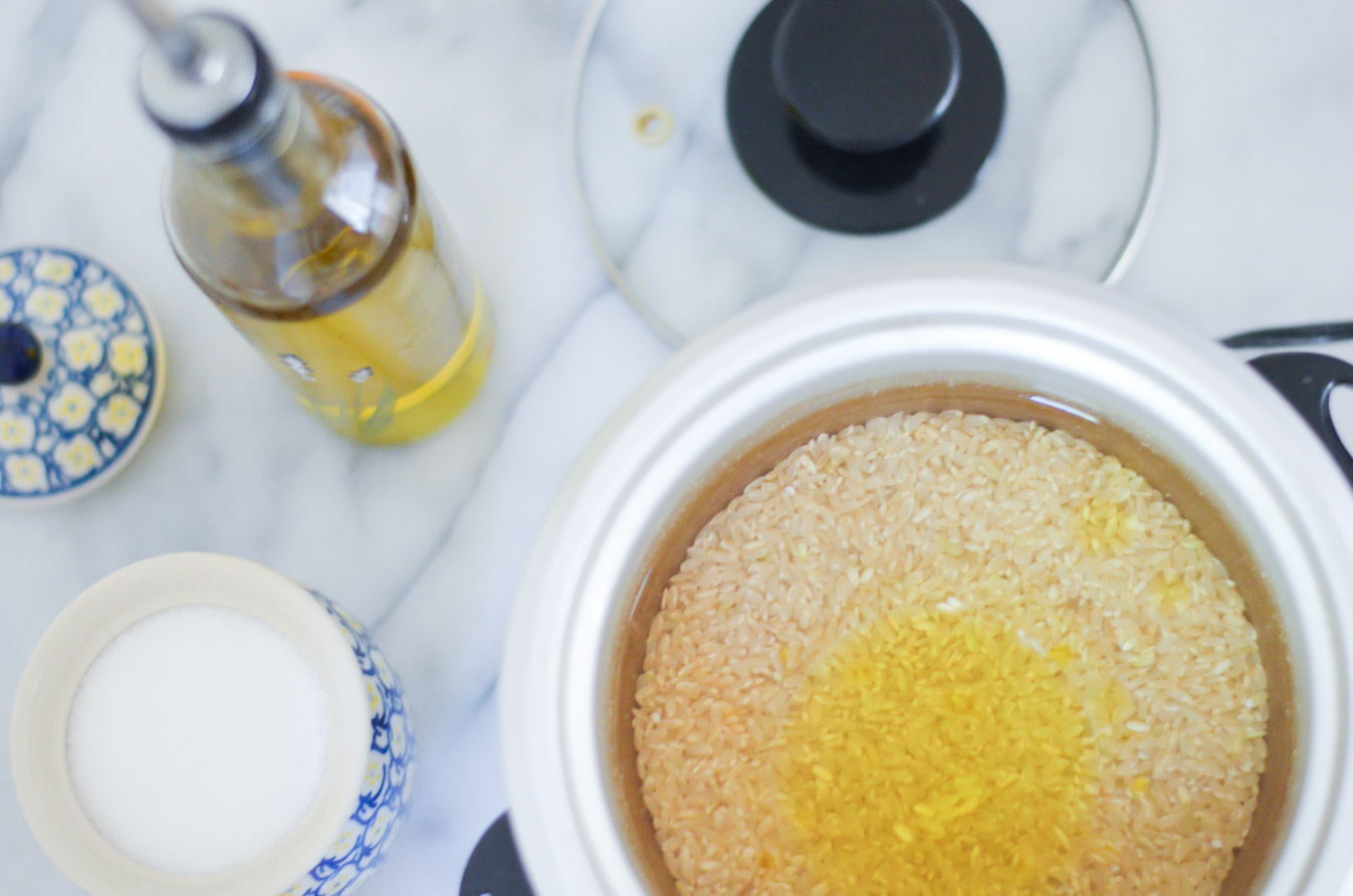 My rice cooker is nothing fancy and obviously not new. My sister bought it for me when I was in college. One of the legs is slightly melted and the on/off switch isn't actually in one piece any more. Nevertheless we enjoy delicious rice on the regular.
When we did our wedding registry, I planned to ask for a new one, but all I found were big, expensive, over-the-top versions. Now that I know the secret to how to make the best rice, I have no desire or need for all that jazz.
So until then, my slightly hindered 4-cup rice cooker (similar one here – under $20) will be one of my most used kitchen appliances. And we'll have perfect rice every time!
Brown Rice + Quinoa
This foolproof method for deliciously moist rice is the same one I use for white rice, brown rice, and quinoa. Most often, I do a combination of brown rice and quinoa. My husband doesn't like straight quinoa, but I like adding that extra bit of protein to our whole grain mix.
rice cooker ratio
The typical rice ratio is 2:1 (water:rice) just like on the stove. So for one cup of rice, you need 2 cups of water. This will always get you cooked rice.
I like rice with a bit of moisture to it, however, – a stickiness you might say. I've found that a few extra tablespoons of water is really what it needs. But this is up to you.
Do you need to rinse rice?
Technically, no. Rinsing rice is something I never did growing up. Then I took an Azerbaijani cooking class from a friend and learned about rinsing rice – and now I HAVE to do it.
Rinsing the rice removes an outer layer of starch. That starch is what can lead to that gumminess you find in rice sometimes.
It is important to note that rinsing rice can wash up some of the spray-edon fortified vitamins. If you need those in your diet, then rinsing might not be best.
The secret to flavorful grains
This is a secret to perfect rice no matter how you're cooking it in my world. After learning to salt and oil my pasta water, I started doing it with my rice.
It's a basic and simple flavor addition that I can't live without. If plain white rice really does nothing for you, try this technique. I'm still not spooning rice into my mouth with anything else on my plate, but it does make it an enjoyable portion of meal rather than a potentially necessary one!
Don't let your rice just be a side, let its flavor capture your taste buds along with the rest of your meal!
If you're making quinoa, use it this this quinoa pulao recipes. It's full of quinoa and veggies!
What Types of Rice?
This method will really work with any type of rice – wild rice; short, medium, and long grain rice; sushi rice, and jasmine rice!
Leftover Ideas
We love making a big batch of rice to enjoy with grilled or roasted veggies and a protein – the perfect base for a grain bowl. Then I often like to mix leftover rice into something like this one pot mexican casserole!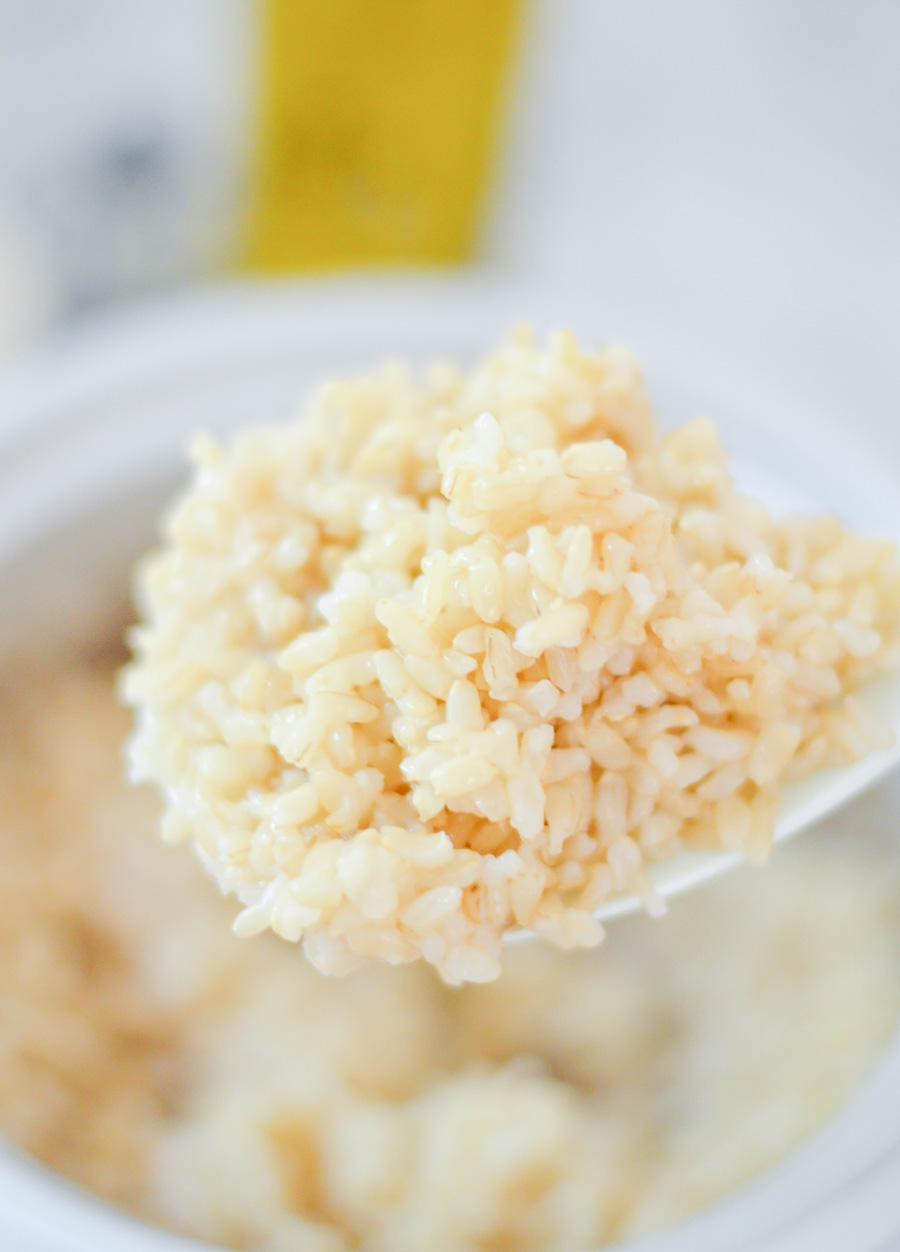 More Rice Dishes
These dishes either include rice or pair perfectly with it! And be sure to check out these rice cooker recipes!
SEASONAL RECIPE COOKBOOKS
DELICIOUS RECIPES TO ENJOY PRODUCE TO ITS FULLEST ALL YEAR ROUND. SIMPLE AND DELICIOUS RECIPES MADE FROM SCRATCH FOR YOUR FAMILY AND YOUR GUESTS ALL YEAR LONG!
Print Recipe
BEST RICE IN RICE COOKER
If you love rice at restaurants but never at home, this recipe is for you. Rice cookers are a great secret to making the perfect rice, but it's the other steps that make it perfect every time. You can use the same rinsing technique and the addition of olive oil and salt for stovetop rice as well. This technique hasn't failed me yet and we eat quite a bit of rice!
Ingredients
1

cup

rice or quinoa

2¼

cups

water

1

tablespoon

olive oil

½

teaspoon

salt
Instructions
Add rice or quinoa to rice cooker bowl. Cover with lukewarm water. Shake rice/quinoa around in water with fingers. Pour off most of the water. Repeat 2-3 times until water is less opaque.

Add water, olive oil, and salt. Place in rice cooker and turn on.

Let cook until done.
Nutrition
Calories:
400
kcal
|
Carbohydrates:
74
g
|
Protein:
7
g
|
Fat:
8
g
|
Saturated Fat:
1
g
|
Polyunsaturated Fat:
1
g
|
Monounsaturated Fat:
5
g
|
Sodium:
599
mg
|
Potassium:
107
mg
|
Fiber:
1
g
|
Sugar:
0.1
g
|
Calcium:
34
mg
|
Iron:
1
mg