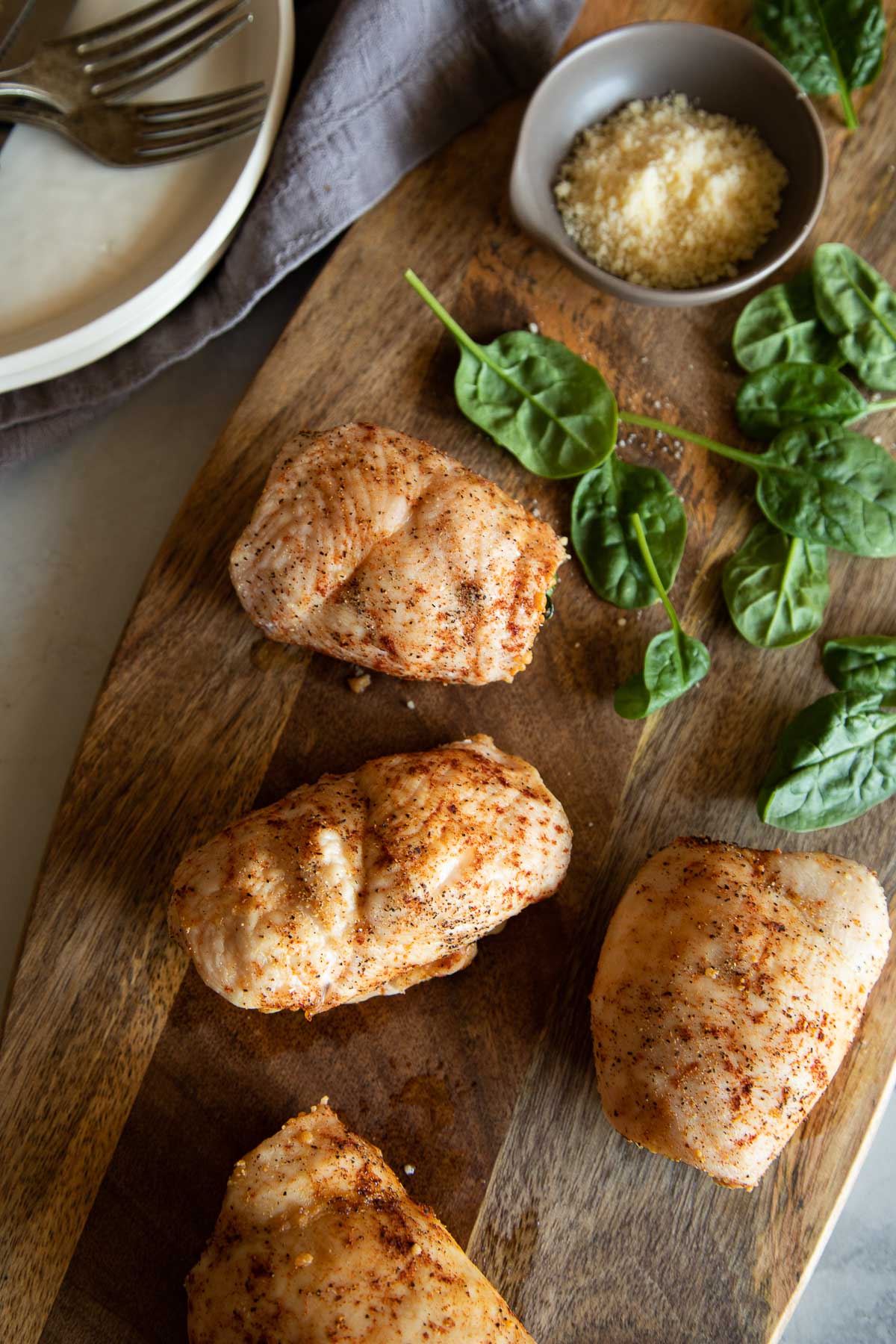 As much as I love eating out and as big as my sweet tooth is, I do make a major effort to keep us eating healthy at home. But the same ole, same ole gets old quickly. I created these healthy baked chicken parmesan roll ups years ago and ma enjoying bringing it back into our dinner rotation.
For the most part, we eat lean protein meals such as chicken breasts, ground turkey, and fish (see more of my easy dinner recipes here) – opting for organic and free range as much as possible. These meats can be very easy to prepare but trying to have different flavors can be a lot of work sometimes.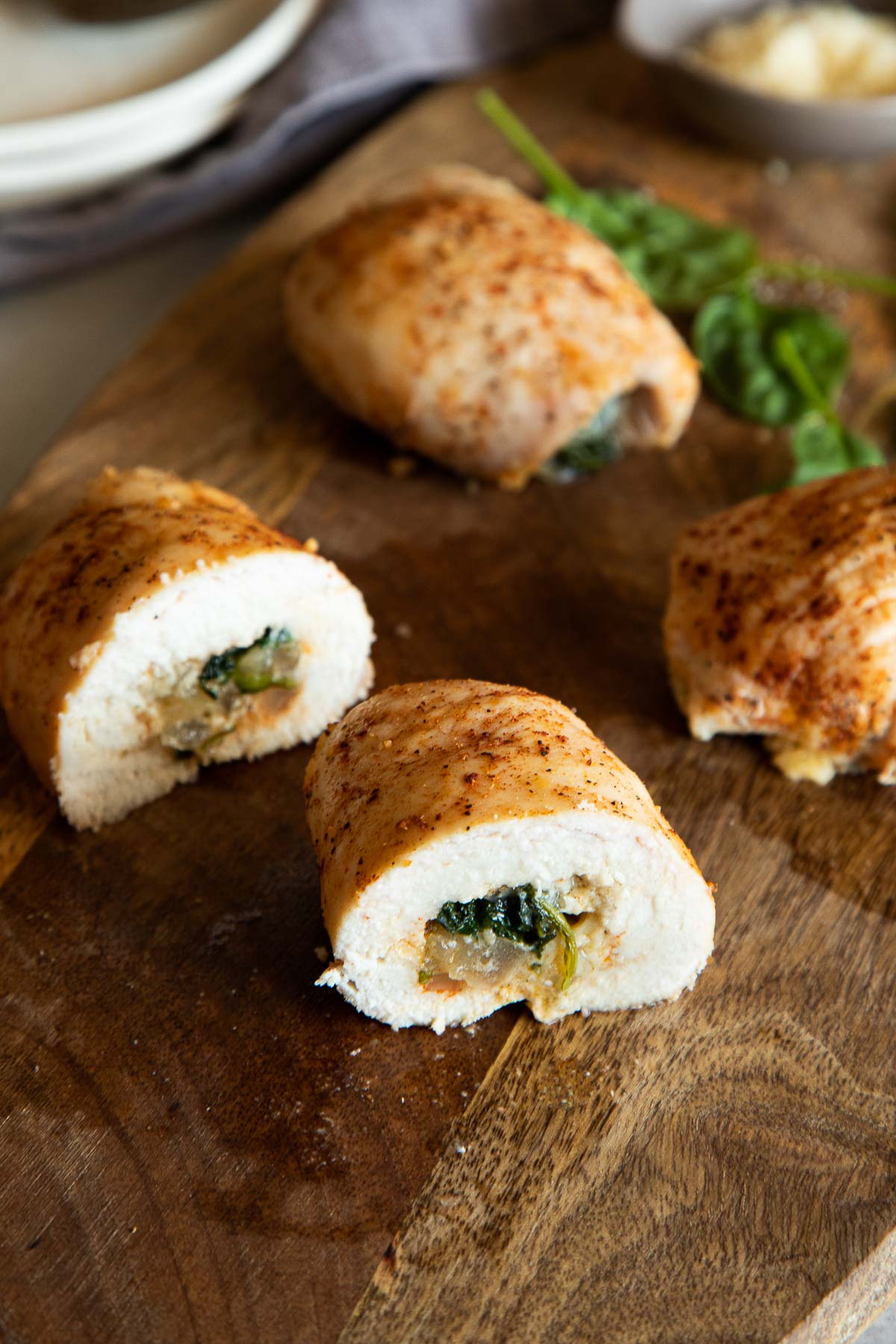 Chicken Parmesan Roll Ups
The idea for these chicken roll ups started after learning about tenderizing chicken (or beating it into submission to taste good, I think) and a craving for chicken parmesan. You know. The kind breaded and fried and smothered in cheese. DROOOOL.
Alas, I can't often bring myself to make that at home (partly for the work and dishes), so I fill these roll ups with sautéed onions, spinach, and a bit of grated parmesan cheese.
The recipe below makes enough for 2 for dinner, but you can easily multiply it to feed however many you need.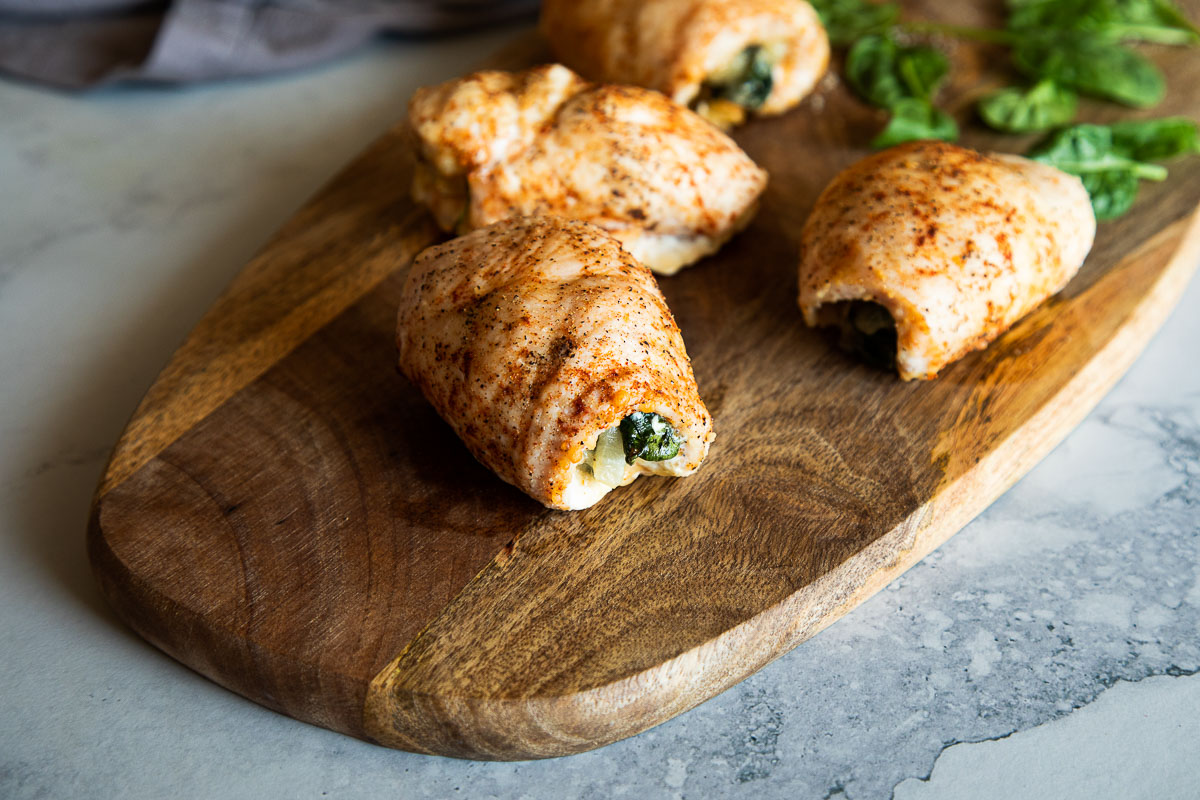 How to Tenderize Chicken
Since chicken is the easiest and most popular protein to have on hand, it's key to have easy, healthy recipes. But we all know how easy it is to cook dried out chicken.
I have two methods I use to tenderize chicken and help prevent drying out.
First, I love doing a marinade before pan-searing or grilling chicken. Oftentimes, these marinades are as easy as olive oil, a seasoning mix or just salt & pepper, and a dash of vinegar or citrus juice (it helps with flavor depth and tendering the meat)..
The second method is tenderizing the meat to break up tough tissues. While the traditional method calls for a meat tenderizer, I usually use the back of our ice cream scoop. I think I've even used the bottom of a can at one point or another.
Obviously adding citrus and tenderizing the meat will really leave you set with tasty chicken dinners.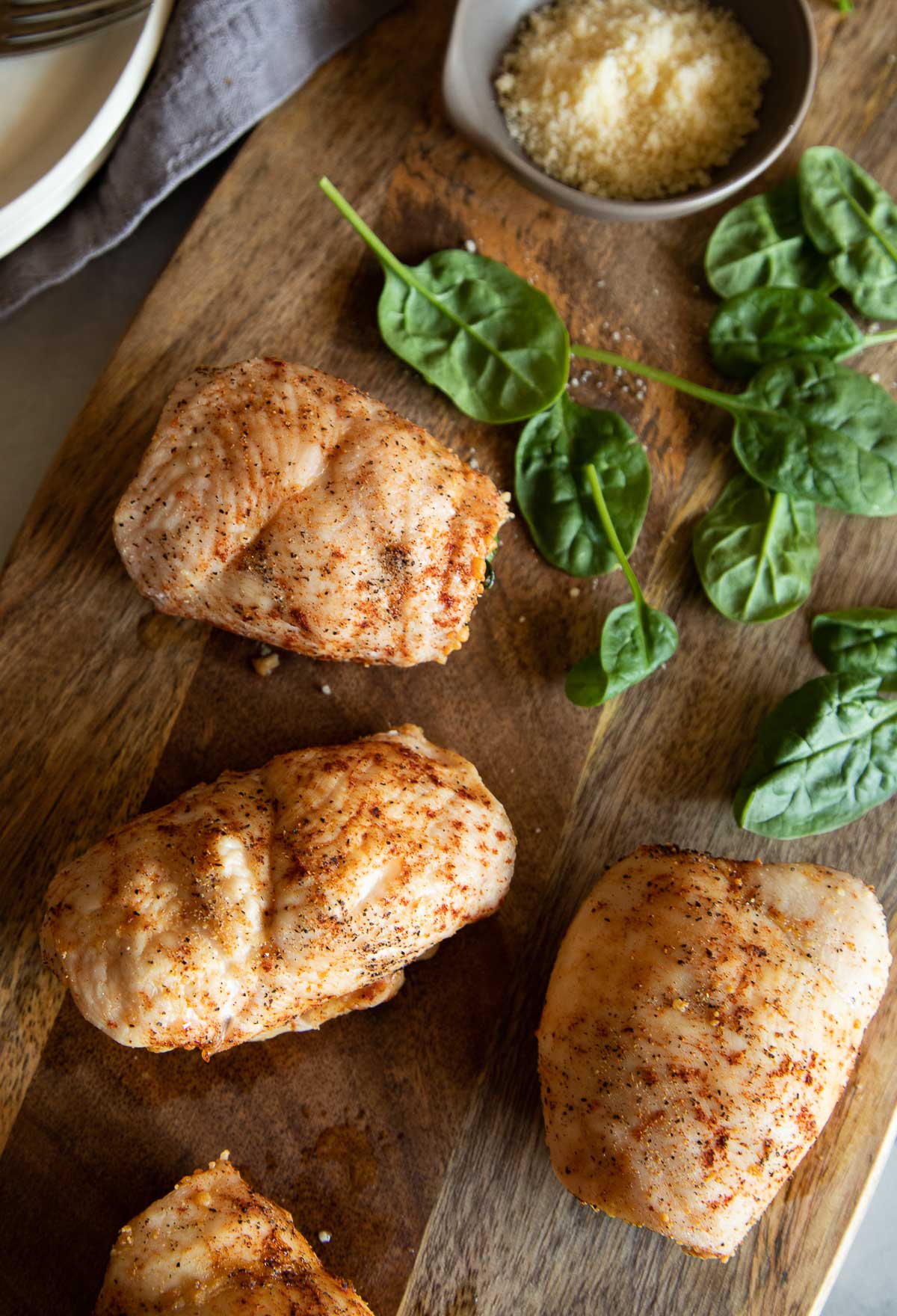 Make Ahead Chicken Roll Ups?
While I'd recommend not making the whole dish ahead of time, you can do just about everything a while before broiling the chicken roll ups.
You can simply saute the onions and grate the parmesan as well as tenderize and season the chicken. If you really want to save time, you can even roll the chicken and fillings all together. Then just cover and refrigerate.
I'd recommend taking the chicken out of the fridge 20-30 minutes before you plan to cook them. Meat cooks better when at room temp than chilled from the refrigerator!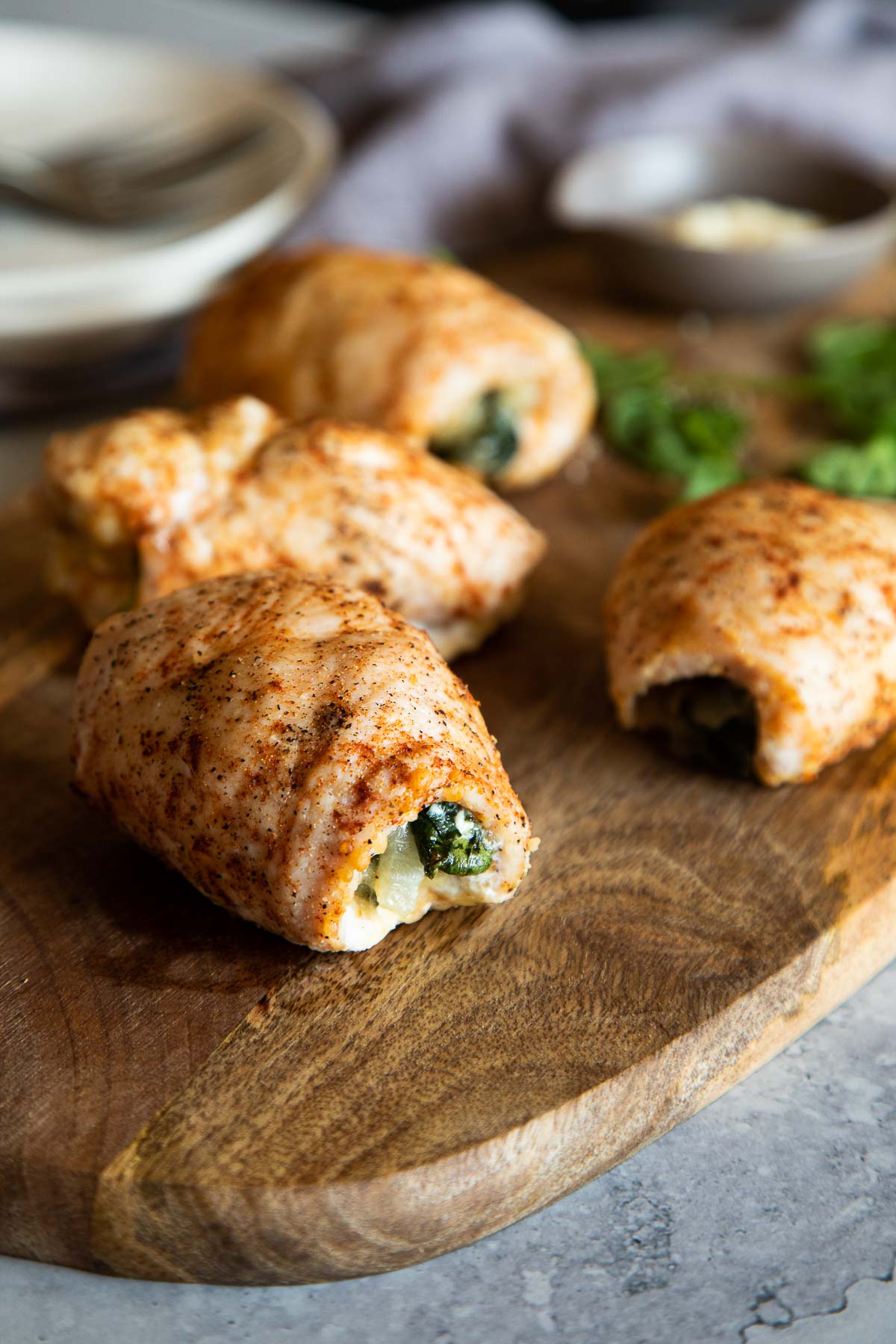 Chicken Side Dish Ideas
Depending on the vibe you're going for, side dish options are numerous.
I usually make a big batch of rice or quinoa (make the perfect rice every time) and a delicious mix of roasted vegetables.
These perfect brussel sprouts are always a hit on our dinner table!
Additionally you could do a pasta side dish – this is an Italian-inspired dish after all. This peas and pasta one pot dish is fabulous; this one pot summer veggie pasta is a mandatory one in our house; as is this fresh cherry tomato pasta with ricotta!
Of course you could always do a delicious salad recipe and homemade focaccia rolls!
More Chicken Recipes
As the most common protein in so many households, let's all share the wealth on some great homemade chicken recipes!
Print Recipe
CHICKEN PARM NO BREADING
These healthy baked chicken roll ups with parmesan look fancy, but they're actually quite simple. Tenderized chicken is thin enough to make it perfect for a roll. I love stuffing it with quickly-cooked veggies and topping it with some parmesan cheese for a dinner full of flavor.
Ingredients
2

chicken breasts

¾

teaspoons

salt

divided

¾

teaspoons

freshly cracked pepper

divided

½

teaspoon

paprika

½

teaspoon

ground mustard

½

teaspoon

granulated garlic

1

small onion

chopped

1

cup

baby spinach

3

tablespoons

olive oil

divided

½

cup

grated parmesan cheese
Instructions
Preheat oven to broil.

Slice chicken breasts in half, lengthwise (a serrated knife is best for this).

Place each piece of chicken (one at a time) between two pieces of plastic wrap or parchment paper. With a mallet or ice cream scoop, beat chicken until about ⅓″ thick.

Season both sides of chicken breasts with ¼ teaspoon each salt and pepper, followed by ¼ teaspoon each paprika, ground mustard, and granulated garlic. Set aside.

Over medium-high heat, saute chopped onion in two tablespoons olive oil with salt and pepper. When translucent, add spinach and another tablespoon olive oil. Turn off heat. Cover 3-4 minutes to cook spinach.

Divide vegetable mixture among chicken breasts. Divide parmesan cheese between breasts. Roll chicken and veggies. Place on foil-lined baking sheet, crease side down.

Broil for 12-15 minutes. Remove from oven and let sit 5 minutes.
Nutrition
Calories:
599
kcal
|
Carbohydrates:
8
g
|
Protein:
62
g
|
Fat:
34
g
|
Saturated Fat:
9
g
|
Polyunsaturated Fat:
4
g
|
Monounsaturated Fat:
19
g
|
Cholesterol:
168
mg
|
Sodium:
2323
mg
|
Potassium:
646
mg
|
Fiber:
1
g
|
Sugar:
2
g
|
Vitamin A:
1906
IU
|
Vitamin C:
7
mg
|
Calcium:
274
mg
|
Iron:
3
mg