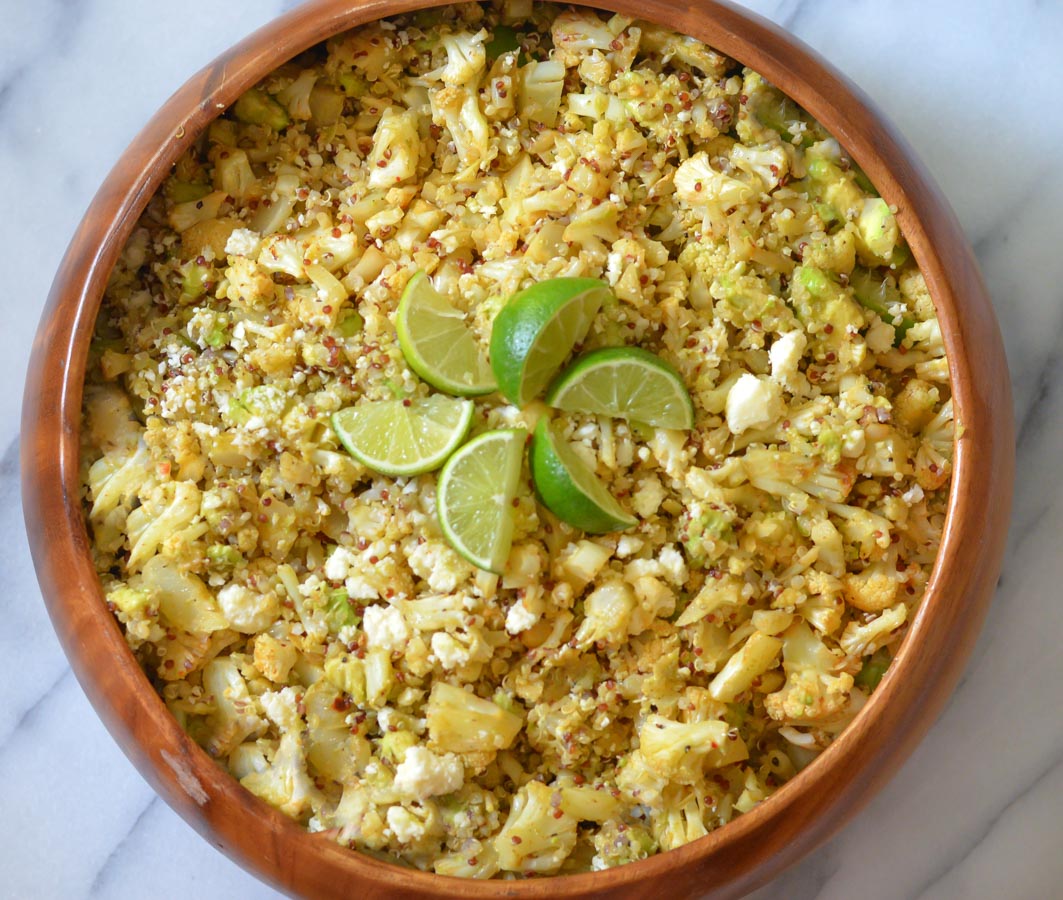 This roasted cauliflower salad, like so many of my recipes, was a process in the making – every step a delicious one to this yummy perfection!
A few months ago, I got an idea to roast cauliflower florets with dinner. I roasted the cauliflower with olive oil, salt, pepper, and dried thyme. It was so yummy that now I can't stop thinking of flavors to roast with it or ingredients to mix in. It's honestly very delicious on its own, but that's never enough for me.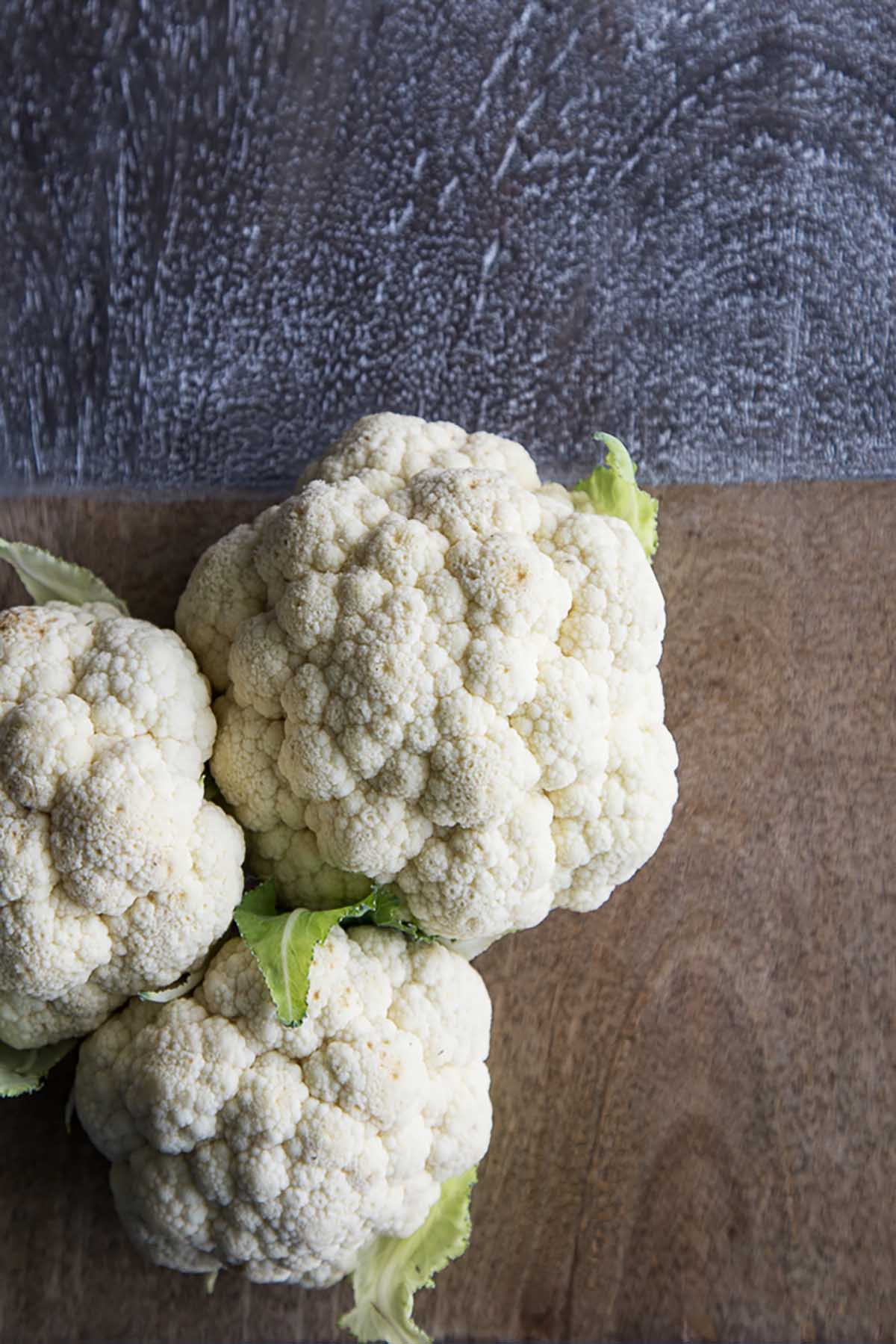 Roasted Cauliflower Salad
Last week, I was hit with the idea of a roasted cauliflower guacamole with pureed cauliflower and avocado.
I haven't tried that yet, but this Mexican flavored Roasted Cauliflower Salad is the first step down that path of deliciousness.
And these mango margaritas on the rocks will hopefully be there along the way!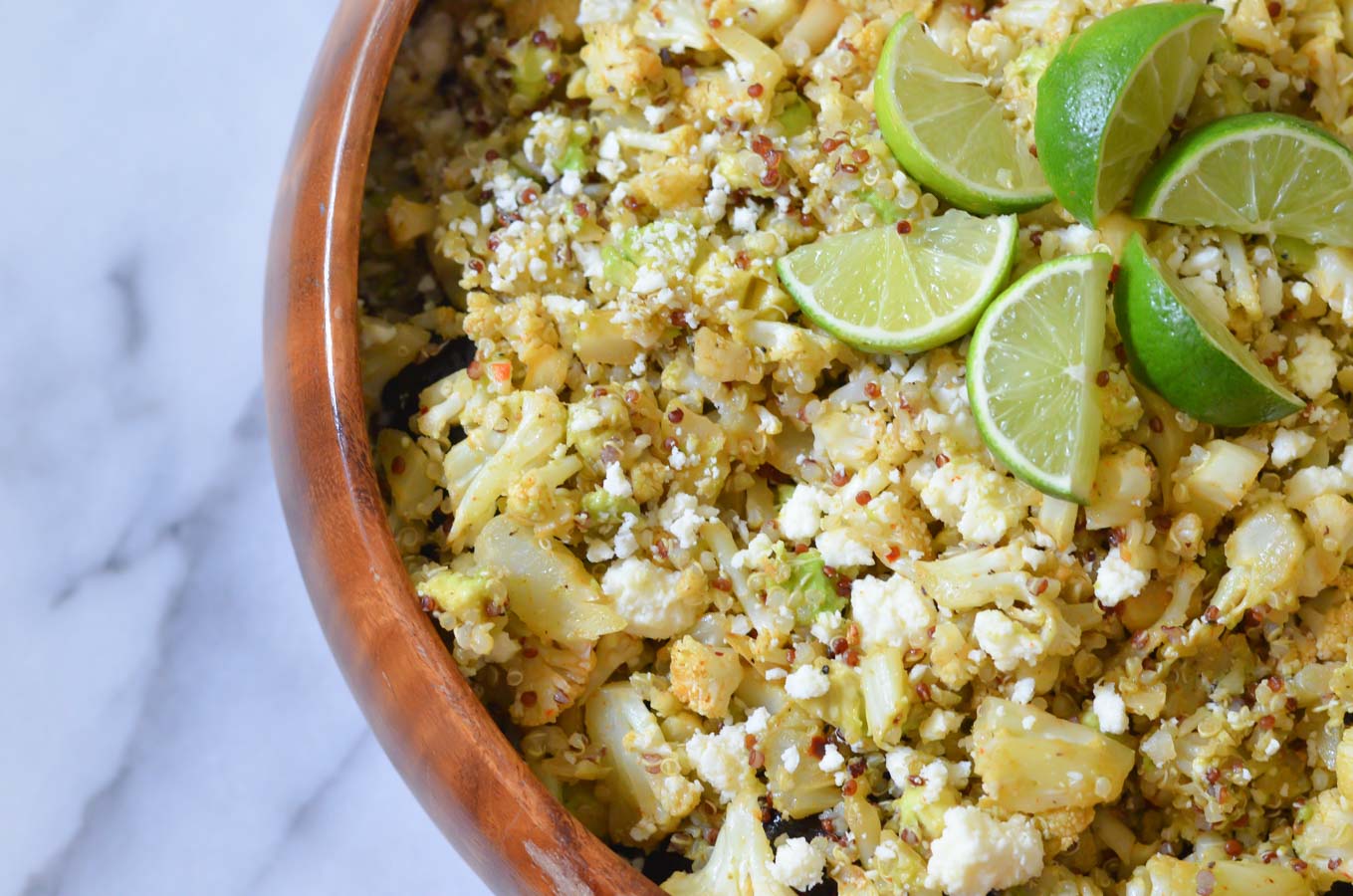 How do you bake Cauliflower in the oven?
Roasting or baking cauliflower in the oven couldn't be any easier. You follow the same process you do for roasting pretty much all vegetables...
Cut the cauliflower into bite-sized pieces (big or small). To make cutting the cauliflower head easier, I like to remove all the leaves and then slice it in half (top to bottom). Then you can remove that bottom bit of core.
From there, I slice the cauliflower in roughly ¾″ slices (again top to bottom) before cutting each of those slices into ½-1″ pieces. The straight cut looks a little funny when it's raw, but once it cooks, it looks just fine!
It's important to note that smaller pieces of cauliflower take less time to cook (more like 30 minutes). Bigger pieces take longer (closer to 40 minutes).
If I'm short on time roasting cauliflower, I'll cut the pieces smaller and add a bit more olive oil to speed up the whole process.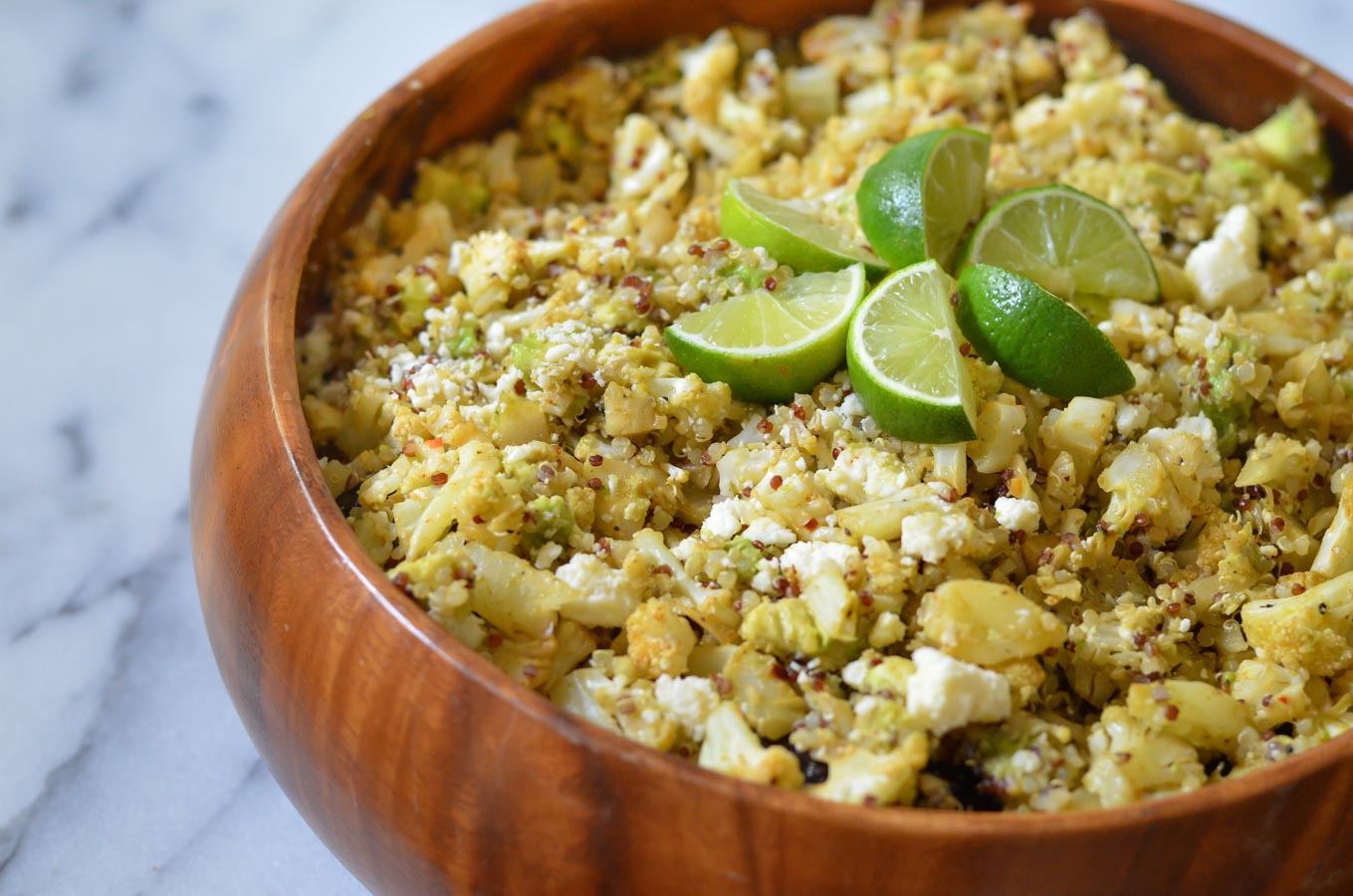 Can You Make This Salad Ahead of Time?
Absolutely.. It would probably be better to do so actually, so the flavors have time to combine. If you're planning to make it more than a few hours ahead of time, however, I'd omit the avocado when you make it ahead.
Avocados start to oxidize/brown so quickly, that the freshness and look of the dish would benefit from keeping these out until you're ready to serve.
How to Serve this Roasted Cauliflower Salad
Initially this roasted cauliflower salad was a side dish – I think to some grilled chicken if I remember correctly. So, it's great as a side dish. With the quinoa in there, it's a hearty dish on its own providing its own veggies and protein (not to mention the cotija cheese and avocado).
This salad would also be great in a taco – atop black beans or your favorite meat/veggies with fajita seasoning or carnitas!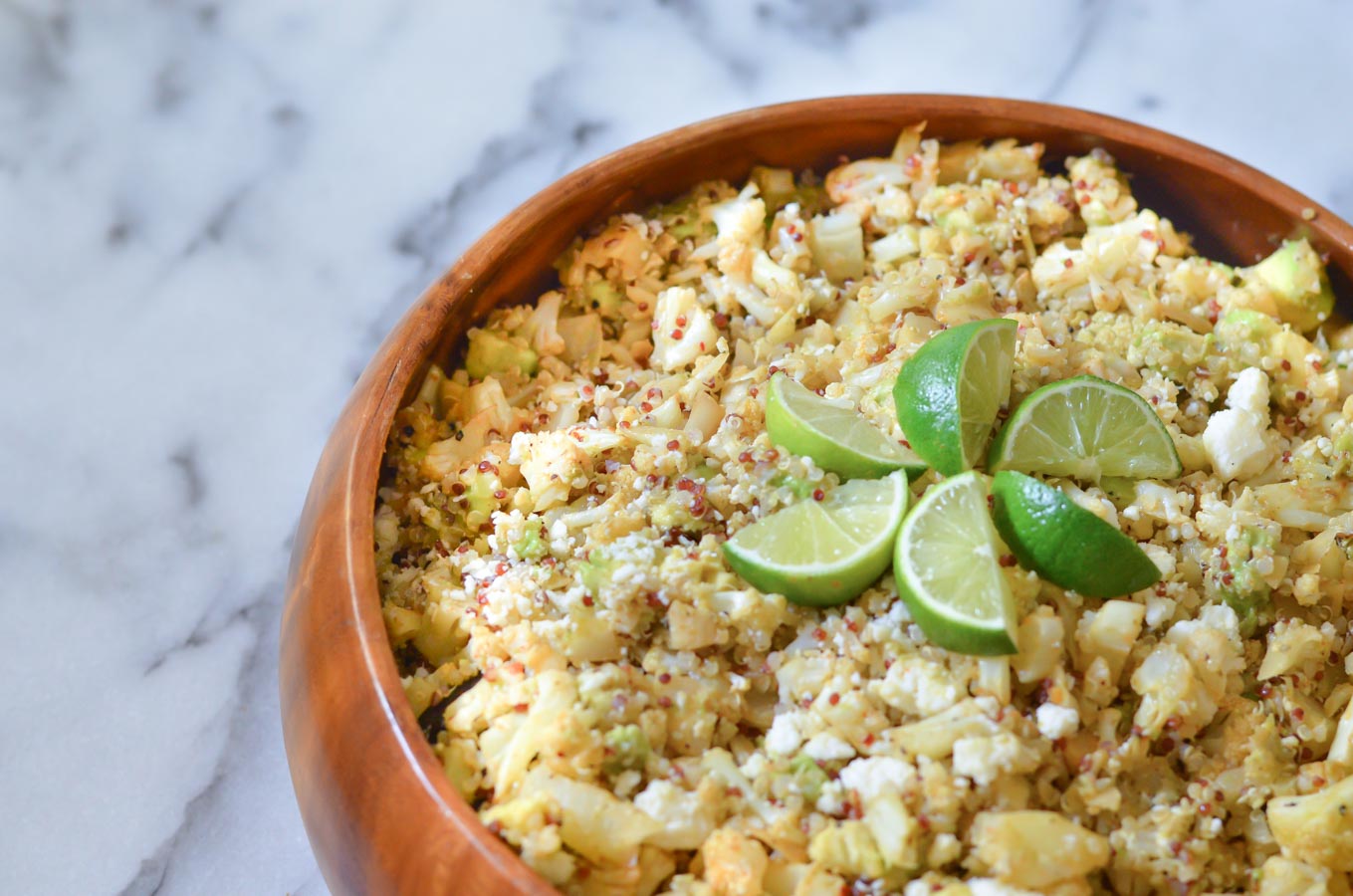 MORE HOMEMADE MEXICAN-Inspired RECIPES
Want more Mexican-inspired recipes? Who doesn't?!
Homemade fajita seasoning is a must-have no brainer in our world, something we use regularly in these wild rice stuffed peppers, my carnitas nachos (a great leftover chicken or turkey recipe), and my 7 layer sweet potato dip (vegan)!
And don't forget the pico de gallo! These Mexican pinwheels are a fun appetizer that's actually very simple and easy to make!
This Mexican Chocolate Cake is simple and yet so deliciously amazing – same goes for my Iced Mexican Mocha. And these Mexican fruit cups which can be customized to everyone's liking with salt, lemon juice, and tajin seasoning!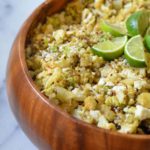 Print Recipe
MEXICAN CAULIFLOWER QUINOA SALAD
I've always loved cauliflower (even before it was trendy and cool). The best way to eat cauliflower in my opinion? Roasted of course. And why not take those scrumptious cauliflower florets with toasted corners and mix it into a delicious salad. The cumin and cotija cheese give this salad a delicious Mexican flavor and the quinoa is a boost of protein that's easy. This salad can be served as a side dish or a main dish!
Ingredients
1

large head of cauliflower

chopped (approx. 4-5 cups)

3

tablespoons

olive oil

1½

teaspoons

ground cumin

¼

teaspoon

chili flakes

optional

½-¾

teaspoons

cayenne red pepper

¾

teaspoon

each salt and pepper

plus more to finish

2

avocados

cubed

3

Tablespoons

lime juice

1

cup

cooked quinoa

red for color

¼

cup

crumbled cotija/queso fresco cheese*

limes wedges for garnish
Instructions
Thoroughly combine chopped cauliflower, oil, cumin, chili flakes if using, red pepper, salt, and pepper. Spread evenly on large sheet pan. Roast for twenty minutes until cauliflower is tender.

Meanwhile, cube avocado.

Remove cauliflower from oven. Mix with avocado, quinoa, and cheese. Season with salt and freshly cracked pepper to taste. Top with lime wedges for garnish for tangier flavor.

*you could also use goat cheese for a creamier flavor. I'd recommend using more spice because of the sweetness of the goat cheese.
Nutrition
Calories:
228
kcal
|
Carbohydrates:
14
g
|
Protein:
4
g
|
Fat:
19
g
|
Saturated Fat:
3
g
|
Polyunsaturated Fat:
2
g
|
Monounsaturated Fat:
12
g
|
Cholesterol:
6
mg
|
Sodium:
372
mg
|
Potassium:
411
mg
|
Fiber:
6
g
|
Sugar:
1
g
|
Vitamin A:
230
IU
|
Vitamin C:
10
mg
|
Calcium:
51
mg
|
Iron:
1
mg