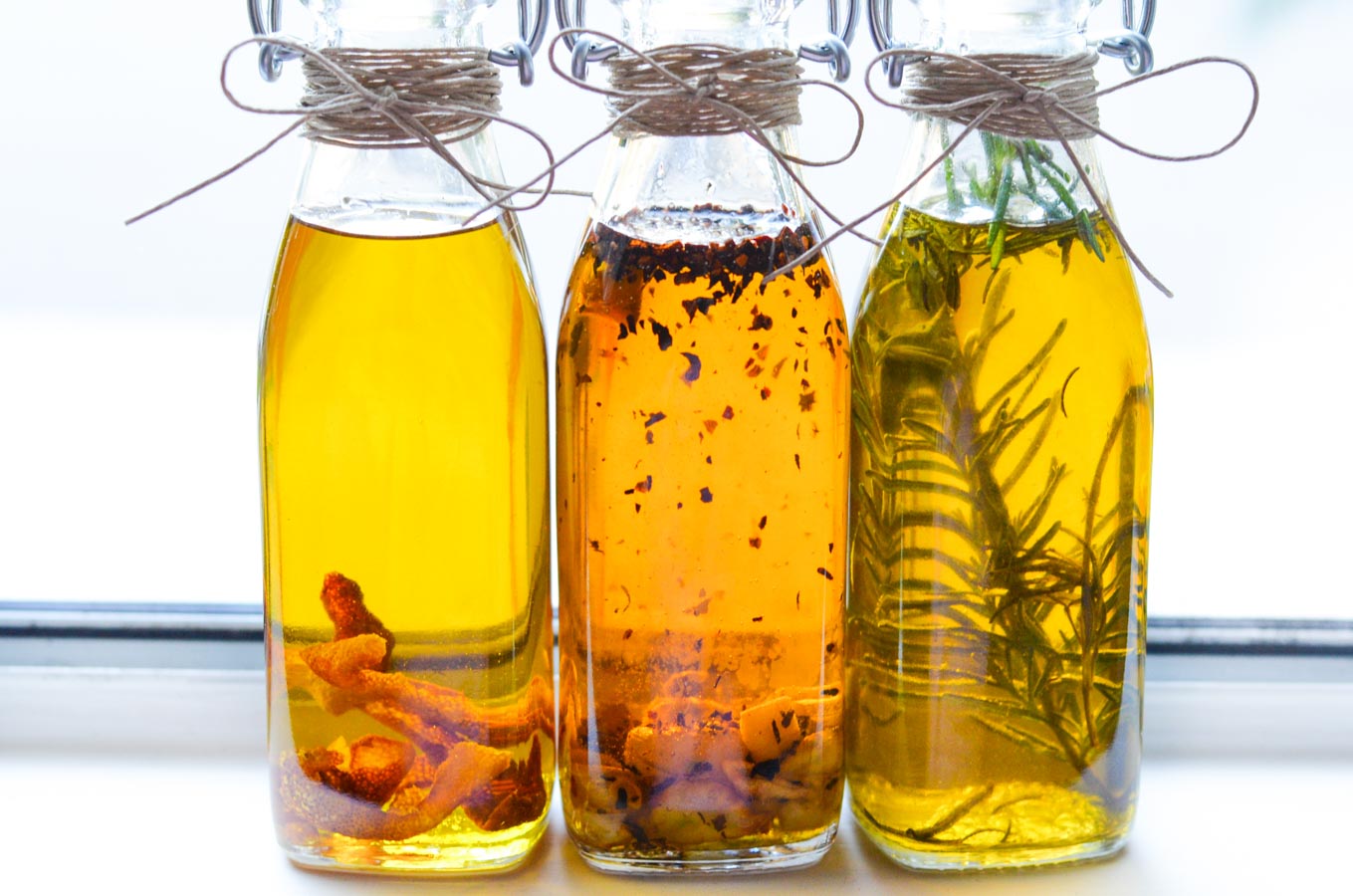 Last week I shared my first round of DIY holiday gifts (homemade seasoning mixes). This week, I tried homemade infused olive oils for the first time. It was a MAJOR success!
I love olive oil and flavored olive oils are even better.

Homemade Infused Olive Oil
Olive Oil Uses
Now that I have these homemade infused olive oils, I'm discovering just how delicious and versatile they really are. As displayed here, these homemade infused olive oils are great food gift ideas for hosts as well as thoughtful gifts for friends and family.
I may or may not have gone to town with the chili and garlic oil and just a loaf of bread. No judgement!!
While the oils are tasty alone, they have so many other uses. They're great on pasta dishes – either as the sauce (mix with some pasta water to make it less oily and more palatable) or just drizzled over the top.
They make delicious marinades for meat and veggies. It's so easy too. Just let the meat or veggies sit in the infused oil for at least 30 minutes before grilling or roasting!
I also love them drizzled on salads and atop soups. They're great 'finishers' for just about any dish!
Chili infused olive oil
I don't have a recipe titled "chili infused olive oil" below, but it's really the same recipe as how to make garlic infused olive oil – you can omit the garlic if you like.
I personally love the spicy-garlic infused olive oil with bread or pizza, but it's entirely up to you! And of course the herb infused olive oil is good on bread and pizza too!!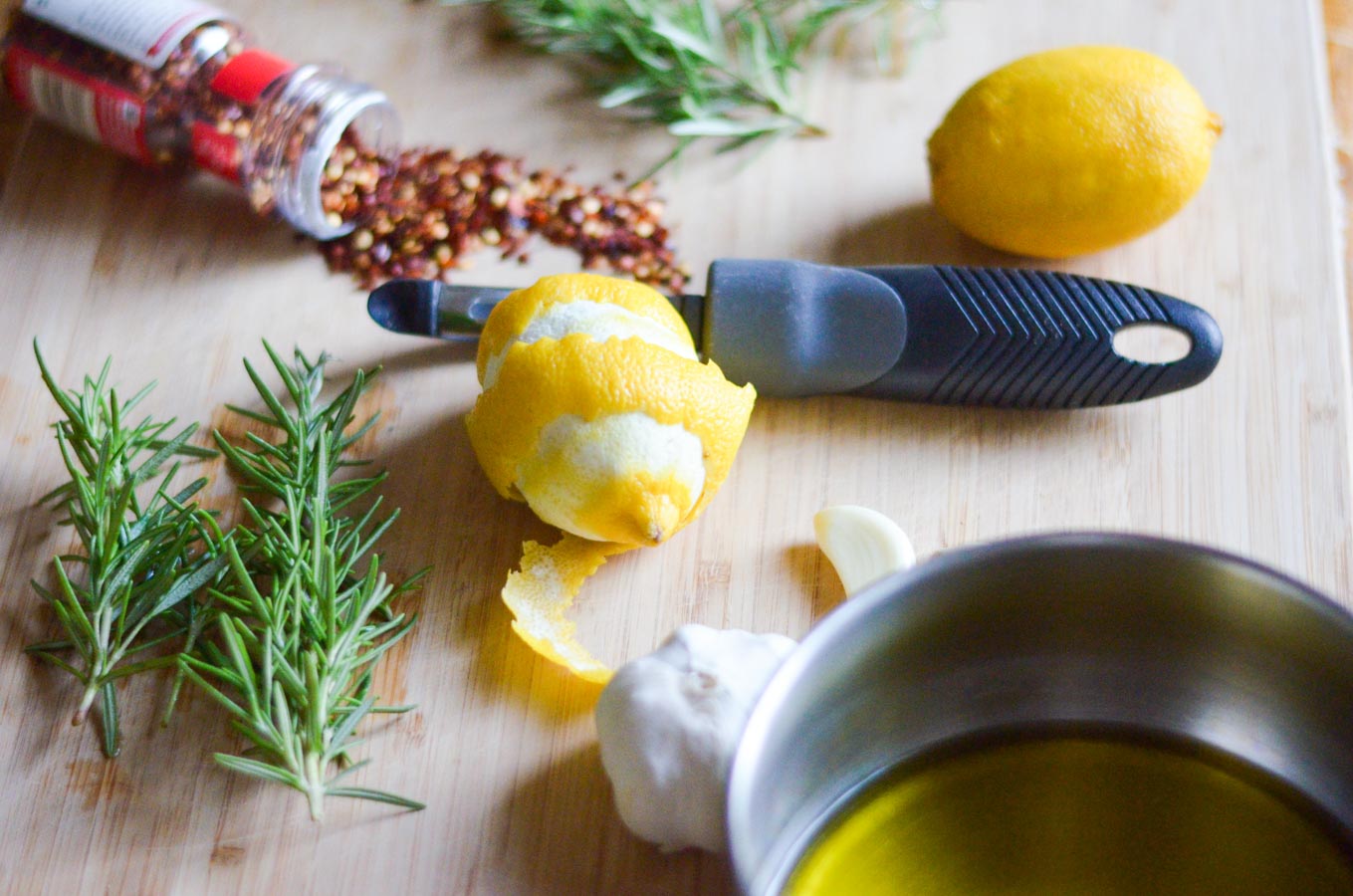 Homemade Food Gifts
These olive oils are simple to make and these cute hermetic glass jars are the perfect size for a homemade gift.
I went easy with the decorations, wrapping twine around the necks of the bottle 8-10 times and tying a bow; and I let the ingredients speak for themselves. If you want to jazz up this gift, give it with a loaf of bread and a saucer to serve the oil.
Also, make sure to use a higher quality olive oil. It doesn't have to be expensive, just make sure it's extra virgin and in a dark or opaque container. You can buy in bulk to cut back on prices.
A note about timing. These oils are only good for about one week, so you want to make these fairly last minute. The great part is you can make one gift or as many as you need when the time comes!
FALL & WINTER RECIPE COOKBOOK
Delicious recipes to enjoy FALL & WINTER produce to its fullest. Simple and delicious recipes made from scratch for your family and your guests THROUGHOUT THE COOLER MONTHS!
Other Homemade Food Gifts
Homemade Seasoning Mixes
Honey Peanut Butter
Mixed Nut + Seed Butter
Homemade Salad Dressings
Sugared Mixed Nuts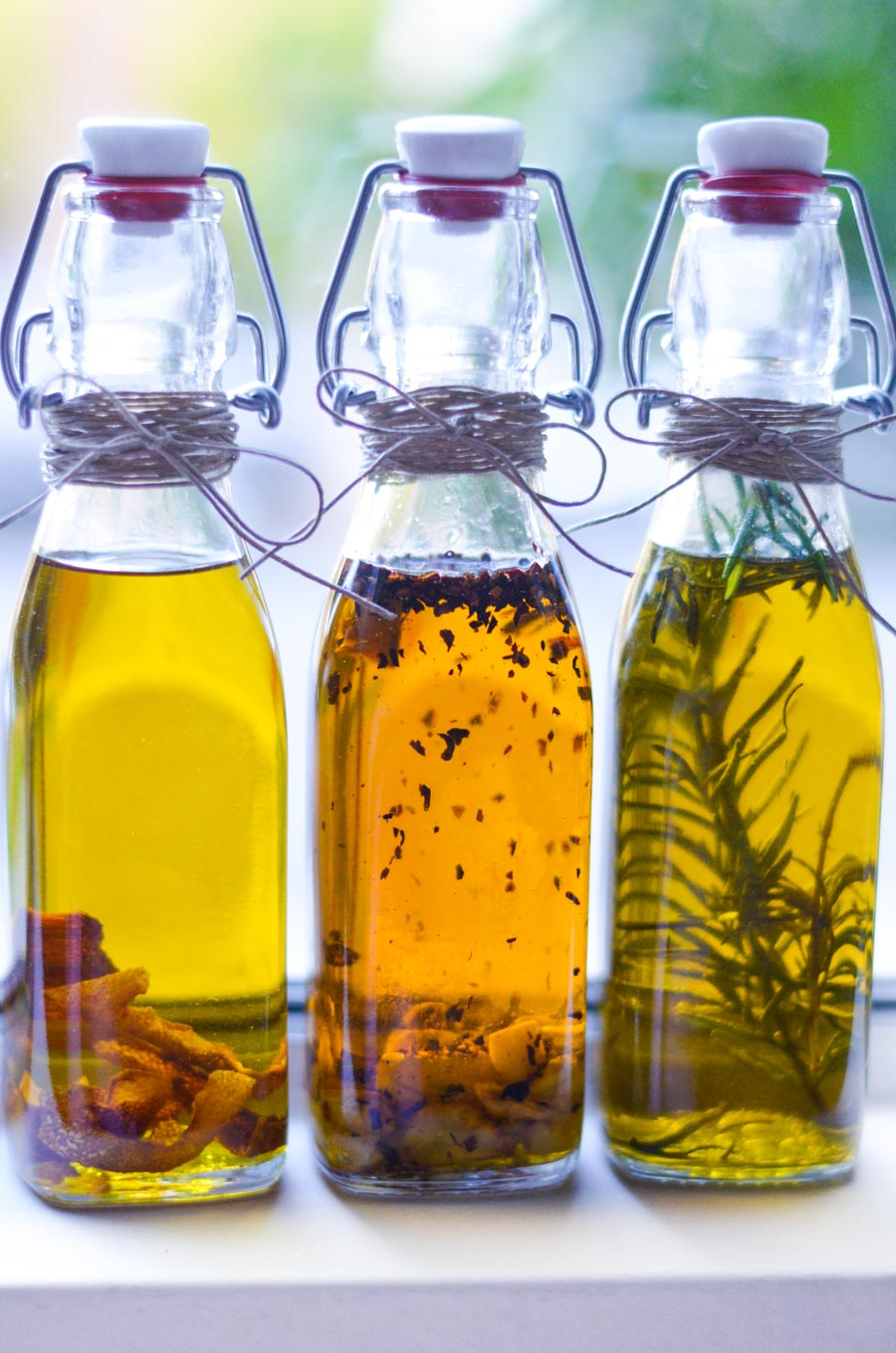 How to Serve Infused Olive Oils
If you aren't giving these away, at least share these tasty mixes with your guests.
Since the oils can look similar in small plates or bowls, I like to include the main flavoring ingredient in the dish. For the garlic/chili, just let the bits come out of the bottle. For the rosemary, I like to use a fresh piece of rosemary – same for the lemon with a piece of the skin!
P.S. You can see this recipe on Refinery29's YouTube Channel!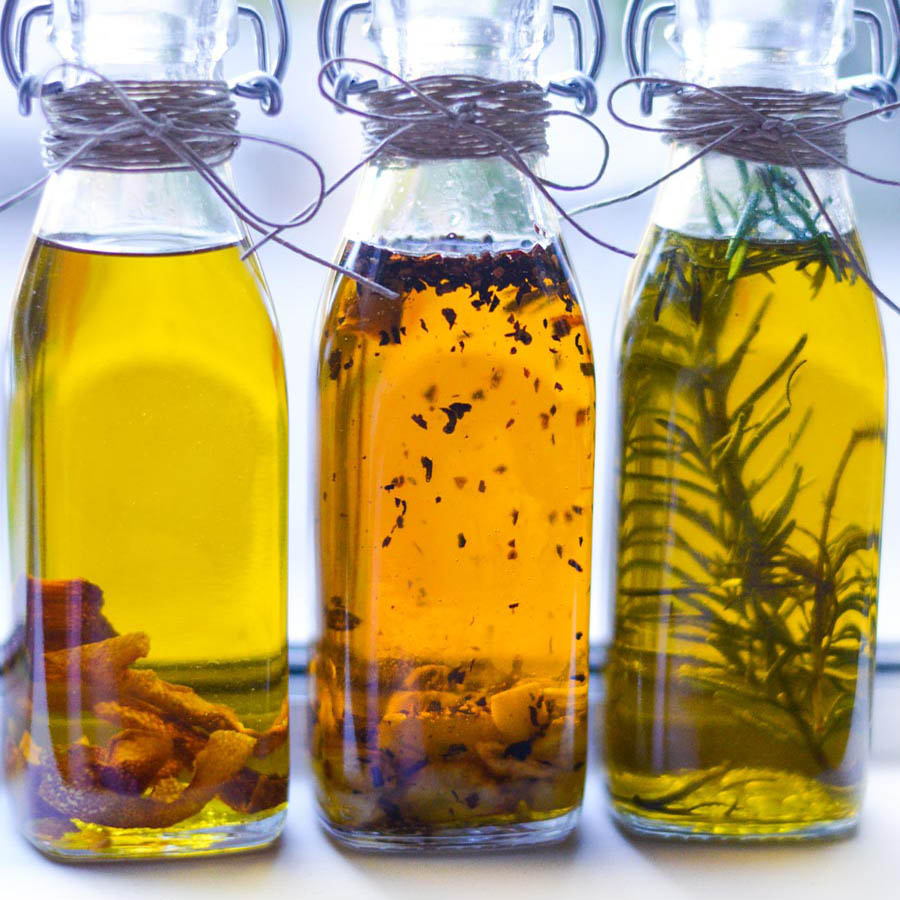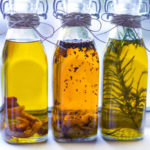 Print Recipe
HOMEMADE INFUSED OLIVE OILS
I've never met anyone who didn't love infused olive oils but so few people have ever made them. These oils come together and minutes and are great drizzled over a soup or salad or just served with some good bread.
Ingredients
How do you make lemon infused olive oil?
1

cup

extra virgin olive oil

peel from 2 lemons
How do you make garlic infused olive oil (spicy option)?
1

cup

extra virgin olive oil

6

garlic cloves

peeled

1 ½

teaspoons

chili flakes*
How do you make rosemary infused olive oil?
1

cup

extra virgin olive oil

4

washed and completely dried rosemary sprigs**

about five inches long
Instructions
Lemon Olive Oil
Warm lemon peel and olive oil together over very low heat for twenty minutes. Cool half-hour. Break lemon peel into jar. Pour olive oil into bottle with funnel. Seal.
Garlic Chili Olive Oil
Warm olive oil, garlic, and chili flakes if using over low heat for eight to ten minutes until garlic is lightly brown. Remove from heat. Let cool.

Remove garlic and slice. Place garlic in bottle.

Pour olive oil and chili flakes into bottle with funnel. Seal.
Rosemary Olive Oil
Warm rosemary and olive oil together over very low heat for five to seven minutes. Cool half-hour.

Place rosemary in jar. Pour olive oil into bottle with funnel. Seal.
Notes
Olive oils can be refrigerated for up to one week. To enjoy, simply remove olive oil from refrigerator and let sit for 15-20 minutes to return to a pourable consistency.
*This amount of chili flakes gives off a hint of spice when eaten with bread but nothing super spicy (to me). Add more or less, depending on taste.
**It's important that your rosemary is completely dry. Wet rosemary (from washing) can quickly lead bacteria growth.
Save this recipe on Pinterest!
Make this recipe? I'd love to see how it turned out…
PINTEREST: Upload a photo and your review to this Pin!
INSTAGRAM:  Tag me @lucismorsels and use #LMrecipes
Nutrition
Calories:
122
kcal
|
Carbohydrates:
0.5
g
|
Protein:
0.1
g
|
Fat:
14
g
|
Saturated Fat:
2
g
|
Polyunsaturated Fat:
1
g
|
Monounsaturated Fat:
10
g
|
Sodium:
4
mg
|
Potassium:
8
mg
|
Fiber:
0.1
g
|
Sugar:
0.03
g
|
Vitamin A:
56
IU
|
Vitamin C:
0.4
mg
|
Calcium:
3
mg
|
Iron:
0.1
mg