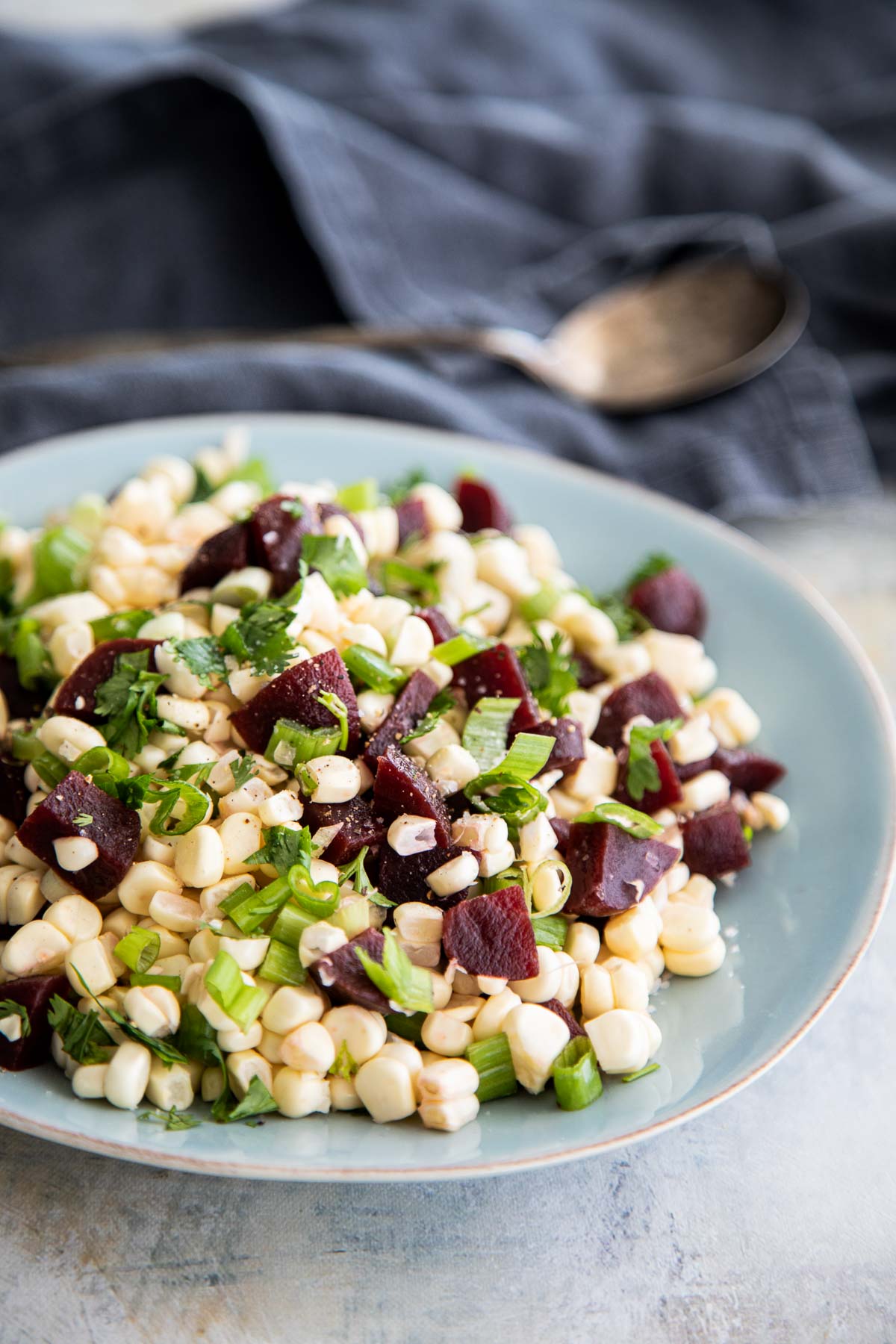 I know what you're thinking – a beet + corn salad…WHAT?! I'm all about seasonal eating, but do you know my favorite season for cooking? Summer-Fall.
That's not a season, I'm aware. But the "shoulder" seasons – that time when the goodies of one season happily are still in abundance while the next is starting to come – SO DARN GOOD!
I'm a firm believer that each season has it's kind of produce flavors. Winter produce is sturdier and earthier. Summer produce tends to be bright, light, and, often sweeter. Fall and spring are the mid-points between the two.
That combination of the lighter/earthy of spring and fall just mix so happily with the stronger flavors of summer and winter! What can I say? I think it's science!
I love changing seasons. Besides getting out of this heat (!), I love the ability to mix the flavors and produce of both seasons for a short period – hence this beet + corn salad!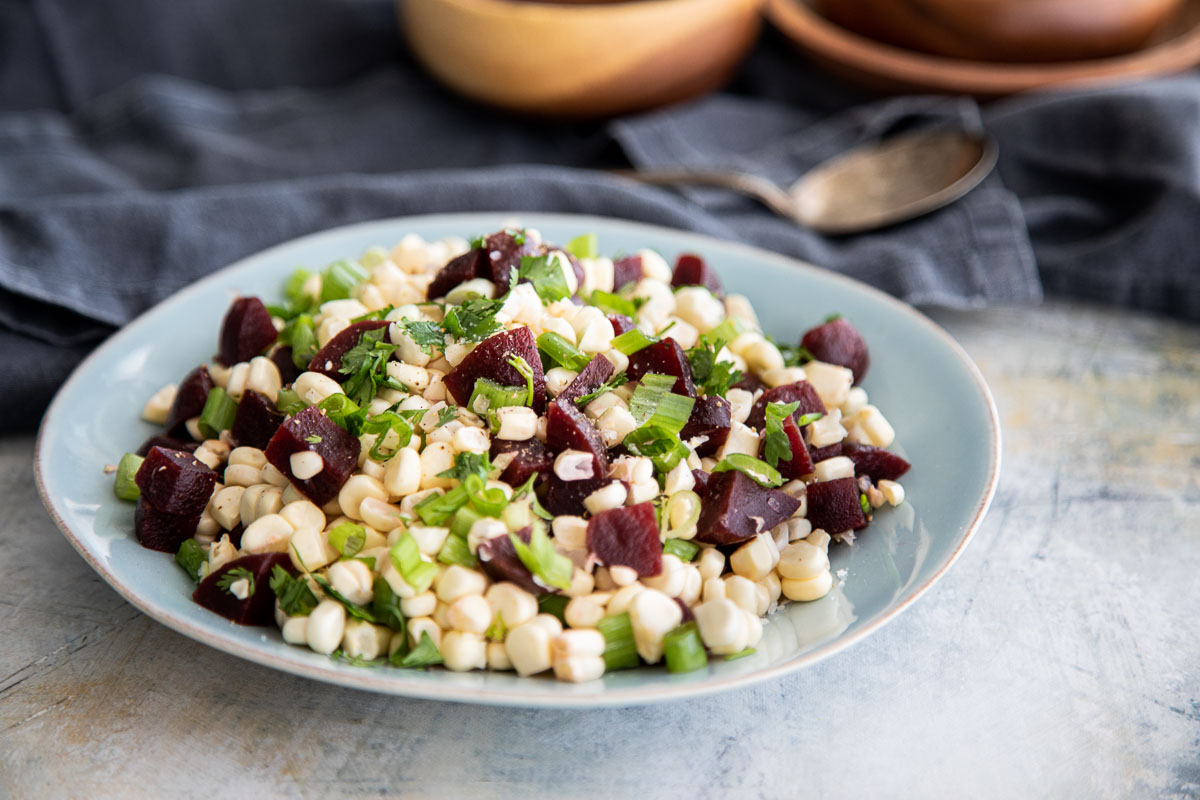 Beet + Corn Salad
I hated beets growing up. My mom always snatched the beets off of my salads, which was kind of out of character for her, but now I totally get it. And while I used to fight with her for them on any plate, I'm not fighting with my toddler for them!
What 3 year old loves beets? Mine does, people. Mine does! It never ceases to amaze me.
SEASONAL RECIPE COOKBOOKS
DELICIOUS RECIPES TO ENJOY PRODUCE TO ITS FULLEST ALL YEAR ROUND. SIMPLE AND DELICIOUS RECIPES MADE FROM SCRATCH FOR YOUR FAMILY AND YOUR GUESTS ALL YEAR LONG!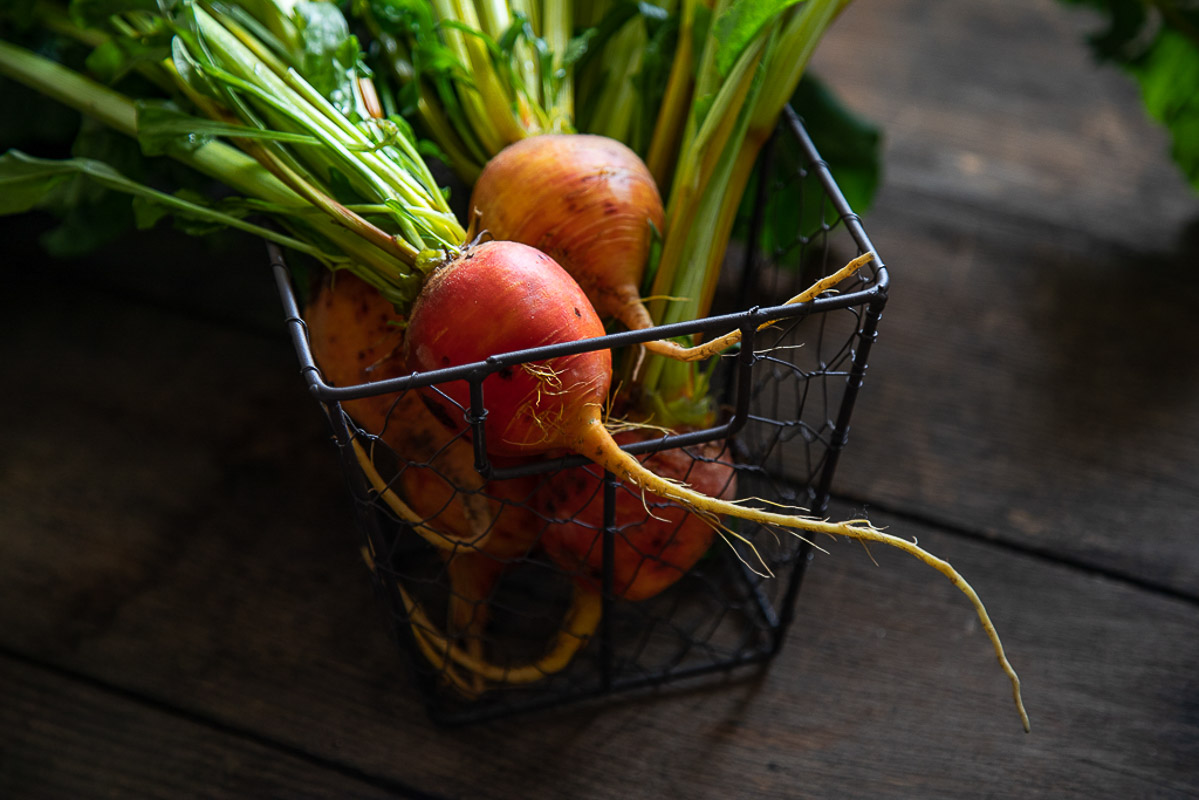 Versatility of Beets
Beets are really quite versatile, pairing well even with strong, savory flavors. Our other favorite combination is in this cold beet salad with goat cheese, honey, and roasted pistachios. Wipe the drool off your chin because, yes, it's that good.
This beet and corn salad is a bit unexpected, but hear me out. The fresh beets and the neutral yet sweet flavor of the corn, are seamless! And the green onion is the perfect finishing touch.
More Beet Recipes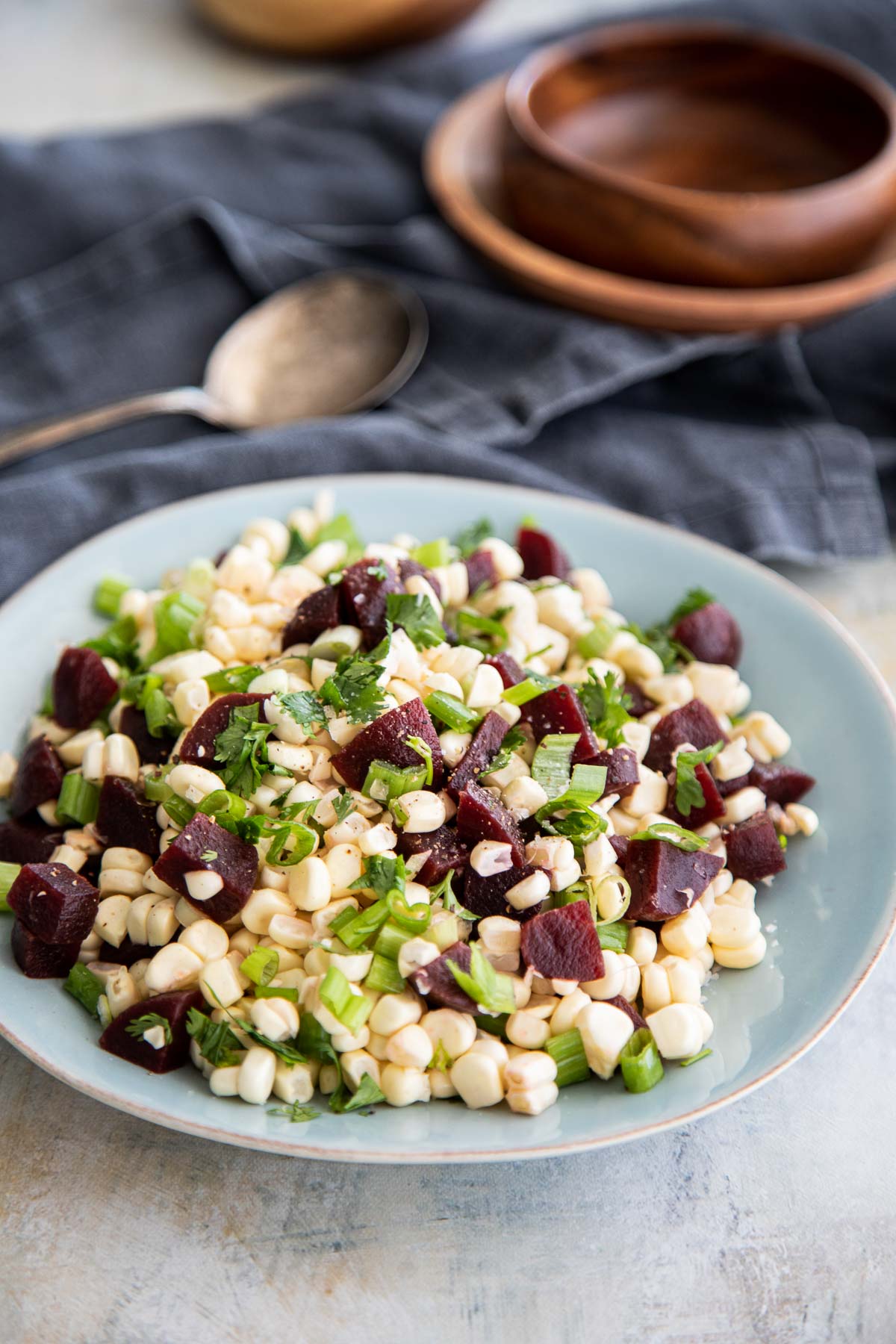 Cold Beet Salad
I first made this beet and corn salad years ago as an accompaniment to a brown rice and turkey fritter I used to make all the time.
It was quite tasty on top and had a nice crunch that complemented the fritter well! Because of the vinegar-relish flavor, I wasn't sure my husband was going to like it. Wrong! He ate most of that batch and requested I make it again. From there, it became a recurring recipe in our house.
I think you could easily substitute the cilantro for italian parsley or mint. We aren't parsley fans, however, and my guy doesn't enjoy mint as much as I do, so it's cilantro for us.
Of course, maybe if I made it with mint, I could enjoy more of it without him eating it all! That would be mean. But I might consider it…
Have extra fresh herbs? Try drying your own herbs to stock up your spice and herb collection.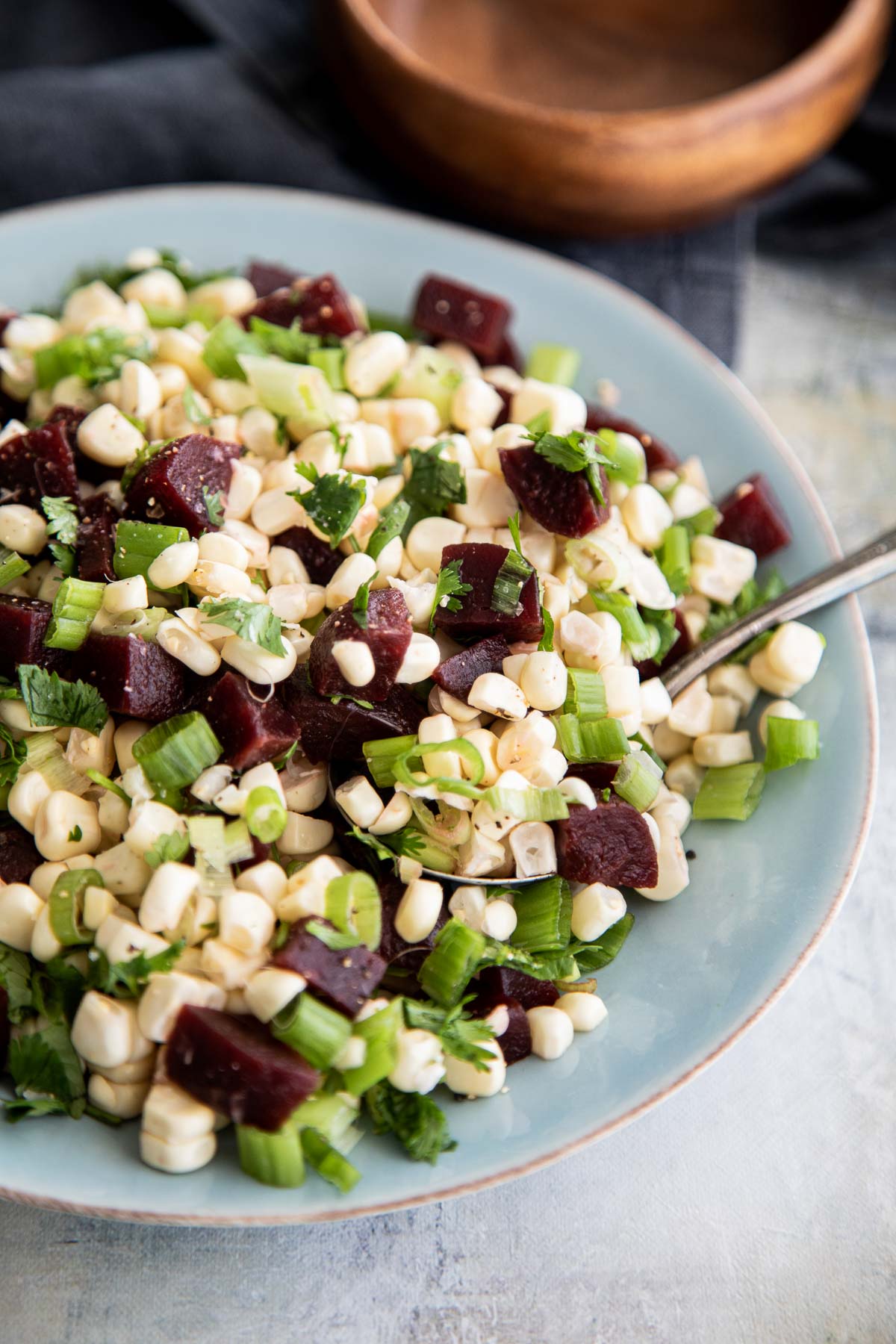 And for the times when you don't have fresh beets available, try peeled, steamed beets that are shelf-stable! Trader Joe's carries them as well, so they're pretty easy to find!
Love simple but scrumptious salads? Try this kale farro salad, swiss chard with ginger (a great side dish), and Avocado + Bean salad.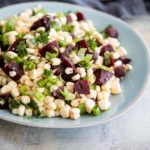 Print Recipe
FRESH BEET + CORN SALAD
Many of the most delicious salads I've ever had are really just combinations of flavors I love. This corn and beet salad is just such a combo. The trick to a good salad is not just balancing the flavors but also the consistencies. The crunchy corn kernels balance the soft beets perfectly. You keep reaching for bite after bite!
Ingredients
3

medium beets

cooked + chopped (approx. 2 ½ Cups)

2

ears corn

shucked

1

large bunch green onions

chopped (approx. 1 Cup)

1

bunch cilantro

chopped (can substitute parsley or mint)

1

teaspoon

salt

¾

teaspoon

freshly cracked pepper

5-6

tablespoon

apple cider vinegar

to taste
Instructions
To cook beets, remove stems. Place in bowl with 1 inch water. Microwave for ten minutes, covered. Let cool. Remove skin. Cut beets in half. Cut side down, slice into small pieces and then cut each slice into small pieces. For relish, chop beets finely.

After shucking the corn, cut kernels from cob. Stand cob up in wide bowl or on cutting board. With finger on tip, use a sharp knife to carefully cut down each side of the cob.

Combine cut beets, corn kernels, chopped green onion, cilantro, salt, pepper, and apple cider vinegar. Mix well. Refrigerate for 2-3 hours before enjoying.
Notes
Make this recipe? I'd love to see how it turned out…
PINTEREST: Upload a photo and your review to this Pin!
INSTAGRAM:  Tag me @lucismorsels and use #LMrecipes
Nutrition
Calories:
67
kcal
|
Carbohydrates:
14
g
|
Protein:
2
g
|
Fat:
1
g
|
Saturated Fat:
0.1
g
|
Polyunsaturated Fat:
0.2
g
|
Monounsaturated Fat:
0.2
g
|
Trans Fat:
0.002
g
|
Sodium:
751
mg
|
Potassium:
385
mg
|
Fiber:
3
g
|
Sugar:
8
g
|
Vitamin A:
214
IU
|
Vitamin C:
7
mg
|
Calcium:
19
mg
|
Iron:
1
mg