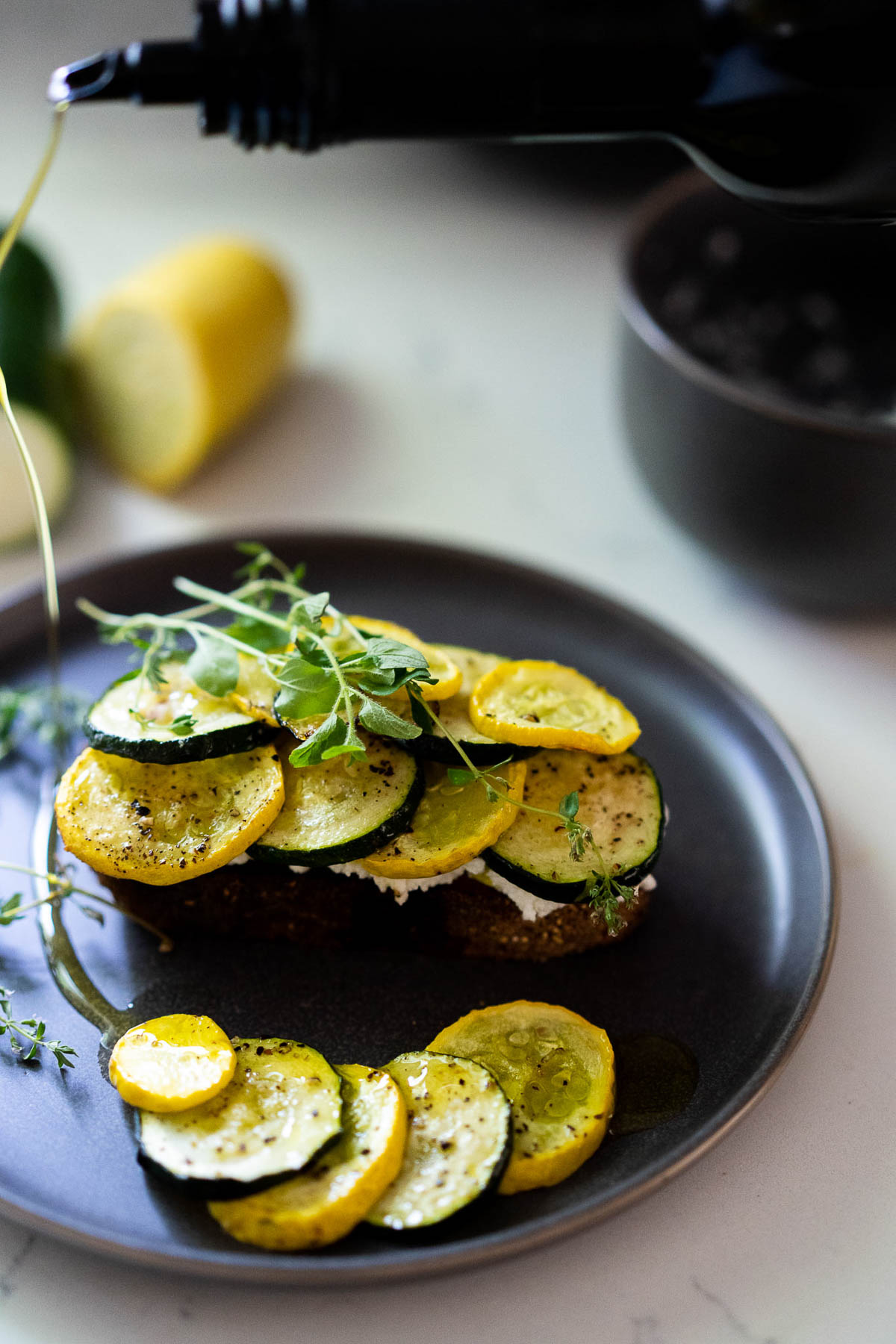 Most of my recipe inspiration comes from something I've had out at a restaurant. Funny enough, this recipe inspiration came from a ricotta toast that had so much potential at a restaurant in LA a few years ago and came up short. I had to come home and make it meet my summer veggie expectations!
Ricotta Toast
This particular ricotta toast had much the same ingredients as this setup up here, but there wasn't any salt or pepper on the squash. I can't remember if the squash was even roasted.
Anyway, my excitement for my lunch quickly vanished as I made my way through the combination of ingredients because it was just that – zucchini on ricotta on toasted bread – nothing married the flavors together making it a good dish!
I was left with two thoughts…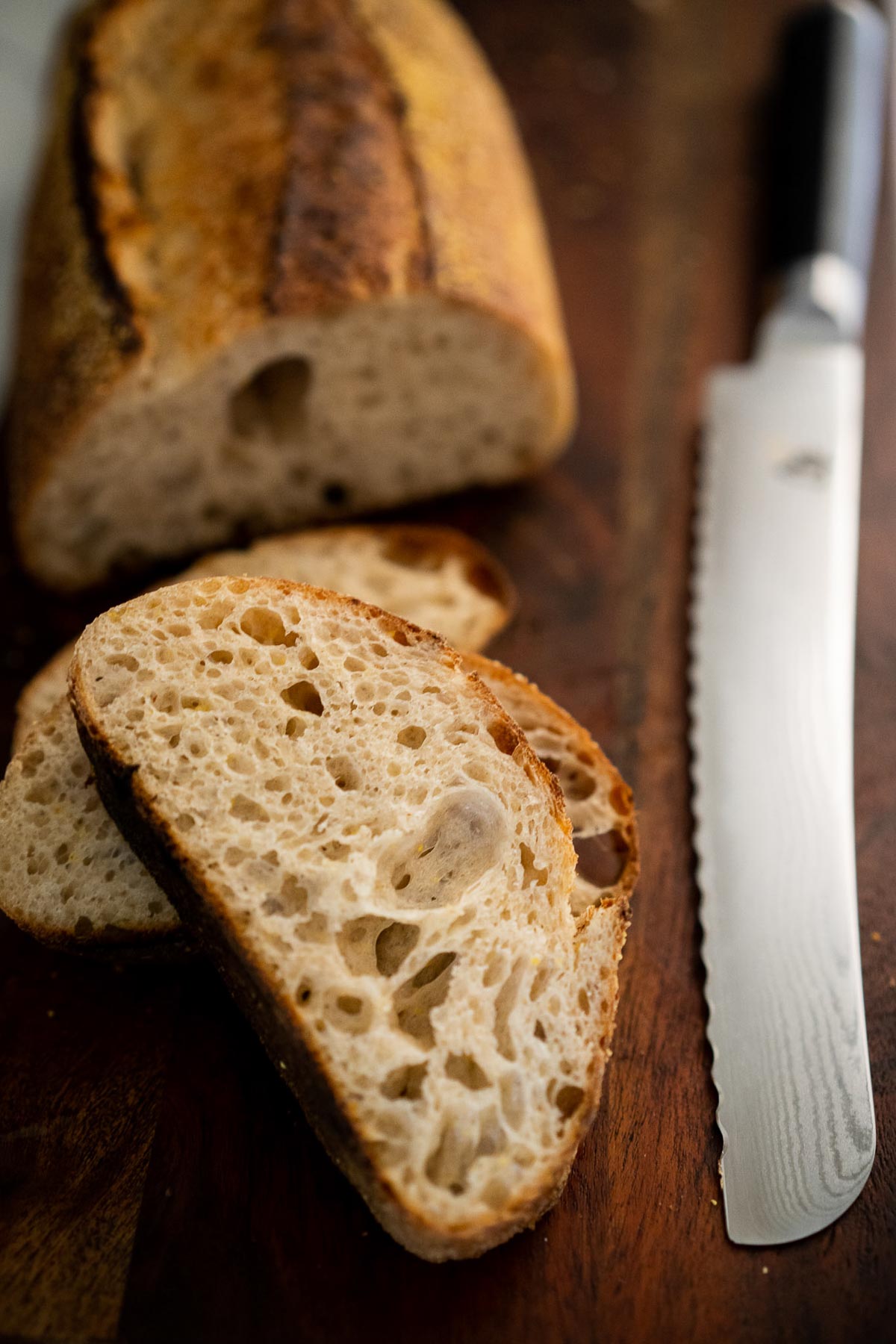 First, salt and pepper are on every table because they are such versatile (and I would argue mandatory) seasonings. Salt enhances natural flavors, so why some chefs and restaurants try to skip that is beyond me.
Second, ricotta is great fun, but it can be rather bland on its own, so you need to add a little sumpin', sumpin' in there.
For this ricotta toast (that is a million times better if I do say so myself), I added salt, fresh lemon zest (because it's always a good idea), and dried thyme to the creamy cheese. They're all such simple ingredients and yet the flavor was so much better.
I'm not going to lie though, those roasted pieces of zucchini stole the show. I was piling on more and more as I made my way through the toast!
Grilled Zucchini Toast
Since it feels like 5 billion degrees outside some days this summer, turning on the oven doesn't always sound good. So I have Two Alternatives.
The first is to roast the zucchini slices in my toaster oven (much like my homemade roasted bell peppers). I can't imagine living without our toaster oven. It takes little time to warm up and save us from heating up the kitchen to make a filling dinner in the summer!
SPRING & SUMMER COOKBOOK
DELICIOUS RECIPES TO ENJOY SPRING & SUMMER PRODUCE TO ITS FULLEST. SIMPLE AND DELICIOUS RECIPES MADE FROM SCRATCH FOR YOUR FAMILY AND YOUR GUESTS ALL SUMMER LONG!
The second is to grill the bread and zucchini! If you grill a lot in the summer months, you'll love this ricotta toast as an appetizer, side dish, or main!
I'd recommend lightly spraying the bread or grill with oil before adding the bread and you'll want to keep the zucchini slices bigger if there's a chance they'll slip through the grates.
If you're interested in the grilled toast idea, check out these grilled shrimp toasts as well for some helpful grilled dinner tips!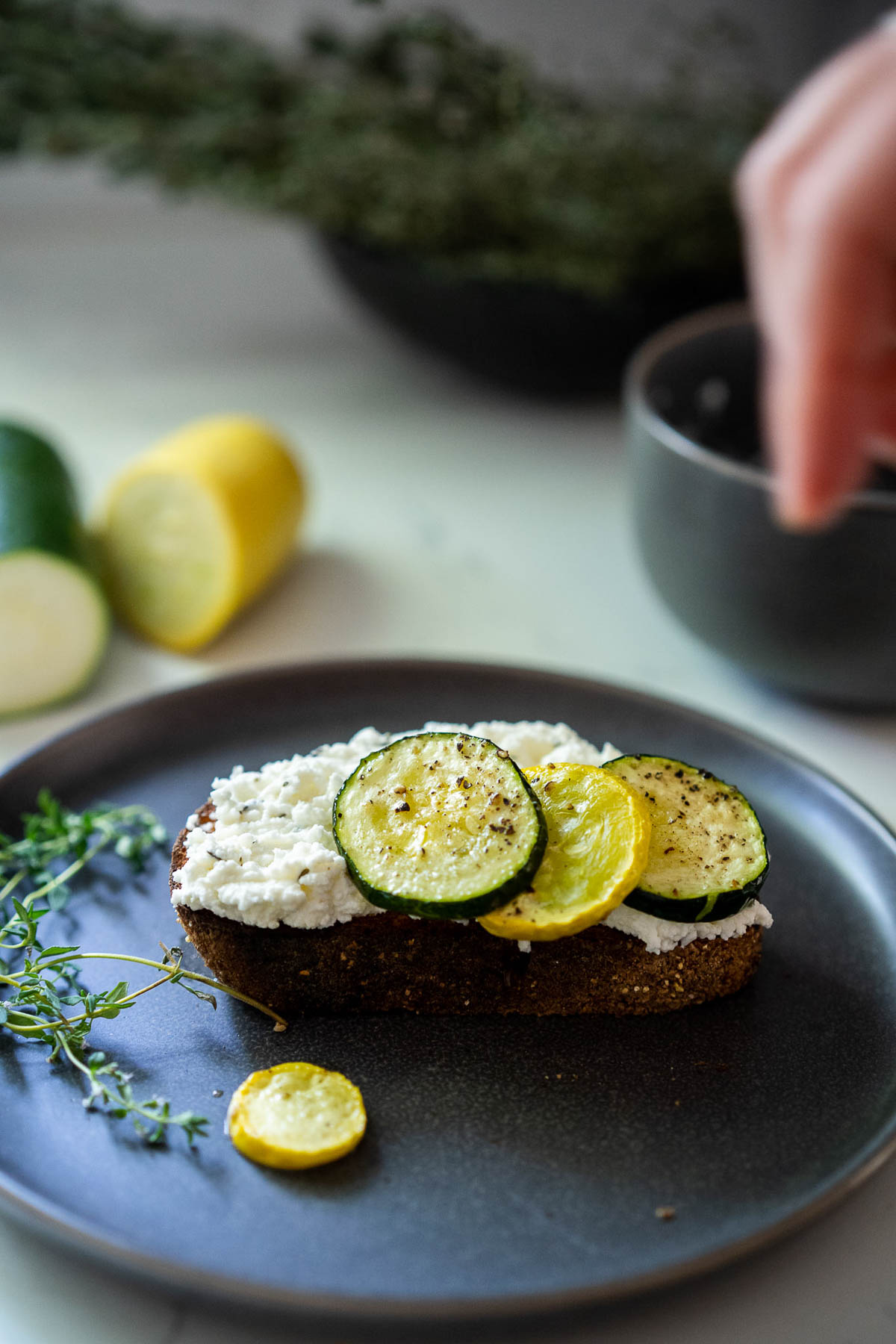 Ricotta Toast Topping Alternatives
The wonderful part of this recipe is that you can easily replace the zucchini and yellow squash for other seasonal summer produce! Or you can do a mix of a few items.
A few ideas that come to mind? Fresh or roasted tomatoes (a favorite combo seen in this cherry tomato appetizer board.
Roasted red bell pepper toasts are a huge favorite of mine – I usually do that with herbed goat cheese, but this ricotta mix would be delicious as well.
Zucchini Recipes
If you're growing your own zucchini, then you might just be a bit overwhelmed (happily so for me) with zucchini. If you're looking for some other zucchini recipes, try one or all of these…
Zucchini Quesadillas with Corn Salsa
Grilled Veggie Antipasto with Burrata
Smoked Sausage Skillet with Veggies
Grilled Veggie Hors D'oeuvres (a great make-ahead dish)
Chickpea + Roasted Vegetable Pasta
If you just need every meal served on a lovely piece of toast, try this smoked salmon toast, spicy avocado toast, a tuna tartare tartine for two, beautiful radish toast, some ricotta and zucchini toast, or this ceviche avocado toast!
On the sweeter side, this blood orange crostini is positively perfect! One loaf of bread and you're set for the week on meals!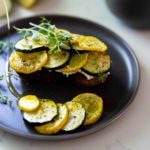 Print Recipe
RICOTTA TOAST w. ZUCCHINI SQUASH
Many of my recipes are inspired by tasty dishes I've enjoyed at restaurants and cafes. This ricotta toast was inspired by a cafe in Southern California. I excitedly ordered only to be disappointed by a dish that didn't quite deliver. So I went home to make it myself and fulfill my tasty desires. Now it's perfect!
Ingredients
2

small zucchini

thinly sliced

1

hefty tablespoon olive oil

salt + fresh pepper

¾

cup

ricotta

1 ½

teaspoons

lemon zest

½

teaspoon

dried thyme

4

medium slices bread
Instructions
Preheat oven (or toaster oven) to 400°.* Lay zucchini slices on sheet pan. Drizzle with olive oil. Top with salt and fresh pepper. Roast 10 minutes until softened.

Meanwhile, combine ricotta, lemon zest, ¼ teaspoon salt, and dried thyme in bowl.

Toast bread. Let cool (if desired) on wire rack.

Divide ricotta mix and zucchini slices between toasts. Top with freshly cracked pepper.
Notes
*If you'd like to grill the toast and zucchini, you can! It's a great way to create this meal outside or on a grill pan without turning on the oven!
Save this recipe on Pinterest!
Make this recipe? I'd love to see how it turned out…
PINTEREST: Upload a photo and your review to this Pin!
INSTAGRAM:  Tag me @lucismorsels and use #LMrecipes
Nutrition
Calories:
303
kcal
|
Carbohydrates:
38
g
|
Protein:
13
g
|
Fat:
11
g
|
Saturated Fat:
5
g
|
Polyunsaturated Fat:
1
g
|
Monounsaturated Fat:
4
g
|
Cholesterol:
24
mg
|
Sodium:
432
mg
|
Potassium:
381
mg
|
Fiber:
3
g
|
Sugar:
6
g
|
Vitamin A:
406
IU
|
Vitamin C:
19
mg
|
Calcium:
148
mg
|
Iron:
3
mg