This "Best Travel Work Bags" post is sponsored by Samsonite. All opinions are my own. Thank you for supporting all Luci's Morsels collaborations.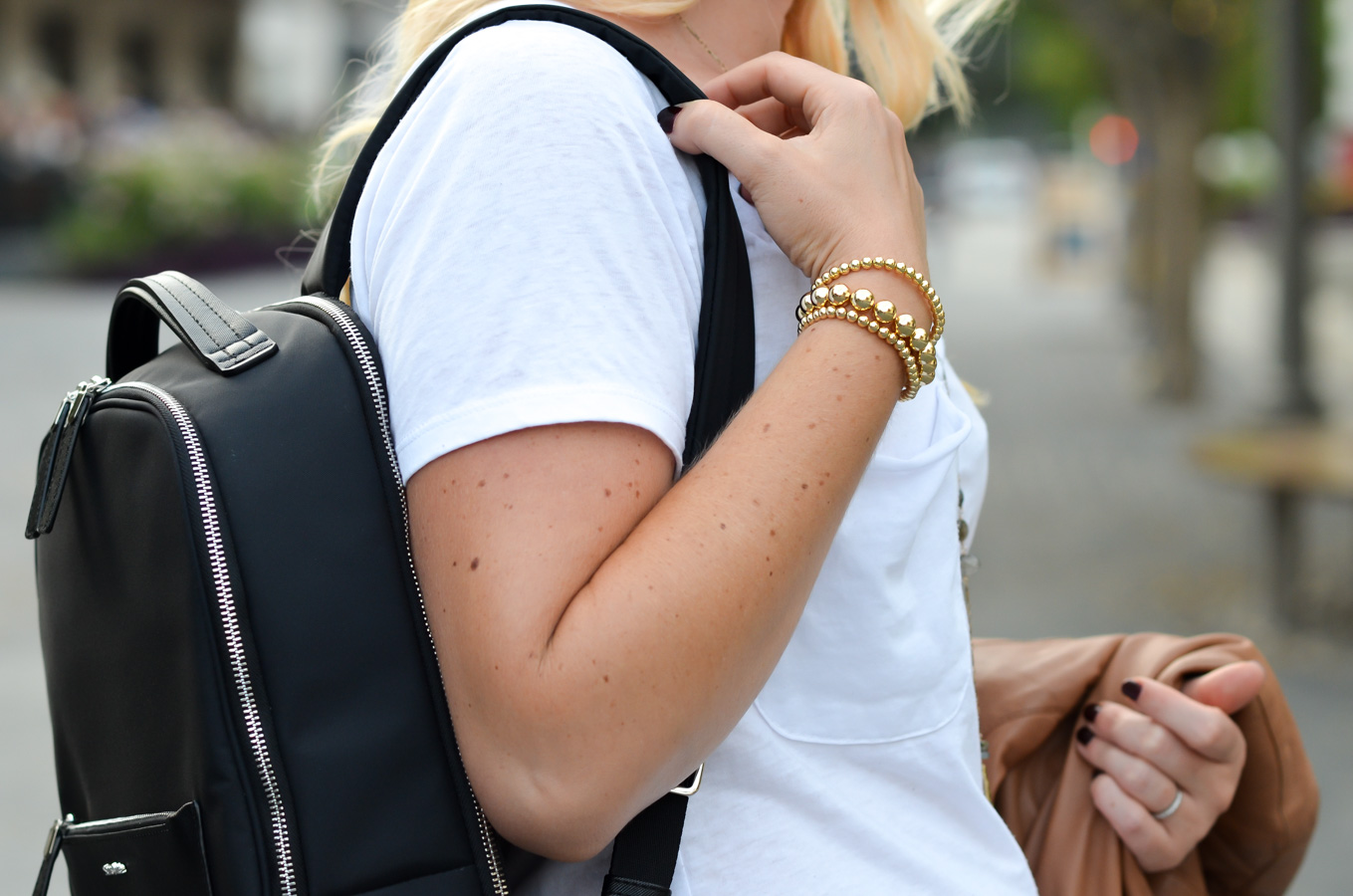 A few years ago, my mom got my husband and I luggage for Christmas. That sounds rather functional and maybe not the most fun, but I pretty much lost my mind. I was so excited! When you're hustling through airports, schlepping suitcases across cobblestones in Europe, or lugging your bag off the carousel, there's nothing that beats good, sturdy luggage.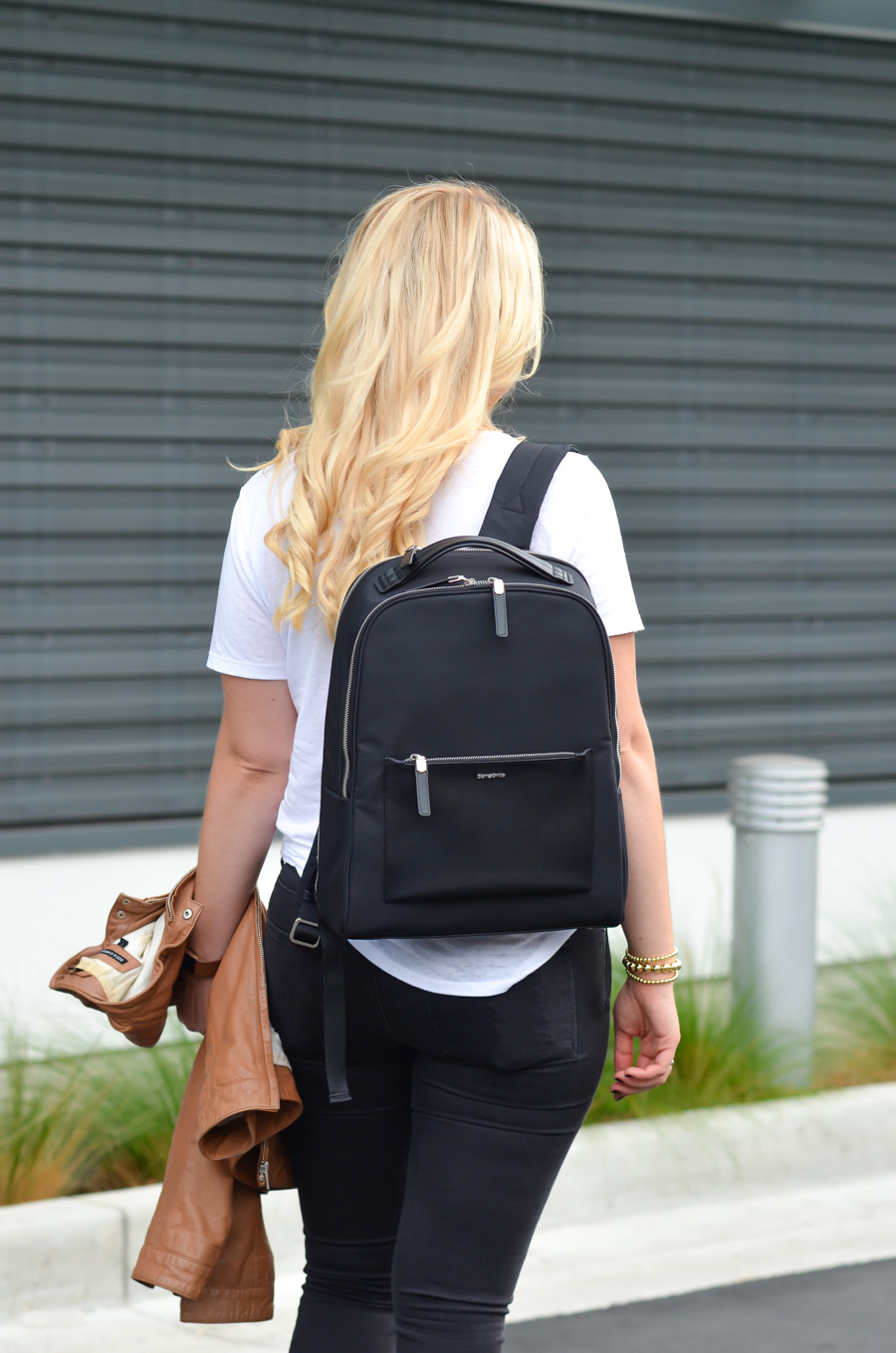 In the last few years, I've also come to really appreciate great quality travel and work bags. I always want to look chic and put-together (on the go or around town), but function and sturdiness are priority numero uno!
This Samsonite backpack and tote, however, are chic and sturdy, so I don't have to sacrifice style or ease and neither do you…

Best Travel Work Bags
I've long been a fan of backpacks and this Zalia backpack is no exception. If this one looks familiar, you might remember it from these black backpack outfits post! There are pockets for your laptop and whatever else you need.
At first, I thought it a bit small for my needs, but as it turns out, it just makes me better at deciding what I really need to take with me – no overweight bags for this girl.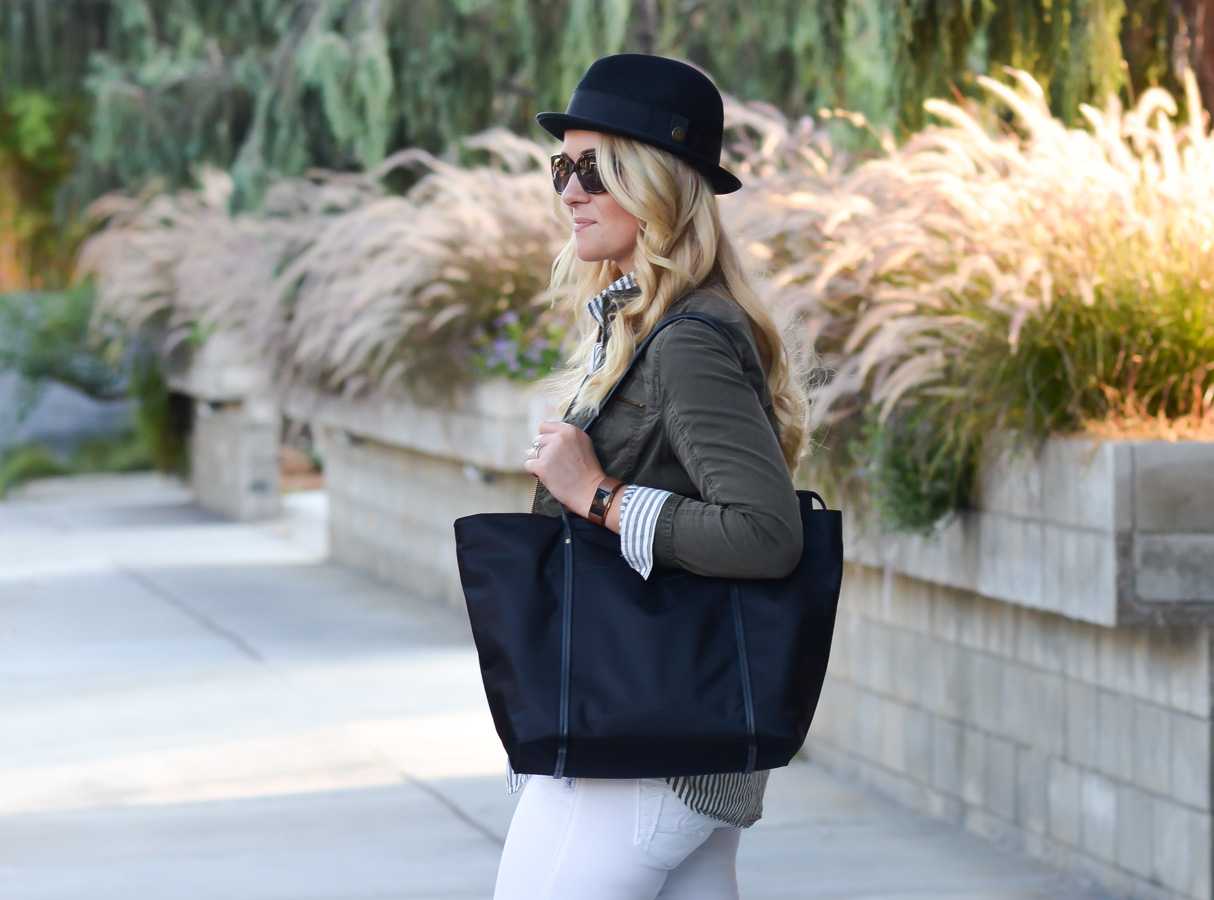 In it, I can get my laptop, charging cord, agenda, wallet, mini carry all, sunglass case, reading glasses, all my favorite tech accessories, and some lunch. I could probably get more in there, but let's be honest – that's plenty!
*This style is no longer available. This is the updated Samsonite backpack.
If you're looking for a similarly functional, well-made, and slightly bigger option, the Rowledge backpack is what you're looking for. It has the front pocket to hold smaller items, the back pocket to slide in a laptop, and a MUCH roomier center pocket to actually hold more items (this original Samsonite one is rather small for any sort of travel). The Rowledge also has the luggage strap, and easily converts into a tote as needed. (there's also a 25% sitewide sale going on this month)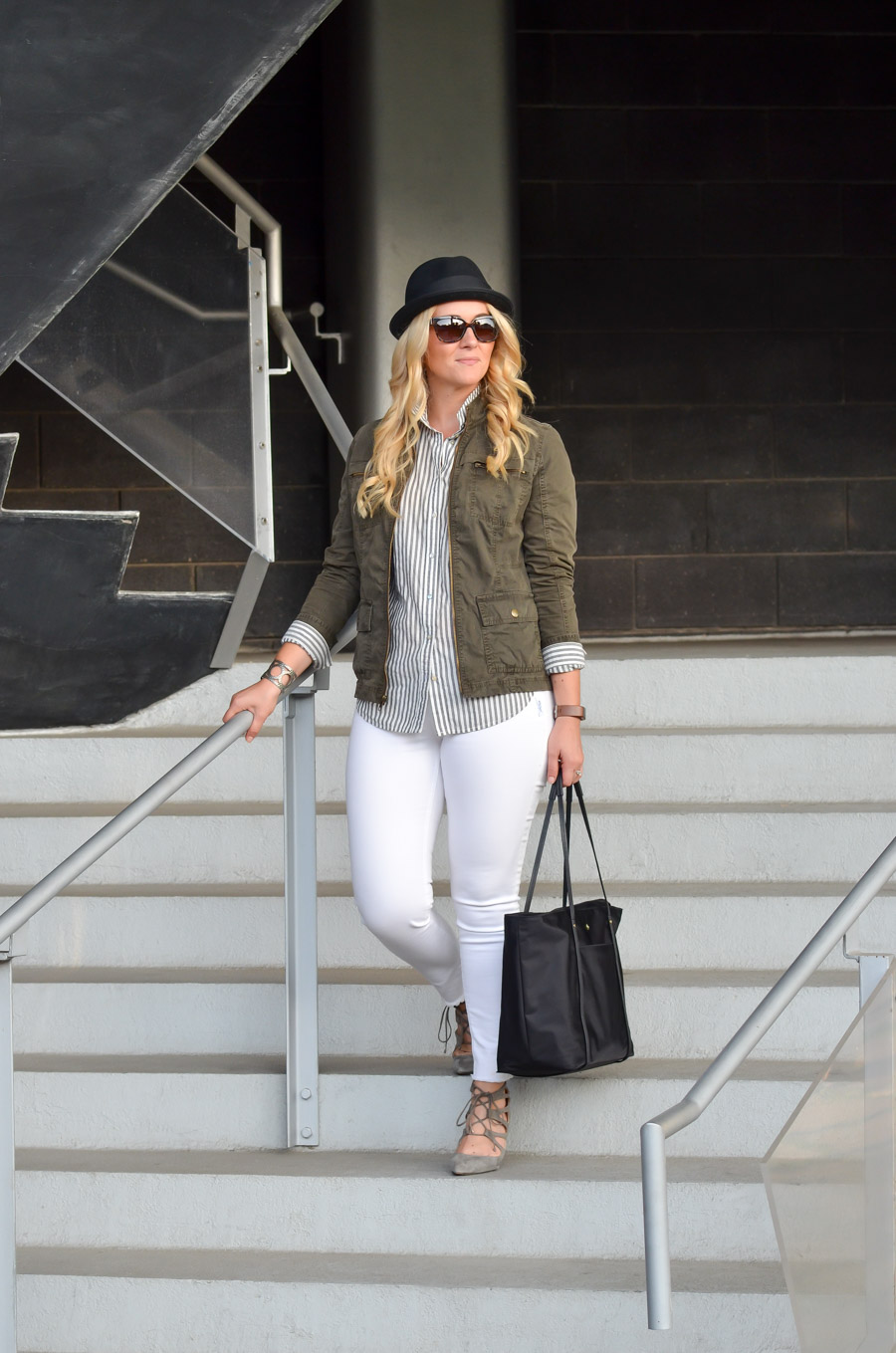 And while I love a good backpack, more often than not, I have a tote. This Lyssa Tote has a zipper closure and lots of great interior organization. I love that the exterior is nylon, so I don't have to worry about getting it dirty.
*That style is no longer available, but there is a similar black nylon tote from Lo & Sons  that even has the luggage strap!*
It's the perfect size for laptop, magazine, purse essentials, chargers, snacks, water bottles, and probably a whole bunch more! It also comes in a beautiful navy!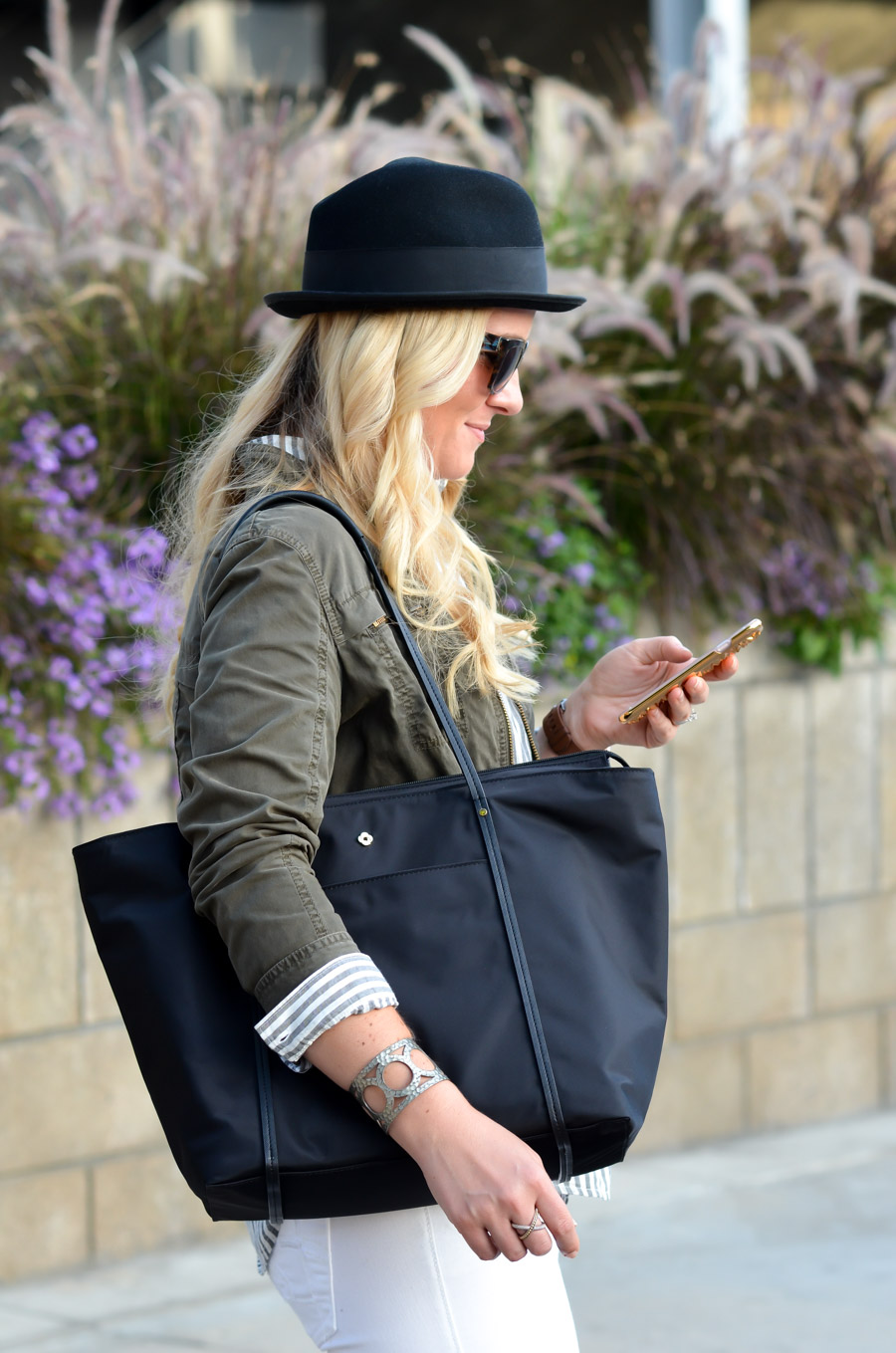 The Essential Suitcase Strap
My favorite thing about BOTH of these bags is that they can slide onto your suitcase handle – essential for speeding through the airport and giving your back a break (not to mention, you don't have to put your bag on the floor)!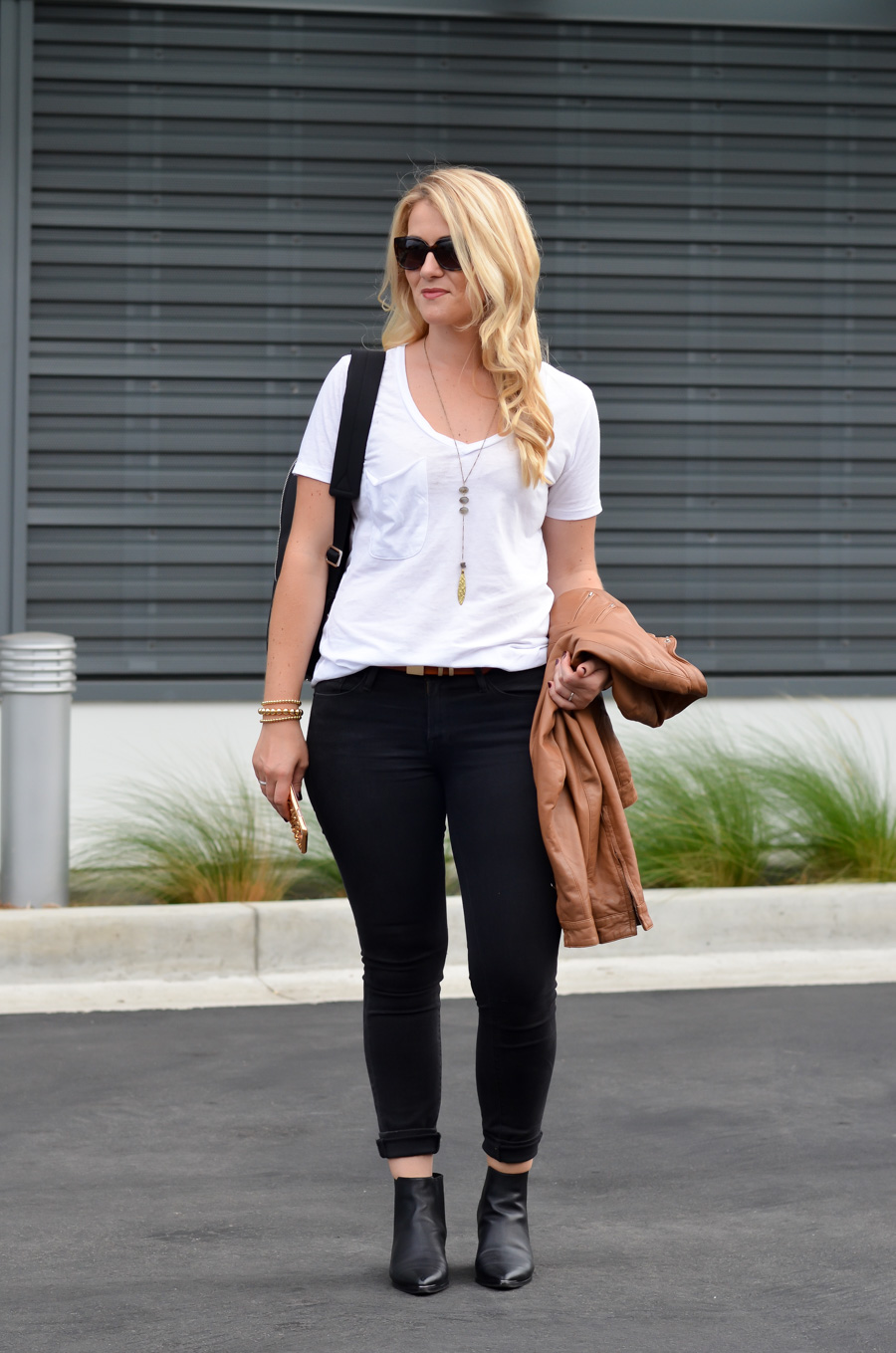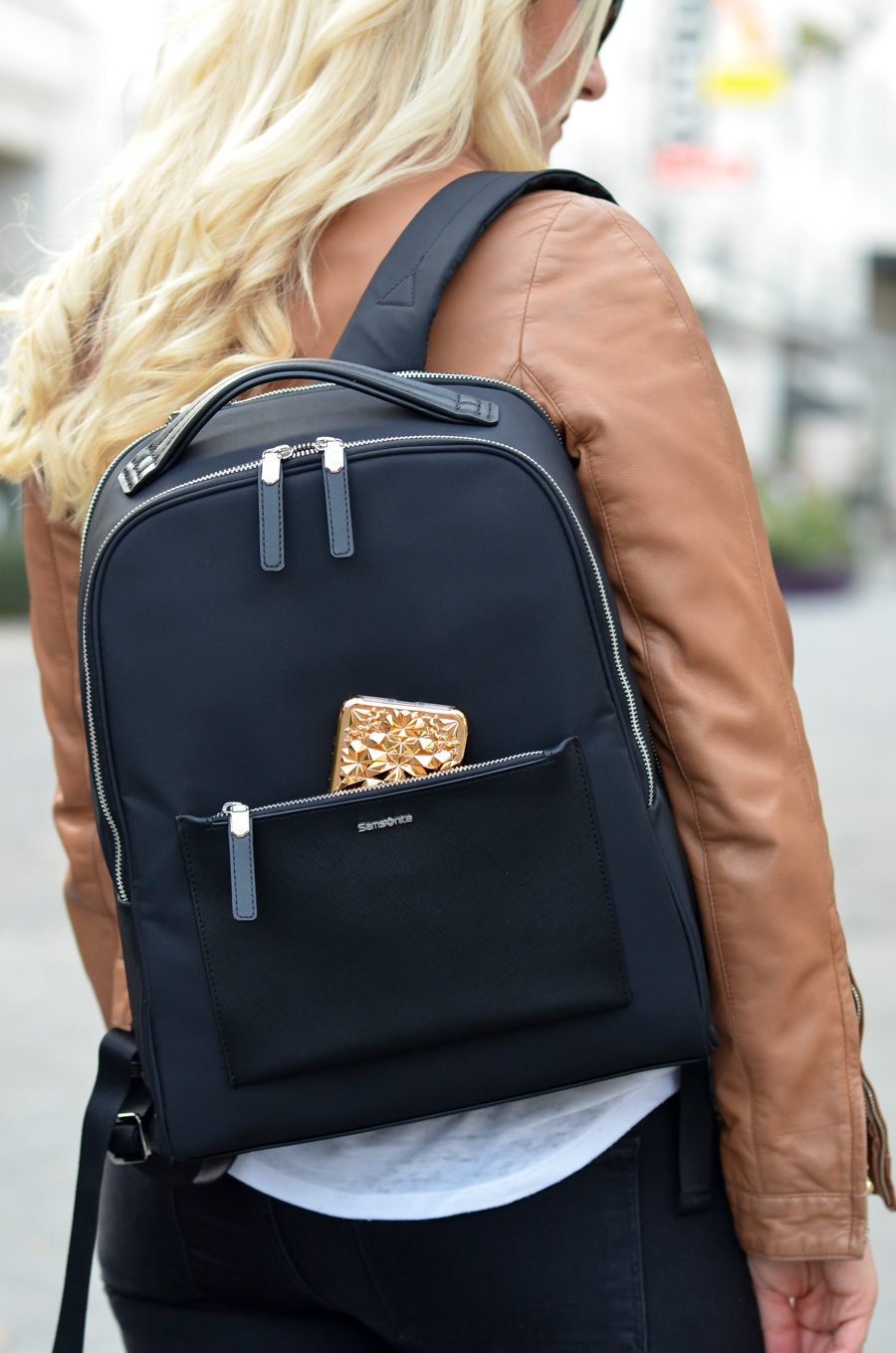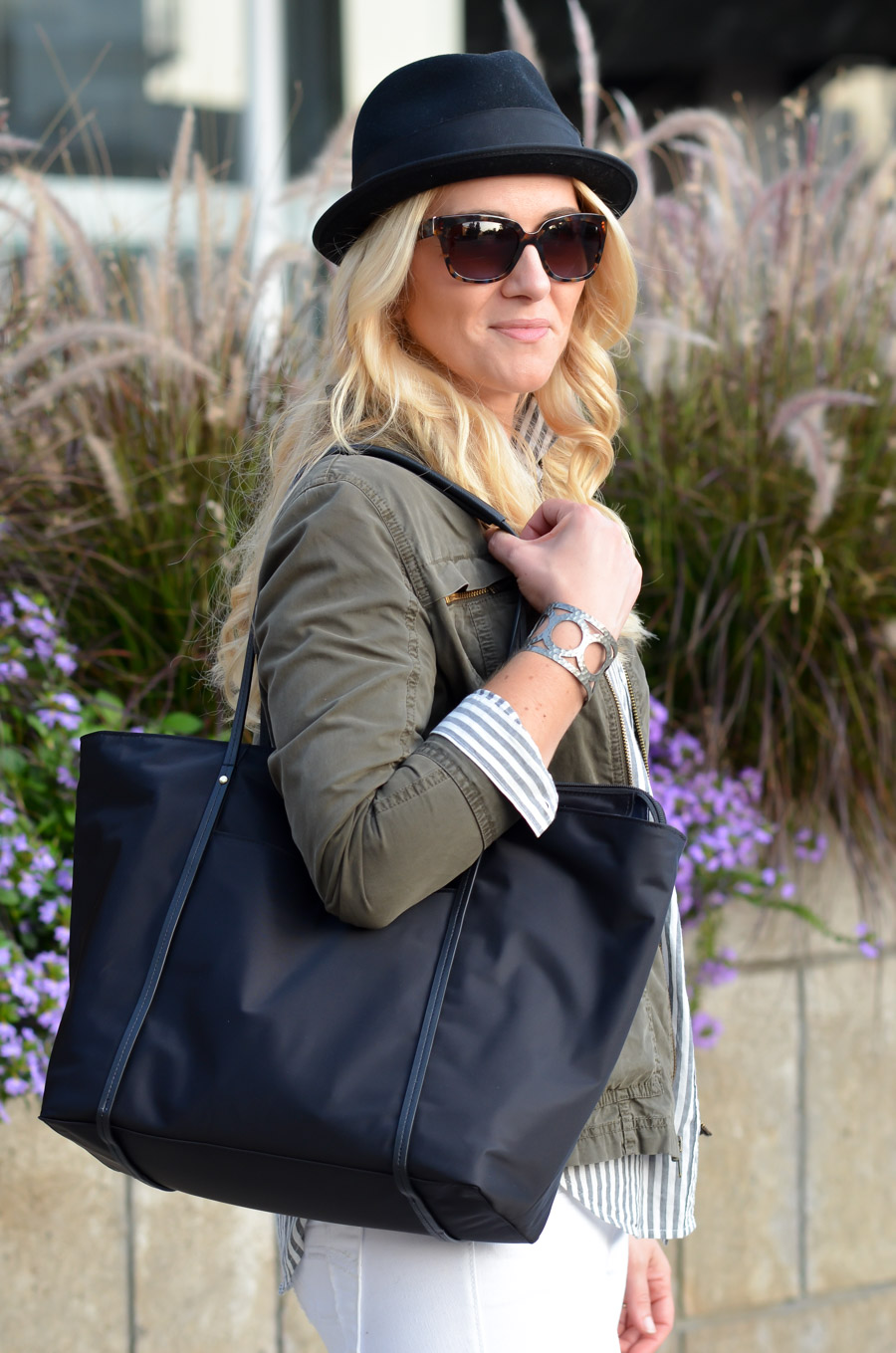 Get more outfit inspiration for ways to wear a women's military jacket in olive green!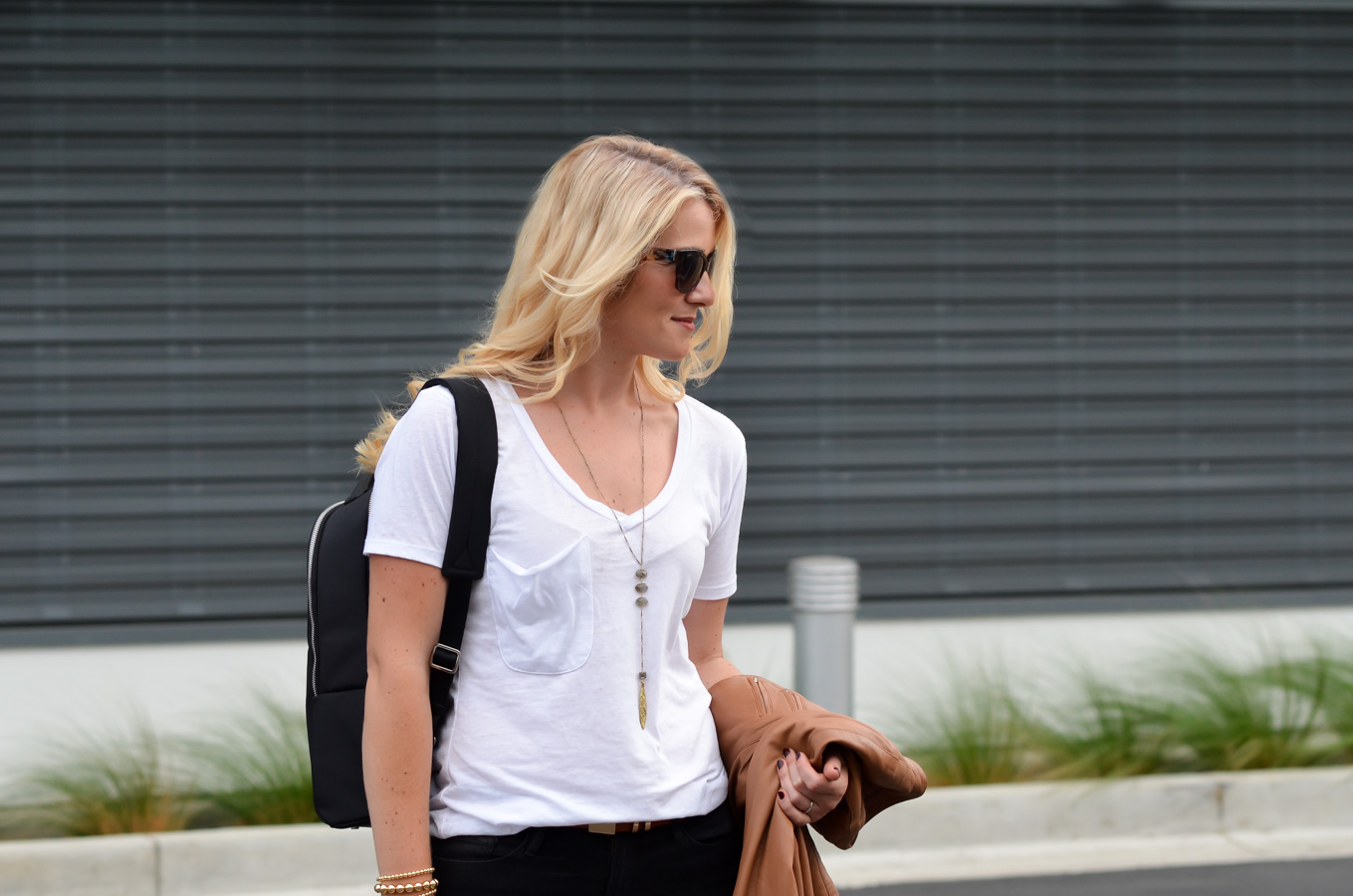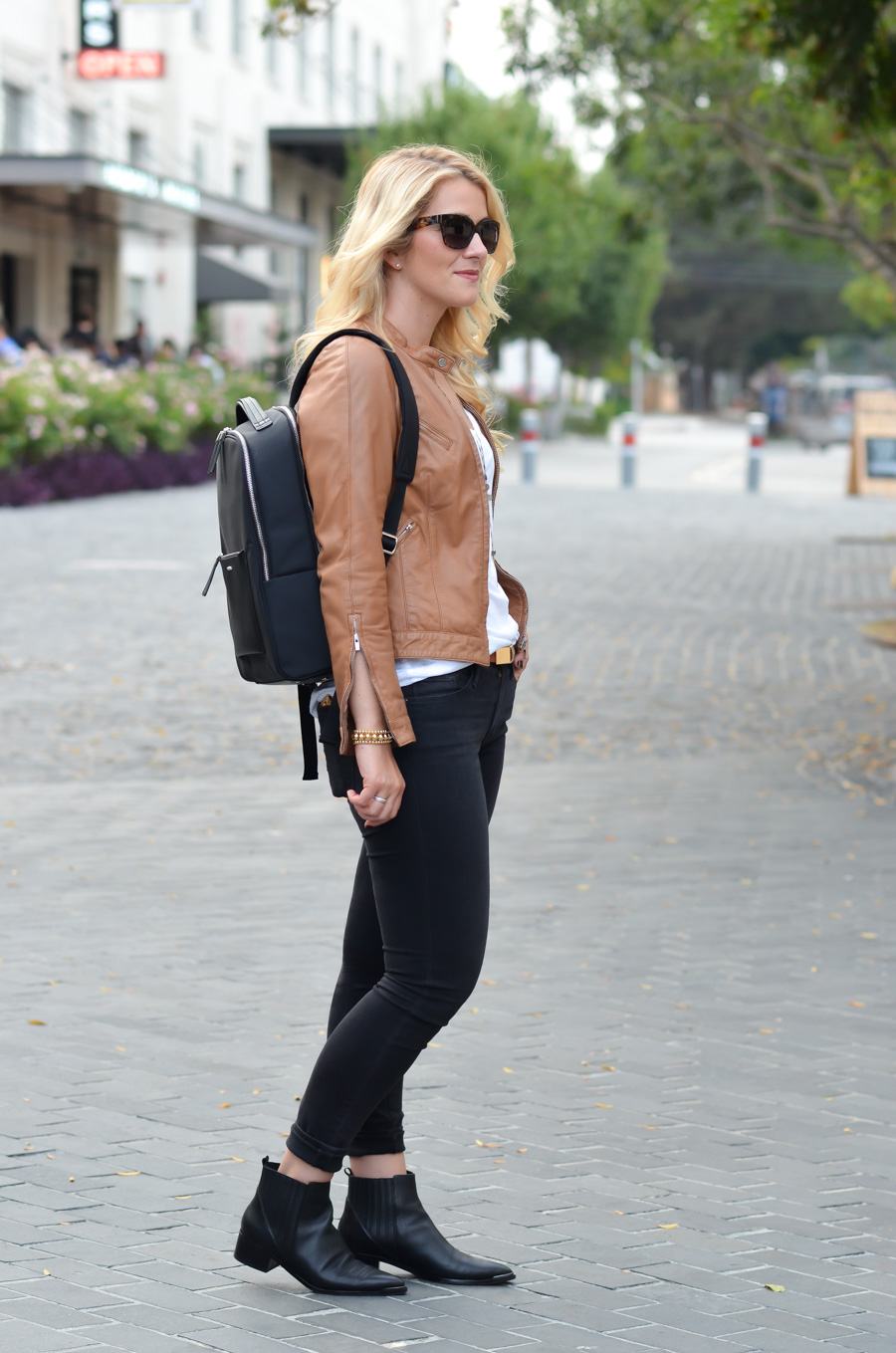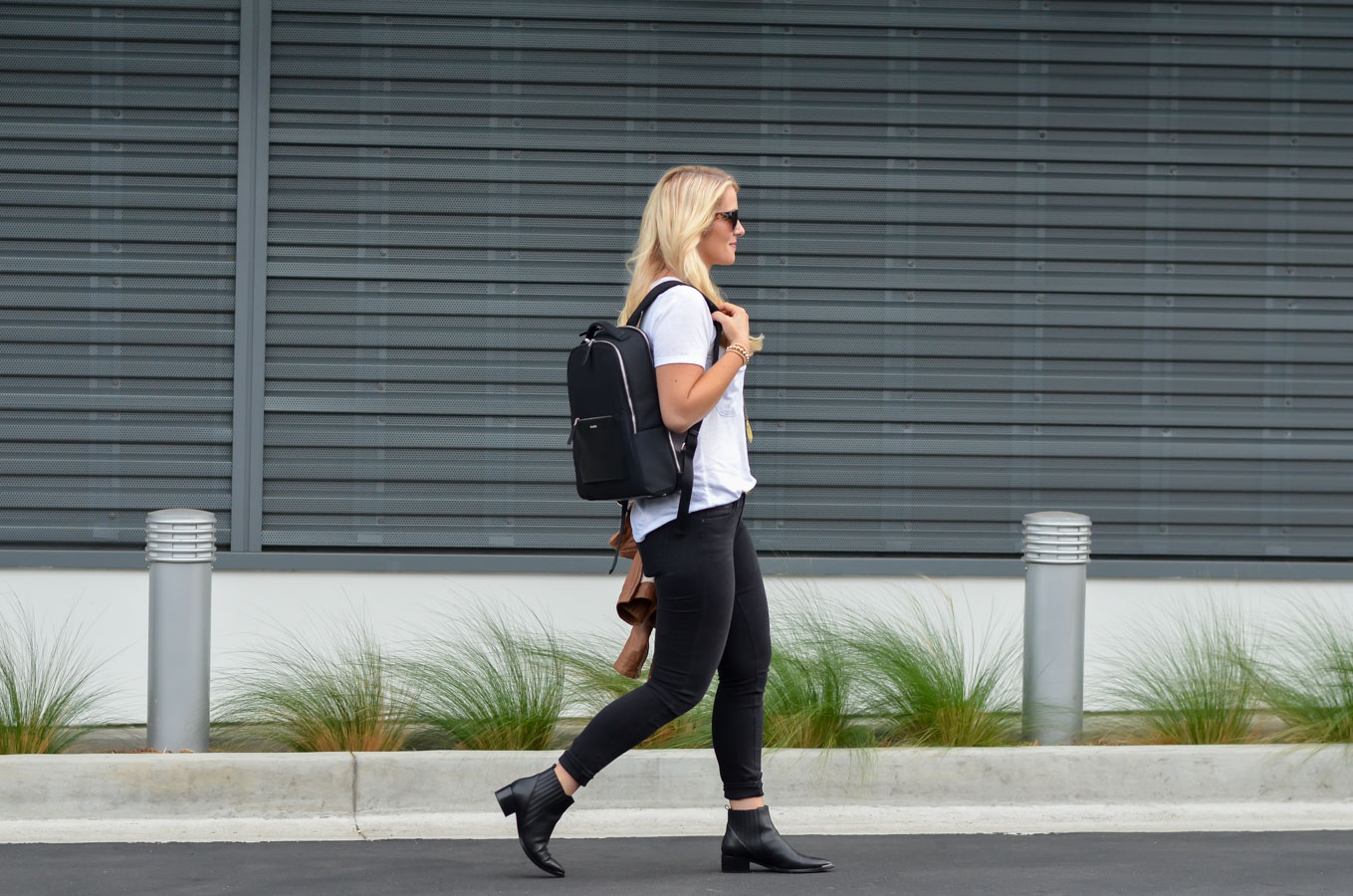 This "Best Travel Work Bags" post is sponsored by Samsonite. All opinions are my own. Thank you for supporting all Luci's Morsels collaborations.