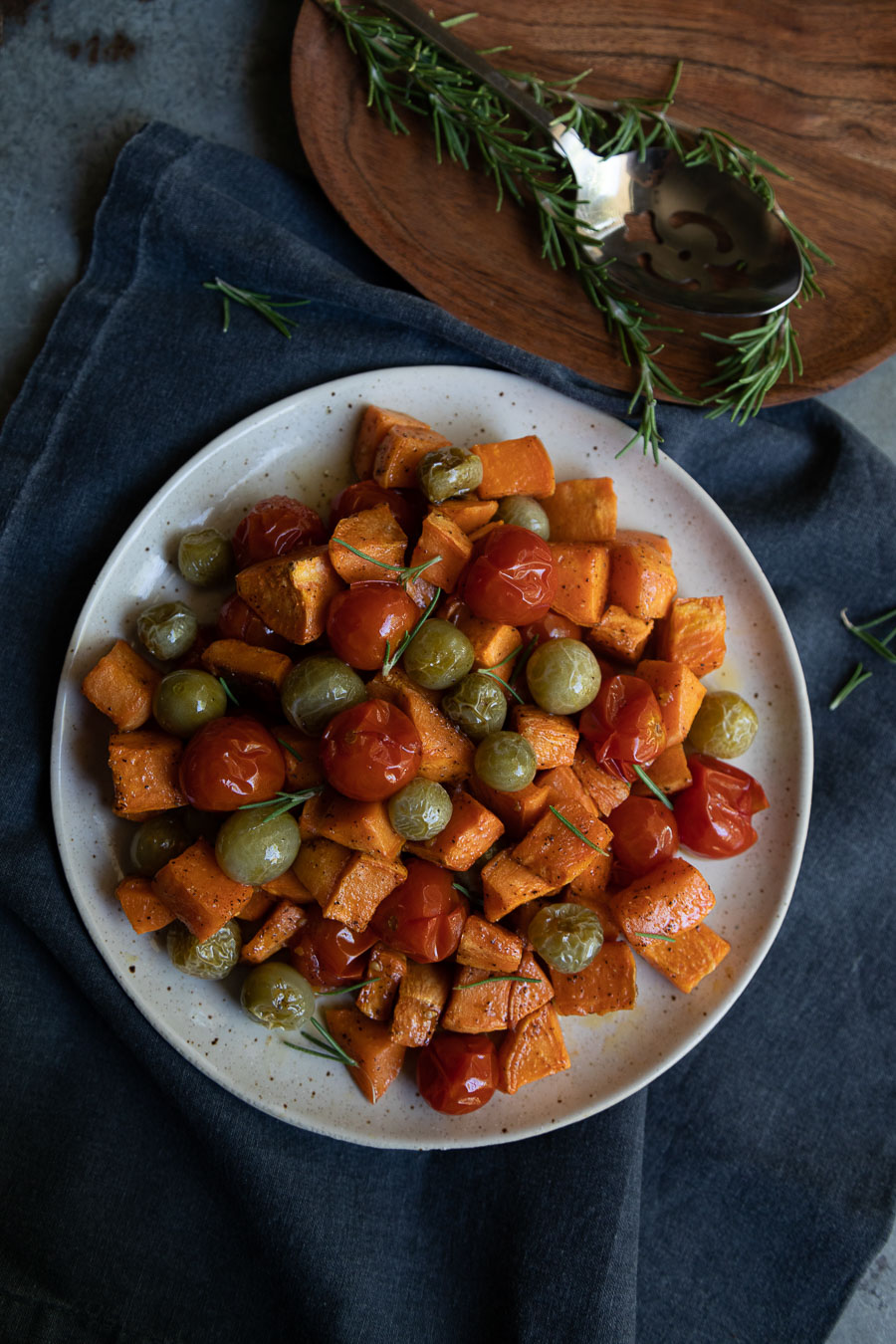 Sometimes when I'm thinking up recipes, it's the flavors I start to imagine together. Other times, however, it's the colors. Not surprising, this roasted sweet potato salad with tomatoes was an idea of color before it was an idea of flavor!!
One of my dearest friends and her husband were at our house a few weeks ago (yay for moving back near one another). They mentioned that they'd only recently discovered the joy of roasting vegetables. Y'all! If my chair didn't have sides on it, I think I would've fallen out! With how easy it is to roast produce and how much more delicious it is than steaming or sautéing, it always surprises me that not everyone does it!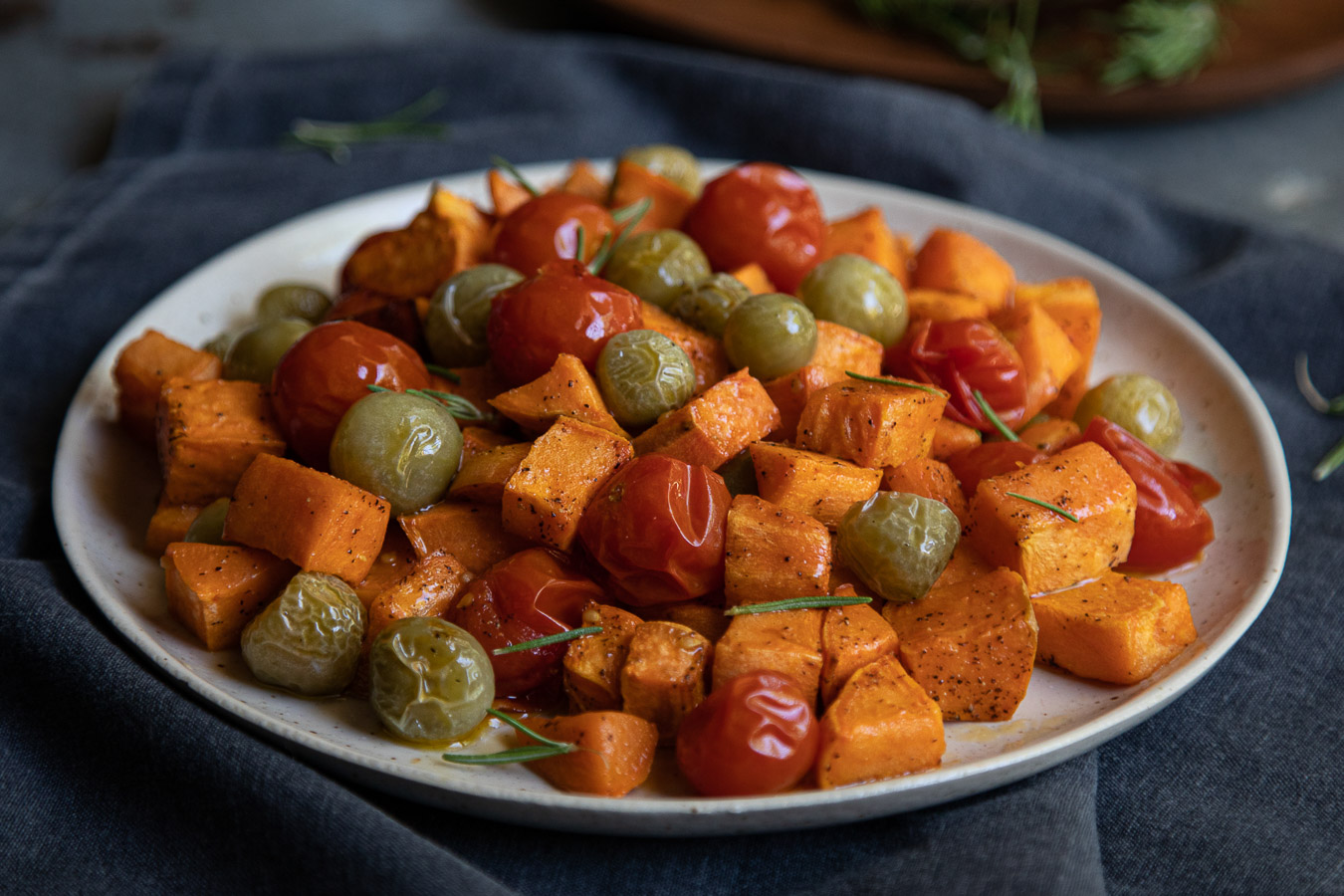 I can't remember the first vegetables we enjoyed roasted, but I know it was before we moved to LA – so at least 6 or 7 years ago.
Since then I've tried roasting a number of veggies – onions, peppers, cauliflower, broccoli, potatoes, brussel sprouts, and even some fruits (hello roasted grape and broccoli salad). The thing we probably roast the most, however, is sweet potatoes!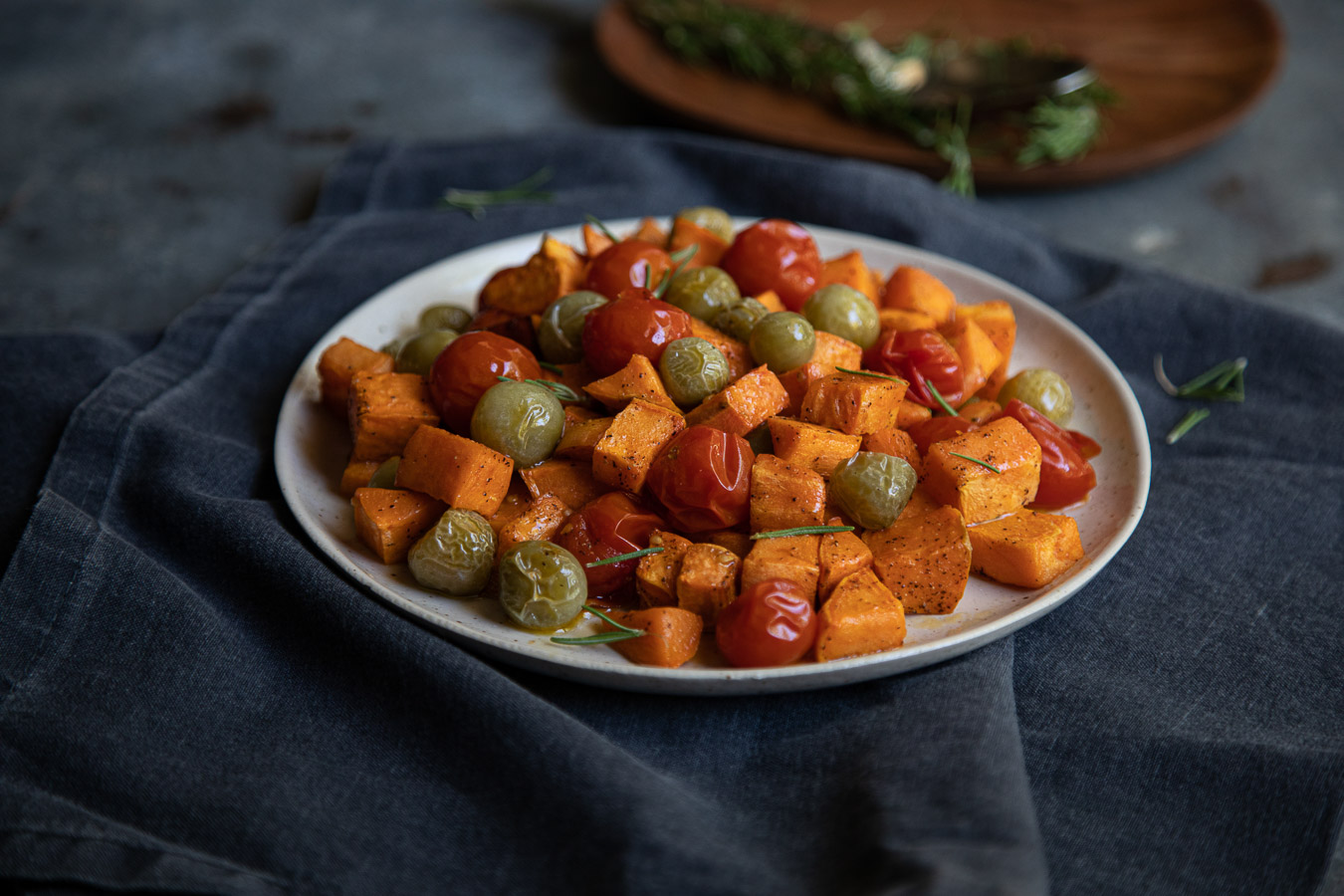 Roasted Sweet Potato Salad
Sweet potatoes are on the sweeter side of a starch (duh!), so I like to season them up with a fair amount of salt and other spices! I don't usually remove the skin before cutting them to roast, but I think many people prefer them that way!
This roasted sweet potato salad combines the fully flavored sweet potatoes with roasted tomatoes, which is another fun treat. The garlic and rosemary infused olive oil dressing, however, is what makes this salad delicious!! You can enjoy it warm or cold (or both like I do)!
The green and red cherry tomatoes were a fun play on this colorful creation, but if you can only find red tomatoes, that's fine! The flavors and colors will still be wonderful! Just make sure you're storing tomatoes properly!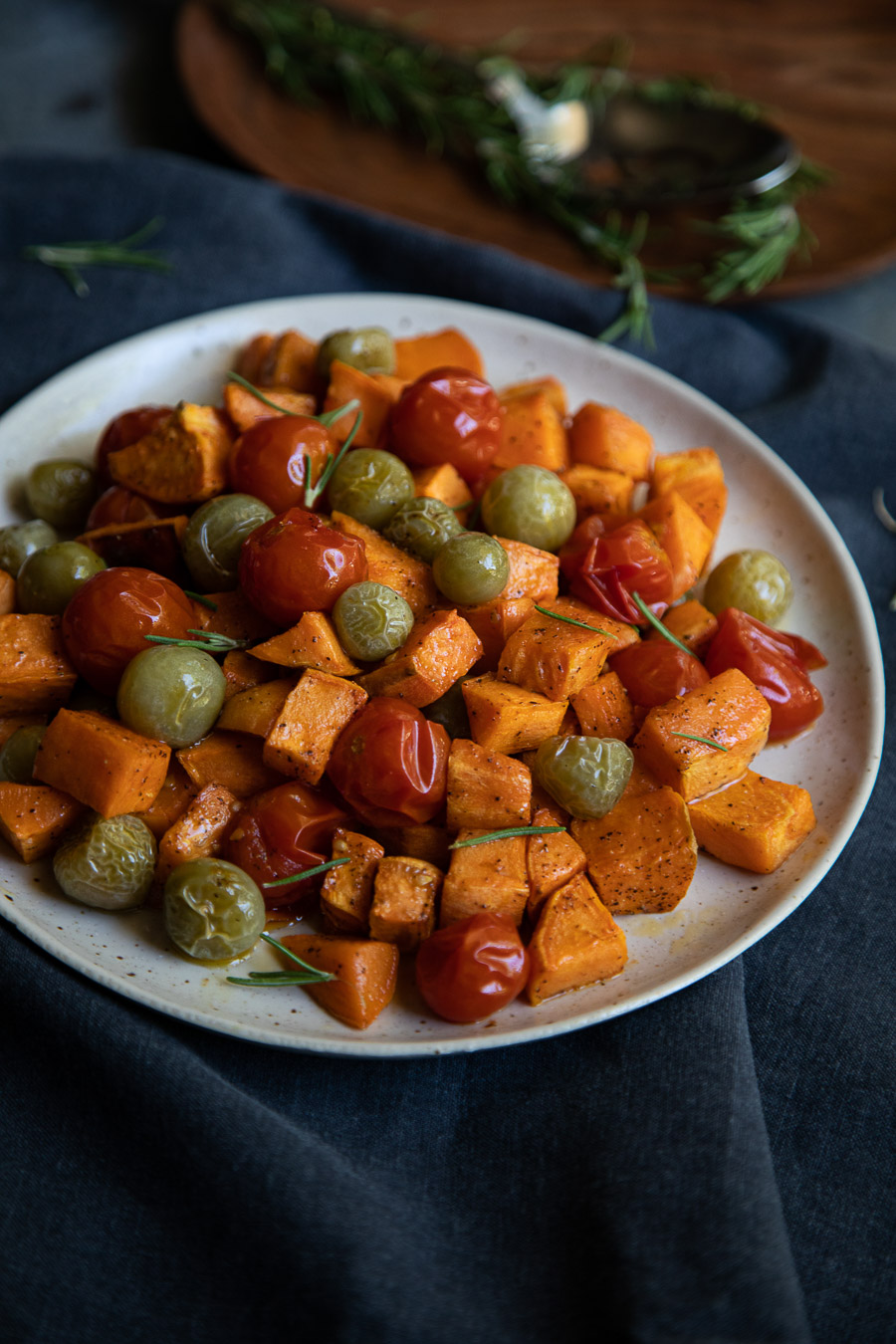 Sweet Potato Recipes
Looking for more sweet potato recipes? I always am! This sweet potato bread is one of my favorite recipes of all time! If you have puree to use, try this sweet potato hummus, these mashed sweet potato toasts, and this scrumptious bean dip!
These sweet potato phyllo cups are a fun alternative to your normal rigamarole and these quinoa-stuffed sweet potatoes are a great, healthy dinner!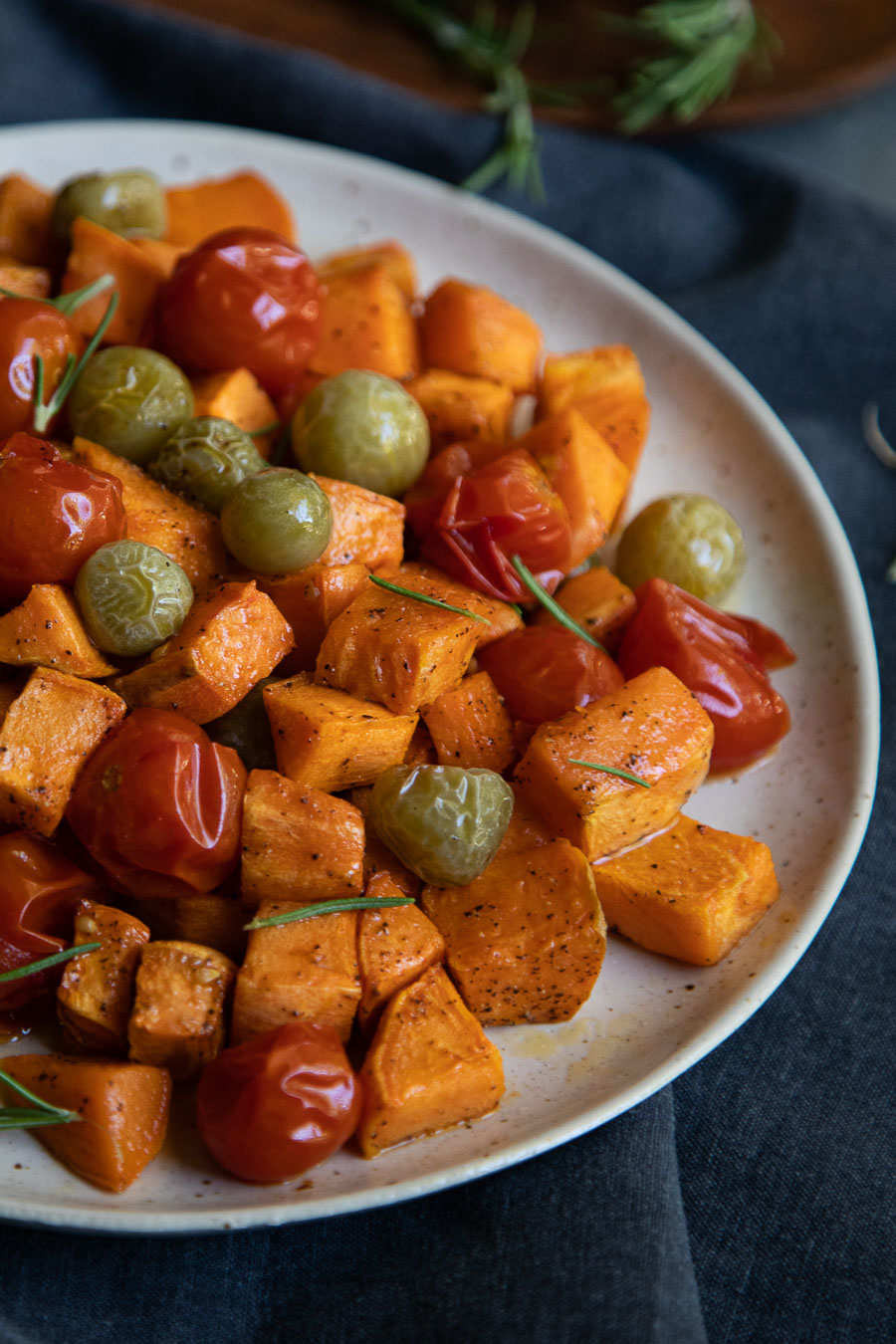 Print Recipe
ROASTED TOMATO SALAD
If you haven't tried roasted sweet potatoes yet, then you're missing out. This roasted sweet potato salad is a delicious and beautiful way to enjoy the bright orange vegetable!
Ingredients
¼

cup

plus 1 tablespoon extra virgin olive oil

2

cloves

garlic

smashed and peeled

1, 4-

inch

sprig rosemary

1

pound

sweet potatoes

(2 medium), peeled and cubed

1

cup

red cherry tomatoes

1

cup

green cherry tomatoes

½

teaspoon

fine sea salt

¼

teaspoon

ground black pepper

Rosemary leaves for garnish
Instructions
Heat the ¼ cup of olive oil in a small saucepan over medium heat, just until warm, about 90 seconds. Remove from the heat and stir in the rosemary sprig and garlic cloves. Swirl them in the pan and set it aside to cool and infuse for at least 30 minutes. The longer it rests the more flavor will infuse into the oil.

Preheat the oven to 425 degrees F.

Place the sweet potatoes on a large rimmed sheet pan and drizzle with 1 tablespoon of oil. Stir and spread into a single layer. Bake for 10 minutes.

Add the tomatoes and stir again. Spread into a single layer and bake 15 to 20 minutes until the potatoes are tender and the tomatoes burst. Remove from the oven.

Strain the infused oil into a small dish. Whisk in the salt and pepper. Pour the dressing over the potatoes and tomatoes. Stir well. Serve warm garnished with rosemary leaves.
Nutrition
Calories:
237
kcal
|
Carbohydrates:
27
g
|
Protein:
3
g
|
Fat:
14
g
|
Saturated Fat:
2
g
|
Polyunsaturated Fat:
1
g
|
Monounsaturated Fat:
10
g
|
Sodium:
363
mg
|
Potassium:
574
mg
|
Fiber:
4
g
|
Sugar:
7
g
|
Vitamin A:
16546
IU
|
Vitamin C:
21
mg
|
Calcium:
56
mg
|
Iron:
2
mg